---
Click on Banner to Sell Your Home(s)!
Runtime:
00:01:31 (One Minute, Thirty-one Seconds)
Video Site:
Harry Williby
---
---
"They rape, ... They rape a 100 white women a day, ... that's FBI statistic from 2005."
--
Dylann Roof, explaining to FBI Agents why he entered Emanuel African Methodist Episcopal church in Charleston, South Carolina, on June 17, 2015 and killed nine members of the black congregation attending a Bible study inside.
Top News Story!
Oldest League Pedo!
Posted: 11:47 PM ET, Aug. 27, 2015 ~ Updated: 6:53 PM PT, Thur. Aug. 27, 2015
Sussex County, Del. (WCJB)
Online records show that ex-Ravens cheerleader Molly Shattuck has registered as a sex offender in Maryland and Delaware. Shattuck is registered as a "Tier II" offender in both states. A "Tier II" classification requires 25 years of sexual offender registration. On the day of her sentencing Shattuck also registered in Delaware. The crime happened in Delaware according to that state's registry.
Shattuck, 48, pleaded guilty in June to fourth-degree rape in Sussex County, Del. She admitted to performing oral sex on a 15-year-old boy. The incident occurred at a vacation home in Bethany Beach last summer. A week ago she was sentenced to spend every other weekend in a community corrections center for the next two years. Due to her conviction she was required to register as a sex offender in both states.
The Maryland sex offender registry indicates the Baltimore resident registered on Wednesday. The website is administered by the state Department of Public Safety and Correctional Services.
Posted: 6:47 PM EST, Wed November 5, 2014 ~ Updated: 3:47 AM PST, Sat. November 8, 2014
Sussex County, Del. (WCJB)
-- Former Baltimore Ravens cheerleader Molly Shattuck became the oldest cheerleader in the NFL when she joined the Ravens' squad in 2005 at age 38. While once the oldest cheerleader in the NFL, she now faces rape charges. Police allege Shattuck engaged in sexual encounters with a teenager at a Delaware vacation home. Shattuck now 47, turned herself in to authorities on Wednesday. She was arraigned on charges of third-degree rape, unlawful sexual contact and providing alcohol to minors, police said.
Shattuck's alleged relationship with the 15-year-old boy "began in the area in which they resided near Baltimore, Maryland. Delaware State Police said the relationship culminated over Labor Day weekend with Shattuck providing alcohol to minors and engaging in a sexual relationships with the 15-year-old male. The crimes allegedly occurred at a vacation rental home in Bethany Beach, Delaware.
In 1997, she married Mayo Shattuck III, the former CEO of Constellation Energy. The two are separated and going through a divorce. A 2008 profile of Shattuck on the Ravens' website described her as a "well-known civic leader in Baltimore." In the same year, she appeared on the a reality show "Secret Millionaire," living for a week on low wages in a coal-mining town in eastern Pennsylvania, according to the profile. Shattuck was nominated for a service award from Maryland's governor's office this year for her work.
She has pleaded not guilty and posted $84,000 bail. "This is a difficult situation for everyone involved. Thank you for your time," defense attorney said.
First Lady?!
Posted: 8:47 AM EDT, Fri October 10, 2014 ~ Updated: 8:47 PM PDT, Sat. October 11, 2014
Oregon (WCJB)
-- Cylvia Hayes, 47, the fiancée of Oregon Gov. John Kitzhaber confirmed Thursday she took part in an illegal marriage in exchange for money 17 years ago. The story became public after a local newspaper reported she had an undisclosed third marriage. Further digging into the marriage found that the groom was an 18-year-old immigrant from Ethiopia, nearly a decade her junior. Kitzhaber is running for re-election next month, having already served three nonconsecutive terms. The Democrat was first elected in 1994 and remained in office until 2003. In 2010, he was elected to a third term, and he's now seeking a fourth in a race that he's expected to win. He won his last election with 65% of the vote.
Hayes claims it is a chapter in her life that her husband-to-be didn't know about until it came to light this week. "This is the most painful part for me," she said in a news conference in Portland. "We met only a handful of times. We never lived together. I have not had any contact with him since the divorce finalized in 2002," Hayes said in the news conference, which was recorded by media sources. While Kitzhaber and Hayes aren't married, they've been a couple for more than a decade and engaged since this summer, according to local news reports. Hayes has been officially referred to as Oregon's first lady during Kitzhaber's latest term.
"John Kitzhaber deserved to know the history of the person he was forming a relationship with. The fact that I did not disclose this to him meant that he has learned about this in the most public and unpleasant way." Kitzhaber didn't find out about the marriage until Tuesday, Hayes said in the press conference. "It was wrong then and it is wrong now and I am here today to accept the consequences, some of which will be life changing. And I cannot predict what direction this will go," Hayes said.
Fraudulent green card marriages are a federal offense, but Hayes said she needed the money at the time, when she was 29. The two were married in Washington state. Asked if Hayes could face charges, the U.S. Attorney's Office in Oregon gave media sources a firm, "No comment."
Dingleberries!
Posted: August 22, 2013 10:42 AM - Updated: August 22, 2013 1:22 PM PDT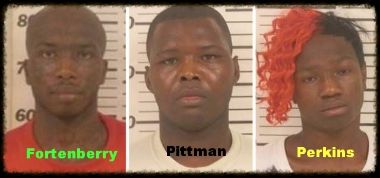 JACKSON, Miss.
-- A 14-year-old Mississippi boy is charged with murder in the slaying of his father, and a police officer charged as an accessory to the killing is also charged with sexual battery of the boy. Jasper Cortez Pittman, 25, a Brookhaven police officer, is charged with accessory after the fact of murder, sexual battery, third-degree arson and conspiracy to commit arson. According to media sources, neighbors say the 14-year-old was a runaway who also lived in Pittman's home with Perkins and Fortenberry. They say the father had been searching for his son last week, the station reports.
An affidavit filed in Pike County Justice Court said the officer is charged with the sexual battery of the 14-year-old slaying suspect. The boy (photo not shown) and two others -- LeJerrious A. Perkins, 17, and Greg Antonio Fortenberry, 26 -- are charged with murder, conspiracy to commit murder, arson and conspiracy to commit arson in the death of Kenneth Thompson of McComb. The arson charges are related to the suspects burning Thompson's truck to destroy evidence, according to the affidavits. The truck was found in the woods near a home of one of Pittman's relatives, the affidavits said. It was not immediately clear whether any of the suspects had attorneys.
District Attorney Dee Bates said the body of Thompson, 53, was found late Sunday or early Monday near the officer's home near McComb, a town of about 12,700 people in south Mississippi. Thompson had been stabbed in the neck, according to affidavits filed in Pike County Justice Court. Bates said both teens are charged as adults, which is customary under Mississippi law for juveniles charged with crimes that carry the possibility of a life sentence. Bates said he couldn't provide any other details about the case.
The Pike County Sheriff's Department arrested the four suspects. The Pike County Sheriff's Department referred questions to the Mississippi Bureau of Investigations. MBI is the lead investigating agency in the case. MBI spokesman Warren Strain did not identify the fourth person arrested because he's a juvenile, but family members say it is 14-year-old Blake Thompson, the victim's son. Strain said the case is "under investigation and it would be premature to release any information at this point."
Pittman, the Brookhaven police officer arrested in connection with murder and child sex charges has been dismissed from the force. Pittman was fired from the Brookhaven Police Department after his arrest, said Police Chief Bobby Bell, adding that he'd been employed there only two weeks and, as such, was still in his probationary period. "We don't put up with those types of allegations," Bell said. Prior to his employment in Brookhaven, Pittman was a police officer in McComb. He came with glowing references, Bell said. Pittman worked for the McComb Police Department from March 30, 2012 through Feb. 22 of this year, said city Personnel Director Donjurea Davis. She did not know why he left after just 11 months. McComb's deputy police chief didn't immediately return a call for comment.
Fortenberry had just gotten out of prison in June, according to public records. He had served six years of a 10-year sentence at the Central Mississippi Correctional Facility for aggravated assault and simple assault of a police officer in Pike County.
Snide Guilt!
Updated: 6:36 a.m. Tuesday, Aug. 20, 2013 | Posted: 1:15 p.m. Monday, Aug. 19, 2013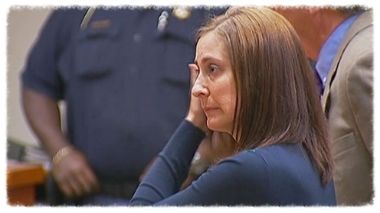 DEKALB COUNTY, Ga.
— A judge sentenced Andrea Sneiderman to five years in prison, minus time served, after a jury found her guilty on nine of 13 felony counts, including perjury and making false statements to police. DeKalb County Superior Court Judge Gregory Adams sentenced her to five years on each count, but showed leniency by allowing them to run concurrently. That means she will serve five years only. A jury convicted her Monday of lying about an affair with Hemy Neuman, the man convicted in March 2012 of gunning down her husband, Rusty Sneiderman outside Dunwoody Prep Preschool in 2010.
Media crews were in the courtroom Tuesday morning as the Dunwoody mother begged for mercy Tuesday morning, right before the judge sent her to prison for lying after her boss killed her husband. "Please let me go home to my kids. Mr. Neuman changed my children's lives forever," she cried on the stand during Tuesday's sentencing. "One of my greatest regrets will always be allowing this predator into my life."
"I never thought Mr. Neuman was capable of murder," she said. "The line of appropriate conduct was blurred," she acknowledged, while insisting there was never any sexual contact between the two. "I thought I could handle him. I thought he was a man just being a man." Sneiderman was in ankle shackles and an orange jumpsuit and cried as she pleaded for the judge to spare her time in prison. "I was never leaving my true love Rusty and our children."
"Mrs. Sneiderman is on her way to jail as I believed she should be in the first place," DeKalb County District Attorney Robert James said after the sentencing.
Updated: 4:36 p.m. Thursday, Aug. 22, 2013 | Posted: 1:15 p.m. Monday, Aug. 19, 2013
Georgia
-- Andrea Sneiderman, the Georgia woman accused of lying to investigators about the death of her husband was convicted of perjury and several other counts on Monday. Sneiderman's husband, Rusty Sneiderman, was shot in November 2010 outside a suburban Atlanta preschool. Jurors got the case Thursday and deliberated all day Friday before leaving without a verdict. They returned for additional deliberations Monday and delivered the verdict after more than three hours.
Andrea Sneiderman's former boss, Hemy Neuman, was convicted in March 2012 but was found mentally ill. Prosecutors accused Sneiderman of lying to police investigating her husband's death and lying under oath during Neuman's trial. The 13-count indictment included charges of making false statements, hindering an investigation and perjury.
Sneiderman was found guilty of four counts of perjury, hindering the apprehension of a criminal, concealment of material facts, and three counts of giving false statements. She was found not guilty of three counts of perjury and one count of giving a false statement.
Prosecutors maintained that Sneiderman was having a romantic relationship with Neuman and that she repeatedly lied about the relationship, which they said hindered the investigation into her husband's death. Sneiderman and her defense team repeatedly denied that there was a romantic relationship and said police bungled the investigation by not focusing on Neuman even after she mentioned him to them.
Sneiderman's defense has said prosecutors had a weak case but were desperate to convict Sneiderman of something.
Lawyers on both sides declined to comment after Monday's verdict, citing a gag order in the case. Both sides said they'd comment after Sneiderman's sentencing.
Perjury carries a maximum sentence in Georgia of 10 years in prison, while the other charges carry a maximum of five years each. There is no mandatory minimum. The judge has broad discretion and can also choose to have the sentences run consecutively or concurrently.
Judge Gregory Adams set Sneiderman's sentencing for 9 a.m. Tuesday and said she had 30 days to file her notice of intent to appeal. Sneiderman was taken into custody shortly afterward.
Throughout the trial, prosecutors played and replayed video and audio clips of Sneiderman's interviews with police investigators and her testimony during Neuman's trial. They contrasted that with witness testimony and documents that they said proved she had lied to police and the court.
The defense called a string of character witnesses who testified that Andrea and Rusty Sneiderman had a happy and loving relationship. They also called experts to refute some of the documents and evidence presented by the prosecution.
Jurors reviewed all the evidence, including emails and phone logs, and concluded that Sneiderman and Neuman were having some sort of a romantic relationship and that she lied about it, said one juror who spoke to reporters after the verdict but identified himself only as Juror No. 57.
"Once you actually got to looking at the info and what she said in the Hemy Neuman trial, she basically pretty much committed perjury," he said.
Andrea Sneiderman showed little emotion as the verdict was read. Her mother sobbed outside the courtroom afterward and left the courthouse in tears.
Sneiderman, 37, of Decatur, was arrested last August after prosecutors accused her of helping to orchestrate the killing of her husband. She spent much of the last year under house arrest. Lawyers for both sides had for months been planning for a trial on one count each of malice murder, felony murder and aggravated assault, and other charges.
But on July 26 — the eve of jury selection — DeKalb County District Attorney Robert James took the unusual step of asking the judge to dismiss the murder and aggravated assault charges. James cited his recent review of evidence the defense turned over as part of pre-trial discovery.
One of Sneiderman's lead attorneys, balked at the explanation. "I believe they have known all along that they didn't have a murder case," he said in open court. The judge granted the prosecution request before the start of jury selection and released Sneiderman from house arrest.
Stinging Indictment!
Posted: Aug 18, 2013 12:34 PM PDT - Updated: Aug 18, 2013 6:50 PM PDT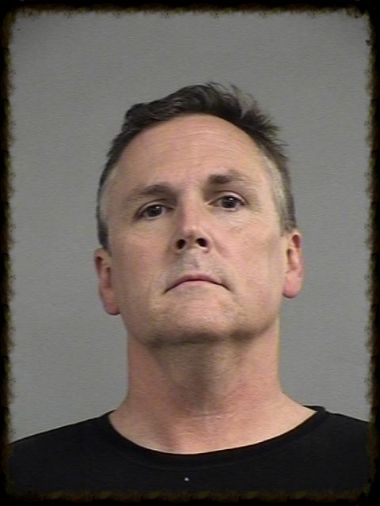 LOUISVILLE, Ky. (WCJB)
-- Scott Quisenberry (
pictured above, center
) an elementary school teacher, has been indicted on rape charges. Media sources say he is a teacher at Kerrick Elementary School in Louisville. Prosecutors say the victim attended the school where Quisenberry was a teacher. The victim alleges she was subjected to sexual intercourse from the time she was 13 years old to 15. Quisenberry, 55, is charged with alleged sexual abuse of a student with one count of 2nd degree rape and two counts of 3rd degree rape. Quisenberry is scheduled for arraignment on Monday.
Cause-Celebre' Pedophile!
Posted: August 20, 2013 11:23 AM | Updated: August 22, 2013 12:42 PM PDT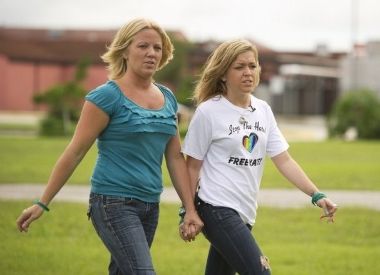 VERO BEACH, Fla.
- Kaitlyn Hunt, the Florida 19-year-old charged over an illegal same-sex relationship with a minor classmate, is back in jail. Hunt was charged in February and posted a $5,000 bail. She was released with a court order not to contact the girl. Authorities say Hunt was booked into the Indian River County Jail Monday night. She remained in jail Tuesday morning. Indian River County Sheriff's Sgt. Thomas Raulen told media sources that the bond company that posted Hunt's bail brought her to jail. He reportedly emphasized that her arrest was not a result of judicial action but rather done at the discretion of the bail/bond agent.
A judge later agreed with the decision of the bail/bond agent and prosecutors. Prosecutors had withdrawn a plea deal offer and asked that her bond be revoked after they say she violated pre-trial conditions by contacting the alleged victim in the case. During a Tuesday afternoon hearing, the judge weighed the prosecution's motion to revoke the Sebastian resident's bond and return her to the county jail on the charges against her -- two counts of lewd and lascivious battery on the classmate, who was 14 at the time of the relationship, according to media reports.
Enough with the texting, the Florida judge told Kaitlyn Hunt after hearing testimony about thousands of text messages -- some of them explicit -- the Florida teenager reportedly sent to her underage girlfriend after being ordered not to while awaiting trial on charges of having sex with the girl. Judge Robert Pegg sent Hunt, 19, to jail Tuesday, ordering her held without bond, pending trial. She'll also be limited to communicating with her lawyers, guards, fellow inmates and perhaps a few choice visitors.
The state attorney's office pulled its plea offer Monday following allegations Hunt violated her pretrial conditions by contacting the girl identified as the victim in the case. Prosecutors said last week that Hunt contacted the alleged victim in the case almost daily since March 1. According to the paper, court documents say Hunt and the girl had contact through nearly 20,000 text messages and
Facebook
. The state attorney's office says Hunt sent sexually explicit photos and a video and two continued to secretly meet. The source reported Hunt's mother also texted the alleged victim and urged her to delete "everything" so no one would find out the girl and Hunt had spoken.
Judge Pegg made his ruling after an Indian River Sheriff's Office detective testified about the contents of an iPod that Hunt had given the younger girl -- including more than 20,000 text messages, "explicit" videos and nude pictures -- despite a court order that the two not communicate, electronically or otherwise.
"It's overwhelming that Ms. Hunt has chosen to violate the conditions of her bond deliberately and willfully on several occasions," Pegg said in explaining his decision.
In addition to the extensive exchange of messages since March -- which began days after the no-contact order was issued -- Detective Jeremy Shepherd further testified that he'd learned the two had secretively met as recently as a few weeks ago.
Under cross-examination, Shepherd noted that in some cases, the younger girl initiated contact, though he emphasized that Hunt had given her the iPod on which they illicitly communicated. And the detective added, the younger teenager "has not told me the full truth in a couple of my interviews."
"She simply can't be trusted to abide by the court order," Pegg said of Hunt.
The court hearing Tuesday was graphic and, for Hunt, emotional. She held a tissue in her handcuffed hands that she repeatedly used to wipe tears from her eyes. The proceeding marked the latest turn in a story that first captured the nation's attention months ago. In a written statement Wednesday, Hunt's lawyer slammed the prosecutors for disclosing sordid detail.
Posted: August 16, 2013 1:17 PM | Updated: August 18, 2013 9:17 PM PDT
SEBASTIAN, Fla.
- Kaitlyn Hunt (
pictured above, center-right
) the Florida teen charged over a same-sex relationship with an underage classmate, is accused of contacting the alleged victim in her case even after a judge ordered her not to, according to media reports. Prosecutors say Hunt, 19, contacted the girl almost daily since March 1, a violation that could put her back in jail, according to the paper. Court documents filed Thursday reportedly allege Hunt and the girl had contact through nearly 20,000 text messages and
Facebook
.
Hunt was expelled from her high school in Sebastian, Fla. and was arrested and charged in February with two counts of lewd and lascivious battery of a child 12 to 16 years of age as a result of her relationship with a 14-year-old girl. If she is found guilty of the second-degree felony charges, she could face up to 15 years in prison and could be required to register as a sex offender. She is scheduled to go on trial in the fall.
"The state is in possession of over 25 lewd and lascivious photographs the defendant sent the child victim," the court motion says, according to the paper. A hearing to address the alleged court order violation has reportedly not been scheduled.
According to media sources, the state attorney's office says Hunt sent sexually explicit photos, a video and the two even continued to secretly meet. "The court can basically hold Kaitlyn in pre-trial detention. Basically in jail until this case gets resolved," a legal analyst, told media sources. The same source reports investigators also say Hunt's mother (
pictured above, center-left
) texted the alleged victim and urged her to delete "everything" so no one would find out the girl and Hunt had spoken.
Prosecutors have offered Hunt a plea deal which would sentence her to 3 years probation and give her a clean record. She would not be allowed to contact the alleged victim and would have to complete 150 hours of community service, among other conditions. The plea deal is still on the table, according to media reports, and does not have an expiration date.
Hunt played on the basketball team with her younger girlfriend and shared the same circle of friends, Hunt's mother, Kelley Hunt-Smith, has said. The two had a consenting relationship that began soon after Kaitlyn Hunt turned 18, and Hunt-Smith said she assumed the younger girl's parents knew that. Kaitlyn's father has publicly claimed that the girlfriend's parents went to police because they blamed Kaitlyn for their child's homosexuality.
Since Kaitlyn's arrest, the case has garnered national attention for what some say is a gay rights issue. Gay rights advocates, such as the American Civil Liberties Union of Florida, argue that older high schoolers dating their younger counterparts is an innocuous, everyday occurrence that is not prosecuted - regardless of sexual orientation - and not a crime on par with predatory sex offenses.
However, Florida state law says that anyone under the age of 16, male or female, cannot legally consent to sexual activity.
Puke!
Posted: 9:19 a.m. Tuesday, July 30, 2013 | Updated: 6:10 p.m. PDT Thursday, August 29, 2013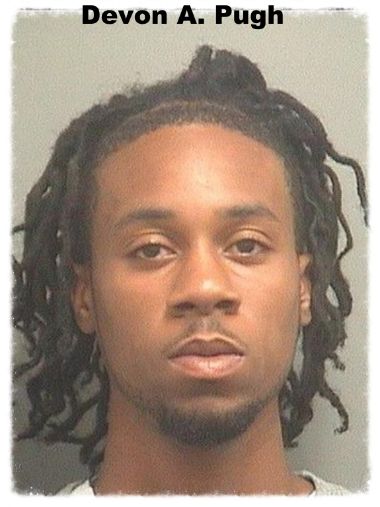 Palm Beach County, FL
- (7/28/2013) A 20-year-old man remains in jail on $400,000 bail after he was accused of sexually assaulting a boy in May.
Devin Antoine Pugh (
pictured above, center
) who has no known address, was arrested after allegedly raping the boy and forcing him to perform oral sex on May 25. Pugh, who was familiar with the boy, faces accusations of sexual assault of a victim over the age of 12 years old and lewd and lascivious behavior on a victim between 12 and 16 years old.
According to an arrest report, Pugh picked up the boy at his home in Riviera Beach and told the boy "that his brother owed him money and that he was going to have to pay for his brother."
Pugh drove the boy to an apartment complex on the 2300 block of Avenue S where the assault took place. Pugh threatened the boy by saying, "If you don't do this, I will find you. You can't run. You will die and your brother will die."
The boy told police the assault lasted for 5 minutes before Pugh drove him home. The boy said he did not try to run away during the assault because he knew that Pugh owned a gun and "was in fear of his and his family's life."
On May 26, the boy informed an unidentified person of the assault and police were notified.
The boy directed police to the field where he said he was assaulted. Investigators gathered evidence there.
Pugh, who was on supervised probation for carrying a concealed firearm, was arrested on Sunday.
Lascivious Teachings!
Posted: 08/18/2013 06:32:35 AM PDT | Updated: 08/19/2013 1:46 am PDT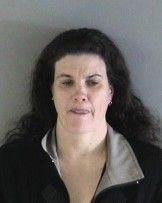 HAYWARD, CA
-- A Livermore high school teacher accused of having a sexual relationship with a 14-year-old former student walked out of state prison a free woman Tuesday after her three-year sentence was wiped away by her time served, a district attorney spokesman said.
Marie Johnson, 42, pleaded no contest in April to the nine allegations, including incidents of sexual intercourse, sex acts inside of a car and inside Granada High School, and a charge of lewd and lascivious conduct for licking the boy's neck after a basketball game. She was handed a three-year sentence in a Hayward courtroom Tuesday afternoon, plus four years of state parole.
Johnson, who has been in custody since her January 2012 arrest, was immediately released from custody after the hearing because the year and a half she spent behind bars were served at half time, said Eamon O'Connor, spokesman for the Alameda County District Attorney's office. She faced a maximum possible prison sentence of nine years and eight months.
"Under state law, people receive 50 percent time credit and are then released to serve the rest of their sentence on parole, unless they violate the terms of their parole," O'Connor said, noting that that percentage may increase depending on the severity of the crime.
"Why that is the case for this particular crime is a question for the state legislature," he added.
The former Granada High School math teacher was supposed to be handed her sentence May 15, but was sent to Chowchilla State Prison for 90 days so Alameda County Superior Court Judge Joseph Hurley could determine whether it would be appropriate for her to remain in prison or be placed on probation.
The court can suspend proceedings and commit an individual to state prison for the study under state law, officials say. At the end of Johnson's 90 days, the warden, a psychologist and a prison staff member filed three reports offering their opinions on whether Johnson should be granted probation or sentenced to prison.
Johnson, who initially pleaded not guilty, was arrested at the high school Jan. 11, 2012, after the boy told authorities he was being molested.
When police interviewed Johnson after her arrest, she admitted to having sex with the student, according to a probable cause statement. She was placed on administrative leave and resigned earlier this year during her dismissal process, school officials said.
Authorities say her relationship with the boy began with text messages, Facebook postings and instant messaging over the "Words with Friends" smartphone game, then graduated to sex in the teacher's car and other locations. Her four years of state parole became effective immediately following her release from prison, O'Connor said.
Incarcerated Conception!
Update:
9:18 p.m. EDT, August 6, 2013
BALTIMORE CITY, MD
— Officials pledged reforms after federal prosecutors alleged that inmates at the Baltimore City Detention Center associated with the Black Guerrilla Family gang conspired with 13 corrections officers to smuggle in drugs, cellphones and other contraband.
Black Guerrilla Family leader Tavon White, the ringleader of the scheme, pleaded guilty Tuesday (August 5, 2013) to racketeering.
Posted: April 23, 2013
BALTIMORE CITY, MD
— A cabal of corrupt corrections officers and members of the Black Guerilla Family gang enjoyed nearly free rein inside the Baltimore City Detention Center, federal authorities alleged in an indictment, smuggling drugs and cellphones into the jail and having sexual relationships that left four guards pregnant. The Black Guerilla Family, a gang with roots in California prisons, has been the dominant gang at the detention center since 2006, prosecutors wrote in the indictment. Baltimore police and federal law enforcement have brought a number of cases against alleged members in recent months.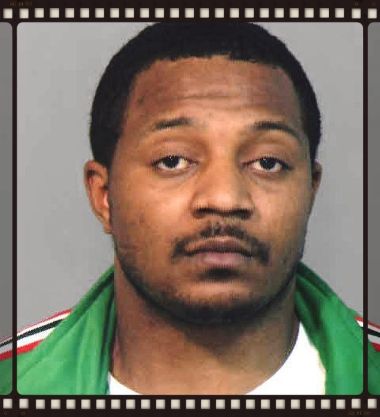 An indictment unsealed Tuesday names 25 people — including 13 women working as corrections officers — who face racketeering, drug and money laundering charges. It alleges that Tavon White (
pictured above, center
) an inmate known as "Bulldog," took control of the prison gang soon after his arrival in 2009 on an attempted murder charge. He is accused of building a network of corruption inside of the jail that both enabled a smuggling operation and allowed White to manage gang activity on the city streets. "This is my jail," White said on an intercepted phone call, according to the indictment. "I'm dead serious. … I make every final call in this jail … and nothing go past me, everything come to me." White is also accused of imposing discipline on his subordinates and retaliating against inmates who would not submit to the gang's authority.
The indictment charges alleged gang members both within and outside of the jail. One remained at large Tuesday, and another was shot and killed in a separate incident before the grand jury returned the indictment. Gang leaders allegedly relied on guards and inmates to grow their operation at the city jail. White had informal agreements with jail officials who asked him to maintain order in exchange for their turning "a blind eye" to some of his activities, the affidavit said. The result, according to the court documents, was a lucrative operation. White said in a recorded conversation that he made as much as $15,800 in a single month selling contraband in jail, and gang members once boasted they could turn $1,000 in profit on an ounce of marijuana.
Stephen E. Vogt, the special agent in charge of the Baltimore FBI office, said at a news conference that "Tavon White effectively raised the BGF flag over Baltimore City Detention Center." The indictment and a related affidavit provide new details about the alleged activities of the Black Guerrilla Family, which Baltimore police have blamed for a spike in drug-related violence on city streets. "Once a violent offender is sent to jail, law enforcement's hardest work should be behind it," said. "This is not the case in Baltimore City."
White had sexual relationships with numerous prison guards and got four pregnant, prosecutors allege. Two of the guards had his name tattooed on their bodies — one on her neck and another on her wrist, according to the indictment. "These sexual relations cemented the business ties and the association of the corrections officers with the enterprise," prosecutors wrote in the indictment.
The indictment alleges that White used his power to maintain a steady supply of smuggled cellphones, marijuana and prescription medications inside the jail. Money also flowed freely through the jail's walls, according to the indictment, transmitted through prepaid debit cards. By this spring, White was confident of his supremacy in the jail, according to summaries of intercepted calls included in the affidavit. "I hold the highest seat you can get," he told another alleged member of the gang. "So regardless of what anybody say, whatever I say is law. Like, I am the law. My word is law."
Two trials in White's state case have ended in hung juries, Baltimore State's Attorney Gregg L. Bernstein said. He has a trial date scheduled for Wednesday. No attorney is listed in court records for White, and people who answered the door at two addresses listed in public records said they did not know who he was.
The documents also list several oversight and security lapses at the detention center. Some of the corrections officers were motivated by money, according to the U.S. attorney for Maryland, Rod J. Rosenstein. Others were drawn into the gang's orbit because of their personal relationships with its members. The indictment alleges that the officers were easily able to smuggle contraband thanks to lax security and light penalties. The guards were able to enter the jail through certain entrances without any security screening, and had a number of ruses to pass undetected through the main entrance, according to the indictment. "The procedures and personnel [at the main entrance] were completely inadequate to prevent smuggling," the indictment says. 'The chances of being searched effectively were remote."
Officials with the Maryland Department of Public Safety and Correctional Services, which runs the detention center, condemned the alleged violations and said internal investigations will move forward now that the federal indictment has been unsealed. "Everything that happens in this department is my responsibility," department secretary Gary D. Maynard said. "It's totally on me." A spokesman for the department said 13 correctional officers have been suspended without pay. The department is recommending that they be dismissed, the spokesman said. "We're looking at the policies that affect the jail and the detention center," Maynard added. He said the department had commissioned an outside audit of the jail in a move not connected to the federal investigation, and was reviewing its recommendations. Maynard declined to release the findings of that audit.
State legislators said the allegations show the need for reforms to the state jail system. Sen. Christopher B. Shank, a Washington County Republican who sits on the Judicial Proceedings Committee, called the level of corruption at the detention center "shocking."
"I'm pleased the department is working with federal authorities. Those folks need to be held accountable to deter others," he said.
Sen. Verna Jones-Rodwell, a Baltimore Democrat, said she is supportive of "anything that would eliminate the transport of contraband … into the prisons."
"We have to make sure appropriate training takes place and we are paying our corrections officers to make sure they are not engaging in negative behavior so they don't feel they need to take risk to help them out financially," she said.
Archer Blackwell, a senior staff representative with the union that represents the jail's officers, said the management of the detention center should do more to screen and prepare workers. "The administration really doesn't do a good job of hiring quality people," he said. "They need to do more psychological examination, they need to do more in the academy to actually train and discipline people."
As officials were laying out the allegations at a press conference, some of the defendants were appearing in federal court across the street. One of the women appeared before a magistrate judge still wearing her corrections uniform. Most were released on their own recognizance and were escorted by law enforcement out of the courtroom. Their lawyers declined to comment.
United in Theft!
Posted: July 31, 2013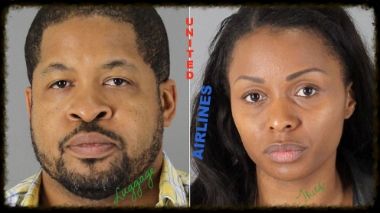 San Francisco, CA
-- United Airlines customer service representative and his girlfriend have been charged with grand theft and commercial burglary for allegedly stealing luggage from San Francisco International Airport in the aftermath of the Asiana Airlines Flight 214 crash. Sean Sharif Crudup, 44, and Raychas Elizabeth Thomas, 32, both of Richmond, Calif. (
pictured above, center
) were arrested at a United Airlines gate awaiting a flight to Hawaii at San Francisco International Airport on July 25, Detective Sgt. Wes Matsuura of the San Mateo County Sheriff's Office told media sources. While Matsuura said there is no evidence at this point in time that Crudup and Thomas were specifically targeting Asiana Airlines passengers who endured the crash, "it could still play out that way."
"The unfortunate coincidence is that Asiana was on July 6, and this crime was on July 8," Matsuura said. "It was a crime of opportunity. A lot of bags were down there." Luggage had been piling up in the terminal because of the Asiana Airlines plane crash, which closed some of the San Francisco airport's runways and caused passengers flying in to be delayed or diverted for days after the accident occurred, Matsuura said. Airport surveillance footage obtained by police shows Crudup, who was working at baggage claim, rifling through a bag stranded at the airport's United Airlines terminal on July 8, according to Matsuura. Later, the same bag is seen with two separate women, who are also holding another bag, Matsuura said. One of the women was later identified by police as Crudup's girlfriend, Raychas Thomas. It is unclear who the other woman in the footage is at this time, he said.
The victim whose bag was stolen and her family were scheduled to fly back to San Francisco from the Cayman Islands on July 6, Matsuura said. But their flight was rerouted to Houston as a result of Asiana Airlines Flight 214's crash landing onto the runway. Upon landing in Houston, the family checked their bags to arrive at San Francisco, according to Matsuura. But when they learned they would be unable to fly into the airport until July 9, they booked a flight to Los Angeles and drove up to the San Francisco Airport to pick up their bags from the United terminal instead. "There were some issues with the bags being located and one of their bags was missing," he said. "All the airports were a mess that weekend."
But days after the luggage was reported missing, the victim got a phone call from her personal shopper at Nordstrom's to ask how her trip was and for an explanation as to why her sister returned $6,000 worth of clothing. "The victim said, 'I don't know what you're talking about, I don't have a sister, I didn't return any clothes,'" Matsuura said. The victim, who declined to be identified, then contacted investigators, who obtained Nordstrom's surveillance footage, Matsuura said. Police later determined through Nordstrom's surveillance that a woman, who was later identified as Thomas, was able to return the clothing to Nordstrom's without a receipt, and asked for the refund in cash. The money has yet to be recovered, Matsuura said.
San Mateo Sheriff's deputies later searched Crudup and Thomas' home and found electronics, laptops, jewelry and clothing, Matsuura said. Some of the clothing found in their home belonged to the same woman who had her bag stolen.
Crudup pleaded not guilty to one count of grand theft and two counts of commercial burglary when he was arraigned on July 26. He posted $75,000 bail the same day, Matsuura said. He is due back in San Mateo County Court in Redwood City, Calif., on Thursday. Thomas, who was released from jail on July 25 on $50,000 bail, is scheduled to be arraigned in Aug. 26 in San Mateo County Court.
San Mateo County District Attorney Stephen Wagstaffe told media sources that Crudup had not been assigned a public defender as of Monday afternoon.
United Airlines issued a statement as a result of the alleged stealing.
"We hold our employees to the highest standard and have zero tolerance for any theft," the airline said. "We are assisting the San Francisco Police Department in this investigation, and this employee has been held out of service."
Toddler Porn!
Posted: Monday, January 27, 2014 | Updated: Monday, January 27, 2014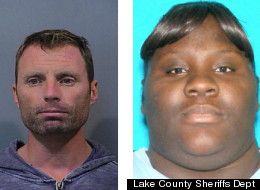 Gary, Ind.
-- A woman admitted this week that she sold a baby eight times to a Gary man for sex and was in the room for all the meetings except for the last one. Natisha Hillard, 25 (
pictured above, center-right
) pleaded guilty in U.S. District Court in Hammond to one count of selling a child for sex and two counts of allowing a child to take part in child pornography. Hillard admitted under questioning by her attorney that she met Christopher M. Bour (
pictured above, center-left
) through a dating service in 2011 and that they agreed to meet at her place. That was when Bour started asking her about two children she had access to, both girls, who were 4 months and 3 years old at the time.
The crimes lasted from September 2011 until February 2013, when an acquaintance of Bour alerted the FBI that he had been asking her to take part.
She agreed with statements by Assistant U.S. Attorney Jill Koster that she can be seen on images found on Bour's computer showing him sexually touching the child with Hillard in the background. She also let Bour take sexual pictures of the older child at least once, Koster said. Koster said that Hillard told law enforcement after she was arrested that she agreed to sell the children to Bour because she needed money and that Bour paid her extra for the last encounter to be alone with child.
Hillard said said she didn't know if Bour then shared those images with other people. "He didn't tell me what he was going to do with them," she said. Hillard was being held without bond. She faced a mandatory minimum sentence of 30 years to life in prison on the count of selling a child. She was sentenced to 24 years in prison after admitting guilt. Bour was sentenced to life in prison plus 55 additional years to be served consecutively.
Posted: 03/07/2013 7:05 pm EST | Updated: 03/08/2013 5:46 pm EST
Indiana
-- An Indiana woman, Natisha Hillard, 24, allegedly sold her 18-month-old daughter to a man for the purpose of making child pornography, according to media sources. Christopher Bour, 39, was charged with "buying a child to produce child pornography, producing child pornography and possessing child pornography featuring a minor younger than 12."
[
Upon further investigation, it has become clear that Hillard has another daughter who turned 5-years-old on February 21. The baby who was sold for child porn was born on August 17, 2011.
]
Investigators were alerted to their unspeakable violation and exploitation of the baby when Bour asked the owner of a massage parlor that he frequented to record him having sex with a child. She informed the FBI, also telling them about the time she made a house call and Bour was watching child porn when she arrived. The FBI continued texting Bour as if they were the masseuse and even more ugly details were revealed — including the fact that the baby had been used for porn since she was 4-months-old.
The following are text excerpts provided by Chicago Media Sources:
On Feb. 13, Bour text-messaged the masseuse saying, "I was just seeing if u would hold the camera," the complaint states. The text messages continued with graphic depictions of what he planned to do.
The woman notified authorities, and the woman allowed an FBI agent to assume her identity and continue texting Bour. Bour later text-messaged again describing what he planned to do with the child, according to the complaint.
The agent asked Bour if he trusted the child's mother and he replied, "Yeah ive done it several times its cool" and said the mother would not be present. He said the child was 1 1/2 years old and that the arrangement began when the child was 4 months old.
FBI agents searched Bour's home the day after the text messages were sent. Bour told investigators he had become interested in child pornography two years ago and would download it, according to the complaint.
Even more sickening is that Hillard's latest Facebook status (Feb. 21) is dedicated to her daughter. The child's name has been redacted:
The amount of money Hillard accepted for her daughter to be violated in such a cruel manner has not been reported.
Hillard and Bour are both being held without bond. They are scheduled to appear in court March 11 before U.S. District Magistrate Judge Andrew Rodovich.
DeWitt Clinton High School!
Posted: Tues. March 12, 2013, 9:14 PM - Updated: Thurs. March 14, 2013 1:14 PM PST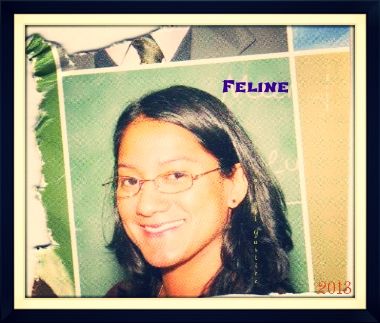 Bronx, New York
-- A Bronx science teacher who embarked on a passionate affair with a student discouraged him from using condoms — and ended up pregnant. Felicia Barahona, a 32-year-old teacher at DeWitt Clinton High School, began the four-month sexual relationship at her home on the boy's 18th birthday. Barahona, a veteran of the Afghanistan war, was fired in August — around the time she gave birth to their baby.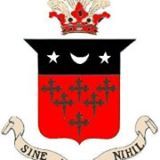 The relationship started during fall 2011 and quickly escalated into a sex-fest where the couple had intimate encounters "about five times a week, on weekdays and on weekends," the report said. When the student tried to use condoms, Barahona — who earned nearly $73,000 a year — told him "she didn't like condoms" and "not to worry," according to the report. When Barahona found out she was pregnant, her young lover accompanied her to doctors' appointments, he told investigators. The educator had fallen so hard, she even bought wedding rings for both of them in the hope that they would marry. But they broke up after an argument in early 2012. Barahona did not return calls seeking comment.
The shocking affair is just one example of lewd behavior displayed by kinky teachers, according to the reports:
- Estanislao Morales, 62, a teacher at Alfred E. Smith Career and Technical Education High School in the Bronx, paid a male student to masturbate in front of him after they watched pornographic videos.
- Olympia Filosa, 26, a teacher at Tottenville High School on Staten Island, sent a student a picture of herself wearing lingerie, and a sexual relationship began. She was fired in December.
- Tara Driscoll, 35, a teacher at Law, Government and Community Service High School in Queens, engaged in sexual activity with multiple male students and sent a slew of racy text messages.
The disturbing romance was revealed in a bombshell report by the special commissioner of investigation, Richard Condon, after media sources filed a freedom of information request.
Crafty Coachin'!
Posted: Friday, February 15, 2013, 6:55 PM - Updated: Wednesday Feb 20, 2013 11:12 PM PT
(
By cutting a plea deal with prosecutors, Megan Crafton, 22, avoided having to register as a sex offender. Crafton admitted to police that she had performed oral sex on a 17-year-old student at Shelbyville High School, where she worked as a cheerleading coach.
)
Shelbyville, Ind.
-- A 22-year-old high school cheerleading coach (
pictured left
) in Shelbyville, Ind., cut a plea deal with prosecutors after admitting she performed oral sex on a 17-year-old male student in her car. Under the terms of the plea deal, Megan Crafton pleaded guilty to dissemination of matter or conducting performance harmful to minors, a felony, but will avoid having to register as a sex offender. Crafton will now be on probation for the next 12 months, and must complete 25 hours of community service. If she successfully completes her probation, Crafton may apply to have the charge against her reduced to a misdemeanor.
Prosecutors had originally charged Crafton with felony child seduction, a more serious offense, after the student, who is a member of the Shelbyville High School basketball team, came forward to police. "The prosecutor's office was willing to compromise to that level. I can't speak to their motivations for doing that. I just know they worked well with us," Crafton's attorney told media sources. In October, Crafton's attorney filed an unsuccessful motion to dismiss the case on the grounds that Crafton was not in a position of power over the student. "She's got her whole life ahead of her, and hopefully, this is just a blip on the radar for her.'"
The age of consent in Indiana is 16 years of age, but state employees are prohibited from having sexual relationships with anyone under the age of 18 whom they oversee. Crafton admitted to police that she had performed oral sex on the student in the parking lot Western Supermarket in Shelbyville. "Even though he wasn't a cheerleader that she had, he was still in the system as a student, which put her in a position of authority, which made it illegal," said Lt. Michael Turner with the Shelbyville Police Department.
The Devil's Spawn!
Posted: Tuesday, February 5, 2013, 12:16 PM - Updated: Thursday, Feb. 7, 2013, 1:25 AM PST
Brooklyn, New York
-- Convicted cop killer Ronell Wilson hatched a plan to avoid the death penalty by impregnating a female guard with his evil seed at the federal jail in Brooklyn. Federal agents arrested the guard, Nancy Gonzalez (
pictured right
) at her Huntington, Long Island, home Tuesday. She is eight months pregnant. Gonzalez, 29, a guard at the Metropolitan Detention Center, was charged with having sexual intercourse with an inmate. She was arraigned Tuesday, February 5th in Brooklyn Federal Court. She faces 15 years in prison if convicted. Their hookups occurred over three weekends during which "the sole purpose was to impregnate her," the complaint states. Gonzalez allegedly serviced Wilson while the other inmates were locked down in their cells. Gonzalez became pregnant in June 2012, the complaint says.
Gonzalez admitted the illicit relationship in a recorded telephone conversation with her boyfriend who is incarcerated in state prison. She stated, "[I] kind of got sucked into his world" and "[I] felt like, well, why not give him (Wilson) a child as far as giving him some kind of hope," court papers state. "I took a chance because I was so vulnerable and wanted to be loved, and now I am carrying his child," she said. Gonzalez reportedly told her boyfriend's mother that she is ready to "own up to her part of it but by no means is she going to make someone go on death row," the complaint states.
During Wilson's (
pictured left
) 2007 trial for killing the undercover detectives in cold blood, prosecutors introduced a letter he wrote to another inmate, "I just need a baby before this pigz try to take my life. I need to have something behind me." Wilson, 30, who is facing the death penalty for murdering undercover NYPD detectives Rodney Andrews and James Nemorin during a gun buy and bust, was outed by prison snitches, according to a complaint. One informant spotted her moving away from Wilson's cell door while he was standing on the doorway "with his pants down, exposing his genitals." Wilson was moved to solitary confinement in August while agents from the Department of Justice's inspector general's office launched an investigation.
(Detective Rodney Andrews (left) and Detective James Nemorin (right) were murdered while conducting undercover gun buys.)
Wilson was sentenced to die by a federal jury but the U.S. Court of Appeals overturned the sentence due to prosecutorial error. He still faces life in prison or death by lethal injection when he is resentenced later this year. In November, a hearing was held on Wilson's claim that he is mentally retarded and therefore not eligible for the death penalty. A decision from Judge Nicholas Garaufis is pending. It is unclear how Gonzalez's arrest will affect the mental retardation motion. "If this was done by design, it's not the actions of a person who is mentally retarded," said Michael Palladino, president of the Detectives Endowment Association. "It's a devious plot to avoid the death penalty." Federal prosecutors are prepared to argue to a new jury that Wilson remains a danger in prison because of his membership in the Bloods gang and his skill at manipulating prison staff. That makes him a high risk to escape or pass messages to associates on the outside.
Culpable!
March 11, 2013 2:14 PM
HOUSTON (WCJB)
-- A former teacher is facing a felony charge, accused of having a sexual relationship with a former student, which came to light when he allegedly threatened her. Kathanna Culp, 28, began teaching at Northbrook High School in the Spring Branch ISD in September 2011. According to court documents, in March 2012, she began having a sexual relationship with a student who then graduated during May 2012. Culp and the boy reportedly continued the relationship until November 2012.
In December, Culp reportedly went to the school's principal in tears, saying the while she tried to end the relationship, the boy didn't want to break up, and threatened to go public with the relationship.
The former student told Spring Branch ISD police that Culp hosted parties for underage teens, providing them with liquor, beer and marijuana, once including children as young as age 10. He added that Culp had sent him provocative photos of herself via cell phone.
Culp, whose employment with the district was terminated in December 2012, was arrested on Wednesday, March 20. She is charged with improper relationship with a student.
"This kind of outrageous, illegal conduct will never be tolerated in this school district," SBISD Superintendent of Schools Duncan Klussmann said. "We will always aggressively investigate any allegation of impropriety by any teacher or any other employee, and we will take the strongest possible action against such employees when these allegations are proven true. Our first priority every day is the safety of every student. We will continue to work closely with law enforcement authorities and urge that if these allegations are true, this former employee be prosecuted to the fullest extent of the law."
Titan Dialogues
March 11, 2013 2:14 PM
Murfreesboro, TN
-- A former NFL cheerleader offered a 12-year-old boy oral sex after following him into a bathroom during his parents' house party, police have said. Elizabeth "Leigh" Garner, 42, is accused of trying to seduce the preteen by fondling his penis and trying to pull down his pants. He bolted after she asked if he'd "ever been with a woman." Telling his mom what had happened, she called the police.
The married busty blond, who shot to fame when cheering for the Tennessee Titans for three seasons until 2008, as she was significantly older than her colleagues, claims innocence. She told investigators she was "drunk that evening and she got the boy confused with a man" also at the party. But local cops say that's "no excuse for sexually assaulting a child."
Murfreesboro police officer Kyle Evans said: "If you can't tell the difference between a 12-year-old and an adult, then there are problems." Garner was arrested and charged with sexual battery and solicitation of a minor for child rape last week for the incident, which allegedly took place in February. She was released on $30,000 bond and faces eight years in prison if convicted.
---
The Zumba Files
---
Posted: 12:38 PM EST, Sun November 24, 2013 - Updated: 2:38 PM PST, Sun November 25, 2013
Kennebunk, ME
-- Alexis Wright, 29, the Zumba instructor in Maine who ran a prostitution ring out of her fitness studio, was released from jail early for good behavior and participating in a work program, according to a York County Jail spokesman. Wright walked out of the Maine jail at 8 a.m. Saturday after serving nearly six months of a ten-month term for a prostitution case that last year rocked the sleepy New England town of Kennebunk.
Court documents showed that Wright videotaped intimate encounters with some of her customers in three locations -- including her store-front Zumba exercise studio -- and would send the footage to her business partner, Mark Strong. Her client list, including accountants, lawyers and even a local TV personality, became the talk of the picturesque Maine town.
The State Police and the Drug Enforcement Administration began investigating the prostitution ring in 2011 after receiving a tip that there was more going on at the studio than a Latin dance fitness party. In February 2012, Wright's Zumba studio was raided. More than 13,000 Skype video call snapshots were recovered from Strong's computer, during the raid. According to Strong's sentencing memo, Wright would not engage in a prostitution session unless Strong had "prior knowledge of the session and was actively watching via the Skype connection."
Strong was found guilty of promotion of prostitution and conspiracy to promote prostitution in March. He was sentenced to 20 days in jail, court documents said. In addition to jail time, Wright was ordered to pay $57,000 in restitution and $1,000 in fines. Prosecutors dropped more than 80 other counts and reduced more serious tax-related charges from felonies to misdemeanors, according to the sentencing documents.
Media calls to Wright and her attorney were not returned.
March 11, 2013 2:14 PM
KENNEBUNK, Maine
- A Zumbia studio in a southern Maine town will reopen this month after it was shut down a year ago on allegations that the instructor was using it as a prostitution front. Joyce Bagshaw is opening Danceworks in a space that used to house Pura Vida, a fitness studio operated by Alexis Wright. Wright faces numerous prostitution and related charges for allegedly hooking up with customers in her dance studio and a rented office in Kennebunk. Bagshaw said she doesn't have any second thoughts about opening a Zumbia studio in the same space, adding that the publicity will help business.
"There are many more people that know the studio exists and that it offers Zumba," she said. "And I'm going to be the person taking advantage of that, so I see it as a positive." Bagshaw taught Zumba since 2008 at studios in the area and even taught at Pura Vida when Wright opened it in 2010. She said she quit working for Wright in 2011 when she became aware of Internet pornography videos featuring Wright. But Bagshaw said she couldn't resist taking a chance on the space after it came open and will begin offering a few classes this month with a grand opening scheduled for May.
Bagshaw said she's heard from former clients and others who plan to take classes and that they've been supportive and encouraging. "Just because it's in a building where something happened that became world news is no reason why we can't go there and dance and bring a different spirit there," said Solveiga Purens, who began taking Zumba classes two years ago from Bagshaw. "I even joke about it -- I say, 'I'll be the madam and we'll start a real business.'"
Insurance salesman Mark Strong Sr. was convicted of 13 counts of promoting prostitution earlier this month in connection with the prostitution case. Wright has pleaded not guilty and has not gone on trial. Kennebunk Police Chief Robert MacKenzie, who testified in Strong's trial, said he likes that the studio is going to stay a studio. "That's a good thing," he said. "I give credit to the woman who's opening it back up."
Posted: 03/07/13 02:31 AM ET EST
ALFRED, Maine
-- The focus of a small-town prostitution scandal has turned to a Zumba fitness instructor Alexis Wright now that an insurance agent accused of being her business partner has been convicted. Wright has been captured in scores of sex videos. Video and testimony during insurance agent Mark Strong's trial indicated dance instructor Alexis Wright's trysts were captured by a hidden video camera in a sophisticated operation featuring meticulous ledgers and calendars and the use of license plates to identify clients. Before each tryst, prosecutors say, Wright took time to make sure her hidden video camera was pointed at the massage table where they took place. Wright faces 46 invasion-of-privacy charges along with 50 additional charges that include prostitution and tax violations. Strong, who has acknowledged having an affair with Wright, monitored the sex acts from his office 100 miles away. Wright faces charges of prostitution and tax violations. She has pleaded not guilty and will stand trial in May if there's no plea deal.
The prostitution scandal in Kennebunk, a village known more for its sea captains' homes and beaches than for crime, attracted international attention in the fall after it was reported that Wright's ledgers indicated she had more than 150 clients and made $150,000 over 18 months. Authorities then set the town abuzz with word that they would be charging each of the johns, leading residents to wonder who they were. More than 60 john suspects have been charged. Deputy District Attorney Justina McGettigan said she'll meet with Wright's lawyer next week for a settlement conference. Wright's lawyer said the issues are different with Wright's case than with Strong's case. She declined to comment on settlement talks.
"Prostitution is not legal in Maine. We don't promote prostitution. We don't want it in our communities," she said. "The Kennebunk Police Department did a fabulous job investigating this despite all of the negative comments that were thrown out that it was a poor use of resources. In fact, it was a good use of resources because it makes our communities safer." After Strong's conviction Wednesday, McGettigan said the guilty verdicts vindicated law enforcement officials accused of putting too much time and money into the investigation that led to charges, mostly misdemeanors, against the two key figures.
While Wright is accused of engaging in prostitution, it was Strong who called the shots by controlling, supervising and managing the prostitution business, prosecutors said. The married businessman acknowledged helping Wright her open the Kennebunk studio but contended he didn't profit from her prostitution. Testimony and videos presented to jurors indicated Strong was familiar with operational details of Wright's activities, chatting via Skype before and after her appointments and watching the sexual encounters from his office in Thomaston. Wright provided clients' license plate numbers to Strong, who used his position as a private investigator to check them out, prosecutors say.
Jurors convicted him of all 13 counts: 12 of promoting prostitution and one of conspiracy. Combined, there's a possible prison sentence of 13 years, but that's unlikely because Strong, 57, had no prior criminal record. The judge previously dismissed 46 invasion-of-privacy counts that stemmed from videotaping of clients without their knowledge. Strong, of Thomaston, showed little reaction as the verdicts were announced. His wife buried her head in their son's shoulder and quietly sobbed. Later, Strong said his family needs to heal. "It's not easy, obviously," Strong said outside the courthouse. "It's going to take time." As for Strong, he has been released on personal recognizance pending sentencing on March 19.
The verdict in the delay-plagued trial came more than six weeks after the start of jury selection, which was halted twice because of legal action that went to the state Supreme Court, leaving potential jurors in limbo for weeks. Defense lawyer Dan Lilley said he was disappointed by the verdict but is focusing on sentencing and possible appeals.
Posted: 02/27/13 04:44 PM ET EST
ALFRED, Maine
— The jury in the trial of an insurance agent accused of helping a Zumba instructor use her dance-fitness studio as a front for prostitution viewed more than two dozen sexually explicit photos and a video that showed the instructor performing a striptease.
But the jurors showed little reaction to the images Wednesday. One of them even yawned in between photos.
The judge allowed prosecutors in the trial of Mark Strong Sr. to introduce about 100 images – but not all 577 pictures the government wanted to show – depicting instructor Alexis Wright having sex with alleged prostitution clients. All told, more than 13,000 of the images were recovered from Strong's computer.
Strong faces 13 counts related to promotion of prostitution. Prosecutors said he made the screen-grab snapshots from live Skype sessions he had with Wright while she engaged in sex for money.
Jurors quickly and nonchalantly looked at some of the photos, which were passed around for them to see. They also watched a video taken from Wright's possession in which she stood inside her studio in front of the windows and dropped a towel, revealing to men across the street that she was naked.
The photos and videos were subject of a dispute between prosecutors and defense lawyer Dan Lilley, who told the judge that subjecting jurors to massive amounts of pornography was overkill and that "the cumulative effect could be prejudicial." The judge ultimately allowed the smaller number of photos and videos.
Strong, 57, of Thomaston, contends he had an affair with 30-year-old Wright and helped her launch her Pura Vida dance studio in Kennebunk but that he was unaware of any paid sex.
Prosecutors say the sex sessions that Strong watched from his insurance office 100 miles away in Thomaston proved he knew about prostitution because they showed money exchanging hands.
The prostitution scandal attracted international attention after it was reported that Wright had ledgers indicating she made $150,000 over 18 months and had more than 150 clients, some of them prominent.
The trial has been marked by delays, and the judge is trying to move the case along.
Frustrations showed on Wednesday. With jurors reviewing texts and emails behind closed doors, lawyers became increasingly testy as they debated the photos. "This isn't helping," the judge warned.
Exasperated by the delays and bickering, the judge stormed out of the courtroom at one point to take care of some clerical work because evidence submitted by prosecutors mistakenly included the name of an accused prostitution client who hadn't been convicted. She closed the door firmly behind her.
Strong faces 12 counts of promoting prostitution and one count of conspiracy to promote prostitution. Forty-six other counts accusing him of violating the privacy of accused prostitution clients by watching streamed video of them without their knowledge were dismissed by the judge.
Posted: 02/26/13 03:10 PM ET EST
ALFRED, Maine
— A judge on Tuesday refused to throw out charges against an insurance agent accused of helping a fitness instructor use her Zumba studio as a front for prostitution.
Lawyers for Mark Strong Sr. asked the judge to punish prosecutors for repeatedly missing deadlines for turning over discovery materials, even as more than 100 pages of police reports, notes, videos and audio recordings were provided to the defense on Tuesday.
"They're beyond discovery violations. They're due process violations," defense lawyer Tina Nadeau told Justice Nancy Mills. "Enough is enough."
But Mills said there were other less-drastic remedies that include delaying testimony to give the defense more time to review the materials and giving special instructions to jurors.
Strong's trial has been marked by delays caused by motions and appeals. At one point, jury selection was delayed by more than three weeks while prosecutors sought to reinstate 46 invasion-of-privacy counts that the judge dismissed.
The remaining 13 counts against Strong focus on promotion of prostitution with dance instructor Alexis Wright. Both pleaded not guilty.
The defense says Strong had an affair with Wright and helped her launch her Pura Vida studio in Kennebunk by co-signing for her lease but knew nothing about allegations that prostitution was taking place at Wright's studio, office and home.
On Tuesday, a state police investigator specializing in cellphone records testified that Wright and Strong were in constant contact, with 25,111 phone calls, texts and data transfers between the two of them from January 2010 to February 2012.
A postal inspector also testified that Wright sent a number of packages to Strong.
The defense contends Kennebunk police targeted the 57-year-old Strong, who held a private investigator's license, because he was conducting an investigation into unprofessional conduct by Kennebunk officers.
On Tuesday, Mills ordered prosecutors to give Strong's lawyers a police file involving a Kennebunk officer involved in a shooting. Previously, prosecutors had to turn over a written reprimand against the lead investigator, who had an affair with her boss.
The defense is expected to mine the material to try to discredit investigators.
Still up in the air was how many pornographic images jurors would see. The judge had yet to rule on a request to prune back the 577 images prosecutors wanted to introduce.
The images were found on Strong's computer, and prosecutors contend they show Strong knew Wright was working as a prostitute. The defense argued that pornography possession isn't a crime and the photos could "horrify" jurors and make them biased against Strong.
The prostitution scandal attracted international attention last year after it was reported that Wright had ledgers indicating she made $150,000 over 18 months and had more than 150 clients.
Updated:November 2, 2012 - 10:31 PM PDT
Kennebunk, Maine
-- Police released more names from the client list of men alleged to be involved in the Alexis Wright Zumba Prostitution Case on Friday. Today's release, the second portion of the client list to be revealed, includes the names, ages, addresses, and scheduled court dates for the men. The names were collected from the records of Alexis Wright, a local Zumba instructor accused of operating a prostitution ring in her studio and nearby space. Here is the full list of names to add to the first Alexis Wright client list release from earlier in the month. All of the clients were scheduled to appear in court on December 19, 2012.
Client List Release 2
•» Jason Rickett, 29, of 2 Paige Drive, Gorham, Maine. He is scheduled to appear in Biddeford District Court on Dec. 5.
•» Dennis Sillon, 54, of 476 Shapleigh Corner Road, Shapleigh, Maine. He is scheduled to appear in Biddeford District Court on Dec. 19.
•» Michael Dente, 33, of 5 Allison Drive, Saco, Maine. He is scheduled to appear in Biddeford District Court on Dec. 5.
•» Matthew Scott, 48, of 767 Minot Avenue, Auburn, Maine. He is scheduled to appear in Biddeford District Court on Dec. 19.
•» Matthew Dichard, 44, of 38 Duston Drive, Glenburn, Maine. He is scheduled to appear in Biddeford District Court on Dec. 19.
•» Patrick Heelan, 56, of 128 Burnham Road, Scarborough, Maine. He is scheduled to appear in Biddeford District Court on Dec. 19.
•» Nathaniel Thompson, 53, of 221 Spurwink Road, Scarborough, Maine. He is scheduled to appear in Biddeford District Court on Dec. 19.
•» Albert Tremblay, 46, of 144 Old Derry Road, Hudson, N.H. He is scheduled to appear in Biddeford District Court on Dec. 19.
•» Kris Kamys, 65, of 469 Brownfield Road, Hiram, Maine. He is scheduled to appear in Biddeford District Court on Dec. 19.
•» Robert Chabot, 66, of 35 Clark Street, Saco, Maine. He is scheduled to appear in Biddeford District Court on Dec. 19.
•» Neil McDonald, 58, of 13 Acorn Lane, Scarborough, Maine. He is scheduled to appear in Biddeford District Court on Dec. 19.
•» Steven Houghton, 43, of 1 Meadow Lane, South Berwick, Maine. He is scheduled to appear in Biddeford District Court on Dec. 19.
•» Frank Parker, 61, of 14 Cooper Road, Freeport, Maine. He is scheduled to appear in Biddeford District Court on Dec. 19.
•» Michael Wears, 52, of 27 Abenaki Lane, Sanford, Maine. He is scheduled to appear in Biddeford District Court on Dec. 19.
•» Jason Nadeau, 38, of 105 County Road, Scarborough, Maine. He is scheduled to appear in Biddeford District Court on Jan. 23.
•» Joseph Lewis, 49, of 80 Morning Street, Portland, Maine. He is scheduled to appear in Biddeford District Court on Dec. 19.
•» Donald Fortin, 59, of 83 Skillings Woods Road, Turner, Maine. He is scheduled to appear in Biddeford District Court on Dec. 19.
•» Lawrence Ritchie, 48, of 44 Cotton Road, Deerfield, N.H. He is scheduled to appear in Biddeford District Court on Jan. 23.
Posted: 2:20 PM, Oct 16, 2012 - Updated: 22:54 PM, PDT - Nov. 2, 2012
KENNEBUNK, MAINE
— The first batch of more than 100 men accused of paying a fitness instructor for sex were laying low after police began releasing their names in a small New England town where rumors have run rampant for weeks. Police on Monday released 21 names of men who were issued summons for engaging in prostitution with a 29-year-old Zumba instructor who's charged with turning her dance studio into a brothel in this seaside community and secretly videotaping her encounters.
The following names were released:
•» Gary Bahlkow,
•» Jens Bergen,
•» Norman Crepeau,
•» Joseph Cuetara,
•» Kenneth Fairbanks,
•» Donald Hill,
•» Monie Hobbs,
•» David Kline,
•» Robert Labonte,
•» Dale Madore,
•» Paul Main,
•» Harry McMann,
•» Kevin Pagliccia,
•» Claude Palmer,
•» Philip Parker,
•» Colin Powers,
•» Clinton Ray,
•» James Soule, J
•» John Verreault,
•» James White and
•» Peter Wormell Sr.
Posted: October 17, 2012 10:34 AM - Updated: October 29, 2012 12:07 AM PDT
KENNEBUNK, Maine (WCJB)
- Zumba instructor Alexis Wright, 29
(pictured above, center)
pleaded not guilty to 106 counts of prostitution and other charges after being accused of running a brothel in her dance studio and in an office across the street, as well as secretly videotaping many of her encounters. Police said she kept meticulous records suggesting the sex acts generated $150,000 over 18 months. Her business partner and husband, Mark Strong, also pleaded not guilty to 59 counts.
Earlier last week, police released 21 names in a "johns" list that is believed to contain more than 150 names long. The release of the first batch of names initially created havoc for some innocent men who shared names with the accused. A former mayor and men from more than a dozen towns across Maine, Massachusetts and New Hampshire are on the list of people who allegedly paid Zumba instructor Alexis Wright for sex at her dance studio in the small New England town of Kennebunk. The list of alleged clients includes former South Portland Mayor James Soule, as well as a lawyer and a real estate appraiser. The men ranged in age from 34 to 65. Soule did not return calls for comment from the Associated Press, nor did he answer his door.
The Kennebunk Police Department plans to release the the rest of the accused client's names every other week as they are issued summonses, meaning the disclosure of names could continue until the end of the year. The next batch were due released Oct. 26. Addresses, ages and other identifying information of the alleged clients were withheld after a judge ruled that state law required them to be kept confidential because the alleged videotapes of the sexual encounters may make the men potential victims of privacy invasion. However, Superior Court Justice Thomas Warren reversed course on Tuesday, ruling in favor of a request from The Portland Press Herald newspaper which argued that releasing only partial information was unfair to people not on the list.
"The fact is that by releasing names only, you're getting a lot of false positives. You're implicating people who may be completely innocent and simply share the same or similar names with people charged, and that's a real harm," a media attorney said.
---
Reader Pageviews by Country
---
From: Jan 16, 2013 11:00 AM – Jan 23, 2013 10:00 AM
---
«•
Thank you for visiting Corrupt Justice™. Enjoy our Free Movie Intermission! Don't forget to Bookmark Us & Tell A Friend! We're Global!
•»
---
Movie Intermission!
The Cold Case Murder!
Interrogation!
---
Description:
Los Angeles, CA – Lazarus was sentenced to 27 years to life in prison with the possibility of parole for killing her ex-boyfriend's wife nearly three decades ago in a fit of rage and jealousy. Prosecutors said in a "statement of views" filed in court that "Lazarus misused her police training in the most profound way imaginable by utilizing that training and experience to commit murder and to cover up her crime. Lazarus betrayed the trust placed in her by the Los Angeles Police Department and by people of Los Angeles in order to pursue her own murderous ends."
---
---