↓↓↓↓↓↓↓↓↓ Blog Post Starts Below ↓↓↓↓↓↓↓↓↓
---
Click on Banner to Sell Your Home(s)!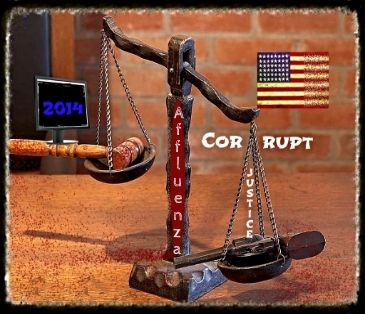 ---
Top News Stories!
Crystal I.C.E.!
Posted: August 20, 2016 ~ Updated: August 21, 2016

Tuscaloosa, AL -- Tuscaloosa defense attorney John Fisher Jr., 48 (pictured above, center-left) was arrested Friday and charged with trafficking in methamphetamine. Fisher and Christopher Shane Rushing, 42 (pictured above, center-left-right) of Northport, were found in possession of two active "one-pot" meth labs on Friday.

The investigation began when agents were informed that a suspect dropped off a backpack containing items believed to be components of a methamphetamine lab. Police have not released information regarding the location. Agents observed a second man arrive at the location and then exit carrying the backpack. The second man was followed by police to an office located in the 1600 block of Greensboro Avenue in Tuscaloosa. Fisher's law office is located at 1609 Greensboro Avenue. Officers continued to conduct surveillance at the law office. They saw the first suspect arrive at the office and later walk out carrying the same backpack.

Both suspects, Fisher and Rushing, were then taken into custody by officers. During a search of one of the suspect's vehicles, agents found an active "one-pot" meth lab. Tuscaloosa police say Agents with the West Alabama Narcotics Task Force seized 369 grams of meth oil during the investigation. Fisher was released from jail after posting $250,000 bond. Rushing remains in jail on $250,000 bond.

I.C.E. Cold Busted!
October 20, 2011
Arizona

-- A deportation officer with U.S. Immigration and Customs Enforcement led Arizona state police and federal agents on a high-speed desert chase in his government vehicle, throwing bundles of marijuana out of the window as he fled, the Department of Public Safety said Wednesday. The deportation officer, identified as Jason Alistair Lowery (

pictured above, center

) 34, had been under surveillance for more than month after a known smuggler who had been arrested gave authorities a tip about the officer in an effort to get lenient treatment, Department of Public Safety Officer Carrick Cook told media sources. In a criminal complaint filed late Wednesday against Lowery,

who also used to be a Border Patrol agent

, a Department of Homeland Security investigator wrote that he got further information about Lowery through a confidential informant on Oct. 4, 2011. The informant, whose identity was protected, said that he or she was involved with Lowery and another man in a "rip'' crew in which Lowery used his status in law enforcement to help steal marijuana from illegal immigrants, wrote Brian Gamberg-Bonilla, a special agent with the DPS's Office of Investigations. The informant agreed to call Lowery and arrange for him to pick up 500 pounds of pot in the desert on Tuesday, which is how authorities were able to follow him and begin to make their case, Gamberg-Bonilla wrote in the document.



video temporarily removed


DPS and federal agents tried to pull Lowery over after he picked up the marijuana with his unmarked ICE pickup truck, Cook said. Lowery then fled, leading agents on a 45-minute chase at speeds of up to 110 mph as he threw 10 of the 14 bundles of pot that he had in the truck out of the window, he said. The chase began in the Vekol Valley about 45 miles south of Phoenix and ended just south of Sacaton, about 20 miles as the crow flies northwest from where the chase began. "He got pretty desperate,'' Cook said. It ended when Lowery's truck rolled over and he gave himself up. Lowery, who lives in the Phoenix suburb of Chandler, appeared in federal court in downtown Phoenix on Wednesday but did not address the court. He sat quietly awaiting the hearing and at one point looked up at the ceiling and repeatedly shook his head. Prosecutor John Lopez argued that Lowery should be detained as his court case proceeds, saying that he poses a risk to the community and could flee the state. He also said that Lowery had a non-government-issued gun on him when he was arrested. Federal Magistrate Michelle Burns set a hearing in the matter for Tuesday. Lowery's court-appointed attorney declined to comment. Lowery's wife, who identified herself as Trina Lowery, also declined to speak to media sources.
Method Man!
Tue Apr 19, 10:17 am ET





VAN BUREN, Mo.

– One county on the edge of the Missouri Ozarks seemed oddly immune to the scourge of methamphetamine ravaging the state, boasting few meth raids or arrests in recent years. Some residents now think they know why, after a meth bust landed the Carter County sheriff himself in jail. Now, a county once seen as an exception has become the latest example of how deeply meth has saturated every corner of rural Missouri life. Other rural law enforcement officers have been linked to drugs over the years, but Adams is one of the first arrested for meth.


Tommy Adams, county sheriff for a little more than two years, was arrested earlier this month after giving meth to an informant at his cabin on a remote and hilly gravel road, according to a court document. He also allegedly snorted the drug himself with a straw. Authorities would not detail the extent of Adam's alleged meth involvement, but charged him with meth distribution. He is being held in Cape Girardeau County jail on $250,000 bond. "I think it's pretty sad," said Vicki Babbs, 46, of Van Buren. "You've got someone who's sheriff riding around high on meth with a gun. It's pretty scary." Adams, 31, worked as a laborer around Ellsinore, his hometown, before getting his law enforcement certification about four years ago, and was soon hired as an Ellsinore city officer, Mayor David Bowman said. "I never had any trouble with him," Bowman said. "He was outgoing, friendly." After just two years of law enforcement experience, Adams, a Republican ran for sheriff in 2008 against favored Democratic incumbent Greg Melton. But just weeks before the November election, Melton died in what was ruled a suicide. It was too late for the Democrats to replace him, and Melton's name remained on the ballot. Adams won by a single vote — 1,424-1,423 — and took over the $37,000-a-year job. County residents hope the case sheds light on the extent of the local meth problem as well as other crimes.




Days after the sheriff's arrest,

his chief deputy, 23-year-old Steffanie Kearbey, was charged with burglary and receiving stolen property — a gun taken from the department's evidence room

. An attorney for chief deputy Kearbey, said his client had no law enforcement experience before the sheriff paid for her certification training, then hired her for the $20,000-a-year job. He said Adams was the "instigator" of the crimes alleged against Kearbey. She is accused of selling a gun that had been stolen from the sheriff's department's evidence room and taking a duffel bag of coins from a house. "We're hoping that an eventual jury will understand that this young woman was under a lot of pressure from the sheriff," the attorney said. "She was new in law enforcement, and acted under threats of loss of her job or physical threats."

Carter County sits in the Ozark Mountain foothills, surrounded by the Mark Twain National Forest. Thousands of visitors come each year for float trips and to visit Big Spring State Park, just outside of Van Buren, where crystal-clear water bubbles constantly into a meandering stream. Just more than 6,000 residents live here. Good jobs are hard to come by.

No state has been hit harder by the meth epidemic than Missouri, which led the nation in meth lab busts every year for a decade before Tennessee took over the top spot in 2010, dropping Missouri to second. Missouri has reported more than 13,000 meth lab incidents in the past seven years. The highly-addictive drug, made by cooking common chemicals, has caused countless fires and explosions, along with severe health problems among users.

Other southern Missouri counties have had dozens of meth lab busts in recent years. But Carter County had just five since Adams took over as sheriff — two in 2009, three in 2010. "I think meth is out there and maybe he knew what was going on," Carter County Presiding Commissioner John Bailiff said. "I think a lot of people just turn a deaf ear to it, including maybe the sheriff."

Lloyd Parsons, 37, a member of the Van Buren Fire Department, never figured Adams for one of the bad guys. He described Adams, the married father of an infant son, as professional and knowledgeable. "I've worked several accidents with the guy and he knew his stuff, even the medical part," Parsons said. But Richard Stephens, who was a Van Buren officer before being appointed as temporary sheriff until a special election can be held this summer, said he had concerns about Adams. "I had a suspicion that things weren't being handled effectively and professionally," said Stephens, 42. He would not elaborate, citing ongoing state and federal investigations. Adams and his attorney declined several interview requests.

The Missouri Attorney General's office has taken over prosecution of the case. Stephens and county commissioners are trying to ease the minds of residents left angry and disappointed. "They're upset about the breakdown in trust," Stephens said. "We need to be bending over backward to try and regain that trust with the public."
Boilin' Brook!
Published Thu, Apr 14, 2011 10:15 AM Modified Thu, Apr 14, 2011 03:13 PM (PDT)
Two Bolingbrook police officers were arrested April 5 around 11:30 p.m. in Peoria after getting into a fight at a strip club, Peoria police said. The two officers, whose names were not released by the Peoria Police Department, shoved and jumped on top of security personnel at the club, known as Big Al's, after a member of their group was not allowed in the building for failing to have an ID, said Peoria Police spokesman Doug Burgess. No serious injuries were reported. One Bolingbrook officer was charged with battery, and one was charged with battery and criminal trespass, all misdemeanors. The officers were in Peoria for a law enforcement conference, Burgess said. A police officer from Channahon was also involved and arrested in connection with the dispute, Burgess said. Bolingbrook police Lt. Mike Rompa said the department is "working in conjunction with the Peoria Police Department in regards to this case. The incident remains under an internal investigation within the Bolingbrook Police Department, as this is a personnel issue."

Hit & Run!
POSTED: 10:59 pm PDT April 12, 2011 UPDATED: 1:45 pm PDT April 13, 2011
SAN DIEGO, CA -- A San Diego police officer is suspected of being in a hit-and-run crash and driving under the influence. Sources told the media SDPD Officer David Hall was off-duty and driving a brown GMC Yukon SUV on the onramp to northbound Interstate 805 just north of Murray Ridge Road on Feb. 22, 2011 at about 7:30 p.m. He then crashed into a gray Chevrolet Suburban but kept driving north onto I-805. Sources also told the media Hall consented to a breathalyzer test outside his Linda Vista home.

Sources told us Hall blew three times the legal limit. As for the hit-and-run allegations, one police source told the media that Hall told investigators he stopped to check on the woman in the Suburban and left only after she told him she was ok. The media went to Hall's Linda Vista home to get his side of the story, but he was not home.

The San Diego Police Department acknowledged Hall is the subject of an internal review and the district attorney's office is reviewing the case. However, the department would not say why Hall was not arrested.

A former police officer who is now a criminal defense attorney, gave this reason. "If in this case the officer suspected of being involved in this was out of the vehicle at his home and no one identified him as being the driver of the motor vehicle, they're left with his car being the suspect vehicle [and] him being a suspect but nobody being able to positively identify him as the driver. That would really complicate a prosecution on this," he said. The attorney said if Hall is found guilty of the hit and run alone, that could cost him his job.

Hall is the fourth San Diego police officer facing legal trouble in recent months. Roel Tungcab was arrested in March on suspicion of domestic violence. Also in March, Anthony Arevalos was arrested and accused of fixing tickets in exchange for sexual favors. In February, Art Perea quit the police force amid a rape investigation.

Search Warrant!
November 22, 2010

On November 18, 2010, the Cook County state's attorney's office this week searched the Maywood Police Department for information about a controversial former officer. Maywood Police Chief Tim Curry said the state's attorney's Public Integrity Unit on Tuesday searched the records of Dwayne Wheeler, who shot and killed a man during a drug investigation in 2007. "They are doing an investigation. I don't know the nature of the investigation," Curry said. The state's attorney's office would not comment. Wheeler, a sergeant, was fired in 2009 for not living within 15 miles of the village's boundaries. The family of Fred Henderson is suing Wheeler after he shot Henderson in 2007 during a drug investigation at 17th Avenue and Harrison in the west suburb. Dan Kiss, the family's attorney, said he expects the case to go to trial early next year.

Hydrocodone!
November 19, 2010
Police think one of their own officers illegally tried to obtain a controlled substance from a pharmacy by using the medical prescription of a dead man, according to search warrants made public today. Investigators have charged Julian St. Clair King, 26, of 106 Bermuda Green, Durham, with two counts of attempting to obtain a controlled substance by fraud, court records show. Investigators say King went to Walgreen's, 3911 Capital Blvd, on Thursday and Friday and attempted to purchase a prescription Hydrocodone, according to five search warrant applications filed at the Wake County Clerk of Courts Office.



King was one of the Raleigh police officers who responded on Oct. 10 when a 72-year-old man died at home. Raleigh police Sgt. T.S. Jordan stated in the search warrant application that investigators think Oct. 10 is when King (pictured above, center) got his hands on the deceased man's medication list. A prescription for Hydrocodone was on the man's medication record at a Kerr Drug and the deceased man's wife notified the drugstore on Oct. 18 of his death, Jordan stated. Someone, however, transferred the prescription on Nov. 1, via the Internet, from Kerr to Walgreen's on Capital Boulevard. When the attempt was made to have the prescription filled, a Walgreen's pharmacist saw that the store's records indicated the person who legitimately held the prescription had died. He then notified the police.

Jordan reviewed Walgreen's security video and recognized King as the person who attempted to get the prescription filled and as the officer who investigated the Oct. 10 death. Another Raleigh police commander, Lt. K. Riggsbee, also reviewed the footage and confirmed that the man in the video appeared to be King.

Police obtained a series of search warrants on Saturday to search King's home and seize a Dell laptop computer, three Apple iPhones and a computer tower as evidence in the investigation, court records show. Also among the items investigators seized was a medication list for the deceased man, police reported. The investigation is ongoing and Raleigh police say department disciplinary actions taken so far in the case are not public record. King turned himself in to Durham police Tuesday and was taken to the Wake County jail on Wednesday, where he was released on an unsecured bond, a jail spokesman said.

Window Dressing!
November 16, 2010



video temporarily removed


It was Jazmine Fortenberry's 21st birthday, and her adoring family wanted it to be special. Instead, Jazmine said she ended up handcuffed, hospitalized, and humiliated by a cop with an anti-gay attitude. Her family, including an uncle who is a Newark cop, gave the soft-spoken young chef a dinner party at an upscale restaurant in downtown Elizabeth, but what happened next has changed her life forever. "I was scared, I didn't know what was going on... it happened so fast," she said. Jazmine said she was outside the restaurant when suddenly a cop pushed her face first into the car window. She had cuts and bruises all over her face, could hardly see and was dizzy and bleeding. She said that later at the hospital, after she'd been arrested and was in custody, the same officer returned. An Elizabeth police spokesman told the media that cops went to the parking lot to settle a fight, and that Jazmine was told to leave, refused, and was arrested. Police said the incident is under and internal affairs investigation. Jazmine's attorney wants prosecutors to investigate the possibility of anti-gay bias. And he wants the charges dropped. But healing the emotional wounds may be tougher than navigating the justice system. Jazmine hopes for an apology. Jazmine's attorney said that fight had nothing to do with her or her birthday party, and that she's pleading not guilty to the charges of disorderly conduct and resisting arrest.

Duty Kills!
October 14, 2010
A Phoenix police officer has been indicted on a second-degree murder charge for the on-duty shooting of a suspect, his lawyer said Thursday. Officer Richard Chrisman was served a summons on the indictment his attorney said. The indictment also charged him with aggravated assault and misdemeanor cruelty to animals. He had been previously charged with aggravated assault but remains free on bail.




Chrisman (pictured above, center) allegedly pulled his pistol, put it against 29-year-old Danny Frank Rodriguez's head and told him he didn't need a warrant when Rodriguez ordered him out of his house on Oct. 5. Over the next few minutes, authorities say, Chrisman shocked Rodriguez with a stun gun, shot his pit bull, then finally fatally shot Rodriguez, according to a court document. Records show another officer told investigators he saw no reason for Chrisman to shoot.

Maricopa County Attorney Rick Romley has called a press conference to discuss the case for late Thursday morning. In announcing the charges, Romley said he's supported and stood by law enforcement officers throughout his career, grieving with them when one is killed or injured. "But we as citizens put our trust and our lives in their hands, and when one violates and abused that trust, we must hold them accountable to the community for that breach," he said. "We must assure the victims and the community that the criminal justice process will be fair, transparent, and objective. And when justice is done, we must heal and move on."

In the past year, officers in the South Mountain precinct where the shooting happened have been accused of excessive force and racial profiling.

Police chief Jack Harris met with community leaders several times since the shooting to assure them the department was vigorously investigating the case. Protesters gathered daily in front of police headquarters. "If it was my neighbor, if it was my relative, I would be upset, angered and outraged as well," Harris said. Harris said Thursday that he had notified Chrisman he would use an expedited process to fire him from his job of nine years. The officer will have a chance to try to persuade Harris not to fire him at a meeting next week.

Chrisman's attorney said his client was justified in shooting Rodriguez and did not put his gun against his head as another officer reportedly said. Chrisman, 36, and officer Sergio Virgillo had been called to a south Phoenix mobile home by Rodriguez's mother, according to a court document. Elvira Fernandez told the officers she had been arguing with her son, that he had damaged property inside the trailer and that she left because she was afraid he would assault her. When the officers entered the home, Rodriguez asked to see a warrant, at which point Chrisman put his pistol against his head and told him he didn't need a warrant, the document said.




A police probable cause statement showed that the two officers then had difficulty controlling Rodriguez, with both firing their stun guns on the suspect to little effect. Virgillo told investigators that after using the stun guns, Chrisman used pepper spray on Rodriguez and shot a dog that was in the living room. Virgillo told investigators the dog was not threatening them and he saw no reason why Chrisman would shoot it. The suspect asked why Chrisman had shot his dog, and Virgillo said he tried to calm Rodriguez down and talk him into coming outside. The police document said Rodriguez told the officers he was leaving with his bicycle, but Virgillo moved to block the door and Chrisman began struggling with Rodriguez over the handlebars. Chrisman then allegedly pulled out his handgun and shot Rodriguez more than once. Rodriguez died at the scene. Chrisman was arrested about five hours after the shooting and was freed on bail the following day. His attorney said he and an expert he hired interviews Chrisman for several hours earlier this week. He said he offered to allow him to testify in front of a grand jury, but he never got a response from Romley. "They didn't want to hear his side of the story," his attorney said. Romley disagreed. "That's for a court proceeding," he said. "Grand juries are not a courtroom where a trial occurs."
Officer Henry Rogowski
August 17, 2010
ORLANDO, FL
-- Police in Orlando said a Pittsburgh police officer tried to make off with more than $300 in Harry Potter merchandise from Universal Orlando Resort while vacationing with his family. Officer Henry Rogowski, 49, was charged Sunday after a gift shop worker allegedly saw Rogowski shoplift two Potter-themed photo albums, bookmarks and a keychain. When confronted, police said Rogowski admitted he took those items and others without paying because the registers were busy and he didn't feel like waiting. Police also said the man had a gun on the premises. Rogowski posted $1,000 bail on Monday. Pittsburgh police Chief Nate Harper said Rogowski, a 17-year veteran, will face internal punishment.
Phtosa Dennis
February 10, 2010
MEMPHIS, TN
-- A Sheriff's Office Corrections Deputy was charged today for robbing a Memphis credit union last week. Phtosa (correct spelling pronounced TOE-SAH) Dennis, 42, of Memphis, was arrested last Friday afternoon by officers with the F.B.I. Safe Streets Task Force. The task force is comprised of the Federal Bureau of Investigation (F.B.I.), Shelby County Sheriff's Office and the Memphis, Bartlett and Germantown Police Departments.
Task force Officers say Dennis (
pictured left
) walked into the First South Credit Union at 3731 Austin Peay Highway last Tuesday (February 2, 2010) and initially stood in line as a customer. When Dennis stepped up to the counter, she handed the teller a note that demanded money. However, the teller ran from the counter when she saw Dennis had a gun. With no teller at the counter, Dennis grabbed the note and ran out of the business. During the escape, she dropped her gun. She recovered it and then sped away in a gold sedan. Dennis is a Corrections Deputy at the men's jail at 201 Poplar. She hired on in 1997 and has been relieved of duty
with pay
while the investigation continues.
Dennis faces charges of bank robbery and carrying a gun during the commission of a violent crime. She is being held at the federal holding facility in Mason, Tennessee. No bond has been set. An employee photo of Phtosa Dennis is being sent with this news release in a separate file.
David Woon Chong
August 25, 2009
A Los Angeles Police Department officer who threatened a restaurant patron with a knife and semiautomatic handgun was sentenced today to state prison, authorities said. David Woon Chong, 39, was sentenced to four years and four months for his role in a March 2008 incident at the restaurant on the Redondo Beach Pier, the Los Angeles County district attorney's office said. Chong threatened a restaurant patron after getting into an argument with two men. Chong kicked some food out of the man's hand, then pulled out a .45-caliber Glock handgun and pointed it at the man's head, the district attorney said. Chong left the restaurant and was pulled over by Redondo Beach police. He allegedly had a 0.11 blood alcohol level at the time of his arrest, according to the district attorney. The district attorney said Chong was sentenced after pleading no contest to one count of making a criminal threat and admitting to the gun use allegation.
---
Davy Jones
August 24, 2009
An Abbeville police officer has found himself on the opposite side of the law, arrested for allegedly choking a juvenile until he passed out. The incident took place in the early morning hours of Saturday according to the Henry County Sheriff's office. Abbeville Police Chief Mike Jones placed the officer on administrative leave without pay until further notice. He said the city would continue to seek updates from the Sheriff's Department and would make futher decisions when the investigation is completed.
Investigators say Davy Jones, 22, (
pictured left
) was off duty when he assaulted the 15-year-old boy. The victim's mother signed a warrant Monday morning and Jones turned himself in to authorities. Jones was charged with reckless endangerment and posted a $500.00 bond. Jones faces up to one year in jail and a $6,000 fine.
---
Anthony Plummer
August 24, 2009
A Cincinnati police officer with a history of improper use of force is under investigation again, this time for wrongly shooting City Councilman Cecil Thomas' daughter with a Taser during a traffic stop in which she was the passenger. Chief Thomas Streicher revoked Anthony Plummer's police powers Monday, saying he and five of his command staff reviewed a video of the early Sunday traffic stop and found Plummer was not in compliance with the department's use of force policy. Streicher said it's clear: Celeste Thomas, 26, was on her knees with her hands in the air when Plummer shot her with a Taser.
"A preliminary review shows he is not in compliance with our standards and he is being investigated for unnecessary and excessive use of force,"
Streicher said.
To use a Taser, a suspect must be resisting arrest or have assaulted the officer, leaving the officer in fear. An internal investigation is underway. It is expected to be completed by the end of the week.
"At least six people reviewed this video and all of us agreed this should not have occurred," Streicher said. "Because of that and a concern about his past history, I have ordered his police powers be suspended. "He will not be out on the street,"
Streicher said.
Plummer (
image not available
) joined the force in 2001 and his personnel file shows a suspension for use of force, two reprimands and an incident that led to his being fired. Plummer was fired in August of 2006 for violating procedure during an arrest in which he used a Taser. An arbitrator reinstated Plummer in September of 2007. Cincinnati Fraternal Order of Police President Kathy Harrell said it's too early to know what happened.
"Internal will be asking questions, (Plummer) has not been interviewed yet to explain why he took the actions he took," Harrell said. "There will be investigation, a court case. We have to wait for the outcome. "There does seem like there has been to a rush to judgment,"
she said.
If Plummer is found to have violated department policy in Celeste Thomas' arrest, he will face a disciplinary hearing. A hearing officer will make a disciplinary recommendation to Streicher, who in turn will make one to Cincinnati City Manager Milton Dohoney. If disciplinary action is taken, it cannot be based on that prior incident because as per police contract, incidents are cleared for an officer's record after three years.
The incident involving Celeste Thomas began unfolding just after midnight Saturday when
Officer Stephanie Glueck
and
Officer Jennifer Myers
were driving on West McMillan in Clifton Heights when they saw a 2004 Toyota Corolla hit a city garbage truck at 73 West McMillan. When it seemed the driver, Demetri Washington, was not going to stop, the officers initiated a traffic stop. A video of the arrest of Washington, 33, on charges of resisting arrest, drunken driving, driving without a license and a burglary warrant and of Celeste Thomas, 26, on charges of obstructing official business and open container, shows what happened next. Washington pulled over and Glueck walked up to the driver's side window and asked Washington for his license and proof of insurance. He didn't immediately comply. When officers found Washington was wanted on a warrant for burglary, he was arrested and handcuffed. That was start of the physical confrontation, said Col. Vince Demasi.
---
Hikeen D. Crampton Sr.
August 23, 2009
A Baltimore police officer who overcame the odds growing up in West Baltimore to patrol his old neighborhood, was indicted Friday on charges of insurance fraud and attempted felony theft, the state attorney general said. Hikeen D. Crampton Sr., 30, of Rosedale, is accused of fraudulently claiming in late 2008 that his Cadillac Escalade had been stolen when he had traded it in for another vehicle. The indictment follows an investigation by the Regional Auto Theft Task Force, the insurance fraud division of the Maryland Insurance Administration and the attorney general's office. The charges were filed in Frederick County, where the claim was filed, said Shanetta J. Paskel, an official with the attorney general's office.
Crampton (
pictured left
) was profiled in a front-page article in The Baltimore Sun in 2001 after he graduated from the Baltimore Police Academy and requested a patrol assignment in his old neighborhood, a notorious drug zone. The youngest of 10 children, he graduated from Douglass High School and managed a McDonald's before joining the police academy. "Some people ask me, 'Why do you want to come back?'" Crampton said at the time. "I want to help my community."
He received an award from Baltimore County last year after he observed the robbery of an armored car while off duty and caught the suspect, holding him until county officers arrived. In 2005, while working plainclothes in the Western District, he also arrested one of the stars of the infamous "Stop Snitching" video. Attempts to reach Crampton for comment were unsuccessful. Anthony Guglielmi, a city police spokesman, said the Police Department learned of the allegations in June, when Crampton was suspended with pay. "The allegations are concerning, but we have an obligation to see the system through and we're going to reserve comment until this is over," Guglielmi said. An arraignment has been scheduled for Sept. 25, 2009.
---
William Robert Queen
August 23, 2009
The Bullhead City police officer who was arrested in July by Las Vegas Metropolitan Police has turned in his resignation, officials confirmed. William Robert Queen, 36, turned in his resignation to Police Chief Rodney Head on Aug. 4, 2009. Queen was placed on administrative leave by Head on July 20, 2009 prior to his arrest by the Las Vegas Metropolitan Police Department, said Bullhead City Police Department spokeswoman Emily Montague.
Queen (
image not available
) was arrested July 21, 2009 by Las Vegas Metropolitan police on suspicion of arson for insurance fraud, said spokeswoman Barbara Morgan. "On July 17, firefighters responded to a vehicle fire in a vacant lot in the 13000 block of South Western," Morgan said. Crews responded to a 2007 Chevrolet Tahoe on fire. Morgan said there was nothing missing on the vehicle. "The auto theft unit conducted an investigation and determined the vehicle fire was for the purposes of insurance fraud," Morgan said. Police allege Queen hired 26-year-old Gary Miller to burn the vehicle. Miller was arrested Aug. 10 on suspicion of arson for insurance fraud, Morgan said. The case has been turned over to the state attorney general's office, she said. Queen joined the Bullhead City Police Department on Jan. 10, 2000.
---
Sgt. Diron Carter
Sgt. Michael W. McKethan
August 22, 2009
The
"drive-by"
statute is usually a charge reserved for "gangbangers," Oklahoma County District Attorney David Prater said. "If these off-duty officers want to conduct themselves that way, that's exactly how we'll treat them -- just like any other gangbanger," Prater said. On Friday, August 21, 2009 Prater filed felony charges against two Oklahoma City police officers. Sgt. Diron Carter, an eight-year veteran, and Sgt. Michael W. McKethan, a seven-year veteran, were charged Friday with "using a vehicle to facilitate the intentional discharge of a firearm," in a
drive-by shooting
.
.
Oklahoma PD Drive-by
The
"drive-by"
occurred in mid-June (2009) outside Night Trips, a strip club near Meridian and Reno avenues. Carter and McKethan were booked into the Oklahoma County jail on Friday afternoon and released on $25,000 bail each. Prosecutors allege in the charge that McKethan, 34, was behind the wheel of a white Tahoe and was driving away from the club when Carter, 30, fired a pistol "in the direction of several bystanders." No one was hurt by the bullet shots fired outside bar. However, prosecutors say someone could have been killed. The bullet fired was recovered after being cut out of a metal wall at a nearby laundry supply business.
On June 16, 2009 as Night Trips was closing, police got a call that shots had been fired outside the bar. Witnesses told police a man in a white sport utility vehicle was throwing beer bottles as he drove through the strip club parking lot, according to the police report. When the witnesses confronted the men in the car and asked "what their problem was," an argument began to escalate until Sgt. Carter, the passenger in the car reportedly leaned out of the window with a black handgun and said 'You want to see my baby Glock?" as he fired a single shot. Police responding to the scene soon learned McKethan and Carter had been there that night and that McKethan, who drives a white Chevy Tahoe, had a conversation earlier with one of the strippers whose child may be McKethan's, according to a probable cause affidavit. Carter admitted being at the club that night, but he denied being involved in any incident in which a shot was fired, the affidavit states. Later when Carter was questioned by a fellow officer, Carter allegedly replied "it was an accidental shooting," the affidavit states. Officers also recovered a .40-caliber shell casing in the street, which Prater said came from a "baby Glock" which is an off-duty weapon used by police officers.
---
Jerry Bowens
August 20, 2009
A corrupt NYPD narcotics cop was sentenced Wednesday to one to three years in prison for rewarding an informant with crack seized from a suspect. Ex-narc Jerry Bowens (
pictured above
) didn't know the suspect was an Internal Affairs officer posing as a drug dealer in a sting operation. "
At the time he did this, he was a New York City police officer, and he disgraced his badge
," prosecutor Charles Guria said in Brooklyn Supreme Court. Bowens had pleaded guilty to drug sale and falsifying police records and
signed an agreement to become a snitch for the Brooklyn district attorney's office
in a probe of his old scandal-scarred Brooklyn South Narcotics squad. But the deal soured after
Bowens went berserk last March 2009, fatally shooting ex-girlfriend Catherine D'Onofrio and wounding her friend in Greenpoint, Brooklyn
. Bowens was initially found mentally unfit to stand trial, but has since recovered sufficiently to face the murder charge. He was ordered to submit a DNA sample yesterday to a homicide detective. Defense lawyer Wayne Boddin said his client is depressed and that his mental fitness is still being evaluated. Bowens, 43, shook his head and declined to speak before he was sentenced by Justice John Walsh.
---
Reader Pageviews by Country
---
From: Jan. 27, 2014 10:00 AM – Feb. 3, 2014 9:00 AM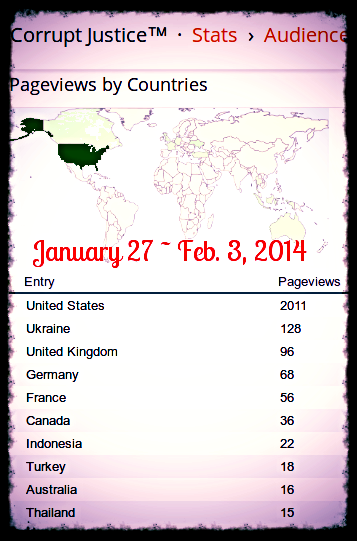 ---
«•
Thank you for visiting Corrupt Justice™. Enjoy our Free Movie Intermission! Don't forget to Bookmark Us & Tell A Friend! We're Global!
•»
---
Movie Intermission!
Florida v. Dunn
Description:
Dunn's defense team told the jury Jordan Davis is the one who threatened Michael Dunn all because he asked for a "common courtesy," said Cory Strolla. Dunn is accused of killing Davis in November 2012, the day after Thanksgiving.
---
---