↓↓↓↓↓↓↓↓↓ Blog Post Starts Below ↓↓↓↓↓↓↓↓↓
---
Click on Banner to Sell Your Home(s)!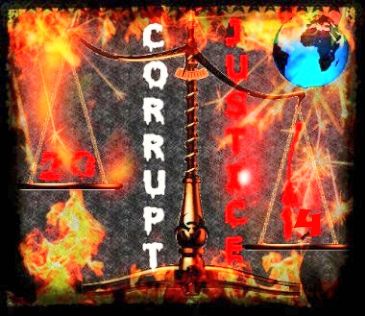 ---
---
"The only good nigger is a dead nigger and they should hang you in the town square to prevent any other nigger from coming in the area."


-- July 2011 Statement by Oakland Public Schools Police Chief Pete Sarna, referring to an African-American police officer.

Top News Story!
Carry-On Luggage!
Posted: 07.03.2014 at 2:00 PM EDT ~ Updated: 07.04.2014 at 7:27 AM PDT

WALWORTH CO./WEST ALLIS (WCJB) — Steven Zelich, a former Wisconsin police officer, told investigators he accidentally killed two women during rough bondage sex. He claims both died before he stuffed their bodies into suitcases. Zelich admits to hiding them for months in his home and car, and then dumping the bags in tall grass along a county road, a detective testified Thursday. Two suitcases containing the remains of 19-year-old Jenny Gamez, of Cottage Grove, Ore., and 37-year-old Laura Simonson, of Farmington, Minn., were found June 5 by a highway worker in the Town of Geneva, Wis. Zelich was arrested June 25 and charged with two counts of hiding a corpse. He made his first court appearance Thursday but did not testify.

Walworth County Sheriff's Detective Jeffrey Recknagel said during a preliminary hearing that the 52-year-old suspect, Zelich, told him "it was an accident." He said Zelich, a former police officer in the Milwaukee suburb of West Allis, told him that he met both women in S&M chat rooms and that they had agreed to meet him for sex. "Unfortunately, I have not been able to ask anyone other than Mr. Zelich if it was consensual," Recknagel said. "He told me that he had been storing these bodies in the trunk of his vehicle and the smell was so strong that he decided he had to get rid of them," Recknagel said.

Gamez, a teen mother who lost custody of her son, was the first to die. Zelich told the detective he spent several days with her in a hotel in Kenosha County, Wis., in late 2012. She was killed during a bondage session. Her foster family and friends did not report her missing, telling police they thought she had fallen out of touch after moving away from Oregon. Police had suspected Zelich in the November disappearance of Simonson. She was a mother of seven who had struggled with mental illness and placed her children in her father's care. Her father said she had advertised on Craigslist as an escort. After being contacted by Simonson's family, officers searched Zelich's apartment in January but found no signs of her. She was last seen checking into a Rochester, Minn., hotel with Zelich on Nov. 1; he checked out alone the next day.

Zelich's public defender argued that the deaths were accidental and that he was not trying to conceal crime. Judge Phillip Koss disagreed. "If there's purely no crime, I'm not sure why one doesn't call 911 immediately, but beyond that, if there's no crime, it's not clear why these (bodies) need to be hid at all," Koss said. He then ordered Zelich held for trial and scheduled a July 17 hearing for him to enter a plea. Homicide charges could still be filed in the cities where the women died.

Zelich, a private security officer since resigning from the force after an altercation with a prostitute in 2001. He was working for Securitas Security Services USA when he was arrested and had passed regular background checks.

Posted: 07.02.2014 at 2:00 PM EDT ~ Updated: 07.03.2014 at 7:27 PM PDT

WALWORTH CO./WEST ALLIS (WCJB) — Former West Allis police officer Steven Zelich is charged with two counts of hiding a corpse in connection with two bodies found in suitcases in the Town of Geneva. Newly-released documents show West Allis police searched Zelich's apartment in January. The search was done at the request of Minnesota police who were trying to find Laura Simonson. The bodies of 37-year-old Simonson of Farmington, Minnesota and 21-year-old Jenny Gamez of Oakridge, Oregon were found in suitcases on the side of the road in the Town of Geneva on June 5th.

Newly-released incident reports show that police in Farmington, Minnesota told West Allis police they had reason to believe Simonson was with Zelich. According to a West Allis police report from January 17th, Farmington police asked West Allis authorities to check Zelich's apartment for Simonson. Farmington police described Simonson as being in an "S&M/sex slave type relationship." The responding officer wrote he "did not observe anything that would indicate Simonson had been staying at the residence."

The records show police returned to Zelich's home three more times in late January and early February. They were trying to deliver a letter from the Farmington, Minnesota police. However, each time, Zelich was never home, so they left it after the third attempt.

Nearly 13 years earlier, in the spring of 2001, a woman told West Allis police that Zelich, an officer at the time, had assaulted her. The woman said she was a stripper, and had agreed to go home with Zelich for a "private show." When they went into Zelich's bedroom, the woman says Zelich "dropped something into his pants pocket" that "sounded like handcuffs." When she tried to leave, the woman says Zelich "grabbed her and threw her to the ground." Zelich was never charged in the incident. Three months later, he resigned from the West Allis Police Department.

Steven Zelich has not been charged with murder in the deaths of Simonson and Gamez at this time.

Posted: 06.26.2014 at 3:00 PM EDT ~ Updated: 07.03.2014 at 7:27 PM PDT



WEST ALLIS, Wis. — Steven Zelich, 52 (pictured above, center) a security officer and former police officer is suspected in the deaths of two women. Both of the women's bodies were stuffed into suitcases and discarded on a rural Wisconsin highway. Zelich met his victims online, in one case possibly through a bondage website, according to police and a criminal complaint. He was charged Thursday with two counts of hiding a corpse. Zelich was arrested the day before. Zelich made his first appearance in court in Walworth County through a video monitor in jail Friday, June 27th. Zelich was ordered held on a $1 million bond on the two counts of hiding a corpse.

During his arrest Zelich said he met both women online. Detectives wearing hazmat suits, removed large brown bags of evidence. A refrigerator was also removed from his apartment in West Allis, a Milwaukee suburb. Zelich told investigators he hid one for about a year and a half, moving it between his home and vehicle, the complaint says. It wasn't until the first week in June that Zelich says he took the suitcases to the Town of Geneva, according to the complaint. Highway workers discovered two suitcases containing female remains June 5 in the Town of Geneva, some 50 miles southwest of Milwaukee. Both bodies were decomposed.



Police identified one woman as Laura Simonson, 37 (pictured above, center) of Farmington, Minnesota. Simonson was found naked with a rope around her neck. A sexual ball gag was also strapped into her mouth with a collar, according to the criminal complaint filed in Walworth County, Wisconsin. Police said in Simonson's case, Zelich may have met her through a bondage website. He told investigators he killed Simonson in Rochester, Minnesota, in November 2013, the complaint says. Rochester is more than 300 miles northwest of Milwaukee. Police believe Simonson died at the Microtel Inn and Suites because she checked in with Zelich on Nov. 2, and Zelich left alone the next day, Rochester police Capt. John Sherwin said. Investigators have collected evidence from the hotel and interviewed people who stayed there on those days. A woman who answered the phone at the hotel said employees had been told not to talk to the media.

Farmington police detective Sgt. Lee Hollatz told media sources that Zelich has long been his "No. 1 person, by far, of interest" in Simonson's disappearance. He discovered Simonson went to the hotel with Zelich soon after her family reported her missing on Nov. 22, but he said all he had was a missing person's case until the bodies were discovered. Hollatz said Simonson was identified within a day by her tattoos. "I saw Laura as a vulnerable adult because of things in her life that she was dealing with," Hollatz said. Simonson's father, Richard Wierson, told the Milwaukee Journal Sentinel that his daughter had struggled with mental illness since adolescence and her seven children were placed in foster care with him in 2010. Wierson also said she placed escort ads on Craigslist.



Authorities have released the identity of the second woman as Jenny Gamez (pictured above, center). She is described her a white female with long, dark hair, a pronounced overbite and a small heart tattoo on her lower left abdomen. Gamez' hands were bound behind her back. Zelich told investigators he killed Gamez in Kenosha County, Wisconsin, in late 2012 or early 2013. A report out of Oregon state claims Gamez' foster mother says investigators told her Zelich met his victims on an online dating website, and that sexually-deviant content was found on Gamez' computer.

At least a half-dozen law enforcement agencies have been involved in the investigation because events happened in different places. Police said they expect homicide charges to be filed where the women were killed.

Walworth County public defender Travis Schwantes said he would most likely be the attorney assigned to represent Zelich in Wisconsin. Schwantes declined to comment on the allegations until he'd spoken with Zelich.

Zelich worked for the West Allis police department from February 1989 until his resignation in August 2001. He has been a licensed private security officer with Securitas Security Services USA since 2007, according to the Wisconsin Department of Safety and Professional Services. Securitas said Zelich passed criminal background checks done by the state every two years to renew his license and his employment record reflected "no extraordinary or remarkable incidents."

RomeO!
Posted: 06.30.2014 at 3:00 PM EDT ~ Updated: 07.03.2014 at 1:00 AM PDT

ROME, NY -- An off-duty Rome Police Officer is facing rape charges, according to the Rome Police Department. 32-year-old Jason A. Paul (pictured above, center) was arrested and charged with third degree rape after the investigation into an incident that happened in the early morning hours of June 29 in Rome.

Paul is accused of having sex with a woman without her consent. We have reached out to Rome Police for more information into the incident. Paul has been suspended without pay pending the investigation.

Paul was arraigned in Rome City Court Monday afternoon. There was no information about a future court date.

Stubbed Tow!
Posted: 10:51 AM EDT, Sat June 21, 2014 ~ Updated: 06:35 PM PDT, Sun. June 29, 2014

ST. ALBANS, Vt. — Police video and documents provided to Corrupt Justice™ shows how an ordinary traffic stop last week degenerated into a physical altercation. The matter further disintegrated into the use of ethnic and homophobic slurs. Local attorney Peter J.R. Martin, 74, was stopped by Officer Mike Malinowski of the St. Albans Police Dept. The stop occurred Thursday, June 12, at 5:30 p.m. Martin was stopped for having tinted windows, which are not legal in Vermont. The incident occurred on Lake Road near Cherry Street at St. Albans Bay. Martin was subsequently charged with disorderly conduct and resisting arrest. He has pleaded not guilty.




A nine-minute police video taken by a camera on Malinowski's cruiser shows an ordinary police stop. Malinowski explains why he has stopped Martin, asks for his license, registration and insurance. They have a brief conversation in which Martin objects to the law, pointing out he could purchase a new car with tinted windows included. During this conversation, Martin says to Malinowski, "You're just doing your job." Martin also says, "I have eye conditions, not that you care." Malinowski answers, "Unfortunately, Vermont doesn't recognize that." They discuss Martin's military service, and Malinowksi asks if Martin is still on active duty. He is not.

Malinowski returns to his cruiser and spends several minutes verifying Martin's license and registration. He then returns to the car and presents Martin with the ticket. He explains that he offers everyone receiving such a ticket the opportunity to remove the tinting. "If you do take it off and you come back to the office and show me you don't have it on, I'll void the ticket," Malinowski says. "It's not your fault; you didn't write the law," Martin tells him.

Martin asks about Malinowski's ethnicity. The officer replies his name is Polish. "All right sir, hope you have a better day, okay," Malinowski says, and Martin replies, "Adios." Malinowski starts back toward his car and Martin attempts to drive off. Martin ends up farther off the side of the road. "It doesn't look like it," Martin says, apparently in reply to Malinowski having wished him a better day. Malinowksi offers to call a wrecker.

A second video picks up after the wrecker has arrived. Martin is standing outside his vehicle. The tow truck operator, identified in court documents as Todd St. Pierre, is preparing to tow the vehicle. Malinowski is on the radio, describing the situation to someone. Martin, he reports, is unwilling to have St. Pierre tow the car because he's going to have to pay for it himself. According to a statement provided by St. Pierre, Martin began to protest when St. Pierre said they could not bill Martin's insurance directly and he would have to ask the insurer to reimburse him.

"He's saying he's going to sue them," Malinowski reports. He walks toward where Martin is attempting to stop St. Pierre from attaching chains to his car. As Martin continues to object to having the car towed, the officer says, "I said I'm going to get a wrecker and you said, 'Thank you very much." At this point, St. Pierre is attaching chains to the car. Martin says, "I don't want him towing it. Take if off of there."

Malinowski asks Martin to step away from St. Pierre and Martin replies, "No … arrest me." Martin apparently touches St. Pierre, because Malinowski says, "Don't touch him," to which Martin replies, "I'm not going to touch him. Arrest me." When Malinowski asks why, Martin says, "Because I'm going to take it off of there and if he gets in my way I'm going to push him out of the way."

St. Pierre returns to his truck at this time, and Martin puts his hands behind his back, encouraging Malinowski to cuff him. "Why are you being difficult?" Malinowski asks. "All you have to do is pay the gentleman."

"I'm sick of you people," Martin says, leading to the following exchange with Malinowski.

"Doing what? Doing our jobs?"

"That's what you might think. I don't think so. My German-American uncle died fighting Nazis in World War II. I will not tolerate you people."

St. Pierre approaches the driver's side of the car. Malinowski advises Martin to back away from the car, saying, "I don't want you getting hurt." Martin reiterates his demand to be arrested, referring to the chains, "Take this (expletive deleted) thing off my car." St. Pierre opens the door to the car, and Martin says, "Get out of my car." He attempts to grab St. Pierre.

Malinowski intervenes and a short scuffle ensues in which Martin fell to the ground, hitting his head. Malinowski draws his Taser and points it at Martin, who is prone on the ground, saying, "Do you want to get tased?" He then notices Martin's Smith and Wesson .38 Special on the ground next to Martin. Saying repeatedly, "Step away from the gun," Malinowksi uses his foot to push Martin onto his back in the opposite direction of the gun. "I'm not stepping anywhere. I'm on my back," Martin says. After moving the gun out of reach, Malinowski orders Martin onto his stomach. Martin instead tries to rise and Malinowski pushes him onto his stomach and cuffs him. Once Martin is secure, Malinowski empties the bullets from Martin's weapon.

The officer asks whether Martin has anything else which can hurt him and Martin replies "Only the truth." Martin says he has a heart condition, and Malinowski calls for an ambulance before assisting Martin to his feet. As he searches Martin, Martin says, "You're a disgrace as an American." He also tells the officer, "We're going to have fun now."

As Malinowski is searching him, the two men have the following exchange:

"How did you cut your face? Did that happen when you rolled over?" Malinowksi asks.

"You threw me on the ground."

"Yeah, because you resisted."

"That's right," Martin says.

Sgt. Frank McCarty arrived just as Malinowski was leading a bloodied Martin back to his car. "Well, well, well you missed all the fun," Martin tells McCarty. McCarty instructed Malinowski to take Martin to St. Albans Town Hall where he could be seen by ambulance personnel. He then gathered up the gun and bullets and a knife Malinowski found while searching Martin, and secures them in his vehicle.

McCarty caught up with Martin at Northwestern Medical Center. According to his affidavit, Martin looked at McCarty's name tag and said, "McCarty, you're Irish like me, but you're a disgraceful Irishman." He also overheard Martin tell his wife, "I got thrown to the ground by that little polack." According to McCarty, Martin kept up his derogatory comments, calling the officers, "Nazi (expletive deleted) cops and nervous little faggots."

This is not the first public altercation between Martin and St. Albans police. Martin also used homophobic slurs and sexist language during a March 2011 traffic stop.

Martin and his wife were departing a restaurant when a female officer stopped them for a burned out taillight. The stop became public knowledge when Martin wrote a letter to the editor of a newspaper about it. The officer, Marie Beland, reported she had smelled alcohol and asked Martin if he had been drinking. He said he had not, but refused to step from the car for a roadside sobriety test, according to SAPD Chief Gary Taylor. Taylor responded to Martin's letter with his own accounting of events. Ultimately, Martin was physically removed from the car and arrested by SAPD officers. During the arrest, Taylor reported Martin called a male officer "homo" and asked him "if he was some sort of faggot." Taylor did not report the specific slurs directed at Officer Beland. According to police, Martin also said, "We need to stop having little ladies running around on the police force." Martin had not been drinking and no charges were filed in the case.

The Heat is On!
Posted: 10:51 AM EDT, Sat June 28, 2014 ~ Updated: 11:35 AM PDT, Sat June 28, 2014

Cobb County, Georgia (WCJB) -- Justin Ross Harris (pictured above, center) has pleaded not guilty to charges of murder and second-degree child cruelty. The charges result from the death of his 22-month-old son, Cooper Harris. The boy died after he was left seven hours in a sweltering SUV on June 18. Harris is being held in jail without bond. He has an appearance before a judge set for next Thursday. As Harris sits in jail, his wife, Leanna, would not discuss the case with the media. Police in Cobb County, part of metro Atlanta, have been tight-lipped and haven't said whether what they found on his computer is one of the reasons they arrested Harris.

Harris, 33, now a criminal suspect in a Georgia toddler's death, told police he used the Internet to research child deaths inside vehicles, a search warrant said. "During an interview with Justin, he stated that he recently researched, through the internet, child deaths inside vehicles and what temperature it needs to be for that to occur," according to a sworn statement in the warrant from a police officer. "Justin stated that he was fearful that this could happen." Cobb County Police said the purpose of the search warrants was to find blood, DNA, writings, photographs relating to child abuse, child neglect, homicide to children, and cruelty to children. The search warrants issued by a Cobb County magistrate court detail a number of items investigators seized from the father's home. They include: An iPhone 5, Hyundai car, home laptop computer, computer tower, a "Google chrome cast internet searcher" and other electronic devices.

Police initially described the death of the toddler as the result of tragic absent-mindedness. They said the dad had apparently forgotten the boy was in the back seat of his Hyundai Tucson. Harris claimed he didn't remember Cooper was in the car until he was done with his workday, drove a couple of miles and pulled into a shopping center parking lot. However, suspicions grew as police investigated. "The chain of events that occurred in this case does not point toward simple negligence, and evidence will be presented to support this allegation," said Cobb County Police Chief John House.

The criminal warrant released Wednesday described the events that led to Cooper's death. Harris stopped for breakfast at a fast-food restaurant on the day Cooper died. Afterwards he strapped his son into a rear-facing child restraint seat on his SUV's back seat, police said. He drove to his workplace about a half-mile away. He works as a Web designer there. Usually, he would take his son to an on-site day care. But on that day, police said, Harris left him in the car seat. During his lunch break, he returned to his car, opening the driver's side door to put something inside, police said. After work, around 4:16 p.m., the 33-year-old father got in his car and drove away. A few miles away, he stopped the car at a shopping center and called for help. When it became clear Cooper was dead, Harris was so inconsolable police had to restrain him. "What have I done?" he wailed as he tried to resuscitate the boy.

The Cobb County medical examiner's office found the child's cause of death "consistent with hyperthermia and the investigative information suggests the manner of death is homicide," according to a Cobb County Department of Public Safety statement issued Wednesday. Temperatures hit 92 degrees Fahrenheit on the day of his death. The medical examiner's office is waiting for toxicology test results before making an official ruling as to the cause and manner of the toddler's death.

The funeral for Cooper Harris was to be held Saturday in Tuscaloosa, Alabama. Harris won't be allowed out of the Cobb County Jail to attend, sheriff's office spokeswoman Nancy Bodiford said. The child's mother wanted to obtain photos of her son from seized computers for use at the funeral. However, Cobb County police turned down her request, said an attorney for Harris. Police spokesman Michael Bowman told media sources, "If we have evidence, we will not be releasing that due to chain of custody issues." Bowman would not confirm what, if any, evidence they had in their possession. Harris works as a web designer for The Home Depot. Harris' employer will pay for the funeral. The funding of the funeral from the Home Depot charity, the Homer Fund, is a "standard approach," said spokeswoman Catherine Woodling. Harris has been placed on unpaid administrative leave, she said. In an obituary for Cooper appearing in the Tuscaloosa News, the family asks that in lieu of flowers, donations should be made to the Homer Fund.

Metro Sex Predator!
Posted: 3:13 p.m. CDT June 26, 2014 ~ Updated: Jun 26, 2014 03:10 PM PDT

Nashville, TN -- The decommissioned Metro police officer accused of raping his ex-girlfriend will leave his post after a 29-day suspension.

Lt. Curtis Watkins, 36, sent his letter of resignation effective the end of his suspension to police on Thursday, according to a release from the Metro Nashville Police Department. He was arrested on June 13 after a Davidson County grand jury indicted him on three counts of rape during a two-year period.

Watkins was decommissioned from his position on January 27 after the alleged victim contacted police with her concerns. The suspect was subject to two Metro investigations about the matter at the time of his resignation, police said.

Before his decommissioning, Watkins worked in the Investigations Unit at Metro's Madison precinct. He was a 15-year veteran of the police department.

Watkins remains free on $100,000 bond. His next appearance in court is scheduled for August 6.

Bishop Foley!
Posted: Jun 25, 2014 11:18 AM PDT Updated: Jun 25, 2014 11:24 AM PDT

Kathryn Ronk, 29, is charged with 5 counts of CSC, after an alleged relationship with a 15-year-old student.


MADISON HEIGHTS, Mich. (WCJB) -- 29-year-old Kathryn Ronk, a female teacher at a Catholic school in metro Detroit, is accused of having a sexual relationship with a male student has been charged. Ronk was employed as a Spanish teacher at Bishop Foley High School in Madison Heights. It is alleged that Ronk engaged in multiple acts of sexual penetration with a 15-year-old student. After the Madison Heights police investigation concluded, The Oakland County Prosecutors Office charged Ronk, of Birmingham, with five counts of first degree criminal sexual conduct, a felony punishable by up to life in prison.

Ronk turned herself in to the Madison Height Police Department Wednesday and was arraigned on the charges. Ronk posted $50,000 bond and was released. She was ordered to wear a GPS tether. Ronk will return to court on July 9 for a preliminary examination.

Dope Unity!
Posted: Friday, Jun 6, 2014 8:58 AM PDT ~ Updated: 1:58 PM PDT, Wed. June 25, 2014

San Diego, CA -- Husband and wife San Diego police officers have been arrested on multiple charges, including selling drugs, according to the San Diego County Sheriff's Department. On Thursday, deputies arrested Bryce Charpentier, 32, and Jennifer Charpentier, 41 (pictured above, center) in the East County and 4S Ranch as part of a narcotics investigation. Bryce was booked into Central Jail on charges of selling, possessing and transporting drugs, possessing a loaded firearm while under the influence and conspiracy. He was released on bond. His wife Jennifer was booked into Las Colinas on charges of selling, possessing and transporting drugs and conspiracy.




Jennifer, an 18-year veteran of the department, works for the Western Division. Bryce has been with the department for six years and works with the Mid-City Division, according to the statement.

In a statement, San Diego Police Chief Shelley Zimmerman said both officers have been placed on leave. She did not say whether the leave were paid or unpaid. Chief Zimmerman said SDPD is fully cooperating with the sheriff's investigation. Bryce is scheduled to appear in court June 9, and Jennifer is expected in court June 10.

The couple lives in 4S Ranch with their four children. Media sources tried to reach the family for comment but was unsuccessful.

Stanford!
Posted: June 15, 2014 - 4:05 am ~ Updated: 1:58 AM PDT, Thurs. June 26, 2014

PALO ALTO, Calif. — According to the victim who was raped by a classmate, Stanford has changed the punishment for a student accused of sexually assaulting a classmate. The alleged assailant was going to be suspended for five quarters starting in the summer session. Now the victim says the school will instead withhold his degree for two years. The victim, Leah Sharon Francis also reported the attack to the university and pursued adjudication through what's known as the Alternative Review Process, a board consisting of students and staff trained to handle sexual assault cases. Documents provided by the university said the ARP panel based their sanction on precedent.

Francis, says she's unhappy with the way Stanford is handling the situation because she says the alleged rapist will still be able to attend graduate school in 2016, supervise undergrads and live on campus. Francis says he violently sexually assaulted her and when she reported it to campus officials, the process was mishandled.

"It's supposed to take 60 days. Mine took over 120 so it's dragged out. Another thing is once my assailant was found responsible for sexual assault he remained on campus for two weeks," said Francis.

Students are rallying around her and holding a protest against the university again Thursday afternoon. They want Stanford to provide more resources to victims and revamp its policy on how it handles sexual assault investigations.

Francis says she wants the university to be more transparent on its judicial findings on rape cases. She hopes to spur a change.

The university will not talk about this specific case for privacy reasons, but says it will be happy to look at revising its policy and will work with students this summer on that.

Since the university has only expelled one student for sexual assault in school history, basing an adjudication on precedent is bad policy, said Stanford law professor Michele Landis Dauber, former co-chair of the Board on Judicial Affairs overseeing campus adjudications. There is no national standard for sexual assault expulsions, and colleges often choose not to disclose what sanctions they use. According to information obtained by media sources, nine Stanford students have been found responsible for sexual assault since 2005. Only one of them was expelled, and he was determined to be involved in multiple cases. Between 1997 and 2005, no students at the school were found responsible for sexual assault. Suspensions for eight other cases where a student was found responsible for sexual assault ranged from one quarter to eight quarters.

From 2008 to 2013 at the University of California, Berkeley, for example, the flagship institution found 38 students responsible for sexual misconduct, and it expelled or suspended nine, according to information provided to media sources.

UC Berkeley declined to say exactly how many students were expelled, saying "the numbers would be small enough to be identifying." However, no one has been expelled since 2011.

A few of Stanford's peer institutions, including Dartmouth College, Yale University and Brown University, release annual or semi-annual reports about how many students have been expelled or suspended for sexual assaults.

Between 2010 and 2013 at Dartmouth, the school removed two students for sexual violence, suspended two others and placed two more on probation. Brown expelled two students for sexual misconduct in the 2012-13 academic year, and suspended two others.

Since fall 2008, Harvard University has dismissed a total of five undergraduates for "social behavior - sexual," according to a report prepared by the school. Two others were placed on probation for "social behavior - harassment/sexual."

Dauber advocates for expulsion in cases of sexual assault, given that most campus rapes are committed by serial offenders, according to research from the psychologist David Lisak.

Underage Girl Contacting!
Posted: June 24, 2014 - 4:05 am ~ Updated: 6:58 PM PDT, Tues. June 24, 2014

Van Buren, Ark. -- A patrol officer with the Van Buren Police Department was put on unpaid suspension after he made contact with a 16-year-old girl on Facebook.

Cpl. John Cao (pictured above, center) returns to work today after an internal investigation determined he violated a departmental policy but made no criminal violations, Van Buren Police's public information officer detective Jonathan Wear confirmed Monday.

Parents of the teenage girl, who was stopped for speeding and not given a ticket, filed a complaint with the Police Department after it was learned that Cao contacted her on the social media site.

Posted 5:42 pm, June 23, 2014 ~ Updated at 10:11pm, June 23, 2014

Van Buren, Ark. -- A Van Buren Police Officer was put on an unpaid suspension following a complaint from parents about his communication attempts with their 16-year-old daughter, police say.

The 16-year-old daughter was stopped by Officer John Cao for speeding as she was going over the Midland bridge coming into Van Buren on (May 11) according to the Van Buren Police Department. She was not given a ticket according the department.

It's not abnormal for that situation to happen because Cao was looking for driving while intoxicated (DWI) violations that night, and cops often stop a lot of vehicles for various problems because they are looking for drunk drivers, according to Van Buren Police Chief Kenneth Bell.

"It is not a paid suspension," Bell said. "It`s an unpaid suspension for seven 12 hour shifts."

"It was one of those things, he runs radar at one location, he stops a lot of people for speeding and very seldom do people get speeding tickets," Bell said.

Bell explained that cops working DWI are strictly looking for DWI.

The video from that night was reviewed, and no violations were found, according to Bell.

Later, though, the officer attempted to contact the teen on Facebook. The girl talked it over with her parents, and they filed a complaint on her behalf, Bell said.

Cao does not face criminal charges, and an internal investigation was completed. No criminal violations were found, according to Bell.

There was a department policy that was violated, and he was disciplined according to that policy, Bell said.

Bell explained the Van Buren Police Department takes all complaints seriously.

"Obviously his behavior is not what we want the public to think that we are about, using our position to make personal arrangements or personal engagements. The Van Buren Police Department is not about that at all, and we took the complaint very seriously and disciplined officer Cao," Bell said.

Cao returns to work on Tuesday (June 24).

Child Sex Trafficking!
Posted: 7:07 PM EDT, Mon June 23, 2014 ~ Updated: 3:58 AM PDT, Tues. June 24, 2014

United States (WCJB) -- The FBI has rescued 168 children and arrested 281 pimps in a countrywide crackdown on child sex trafficking. The operation, which took place over the last week in more than 100 cities, involved nearly 400 law enforcement agencies, authorities said Monday.

The message, said FBI Director James Comey, should be clear: "Our children are not for sale. ... We will respond and crush these pimps who would crush these children. These are not far-away kids in faraway lands. These are our kids, on our street corners, our truck stops, our motels, our casinos. These are America's children," Comey said. Speaking alongside the director, Leslie Caldwell, assistant attorney general for the Justice Department's criminal division, stressed scores of more children remain victimized. She urged anyone with information about such abuse to contact authorities. "Just one call, just one online report could mean all the difference for a child who now can only dream of a normal childhood and a life outside prostitution," Caldwell said.

Since 2008, the FBI and its partners have rescued close to 3,600 children. The agency said investigations have led to 1,450 convictions and the seizure of more than $3 million in assets.

No Hu-Manatee!
Posted: 9:47 am, June 23, 2014 ~ Updated: Monday, June 23 2014, 11:49 PM PDT

Eagle River, Alaska -- Federal agents arrested Joseph Keenan May, 60 (pictured above, center) a former Florida, Manatee County sheriff's deputy. May has been a wanted fugitive on the run for the last 23 years. He avoided trial over charges of raping a six-year-old. May was arrested on charges of raping a 6-year-old girl in 1990. However, he fled the county even before the trial. May was finally arrested by FBI agents in Eagle River, Alaska. Following the arrest, the FBI found a large cache of firearms and ammunition in May's home and vehicle. He had been living under the false identity Michael Camp, his stepbrother who died in the 1970s.

"According to the indictment, May has been living under the identity of a stepbrother, Michael Camp, who died in his teens in the 1970s in Pennsylvania," a release from Federal authorities stated. May has also been charged with aggravated identify theft as he used his dead stepbrother's Social Security number to apply for an Alaska driver's license in 2009 and unemployment benefits in 2013. Assistant US Attorney Thomas C. Bradley told media sources that May must have been really careful to avoid any brush with the law so far, including getting fingerprinted even for a job. "I've done a lot of cases with fugitives; people who have been on the run for two, three years, even 15 years. But for the type of charges he has, this is the longest I've ever seen," Bradley said.

Law enforcement authorities are surprised on how the former police officer was able to hoodwink investigating agencies for so long. Although a statewide arrest notice was issued against May in 1993, he until last Friday, had never been apprehended by any law enforcement agencies in the country. It was only recently that the FBI agents, while running cross-references, found a resemblance in the pictures used in May's Social Security number and his brother's. On further investigation, the FBI found that Camp was long dead and it become clear that both Camp and May are now one person.

May will be imprisoned for life for the rape charges, while for the charges of identity theft, he could be sentenced to at least 12 years.

Benson Banks!
Posted: 9:47 am, June 22, 2014 ~ Updated: Sunday, June 22 2014, 09:57 PM PDT

BENSON, N.C. — Benson police have charged a former police officer in connection with a bank robbery. Media sources reported that Gregory Scott Corbett (pictured above, center) faces robbery with a dangerous weapon charges and three counts of first-degree kidnapping. Officials say Corbett went into the First Federal Bank in Benson on Friday and pulled out a gun before demanding money. They say he then forced employees into the bank vault.




Corbett was previously charged with a bank robbery back in the 1990s. He once worked as a police officer in Selma and Clayton before leaving in the mid 1990s. He is currently being held in the Johnston County Jail under a $500,000 bond.

Rape in Corrections!
Posted: Saturday, June 21 2014, 04:31 PM EDT ~ Updated: Sunday, June 22 2014, 04:31 PM PDT

Ogden, N.Y. -- An Albion corrections officer was arrested Friday for third degree rape. New York State Police said John M. Randolph, 49 (pictured above, center) was arrested for Third Degree Rape and Official Misconduct. After a one month investigation, NYSP discovered that a relationship developed between Randolph and an inmate inside the Albion Correctional Facility. The relationship then turned physical while the inmate was outside on a work release program. Randolph and the inmate had sex multiple times in the Town of Ogden. The Corrections Officer was arraigned in Ogden Court, and remanded to the Monroe County Jail with $2,500 bond. Randolph is expected to return to court on June 23 at 2 p.m.

Vanaman!
Posted: May 24, 2014 - Updated: 05:13 am PDT, Monday, June 30, 2014

Cumberland County, New Jersey -- Former city police sergeant and confessed wife killer Robert E. Vanaman is back in Cumberland County as a free man for the first time in five years.

Vanaman was released on Friday from a state-approved halfway house for inmates. Now 45 years old, he had been behind bars since May 1, 2009.




His release is not quite without strings. For the next three years, the New Jersey Board of Parole will monitor his conduct. Any breach of parole conditions could mean his return to prison to serve out the remainder of that period, according to the parole board.

Five years as an inmate have done nothing to alleviate the pain and anger among relatives of his wife, Barbara Elke Vanaman.

Barbara Vanaman was 37 years old when her husband shot her twice using his police-issued pistol during an argument at their home here on May 11, 2006. She had moved out to be with a boyfriend and wanted a divorce.

The couple's two young sons, after a custody fight in court, were placed with a paternal aunt after Vanaman was sentenced.

"Tell me where the justice is," John Shaffer, Barbara Vanaman's stepfather, said this week of Vanaman's release.

Shaffer said criminals serve longer terms for robberies in which no one is hurt. State laws need to change to appropriately punish offenders, he said.

Warren Vanaman, father of Robert, said his family would have nothing to say. "Why can't you leave people alone?" he said when called.

Vanaman was sentenced — actually sentenced and then re-sentenced due to an appeal — based on a plea agreement.

A surprise decision to confess, in return for a guarantee of a lesser sentence than he might get if convicted, cut short his murder trial as a contentious jury selection was nearing an end on March 30, 2009.

Vanaman admitted he murdered his wife and tampered with evidence. He cut his arms with a steak knife, so he could claim self-defense.

He eventually was sentenced to a maximum term of six years on a charge of second-degree manslaughter "in the heat of passion." The sentence came with a provision that 85 percent of it be served before parole was possible.

Vanaman also was sentenced to a consecutive term of one year for evidence tampering.

Under the 85 percent rule, the mandatory minimum was fixed at five years, one month and six days in prison. He met the minimum term with aid of credit for time spent in the county jail.

Larry Gregorio, deputy executive director of the state parole board, said a three-year period of supervision is required under state law if a crime is in the second degree.

"The first day he would have to report to the district office, and at that point he meets with a parole officer," Gregorio said this week. "They'll explain the conditions to him, again. He has to agree to it and sign it."

Gregorio said Vanaman is restricted to living in Cumberland County. The board is not allowed to disclose a parolee's exact residence, though.

"He has 20 general conditions of mandatory supervision," Gregorio said. "That's a standard.

"One of which is that he is to refrain from any contact directly or through a third party with the victims of the offense or the victim's relatives," he added. "That would be unless authorized by the board panel or authorized by the appropriate court."

It is "very, very difficult" to justify telling a parolee they can not live in a particular area, according to Gregorio.

Cumerland County Prosecutor Jennifer Webb-McRae said her office notified the Shaffer family of Vanaman's pending release.

Property records still show Vanaman as owner of the family house on South Wedgewood Court, where the shooting occurred.

Vanaman is free to travel around New Jersey, but he is not allowed to leave the state or even to stay overnight outside the county.

Gregori said another condition of parole is that he seek a job.

One positive over the years, Shaffer said, is that a cooperative relationship developed with the grandsons' guardian and they do see their mother's relatives.

As part of his plea deal, Vanaman had to forfeit his position as a police officer. The deal did not otherwise place restrictions on future employment.

Vineland attorneys Joseph D. O'Neill and Charles I. Coant represented Vanaman, opposed by then-county First Assistant Prosecutor Kenneth Pagliughi.

Coant said he wished Vanaman the best of luck in picking up his life.

Stop Signs!
Posted: May 1, 2014 - Updated: 02:13 pm PDT, Wednsday, June 20, 2014

New Mexico -- Jeremy Martin, a 24-year-old UNM law school student, says he was kneed in the groin by an APD officer so hard, it shattered one of his testicles.




It was after midnight Friday and Martin was driving a carload of friends through the UNM area. Police say he ran a stop sign. According to the police report, APD officer Padilla said Martin seemed drunk and admitted to having three beers. After a field sobriety test, Officer Padilla told Martin to sit on the curb, but says Martin resisted.

Martin's attorney says what happened next is hard to stomach. "This officer felt the necessity to knee him so directly and with so much blunt force that it shattered his testicle," the attorney said. Jeremy was booked on DWI and marijuana possession charges--both misdemeanors. "He was taken to Presbyterian Hospital where he had emergency surgery to have his testicle removed," according to the same attorney.

The attorney said he is in the middle of filing a lawsuit against the officers involved, but most of all, an answer to this:

"How does a DWI investigation with a first year law student -- when he absolutely did nothing to provoke the officer -- result in the shattering of his testicle and emergency surgery to remove it?" the lawyer asked.

There is also a confusing line in the police report filed by the officers who arrested Martin. The report says he blew a stop sign while traveling north on Wellesley Place, but there is no way to travel northbound on Wellseley to the stop sign in question.

Locked In!
Published On: Jun 19, 2014 02:11:54 PM EDT ~ Updated On: Jun 22, 2014 05:35:00 PM PDT

MIAMI, Fla. - An Opa-locka police sergeant was found guilty on two of three charges Thursday in the trial of the so-called "dirtiest cop" in Florida. A jury found police Sgt. German Bosque (pictured above, center) guilty of false imprisonment and tampering. Bosque was also facing a charge of battery, but he was found not guilty on that count. "It's just never a good day when you have to bring down a police officer because we expect them to protect us, so it's kind of bittersweet," assistant state attorney Sandra Miller-Batiste said.




The state and defense both rested their case Thursday morning, and closing arguments began in the afternoon.

Korey Davis claimed Bosque punched him in the face while he was holding his 14-month-old baby in April 2011 and placed him in a holding area against his will when he went to the police station to file a report against Bosque.

The defense only called two witnesses, former Opa-locka Police Chief Cheryl Cason, whom Davis called the night of the incident to ask for advice, and Davis' ex-girlfriend, the mother of their son, who was present the day of the alleged assault. Bosque decided not to testify in his own defense. "I'm against bad policemen," Bosque told media sources. "I'm against, you know, dirty cops. ... I like the person in the mirror."

Bosque has been arrested, disciplined, suspended, fined and sent home with pay more than any officer in Florida. He has been accused of slamming the head of a handcuffed suspect, beating juveniles, hiding drugs in his police car, stealing from suspects, defying orders and falsifying police reports.

His lawyers said they plan to appeal.

Posted: 12:32 pm EDT, Tuesday, June 17, 2014 - Updated: 03:13 pm PDT, Wednsday, June 18, 2014

MIAMI, Fla. (WCJB) – Opening statements got underway Tuesday in the trial of a suspended Opa-locka police sergeant who faces a number of charges including false imprisonment and tampering with a witness.

In her opening remarks, Assistant State Attorney Ansley Peacock told jurors German Bosque punched Corey Davis in the face on August 3rd, 2011 when Bosque and other officers arrived on a domestic call. Davis was sitting with his toddler on his lap in a car, refusing to return him to his mother who had called police.

Peacock said Bosque grabbed the boy from Davis, then punched the man in the face and let him go. When Davis went to the police department to make a complaint, the dispatcher summoned Bosque who allegedly slammed him against a wall, cuffed him and kept him in a holding cell for about 15 minutes before letting him go.

Security video only shows the alleged victim in the lobby, and in the holding cell where Bosque removed the handcuffs. The alleged battery by the officer would have to have occurred out of camera range.

A Defense attorney told jurors Bosque cut a belligerent Davis a break by not arresting him at the scene of the domestic incident where he allegedly tried to strike the baby's mother with his car. She said at least five officers who were there will testify Bosque never hit the man. She said Bosque cut him another break by not arresting him at the police station for resisting officers at the domestic scene and for allegedly using his car as a weapon.

The lawyer said Davis fabricated the alleged abuse with making money in mind.

"This case is about Corey Davis laying the groundwork for a civil lawsuit," Bosque's attorney said.



Bosque has a checkered past with the police department. During his career there, he's been fired, then re-instated, eight times. The last time the city fired him, October 2012, Bosque faced a number of allegations including:

•» Busting a handcuffed suspects skull;
•» Beating juveniles;
•» Caught with drugs and alcohol in his squad car;
•» Ripping off suspects;
•» Falsifying reports;
•» Participating in an unauthorized chase where four people were killed; and
•» Calling in sick from Cancun.

In a court hallway before the start of the trial Bosque said he's confident that a jury will acquit him.

"The facts are always studied. Every single time, I'm always found acquitted, I'm standing on my feet, I get my job back because I am a good officer," said Bosque.

Bosque says he has been wrongly portrayed in the news.

"Anybody who doesn't know me or know about the case exactly, they hate me. I hate myself when I read what the media says about me, and it's not true."

The trial is expected to last several days and Judge Miguel de la O hopes to have closing arguments done by Friday.

Knife Fights!
Posted: 02:32 pm, Tuesday, June 17, 2014 - Updated: 04:13 pm PDT, Tuesday, June 17, 2014

This panel of booking photographs released by the Salem, N.H., Police Department show from left, Allen, Ashley, Brian, Damian and Joshua Perry, arrested on a variety of charges Monday, June 16, 2014, for assaulting police officers during a melee that erupted when security guards at Canobie Lake amusement park told them to leave their knives in the car.

SALEM, N.H. (WCJB) — Five members of a Vermont family assaulted police officers during a melee that erupted when security guards at a New Hampshire amusement park told them to leave their knives in the car, police said Tuesday.

The fracas started at about 1:30 p.m. Monday when the Perry family tried to enter Canobie Lake Park in Salem. Some of the family members had knives on their belts and were told they couldn't bring them into the park, police said.

The family became belligerent and eventually two Salem officers responded to quell the disturbance. The family became more irate, yelling profanities at the officers in front of other visitors, police said.

After several verbal warnings, an officer told one man he was under arrest and tried to handcuff him, leading to the fight that included people jumping on the backs of the officers, punching, kicking and grabbing for their weapons, police said. Two officers were injured, including one who was treated at a hospital for a dislocated shoulder.

As backup officers arrived, the mother of the family faked a seizure, police said. She was examined by paramedics and released at the scene.

Those arrested included Joshua Perry, 23, of Sutton, Vermont, who was charged with felony riot, resisting arrest with serious injury, trespassing and disorderly conduct. Brian Perry, 18, of Lyndonville, was charged with felony riot, assault and resisting arrest. E. Allan Perry, 45, of Lyndon, was charged with felony riot, felony assault, disorderly conduct and resisting arrest. All three were held on $10,000 cash bail, assigned a public defender and scheduled to return to court on June 25.

Damian Perry, 18, of Lyndonville, was charged with disorderly conduct and trespassing. Ashley Perry, 20, of Sutton, was charged with disorderly conduct and trespassing. Each was released on a $5,000 personal recognizance bond. It could not immediately be determined if they had lawyers.

Police Powers!
Posted: 6:33 p.m. Thursday, April 24, 2014 - Updated: 2:33 a.m. Sunday, April 27, 2014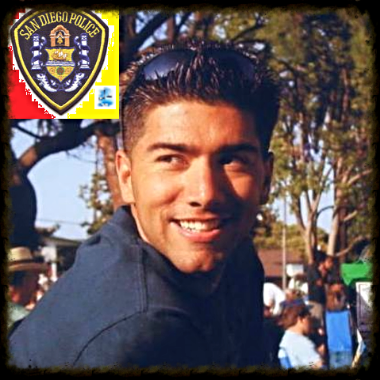 LA MESA, CA — San Diego police officer Gilbert Anthony Lorenzo, a seven-year department veteran, was arrested and jailed on a charge of felony domestic violence against his wife in La Mesa on Tuesday, authorities said. La Mesa police Lt. Matt Nicholass told reporters that the incident involved the 31-year-old officer's wife and she did not require medical treatment. La Mesa police took Lorenzo into custody and booked him into jail. Authorities declined to give any details about the incident or where it took place. Lorenzo was later released on $50,000 bail.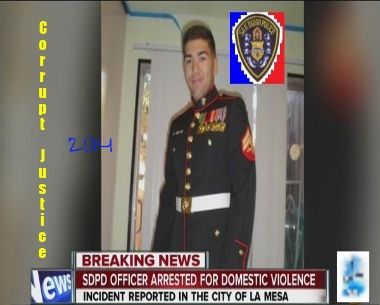 San Diego Police Chief Shelley Zimmerman revoked his police powers and suspended him after learning about the incident. "We are not going to tolerate misbehavior from our officers," Zimmerman said. Zimmerman said the District Attorney's Office has not filed charges in the case. "I was very disappointed, very disappointed to hear the news," Zimmerman said. She said Lorenzo worked in the Northern Division area of the city, along the coast, and had previously been assigned to the Mid-City Division. Zimmerman said someone called San Diego police at 1:45 p.m. Tuesday to report domestic violence involving one of their officers. She declined to say who made the call. An internal affairs investigation began, and La Mesa police were notified because the incident occurred in the city, Zimmerman said. "Everybody has due process, even police officers," she said.

The department has dealt with a number of officers in recent years who were accused of sexual misconduct. The Department of Justice is reviewing the agency's hiring, training and supervisory policies.

Ambient Mistrial!
Posted: Apr 4, 2014 - Updated: May 12, 2014 11:48 PM PDT

FAIRFIELD, CA -- Solano County Superior Court Judge Robert Bowers declared a mistrial Thursday in retired Vallejo police captain Tony Pearsall's bizarre driving-under-the-influence and hit-and-run case. Pearsall -- who's married to former two-term Vallejo City Councilwoman Stephanie Gomes -- was arrested on July 22, 2012. The case involved the widely prescribed sleep medication Ambien. Both charges are misdemeanors with a maximum jail sentence of six months. The judge declared the mistrial after the jury announced it was deadlocked after just three hours of deliberations. Nine jurors felt Pearsall was guilty of the DUI charge; three felt he was guilty of the hit-and-run charge.

The case stems from Pearsall's arrest, after he allegedly struck a parked car in a shopping center parking lot. He later bumped a police car in front of his house in the 200 block of El Camino Real in Vallejo. According to police, officers received a complaint at about 9:15 p.m. of a hit-and-run in the parking lot of the former Lucky supermarket at Tuolumne and Redwood streets. A witness gave officers a description of the suspect's vehicle and a license plate number, which turned out to be Pearsall's, police said. Officers then drove to Pearsall's residence trying to find the car. As the patrol car turned south on El Camino Real officers saw the vehicle driving on the wrong side of the street at a slow speed, police said at the time.

On Tuesday, Police Officer Megan Sheridan testified that Pearsall appeared to be "confused" and "disoriented" when she approached his car to ask him for his keys. At some point, Sheridan said Pearsall's car jolted forward and struck the front of the police car, possibly because he had taken his foot off the brake without putting his vehicle in park. She also said Pearsall had trouble keeping his balance when he exited the car, adding that his eyes were bloodshot and his speech was slow and staggered. Pearsall told police he had two glasses of wine with dinner before taking Ambien around 8:30 p.m. Although he intended to go to sleep, he said he drove to the supermarket -- which is about a mile from their house -- because his wife asked him to buy her some Benadryl. After paying for the Benadryl, he said he blacked out.

On Wednesday, Gomes testified she'd asked her husband to buy some Benadryl for an allergic reaction she was suffering. A short time later, Gomes said she heard screaming outside and a women yelling, "Get out of the car." Gomes added she didn't recognize her husband at first when she went outside and later asked officers to take him to the hospital because she thought he needed medical attention. Also on Wednesday, Solano County Criminalist Supervisor Denise Lyons testified that Pearsall tested positive for Ambien and a small amount of alcohol. She said mixing alcohol with Ambien intensifies the effects. "It causes drowsiness," Lyons said. "You're too tired to stay awake. When you combine that with alcohol I'd expect that to be more intense."

Pearsall, 68, didn't dispute the evidence that he drove while impaired. Instead, he fought the charges based on his belief that he didn't know -- and wasn't properly warned -- about the medication's intoxicating effects. Pearsall testified he forgot he had taken Ambien before heading to the store. "The first place I knew where I was was in the back of a police car," Pearsall testified Wednesday. When he regained consciousness and realized what had happened, he said he was "devastated." In a recorded interview with officers, Pearsall said he didn't recall the drive home from the store. The interview, taped at Kaiser Permanente Vallejo Medical Center after Pearsall had been read his rights. The interview was played for the jury on Wednesday. "I thought maybe I hit something ... but I wasn't sure what it was," he can be heard saying. He added that he thought he'd gone over a curb. Pearsall told officers he didn't feel impaired when he left for the store. "The whole thing is just weird," he said. Pearsall was cited at the hospital and released to his family.

The defense also presented evidence of Pearsall's reputation for sobriety and community service, including his 36 years as a police officer, his Vallejo City Council term from 2003 to 2007 and his work for the neighborhood revitalization non-profit Fighting Back Partnership. Pearsall retired from the Vallejo Police Department in 2003. During the three-day trial, police Lt. Herman Robinson, former Solano County prosecutor Doug Keener and former Vallejo Mayor Tony Intintoli testified about Pearsall's reputation and work in the community.

Pearsall's defense attorney said, "It was a tough case and I'm hoping the district attorney realizes they are never going to get a conviction." He added, "Mr. Pearsall was hoping for vindication. I'm sad because I would like it to be a verdict for him."

Solano County Deputy District Attorney Rashaan Jones argued Pearsall should have known about Ambien's effects because he had been taking it off-and-on for 18 months to help him sleep. Pearsall said the medication was prescribed after neck surgery. He added that the medication's warning label at the time advised patients not to mix the drug with alcohol and to "use care" if operating a car. Jones acknowledged Pearsall's good work in the community, but urged the jury not to give the defendant a "free pass." "That's not how the law works," Jones said.

Jones said afterward the case will be re-tried. A trial-setting date was scheduled for May 2, in Bowers' Fairfield courtroom.

Facilitators!
Posted: 6:33 p.m. Thursday, April 24, 2014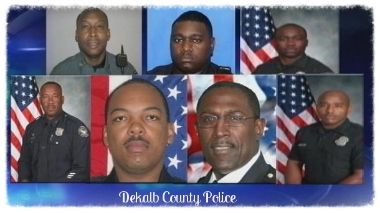 Atlanta, GA -- Three of 10 metro Atlanta law enforcement officers accused of using their guns, badges and authority to facilitate drug deals have pleaded guilty in federal court. The three former officers were part of a group of cops arrested in February 2013 by an FBI SWAT team for allegedly taking payoffs — some as low as $700 — to protect what they thought were cocaine deals taking place in crowded shopping centers and school parking lots. Five alleged accomplices also were arrested. All three officers were fired after their arrests in February 2013. Former Stone Mountain Police Officer Denoris Carter, 43, of Lithonia, and former DeKalb County Police officers Dennis Duren, 33, of Atlanta, and Dorian Williams, 25, of Stone Mountain, each pleaded guilty this week to one count of attempted distribution of cocaine and one count of extortion by accepting a bribe to use his position as a police officer to facilitate a deal, according to a news release from the office of U.S. Attorney Sally Quillian Yates.

In 2012 and 2013, the FBI and the Bureau of Alcohol, Tobacco, Firearms and Explosives set up a series of stings and used an informant. The informant told gang members and their associates that he needed police protection for upcoming drug deals. Shannon Bass, 39, and Elizabeth Coss, 36, both of Atlanta, and Jerry B. Mannery, 39, of Tucker, provided the informant with names of police officers who would be willing to provide security for the illegal activity. All three entered guilty pleas this week, according to the news release. Bass, who was a contact for Duren, pleaded guilty to attempted distribution of cocaine. Mannery, who was a contact for Carter and Williams, pleaded guilty to conspiring with the police officers to distribute cocaine. Coss pleaded guilty to attempted distribution of cocaine for her role in working with former MARTA police officer Marquez Holmes, who also was arrested in the 2013 sting, to provide security for a drug deal in August 2012.

"The audacity of police officers protecting drug deals is shocking," Yates said. "For these police officers, protecting and serving our citizens was little more than a slogan, and their brazen actions are unacceptable. "

Crumbled!
Posted: 5:05 p.m. Thursday, April 24, 2014 | Updated: 4:42 p.m. Monday, April 28, 2014

DeKalb County, GA -- Tarik J. Crumpton (pictured above, center) a former DeKalb County police officer, was indicted in connection with a 2010 arrest and statements he allegedly made regarding the incident. Crumpton, was charged in a 19-count indictment of perjury, making false statements and violation of oath by a public officer. According to the indictment, Crumpton slammed Peterson's body into a police vehicle hard enough to cause a dent in the car. The former officer also asked another person to say Peterson kicked the car and caused the dent, the document says. The indictment says Peterson's face was bruised and cut after Crumpton threw the man into a nearby SUV, the patrol car and to the ground.

"Mr. Peterson spent three days in jail for allegations levied against him by Crumpton," DeKalb District Attorney Robert James said in a news release. Prosecutors also allege Crumpton made false statements in Peterson's arrest warrant and during a grand jury hearing, saying the man resisted arrest and gave a false name. "Crumpton also provided false information to the court to obtain four different criminal arrest warrants and to further cover his behavior on the night of October 20, 2010."

An internal affairs investigation revealed that Crumpton wrongfully detained Brian Peterson, and caused him visible bodily harm, during an October 2010 incident. Crumpton, who resigned from the DeKalb police department May 30, turned himself into the DeKalb County jail and was granted a $35,000 bond.

Reader Pageviews by Country
---
From: June 3, 2014 7:00 PM – June 10, 2014 6:00 PM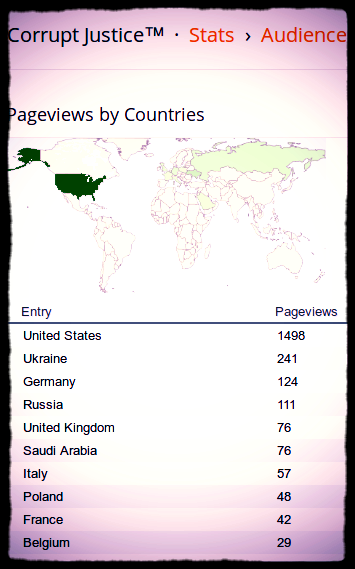 ---
«•
Thank you for visiting Corrupt Justice™. Enjoy our Free Movie Intermission! Don't forget to Bookmark Us & Tell A Friend! We're Global!
•»
---
Movie Intermission!
The O.J. Simpson Murder Saga:
20 Years Later!
---




Description: Simpson hired a high-profile defense team, initially led by Robert Shapiro and subsequently led by Johnnie Cochran, and which also included: F. Lee Bailey, Alan Dershowitz, Robert Kardashian, Gerald Uelmen (the dean of law at Santa Clara University), Robert Blasier, and Carl E. Douglas, with two more attorneys specializing in DNA evidence: Barry Scheck and Peter Neufeld. Los Angeles County believed it had a solid prosecution case, but Cochran was able to persuade the jurors that there was reasonable doubt about the DNA evidence (a relatively new form of evidence in trials at the time) -- including that the blood-sample evidence had allegedly been mishandled by lab scientists and technicians -- and about the circumstances surrounding other exhibits. Cochran and the defense team also alleged other misconduct by the Los Angeles Police Department. Simpson's celebrity and the lengthy televised trial riveted national attention on the so-called "Trial of the Century". By the end of the criminal trial, national surveys showed dramatic differences in the assessment of Simpson's guilt between most black and white Americans.

Previous Video: Courtroom Brawls, Outbursts, Fights with Cops, suicide, murder and more!

Read more on the State of Florida v. Michael Dunn (Indictment, Police Reports, Civil Complaint).

---
---