↓↓↓↓↓↓↓↓↓ Blog Post Starts Below ↓↓↓↓↓↓↓↓↓
---
Click on Banner to Sell Your Home(s)!
---
---
B.O.L.O
Racist, Liar!
---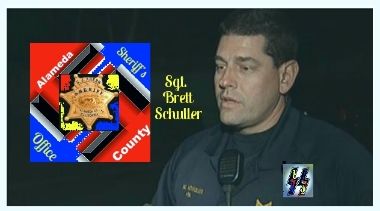 Alameda County, CA -- "Be on the lookout," the Alameda County Sheriff Department is "institutionally racist." "Institutional racism is not about labelling individuals racists but rather police practice and procedures that bring about disproportionate outcomes for black and minority ethnic communities." However, there are exceptions to this rule. Sgt. Schuller (and other not yet named or identified deputies) engage in racial profiling, false arrest, fabrication of evidence and other Constitutional violations of citizens rights. "The real litmus test (of 'institutional racism') is the vexed issue of stopping and searching individuals without cause, other than race and gender and its disproportionality in black and ethnic minority communities. Many people in black and ethnic minority communities perceive that the police are involved in racial profiling?"

---
Top News Story!
Posted: Saturday, May 4, 2013 - Updated: Thursday, May 9, 6:06 AM PDT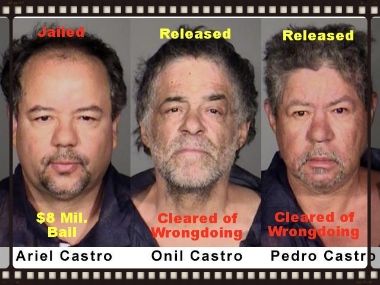 Cleveland, OH -- Ariel Castro, the Cleveland man accused of kidnapping three young women and sexually abusing them in captivity for about a decade, was ordered held Thursday morning on $8 million bond.

Castro, 52, is charged with kidnapping Gina DeJesus, Michelle Knight, Amanda Berry and a six-year-old girl whom Berry gave birth to while she was being held captive. He is also charged with raping DeJesus, Knight and Berry. Judge Lauren Moore calculated bail at $2 million per victim, including the little girl.




Dozens of cameras clicked incessantly during the brief hearing in Cleveland Municipal Court. Castro, a former school bus driver who lost his job last year because of repeated misconduct, kept his eyes lowered and his chin tucked into the top of a dark blue zipped up jacket.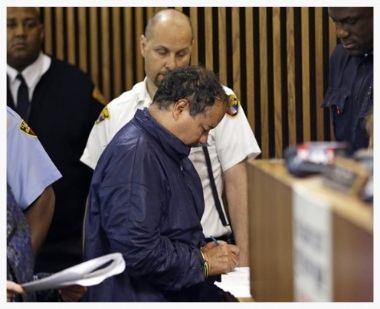 His lawyer argued that as a longtime resident of Cleveland's west side with no prior felony convictions, Castro should receive a manageable bail. But assistant Cuyahoga County prosecuting attorney Brian Murphy sought $5 million bond, saying Castro put the women through a "horrifying ordeal" that included repeated beatings and sexual assaults and periods of being bound and restrained inside Castro's home.

"They were never free to leave this residence," Murphy said, describing the house on Seymour Avenue as "a prison for these three women." With Castro in handcuffs and the women reuniting with loved ones, he noted, the situation has been reversed.

Castro did not enter a formal plea during the court hearing. A Cuyahoga County grand jury will hear evidence in the case in coming days and weeks, and could indict Castro on additional charges.

At the start of the hearing, Castro's brothers, who had been arrested shortly after the women were freed Monday night, were arraigned on years-old misdemeanor charges. Authorities said Wednesday that investigators did not believe they were involved in the kidnappings in any way.

Pedro Castro, 54, was fined $100 and released from custody after pleading no contest to a 2011 open container charge. The judge dismissed charges of drug abuse and having an open container that had been filed against Onil Castro, 50, more than a decade ago.

Unionized Predators!
Published 4:12 pm, Friday, May 3, 2013 - Updated: Thursday, May 9, 6:06 AM PDT

UNION CITY, CA -- A Union City elementary school teacher was charged Friday with molesting eight girls who are in his class.

Michael William Howey, 47, a third-grade teacher at Alvarado Elementary School, was arrested Wednesday at his Alameda home. Alameda County prosecutors charged him Friday with three felony counts of lewd acts with a child and five misdemeanor counts of child molestation. He is being held at Fremont City Jail in lieu of $1.5 million bail.

After his arrest, Howey "hung his head and cried as he admitted he had made 'some mistakes,' " Union City police Detective Jean Luevano wrote in an affidavit.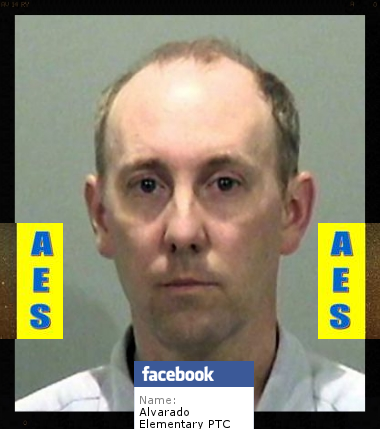 The investigation began in April when a school employee contacted the principal and police, saying she had seen Howey hugging and kissing a 9-year-old girl on the cheek in his classroom during recess, authorities said.

Howey was placed on administrative leave, and investigators uncovered additional alleged victims who reported being kissed, hugged and touched inappropriately, police said.

Howey is a 15-year veteran of the New Haven Unified School District who has also taught middle school, a district official said.

Surgical Strike!
Posted: Saturday, May 4, 2013 - Updated: 05/05/2013 02:48:23 AM PDT




CHULA VISTA, Calif. - For the first time, one of San Diego's top Navy doctors is speaking out about what he calls a nightmare incident with Chula Vista police. Media sources broke the story in 2011 of a lawsuit filed by Dr. Eric Harris after a violent encounter at a Jimmy Buffett concert at the Cricket Wireless Amphitheatre in October 2008. "I was incredulous as it was going on," said Harris.

In a parking lot jammed with traffic, Harris, who heads the spinal surgery unit at Naval Medical Center San Diego, got out of his SUV to help create a space to merge. He said a Chula Vista police officer yelled at him to get back in his SUV. Harris admitted that he muttered a curse word under his breath, and then headed back to the passenger side of his SUV. Harris said CVPD Officer Frank Krafft came from behind and slammed his face into the vehicle three times "The worst thing was my children were screaming in the back seat," said Harris. "He definitely took out his anger on me and my family that night … more than anything, I want to see the city and police … take responsibility," said Harris. Weeks after the incident, Harris was diagnosed with severe post-traumatic stress disorder.

Harris was arrested on charges including resisting arrest. Prosecutors declined to pursue the case, but Harris filed a lawsuit against the city of Chula Vista. More than four years after the incident, the case marches on.

The city of Chula Vista retained outside counsel, and the legal bills continue to grow. In documents obtained by media sources through a public records request, it's revealed that the city has paid almost $200,000 in legal fees as of November 2012.

The case has also gotten ugly. The attorney hired by the city was sanctioned for calling Harris' attorney a derogatory name in a court filing. "We have four independent witnesses who say Dr. Harris was not impaired and he did not interfere with the police officer," the attorney said.

In a statement, the Chula Vista City Attorney's Office said:

"It is against Office policy to litigate matters in the media, or to discuss the specifics of any pending case, even in response to inaccurate and inappropriate comments by opposing counsel. Without getting into specifics, I will say, however, that, it is the City's strong belief that the officer in this case at all times acted appropriately. The City reached this conclusion after conducting a thorough investigation. This belief is corroborated by testimony of an independent witness at the scene who declared that the officer never assaulted, was rough with, or did anything to cause injuries to the plaintiff."

The trial is scheduled for August.

Rank-N-File Thief!
Posted: 05/03/2013 07:13:52 AM PDT - Updated: 05/03/2013 07:14:23 AM PDT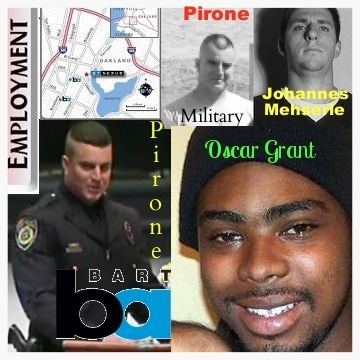 HAYWARD, CA — Anthony Pirone, a former BART police officer fired in 2010 for escalating a confrontation with passengers that led to the killing of Oscar Grant III, has been charged with unemployment fraud.

Pirone, now member of the U.S. Army, is accused of collecting unemployment checks from the state for about seven months even though he had a job, court records show.

Pirone is accused of cashing unemployment checks from May 2011 through December 2011 and lying to state officials about not having a job even though he had enlisted in the Army and began working full time at Fort Bragg.

Pirone began collecting unemployment in May 2010 after BART fired him for his actions on the Fruitvale station platform in the moments before Grant was killed by former BART police Officer Johannes Mehserle, according to court records.

In May 2011, Pirone enlisted in the Army and began working full time but never notified the state unemployment office, court records state. In fact, Pirone is accused of lying at least 10 times in sworn affidavits that he was unemployed, the court records state.

The amount of money Pirone is accused of illegally taking from the state is unknown but when he was fired by BART in 2010, Pirone was making more than $100,000 a year in salary and more than $3,000 a year in overtime.

Pirone's attorney, Bill Rapoport, could not immediately be reached for comment.

Pirone was charged on April 15. He was supposed to appear in court this week but is serving in Afghanistan and could not attend court. His case was postponed until next year, when he is scheduled to return to the United States.

Teresa Drenick, spokeswoman for the Alameda County District Attorney's Office, declined to comment Thursday.

Pirone's actions at the Fruitvale station the night Grant was killed were criticized by many, as he was blamed for escalating tensions between New Year's Eve revelers returning home from San Francisco and BART police officers.

Pirone, a former member of the Marine Corps military police and a federal officer for Lawrence Livermore Laboratory, was the first BART officer to respond to a call at the station. The call was for a fight on a train and Pirone arrived at Fruitvale with his partner, Marysol Domenici.

Video recordings from the incident showed Pirone acting aggressively as soon as he arrived on the platform. He was recorded grabbing one of Grant's friends by the hair and later, punching Grant. Pirone also was recorded yelling racial epithets at Grant.

Witnesses who testified in the murder trial against Mehserle also described Pirone as being one of the most aggressive officers on the platform during the early hours of New Year's Day in 2009.

Shots Fired!
Posted: April 29, 2013 11:37 AM - Updated: 04/30/2013 07:08:08 AM PDT

WEST VALLEY CITY, Utah - Authorities say one person has been shot after someone fired a gun Monday morning in the lobby of a police department in a Salt Lake City suburb. West Valley City Police Sgt. Jason Hauer says the shooting happened a little before 8:30 a.m. Monday. He described the situation as stable but didn't have information on who was involved. Dispatchers at Valley Emergency Communications Center say one person was shot but didn't have information on the person's condition.

According to media sources, a man with a gun entered the police department Monday morning and asked for an officer to come to the lobby. When the officer would not enter the lobby, the man reportedly pulled a gun.

One officer then shot multiple rounds, hitting the suspect, according to the station. The suspect was reportedly transported to a hospital with unknown injuries. No officers or workers were hurt in the incident, the station reports.

The beleaguered police department has drawn attention after federal and local prosecutors dropped nearly 100 cases that came out of the department's drug unit. The now-disbanded narcotics unit is the subject of internal investigations and probes by the county attorney, U.S. Attorney's Office and the FBI.

Bull[P]it!
Posted: 04/30/2013 07:07:25 AM PDT - Updated: 04/30/2013 07:08:08 AM PDT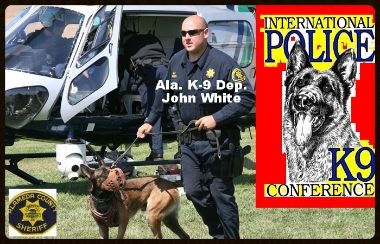 SAN LORENZO, CA -- Sheriff's deputies shot four pit bulls, killing three of the dogs, after the animals charged them as they tried to serve a bench warrant on a suspected drug dealer at his Alameda County home Saturday morning.

Alameda County Sheriff's deputies went to David Macias' home in the 300 block of Via Coches at 10 a.m. Saturday. A judge had issued a warrant for Macias' arrest because he failed to appear in court on charges of possession of methamphetamine for sale and vehicle theft, according to Sheriff's Sgt. J.D. Nelson.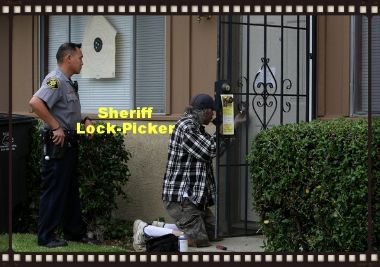 When deputies arrived, the front door of the home was wide open, so they knocked and rang the doorbell, Nelson said. No one answered, so deputies announced they were sending a police dog inside.

A woman appeared at the front door and as they spoke with her, four pit bulls charged through the home from the backyard toward the deputies as they stood on the front doorstep, Nelson said. One of the pit bulls charged the police dog and the other three started to attack the deputies at the door.

Deputies opened fire, killing three of the pit bulls and wounding the fourth in its paw. The surviving dog was taken to a local veterinarian's office for treatment.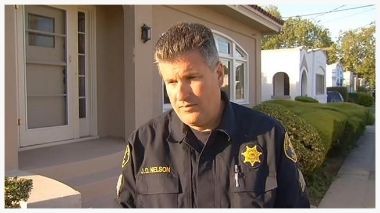 The K-9 deputy suffered minor injuries, Nelson said, but was home resting on Monday and expected to recover. Macias remained at large on Monday, Nelson said.

---
The Racist Rapist!
---
Executive Hero!
Posted: Saturday, May 18, 12:34 PM - Updated: Saturday, May 18, 12:34 PM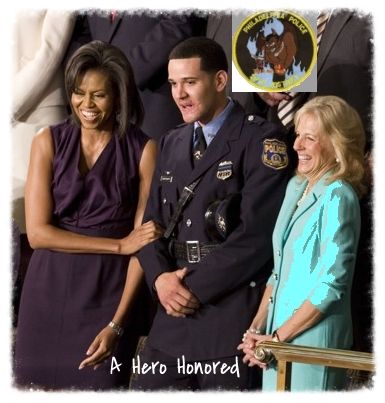 PHILADELPHIA, PA — A former Philadelphia police officer once hailed as a hero and given a seat next to the first lady at a speech by President Obama has been arrested and charged with rape and other crimes.

Authorities allege that former officer Richard DeCoatsworth left a party with two females early Thursday and took them to another location, where they allege that he produced a handgun and "forced the two females to engage in the use of narcotics and sexual acts."

A police spokeswoman said the two called police after he left, and 27-year-old DeCoatsworth was charged with rape, sexual assault, terroristic threats and related offenses.

DeCoatsworth was hailed as a hero after he was shot in the face during a traffic stop in September 2007 but still managed to chase after his attacker, who was later sentenced to 36 to 72 years in prison.

DeCoatsworth was invited by Vice President Joe Biden to attend the president's televised February 2009 address to Congress and sat with first lady Michelle Obama. He said he didn't know why he had been singled out, but being in the presence of the nation's leaders was an honor "that I will keep with me for the rest of my life."

Media sources, which first reported his arrest, said DeCoatsworth retired from the department on disability in December 2011.

Police said no other information on the alleged attack would be released Saturday to protect the victims and the integrity of the ongoing investigation. Authorities declined to say give even general locations for the party and alleged crime scene and also wouldn't say when DeCoatsworth was arrested.

A listed number for DeCoatsworth has been disconnected and it was unclear whether he had an attorney.

Police Commissioner Charles Ramsey told a Philadelphia Daily News columnist in February of last year that he believed he had made a mistake in granting the former officer's request to go back to work too soon after he was shot.

"God bless him for still wanting to get out there and do police work, but did I act in his best interest? In hindsight, I would say probably not," Ramsey told columnist Sty Bykofsky.

Harlot PD!
Posted: 05.03.2013 at 10:37 AM - Updated: 05.04.2013 at 3:07 AM PDT

Harlingen, TX -- A Harlingen police officer has been fired less than a month after being indicted for a Spring Break rape on South Padre Island. Harlingen Police Department officials confirmed that officer Elias Cardona has been fired.

The move comes three weeks after a Cameron County grand jury indicted Cardona on a sexual assault charge. Cardona is expected to appear before Judge Janet Leal with the 103rd State District Court on Thursdsay, May 9th.

South Padre Island police arrested Cardona back in March during Spring Break after he allegedly took advantage of an intoxicated woman.

Cordell!
Posted: Tuesday, April 30 2013, 06:21 AM CDT - Updated: 4:07 a.m. PDT Sunday, May 5, 2013


CORDELL, OKLA. -- An officer in the Cordell Police Department has been arrested on rape allegations. The Oklahoma State Bureau of Investigation (OSBI) has arrested a Cordell police officer Evan Riddle, 23, on two counts of Rape in the Second Degree and one count of Forcible Sodomy. Riddle was arrested at the Washita County Sheriff's Office after an OSBI agent interviewed Riddle. Investigators say through the interview, it was determined Riddle had sex with a 15 year old girl at two different locations over the past five months.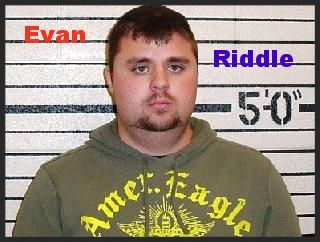 Riddle was arrested after local school officials accused him of having an illicit relationship with a 15-year-old girl. The alleged sexual misconduct occurred at both his and the teen's home over the past five months.

"Mr. Riddle has violated my trust, that of his colleagues, and moreover the trust of this community," Cordell Police Chief Daniel Allen wrote in a letter to town residents. "His actions have severely affected all of us who held trust in him– whether personally or professionally." The eight-month CPD veteran was fired immediately. Riddle is being held at the Washita County Jail on a $250,000 bond. He is the second police officer to be accused of rape in recent months. In February, former West Sacramento, California Sergio Alvarez was arrested and charged with kidnapping and raping six women while on duty.

Henry George!
Posted: 7:14 p.m. Friday, Feb. 8, 2013 - Updated: 3:38 p.m. PST Saturday, Feb. 9, 2013
Henry County, Ga. -- A Henry County police officer was arrested Wednesday and charged with aggravated sexual battery, according to the GBI. Henry County police requested the GBI investigate Officer Tim Ferguson last month after learning of allegations made against him, an agency spokesman said. Ferguson was apprehended in the Kroger parking lot at Eagles Landing Parkway and Ga. 155 in Henry County. GBI spokesman John Bankhead said no other information would be released "out of respect for the privacy of the alleged victim." Ferguson, suspended without pay on Jan. 31, posted $25,000 bond and was released early Wednesday night, according to jail records.

CODIS Hit!
Posted: April 25, 2013 3:56 PM - Updated: May 12, 2013 2:04 PM PDT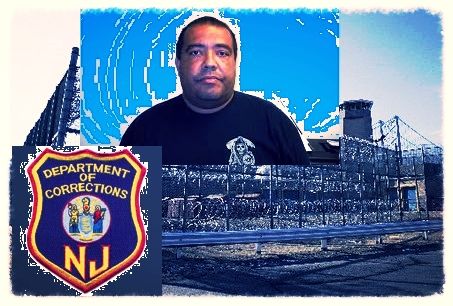 TRENTON, NJ (WCJB) – A New Jersey corrections officer who was arrested for allegedly stating he was a police officer in an attempt to coerce prostitutes into having sex with him for free (see previous story) is now facing an additional charge, thanks to new DNA evidence.

Juan R. Stevens, a 50-year-old senior corrections officer assigned to the Department of Correction's Central Reception and Assignment Facility in Trenton, was arrested on March 21, 2013 on charges of second-degree sexual assault and third-degree criminal restraint for allegedly coercing at least four prostitutes into engaging in sexual acts with him for free.

Now, Attorney General Jeffrey Chiesa says Stevens was arrested again on Thursday, April 25 after DNA he'd provided to State Police during his prior arrest yielded a match in the state's CODIS system. Authorities say he sexually assaulted a woman on May 23, 2011 at a motel in Mansfield, Burlington County.

Stevens also allegedly wore a uniform and displayed a badge to the victim before using physical force to coerce the woman into both oral sex and sexual intercourse with him without a condom.

The woman later called the Mansfield Police Department to report she'd been raped and was taken to the hospital, where DNA evidence was taken that matched Stevens'.

Authorities say this is the first time the state of New Jersey has filed charges as a result of a DNA match against a suspect entered into the CODIS system under a new law requiring DNA samples to be taken from all those arrested for violent crimes.

Child Rape!
Posted: April 22, 2013 at 10:35 AM, Updated May 12, 2013 at 05:41 PM PDT

LAWRENCE, Mass. (WCJB) — Lawrence Police Chief John Romero has asked Mayor William Lantigua to fire a city officer who is in a Florida jail awaiting trial on a child rape charge. Romero wrote a letter to Lantigua saying he believes there is sufficient cause to fire Carlos Gonzalez for "conduct unbecoming a police officer."

The local media reports that Lantigua did not return a message seeking comment on the termination request.

Gonzalez is one of three police officers Lantigua has left on the city payroll although they are on administrative leave from the department and facing criminal charges.

The state's Inspector General, who investigates fraud, abuse and waste of taxpayer money, warned Lantigua the city should not be paying police officers who are off the job and indicted on criminal charges.

March 22, 2013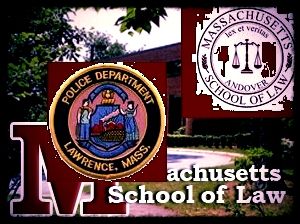 LAWRENCE, MA — Police Officer Carlos Gonzalez, a 25-year veteran of the Lawrence (Mass.) Police Department, was charged with sexually assaulting a girl while he was on vacation in Haines City, Fla. in July. Haines City is located between Tampa and Orlando. The victim said she was assaulted in a private home on July 22, 2012. She reported the incident to Lawrence police in December 2012. Gonzalez, 48, was booked on Tuesday and arraigned Wednesday, according to Donna Wood, spokeswoman for the Polk County Sheriff's Department. Gonzalez was formally arraigned in Florida on charges of sexual battery of a custodian on a person between the ages of 12 and 18 and selling, giving or serving alcohol to a person under age 21, Wood said. He is being held in a Florida jail on $165,000 bond.

He was arrested on a fugitive from justice warrant, arraigned in Lawrence District Court the following day and then held at Middleton Jail while he awaited transport to Florida. Gonzalez was arrested Feb. 27 in Andover at the Massachusetts School of Law, where he was a student. Gonzalez did not fight extradition to Florida to face the charges.

Earlier this month, police in Salem, N.H., also reopened a 2005 sexual assault complaint against Gonzalez. Salem police said in 2005 they received a report involving Gonzalez and a child dating to 1994, but not reported to police for 11 years. In 2005, Gonzalez was living with his then wife at 11 Kenwood Drive in Newton. Police in Newton, N.H., also confirmed Gonzalez was the subject of a possible sexual assault investigation in 2005. To date, no additional charges have been filed by Salem or Newton police.

Gonzalez, who earns $60,000 annually, remains on paid administrative leave from the police department. Police Chief John Romero has suspended his right to carry a firearm.

A Usual Suspect!
Posted: April 18, 2013 at 6:52 AM, Updated: May 12, 2013 at 8:05 PM PDT

New Orleans, LA -- A New Orleans police officer was arrested and booked with forcible rape of a 15 year-old girl, authorities said. Desmond Pratt, 42, a former homicide detective and now a 6th District cop, remained in jail Thursday morning, according to police spokeswoman Remi Braden.

According to an arrest warrant filed in Orleans Parish Criminal District Court, detectives with NOPD's child abuse unit received a complaint regarding the aggravated rape of 15-year-old girl on Wednesday (April 17). When police learned that the man accused in the crime was an NOPD officer, the record states, investigators notified the department's Public Integrity Bureau and an arrest warrant was filed.

Pratt was arrested at his home early Thursday morning, about 3:46 a.m., the record states.

Pratt, who was also booked on charges of sexual battery, was immediately put on emergency suspension without pay following his arrest, Braden said. Pratt was given a $50,000 bond during a hearing Thursday morning. If he makes bond he must also wear a monitoring device and avoid contact with the victim.

A forcible rape conviction in the state of Louisiana carries a minimum of five years and maximum of 40 years prison sentence and two of the years imposed are without the benefit of probation, parole or suspension of the sentence. Sexual battery is punishable by up to ten years in prison, according to Louisiana state law.

Pratt has been with the department since 1997 and was at one point a member of the Community Public Housing Force. As a homicide detective, he was deeply involved in the investigation into two murders tied to alleged Uptown drug kingpin Telly Hankton.

Pratt had requested protection for Hasan "Hockie" Williams after Williams, within hours of the crime, identified Hankton as the man who shot Jessie "TuTu" Reed on Terpsichore Street in June 2009. But Williams was shot shortly after attending Reed's funeral, with the same gun used to dispatch Reed.

Prosecutors said Hankton -- who had already been arrested in Reed's killing -- ordered the hit on Williams from the Orleans Parish jail.

It's unclear what led the NOPD to reassign Pratt.

Pratt also featured prominently in another high-profile murder case, that of 16-year-old Roderick Gordon, who was gunned down in the 1500 block of Conti Street in 2009.

In total, five men were accused of being involved in the shooting, although only one, 22-year-old Travis Burke, has been convicted. Two weeks ago, Burke got news that an unknown witness resurfaced and told the district attorney that Burke and his friend Jamal Clay, also charged with the crime and currently awaiting trial, were not the killers.

That witness claimed he saw three men, not five, shoot Gordon, and that none of them was either Burke nor Clay.

The witness claimed he had told Pratt what he'd seen six months after the killing, more than a year before Burke's trial, but was never called to testify at Burke's trial and that his defense attorney never even knew he existed.

Improper Sex!
Posted: Wednesday, April 17, 2013 - Updated: Monday, May 13, 2013 11:12:37 AM PDT

HOUSTON, TX (WCJB) -- A federal jury has sided with the city of Houston in a lawsuit over a woman's alleged rape by an officer while in custody. Barbara Russell sued the city over an incident in 2010. Russell claimed then-officer James Rodriguez arrested her, then raped her in his squad car before taking her to jail. Rodriguez pleaded guilty to improper sex acts with a person in custody and received probation.


Nashua 'Cannibal Cop'!
Posted: Wednesday, April 17, 2013, Updated May 14, 2013 at 03:06 PM PDT

Nashua & Stanhope, N.J. -- Richard Meltz, 65, of Nashua and Stanhope, N.J., has been arrested in connection with the NYPD "cannibal cop" rape and murder plot in New York City. Gilberto Valle, 28, a NYPD officer was convicted in a bizarre plot to kidnap, torture, kill and eat women. Valle was convicted March 12 of one count of kidnapping conspiracy, and he could receive life in prison when sentenced June 19. According to a press release issued by the U.S. attorney's office in Manhattan, Meltz, who is chief of police for the U.S. Department of Veterans Affairs in Bedford, Mass., was arrested and charged with conspiracy to "kidnap, torture, rape and kill women." Officials said Meltz lives in Nashua, although media sources could find no record of him in the city. Robert Asch, 60, a former high school librarian from Manhattan, was also arrested in connection with the case. Asch and Meltz are each charged with one count of conspiracy to commit kidnapping, which carries a maximum sentence of life in prison, and a maximum fine of $250,000, or twice the gross gain or gross loss from the offense.




Meltz and Asch allegedly dealt with Michael Vanhise, who communicated online with Valle. Vanhise was arrested in January and indicted on charges of kidnapping conspiracy. In the press release and court documents, officials said Meltz provided "strategic advice" for the group, including advice on "the widespread availability of stun guns in gun shops in New Hampshire" and their use in a kidnapping.

Court documents alleged that Meltz, Asch and Vanhise "engaged in a series of electronic mail and instant message communications during which they discussed and planned in great detail the kidnapping, torture, and murder of women." The FBI became aware of these activities in October 2012, court documents say. "They learned that Vanhise was sending e-mail and instant messages from various computers to solicit individuals, including Meltz and Asch, to kidnap, rape, and kill his wife, his sister-in-law, her children and his step-daughter. Vanhise eventually met with FBI agents, and told them that he sent Meltz and Asch photographs of his sister-in-law and her minor children. Meltz and Asch both expressed interest in kidnapping the proposed victims, and Vanhise provided Meltz and Asch with a location that was in close proximity to the kidnapping targets' actual home address. In an e-mail exchange between Meltz and Vanhise about this plan, Meltz wrote: 'we go over there she know you let's [sic.]us in we choke her out tie her up throw her in the back of your car take her someplace and [rape and torture her].' "

Undercover FBI agents contacted the men and eventually met with them. On March 13, 2013, court documents allege, Asch provided one undercover agent "with a bag of materials to be used during the kidnapping and torture ... including a ski mask, hypodermic needles, leather ties, chrome forceps, a three-page gun show itinerary, documents relating to a 'leg-spreader' and 'dental retractor' that Asch claimed to have purchased, and the liquid form of doxepin hydrochloride, commonly used as a sleep agent. During the same meeting, Asch ... conducted surveillance of ... the intended victim as she left her purported work place. Asch, upon viewing UC-3, said, 'She has to die.'"

"Asch also introduced an undercover agent to Meltz, who participated in multiple conversations about the conspiracy's objective to kidnap and commit acts of violence against women. For example, after Meltz and Asch discussed the widespread availability of stun guns in gun shops in New Hampshire, and advice about the use of a stun gun in the commission of the kidnapping offense," the documents allege.

The FBI alleges that in phone calls, Meltz provided advice, information and assistance to Asch on how to avoid detection and minimize the risks associated with abducting and murdering a woman. Examples of the techniques suggested by Meltz include the avoidance of toll roads, using rental cars, paying for tools in cash, looking for victims in desolate areas who are engaged in other activities (such as talking on the phone), abducting victims at night, and using disguises when first approaching a potential victim.

On April 14, 2013, Meltz met with an undercover agent in New Jersey. Meltz advised the agent on how best to dispose of a body, including how to transport it from the crime scene to a desolate location in the woods in upstate New York. Meltz allegedly said that given the weather at the time of year, if a body were left in the woods, wild animals would likely find and destroy it before law enforcement could find it.

Some people have expressed concern about their prosecution, arguing that the men were only indulging in sexual fantasies that they had no intention of carrying out. No women or children were harmed or attacked by the men, despite the detailed discussions they held in person and through email about torture and cannibalism. "As alleged, both of these defendants took affirmative steps to carry out the conspiracy to kidnap and torture women. Their actions were not confined to talking about these ghoulish plans. They acquired the tools to accomplish the deed, including a Taser and the chemical means to anesthetize their victims," said George Venizelos, FBI assistant director-in-charge, in the press release.

---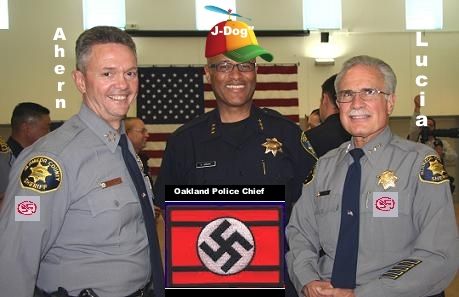 ---
CoCo Butter!
Posted: 08/15/2012 08:52:51 AM PDT - Updated: 08/15/2012 08:53:37 AM PDT

MARTINEZ, CA -- The Contra Costa District Attorney's Office on Tuesday dropped all criminal charges against an Alameda County Sheriff's deputy who had been accused of raping a woman in Moraga last year.

David Reta, a 28-year-old Union City resident, was charged in December with rape and attempted forcible oral copulation. He was scheduled to begin a preliminary hearing on Tuesday when senior deputy district attorney Nancy Georgiou, head of the sex crime prosecutions, announced that her office was withdrawing the charges.

"After we initially charged him, (the prosecution and the defense) did further investigation," Georgiou said. "We decided we weren't going to go forward based on the additional evidence we all discovered.

"At this time, we don't believe we can prove this case beyond a reasonable doubt."

A Contra Costa County judge dismissed Reta's case without prejudice, meaning the DA's Office is not precluded from refiling charges in the future.

Reta, who has maintained that he is innocent, was overcome with emotion upon hearing the announcement, said his attorney, Daniel Russo. Reta appeared in court with numerous supporters, including other sheriff's deputies.

"He's tremendously relieved," Russo said. "This guy has always wanted to be a cop and still wants to be a deputy.

"This has been horribly humiliating for him," Russo said. "He's been on paid leave, but he wants to get back to work."

Reta had been an Alameda County Sheriff's deputy for more than three years when he was arrested in December as he arrived for his shift at Santa Rita Jail in Dublin. He was accused of raping a woman he used to date in Moraga on Sept. 9.

Russo said his office did a months-long investigation into the allegations and presented the findings to the prosecution. Neither Russo nor Georgiou would not comment on the nature of that evidence.

December 15, 2011 9:58 AM

DUBLIN, CA (WCJB) – A Bay Area sheriff's deputy has been arrested for the off-duty rape of a woman in September. Contra Costa County prosecutors say 27-year-old Alameda County Deputy David Reta is charged with raping a woman in Moraga on Sept. 9. Reta was arrested when he arrived for work on Wednesday at the Dublin jail. He was released after posting $125,000 bail. Morage police Chief Robert Priebe says the Reta knew the woman and the deputy was off duty at the time of the incident.

Deputy Molester!
Published: 4:00 am PDT, Monday, May 23, 2011

MARTINEZ, CA (WCJB) -- A former Alameda County sheriff's deputy who had been accused of child molestation pleaded guilty Monday to child endangerment as part of a deal with prosecutors, authorities said. Michael Bareno, 43, of San Ramon was sentenced by Judge Brian Haynes of Contra Costa County Superior Court to a year in jail and five years of probation. With credit for time served, Bareno could be released in about a month, said his attorney, Patrick Clancy.

San Ramon police arrested Bareno in November on suspicion of molesting three children. Prosecutors originally charged him with 10 counts of molestation, alleging that he abused a girl and two boys between 2005 and 2009 while off duty.

As part of a plea deal, Bareno admitted to three counts of felony child endangerment, said Deputy District Attorney Paul Graves. The prosecutor cited the alleged victims' ages and "factual issues" as reasons for offering a plea deal, but declined to elaborate.

Clancy said there were credibility issues involving the alleged victims, and that he was satisfied with the resolution of the case.

Bareno resigned several weeks ago from the sheriff's office, where he had been employed for 15 years, said sheriff's Sgt. J.D. Nelson. Bareno worked at the Santa Rita Jail in Dublin and previously was in the patrol division.

November 11, 2010 2:20 PM

SAN RAMON, CA (WCJB) – An Alameda County sheriff's deputy has been charged with molesting three children.

Michael Bareno of San Ramon was arraigned on 10 counts of child molestation on Wednesday in Contra Costa County. The 43-year-old Bareno did not enter a plea and was referred to the public defender's office for counsel.

Bareno is accused of molesting a girl and two boys—all under the age of 10 — while off-duty between 2005 and 2009. Authorities did not reveal additional details about the case citing efforts to protect the victims' identities.

Alameda County sheriff's officials say Bareno, a 15-year veteran, worked in the patrol division before taking up a position at the Santa Rita Jail in Dublin. He was placed on paid administrative leave after his arrest on Friday and is being held on $4.6 million bail at Contra Costa County Jail.

---
Reader Pageviews by Country
---
From: May 7, 2013 3:00 PM – May 14, 2013 2:00 PM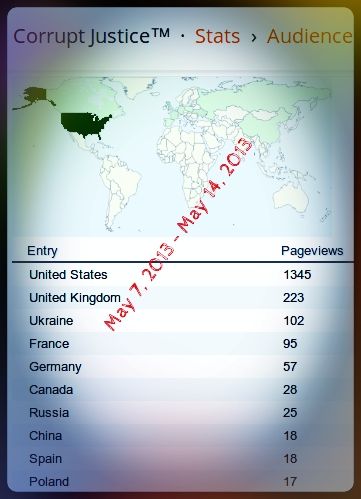 ---
«•
Thank you for visiting Corrupt Justice™. Enjoy our Free Movie Intermission! Don't forget to Bookmark Us & Tell A Friend! We're Global!
•»
---
Movie Intermission!
We Were Soldiers (2002)
---

Description: We Were Soldiers is a 2002 war film that dramatizes the Battle of Ia Drang on November 14, 1965. The film was directed by Randall Wallace and stars Mel Gibson. It is based on the book We Were Soldiers Once... And Young by Lieutenant General (Ret.) Hal Moore and reporter Joseph L. Galloway, both of whom were at the battle.

---
---