↓↓↓↓↓↓↓↓↓ Blog Post Starts Below ↓↓↓↓↓↓↓↓↓
---
Click on Banner to Sell Your Home(s)!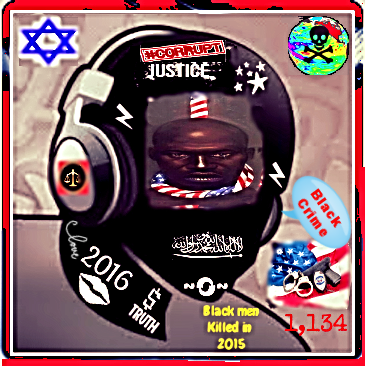 ---
---
"Cops have already killed 550 people in 2015," prompting the response, "If they're black, it doesn't count."
-- December 2015 texts discovered on the phones of Santa Clara Sheriff Deputies.
Top News Stories!
Coonin' ~ 2016!
Florida
-- Triplets Heaton, Wilder and Holden have developed the sweetest bond with
garbage men
Andrew Black, Rob Whitmore and Chad Cover. So much so that the 2-year-olds, who live in Florida, look forward to the weekly "garb days," (or garbage days), to spend time with their treasured friends.
This is called "Coonin'."
Adult Black Males forming friendships with White (Toddler) Children.
To obtain a better understanding of the concept of "Coonin'," please see the Movie:
"The Toy," (1982) featuring the late comedian, Richard Pryor.
Heroin overdose deaths have tripled in 5 years with 10,574 dying in 2014 compared to 3,036 four years earlier.
Double Standards!
Posted: 07/15/2016 06:56:27 AM PDT ~ Updated: July 27, 2016, 4:49 am PDT
OAKLAND, CA
-- Jorge Ramos, 26, of Oakland, appeared in court Thursday. He appeared on charges that allege he raped and otherwise sexually abused a young girl over two-to-three years. He appeared before an Alameda County judge Thursday morning to receive a public attorney.
The Oakland girl is now 12. The abuse began when the child was 6. She recently reported the abuse to her mother and Oakland police. She broke years of silence motivated by shame and a fear that she wouldn't be believed. The Alameda County District Attorney's Office this week charged Ramos with four felony sex crimes. They include intercourse and/or sodomy with a child under age 10; and continuous sexual abuse.
Ramos was also charged with felony evading police. Police first attempted to arrest him July 9, 2016. According to court documents, Ramos led officers on a vehicle chase. Ramos is being held without bail in Santa Rita Jail.
School Investigations!
Posted: May 6, 2016, 7:16 pm PDT ~ Updated: July 20, 2016, 7:49 pm PDT
STOCKTON, CA
— Mario Gates is a former Stockton Unified School District police officer. He is accused of strip searching a high school student. Gates resigned from the department in March after he was criminally charged with the unlawful strip search of a minor. The case involves a 14-year-old boy from Chavez High School. He has denied the accusation. The case is pending in the county Superior Court.
Court records indicate Gates had previously been accused of making a 9-year-old boy expose himself. The information came to light in a motion filed by the San Joaquin County District Attorney's Office. The motion is seeking the personnel files of Gates. The motion was filed May 5, 2016. It said, "While investigating this case, the Stockton Police Department also became aware of (Gates') prior incident."
A school district report dated Oct. 1, 2013 says Gates responded to a report of indecent exposure at Marshall Elementary School. Gates arrived and he and the school principal spoke with the 9-year-old boy. The boy admitted exposing himself in school. Gates told the principal he would walk the student back to class after the meeting. However, Gates took the child into an office.
In the office, Gates "asked him to simulate what happened. The motion says: "In doing so, Gates advised the boy to 'just pretend' to expose his buttocks like he had done in class." Gates was notified by the school that the boy's mother was upset that he had her child re-enact the incident. The motion says Gates then "went to the child's home unannounced. He again confronted the child without his mother." Afterwards the mother contacted the school district to complain about the inappropriate behavior.
Dianne Barth, spokeswoman for the school district, said the incident was investigated by Stockton police. "It was determined to be unfounded," Barth said. She also said a parent's complaint is always taken seriously.
Deputy District Attorney Elton Grau declined to comment on details of the motion. She said: "This is a process in which we obtain information we believe will be relevant in a jury trial." Grau said there are strict protocols officers must adhere to when conducting strip searches on minors. He said when those procedures are not followed, the District Attorney's Office looks at the case closely. Grau continued saying: "Anybody who has access to children and they commit a crime toward a child is a serious violation in the DA's office. We're not going to give them a get-out-of-jail card simply because they are a police officer or a teacher."
Court papers say that on Oct. 13, 2014, Gates responded to a call of a fight between a minor and another student. Gates handcuffed the teen and took him into a room. The two were alone. Gates found a lighter on Doe and asked the boy if he had marijuana. Even though the teen denied having any marijuana, Gates had him pull down his pants, spread his buttocks and cough and turn around and lift his genitals. Gates didn't file a police report on the fight until November. He denied having conducted the search.
According to the criminal complaint: "The minor was searched "without reasonable suspicion for a said search, and without prior authorization of the supervising officer on duty." Gates faces the misdemeanor unlawful strip search of the Chavez High student identified in court documents with the fictitious name John J. Doe. Gates is facing a potential maximum of six months in the County Jail and three months of probation, if convicted. Gates' next hearing is June 15, when attorneys are scheduled to argue the motion for his personnel file.
Sheriff Investigations!
Posted: June 30, 2016, 7:16 pm PDT ~ Updated: June 30, 2016, 7:49 pm PDT
Oakland, CA
-- The Alameda County Sheriff's Office has concluded internal investigations and cleared four officers of wrongdoing, finding that the relationships between Celeste Guap and its officers occurred when she was of age, were consensual and no money was exchanged. Guap, who has been the victim of sexual exploitation since she was 12, soon became renowned, spreading by word of mouth across the Bay Area police blotter. Guap continues to "work a corner" in East Oakland. Despite her refusal to give up officer's names, Guap feels that the police "all turned their backs on me."
D.A. Investigations!
Posted: 07/26/2016 05:52:16 PM PDT | Updated: 07/26/2016 08:12:16 AM PDT
OAKLAND, CA
-- The death of an Oakland police officer's wife inside an Oakland apartment had the makings of a homicide investigation. From the start, Officer Brendan O'Brien was "allegedly" the prime suspect. Two detectives "grilled" him about previous arguments with his wife at police headquarters. O'Brien told police he left the house to buy cigarettes and returned to find his wife dead from a gunshot wound. A receipt from the gas station found in his car confirmed the purchase at 9:45 p.m. Surveillance footage obtained by police showed him in the store around the time of his wife's suicide. Investigators eventually ruled the June 2014 death of Irma Huerta Lopez a suicide. Officer O'Brien committed suicide in September 2015.
Officer O'Brien was again absolved on Monday by the office of Alameda County District Attorney, Nancy O'Malley. O'Malley claims to have conducted a lengthy review of the case. D.A. O'Malley's report confirmed Huerta Lopez's as death a suicide. Officer O'Brien's suicide was also re-examined. O'Malley concluded: "After an exhaustive review of the investigation, it is our opinion that both deaths were investigated professionally and thoroughly, ultimately reaching the reasonable and appropriate determination to classify each death a suicide."
O'Malley outlined her findings in a letter sent Friday to Schaaf, City Administrator Sabrina Landreth and assistant police Chief David Downing. Mayor Schaaf supposedly requested the new investigation after news reports said the gun she used was fired twice. This evidence deepened her family's doubts over her death. Lopez's family maintained lingering suspicion of O'Brien. The new investigations came amid an East Bay-wide law enforcement sexual misconduct scandal. Officer O'Brien exposed the scandal in a suicide note.
O'Brien's suicide note consists of a two-page, typewritten letter signed by the 30-year-old officer. According to the DA's report, O'Brien revealed the names of some officers who were involved with a woman who goes by the name of Celeste Guap. Guap is a sexually exploited teen. She is the daughter of a police dispatcher. Guap claimed to have had a sexual relationship with O'Brien when she was underage. She also said she had sex with about 30 officers from various police departments. Some of the sexual encounters occurred when she was underage. Guap turned 18 about a month before O'Brien's suicide on Sept. 25, 2015.
She also said some of the officers shared confidential information with her. Guap's allegations sparked a widespread investigation. It resulted in several officers in Oakland, Richmond, Livermore, the Contra Costa Sheriff's Office and an inspector with the Alameda County District Attorney's Office being placed on leave, or resigning. The fallout from the scandal caused Oakland police Chief Sean Whent to resign under pressure in June. Whent's two successors departed within one week. The city is currently without a chief of police. The only possible reference to Guap in the DA's report was the police interview of an 18-year-old "Jane Doe." The interview was conducted five days after O'Brien's suicide.
The bulk of deputy district attorney Timothy Wagstaffe's report focused on Huerta Lopez's death on June 16, 2014. O'Brien and a neighbor each called 911 at about 9:52 p.m. Paramedics pronounced Huerta Lopez dead at 10:13 p.m. O'Brien consented to a search of his home, car and cellphone. He gave a blood sample. Crime scene technicians took about 1,000 photographs as they searched the apartment. Over the next 12 hours, other evidence as officers interviewed neighbors in the apartment complex at on Greenridge Drive.
Meanwhile, O'Brien sat in an interview room at police headquarters from 12:21 a.m. until he was interviewed at 5:19 a.m. During his interview with Sgts. Cesar Basa and Mike Gantt, Wagstaff wrote, "the investigators employed interrogation tactics. The tactics included the use of a 'ruse' in order to try and obtain information from Officer O'Brien. The investigators delved into any perceived inconsistencies in his statement until they were satisfied that all their questions had been answered truthfully and consistently." Nothing in O'Brien's suicide note contradicted his statements to Basa and Gantt, according to the report.
Technicians collected gunshot residue from O'Brien and Huerta Lopez. Police said both O'Brien and Huerta Lopez had gunshot residue on their hands. Investigators said the residue on O'Brien could have come from earlier firing or handling a gun. However, her DNA was more prevalent on the weapon.
Lt. Roland Holmgren, head of the homicide unit, said his unit takes all investigations seriously. "I hope the results of the independent investigation will work to ease some of the doubts cast about our ability to conduct fair and unbiased investigations," Holmgren said.
Gantt, a seasoned detective, was recently investigated for having his girlfriend transcribe his notes in a 2013 homicide case
.
Mayor Schaaf said in a statement: "This third-party review serves to reinforce the integrity of our police investigations. The public deserves to have confidence that we take any allegations or wrongdoing seriously and that our police department continues to operate with the highest level of professional and ethical standards." The DA's office and the police department continue to investigate the allegations of sexual misconduct by officers.
Posted: June 16, 2016, 5:16 pm PDT ~ Updated: June 21, 2016, 5:16 pm PDT
Oakland, CA
-- Corrupt Justice™ is learning more about the alleged relationship between Celeste Guap and Rick Orozco. Orozco is an investigator from the Alameda County District Attorney's Office. He is now on leave as a result of the Oakland police sex scandal case. Orozco is a former OPD officer of 28 years. He retired in 2015 before joining the D.A.'s office. Guap claims she and Orozco had a sexting relationship while she was underage.
On Thursday, the now 18-year-old woman at the center of the scandal texted media sources some details about her alleged connection to the district attorney's investigator. Celeste Guap would not talk on camera. However, throughout the day, she and sources have been texting. What she told sources was sexually graphic and concerned her online messages with Orozco. Their communications were private on Facebook Messenger. Guap sent sources a copy of the message on Thursday morning. It was too explicit for TV, but it involved a sex act.
When asked what sparked the suggestive language. Guap replied via text,
"Well based on the photos I had just sent him."
The sources asked: "Nude photos?"

Guap replied: "Yeah, lol."
When the source asked to see more messages from Orozco, Guap replied: "
I think that's all I have but we started sexting when I was 17 lol
. He's so handsome. For a 50-year-old."
On Wednesday, Alameda County District Attorney Nancy O' Malley placed Orozco on administrative leave. His connection to the self-described call girl is now under investigation.
The Alameda County District Attorney's office said no former Oakland officers would participate in its investigation. That includes DA inspector and one-time Oakland Police captain Rick Orozco, who once wrote a Facebook message to Guap that said,
"I would love your taco!"
Wannabe Judge!
Oakland, CA
-- Former Alameda County Deputy District Attorney Scott Jackson (
pictured below, center
),
who is currently running for an Alameda County Superior Court judge seat
, said he did not know he was Facebook friends with Celeste Guap until a reporter called him Monday. Jackson said he didn't know who she was and "unfriended" her while on the phone with this newspaper.
"Repugnant!"
Posted: 07/21/2016 11:26:02 AM PDT ~ Updated: 07/28/2016 11:26:02 AM PDT
Noah White Winchester, 31, of Stockton, was arrested on July 21, 2016 and has been charged with raping or sexually assaulting five women while on duty as a San Mateo police officer and earlier as an officer with the Los Rios Community College District in Sacramento. ( San Mateo Police Dept. )
Stockton, CA (WCJB) ~ United States
-- The accusations against Noah Winchester, a former San Mateo police officer, are truly shocking. Investigators say he's a serial rapist. The former northern California police officer was charged Thursday with raping five women while on duty. Police arrested Noah Winchester, 31, near his Stockton home Thursday morning after the local district attorney charged him with 22 counts of kidnapping, rape and related charges. Winchester, who is jailed on $3.1 million bail, is scheduled for an arraignment Monday. It's unclear if he's represented by an attorney.
"If these allegations are proven to be true, that would be horrific for the women who were victimized. Such criminal behavior is contrary to the core values and mission of the Los Rios Community College District," district spokesman Mitchel Benson said.
Winchester was linked to two other assaults in San Mateo and two more around Sacramento. All of the victims were female, and all but one were adults, prosecutors say. Winchester is charged as follows:
•» Oct. 20, 2015:
Two counts of rape and one count of kidnapping in the Coyote Point case;
•» Sept. 22, 2015:
One count of residential burglary and one count attempted rape for an encounter in a San Mateo motel room;
•» Sept. 15, 2015:
Two counts sexual battery involving a victim at Hillsdale Mall in San Mateo;
•» Aug. 30, 2013:
Two counts digital penetration, four counts sexual battery and one count kidnapping involving a 17-year-old girl in a Los Rios Community College parking lot; and
•» July 2, 2013:
Two counts rape, four counts oral copulation, one count kidnapping and one count of felony threats involving a victim at a Los Rios campus building.
Winchester was hired by San Mateo police in early 2015 and completed his probationary period in June, meaning he was patrolling unsupervised for about four months when he was placed on leave following the October allegation. In February, with the investigation still underway, Winchester resigned from the department.
Posted: May 13, 2016 12:55 AM PDT ~ Updated: May 26, 2016 01:45 PM PDT
San Mateo, CA
-- Police authorities announced Thursday that one of their officers is being investigated by the District Attorney's Office for allegations he raped a woman while on duty. Officer Noah Winchester was employed with the San Mateo police department for about nine months before allegations of severe, "repugnant" sexual criminal misconduct came to the department's attention. San Mateo police claim they learned of the allegations in October 2015. Winchester was immediately placed on paid administrative leave. His police powers were suspended. Police say he subsequently resigned prior to the investigation being completed.
Police Chief Susan Manheimer said: [Our department] "recognizes the seriousness, and is absolutely horrified at the nature of these criminal allegations. We want to reassure the public that this alleged conduct in no way reflects the core values of this department, its members or the police profession. We repudiate any and all misconduct while protecting and serving our public."
District Attorney Steve Wagstaffe would only confirm that Winchester was currently being investigated for criminal conduct
against women
while on duty. Wagstaffe said police quickly contacted his office as soon as they were notified. He noted the former San Mateo officer has not yet been charged. He said the investigation is ongoing and he anticipates making a decision next month. Wagstaffe said: "We agreed to conduct the lengthy investigation … for criminal conduct while on duty, involving women."
Burlingame police reportedly notified San Mateo police and the District Attorney's Office after receiving an allegation from a victim. A Burlingame woman reported she was raped by Winchester at Coyote Point Recreation Area. The allegations sparked an investigation that has led to
potentially four other victims
on the Peninsula and in Sacramento County. Neither police nor Wagstaffe would release many details. They noted the investigation was made public before a determination had been made about the allegations or whether criminal charges would be filed.
Winchester worked at another law enforcement agency in Sacramento County. He patrolled the American River College before recently being hired in San Mateo. The college's newspaper, the American Current, profiled Winchester in 2014 noting he previously spent time with the U.S. Marine Corps before joining the Los Rios Police Department. He reportedly made more than $88,200 in benefits and pay while employed by the college district in 2014, according to state records. No one could immediately confirm where Winchester is currently residing. Online records show he previously lived in Sacramento.
Sex, Murder, or Suicide?
Posted: May 13, 2016 12:55 AM PDT ~ Updated: May 24, 2016 02:45 PM PDT
OAKLAND, CA
-- Terryl Smith and James Ta'ai are the two Oakland police officers who resigned this month in the wake of a sexual misconduct scandal. Both the officers graduated from the Oakland police academy in 2014. Smith and Ta'ai graduated from the 168th Basic Recruit Academy. This was the largest-ever class of recruits to graduate in Oakland at a time when the city was working to add officers to its depleted ranks. Oakland police announced Wednesday that two of the four officers placed on paid leave during an investigation into sexual misconduct with the daughter of a police dispatcher, had resigned. However, OPD did not divulge their names.
On Friday, OPD provided the names of five of employees who resigned from the department since May 1, 20-16. According to the list of names provided by the department: Smith resigned Tuesday and Ta'ai resigned May 13, 2016. On the 13th police Chief Sean Whent and Mayor Libby Schaaf held a tense news conference to address the investigation. The list was provided in response to a public records request. However, a police spokeswoman refused to identify the two officers. It's not exactly clear how the officers are connected to the ongoing investigation.
The investigation was first sparked after Officer Brendan O'Brien committed suicide on Sept. 25, 2015. O'Brien left a suicide note naming officers who reportedly were involved with the dispatcher's daughter who goes by the name Celeste Guap. The Internal Affairs unit investigated the allegations in O'Brien's note. It is not known if any action was taken. However, the criminal and internal affairs probe was reopened after the federal monitor overseeing the department heard about the case.
The Alameda County District Attorney's Office
is now doing an independent review. They are allegedly reviewing the sexual misconduct allegations and deaths of O'Brien and his wife. Irma Huerta Lopez is the wife of O'Brien. She allegedly committed suicide in June 2014. Her death was briefly investigated as suspicious and later ruled a suicide. However, her sister has said she still has doubts that it was a suicide and blames O'Brien for her death.
Smith and Ta'ai could not be reached for comment. A call to the Rains Lucia Stern law firm, which frequently represents Oakland police officers, was not returned.
On Friday morning, Chief Whent addressed 44 new officers graduating from the 174th Basic Recruit Academy. and warned them to pay close attention to their moral compass.
"One risk I want you to pay close attention to is when and how you or others may lose your bearing to our shared moral compass. As police officers, you now share our obligation to uphold our code of ethics," Whent said.
He said officers must "maintain an unsullied personal life."
"The actions of one officer on or off duty anywhere in the country can have severe and lasting impacts on the relationship we have with our community here at home," Whent said. "That relationship is the foundation upon which our community safety is built and nothing is worth jeopardizing that."
Schaaf told the new officers she wasn't going to be as "subtle" as Whent.
"You've chosen an amazing week to become police officers," the mayor said. "This department is being rocked by a scandal of off duty conduct."
Posted: May 13, 2016 12:55 AM PDT ~ Updated: May 13, 2016 02:45 PM PDT
OAKLAND, CA
-- A sex scandal involving Oakland police officers and a then underage girl has all the makings of a TV thriller. The saga is full of twists and turns. The scandal erupted months after Officer Brendan O'Brien committed suicide. O'Brien left a note spilling the details, including names. Three Oakland officers were placed on paid leave.
A source said O'Brien in his suicide note confessed to exchanging messages with a young woman who goes by the name Celeste Guap. However, the note says he did not have sexual contact with her. The same sources said she has met multiple officers. In the note, O'Brien named the officers, including one sergeant, involved in the alleged sexual misconduct with Guap. Guap is the daughter of a Oakland police dispatcher. The police investigation will look at whether Guap was under age during some of the encounters with officers.
Brendon O'Brien is part of a group photo at the 166th Basic Academy graduation at the Scottish Rite Temple in Oakland, Calif., on Friday, March 22, 2013.
All attempts to reach the woman at the center of the scandal through a relative were not successful. However, she has been posting about the allegations on Facebook. This week Guap wrote: "[T]he only officer I ever messed with underage is sadly gone now, so I don't know why this is still being brought up." In another of her posts in late April, there was a picture of an Oakland patrol car parked at gas station with a message: "took me back to Richmond in style #saucy."
On June 16, 2014, O'Brien's wife, 29-year-old Irma Huerta Lopez, allegedly committed suicide. Adding to the intrigue she shot herself in the head with her husband's gun. Lopez' death was briefly investigated as suspicious but then ruled a suicide. Her family was not convinced. They blamed O'Brien for her death. On Friday, Lopez' sister Paulina Huerta said: "I always knew it. It was not possible for my sister to kill herself. But we didn't have proof."
On Friday City officials confirmed the gun that killed Huerta Lopez was fired twice. One bullet hit the floor and the other struck her head. O'Brien and his wife tested positive for gunshot residue on their hands. The coroner's report says the two had argued the night of the suicide. O'Brien left the home and returned to find her dead. O'Brien admitted in the suicide note that was drinking heavily and suffered from lingering suspicion that he might be involved in his wife's death, despite being cleared, a source said. Calls and messages to the O'Brien family were not returned.
Police Chief Sean Whent and Lt. Roland Holmgren of the homicide unit said it is not uncommon for both of those things to happen. Whent said the investigations into the deaths were thorough. He said evidence supports the suicide rulings in the case of O'Brien and his wife. However, the city announced that the Alameda County District Attorney's Office has been called in to review both suicide investigations and the ongoing sexual misconduct investigation.
U.S. District Judge Thelton Henderson, who oversees the department's court-mandated reforms stemming from the 1999 Riders police-brutality scandal, issued an order in March saying there were "irregularities" and "violations" of procedure in the handling of the sex allegations by police. The judge wrote that it raises concerns about the department's "commitment to accountability and sustainability."
Mayor Libby Schaaf called for the district attorney investigations and said no DA employees who used to work for the police department will be a part of it. Whent and Schaaf declined to discuss the sexual misconduct investigation. The exact allegations have not been released. Schaaf has asked the department to report to the DA's office each time an officer is suspected of criminal misconduct. Whent cited recent arrests of two officers while off-duty. He said the department will review misconduct cases in recent years to look for patterns and see if leaders can prevent future cases.
The American Model Minority!
Posted: May 13, 2016 12:55 AM PDT ~ Updated: May 13, 2016 02:45 PM PDT
Illinois
-- Three women were arrested at Chicago's O'Hare International Airport with more than $3 million of heroin and opium in their luggage. U. S. Customs and Border Protection agents discovered 70 pounds (32 kg) of heroin and opium. The drugs were found in numerous small packets in the women's luggage. The three women arrived on Tuesday on a flight from Japan.
The three women are identified as Pa Yang, 57, Mai Vue Vang, 58, and True Thao, 52. All three are from Minnesota. The women each face one felony count of possession with intent to deliver. The charge is punishable by 15 to 60 years in prison. A Cook County judge set a $50,000 bond for each woman on Wednesday.
The women are being represented by the Cook County Public Defender's office. The Public Defender's Office told Circuit Court Judge Donald Panarese Jr., that they have not been able to question their clients because a translator is needed. Officials did not say what language the interpreter must speak. The attorney representing the women declined to comment or give his name. Messages left for representatives at the public defender's office were not immediately returned. They are scheduled to appear in court June 2 and are being held in the Cook County Detention Center in Chicago.
The Racist Rapist!
Posted: May 12, 2016 12:55 AM PDT ~ Updated: May 12, 2016 01:45 AM PDT
Bill Barnickel of the Outer Sunset Merchant and Professional Association (OSMPA) and Irving Street Beat Officer Jason Lai
SAN FRANCISCO, CA (WCJB)
— The San Francisco Police Department is in the spotlight again for racist text messages between officers. Some of the text messages appear to mock the public outcry from a previous scandal where officers were accused of sending racist text messages. The officers involved sent texts between 2014 and 2015 that made fun of criticism of an earlier text scandal. The earlier scandal came to light during a police corruption trial. The scandal uncovered racist and homophobic messages sent between 2011 and 2012 by a group of five officers.
The city's public defender and experts on criminal justice said the texts appeared to reveal a deep culture of bias in the 2,000-member force. A bias that contradicts the city's image of tolerance and liberalism. Jeff Adachi, the public defender, said in an interview:
"These texts evidence a deep culture of racial hatred and animus against blacks, Latinos, gays and even South Asians. It can no longer be said to be an isolated problem."
The new racist texts were uncovered during a criminal rape investigation involving two SFPD officers. Curtis Liu (
pictured above, center
) is a retired lieutenant with the San Francisco Police Department. Liu was arrested last week. He appeared in court and entered a not guilty plea to felony and misdemeanor charges on May 3, 2016. Liu was charged after he allegedly interfered with a police investigation into sexual assault allegations against his fellow officer, Jason Lai (
pictured above-top, center-right
).
Lui allegedly tipped Lai off about the investigation. He then lied to subordinates and his superior officers to cover it up. The subsequent investigation uncovered text messages exchanged among officers connected to Lai and including Liu. The messages contained racist and sexist language. They also included derogatory references to blacks, Latinos, Indians, Muslims, protesters, rape victims and gay and transgender people.
San Francisco Public Defender Jeff Adachi issued the following statement following the latest revelation:
"In light of revelations that a second group of San Francisco police officers exchanged racist and homophobic text messages, my office will begin a full review of past cases that may have been tainted by these officers. I am also calling for an independent investigation into when the police chief and district attorney learned of the text messages. Every person in San Francisco deserves equal justice. It does them a grave disservice to dismiss every hateful act as an isolated incident. The police department must address the culture that lets racism fester in its ranks."
District Attorney George Gascón formed a panel to investigate allegations of racism in 2015. Gascón said racism in the department go beyond isolated incidents. He said: "This problem is more systemic and it needs to be addressed in a more deeper fashion." Gascón said investigators were going through evidence sent by the Police Department late last year related to the previous case. It was at this time he said they discovered the additional bigoted messages.
However, Gascón said his office was not notified of the additional text messages and only learned of it late last week. He said they were discovered after sifting through the thousands of pages of messages themselves. Gascon said: "It was never pointed out to us." He continued: "If the department knew about it, it's a problem that we weren't told."
Police Chief Greg Suhr disagreed. He said the department notified Gascon about the existence of the new text messages last year. Suhr said the five officers involved have either been fired or are in the process of being fired. In a letter to Gascón Thursday, Suhr said:
"For you to suggest that you discovered the text messages through your own criminal investigation would be disingenuous. This is not new information as our offices have been working closely on this case with at least three members of your staff to ensure the fair administration of justice."
The texting scandal in San Francisco comes as the federal government is conducting an overall review of the Police Department. The review comes after the fatal shooting in December of an African-American man, Mario Woods. The video of the shooting was posted online. It prompted an outcry. Mayor Edwin M. Lee then requested a federal investigation. The federal investigation is being carried out by the Justice Department.
"G-D" PD!
Posted: May 4, 2016 04:01 PM PDT ~ Updated: May 4, 2016 11:43 PM PDT
ATLANTA, GA
— Former DeKalb County Police Officer Vacinto Gumbs
(pictured above, center; center-right is Gumbs during a December 2015 arrest on Domestic Violence charges)
has been indicted. Gumbs is accused of being part of a vast criminal conspiracy involving the "Gangster Disciples". According to the indictment, Gumbs bragged that he was a hit man for the organization. The Gangster Disciples are a notorious street gang founded in Chicago, Illinois. The U.S. attorney said the Gangster Disciples are responsible for 10 murders and 12 attempted murders in Georgia alone. A grand jury indicted 32 alleged members of the Gangster Disciples on racketeering charges.
Federal, State and local police arrested 30 of 32 alleged gang members. The former police officer was among dozens of alleged gang members arrested in lightning raids across metro Atlanta. The FBI had raids in Cobb and Paulding counties. The raids involved police in Macon and Valdosta counties. Several raids occurred in the city of Atlanta. Media sources were there as the FBI raided a Marietta apartment complex.
DeKalb County's police Chief James Conroy said Gumbs resigned last October. He resigned after investigators said he lied to them about his involvement in using illegal drugs. Conroy said: "So as we were preparing to terminate him for that, he went ahead and resigned and left before the investigation was complete." .
Venice Hanshaw told media sources she had no idea she was living among accused gang members suspected in a wide web of organized crime. "When you're up and about you don't realize what's going on around you," Hanshaw said. "It's a little bit scary because we have never seen anything like that before." Neighbor Tyler Hall told Willis nothing appeared to be out of the ordinary in the neighborhood. "Nothing ever looked too suspicious or anything," Hall said. "We don't get involved in it we just go about our business."
The U.S. attorney's office says the Gangster Disciples used charitable organizations as fronts for their illegal activity. DeKalb County District Attorney Robert James said gang members pretended to mentor young men but really just led them into a life of crime. "They recruit our young men, and so they don't just bring futures to a violent end, but they also lure these young men away from a path of the straight and narrow," James said.
'Mocking Muslims'!
Posted: April 25, 2016 08:01 PM PDT ~ Updated: May 1, 2016 10:02 AM PDT
Los Angeles, CA
-- The Sheriff's Department announced Sunday that top Los Angeles County Sheriff's Department official Tom Angel
(pictured above, center-left)
has resigned. Angel submitted his resignation amid mounting criticism over emails he sent mocking Muslims, blacks, Latinos, women and others from his work account. The e-mails were sent during his previous job with the Burbank Police Department. Four of the emails contained strings of jokes that Angel received and then forwarded to others. A city spokesman said the other senders and recipients were redacted because they did not work for the city. He said releasing their identities would be an invasion of privacy. Media sources obtained the e-mails from the City of Burbank under the state's public records law.
One of the emails said: "I took my Biology exam last Friday. I was asked to name two things commonly found in cells. Apparently 'Blacks' and 'Mexicans' were NOT the correct answers." A second email ridiculed concerns about the racial profiling of Muslims as terrorism suspects. A third e-mail included the subject line: "How dumb is dumb?" The e-mail then listed 20 reasons "Muslim Terrorists are so quick to commit suicide." The reasons included: "Towels for hats;" "Constant wailing from some idiot in a tower;" and "You can't wash off the smell of donkey."
A Fourth email was a short dialogue between Angel and another Burbank police official. In the e-mail Angel asked what he called a trivia question. The question went as follows: "How many virgins do Muslims get in heaven?"
Chief Child-Predator!
Posted: April 25, 2016 08:01 PM PDT ~ Updated: May 1, 2016 10:02 AM PDT
Commonwealth of the Northern Mariana Islands (WCJB)
-- Former Department of Public Safety (DPS) Commissioner James C. Deleon Guerrero, 44
(pictured above, center)
and Jesse Concepcion, 45, Police Officer III
(pictured below, center)
confessed during their interview that they had sex with a 15 year-old girl at a secluded San Antonio beach site in June 2013. The Office of the Attorney General charged Deleon Guerrero and Concepcion each with one count of sexual abuse of a minor in the first degree: two counts of misconduct in public office; and two counts of conspiracy to commit sexual abuse of a minor in the first degree. Deleon Guerrero and Concepcion are both under house arrest after posting $15,000 and $10,000 cash bail plus property, respectively.
The Commonwealth of the Northern Mariana Islands (CNMI) government called Federal Bureau of Investigation special agent Haejun Park to the witness stand at a preliminary hearing on Friday. Park explained why the FBI was involved in the investigation in the case against Guerrero and Concepcion. Park testified that the investigation in this case started with a Crime Stoppers' tip about a possible sex trafficking of minors in July 2013. Park said the FBI conducted an investigation in 2013 separate from the DPS because it involved child pornography and CNMI government officials.
The special agent discussed the FBI's investigation in the case against Raymond B. Roberto, former firefighter Richard Sullivan Benavente, 45, and Annette N. Basa. Roberto is the former acting director of the CNMI Division of Fish and Wildlife. Roberto was acquitted in September 2014 by a federal jury on charges that he enticed three minor girls to engage in prostitution and tampered a witness while he was in jail. In 2013, a federal grand jury indicted Benavente. He was indicted on several counts of sexual exploitation of a child. He cooperated with authorities and pleaded guilty to a count of sexual exploitation of a child. On Feb. 22, 2016, U.S. District Court for the NMI Chief Judge Ramona V. Manglona sentenced Benavente to the maximum imprisonment of 30 years.
In December 2014, Basa was slapped with a 17.5-year prison term for pleading guilty to sex trafficking of children. Park testified that Basa was the person who provided the girl to Concepcion. Park testified that he did not believe that Guerrero was aware of the arrangement between Basa and Concepcion. He testified that Basa was providing the girl with sex customers in exchange for money, drugs, and cigarettes. Park testified that Basa stated in her interview that initially she was not aware that one customer was Guerrero. She said she later found out that it was the then-DPS commissioner.
Park said they solicited assistance from the CNMI's Attorney General's Investigative Division pertaining to the investigation against Guerrero and Concepcion. Park said it was awkward for him to approach Guerrero for an interview in March 2014 because they knew each other as law enforcement partners. Agent Park testified that both Guerrero and Concepcion did in fact confess to the sexual offenses. Park said Guerrero and Concepcion acted surprised when he told them that the girl was a minor. He then told them she was only 15 years old.
The special agent testified that Guerrero confessed that he had sex with the alleged victim on two occasions. On both occasions the sex acts occurred at a San Antonio beach, behind a school in June 2013. He said Guerrero provided details of the sex encounters. However, he stated that he was not aware that the girl was a minor. The special agent testified that Guerrero said he believed at the time that the girl was not a minor because she had pubic hair. Park testified that on both occasions Concepcion was present.
Park said Concepcion was also surprised when he interviewed him in September 2013. However, he testified that the officer confessed and provided details about his multiple sex encounters with the girl. Park said Concepcion provided corroborating information about Guerrero's sex encounters with the girl. He said Concepcion stated that he had sex at least on four occasions with the girl.
Park said he interviewed the girl about half a dozen times mostly because of her sexual encounters with different persons. Park said they had shown Guerrero the sex video between Benavente and the girl. He said Guerrero stated that he believes it was the same girl he had sex at the beach site. Park said Basa identified Guerrero.
The defense called one witness. The witness was Melissa Bauleong. She is an investigator from the Office of the Public Auditor. She interviewed the girl in July 2013.
Superior Court Associate Judge Joseph N. Camacho continued the preliminary hearing to May 9, 2016 at 1:30 p.m. An issue arose regarding an affirmative defense for both Guerrero and Concepcion. "[I]n a prosecution under 6 CMC 1303-1309, whenever a provision of law defining an offense depends upon a victim being under a certain age, it is an affirmative defense that, at the time of the alleged offense, the defendant reasonably believed the victim to be that age or older, unless the victim was under 13 years of age at the time of the alleged offense." Camacho ordered the prosecution and the defense counsel to submit briefs on the affirmative defense issue.
Cleaned Me Out!
Posted: April 28, 2016 08:01 PM PDT ~ Updated: April 28, 2016 05:02 PM PDT
Colerain Township, Ohio
-- Jeffrey Hawkins, 57, is charged with shooting and killing his 59-year-old wife, JoAnn Hawkins in Ohio. He is also a former Chicago-area police officer who left a suburban department amid an investigation into alleged use of excessive force. Hawkins worked as a police officer in Elk Grove Village from 1990 to 1999. Elk Grove Village Police Chief Stephen Schmidt confirmed this fact. Hawkins was a sergeant when he resigned. He resigned after the department launched an investigation into a complaint that he used unnecessary force during an arrest. Hawkins began working as a security officer at the Field Museum in 1999. Hawkins was employed there until 2003. Hawkins identifies himself on social media as a public safety and security professional who received police training in Chicago.
Police in Colerain Township, Ohio, said Hawkins called 911 on Monday morning. The dispatcher asked what she could help him with. He replied calmly: "
I just shot and killed my wife.
" The dispatcher if he was still armed. He replied: "It's [the gun] on the sink.
I'm not a threat to anybody. I'm a former police officer.
" He told the dispatcher he would wait for police on his front stoop.
His composure cracked after the dispatcher asked him what exactly had happened. He said he had called police Saturday. Saturday was the day of his birthday. He said money was taken from the account he and his wife shared while he was away. Hawkins said his wife wouldn't explain why the money was missing. He continued saying: "She just kept saying, 'Talk to my lawyer.' And I don't know, it just happened." He shot her multiple times with a .40-caliber handgun. At this point Hawkins started choking up. The dispatcher urged him to stay calm. He then said: "God forgive me." Hawkins then said that he heard sirens. He then surrendered to authorities.
A spokesman for Colerain Police Department said police had been called to the couple's Appletree Court home Saturday. Hawkins allegedly slashed the tires of his wife's car. Love said the couple had been married about 10 years. They lived in the home for many years but that police had not been called to the residence.
It's not the first time Hawkins has been on the other side of the law since giving up police work. Hawkins was charged in DuPage County with molesting a female relative who was under the age of 18 in 2003. According to court documents, a charge of aggravated criminal sexual abuse in that case was later dropped. Court records show Hawkins pleaded guilty to misdemeanor battery. He was sentenced to two months of probation. Hawkins filed a petition to seal the conviction last year. Prosecutors objected and a judge denied the request.
Hawkins has been charged with murder in his wife's death. A Hamilton County judge set bail at $3 million Tuesday. A grand jury action is pending next week. A phone message was left for his attorney.
JoAnn Hawkins' ex-husband asked not to be named. He said he and the sons he had with Hawkins were grieving her "horrific" slaying. He said they didn't immediately want to comment. A visitation and memorial service were planned for her in suburban Cincinnati Friday.
Teti Rows!
Posted: April 22, 2016 12:01 AM PDT ~ Updated: April 25, 2016 04:02 AM PDT
BERKELEY, CA
-- The University of California is being rocked by yet another widening sexual misconduct scandal. On Thursday, the University revealed it has hired an outside investigator to examine a sexual assault complaint against a member of the Cal men's rowing team. A former female member of the team is the alleged victim. She claims coach Mike Teti
(pictured above, center)
knew she had been sexually assaulted in December 2013 at a rowing team party. She said the coach told her to stop crying instead of reporting it. Teti allegedly said: "You're no angel anyway," and asked her about her sexual relationships with other rowers. Athletic coaches are among the campus employees required to report such allegations to the campus anti-discrimination office.
Teti is also an Olympic medalist and nationally regarded coach. Media sources reached Teti Thursday evening. Teti wrote in an email the "allegations are completely false and I'm confident any investigation will prove this." The new investigation is the second time the university has looked into the woman's complaint. The campus Office of Anti-discrimination determined last year that Teti had not violated the university's sexual harassment policy.
UC Berkeley complaint resolution officer Paula Raffaelli told the woman in an email that she had spoken with Teti "about the kind of questions and conversations he had with you, and the language he used." The email from Raffaelli also said the men's crew coaches and athletes would receive additional training related to sexual violence and harassment, "with a specific emphasis on gender and sex stereotyping."
The woman is not being identified because Corrupt Justice™ does not name victims of sexual abuse. In an interview she said she had been sexually assaulted over the years on more than one occasion. The assaults were by different teammates. She quit the crew team after the final alleged assault in summer 2014. The instant assault occurred in December 2013. The woman said in interviews that she fell asleep on her teammate's couch, fully clothed. She awoke naked in a teammate's bed after the team's annual "xxxmas party," known as "triple-x." She told media sources that Teti informed her in a one-on-one meeting the following month that he knew what had happened. However, he blamed her reputation and asked about her sexual relationships on the team. "He said, 'You're no angel anyway,' " she said. "It made me so upset."
In an email to Teti, she said she feared for her safety on the team. Teti wrote back two weeks later. He wrote: "First, I'd like to clear up any misunderstanding you may have about our coach, athlete working relationship. I was never under the impression there was tension there." He told her he had notified the campus anti-discrimination office about her concerns. He said that she should not have to fear retaliation for reporting sexual harassment or assault. "You should not have to resign from the team because of discomfort you may feel after reporting an incident. There are ways we can manage that discomfort without you resigning from the team." He referred her to several counseling centers on campus. He added: "It is clear that this is a difficult time for you. ... Let me emphasize again that I value you as a student-athlete and would like to address your current concerns as best we can."
The woman's father said he was told by UC officials Thursday the latest probe would investigate at least one of the sexual assaults his daughter reported to the university. The investigation would include the coach's role in reporting what he knew. Cal's athletic department acknowledged the investigation in a statement late Thursday afternoon. However, citing student privacy laws, the University said it was not able to discuss the details. The statement said the department "will continue to work extremely hard to make sure everyone involved is held to the highest of standards across the board."
On Friday, UC spokeswoman Dianne Klein said the investigation is focusing on the assault allegations. She said the investigation would not focus on the coach's role. If that investigation raises questions about Teti's conduct, that would be investigated separately.
Teti is a towering figure in his sport, having rowed in three Olympics and being an assistant or head coach of the U.S. team five times. He moved to Cal from Princeton in 2008. His teams finished in the top five at the Intercollegiate Rowing Association championships during his first five years at Berkeley. Teti is legendary in rowing circles. He was described years ago in a New Yorker profile as playing "a role not unlike that of a drill instructor in a Marine boot camp -- Gunnery Sergeant Hartman, from Stanley Kubrick's 'Full Metal Jacket.' "
The claims against Teti suggested a tight-knit, macho culture on the rowing team. Women often fulfill the role of coxswain, steering the boat and coordinating the rowers. Former coxswain, Stephanie Gardner said he promoted an attitude of negativity and hostility from the top down. She said she quit the team in 2012 after experiencing relentless bullying by her teammates. The bullying got so bad she became terrified to go to practice.
Gardner said she met with an assistant coach and told him about the harassment. "His response was basically, 'This is what you should expect as a girl on this team. You just need to be tougher. I will try to keep them under control, but there isn't much I can do.'" She continued, "Coaches should not allow harassment to happen on their team right in front of them. They listened to it; they knew what was happening, and they didn't care."
The allegations come just weeks after Cal assistant basketball coach Yann Hufnagel resigned after sexual misconduct allegations. The university found he had propositioned a female reporter for sex. It was also revealed that diving coach Todd Mulzet was docked $455 in pay for sexually bullying a co-worker. The university told media sources that it is not renewing Mulzet's contract. The coaches are part of a larger scandal that has brought down a UC Berkeley provost, law school dean, world-renowned astronomy professor and other high profile faculty members.
Docked Pay!
Posted: April 23, 2016 12:01 AM EDT ~ Updated: April 27, 2016 05:11 PM PDT
Berkeley, CA
-- The University of California at Berkeley School of Law, has named Law professor Melissa Murray as the interim dean. She succeeds former Dean Sujit Choudhry
(pictured above, center)
. Choudhry resigned from the position following allegations that he had sexually harassed his executive assistant. However, Choudhry remains on the law school faculty under the university's tenure policy. Choudhry resigned as dean on March 10 following allegations that he sexually harassed his executive assistant for months in 2014 and 2015. The university released a report corroborating the claims and docked his pay by 10 percent while ordering him to pursue counseling.
All- American Collegiate!
Posted: April 23, 2016 12:01 AM EDT ~ Updated: April 24, 2016 11:36 AM PDT
Berkeley, CA
-- The University of California at Berkeley initiated termination proceedings against men's basketball assistant coach Yann Hufnagel
(pictured above, center)
. Hufnagel is in his second year as an assistant coach at UC Berkeley. He previously served as an assistant at Vanderbilt University, Harvard University and the University of Oklahoma. UC initiated the proceedings after a finding that he violated the university's sexual harassment policy. The finding were made by the university's Office for the Prevention of Harassment and Discrimination. UC Berkeley officials said head coach Cuonzo Martin initiated proceedings against Hufnagel.
Hufnagel has been relieved of his duties effectively immediately pending the outcome of the termination process. He did not travel with the Cal basketball team to the NCAA tournament game against University of Hawaii. UC Berkeley officials distributed a redacted version of the investigation of Hufnagel on March 14, 2016. Hufnagel has been provided with a copy the complaint against him. He has had an opportunity to review the findings.
Hufnagel is the latest in a string of UC Berkeley officials to come under fire for alleged sexual misconduct. UC Berkeley law school dean Sujit Coudry resigned from his post following allegations that he had sexually harassed his executive assistant for months in 2014 and 2015. Astronomy professor Geoffrey Marcy resigned in October amid allegations that he had sexually harassed students for a decade.
28-Year Vet!
Posted: April 21, 2016 12:01 AM EDT ~ Updated: April 22, 2016 01:36 AM PDT
>
Officer Willie Gant faces 25 years to life on each of two counts of sexual battery of a juvenile under age 13 in trial set for June 7, 2016.
New Orleans, LA
-- Willie Gant, 59, is a 28-year veteran of the New Orleans Police Department. In July of 2014 he arrested on accusations that he groped a pre-teen relative on two separate occasions when she visited his St. Claude-area home. Gant is charged with two counts of sexual battery of a victim under the age of 13. Gant has pleaded not guilty to the charges. Gant has sat quietly through his scheduled court appearances. He has been awaiting trial for nearly two years. On Thursday his trial date was set for June 7, 2016. Gant faces a sentence of 25 years to life on each count, ... if convicted.
Gant has remained free on a $20,000 bond. Gant was initially placed on emergency suspension without pay. However, he has been allowed to return to work with the NOPD while awaiting trial. Gant remains on the force and is assigned to the NOPD's 8th District. The 8th District polices the French Quarter. Gant has declined comment on the case.
A 12-year-old girl told investigators she had been sexually assaulted twice by NOPD officer Willie A. Gant at his home. The case against the officer could hinge on the credibility of his accuser. She was 12 years old when she reported she had been molested. The victim is now 14. Orleans Parish prosecutor Bonycle Thornton asked that the girl be allowed to testify via closed-circuit television. The victim's testimony would occur outside of Gant's presence.
Gant and his defense attorney Criminal District Court Judge Robin Pittman to order any testimony from the girl to be provided live in the courtroom. Gant's attorney argued earlier this month that such an accommodation would deprive Gant of his Sixth Amendment right to confront his accuser. Thornton countered that the arrangement is necessary to prevent the girl from becoming intimidated or distraught by seeing Gant staring back from the defense table.
Two court-certified mental health experts who evaluated the girl agreed with Thornton at an April 7 hearing on the matter. "We recommended to the court to allow her [closed-circuit testimony] because having her face and look at the defendant has the potential of re-traumatizing her." Forensic Psychologist Dr. Rafael Salcedo interviewed the girl with colleague Dr. Richard Richoux. Dr. Richoux is a forensic psychiatrist. Dr. Salcedo testified that, "Having to face the defendant in open court would have a negative impact on the level of emotional distress she would experience." Salcedo said he and Richoux found the girl to be exhibiting symptoms of depression, anxiety and post-traumatic stress syndrome. He said her emotional state has been affected by the fact that Gant has remained free on a $20,000 bond.
Dr. Salcedo further testified that Gant's being allowed to return to work with the NOPD while awaiting trial, has exacerbated the condition. He continued: "She expressed anxiety, concern, apprehension and almost a sense of injustice that the person she believes molested her was not incarcerated and was out on bond. She is concerned that he is a New Orleans police officer and, in that instance, held some degree of power over her. She doesn't want anything to do with him. He was someone she portrayed as having betrayed her."
Salcedo described Gant's accuser as introverted. He said she is shy and mostly reluctant to discuss the incidents in their interview. The doctor said this makes her testimony in open court a tenuous prospect. The doctor testified: "She didn't want to talk in any detail about what happened. She was close to shutting down, and I didn't push it." Gant's attorney asked: "So you don't know if someone asking a further question would make her shut down? You made the decision not to persist?" The doctored responded: "It was causing her distress to the point I did not want to inflict additional pain on her. I think it would be psychologically devastating to her to testify in court, staring into the face of the man she says sexually molested her."
Gant's arrest record shows that the girl described two incidents of the police officer touching her inappropriately. Each incident occurred while she was in his house visiting his daughters. She said they happened about three weeks apart in July 2014. The report was investigated by detectives from NOPD's sex crimes unit and Public Integrity Bureau.
Detective Sgt. Lawrence Jones swore out an affidavit for an arrest warrant affidavit. In the affidavit he attested that the girl said that on the initial visit in the first week of July, Gant groped her with his hands under her clothes. On a second visit July 26, she told police, she was sleeping on an air mattress when she was awakened around 5 a.m. to find Gant touching her below the waist underneath her clothing. The warrant said she told police that other children also were visiting with Gant. She told police that she had "urged the children not to leave her alone in an effort to prevent further abuse from Gant."
Gant was arrested and temporarily suspended from duty in 2009 in connection with a lawsuit seeking to collect unpaid child support. He also was investigated by the PIB in 2008 after a complaint that he punched a French Quarter tour guide during a traffic dispute on Dauphine Street.
Coon 'Nana Puddin' ~ 2016!
Posted: April 19, 2016 12:01 PM ET ~ Updated: April 19, 2016 06:25 PM PDT
Brooklyn, NY
-- New York Supreme Court Judge Danny Chun threw out the manslaughter conviction of New York City police officer Peter Liang. Liang was convicted of the fatal shooting of an unarmed black man. The shooting sparked emotional protests from both sides of the controversial case. Liang, 28, could have faced up to 15 years in prison for manslaughter in the death of Akai Gurley, 28. Chun reduced the jury's conviction to criminally negligent homicide.
Chun sentenced Liang to five years probation and 800 hours of community service
.
A week ago Chun rejected a motion from Liang's lawyers that the conviction be reversed. They argued on the grounds that a juror had lied to claim a spot on the panel. Liang's lawyers accused juror Michael Vargas of having an anti-police bias. They also accused him of lying to hide his father's criminal past. Chun determined that Vargas had hedged but not lied. He ruled that none of it had any impact on the guilty verdict.
Gurley's family bubbled with expressions of outrage. Sylvia Palmer is Gurley's mother. Ms. Palmer faulted Brooklyn District Attorney Kenneth Thompson for recommending a home confinement sentence. She issued an emotional response to Chun's decision:
"By escaping jail time, Peter Liang faces no meaningful legal accountability for killing Akai. This felony conviction without appropriate consequences makes clear that police are treated as if they are above the law, allowing Liang to walk out of court home to his family while my son will never be able to do the same. Judge Chun's sentencing decision today is an insult to the life of Akai Gurley, to me as his mother, to all families whose loved ones have been killed by police, and all New Yorkers. Shame on D.A. Thompson, Judge Chun and New York City – while we thank the community for standing with our family, this is another sad chapter in this city's history with the status quo maintained."
Gurley's relatives started a Facebook page titled "Justice for Akai Gurley Family." The page has drawn more than 1,300 likes. A post entitled "Pack the Court. Pack the Street" encouraged supporters to gather at the courthouse during Tuesday's sentencing to "demand accountability for the unjust killing."
D.A. Thompson prosecuted Liang for manslaughter. In March, Thompson announced he would recommend six months of home confinement; five years probation; and 500 hours of community service. He stated:
"[Liang's] incarceration is not necessary to protect the public, and due to the unique circumstances of this case, a prison sentence is not warranted," Thompson said. "There are no winners here."
Thompson now claims his office would fight the decision. He stated:
"While our sentencing recommendation was fair under the unique circumstances of this case, we respectfully disagree with the judge's decision to reduce the jury's verdict and will right to reverse it on appeal."
The NAACP Legal Defense and Educational Fund is a civil rights organization based in New York. They expressed deep disappointment at the decision. They stated:
"This decision compromises the perception of fairness and independence that is vital to improving public confidence in the justice system and to restoring effective community-police relations," said Sherrilyn Ifill, the organization's president and director-counsel. "Here, the jury did its job and was failed by the prosecutorial and judicial components of the justice system, as was Mr. Gurley's family."
A coalition of Asian American organizations together condemned the judge's decision. The coalition read a joint statement released by the Asian Americans United out of Philadelphia; Chinatown Community for Equitable Development out of Los Angeles; CAAAV Organizing Asian Communities out of New York; and the Chinese Progressive Association out of San Francisco and Boston. It reads:
"Any amount of jail/prison time is a brief snippet of time compared to the lifetime Akai Gurley's young daughters will have to live without their father. The sentencing sends the message that it is okay to kill innocent and precious lives, as long as it is done by a police officer."
Qing Lan Huang is an Asian-American New Yorker who lives in Staten Island. His then-7-year-old younger brother was killed by police in 1996. Police claim they mistook his BB gun for the real thing. Huang also expressed outrage at the decision. He said: "The system denied justice to Akai Gurley's family just like it denied justice to mine."
Liang has his own supporters. His conviction prompted a protest in Brooklyn that drew thousands of them, including many Chinese-Americans. Similar protests took place in San Francisco and elsewhere, pressing a complaint that a Chinese-American officer should not be convicted of a crime when white officers seldom are convicted or even tried in shooting cases.
Posted: March 23, 2016 4:01 PM PST ~ Updated: April 3, 2016 10:25 AM PST
New York
-- Ex-NYPD police officer Peter Liang was convicted in February of fatally shooting Akai Gurley, 28. The fatal shooting occurred while Liang was patrolling an East New York housing project. Liang's sentencing is scheduled for April 14th, and he faces up to 15 years in prison. Earlier this month, Brooklyn District Attorney Ken Thompson recommended that Liang get no prison time and five years of probation. The five years of probation includes six months of house arrest and 500 hours of community service. Thompson argued that "Liang has no prior criminal history and poses no future threat to public safety. He argued Liang's incarceration is not necessary to protect the public. Due to the unique circumstances of this case, a prison sentence is not warranted."
The recommendation has enraged Gurley's family.
Gurley's family called his recommendation part of an "on-going pattern of a severe lack of accountability for officers that unjustly kill and brutalize New Yorkers that allows the violence to continue," and said that it "sends the message that officers can continue to kill Black New Yorkers without consequence."
NYPD Commissioner Bill Bratton told media sources that Thompson's recommendation took "courage," and congratulated the DA while condemning those who protested against his decision
.
Now jurors from Liang's trial are expressing their own disapproval of this recommendation. Media sources spoke with an anonymous 62-year-old juror. The Juror said that his own father had to serve over seven years in prison when he accidentally shot one of his friends. He thinks that Liang shouldn't be getting any special treatment just because he's a police officer. "What was the point of prosecuting him? What did we do this for?" the juror demanded. "I agree he doesn't deserve tremendous time...but if something is wrong, you shouldn't get a slap on the wrist." Another juror hadn't heard about Thompson's recommendation until they were informed about it by the media source. The juror was reportedly shocked, asking: "Wow, is this right? ...That's ridiculous."
Lima 10-4!
Posted: Thu 12:00 PM EST April 16, 2016 ~ Updated: Sun. 05:12 PM PST Apr. 17, 2016
Former Lima Police Department officer Justin Bentz is handcuffed and escorted from Allen County Common Pleas Court after being sentenced to 14 years in prison Thursday morning.
LIMA, OH
— Justin Bentz, 28, has been stripped of his badge and the Job that goes with it. The fired Lima police officer learned Thursday that his freedom would also be taken away. Judge David Cheney sentenced Bentz to prison for the next 14 years for raping a 16-year-old girl. Bentz sat stone-faced throughout the hearing and had nothing to say. His attorney advised him to remain silent. His attorney said an appeal of the decision is being planned. Bentz will have to register and report in as a sex offender when he is released every 90 days for the rest of his life.
A letter from the victim's parents was read as a victim's impact statement. It expressed their concerns about their daughter's well-being in the future. The parents were concerned about how the crime could affect the rest of her life. They said it's been a horrible situation for her whole family to endure.
Cheney said police probably are more criticized today by various groups, sometimes unfairly, than during any time in history. However, Cheney said that Bentz' case is not one of those cases. Cheney said this was a clear case of a crime by an officer. The rape occurred June 11 at a home west of Lima where he lived with a roommate. Cheney said: "He was an adult over and above being a police officer. This girl looked like she was 12 years old and to somehow indicate one was mistaken about her age is on the preposterous side." Cheney said he was troubled by Bentz' position as a police officer. The judge said he was especially troubled by the fact that just hours before Bentz raped the girl: he attended a law enforcement class educating him about sexual assault; the effects of alcohol in such cases; and the pitfalls of prosecuting such cases.
Special Prosecutor Todd Schroeder asked for the maximum sentence of 22 years. He argued that there were too many factors that made the crime more severe from his position of trust. He pointed to the victim's age and the education just hours before on sexual assault. Schroeder argued: "He proceeded to do what he had just spent time studying what he cannot do. He gave her alcohol to the point this little girl could not even get off the floor." Schroeder said all Bentz cared about was his own sexual gratification. The prosecutor added that Bentz' efforts to protect himself after the incident and throughout the trial showed he only cared for himself and not the traumatized the victim.
Bentz' attorney asked for a sentence of no more than eight years. He wanted the sentences on rape and kidnapping to run concurrently (or at the same time). He argued both were part of one crime. Schroeder argued that Bentz had the victim hide in the closet to try to conceal the crime. The judge agreed with the prosecution, but imposed a 14 year sentence.
Bentz' attorney told the judge only two people know what happened that morning, the victim and Bentz. However, he continued, both gave completely different versions of the event. He said often times that indicates what truly happened was somewhere in the middle. The attorney continued: "He will have a lot of time to think about his actions on that morning." Kluge also asked Cheney to request Bentz receive special treatment in his placement within the state prison system. He argued Bentz is a former police officer convicted of a sex offense against a child. Any three of those factors often make life harder for an inmate with the other inmates. Cheney said the file would be documented for state prison officials to read.
A spokesman for the state prison systems said each inmate is assessed upon entry into the system. If there is a need for additional security, the inmate may be placed in a protective custody unit. The unit is not just for former police officers, he said.
NYPDPay-to-Play!
New York
-- NYPD cops pocketed cash bribes to "expedite" pistol permits for members of the Orthodox Jewish community — and a Boro Park Shomrim patrol leader offered another officer a near $1 million payday to keep the scheme going, the feds charged Monday.
A cop in the NYPD's License Division​ allegedly confessed to the FBI that he and a supervisor accepted payments he called "lunch money" from Alex "Shaya" Lichtenstein, who was hauled into court Monday on bribery and conspiracy charges
Court papers say Lichtenstein was secretly recorded last week bragging about how he had secured 150 gun licenses through his connections in the division but needed a new hookup there following a crackdown.
Alex "Shaya" Lichtenstein is shielded from press while heading out of court.
He then offered a whistleblowing cop $6,000 a pop to continue the scheme, using a calculator to show ​that ​another 150 permits would be worth $900,000 in payoffs, court papers say.
Lichtenstein said his arrangement had been derailed by the License Division's commanding officer, ​Deputy Inspector ​Michael Endall, for fear that people would think Endall "had his hand in the cookie pot," according to the feds.
United States v. Alex Lichtenstein (Complaint ~ 2016) by Leegal Counsel
The complaint says Lichtenstein spent time at the License Division "on a near daily basis" from 2014 and was regularly spotted sitting near the desk of a supervisor, identified by sources as Sgt. David Villanueva.
Villanueva told his colleagues at the License Division early this year that Endall had "banished Lichtenstein because of the money Lichtenstein was making selling gun licenses," the complaint says.
Villanueva claimed that Lichtenstein "charged his customers $18,000 per gun license."
During questioning Sunday by the FBI, another License Division cop — identified by sources as Officer Richard Ochetal — admitted he knew Lichtenstein and had processed permit applications for him, the papers say.
"When asked if Lichtenstein paid cash bribes to [Villanueva] or [Ochetal], [Ochetal] was silent for several seconds and then said that Lichtenstein would give [Villanueva] 'lunch money' for [Villanueva] and [Ochetal]," the complaint says.
"Asked how much 'lunch money' he would receive, [Ochetal] responded 'a hundred dollars.' ''
No charges have been filed against Endall, Villanueva or Ochetal.
But less than half an hour before the Lichtenstein complaint was unsealed, the NYPD announced that all three had been bounced from the License Division.
Police Commissioner Bill Bratton said Endall "is being reassigned to an administrative position pending further review," while Villanueva and Ochetal were both stripped of their badges and guns and also transferred.
The moves brought to nine the number of cops who have been publicly demoted since The Post revealed this month that the FBI was investigating a gifts-for-favors scheme involving top NYPD brass and two businessmen, Jona Rechnitz and Jeremy Reichberg.
The joint probe with the NYPD has also enveloped Mayor de Blasio's 2013 campaign-finance operation, and Bratton last week told The Post that it was the department's worst scandal he has seen since the Knapp Commission's revelations of widespread police graft in the early 1970s.
"This investigation will continue to go where the leads take us," Bratton said in a statement Monday.
Lichtenstein, 44, was busted by the feds Sunday morning at his home in Pomona, Rockland County, where he lives with his wife and a teenage son.
He was hauled into a packed Manhattan federal courtroom Monday afternoon. Wearing a gray golf shirt, black pants and a black yarmulke, he appeared scrawny and pale as he sniffled loudly and wiped away tears.
Prosecutor Kan Nawaday asked to have Lichtenstein held without bail as a "danger to the community."
"He was no less than an arms dealer for the community in New York City," Nawaday said.
"Our case is very strong. Just last week, this defendant was recorded trying to bribe an NYPD officer to obtain a permit for his clients."
Nawaday also said that the feds seized two handguns during Lichtenstein's arrest and that he had a shotgun stashed in his home.
US Magistrate Judge Henry Pitman rejected the government's request and set bond at $500,000.
"I don't think dangerousness has been shown here. I think the government's characterization of him as an arms dealer is somewhat hyperbolic," Pitman said.
Lichtenstein, whose lawyer described him as a "self-employed businessman" making $80,000 a year, posted the bond and was sprung at around 5:30 p.m.
He declined to comment on his way out of the courthouse but gave a thumbs-up to photographers.
A source in the Borough Park Orthodox community said some of the pistol permits Lichtenstein obtained may have been legitimate, but many were not.
"It's just a prestige thing. It shows you're hooked up in the Police Department and you have important, high-ranking friends," the source said.
Posted: Thu 12:00 PM EST April 14, 2016 ~ Updated: Thu 09:12 PM PST Apr. 14, 2016
"You'd have to probably go back to the Knapp Commission days to find one that has that focus on the senior leadership of the department."
--
New York Police Commissioner Bill Bratton
New York
-- New York Police Superintendent Bill Bratton admitted on Wednesday that the corruption scandal roiling his department is historically bad. He said the NYPD hasn't been through a darker period since the early 1970s. Bratton said: "You'd have to probably go back to the Knapp Commission days to find one that has that focus on the senior leadership of the department. Back in the Knapp days, it was so pervasive throughout the department."
The Knapp Commission investigation exposed rampant bribe-taking at all ranks of the department. The investigation led to criminal charges against dozens of crooked cops. The scandal derailed the presidential ambitions of then-Mayor John Lindsay. Bratton's comments came as a fifth NYPD commander was demoted amid the widening probe into police bosses trading favors for gifts. He was the head of Manhattan's North Patrol Borough. The commander's counterpart in Manhattan South has also been questioned by the feds.
Bratton credited his Internal Affairs Bureau for initiating the investigation in late 2013. He insisted he remained plugged in even after the FBI swooped in a few months later. He is quoted as saying: "I get constant updates, including one [on Tuesday] for several hours." Bratton warned there might be more rogue cops. He continued, "We're at that stage of the investigation where witnesses are now being interviewed in person. And each interview has the potential to yield new information. We will evaluate that literally on a daily basis."
Bratton refused to say when he learned about allegations involving ex-NYPD Chief of Department Philip Banks. Banks abruptly quit in October 2014. He was recently offered a promotion to first deputy commissioner. Deputy Commissioner is the No. 2 job in NYPD. He resigned instead of accepting the promotion. Banks' bloated financial statements raised red flags. He is suspected of accepting gifts and travel from two businessmen at the heart of the scandal.
When questioned about this, Bratton said: "We really can't, at this point, since the investigation is ongoing and we're still interviewing witnesses, we can't talk about what was known about each and every [subject] over the last two years. That will come later, if the US Attorney's Office decides to file charges against anyone."
Bratton also said it was "coincidental" that he transferred four commanders. The transfers included 19th Precinct Deputy Inspector James Grant. He was transferred just hours after media sources reported that Grant was suspected of accepting diamonds and cash. The payments were for escorting Brooklyn businessman Jeremy Reichberg from the airport following diamond-buying trips overseas. Bratton says: "It had nothing to do with [it], quite frankly, none of it. This has been ongoing for over two years. At each stage of the investigation, we learn more information. As we said last week, we were acting on the information we had accumulated to date."
(Top row) NYPD Deputy Inspector James Grant and Deputy Chief David Colon, and (bottom row) Deputy Chief Eric Rodriguez and Deputy Housing Chief Michael Harrington.
Bratton touched on an array of other topics during his hour-plus visit with The Post — including fading police morale.
"Cops have been complaining about morale since police forces were created. I used to complain about it a lot when I was a young cop," he said.
"A lot of the morale problems, at this particular point in time, I'm being hard pressed to understand whether it has to do with things I control . . . The one thing I don't control is pay."
Scrubbed!
Posted: Nov. 18, 2011 at 12:55 PM PST ~ Updated: April 14, 2016 at 05:05 AM PST
Sacramento, CA
-- UC Davis spent thousands to scrub police pepper-spray references from Internet. UC Davis contracted with consultants for at least $175,000 to scrub the Internet of negative online postings following the November 2011 pepper-spraying of students and to improve the reputations of both the university and Chancellor Linda P.B. Katehi, newly released documents show.
The payments were made as the university was trying to boost its image online and were among several contracts issued following the pepper-spray incident.
Some payments were made in hopes of improving the results computer users obtained when searching for information about the university or Katehi, results that one consultant labeled "venomous rhetoric about UC Davis and the chancellor."
Couched!
Posted: April 13, 2016 at 12:55 AM EST ~ Updated: April 13, 2016 at 09:05 PM PST
Burleson, Texas
-- Ethan Anthony Couch is the infamous "affluenza" teen. He is an American who killed four people while drinking and driving on June 15, 2013, in Burleson, Texas. The then 16-year-old's blood-alcohol level was three times the legal limit for an adult. Toxicology reports revealed traces of Valium in his system. Couch pleaded guilty to four counts of intoxication manslaughter; and two counts of intoxication assault causing serious bodily injury.
Couch's attorneys relied on a defense expert during the sentencing phase of his trial. The defense expert argued that Couch's wealthy parents coddled him into a sense of irresponsibility. The expert termed the condition "Affluenza." Couch was given 10 years probation in juvenile court. The condition is not recognized as a medical diagnosis by the American Psychiatric Association. The invocation of the condition drew widespread ridicule.
A video surfaced online last December (2015) that showed him at a party where alcohol was served. Attending a party where alcohol was present meant he violated his probation. Couch and his mother fled to Mexico. They evaded authorities for several weeks. Ethan Couch was extradited back to the U.S. on Jan. 28, 2016. Couch turned 19 years old on Monday, April 11, 2016. His case was formally transferred from juvenile court to the adult legal system on April 11th.
On Wednesday a judge imposed four consecutive 180-day jail terms on Couch (for a total of 720 days). He was accused of violating the terms of his juvenile probation. The sentence represented one 180-day sentence for each of the four victims he killed in a June 2013 drunk-driving accident. Wednesday's hearing was his first appearance in adult court. Couch showed up with long hair and a beard, wearing a red jumpsuit. State District Judge Wayne Salvant told the Texas teen, "You're not getting out of jail today." Couch's defense argued in court that the terms of Couch's original juvenile court conviction meant he should have expected between 120 and 180 days in jail.
Judge Salvant gave Couch's attorneys two weeks to prepare arguments related to the sentences. Salvant said that he might reconsider the order. He said, "Nothing I do is set in stone." (He can order Couch to serve between 120 and 180 days in jail.) The judge also set several new conditions for Couch's probation. When he is released from jail he will not be allowed to drink, use drugs or drive. He will be required to meet regularly with a community supervision officer. Salvant could make prison a condition of any future probation violation. In such a case, Couch could face up to 40 years behind bars -- 10 years for each person who died in the 2013 wreck. Salvant also ordered that Couch's juvenile court records be sealed.
His mother Tonya was not in court. Tonya Couch is on house arrest at her other son's home. She was charged with helping Ethan Couch flee. The 48-year-old faces between two and 10 years in prison if convicted of hindering the apprehension of a felon.
Dead Ringer!
Posted: April 11, 2016 at 12:55 AM EST ~ Updated: April 12, 2016 at 02:05 PM PST
Spies!
Posted: April 11, 2016 at 12:55 AM EST ~ Updated: April 11, 2016 at 05:05 PM PST
Norfolk, VA
-- A U.S. naval flight officer Lt. Cmdr. Edward C. Lin, 39, has been accused by the United States Military of passing secrets to China. Lin is originally a Taiwanese national. His family moved to the U.S. He speaks fluent Mandarin. According to a Navy Press release in 2008, Lin spoke at a naturalization ceremony. "Lin [said he] was 14 years old when he and his family left Taiwan. They had to travel halfway around the world, stopping in different countries along the way."
Lin has an extensive signals intelligence background. He served on some of the Navy's most sensitive intelligence gathering aircraft. He had a career as a signals intelligence specialist on the Navy's Lockheed Martin EP-3E Aries II reconnaissance aircraft. Lin's job on the Aries II bears resemblance to maritime surveillance and anti-submarine warfare. His job on the P-3C Orion was to manage the collection of electronic signals from the aircraft – a sensor coordinator. Lin had been a department head for the Hawaii-based Special Projects Patrol Squadron Two 'Wizards' (VPU-2). The Squadron flew signals intelligence aircraft based on variants of the EP3-E Aries II signals intelligence aircraft. In addition his time on EP-3Es, Lin served from 2012 to 2014 as the Congressional Liaison for the Assistant Secretary of Navy for Finance Management and Comptroller.
Lin was currently assigned to commander, Patrol and Reconnaissance Group in Norfolk. The specifics of how the U.S. gathers signals from potential adversaries are among the military's most closely guarded secrets. The knowledge of the methodology for how the U.S. gathers signals intelligence could allow adversaries to devise ways to counter U.S. monitoring. This is information that Lin would likely have with his Aries II experience.
Lin faces several counts of espionage and several other charges. The charges were outlined during an Article 32 hearing in Norfolk, Virginia. Several sources familiar with the case said the country to which Lin passed secrets was China. However, few other details are known about the case given much of the evidence is classified.
The redacted charging documents say Lin allegedly transported secret information out of the country without permission. He then lied about his whereabouts when he returned to duty. The charging documents allege he successfully committed espionage twice and attempted espionage on three other occasions. Lin is also accused of violating military law by patronizing prostitutes and committing adultery. He has been held in pre-trial confinement at the Naval Consolidated Brig Chesapeake, Va. for the last eight months.
The last major incident of espionage by an active duty member of the Navy was the case of John Walker. Walker was a Navy warrant officer and submariner who for 18 years. He passed reams of military secrets to the Soviet Union before he was finally caught in 1985.
Stunned!
Posted: April 4, 2016 at 12:19pm PST ~ Updated: April 5, 2016 07:25 PM PST
La Plata, MD
- Former Charles County Circuit Court Judge Robert C. Nalley is facing prison and federal criminal charges for the July 23, 2014 tasing of a defendant in his La Plata courtroom. Delvon L. King, 25, of Waldorf, was representing himself and was ordered shocked by Nalley when he refused to stop speaking after the judge asked him several times to stop talking. The incident occurred during jury selection for King's jury trial on three weapons charges. Witnesses report that the judge ordered the court officer to electronically shock the defendant more than once before the officer complied. King was later sentenced to 10 years in prison by Charles County Circuit Court Judge Amy J. Bragunier.
---
Chili's Baby Back ...!
Posted: March 30, 2016 at 12:19pm PST ~ Updated: April 10, 2016 1:25 PM PST
MARTINSVILLE, IN
- Justin Carl Behnke, 40, of Indianapolis has been charged with 15 felony counts of voyeurism. Behnke is the former manager of the Martinsville Chili's. He was charged after he allegedly videotaped eight women changing clothes, or using the bathroom in the local restaurant's restroom. Behnke's fiancé found the videos on a home computer and called police.
The charges were filed Wednesday morning in Morgan County Circuit Court. The probable cause affidavit alleges Behnke (
pictured below, center
) used a motion-activated camera. The camera was roughly the size of a cell phone. Behnke allegedly hid the camera in a ceiling vent over a stall in the women's restroom.
He allegedly recorded women over a seven-month period. Police say Behnke admitted to videotaping the women from March until August of last year (2015). Investigators say they've identified eight victims. All of the victims have watched the videos and confirmed they it was them in the footage.
Behnke told investigators he only saved the footage that aroused him the most. He claimed to only have 50 video files. He claimed none were of children. He also claims he did not share any of them online. Behnke is currently out on bond. He also faces voyeurism charges in Hendricks County for allegedly taping women in the bathroom of his Avon home.
Well-Heeled!
Posted: March 24, 2016 at 12:19pm PST ~ Updated: April 4, 2016 10:25 AM PST
New York
-- Former Miss Jamaica World contestant and JetBlue flight attendant Marsha Gay Reynolds left behind 70 pounds of cocaine worth up to $3,000,000 after flinging off her heels and running from security. Reynolds surrendered to federal authorities at John F Kennedy International Airport, though it wasn't immediately clear how she reached New York. Reynolds is a resident of New York. She is expected to be in federal court in Brooklyn on Thursday, according to US Attorney's spokesman Thom Mrozek.
---
"The only good nigger is a dead nigger and they should hang you in the town square to prevent any other nigger from coming in the area."
-- July 2011 Statement by Oakland Public Schools Police Chief Pete Sarna, referring to an African-American police officer.
---
A Good One!
Posted: March 16, 2016 4:01 PM PST ~ Updated: April 3, 2016 10:25 AM PST
Police said this week that Officer First Class Jacai Colson was fatally wounded by a fellow officer after he was mistaken as a suspect.
Prince George's County, Md.
-- Police Officer First Class Jacai Colson was fatally shot on Sunday, March 13, 2016. Three brothers are in custody in connection with what police are calling an "ambush of our District III station." All three suspects will be charged with second degree murder, six counts of attempted first degree murder, nine counts of use of a handgun in the commission of a felony and additional charges.
The brothers are 21-year-old Malik Ford (
pictured below, center
) of the 9200 block of Allentown Road in Fort Washington.
Elijah Ford, 18 (
pictured below, center
) of the 1800 block of Ryderwood Court in Landover.
The third brother is 22-year-old Michael DeAndre Ford (
pictured below, center
). He is also of the same address on Ryderwood Court. Police say he is the shooter. He remains hospitalized with what are considered non-life threatening injuries. Police say they believe the gunman intended to die at the hand of a police officer on Sunday. They say they have cell phone video which captured the gunman dictating his last will and testament. That video was recorded just minutes before his two brothers drove him to the District III station. The violence was all captured on cell phone and surveillance video which is evidence in the case.
Michael DeAndre Ford allegedly opened fire at responding officers. He then fired at the police building; at a passing ambulance; and two vehicles. Police say that as the investigation progresses, additional charges will be brought against the three brothers regarding the victims in the vehicles.
Colson was a four-year veteran assigned to the Narcotic Enforcement Division. He was on his way to the police station to meet an officer. He arrived right after Michael Ford began his shooting spree. Colson left his unmarked cruiser and began exchanging gunfire with the shooter. A total of four officers discharged their duty weapons while trying to stop the shooter.
Following the shooting, Malik and Elijah Ford fled the scene. The driver, Malik, turned himself in to police at a nearby fast food restaurant shortly after the shooting spree. Elijah was taken into custody at his home in Landover shortly after his brother.
Two additional officers also responded, but did not fire their weapons. The involved officers are:
•» PO Bryan Melius, Regional Investigation Division;
•» Cpl Jason Wells, Bureau of Patrol, District III;
•» POFC Taylor Krauss, Bureau of Patrol, District III;
•» Cpl John Wynkoop, Bureau of Patrol, District III;
•» PO Matthew Scott, Bureau of Patrol, District III; and
•» POFC Jacai Colson, Narcotic Enforcement Division.
An autopsy revealed that POFC Colson was shot by a fellow responding officer during the gun battle.
Chumlee!
Posted: April 4, 2016 4:01 PM PST ~ Updated: April 5, 2016 10:25 AM PST
Las Vegas, NV
-- Chumlee (
pictured above, center
) from "Pawn Stars" has been arrested for guns and drugs after police raided his home while investigating an alleged sexual assault. Chumlee was arrested last month after police raided his Las Vegas-area home and found 12 guns (eight unregistered) and a slew of drugs.
Las Vegas Metro PD says officers showed up at his home Wednesday afternoon with a search warrant in connection with a sexual assault case. We're told Chumlee is the suspect in that case. Our law enforcement sources tell us cops found marijuana, meth and at least 12 weapons during the search. Chumlee was taken into custody and booked for drug and weapon possession. We're told the sexual assault is still under investigation.
It has been three weeks since Chumlee of Pawn Stars fame was arrested on drug and weapons charges. Chumlee is awaiting his May 23 court date. He will face 20 felony charges related to drugs and weapons. The lawyer representing Pawn Stars reality TV personality "Chumlee" says he'll fight the felony weapon and drug charges. Chumlee has been freed from jail following his arrest.
K-Y Jelly!
Posted: Thursday, March 10, 2016 at 3:14 pm ~ Updated: Thursday, March 10, 2016 at 10:14 pm
Franklin, KY
-- An Officer Involved Shooting in Franklin County Resulted in a Deputy and Suspect Being Shot. On Thursday, March 10, 2016 at 3:14 pm Simpson County Deputy Sheriff Eddie Lawson responded to 104 Cherry Street in Franklin, Kentucky. He attempted to serve a warrant on Ben J. Wyatt III (28 of Franklin). The warrants were for Assault 4th Degree (domestic violence); Menacing; and Terrorist Threatening in the 3rd Degree. Wyatt was also suspected to be at that residence. Upon arrival, Deputy Lawson approached Wyatt, who was outside the residence in the driveway. Deputy Lawson recognized Wyatt and told him that he was under arrest. Wyatt immediately produced a handgun and began firing at Deputy Lawson striking him in the center of the pelvis and the right knee. Deputy Lawson returned fire striking Wyatt one time in the left upper arm. Wyatt fled the scene on foot running about three blocks where he hid in a field. At 1607 hours, Wyatt was located and arrested by KSP units without incident. Deputy Lawson was transported by Simpson County EMS to Skyline Medical Center in Nashville where he is in stable condition. Wyatt was transported by Simpson County EMS to the Medical Center in Franklin and has been transferred to the Medical Center in Bowling Green where he is in stable condition.
Tuscumbia Clan!
Posted: Monday, March 7, 2016 1:56 pm ~ Updated: Thursday, April 7, 2016 1:16 am
TUSCUMBIA, AL
– Tuscumbia Police Chief Tony Logan said Benjamin Owen Young, 28, of Staunton Avenue, Florence; Peter Gerold Capote, 22, Midland Avenue, Muscle Shoals; and Thomas Charles Hubbard, 31, Midland Avenue, Muscle Shoals, have all been charged with capital murder. The men were charged with capital murder in connection with the March 1 shooting death of a 19-year-old man. The trio is charged in connection with the shooting death of Kijana "KJohn" Freeman, 19, of Tuscumbia.
Freeman and a 17-year-old Tuscumbia boy were inside a Ford Mustang that was outside the Spring Creek Apartments in Tuscumbia. Police said the shooting took place about 11 p.m. outside the apartments in the 1200 block of Avenue A. Authorities said it is believed the victims were shot with a semiautomatic rifle. Freeman was pronounced dead at Helen Keller Hospital in Sheffield. The 17-year-old was flown to Huntsville Hospital. Logan said he is in stable condition.
Logan said Capote and Hubbard are originally from the Chicago area. Investigators said Hubbard had been living in Muscle Shoals for a little over a month. Capote has been living in the area for about a month. Capote and Hubbard are both being held in the Colbert County Jail without bail. Young is being held in the Lawrence County, Tennessee, jail without bail. He will be transferred back to Colbert County.
Inappropriate Relationships!
Posted: Monday, March 7, 2016 1:56 pm ~ Updated: Thursday, April 28, 2016 12:28 pm
San Jose, CA
-- An assistant track coach at an East San Jose high school who allegedly had inappropriate relationships with two students was arrested earlier this week, police said Thursday.
Enoch Garcia, 21, of San Jose, was arrested Tuesday on suspicion of having sexual intercourse with a minor and lewd and lascivious acts with a minor, police Officer Albert Morales said.
The 21-year-old man was an assistant track and cross country coach at Mt. Pleasant High School for two years before his arrest, said Cari Vaeth, associate superintendent of human resources at the East Side Union High School District.
On Monday, a district employee contacted police to report an inappropriate relationship between a student and an assistant coach, later identified as Garcia, Morales said.
An investigation showed Garcia allegedly had a sexual relationships two students, ages 14 and 17, enrolled at the school, according to Morales.
On Tuesday, Garcia was interviewed by the police department's Internet Crimes Against Children/Child Exploit Detail task force and arrested, Morales said.
The suspect was booked into the Elmwood Correctional Facility in Milpitas, where he is being held on $200,000 bail, according to jail records.
Vaeth said: "In this case we have an employee who violated the trust of the district and the students."
Garcia is a 2012 graduate of the high school and was terminated from his position as a part-time coach on Monday, when a teacher reported the alleged relationship to the district, she said. In response, the district notified police and Child Protective Services, she said. The principal has addressed students in response to the arrest and counselors are available on campus for support, according to Vaeth. District officials are cooperating with the police investigation, she said.
---
The Shrimp Boyz ~ (Part II!)
---
Pay-to-Play!
Posted: August 15, 2015 1:37 PM MST ~ Updated: Thu 12:00 PM PST Feb 29, 2016
San Francisco, CA
-- Filings in the federal court case against Raymond "Shrimp Boy" Chow implicate Mayor Ed Lee and other public officials in alleged bribery and corruption schemes. The filing by Chow's defense attorney requests that the case against him be dismissed on the grounds of selective prosecution. Chow's legal team, which includes attorneys Tony Sera, Curtis Briggs and Greg Bentley. Lee has not commented on the allegations. However, his campaign communications director has denied wrongdoing on his behalf.
According to the filing, the FBI had evidence of wrongdoing by Mayor Lee but chose not to prosecute. Per the filing:
"The government has admitted the political corruption investigation which sought to ensnare many Bay Area political figures, was instigated contrary to desire of the government; what it has not admitted is that it resulted in snagging at least a dozen bottom feeding political types."
From pages 14-15:
Specifically, the FBI alleged in discovery that Ed Lee took substantial bribes in exchange for favors and that Human Rights Commissioners, Nazly Mohajer and Zula Jones, hustled in these bribes for the Mayor. The United States Attorney asked for a RICO charge on Keith Jackson and Leland Yee for similar conduct. Lee, Mohajer, and Jones remain unindicted. Zula Jones, already the subject of a previous federal investigation which ended up being thrown out by a sympathetic judge, is reported by the FBI explaining that Willie Brown taught Ed Lee how to do business: "You pay to play here. We got it. We know this. We are the best at this game uh better than New York. We do it a little more sophisticated than New Yorkers. We do it without the mafia."
The filing alleges that Lee is to have taken bribes from undercover agents.
Mohajar reportedly called the UCE and explained the process by which she launders Ed Lee's campaign money before she realized she had called the wrong number. That is how one acts when they are above the law. Ed Lee was not even elected into office before he was reported to the United States Attorney as conducting campaign money laundering in two separate incidents. He took over $20,000 from federal agents in his first four months in office and hit the ground running as mayor with an enormous amount of reported gifts including paid trips across the world. According to Jones and Mohajar, Ed Lee knew he was taking money illegally.
---
Reader Pageviews by Country
---
From: Mar 17, 2016 2:00 AM – Mar 24, 2016 1:00 AM
---
«•
Thank you for visiting Corrupt Justice™. Enjoy our Free Movie Intermission! Don't forget to Bookmark Us & Tell A Friend! We're Global!
•»
---
Movie Intermission!
Hulk Hogan v. Gawker
---
Description: Florida –
Hulk Hogan (born Terry Bollea), a professional wrestler known back in the day as "a real American hero," is pursuing a substantial amount of damages for Gawker's decision in Oct. 2012 to post a short excerpt of a 30-minute sex tape alongside an essay by A.J. Daulerio that muses about how "we love to watch famous people have sex."
---
---