---
Click on Banner to Sell Your Home(s)!
---
---
"They rape, ... They rape a 100 white women a day, ... that's FBI statistic from 2005."
--
Dylann Roof, explaining to FBI Agents why he entered
Emanuel African Methodist Episcopal church in Charleston, South Carolina, on June 17, 2015 and killed nine members of the black congregation attending a Bible study inside
.
Top News Story!
Ice Creamed!
PUBLISHED: January 16, 2017 at 12:06 pm | UPDATED: January 21, 2017 at 4:37 PM PST
Vienna, Austria
-- Estibaliz Carranza, 38, is a Spanish murderer dubbed the "ice cream killer." She is so dangerous, she's being moved to an all-male prison to serve out her life sentence. Carranza earned the chilling nickname after she shot her boyfriend and ex-husband to death in 2008. She cut up their bodies up with a chainsaw. She then hid them in the freezers of her ice cream store in Vienna, Austria.
The Mexican-born Spanish national stored the body parts in ice cream tubs filled with concrete. She disguised the smell with air freshners. Prison officials say because she shows an "advanced reduction of the relevant dangerousness," she'll spend the rest of her life in an all-male prison in Asten, Austria. The prison houses 91 men and allows inmates to freely move around and cook their own meals together. Prisoners can also join a lounge area with a TV.
An American Tale!
Rape in Concert!
POSTED 8:41 PM, FEBRUARY 11, 2017 ~ UPDATED AT 10:40 PM, FEBRUARY 12, 2017 PST
Long Beach, CA
-- Police say Sophia Yim, 31, of Lynwood, is a suspect and accomplice in a weeklong string of robberies in Long Beach. One of the robberies involved the rape of an elderly woman. Yim was arrested Friday morning along with Melvin Earl Farmer Jr. According to the Long Beach Police Department, Farmer is accused of carrying out a string of robberies. Farmer is responsible for five robberies. Police said four of the robberies occurred at a senior housing center near Atlantic Avenue and Via Carmelitos.
Yim was previously being held on $20,000 bail. She has now been booked on suspicion of robbery. As a result she is now being held on $100,000 bail. Police said Friday that they were withholding her name due to "investigative reasons."
---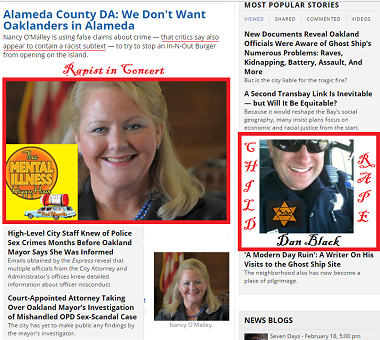 Oakland, CA
-- The Alameda County district attorney alleged that ex-Livermore Police Officer Daniel Black took the teen to restaurants in April of 2016. He then had sex with her in his motor home in Berkeley and Albany parking lots. The former officer faced five misdemeanor counts for lewd conduct in a public place: engaging in an act of prostitution; and giving alcohol to a minor.
Prosecutors accused Black of reaching out to Jasmine through Facebook and setting up meetings with her. On April 8, he told Jasmine, "Just to be clear, I'm not going to pay you, but I will buy you dinner," according to court records. Later that night and the next morning, they engaged in oral copulation and sexual intercourse inside his recreational vehicle, visible from a public street, according to records. Black told Jasmine that she could drink his alcohol, prosecutors say. "'Go ahead and help yourself. I'm going to turn my back,'" Farrell said in court, quoting what Black allegedly told Jasmine, who is the daughter of an Oakland police dispatcher. Five days later, Black paid for Jasmine's dinner at an Albany restaurant before they again engaged in oral copulation near the waterfront and Interstate 80 in his motor home.
Deputy District Attorney Sabrina Farrell told Flanagan that the former police officer had been the subject of complaints before, including an incident where he recorded himself having sex with someone without asking her permission. Black was also placed on desk duty this year because of a complaint over how he handled a report from a victim, Farrell said. Black had recorded someone without her permission while they were having sex, and in another instance had sex with someone under the influence, Farrell said.
Bad Boyz!
PUBLISHED: February 8, 2017 9:54 am ET | UPDATED: Friday, February 17, 2017 02:51 PM PST
Troup County, GA
— Quadruple murder suspect William "Billy" Boyette is dead. Authorities in three counties from Florida to Alabama say Boyette is suspected of killing Alicia Greer, Jacqueline Moore and Peggy Broz last week. His suspected accomplice is Mary Rice. Rice was taken into custody. She is being held with no bond. The extent of her involvement in Boyette's crimes is unknown at this time. As of Monday morning, it was unsure whether Rice was being held against her will or an accomplice to Boyette. However, that changed Monday afternoon.
Escambia County Sheriff (ECSO)David Morgan said surveillance photos from convenience stores showed that Rice had an opportunity to flee and seek help. However, she stayed with Boyette. Florida State Attorney Bill Eddins said: "She's been upgraded to a suspect regarding the crime where two people were killed in Santa Rosa County." Investigators said that Rice is also a suspect of accessory after the fact in the shooting of 28-year-old Kayla Crocker of Beulah on Monday morning.
Crocker was Boyette's fourth victim. In the last week she succumbed to her injuries and died Tuesday. According to ECSO, Boyette shot Crocker and stole her car after a home invasion Monday morning. Crocker's 2-year-old son was inside the home at the time of the attack. However, he was not harmed. Authorities say Boyette and accomplice Mary Rice took off in Crocker's 2006 white Chevy Cobalt bearing a Florida tag. Sheriff David Morgan said after the crime Boyette and Mary Rice drove to a nearby Shell gas station on Beulah Road. The duo then went to Hardee's for breakfast.
Guns of Love!
PUBLISHED: February 7, 2017 9:54 am ET | UPDATED: Thursday, February 09, 2017 06:33 AM PST
SAN FRANCISCO, CA
— FBI agents arrested San Francisco sheriff's Deputy April Myres, age 52 and Antoine Fowler, a jail inmate. Prosecutors say Myres met Fowler last year at a San Francisco jail. He he was being detained on unrelated charges. The pair began a romantic relationship. Fowler was released from jail in January 2016. Deputy Myres allegedly gave Fowler her department-issued Glock 17 9mm firearm pistol to Fowler after his release. Myres then allegedly reported that the gun had been stolen during a burglary of her San Francisco home located at 333 Tocoloma Aveune, in San Francisco.
Myres then allegedly filed a claim with her insurance company. She claimed that numerous items had been taken from her home. The items listed included the firearm: a ballistic vest; handcuffs; a mink jacket; and several designer shoes and bags. Federal officials learned (from unconfirmed sources) that the items may not have been stolen. FBI officials, with help from the San Francisco's Sheriff's Department, the San Francisco District Attorney's Office and San Francisco police, began investigating Myres. FBI agents arrested Myres and conducted a search warrant operation at her home on February 2, 2017. Prosecutors said FBI agents located several of the items Myres claimed had been stolen.
Myres and Fowler were both arrested last Thursday. Fowler was arrested in Oakland. Agents allegedly found the gun that Myres said had been stolen inside his car. The couple made their initial appearances in federal court Friday. Myres has been charged with mail fraud, wire fraud and conspiracy. Fowler had been charged with being a felon in possession of a gun. Myres has been released on $1 million bail. Fowler remains in custody. Myres is due back in federal court on February 15, 2017. Fowler is due back in court on February 7, 2017.
Bath Tub Babies!
PUBLISHED: February 1, 2017 9:54 am ET | UPDATED: Thursday, February 07, 2017 06:33 AM PST
HOUSTON, TX (WCJB)
-- Joshlyn Guy is charged with endangering a child. She tried to drown a young child in a bathtub. The alleged incident happened in the 8000 block of Wilcrest Drive. Guy allegedly duct taped the hands and mouths of three children, ages 5, 6 and 7. She then drew a bath and tried to drown the youngest girl in the bathtub. Guy allegedly told the children: "You're going to meet God." Sources say the child fought and screamed until another adult stopped Guy and told the children to run away. All three children are in the custody of Child Protective Services. According to CPS spokeswoman Tiffani Butler the children were unharmed. Butler said the alleged incident happened in October 2016.
Lost Values!
PUBLISHED: JANUARY 25, 2017 AT 6:33PM EST | UPDATED: JANUARY 26, 2017 AT 9:33PM EST
Draper, Utah
-- Brianne Altice is a former Utah teacher. Altice is a former English teacher at Davis High School in Kaysville, Utah. She a mother of two. Altice pleaded guilty two years ago to sexual abuse. The plea came after having sex with three of her underage students. She pleaded guilty to three counts of forcible sex abuse in April 2015. In exchange, 11 charges were dropped, including three first-degree felony rape charges. Altice was first arrested in October 2013 after one of the victims came forward to police.
Altice sought parole this week during an emotional hearing. Altice detailed her crimes. Altice said Tuesday during a hearing with the Utah Board of Pardons and Parole: "I clearly lost sight of all my values and my principles and was seeking inappropriate means to address my own issues, issues I'm very aware of now." During her parole hearing Tuesday, Altice admitted to inappropriate sexual conduct with the victims. The male victims were 16 and 17 at the time. She also acknowledged she'd had sex with a then 16-year-old student in a church parking lot and during the school lunch hour. Altice also confessed to having sexual encounters with a 17-year-old boy after she was arrested and out on bail.
Altice was occasionally in tears as she discussed her past acts (as she was, repeatedly, during court appearances). The 36-year-old said: "This was my doing. This was no one else's fault but my own. This was not my ex-husband's fault, or the school's fault, or my students' fault. These were my poor, poor decisions. I'm very aware of it and I am very remorseful. I regret the decisions I made that brought us here." Robert Yeates, the parole board's vice-chairman asked: "Did you grasp the gravity of the situation at this time?" Altice responded: "No, I do not believe I did. I had extreme self-esteem issues, and they [the victims] said things that made me feel good about myself," she said. "I just started to justify everything. I wasn't functioning in a healthy adult manner at all." Altice said at Tuesday's hearing that she has earned a paralegal certificate and has been taking life-skills classes. She says she has been receiving therapy while at Timpanogos Women's Facility in Draper, Utah. She said she plans to live at a home owned by her parents and continue her therapy if she is released.
Prosecutors say Altice's crimes had a "really substantial impact" on her victims. Davis County Deputy District Attorney Cristina Ortega told media sources: "I think it was the sentiment in the public that this was any boy's dream to have a relationship with an older woman like a teacher, and I didn't see it that way because she impacted the lives of all three of these boys. I think she took advantage of each of the boys and what issues they may have had, whether it was their family or drugs or that sort of thing." Ortega continued saying: "I think she took advantage of that and she made their problems even worse. And on top of that, they had to deal with the public scrutiny of a lot of people saying, 'You are not a victim because you are a boy.' I think she layered on the impact with these boys."
The mother of one of the victims explained it this way in 2015: "I think people don't see how it really affects the kids, the boys. It's not a 'tie the boy down and rape him' sort of abuse. You don't know until you're a parent, really, what it is, and it's more of an emotional abuse."
A five-member board will now deliberate and make a decision in about two weeks to determine how much time Altice will spend behind bars. The spokesman says Altice's current release date is 2045.
dependent endangerment!
PUBLISHED: January 25, 2017 at 3:48 pm | UPDATED: January 26, 2017 at 12:05 am PST
MARTINEZ, CA
— Shellie Farnham, 47, was convicted Wednesday of involuntary manslaughter and dependent endangerment causing death. The jury reached its verdict after slightly more than a day of deliberation. The jury convicted the Oakley woman of involuntary manslaughter in the 2015 death of her boyfriend Rodney Lee Moss, 43. Farnham is scheduled to be sentenced at 9 a.m. Feb. 24, 2016, in Martinez. She faces nine years in prison.
Moss was recovering from a traumatic brain injury suffered in a December 2014 vehicle crash. He had extreme memory loss and needed help performing daily tasks. At the time of his death, on Sept. 12, 2015, Farnham checked Moss out of the care home where he stayed. She told staff the two were going to a dinner date. However, she instead took Moss to a hotel. She let him leave the room on his own to smoke a cigarette. Moss ended up walking away. Farnham left the area to run an errand shortly thereafter. Meanwhile, Moss wandered onto Kirker Pass Road. He was subsequently struck by a car and killed. Moss's family maintained from the beginning that Farnham was at fault.
Pam Bellanca is the mother of Moss. She said hearing the jury's verdict was a relief. She said: "I felt like there's finally justice for my son, for what happened." It was a bizarre case from the beginning. A grand jury indicted Farnham last year. The indictment was based partially on Bellanca's testimony. She also testified during trial about her son's mental state. Farnham was nowhere near the car crash that killed Moss. However, prosecutors successfully argued she put Moss in harm's way. Bellanca said: "I did it for my son, and I'd do it all over again, because I knew (Farnham) was responsible." Prosecutor Jill Henderson said: "It's always a hollow victory, because we can't bring Rodney back. All we can do is seek justice." Farnham's attorney argued that Moss was in better mental shape than prosecutors portrayed him to be. He argued that Farnham shouldn't be found criminally liable for his death simply because she allowed him to smoke outside.
Vermont Crack Trade!
PUBLISHED: Jan 24, 2017, 12:37 PM ET | UPDATED: January 24, 2017 at 7:17 PM PST
Barre, Vermont
-- Desiree Cary, 22, was arrested in Barre on Sunday night. Her arrest came as part of an ongoing drug distribution investigation by the Vermont Drug Task Force. Cary was subsequently charged with selling crack cocaine and heroin. She remained jailed for lack of $10,000 bail. Cary is due back in court in April. It's unclear if she has hired an attorney, or if she has entered a plea.
Investigators learned that Cary lives with Jayveon Caballero in an apartment in Barre, Vermont. Caballero is currently wanted on murder charges. Vermont State Police searched the residence on Monday in an attempt to locate Caballero and to search for evidence.
Facebook Confessions!
PUBLISHED: JANUARY 19, 2016 AT 4:35PM EST | UPDATED: JANUARY 25, 2016 AT 4:35PM PST
San Bernardino, CA
-- San Bernardino Police had trouble locating Nakasia James, 18, after discovering her boyfriend dead. Dorian Powell, 21, was discovered stabbed to death inside a San Bernardino apartment early last week. Detectives say a woman with the same name took to Facebook hours after the murder and confessed to the crime. The alleged posts claim the couple was "really" fighting. The posts continued saying the woman grabbed a "knife and stabbed him," not thinking "I would hurt him." The post also claimed, "he died and I'm on the run." The posts have since been removed from Facebook.
Police in California now say they have finally caught up with Nakasia. Nakasia was arrested on Sunday in Hemet, California. The arrest was the result of a phone tip. San Bernardino Police say she was arrested without incident. Nakasia has been formally charged in the stabbing death of Dorian Powell, age 21. She is being held on an unspecified amount of bail. It was not immediately clear Tuesday if James had secured legal representation.
Triple Homicide!
PUBLISHED: January 17, 2017 at 12:06 pm | UPDATED: January 21, 2017 at 9:37 PM PST
WILLIAMSBURG, KY
–- Whitley County Sheriff Colan Harrell says deputies were called to the home of Larry, 51 and Courtney Taylor, 41, on Friday night. The call came after a relative went there to check on the family. Harrell says deputies shot Courtney Taylor after she brandished a handgun at Deputies. Harrell told media sources that Courtney Taylor pointed a gun at two deputies who arrived at the home. One of the deputies shot her.
She was taken to University of Kentucky Chandler Hospital with life-threatening injuries. Her condition was not known Saturday afternoon. Deputies say Courtney allegedly killed her husband and two teenage daughters at their home. Sheriff deputies found three people dead inside the home: Larry Taylor; and the couple's two teenage daughters. Harrell says they had been dead for several hours before being found.
Credit Deaths!
PUBLISHED: January 16, 2017 at 12:06 pm | UPDATED: January 16, 2017 at 1:37 PM PST
New Orleans, LA
-- Detectives have identified two women suspected of using credit cards that belong to Mark Bakotic II, 21. The man has been missing since December 30, 2016. Bakotic went missing late after leaving a night club in the 800 block of South Peters Street in the Warehouse District. As of Thursday night (January 12, 2016) police identified the women as Karima Peters, 34, and Brittany Pinera, 31. The women are now considered persons of interest in the missing-persons case.
Several hours after Bakotic was last seen, Peters and Pinera used Bakotic's credit cards in the Lower 9th Ward. The two used the cards around 2:45 a.m. (December 31, 2016) at the Magnolia Discount Supermarket off North Claiborne Avenue, according to the NOPD. Investigators want to speak with Peters and Pinera.
On Da' Hood!
PUBLISHED: January 13, 2017 at 11:33 AM | UPDATED: January 13, 2017 at 12:05 PM PST
New Orleans, LA
-- Quintella Williams, 30, struck and killed a pedestrian on October 24, 2015. She then drove away from the scene with the victim's body on the roof of her car. Williams actually drove several blocks with the dead woman's body on her vehicle's roof. New Orleans police said Williams was intoxicated when she struck Sakanah Franklin, 37, in the right lane of westbound traffic on North Claiborne Avenue near Kerlerec Street in Treme. The incident occurred around 5 a.m. Police said Williams struck Franklin and continued driving about six blocks with the woman's body on top of her 2007 Jeep Compass. Eye Witnesses pursued the Jeep driven by Williams. They forced Williams to stop on the on-ramp of Interstate 10. Police said Williams was arrested and Franklin was pronounced dead at the scene.
Williams was indicted Thursday (Dec. 17, 2015) by an Orleans Parish grand jury. Williams (age 29 at the time) was charged with one count of vehicular homicide in connection with the October 24, 2015 death of Ms. Franklin. Williams entered her guilty plea January 9, 2016, before Criminal District Judge Keva Landrum-Johnson. Williams was sentenced to 15 years in prison Friday (January 13, 2017) after pleading guilty to vehicular homicide. She faced a sentencing range of 5 to 30 years. The Orleans Parish grand jury indictment did not reveal Williams' blood-alcohol content percentage at the time of her arrest. However, the indictment revealed her blood-alcohol content percentage was greater than 0.15. This ensured that the first five years of her [mandatory] prison sentence be served without the possibility of probation, parole or suspension of sentence.
However, In court Friday it was revealed that Williams blood alcohol level was less than .20. A .20 blood-alcohol content percentage at the time of her arrest would have designated her offense as a crime of violence. The state agreed not to have Williams sentenced as a repeat felony offender as part of a plea agreement negotiated by her defense attorney and District Attorney Leon Cannizzaro's office. Williams has a previous conviction for theft. The plea agreement makes Williams eligible to earn a good time reduction from her sentence if she complies with Department of Corrections regulations.
Willaims made no statement in court regarding her responsibility for the death of Ms. Franklin. The victim's father declined an invitation to speak. However, the defendant's mother said she previously spoke with the dead woman's sister. They tearfully came to terms with a tragedy that struck at the hearts of two families. Williams' mother, Bridgette Perry said: "We are deeply sorry, and so sad about the whole situation. They lost a little one, and we did, too, in that she won't see anybody for a while." Williams' aunt Karen Robinson said: "She has grown a lot, spiritually," since her arrest. "She's come to believe that God has a plan and there is a reason for everything." The mother of three children aged 7, 11 and 12, Williams will be credited with time served since her arrest. She has remained jailed in lieu of a $100,000 bond.
Williams' Attorney said: "This situation was an utter tragedy for everyone involved. On the one hand, you have a woman (Franklin) who had been kind of cast off and was living the street life, who had her life accidentally and tragically taken. On the other hand, you have (Williams) a mother and daughter who was well-loved who is deprived of her family. This wasn't intentional and is something that could happen to almost anybody. It just goes to show how quickly things can happen, how quickly lives can be taken or changed forever. We just hope the victim's family also can make peace with the result."
She Had Me!
PUBLISHED: January 11, 2017 at 12:06 pm | UPDATED: January 13, 2017 at 11:37 PM PST
Fullerton, CA
-- A California criminal case became even stranger and more bizarre this week. Angela Diaz, 31, the alleged victim of cyber-stalking was accused of concocting a complicated plot to frame her husband's ex-fiancee, Michelle Hadley, 30, of Ontario in Orange County. Hadley was accused of using "rape fantasy" ads on Craigslist to send strangers to the home of Diaz. Diaz is married to Hadley's former fiance. Prosecutors at the time said Hadley also sent Diaz numerous emails threatening her life and the life of her unborn child. Hadley was arrested in July of 2016. She was released from jail on her own recognizance in October of 2016. If Hadley had been convicted she could have faced life in prison.
A timeline released by prosecutors said Hadley starting dating a man in 2013. The man was identified in court records as U.S. Marshals Service agent Ian Diaz. In May 2015 Hadley and Diaz bought a condo in Anaheim. They planned to marry. However, three months later they split up. Ian Diaz met Diaz, his new girlfriend, on a dating site in January 2016. She moved in to the Anaheim condo the following month. In May 2016 Angela Diaz said she was pregnant with twins by Ian.
Diaz then filed a restraining order against Hadley in June of 2016. She accused Hadley woman of stalking her. Hadley was accused of posing as Diaz on Craigslist. Hadley was allegedly seeking partners for sexual acts resembling rape. Diaz told police that Hadley sent the men photos of Diaz. Hadley allegedly told the men that she wanted them to have forcible sexual intercourse with her: "even if she screamed or resisted." Prosecutors said Diaz even called 911 last year and alleged a man came into her garage and attempted to rape her.
Prosecutors now say it was Diaz who responded to the Craigslist ads. However, police said men did show up, including a 17-year-old boy. They also say that she scratched her own neck and ripped her own shirt before making the 911 call. Prosecutors said the case was complicated based upon the fact Diaz allegedly sent the emails to herself from eight accounts using private networks and third-party servers. The purpose was to disguise her internet protocol address.
Investigators began serving search warrants to uncover the IP addresses linked to the emails after Hadley's arrest. IP search warrants can take several months. Prosecutors say they got a break in September of 2016. Prosecutors said one IP address came back linking emails to Diaz's Anaheim condominium. Investigators began uncovering more emails allegedly sent from Diaz's condo: a cellphone; and her father's home in Arizona.
The case against Hadley unraveled after authorities investigated Diaz for allegedly altering a paycheck from an employer. Police say they then uncovered other alleged fraud activity on behalf of Diaz, including: faking cervical cancer; faking a pregnancy; pretending to be an attorney; forging doctor's notes; and impersonating two of her husband's ex-girlfriends over email. Diaz and her husband have since separated and are going through a divorce. Diaz is awaiting extradition from Arizona. She faces up to 23 years in custody if convicted.
Hadley's attorney said his client had to drop out of the MBA program at Chapman University. She has been afraid to leave her home because of intense media coverage. Hadley appeared briefly on Monday in Orange County Superior Court in Fullerton. She was flanked by her parents. A judge dismissed all of the charges against her. In a statement outside of the courthouse, Hadley said: "Obviously, this has been a huge nightmare for me, probably the most traumatic experience of my life. I'm glad it's finally over, and I can move on with my life." Hadley's lawyer said that Anaheim police should have investigated the case more thoroughly before arresting her.
Orange County District Attorney Tony Rackauckas said authorities had good reason to arrest and charge Hadley for safety concerns. He said Hadley's arrest was based upon the continuing email threats and repeated responses on Craigslist. Rackauckas said Hadley spent more than three months in jail before investigators determined she was an "innocent victim of a diabolical scheme." Authorities now believe that Diaz was actually behind the Craigslist ads and emails in an effort to set up Hadley. All charges were dropped against Hadley. Diaz has been charged with kidnapping: false imprisonment; and perjury. Rackauckas said: "As important as the filing of charges against Ms. Diaz is the dismissal of the previous complaint and full exoneration of Michelle Hadley. I wanted to make sure … that Ms. Hadley is cleared in every possible way – in the courtroom, and in the court of public opinion."
Police spokesman Sgt. Daron Wyatt said he could not go into details because of anticipated litigation. The sergeant said in a statement: "D.A. Rackauckas said APD did everything right. There was a public-safety concern with strong evidence indicating Hadley was committing the crimes alleged."
Asian Cuisine!
Posted: Jan 11, 2017, 1:49 AM ET ~ Updated: Jan 11, 2017, 1:46 AM PT
NORTH CANTON, OH
— Jackson Township Police say the body of Ashley Zhao, 5, was found hidden at Ang's Asian Cuisine in North Canton on Tuesday. The child's body was found in the family's restaurant. The couple initially reported that Zhao went missing after taking a nap at the back of the restaurant on Monday evening. However, police say Chen struck the child several times with her fist on Monday morning. The injuries Ashley sustained resulted in her death.
Police have charged the parents of the Ohio girl. Mingming Chen is Zhao's mother (
pictured above, center
). She has been charged with murder. Liang Zhao is the girl's father. He was charged with complicity to murder. He is also charged with complicity to commit felonious assault. Court records do not list attorney information for Chen and Zhao.
Smack Down!
Posted: Jan 10, 2017, 4:02 PM ET ~ Updated: Jan 10, 2017, 1:02 PM PST
HOUSTON, TX (WCJB)
-- The Houston Police Department's Special Victims Child Physical Abuse Unit are asking for your help in locating fugitive Ashley Noelle Kilpatrick. Kilpatrick is wanted for an injury to a child. Investigators say on Saturday, October 8, 2016, at approximately 10:30am, Kilpatrick brutally assaulted a juvenile victim in an apartment complex located in the 2100 block of Ella Boulevard. Kilpatrick is the mother of the victim. She is allegedly responsible for hitting the child in the face and head more than ten times. She allegedly struck the child with a closed fist. Witnesses say she slammed the juvenile victim's head into a wall and attempted to choke her. The beating caused the child injury. Kilpatrick is described as a 31-year-old black female, 5'6" tall and weighing approximately 130 pounds.
Squeezed In!
Posted: Jan 10, 2017, 4:17 PM ET ~ Updated: Jan 20, 2017, 3:52 PM PST
Kenner, LA
-- Dana Williams, 32, of Metairie was arrested last week. Kenner police said she barged into an elderly couple's hotel room while carrying a squeegee on Friday, January 6, 2017. Williams allegedly entered the Fairfield Inn & Suites Hotel at 1801 32nd Street in Kenner. She "began pounding" on a guest door. As the door opened Williams forced her way inside with "a commercial type squeegee in hand. The report said she was holding the squeegee like an axe weapon. Williams then allegedly tore apart their bathroom.
The 71-year-old guests tried to wrestle the squeegee from her grasp. However, police said they were unable to do so. The frightened couple was forced out of their room with their belongings still inside. The victims told the front desk what was happening before they tried to return to the room. They told police they could hear things inside the room being broken. They added that Williams appeared to be intoxicated.
Kenner police tried to get Williams to open the door as "the sound of things breaking" inside the room continued. The hotel gave police a master key to get inside. However, the report said a deadbolt held the door in place. Williams eventually opened the door. Police entered and noticed she damaged the bathroom. Glass shards covered the floor of the bathroom and a picture frame from the wall was broken on the ground. The top and back portion of the toilet was also broken on the floor. Williams admitted to police she "recently" ingested cocaine, but she could not tell them exactly when, according to the report.
Williams was was arrested at 5:06 p.m. She was taken to Kenner jail where she was booked Jan. 7, 2017, with home invasion, simple criminal damage to property, and disturbing the peace. She was also arrested and booked on three outstanding fugitive charges. She is in jail on a $53,000 bond.
Amazing Grace!
Posted: Jan 9, 2017, 4:17 PM ET ~ Updated: Jan 10, 2017, 1:52 AM PST
Horsham Township, Montgomery County, PA
-- Sara Packer is charged with killing her adoptive daughter last year. She worked as an "adoption supervisor" for Northampton County before being suspended in 2010. Throughout that time she also took in several foster children, authorities said Monday. Packer, the adoptive mother of 14-year-old Grace Packer, is charged in Bucks County along with Jacob Sullivan, Sara Packer's boyfriend, in the brutal death of the teen who had been reported missing last summer. Prosecutors said Packer and Sullivan acted out a rape and murder fantasy when they killed Grace Packer in Richland Township last summer and dismembered her body. Packer, 41, of Horsham Township, Montgomery County, was charged Sunday with homicide, rape, conspiracy, kidnapping and abuse of a corpse. Authorities also charged Sullivan, saying he and Packer plotted for nearly a year before the girl was killed in July.
Sara Packer Criminal Murder Complaint - 2017 by Leegal Counsel on Scribd
Poetic Justice!
Posted: Feb 7, 2017, 3:17 PM ET ~ Updated: Feb. 24, 2017, 4:53 PM PST
Jameis Slaughter's $500,000 bond was reduced to $25,000. The former girlfriend of Markeith Loyd faces two charges of acting as an accessory after the fact. Her bond was set at $20,000 for this charge. She also faces charges for providing a false name to law enforcement. Her bond was set at $5,000 for this a misdemeanor. Slaughter's defense team said she is expected to be able to bond out jail sometime today. Slaughter was released from jail on bond Tuesday night.
The state also recommended to reduce the bond for Zarghee Mayan. Mayan is a manager at the Orange Blossom Trail fast-food restaurant where Loyd worked. Mayan's bond is set at a $400,000 collateral bond. However, it would be reduced to a $20,000 normal bond if a judge approves the request. Last week Mayan asked to have his bond reduced. However, that request was denied.
The State Attorney said it has dropped the charges against Loyd's niece, Lakensha Smith-Loyd. She was charged with accessory after deputies said she helped her uncle. The state said there was insufficient evidence to prove the case beyond a reasonable doubt. She had posted bond Wednesday, January 25, 2017. Her bond was reduced from $750,000 to $10,000.
All three had been arrested on charges of helping Loyd evade authorities. Police sought Loyd in connection with the slayings of two people. Loyd was arrested Tuesday, January 17, 2017. His arrest came after a nine-day manhunt. During this time period, Loyd was placed on the U.S. Marshals' 15 most wanted list. Loyd is charged in the slaying of Orlando Police Lt. Debra Clayton. She was shot at an Orlando Wal-Mart as she confronted him about the December 13, 2016 shooting death of Loyd's pregnant ex-girlfriend, Sade Dixon. He's also charged with killing Dixon.
Posted: Jan 11, 2017, 3:17 PM ET ~ Updated: Jan 12, 2017, 4:53 PM PST
Orlando, FL
-- Police authorities are arresting people who may have helped Markeith Loyd as anxieties grow and the search for him continues. Three people have been arrested so far in the search for Loyd. Zarghee Mayan (
pictured above, center-left
). She was arrested Tuesday. Zarghee Mayan gave the hungry Loyd some free food Saturday. He did so knowing his former employee had been on the run since police said he killed his pregnant ex-girlfriend Sade Dixon and wounded her brother December 13, 2016. Loyd's niece, Lakensha Smith-Loyd (
pictured above, center
). She and his ex-girlfriend Jameis Slaughter (
pictured above, center-right
). She were arrested Wednesday. All are charged with being accessory to first-degree murder after the fact in Dixon's death.
Orlando, FL -- (WCJB)
Markeith Loyd is the man accused of killing an Orlando police officer. Most defendants appear with an attorney and remain silent the first time they go before a judge. Loyd was combative and used profane language while offering a defense to his accused crimes. In an unusual first court appearance he said he plans to represent himself and yelled "f--- you!" to the judge as he left the room. It was the first time Loyd, who also had white gauze covering his left eye and a bandage on his head, appeared in court since his arrest Tuesday night. His arrest ended a nine-day manhunt for him.
Judge Jeanette Dejuras Bigney attempted to stop Loyd from talking and reminded him that everything he said was being recorded. Loyd, 41, said he understood and continued, saying police were "making up shit, like I just went in there and shot this girl." Loyd was referring to the night his pregnant ex-girlfriend Sade Dixon was shot to death.
"Y'all portraying this shit to the news people like I just went there and shot this girl when there were other guns found on the scene," he said. "...A gun was pulled on me first, but y'all acting like I just went there and shot her."
When Bigney asked if he realized the punishment he faces and the seriousness of his accused crimes, Loyd said, "It don't matter."
Bigney ordered Loyd, who was wearing a protective dark green vest and handcuffs that were wrapped around his waist, remains in the Orange County Jail without bail. Two corrections officers stood on either side of him, holding his arms.
Posted: Jan 9, 2017, 4:17 PM ET ~ Updated: Jan 9, 2017, 1:17 PM PST
ORLANDO, FL
— An Orlando Police officer shot in the line of duty Monday morning has died from her injuries as the search for the accused shooter continues. That search has also claimed the life of an Orange County Sheriff's Office deputy. The deputy died as a result of a related traffic crash.
Reprehensible!
Posted: Jan 6, 2017, 2:17 PM ET ~ Updated: Jan 9, 2017, 1:17 AM PST
CHICAGO, IL
- Four Eighteen year old suspects identified as Tesfaye Cooper, Brittany Covington, Tanishia Covington, all of Chicago and Jordan Hill, of suburban Carpentersville, were charged with hate crimes Thursday. The charges are in connection to a video broadcast live on Facebook that showed a mentally disabled white man being beaten: taunted; threatened with a knife; and forced to drink from a toilet. The assault went on for hours. Chicago police later found the disoriented victim walking along a street. The four suspects can be heard on the video using profanities against white people and President-elect Donald Trump. The suspects are jailed without bond.
The details of this crime are sickening to describe. The victim is a mentally-challenged white man. The torture included having his hair cut with a knife until his scalp bled. He also had cigarette ashes flicked onto him by his taunting assailants.
The victim was dropped off by his parents at a McDonald's restaurant a suburb northwest of Chicago, on Saturday, in Streamwood. Streamwood is a suburb northwest of Chicago. They believed he would be spending the night with Hill. Hill was believed to be his friend and school acquaintance. Hill allegedly picked up the victim in a stolen van. The victim assumed the van was Hill's. The two drove to Chicago's West Side. They visited with friends for two days and slept in the van overnight. The victim's parents went to Streamwood police and reported him missing on Monday night. They told police they had not heard from their son since Saturday when they dropped him off.
On Tuesday the victim and Hill went to the Covington sisters apartment. Several hours later, a "play fight" between the victim and Hill escalated. The suspects then bound him and began to assault him. The video shows the victim with his mouth taped shut as his captors appear to repeatedly assault him. Video of the incident was posted live on Facebook but was later removed.
The victim was bound and gagged as he was kicked and slapped by the suspects. The brutal beating streamed live on Facebook. During the assault the black attackers yelled "Fuck Trump!" and "Fuck white people!" The boy's parents were receiving text messages form the perpetrators throughout the ordeal. Police were alerted.
Officers eventually found the boy wandering the streets of the West Lexington area of the city on Tuesday afternoon. Chicago Police say he was in a disoriented state of mind and condition. He was taken to the hospital for treatment. A statement from Chicago Police said: "At 5:26 p.m. officers then responded to a battery at a residence on the 3300 block of W. Lexington where they discovered signs of a struggle and damage to the property and where able to link this evidence to the disoriented male. Officers later became aware of a social media video depicting a battery of an adult male which is believed to be the same individual." It is believed the victim, aged 18 and mentally handicapped, knew one of the attackers. Police believe he initially went with them willingly. Police also believe he had been with the group for 24 hours.
The four suspects were arrested Wednesday. They were charged the next day in connection with what a police official called a "brutal act." The four are charged with hate crime: aggravated kidnapping; aggravated unlawful restraint; and aggravated battery with a deadly weapon. Hill, Cooper and Brittany Covington were additionally charged with residential burglary. Hill also was charged with possession of a stolen motor vehicle. In video statements to investigators, the suspects admitted to beating and kicking the victim and making him drink toilet water, police said.
---
Burge Curse!
Posted: Jan 6, 2017, 2:17 PM ET ~ Updated: Jan 9, 2017, 1:17 AM PST
Chicago, IL
-- Jon Graham Burge is a convicted felon and former Chicago Police Department detective and commander who gained notoriety for torturing more than 200 criminal suspects between 1972 and 1991 in order to force confessions.
---
Cannabis Club!
Posted: Dec. 27, 2017, 2:17 PM ET ~ Updated: Jan 9, 2017, 1:17 AM PST
Tikisha Upshaw of San Leandro was charged with murder on Dec. 27, 2016 for allegedly hiring two people from Tennessee to kill her business partner.
SAN LEANDRO, CA
— Tikisha Upshaw, 37, is an East Bay marijuana grower. She was charged Tuesday with murder and other crimes. Upshaw allegedly hired two hitmen from Tennessee to kill her business partner. She is suspected of hiring Johnny Wright Jr. and Chariott Burks of Memphis, Tennessee to kill Adan Katami, 38.
Katami was a father from Antioch. He was fatally shot on a July afternoon while waiting in his truck to turn at Meekland Avenue and West Blossom Way in Cherryland. Katami was on his way to pick up his 4-year-old daughter. Police say Wright Jr. allegedly got out of a car driven by Burks and shot Katami. Wright Jr. and Burks were arrested a short time later. They are facing multiple charges, including murder.
An investigation into why the alleged killers traveled from Memphis to Alameda County led sheriff's homicide detectives to Upshaw. Upshaw is a San Leandro resident who also goes by Tikisha Ong. Sheriff's spokesman, Sgt. Ray Kelly, said a search of Upshaw's San Leandro home uncovered a "sophisticated illegal [pot] grow" operation. Upshaw and Katami went into business together and "at some point that business relationship turned hostile." Kelly continued: "As a result, Upshaw put a hit out on Katami. We have pretty solid evidence that that's the case."
Kelly declined to elaborate on the evidence. The murder weapon was never found. Police said the attack was targeted: almost like they knew his route; his lifestyle; and his daily operations. Authorities have also charged Wessley Brown, 38 (
pictured below, center-right
) of Berkeley with murder. Brown allegedly acted as a middleman between Upshaw and the hitmen.
Upshaw was working to open Green Gods Compassion earlier this year. The business is a medical marijuana business. The location of the business was reportedly in San Francisco near the Daly City border. Rev. Amos Brown, president of San Francisco's NAACP, endorsed Upshaw's application with the city. He said at the time "the Bay Area lacked African American-owned cannabis businesses." On Wednesday Brown said: "I'm really shocked to hear this." Brown said Upshaw volunteered at the NAACP. "My goodness."
Upshaw also met with prominent San Francisco politicians. However, she ultimately did not get the permit. Wayne Justmann is an adviser and consultant for medical marijuana dispensaries. Justmann said: "I thought she was always very charming, very professional. Every time we had a meeting at City Hall she would have a briefcase and a lovely suit on." Justmann said in recent months Upshaw deleted her social media accounts and either turned off her phone or got a new number. He said: "I kind of thought that was odd."
The news also stunned Robert Tankson, a founder of Presto Doctor. His company allows patients to get medical marijuana cards through online appointments with doctors. Tankson said his company was partnering with Upshaw to open her dispensary. Tankson said: "She seemed like a stand-up person. I would have never expected that."
POSTED 5:28 PM, FEBRUARY 6, 2014
(Memphis) A Memphis mom is locked up on $50,000 bond accused of trying to run down the father of her child and his fiance.
It happened in the 3400 Block of Metropolitan near the airport area.
Police said Chariott Burks went to Derrick Taylor's apartment to pick up their three-year-old daughter and got upset when Taylor asked her why she was late.
Witnesses say Burks put her car in reverse and tried to hit Taylor's fiance with her car and then drove around a dumpster to try to hit Taylor.
Taylor's sister says the three-year-old was in the car with Burks at the time and says Burks came close to hitting an 11-year-0ld girl who also outside.
Danielle Taylor-Tate says Burks has tried to hit her brother before with a car and just missed him this time.
"I know she's got things going on in her life, but everyone has problems. You aren't suppose to take it out like that," said Tate.
Court records show Burks was arrested in 2011 for domestic violence.
She is charged with two counts of aggravated assault.
Desirable!
Posted: December 16, 2016 at 12:19pm PST ~ Updated: Jan. 9, 2017 02:25 AM PST
Hercules, CA
-- Desire Borela, 19, is the Hercules teenager who police say killed her her ex-boyfriend by running him over with her vehicle. She is accused of then dragging him around in circles around the parking lot of an apartment complex. Her ex-boyfriend, Ian Irby, 22, was pronounced dead in the parking lot. The estranged couple didn't live together. They just lived in the same complex. Borela was charged with vehicular manslaughter with an enhancement for fleeing the scene on Friday. Investigators originally asked prosecutors to charge Borela with second-degree murder. It unclear why the charge was lessened.
Oral Exams!
Posted: Jan 6, 2016 12:19pm PST ~ Updated: Jan. 9, 2017 03:12 AM PST
EAST PALO ALTO, CA
— Danielle Matko, 33, of Belmont, is a female teacher at an East Palo Alto charter school. She is facing several charges that she performed sexual acts on two teenage male students over a two-and-a-half-month span last fall. Matko was arraigned Tuesday on four counts of lewd and lascivious acts covering three encounters with the boys. Both boys are 15 years old. She allegedly performed oral sex on the boys in her classroom at East Palo Alto Aspire Phoenix Academy on Garden Street.
San Mateo County District Attorney Steve Wagstaffe said that between Sept. 1 and Nov. 14, 2016, Matko engaged in sexual conduct on two occasions with one of the victims. She allegedly engaged in sexual activity on one occasion with both victims. The allegations cover sexual contact between the defendant and the teens. In one instance she is suspected of performing oral sex on the first victim. All of the purported crimes are believed to have taken place in Matko's classroom, during free periods and after school.
Wagstaffe said the allegations surfaced after the boys told friends about them. One of the friends contacted a legal-aid attorney, who in turn notified police. Wagstaffe said authorities have not identified any other victims. He said: "As it sometimes happens, people may come forward; we don't know yet. If there are more, we are certainly interested in speaking to them." He added that the county "rarely" comes across cases of teacher-student sexual conduct involving a female teacher and male students.
Matko denies the allegations. She was arrested December 1, 2016. She was soon freed after posting bail. Matko pleaded not guilty at her arraignment Tuesday. Judge Mark Forcum increased Matko's bail from $150,000 to $250,000 after prosecutors alleged she attended a soccer game in which one of the boys participated. Matko is out of custody after posting the new bail. She also faces two additional charges because she allegedly committed the crimes while serving as a caretaker for the victims. The judge also issued a protective order barring her from contacting the teens.
Neither Matko nor her attorney could be immediately reached for comment. Aspire officials did not immediately respond to requests for comment. Matko is next scheduled to appear in court March 23, 2017 for a preliminary hearing. Wagstaffe said the boys may testify at the preliminary hearing.
---
White Lace!
Posted: March 24, 2016 at 12:19pm PST ~ Updated: Jan. 9, 2017 02:25 AM PST
Los Angeles, CA
-- Los Angeles County Dist. Atty. Jackie Lacey has accepted more than $10,000 worth of gifts over the last four years from criminal defense attorneys, police unions, business owners, prosecutors in her office and others who could have an interest in influencing her decisions as one of the most powerful law enforcement officials in the county, according to state records. The gifts include necklaces and a pearl box, sporting event tickets, bottles of wine, clothing and a glass rose dipped in 24-carat gold, the records show. A media review of state disclosure records found that Lacey's gift taking exceeded the amount disclosed over the same time period by the district attorneys of other large California jurisdictions. These jurisdictions include Orange County, San Diego, Riverside and San Bernardino. San Francisco District Attorney George Gascón disclosed more than $18,000 worth of gifts. Approximately $17,000 of the gifts Gascón's received were for travel payments from organizations for speaking and panel events. The state's political ethics law allows public officials to accept gifts totaling $460 from any single source in a calendar year. However, the law requires officials to disclose the gifts on public forms. These forms are known as statements of economic interest. In Lacey's case, the forms reveal dozens of gifts over the last three years.
Unnatural Causes!
PUBLISHED: 12:13 PM PST Nov 24, 2016 | UPDATED: 12:13 AM PST Jan. 24, 2017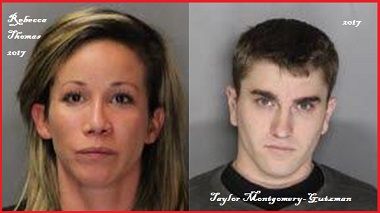 Citrus Heights, CA
-- Rebecca Thomas and Taylor Montgomery-Gutzman were arrested more than a month after her 2-year-old son died inside a home. Police said an arrest warrant was issued Wednesday for both Thomas and Gutzman. The Citrus Heights mother and her live-in boyfriend who were booked into the Sacramento County Jail on a murder charge. Investigators determined the child did not die of natural causes after combing through evidence and interviewing a number of people. Citrus Heights police received a report about 5:30 p.m. on October, 13, 2016, that a child was not breathing inside a home in the 8000 block of Auburn Boulevard. The child was taken to a hospital, where he died. No additional details about the child's death have been released.
Impregnated Jr. High!
POSTED: Nov. 21, 2016 06:09AM PDT ~ UPDATED: 1:12 am, Nov. 26, 2016 PDT
Houston, Texas
-- Alexandria Vera, 24, is the Texas middle school teacher who was impregnated by a 13-year-old student. Vera was arrested in June. Police said Vera had sex with her 8th grade English student 'on almost a daily basis.' The former eighth-grade English teacher taught at Stovall Middle School in Houston. She told police that she fell in love with one of her students after the two began a relationship through Instagram messages. Vera said that the boy's family was supportive of the affair.
Vera told police that she met the boy during summer school in 2015. She said she initially resisted the boy's advances until sometime last fall. At this time she agreed to hang out with her student. Prosecutors say Vera and the teen had sex almost every day for nine months. She told investigators that they love each other. Vera told her neighbors that the boy was her brother during the relationship. The boy's parents had known of the relationship since October of last year. Vera told police they accepted it.
A police investigation began earlier this year after the school principal received a tip about Vera. She told police that she had gotten pregnant. Vera told police she had an abortion after Child Protective Services questioned her about the relationship in February. The boy is now 14-years-old. He also admitted to the sexual relationship. He is in foster care and will remain there at least until August. The boy's mother also was investigated by Child Protective Services.
Vera was initially charged with continuous sexual assault of a child. Continuous sexual assault of a child carries a maximum punishment of life in prison. Vera pleaded guilty on Wednesday. She pleaded guilty to aggravated sexual assault of a child. She could face up to 30 years in prison. The plea of guilt to the lesser charge capped her sentence at 30 years. She is also eligible for deferred adjudication. If the court grants deferred adjudication, she will be placed on probation. Vera will have not have felony on her record if she successfully completes the terms. Vera's attorney said: "We're very much hoping for deferred adjudication." Vera has been free on a $100,000 bail and has been wearing a GPS ankle monitor. She's scheduled for a sentencing hearing in January.
Murderous Exchanges!
PUBLISHED: November 16, 2016 at 1:06 pm | UPDATED: January 22, 2017 at 9:07 AM PST
Oakland, CA
-- Dana Rivers, 61, formerly known as David Warfield is former Sacramento County teacher. Rivers made headlines nearly 20 years ago when [s]he was fired for discussing his/her sex change operation in class with students. Rivers was fired from her teaching job at Center High School in Antelope in 1999. The one-time "Teacher of the Year" later settled with the district for $150,000. [S]he then began traveling. Rivers shared his/her experiences growing up and coming to terms with herself.
Rivers was arrested (Friday, November 11, 2016) in connection with a triple homicide in the Bay Area. Rivers has been charged (as of Tuesday, November 15, 2016) with three counts of murder in the shooting and stabbing deaths of three people early Friday morning. Rivers confessed to killing two women in their 50s and their son.
The homicides occurred at an East Oakland house (Friday, November 11, 2016). Police have not released a motive for the killings. [S]he was found at the home, covered in blood and carrying a pistol and knives. Records show that Rivers was a licensed security guard and was licensed to carry a gun. Investigators said [s]he also tried to set the house on fire.
---
Originally Posted: January 6, 2006
Sacramento, CA
-- When David Warfield, a Sacramento, Calif. teacher, told his boss about his summer plans, the school asked him not to come back in the fall.
The school's action was a response to David's announcement that he would return as a woman. David, now Dana Rivers, is a transsexual and from childhood she believed she was born a woman in a man's body — a condition known as gender identity dysphoria.
Dana had finally decided to take the steps to transform her body into the gender she feels she was born with. Like others who seek such surgery, she was required by her doctor to first live in the role of a woman for a year prior to the operation. She also had to take female hormones and obtain a psychological evaluation.
Growing up, Dana hid her anguish of living in a male body by acting as manly as possible. Her macho, daredevil spirit earned her the nickname "Mountain Man." But beneath the façade, she was suffering. "I lived a lifetime full of depression," she says. "I was suicidal. My life had been a train wreck."
In spite of her personal turmoil, she had professional success as an acclaimed high-school teacher. But her plans to have a sex change operation ignited a national controversy. Some parents worried about the children being prematurely exposed to transgender issues.
20/20 first reported on Dana's story when she was suing the school district to get her job back. She had not had the surgery yet, but she had shed her identity as David and was living full-time as a woman. The controversy ended with a settlement, and Dana received $150,000 from the school district in exchange for her resignation. Ironically, the settlement ended up paying for the $50,000 surgery.
Though Dana was eager to have the operation, she says that it doesn't make her more of a woman. "I've always been a woman," she says. "I've always felt like a woman. A penis does not make a man. A vagina does not make a woman, at all."
Dana finally underwent the surgical procedure in June 2000.
Her doctor, Eugene Schrang, has helped transform more than 1,000 transsexuals. He is among the handful of plastic and reconstructive surgeons who specialize in sex change operations. His patients have been of all races and have included pilots, accountants and doctors.
"My goal as far as aesthetics are concerned is to make the genitalia so genuine that no casual observer can tell the difference. As far as I'm concerned it's the ultimate cosmetic operation," says Schrang.
Dana's surgery took about five hours. After a breast enlargement, Schrang performed a penile inversion. This involves removing the male genitals and creating a vaginal cavity, lined with the inverted skin from the penis.
Schrang says the procedure enables the patient to have "trouble free" and "effortless" intercourse. By preserving the genital nerves, the patient can climax during sex.
After the operation, Dana was elated. "I was relieved that I finally made it," she says. Upon seeing her afterward, her partner Michelle said, "Welcome back."
The discussion of sexual preference is a touchy subject for Dana. She argues that her sexual preference it is not necessarily related to transsexuality.
"[Transsexuality] is a gender-related condition," she says. "Sexuality is who I am attracted to."
Though Dana is still technically married to her wife Tara, who is heterosexual, her partner at the time of her surgery was Michelle, who is also a transsexual. Recently, Michelle and Dana have parted ways and Dana is currently dating another woman.
Though she was supportive of Dana's decision to have the operation, Tara was sad to lose her husband — then named David Warfield. "Anybody who knew David Warfield would be crazy not to love him," she says.
Since she is currently with a woman, Dana accepts the title of lesbian. "It's easiest to define me if you need to," she says. "Two women that sleep together and enjoy life together are lesbians and that's where we are." However, she doesn't rule out the prospect of one day being with a man. "It's just about impossible to pigeonhole us," she says. "I know that just frustrates people."
In addition to speaking out against prejudice against transsexuals, this fall Dana will be returning to her work as a schoolteacher at a different California school.
---
Stick 'Em Up!
PUBLISHED: December 8, 2016 at 1:06 pm | UPDATED: Feb. 12, 2017 at 10:51 PM PST
Burbank, CA
-- Police are looking for a woman in connection with the bank robbery that occurred in Burbank. Burbank police said no one was injured during the incident. The woman is described as being between 40-50 years old. She stood about 5 feet 6 inches tall. She weighed about 110 pounds. She was wearing a gray long-sleeve sweater: gray pants; an aqua blue scarf; black shoes; and thick rim glasses.
U.S. Bank branch employees told reported to police that a woman handed a teller a note demanding money and left the bank with the cash. The incident reportedly occurred on Thursday at about 2:30 p.m. at a U.S. Bank branch along the 1700 block of Olive Avenue. A similar robbery occurred at a Bank of America branch in Los Angeles. However, police did not say if the suspect in that incident was a woman. Investigators are working with the FBI and Los Angeles Police Department to determine if the incidents are related.
Nude Patrols!
PUBLISHED: October 16, 2016 at 1:06 pm | UPDATED: January 22, 2017 at 9:07 AM PST
Bryan, Texas
-- A Texas 19 year-old A&M student, was arrested after crashing into a police car while taking a topless Snapchat picture for her boyfriend. Bryan police Officer John Sartell responded to a disturbance call Thursday night. Sartell said he heard the sound of a vehicle's brakes and a collision. Miranda Kay Rader crashed into his patrol car with her SUV, police say. When he approached Rader, he saw that she was wearing an "unclasped brassiere" and was trying to put her blouse back on, according to the report. He also found an open bottle of wine in the vehicle.
10-to-20!
Posted: 1:23 PM, July 19, 2016 ~ Updated: 3:36 PM, July 19, 2016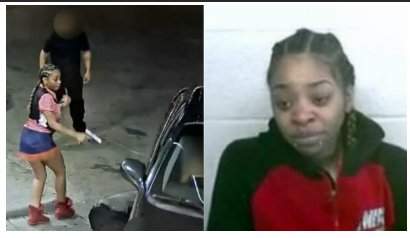 DETROIT, MI
- Shamicah Burton, 20, was sentenced to 10 to 20 years on the assault charge and 2 to 5 years on the weapons charges. The Detroit woman was captured on surveillance video hiding a gun in her underwear before opening fire on a car at a gas station. She has been sentenced to at least 10 years in prison. She apologized in court Tuesday after being convicted of assault with intent to murder and weapons charges. Burton said: "I apologize to the people that I robbed. I have nothing to say about the attempted murder."
Video from the gas station's cameras showed Burton and three other people standing outside a Dodge Charger on March 20, 2016. A Pontiac Grand Prix pulls into the station. Words were exchanged. Burton then allegedly retrieves a handgun from the Charger's glove box.
Burton's friends tried to hold her back In the video. Howefer, she rushed to the Grand Prix and started shooting. Police said she struck the driver several times. Burton was also charged in an armed robbery that occurred the day before. She's accused of robbing two women at gunpoint on Fenkell Avenue.
Well-Heeled!
Posted: March 24, 2016 at 12:19pm PST ~ Updated: April 4, 2016 10:25 AM PST
New York
-- Former Miss Jamaica World contestant and JetBlue flight attendant Marsha Gay Reynolds left behind 70 pounds of cocaine worth up to $3,000,000 after flinging off her heels and running from security. Reynolds surrendered to federal authorities at John F Kennedy International Airport, though it wasn't immediately clear how she reached New York. Reynolds is a resident of New York. She is expected to be in federal court in Brooklyn on Thursday, according to US Attorney's spokesman Thom Mrozek.
---
[Ex-mayor charged in 4-year-old's rape said girl was a willing participant, records say]
---
Reader Pageviews by Country
---
From: Dec 8, 2016 12:00 AM – Dec 14, 2016 11:00 PM
---
«•
Thank you for visiting Corrupt Justice™. Enjoy our Free Movie Intermission! Don't forget to Bookmark Us & Tell A Friend! We're Global!
•»
---
Movie Intermission!
Facebook Torture Video
Full Video
---
Description:
Chicago, IL – Four Eighteen year old suspects identified as Tesfaye Cooper, Brittany Covington, Tanishia Covington, all of Chicago and Jordan Hill, of suburban Carpentersville, were charged with hate crimes Thursday. The charges are in connection to a video broadcast live on Facebook that showed a mentally disabled white man being beaten: taunted; threatened with a knife; and forced to drink from a toilet. The assault went on for hours. Chicago police later found the disoriented victim walking along a street. The four suspects can be heard on the video using profanities against white people and President-elect Donald Trump. The suspects are jailed without bond.
---
---