---
Click on Banner to Sell Your Home(s)!
---
---
"The only good nigger is a dead nigger and they should hang you in the town square to prevent any other nigger from coming in the area."


-- July 2011 Statement by Oakland Public Schools Police Chief Pete Sarna, referring to an African-American police officer.

---
Top News Stories!
Cold Killers!
POSTED: 1:01 PM, Dec. 24, 2016 ~ Updated: 09:51 PM, Dec. 26, 2016


Bradley Renfro, center, scans the courtroom following his arraignment on Tuesday, Dec. 13, 2016, at Palmer Superior Court. Next to him are Dominic Johnson, left, and Austin Barrett.


PALMER, AL — Alaska prosecutors filed new charges in the murder of David Grunwald. Alaska State Troopers arrested five people age 19 or younger for their roles in the murder the weekend of December 9, 2016. All five remained jailed at the Mat-Su Pretrial Facility in Palmer, Goose Creek Correctional Center on Point MacKenzie and Cook Inlet Pretrial in Anchorage. Grunwald went missing November 13, 2016 after he didn't come home from dropping off his girlfriend in Butte. Troopers the next day found his Ford Bronco on the rough road leading up Bald Mountain Ridge near Wasilla. The truck was burned down to its frame. Hundreds of volunteers embarked on fruitless searches for the teen. His remains were found December 2, 2016. Police located his body based on a tip from one of the teens now accused in the crime.

On Thursday a grand jury handed up three additional charges in the murder case. Four of the five teenagers arrested for their roles in Grunwald's death received new charges. The new charges allege four of the teenagers participated in the pistol-whipping that preceded the Palmer teenager's death. The grand jury indictment alleges that Austin Barrett, 19; Erick Almandinger, 17; Dominic Johnson and Bradley Renfro, both 16, "recklessly caused serious physical injury" to Grunwald with a pistol either as principals or accomplices. The grand jury also added new felony charges of first-degree vehicle theft for the four accused of stealing the Bronco. Johnson, Almandinger and Renfro were also charged with arson for "starting a fire or causing an explosion" while Grunwald's Bronco was parked on municipal or state land.

Devin Peterson, 18, is charged with helping cover up the crime, but not participating in it. He is the only defendant who didn't receive new charges in the indictment. All of the defendants, except Peterson, are being held without bail. Peterson's bail was set at $100,000 and release to a third-party custodian. The case has drawn national attention. It has revealed a sordid side of teenage life in the Valley. The four named in the new charges are scheduled to be indicted on Tuesday morning in Palmer Superior Court.

David Grunwald, Fall 2016. (Courtesy Grunwald family)

According to charging documents in the murder case, Grunwald came to a trailer next to Almandinger's Palmer home to drink and smoke marijuana. He was bludgeoned with a pistol before being loaded into his own Ford Bronco and driven to the Knik River, where he was shot and killed.




The teens torched the Bronco and left it on a road at the base of the Talkeetna Mountains, where it was found the next day, according to the charges. The only motive Almandinger provided during a police interview during which he alternately said Johnson or Barrett shot the teen was that Grunwald "had smoked all his weed," according to a sworn affidavit filed with charging documents.

Residential Burglary!
POSTED: 1:01 PM, OCTOBER 5, 2016 ~ Updated: 09:51 PM, OCTOBER 9, 2016



Lancaster, CA -- Los Angeles County Sheriff's Sergeant Steve Owen, 53, died after being shot. According to Deputy Mike Barraza with the Los Angeles County Sheriff's Department's Lancaster Station, Owen was shot while responding to a residential burglary call. The shooting occurred at 12:35 p.m. in the 3200 block of West Avenue J-7. The area is a couple blocks north of the Antelope Valley College campus. A SWAT team and dozens of deputies could be seen responding to a residential area there. The search prompted a shelter-in-place order at Antelope Valley College.

A suspect was taken into custody after a 1 1/2-hour search. Aerial video just after 2 p.m. showed a man coming out of the back door of a home and lying down on the pavement in the backyard, next to a pool. The man was apparently complying with the deputies' commands. He walked to the side of the home and taken into custody at the front of the home's garage without incident.

(Sheriff's Sgt. Steve Owen speaks in July 2015 about rescuing an abducting toddler. He died Oct. 5, 2016.)

Barraza said preliminary information indicated a deputy was struck by gunfire and taken to a hospital in unknown condition. He later said a sergeant and a deputy were both shot. That information was later corrected, with sheriff's spokeswoman Nicole Nishida saying only a sergeant was shot. Nishida confirmed about 2:15 p.m. that one person was in custody and no suspects were outstanding. Lancaster's mayor told media sources the sergeant was shot in the face.

In an afternoon news conference, authorities announced that Owen had died at the hospital. Sheriff's Executive Officer Neal Tyler said: "We lost a brave sergeant today." Tyler said Owen had been a sergeant with the Lancaster Station for five years. Tyler also said Owen's wife, a sheriff's arson/explosives detective, was able to get the hospital before Owen died. His adult son and daughter, as well as his mother, were also able to get to the hospital, he said.

Vet Syndrome!
Posted: May 31, 2016, 6:26 PM ET ~ Updated: Tuesday, May 31, 2016 (03:43 PDT)

Houston, TX -- A military veteran has been identified as the alleged gunman behind a deadly shooting in west Houston. Houston police today identified the alleged gunman as Dionisio Garza, 25, of California. Garza died in Sunday's shooting. The Sunday shooting spree was described as "random" by police. It left one victim dead and six people injured. Houston police said today Garza shot a total of 212 rounds. The Army confirmed to media sources that Garza was deployed to Afghanistan twice between 2009 and 2013 and that he was discharged in 2014.

Police said today the suspect had been living with his sister in California. He drove to Houston and arrived on Saturday. Police said it appeared Garza was in a "mental health crisis." Houston Police Lt. John McGalin said today during a news conference: "He had allegedly 'been suffering from depression'. His family indicated that he wasn't feeling right and he left to come here and hang out with his friends and try to find work here."

Garza's devastated stepmother, Cathy Garza, told media sources: "I think he was haunted by everything he experienced in Afghanistan." She said she thinks he might have had post-traumatic stress disorder. She said: "I think he was haunted by everything he experienced there. I think it changes you. I don't know how you can go through what he went through and see what he saw and not have it change you or affect you. We're devastated. I can't help but think of all the families that were affected by this." Cathy Garza said the 25-year-old was kind, loving and respectful. She said that nothing seemed out of the ordinary the last time she saw him. "It just wasn't him," she said. "That's not who he was."

Garza's cousin, Ahmad Alkuteifani, told media sources: "I don't think he was ever the same after he saw what he saw over there. I think it took a toll on him." Alkuteifani said that when Garza returned from his two tours of duty, he posted anti-Islamic comments on his Facebook page, even though some of his family, including Alkuteifani, are practicing Muslims.

American Prom Nite!
Posted: April 23, 2016 12:01 AM EDT ~ Updated: April 24, 2016 11:36 AM PDT

Antigo, WI -- Jakob E. Wagner, 18 (pictured above, center) shot and wounded two prom-goers outside Antigo High School on Saturday night. Wagner was a student at the Wisconsin high school. Antigo High School is about 150 miles north of Milwaukee. Police say Wagner opened fire with a high-powered rifle. Police say Wagner shot a male and female student. He wounded one victim in the leg and grazed the other.

Police returned fire. Wagner was mortally wounded and died at a local hospital. Police already were stationed to patrol the parking lot at the high school dance. Police Chief Eric Roller says an officer who was in the parking lot shot Wagner. Roller says officers in a nearby parking lot heard gunshots. The officer fired upon the shooter, "stopping the threat." Roller says everyone at the prom was eventually "escorted from the school and are safe."

Langlade County Coroner Larry Shadick told media sources that Wagner died early Sunday morning in the intensive care unit at a Wausau hospital. Police say the female student was treated at a hospital and released. They said the male student was undergoing surgery for injuries that weren't life-threatening.

The district said in a statement that Wagner had approached the school with a high-powered rifle and a large ammunition clip. Police officers came in and moved students to one corner of the building after the shooting. Nikita Deep told media sources that about a dozen armed officers came into the school after the shooting. Students were kept there for about three hours before being released to parents.

A school administrator says he does not believe Wagner targeted the victims. Interim district administrator Donald Childs told media sources he believes the gunman planned to enter the prom and start shooting randomly. Childs says Wagner did not graduate with his class from Antigo High School last year. However, he was continuing to work on his diploma. The school plans to have counselors available when classes resume Monday.

A friend of Wagner says the gunman loved video games and hanging out with friends and music. Dakotta Mills says he had known Wagner since sixth grade. He says he considered him a foster brother. He says Wagner was raised by his mother and grandparents. Mills says Wagner was interested in guns and wanted to become a hunter. He also says Wagner had gone through a hunter safety course a few years ago. However, he wasn't sure if Wagner could afford a gun. Mills says the Wagner he knew was "a good kid."

Another man says he was friends with Wagner and had been in his class. Dylan Dewey of Antigo, 18, told medi sources that Wagner had been dating a girl at the school. However, she had broken up with him last month. Dewey described Wagner as an "all-around good guy" and said he generally seemed happy.

Antigo is a community of about 8,000 people. The Wisconsin Division of Criminal Investigation has been asked to lead a review of the officer-involved shooting. The Langdale County Sheriff's Office is also handling the ongoing investigation.

Saints Defense!
Posted: April 12, 2016 at 11:44 PM ~ Updated: April 13, 2016 at 12:00 AM PST
"I know that dude, he been a hating ass coward…. Never knew he'd grow up to be a killer tho…. May you get what you deserve coward."

New Orleans, LA -- Arizona Cardinals defensive back Tyrann Mathieu says he's received death threats since speaking out about the death of former New Orleans Saints star Will Smith. On Monday Mathieu reportedly appeared on a television talk show. The topic was about the reaction to his calling Smith's alleged murderer, Cardell Hayes, a "coward" on social media:



"I think it was one of those situations where he was really at the wrong place at the wrong time, and he bumped into the wrong person. I know the guy personally and, Rich, it's not really for me to put his personal business on air. Because when I came out yesterday and called him a coward, I received death threats from guys in New Orleans—from his relatives. And I'm thinking to myself..."What do you guys want from me? I'm only here to speak the truth."

Mathieu spoke out about a variety of issues after word of Smith's death began to spread. One issue included a since-deleted comment about Hayes. Mathieu stated he knew [Hayes] and called him a "hating ass coward." Mathieu also discussed the limited amount of time he spends in New Orleans (his hometown) whenever he returns.

Saints head coach Sean Payton stated afterward he believes the gun culture in the United States must change, stating: "Two hundred years from now, they're going to look back and say, 'What was that madness about?' The idea that we need them to fend off intruders…people are more apt to draw them [in other situations]. That's some silly stuff we're hanging on to." He added: "If this opinion in Louisiana is super unpopular, so be it."

Smith was shot dead with six gunshot wounds Saturday night. It's unclear exactly what happened leading up to the incident. Hayes' attorney said his client was a hit-and-run victim that night. He was not an aggressor.

Update(s):

•» Former Saint defensive end Will Smith had a fully loaded 9 mm handgun inside his Mercedes-Benz SUV when he was shot and killed Saturday night (April 9), New Orleans police said. The weapon was not fired, police added, nor was a fully loaded revolver found inside the Hummer H2 driven by Cardell Hayes, the man arrested in connection with Smith's death.

•» Former Saints Defensive End Was Shot 8 Times, 7 in Back, Coroner Says. New Orleans city coroner Jeffrey Rouse shared his findings in a statement on Wednesday. Police charged a suspect, Cardell Hayes, with second-degree murder in Smith's shooting.

•» Two additional handguns were found today in two of the vehicles involved in the incident. The investigation is ongoing.

Posted: April 11, 2016 at 12:55 AM ~ Updated: April 12, 2016 at 3:41 PM PST



NEW ORLEANS, LA (WCJB) -- Former Saints Player Will Smith (pictured above, center) died inside his SUV Saturday night after being shot multiple times to his back and torso. Police are now working to piece together the investigation. Police say the situation appears to be a road rage incident that turned deadly. Smith and his wife, Racquel, were traveling from Sake Cafe on Magazine Street towards the Windsor Court when the shooting took place. The suspect, Cardell Hayes remains behind bars.

New Orleans police were called to the intersection of Sophie Wright Place & Felicity Street for a report of shots fired at 11:30 Saturday night. NOPD Supt. Michael Harrison said, "When we arrived, we located Mr. Smith partially inside his vehicle, suffering from multiple gunshot wounds to his body." Smith suffered gunshots to his back and torso. He died on the scene. His wife was shot in the leg. Harrison continued, saying: "As they were approaching Felicity Street, their vehicle was hit in the rear by an orange Hummer H2 which caused their vehicle to hit the rear of a gray Chevy Impala."

Police say the people inside the Chevy Impala were friends of Will Smith. Police say 28-year-old Cardell Hayes was driving the Orange H2 Hummer. He allegedly got out of his vehicle and exchanged words with Smith before opening fire. Hayes appeared before a judge Sunday evening at magistrate court. His bond was set at $1 million. His attorney says Hayes wasn't the aggressor in this incident. He wants toxicology tests performed on everyone involved.

Hayes' attorney said, "There may have been an earlier accident that night in which one of the parties sped off and my client followed in an attempt to get the information." The shooting took place moments later. Hayes stayed on the scene and waited for police to arrive. "Not only did my client call 911, but my client secured a witness who was about to leave the scene and my client waited for law enforcement to arrive. Now tell me if that's the behavior of someone or consistent with someone that's an animal out here looking for blood?"

Prior to the shooting, Smith and his wife were joined at dinner by a number of friends. They included former Saint Pierre Thomas and retired NOPD Officer Billy Ceravolo. Ceravolo was named in a civil lawsuit Hayes filed against the city after NOPD officers shot and killed his father. However, Hayes' attorney says Hayes and Ceravolo didn't know each other. Chief Harrison adds he doesn't think that had anything to do with this shooting.

"We're not ready to talk about motive, we're not ready to talk about how or why this happened," Harrison said. "At this time we don't have any information to suggest that they knew one another or that this is anything other than an accident that turned into a dispute that turned violent," Harrison said. The chief says one gun was recovered from the scene. The weapon recovered was allegedly used by Cardell Hayes.

Posted: April 10, 2016 at 12:55 AM ~ Updated: April 10, 2016 at 2:41 AM PST



New Orleans, LA -- An Ex-New Orleans Saints defensive end (pictured above, center) was killed and his wife was wounded in a late-night shooting in New Orleans. The shooting occurred on Saturday (April 9) around 11:29 p.m. The victim has been identified as Will Smith, 34, by two law enforcement sources and a Saints source. Both sources claimed to have direct knowledge of the incident. Smith was fatally shot in the Lower Garden District around 11:29 p.m. on Saturday.



The shooting took place near the intersection of Sophie Wright & Felicity streets. Police said the victim and his wife were traveling eastbound on Sophie Wright Place. Their Mercedes Benz SUV was rear-ended by a Hummer H2. The collision caused the Smith's vehicle to hit a Chevrolet Impala traveling along the same street. NOPD spokesman Juan Barnes said Smith and the driver of the Hummer "exchanged words." As a result, and "... at which time the driver of the Hummer produced a handgun and shot the male victim multiple times and his 34-year-old wife twice in the right leg." The driver has been identified as Cardell Hayes (pictured above, center).

Janis Baehr was a witness at the scene. She is a tourist in town for the French Quarter Festival. She said she was walking near the intersection. She heard the crash and then six to eight gunshots. She said: "It was a crash, boom, bang." She said she then saw a woman down on the pavement and went to her aid. She gave her ice chips. Baehr said the woman appeared to have two gunshot wounds to her leg. She said: "I kept her company until the paramedics came because she was screaming." The woman was then taken away by ambulance.

Another witness would only give his first name as Michael. He said he was on the street and heard the crash. He then heard gunshots. He said he took cover in nearby bushes with his dogs. Another witness who lives near the scene declined to give her name. She said she heard noises outside and saw a woman arguing with a man. However, when she heard gunshots, she ran back inside of her house.

The area is located in the Lower Garden District. Smith was slumped over the steering wheel of his vehicle when police arrived. The vehicle appears to have a gunshot hole in the windshield. Smith was pronounced dead at the scene. His wife was transported to a hospital. Police said the 30-year-old driver of the Hummer is in custody. He was being interviewed by investigators. The gun used in the shooting has been recovered. New Orleans police and the coroner's office are still on the scene investigating.

iL.O.D.!
Posted: Sunday, February 28, 2016 11:14AM EST ~ Sunday, February 28, 2016 03:14PM PST

Prince William County, VA -- An Army staff sergeant was held on murder charges today, accused of fatally shooting a Virginia police officer who was killed only a day after she was sworn in.

Prince William County Police Department Officer Ashley Guindon, who was on her first day on patrol, was killed when she and two other officers responded to a domestic-related incident shortly after 5:30 p.m. Saturday, at a home in Woodbridge, about 20 miles south of Washington, D.C., according to police.

The suspect's wife, Crystal Sheree Hamilton, 29, was the one who placed the 911 call, but was shot and killed before police arrived on scene, officials said.

The three officers -- Guindon along with field officer David McKeown, 33, and Jessie Hempen, 31, -- were shot almost immediately upon arrival, allegedly by Ronald Hamilton, an Army staff sergeant, Prince William County Chief Stephan M. Hudson said at a news conference today.

A second team of officers arrived shortly thereafter and began administering first aid to the injured officers. At some point Hamilton surrendered, Hudson said, coming out the front door.

Hamilton, 32, was taken into custody and the three officers were taken to Inova Fairfax Hospital.

Police found an 11-year-old boy, believed to be Hamilton's son, at the home. He did not have any physical injury and was taken into safe custody of family and friends, Hudson said.

Guindon died a few hours later from her injuries. She had previously served in the Marine Corps Reserve and had family in law enforcement, according to the department.

Guindon had a long history with the Prince William County force, having interned in the forensics unit in 2011 before attending training in January 2015, Hudson said. She graduated from the police academy in June, but resigned soon after for personal reasons, he said.

She came back to the force a few months later and was sworn in Friday, Hudson said.

Hudson said Guindon had a "passion to do this job," and a "passion to serve others that went beyond herself."

"We ask for everyone's thoughts and prayers as our department deals with this tragic loss," said the Prince William County Police in a statement posted on Facebook.

McKeown and Hempen are believed to make a full recovery but it is a "long road," according to Hudson.

Hamilton, is an active duty staff sergeant assigned to the Joint Staff Support Center at the Pentagon, an Army spokesman said. He faces several charges, including first-degree murder and murder of a law enforcement officer.

Hamilton was scheduled to be arraigned Monday morning.

Looking For Revenge!
Posted: Thu 09:55 PM, Feb 25, 2016 ~ Updated: Thu 11:15 PM, Feb 25, 2016

HESSTON, Kan. (WCJB) — Kansas authorities reported that four people have been killed and 14 wounded in shootings spanning from Newton to Excel Industries in Hesston, Kansas. Police responded to reports of a man firing at other vehicles from his vehicle at approximately 5 p.m. Thursday at 12th Street & Meridian in Newton. Harvey County Sheriff T. Walton said one driver was shot. The gunman continued driving towards Highway 81. He then shot another person.

Shortly thereafter, an active shooter was reported at Excel Industries. Excel Industries is a business that manufactures lawn mower products. It is located at 200 South Ridge Road in Hesston. An employee said the gunman came through the production area of the business with an assault-style weapon. "He chased some office people. Approximately 150 people were at Excel at the time of the shooting. Fifteen people were shot inside the business.




He just started spraying everybody in the production area." Martin Espinoza said he heard a popping sound and then saw the shooter. He said the shooter pointed a gun at him and pulled the trigger. The gun was empty. He says at that point, the shooter got a different gun and Martin took off running. "Everybody thinks it can't happen here, but it's in those places where it can't happen that it happens," Walton said. "You gotta wake up, because it can happen."

Walton said four people were killed, including the gunman, were killed. Fourteen others were injured in the spree. He said the first officer on scene was a Hesston police officer. He entered Excel Industries and took down the shooter. Several Excel employees identified the gunman as 38-year-old Cedric Ford (pictured above, center) an employee at the business.

Paul Mullet is the president and CEO of Excel Industries. He said: "We're really saddened by this horrific event and our heart goes out to all of our employees, all the families whose loved ones got injured or killed, and we're going to do what we can to take care of them and bring them through this tragedy." Mullet confirmed that the gunman was a current employee.

Staff at Via Christi St. Francis in Wichita said the hospital has received six patients from Hesston. Four are in serious condition. Two are in fair condition. Four people were taken to Wesley Medical Center. Four people were hospitalized at Newton Medical Center. Police have not identified any of the victims.

The Harvey County Emergency Response Team and other area agencies surrounded the gunman's home. Walton said that authorities believed the roommate of the suspect may be inside the home. Shortly before 11 p.m., police on the scene determined no one was inside the home. Authorities continued investigating several crime scenes. More than a dozen KBI agents at on scene at Excel. The ATF is also involved in the investigation.

Walton said the shootings were not an act of terrorism. He added that law enforcement has a sense of the motive but would not elaborate at this time. In September of 2015, Ford posted a video of him shooting an assault-style rifle in a field.

Domestic Abuse!
Posted: Sat., December 26, 2015 ~ Updated: December 26, 2015, 10:00 PM PST

Chicago, IL -- Two families on the West Side were demanding answers Saturday after officers responding to a call about a domestic disturbance shot and killed a 19-year-old engineering student and a 55-year-old mother of five.

Police were offering few details of the early-morning shooting, the first use of lethal force by Chicago police since last month's release of a video of Laquan McDonald's death put a national spotlight on the city. But late Saturday, they admitted one of those shot, Bettie Jones, 55, was struck accidentally by police aiming for Quintonio LeGrier, 19.

Officers were called to the home in West Garfield Park around 4:30 a.m. A dispatcher told them a "male caller said someone is threatening his life. It's also coming in as a domestic. The 19-year-old son is banging on his bedroom door with a baseball bat," according to radio traffic.

The officers were "confronted by a combative subject resulting in the discharging of the officer's weapon, fatally wounding two individuals," the department said in a brief statement.

Relatives said LeGrier, was an honors student who had been struggling with mental health issues recently.

The woman who was killed, Bettie Jones, was a downstairs neighbor and had been asked by the father to keep an eye out for the arrival of the police, according to both families.

In the confrontation with LeGrier, Jones "was accidentally struck and tragically killed. The department extends its deepest condolences to the victim's family and friends," police News Affairs said in an updated statement issued Saturday night.

Neither the police statement nor the source provided a detailed account of how both LeGrier and Jones came to be wounded by one of the officers in front of the frame two-flat in the 4700 block of West Erie Street.

Any officers involved in the shooting will be placed on administrative duties for 30 days, a new police under interim Police Superintendent John Escalante to "ensure separation from field duties while training and fitness for duty requirements can be conducted" that is to be standard procedure for any officers involved in shootings.

LeGrier's father told the Tribune that his son had "emotional issues" that made him angry. He believes the officer "messed up" and shot recklessly as his son came to the front door, hitting him several times and also striking Jones.

"I don't feel that his life was worth losing because he got upset," Antonio LeGrier said.

Jones' relatives believe she was behind LeGrier, near the entrance to her apartment, and was shot by mistake.

"I want this investigation to be thorough. I want answers," said Evelyn Glover Jennings, Jones' cousin. "She's my first cousin. Her blood is crying out from the grave saying, 'Evelyn, avenge me.'"

The Police Department would not say where the victims were standing when they were shot, but blood could be seen in the small vestibule and just inside Jones' apartment. At least one bullet appeared to have traveled through Jones' apartment, hitting at least two walls.

Latisha Jones, 19, said she woke to gunfire and found her mother on the floor of her apartment with a gunshot wound to the neck. "She wasn't saying anything," Jones said. "I had to keep checking for a pulse."

Latisha Jones said she put her hand up to her mother's face and she was still breathing. Jones was taken to a hospital where she was pronounced dead.

While Latisha Jones talked to a reporter, a car drove up to the intersection and a woman stepped outside. "Police shot my mama!" she yelled, crying and swearing.

LeGrier's mother was critical of how police handled the situation. Janet Cooksey, 49, said the family has been told her son was shot seven times.

"He's gone, he's gone. Seven times he was shot," Cooksey said. "He didn't have a gun. He had a bat. One or two times would have brought him down.

"I'm trying to be strong because I pray. But that's my only child. And I'm hurting. I'm hurting real bad," she said.

She directed her anger at Mayor Rahm Emanuel, who has been under fire since the video was released last month showing a Chicago police officer fatally shooting the 17-year-old McDonald, firing 16 times.

Cooksey acknowledged that her son "had mental issues" but insisted they were no cause for how police reacted.

"They did tell me he was shot seven times. That's a bit much. That's a bit much," she said. "I don't take all of that. My son only weighed about 150 pounds. ... Why do you have to be shot that many times? Why? If the police are trained in the field, then how, they're just handling the situation by killing people?"

Cooksey said her son had graduated with honors from Gwendolyn Brooks College Preparatory Academy and was studying engineering at Northern Illinois University. "My son was going somewhere," she said. "He wasn't just a thug on the street."

A police source said investigators were waiting for the autopsy to determine how many times LeGrier was shot.

The source also said investigators were looking into whether responding officers knew they were dealing with someone with mental health issues and whether anyone on the scene was equipped with a Taser. The source said no gun was recovered at the scene.

Bettie Jones' relatives said they, too, have "so many questions and no answers."

"I'm numb right now," said her brother, Melvin Jones. "Right now there's a whole lot of anger, a whole lot of tears.

Jones lived in the first-floor apartment with her boyfriend, he said. She was the mother of four daughters and a son, her brother said. The daughters are 38, 33 and 19-year old twins. The son is 30.

Melvin Jones said he and about 15 other relatives were at the apartment Friday to celebrate Christmas with food, family and card games.

"She had an excellent Christmas. Family was over," Melvin Jones said. "And then to wake up to this.

"You see it on the news and think that something needs to be done," Melvin Jones said, referring to recent shootings by Chicago police. "It really hits you and it just leaves you numb.

"I don't have time to feel," he added. "I have a funeral to prepare."

Robin Andrews, Bettie Jones' youngest brother, said Jones had been battling ovarian cancer for several years and had recently taken time off at work to recuperate.

"She was already sick," he said through tears. "She was already fighting for her life."

Andrews and his wife drove from Milwaukee when they heard the news around 8:30 a.m. Inside Jones' kitchen, Andrews wept openly, pounding the top of the refrigerator as he cried out, clinging to his wife who held him.

The house was full of family members, some of them crying out and others sitting in shock on the brown leather couch, shaking their heads.

The Reaching Lie!
Posted: Monday, December 21, 2015 ~ Updated: December 21, 2015, 10:45 PM PST

Torrance, CA — Ruben Jose Herrera, 26, was killed Saturday afternoon by LAPD officers in his Harbor-UCLA Medical Center hospital room. Herrera's death occurred after a violent arrest. Police responded to a call of a man throwing bottles and fighting with neighbors at an apartment complex off West 207th street. When officers arrived they confronted Herrera. Herrera's mother and another witness say was not the man throwing bottles.

Graciela Herrera and a neighbor stated her son Ruben was fixing a flat tire on a bike when officers approached. Officers approached Herrera and said he fought by kicking and punching. Police allege that Herrera knocked the stun gun out of an officer's hand. A portion of the arrest was captured on video. It does not show this struggle. However, you can hear Herrera's mother telling police that her son is bipolar.

Herrera was then placed under arrest and brought to Harbor-UCLA Medical Center. He was treated for injuries sustained during the arrest. Police claim that after Herrera was treated for his injuries he was unshackled from the gurney. Police say he then became violent. Police say Herrera picked up a stool and was swinging it at officers. When officers attempted to subdue Herrera, he allegedly "reached for an officer's gun." The other officer fired one fatal round into Herrera. None of the officers involved in the arrest or shooting were injured.

This shooting comes just one day after a video was released showing two LAPD officers murder a man in cold blood. Police accused Noel Aguilar of having a gun after they shot him in the back at point blank range multiple times.




The trigger happy cops were so overzealous that Albert Murade was shot in the stomach during the melee by his partner Jose Ruiz.

Manassas Puddin'!
Posted: Tuesday, December 15th 2015 ~ Updated: December 15, 2015, 11:53 PM PST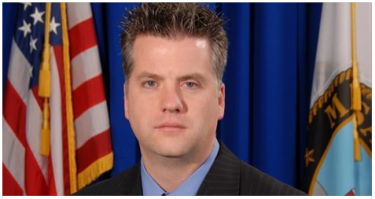 GAINESVILLE, Va. (WCJB) - David Edward Abbott Jr., 39 (pictured above, center) of 13756 Senea Drive was wanted on two counts of indecent liberties by a custodian. He was also wanted on two counts of use of a communications device to solicit sexual offenses. Abbott Jr., was a Manassas police detective. He served on the Northern Virginia and D.C. Internet Crimes Against Children Task Force.

Detectives began investigating inappropriate communication between Abbott and a 13-year-old boy on Dec. 14. Police learned the communication consisted of soliciting sexual acts via cell phone: text; social media; and email. The communication began in June 2013 when the victim was 11-years-old. Investigators discovered that Abbott also had inappropriate communication in June 2008 with a then 13-year-old boy. He met both of these victims while working as a coach at a local Prince William County hockey league.

Investigators from Prince William County's Special Victims Unit attempted to execute a search warrant at his home. Police also attempted to execute multiple arrest warrants against Abbott. He refused to surrender to police. Neighboring homes were evacuated as a precaution. Abbott shot himself with a handgun and was pronounced dead at the scene, police said.

Thirty-3 Dog Shots!
Posted: December 13, 2015, 05:34 AM PST ~ Updated: December 13, 2015, 9:15 PM PST

Lynwood, CA -- Los Angeles County sheriff's officials claim Nicholas Robertson, 28, fired six to seven shots into the air on a residential street in Lynwood. He then walked into a bustling shopping district on Long Beach Boulevard. Around 11 a.m., Saturday, he was fatally shot by deputies. On Sunday Los Angeles County sheriff's officials displayed photos and the video of the deputy-involved shooting in Lynwood on Saturday. The photos and video officials displayed appear to show Robertson holding a gun just before being shot. Sheriff Jim McDonnell said Robertson had "prior contact with the criminal justice system" but was not specific.




Capt. Steve Katz of the sheriff's homicide unit said at a news conference that Robertson, "... entered at least one business on the boulevard, "'behaving erratically with gun in hand'"." A video displayed at the news conference showed Robertson on the street appearing to hold a gun as the two deputies arrived. Katz said Robertson at one point pointed the gun in the deputies' direction and ignored their commands for him to drop the weapon. Katz also said "public safety was critical here" because there were people on the street. These people included some at a gas station that Robertson was walking toward.

The 29-second video was recorded from a restaurant across the street. A sheriff's deputy follows Robertson as he appears to be walking away from the deputy. Authorities and some witnesses say moments before, Robertson turned and pointed the gun at the deputies. The deputies opened fire. At least a dozen gunshots are then heard. Robertson falls to the ground. He drags himself on the ground alongside an Arco gas station. Deputies continued to shoot as Robertson was crawling away. A brief pause in gunfire follows. Deputies begin shooting Robertson again. Yhey continue to shoot while he is on the ground. One deputy fired 16 shots and the other fired 17 shots.

Police said he continued to hold the gun at that time. When the camera pans back, two deputies can be seen a few yards way, both with arms raised, pointing their weapons in Robertson's direction. Katz said Robertson might have had some type of "domestic discord" with his spouse that prompted his actions but did not provide details. Katz stressed that the investigation is ongoing. Sid Heal, a retired L.A. County sheriff's commander, said the video suggests deputies believe Robertson had a gun.

Juan Roberto, 18, said he was sweeping the floor inside the pool and banquet room of Chico's Pizza parlor. The parlor is located across the street from the site of the shooting. Roberto said on Saturday morning, the a man walked in with a gun. Roberto continued, "He was holding a silver semi-automatic handgun on his left hand. The gun looked as if it was empty, because the slide, the part of the gun that slides back when fired, appeared to be locked back."

Roberto said the man kept walking and talking loudly before exiting through a side door. Roberto continued, "He sounded angry about something. I don't understand English that much but I know that he wasn't making sense." Roberto said he and his fellow employees watched through the window as the man crossed the street. Deputies were already on the scene and traffic was brought to a standstill on both sides of Long Beach Boulevard. Roberto said the man was walking north on the boulevard. He then heard shots ring out and he ran outside. "Then I saw him crawling." Roberto said, "... [a]s bullets continued to fly, "[the gunman,] he was still holding the gun and he still wouldn't let it go."

The incident has generated debate about police use of force. The incident also comes amid increasing public scrutiny over police-involved shootings. This includes officer-involved-shootings in the Los Angeles area and nationwide. The Los Angeles Police Department has dealt with several controversial shootings by officers over the last two years. They include one involving an unarmed homeless man on skid row that was also captured on video. That case is still under investigation.

Seth Stoughton, a criminal law professor at the University of South Carolina and a former Tampa, Fla., police officer, said there are circumstances under which an officer can shoot at a suspect walking away from them. "If the deputies reasonably believe the suspect with a firearm presents a danger by walking toward a gas station with vehicles and bystanders, they would be justified in using deadly force.

"It does not strike me as egregious like [the] Walter Scott video here in South Carolina.... If the suspect wasn't armed or they didn't have a solid basis for that belief, that would more problematic," Stoughton said. More facts, he cautioned, are needed to determine what occurred outside the video.

Once the suspect is on the ground, how close the gun is to him is key in whether shots are justified, he added.

Experts familiar with use-of-force cases said deputies will need to explain why they opened fire and continued to shoot as Robertson was on the ground.

"They are going to have to articulate why they made every one of those shots," said Ed Obayashi, an Inyo County deputy and an attorney. "They must show they reasonably used deadly force."

Sid Heal, a retired Los Angeles County sheriff's commander who testifies in lethal-force cases, said that to use deadly force, an officer or deputy must see a suspect as an imminent threat to police or the public.

"The video suggests they believe he had a gun," Heal said. "And they continue to shoot when he was on the ground, so that suggests they believe he was reaching for a weapon."

In coming weeks, a multi-agency investigation will take place that will include the Los Angeles County district attorney's office and the sheriff's Homicide Bureau and Internal Affairs Bureau, officials stated in a release.

Double-ups!
Posted: December 21, 2015, 05:34 AM MST ~ Updated: December 26, 2015, 02:45 PM PST

Ohio -- Ex-Pike County deputy sheriff Joel Jenkins has been charged with murder and involuntary manslaughter in two separate fatal shootings. Jenkins had been the department's dog handler. He called a non-emergency sheriff's office phone line about 11:40 p.m. on Thursday, Dec. 3. He told a dispatcher that his gun misfired and struck his neighbor. Authorities responded and found Jason Brady dead of a gunshot to the head. Brady had been visiting Jenkins' home in Waverly.

The following day, Friday, Sheriff Charles Reader put Jenkins on administrative leave. He fired Jenkins before the weekend was over. The union that represents Pike County deputies objected. The police union says he had been reinstated and has his job back. Catherine Brockman, executive director of the Fraternal Order of Police, Ohio Labor Council Inc., said (in an e-mail on Monday) that Reader violated the union contract when he fired Jenkins without due process. She said in her e-mail that the sheriff had reinstated Jenkins and that there is a pre-disciplinary hearing scheduled for Tuesday. "We will know more after that hearing," she said.

Sheriff Charles Reader says not so fast. He says this is nothing more than a procedural issue with the union. He says he has no intention of ever paying former deputy Joel Jenkins again. He also said he certainly would never consider returning him to duty. Reader said that the union did file a written grievance with him saying that Jenkins was improperly terminated. However, he has taken no action on it. He said he will follow the procedural issues laid out by Ohio's labor law. Reader said at Tuesday's hearing he will do whatever he must to ensure the firing stands. He said he sees this as a union effort to preserve some pay for Jenkins but, "He will never work in this department again."

Investigators said that Jenkins was off-duty. He had been drinking the night he called to report that he had accidentally shot Brady. Pike County Prosecutor Rob Junk said the gun used in the shooting might have been one he had loaned to Jenkins. Junk turned the case over to the Ohio attorney general's office. Jenkins is charged with involuntary manslaughter: reckless homicide; and tampering with evidence in connection with Brady's death.

Jenkins was already under investigation. He was indicted the following week by a specially-called Pike County grand jury for his role in a March 28 on-duty pursuit and fatal shooting of Robert C. Rooker. He is charged with murder and reckless homicide in that case. Sheriff's office reports indicate Jenkins, another deputy and a commander pursued Rooker after he was clocked on radar going 52 mph in a 45-mph zone but sped away at more than 80 mph when followed. The deputies reported that Rooker rammed two cruisers before crashing his truck and Jenkins shot him. No one has said whether Rooker was armed.

The other two deputies involved were not charged. Jenkins pleaded not guilty to all the charges on Dec. 14. Records show he has posted the amount required of his $200,000 bond and is out of jail. He is expected back in court on Jan. 8.

Posted: December 11, 2015, 05:34 AM MST ~ Updated: December 11, 2015, 11:45 AM PST

Ohio -- Former Pike County Deputy Joel Jenkins (pictured above, center) has been indicted on two counts of murder and involuntary manslaughter. He faces these and other charges stemming from his role in a fatal officer-involved shooting in March. He also faces charges as a result of a recent shooting that killed his neighbor in his home. The five-count indictment was handed up by a Pike County grand jury on Thursday. The indictment charges Jenkins with felony murder and reckless homicide for his role in the March 28 pursuit and fatal shooting of Robert C. Rooker, 26. Dan Tierney, spokesman for the Ohio Attorney General's office, said Jenkins was indicted on one count of involuntary manslaughter; reckless homicide; and tampering with evidence in the Dec. 3 death of Jason Brady, 40, at Jenkins' Waverly home.

Police said that Jenkins, Tim Dickerson, a major in the sheriff's office, and Special Deputy Paul Henderson were involved in the pursuit of Rooker. Rooker was clocked on radar going 52 mph in a 45-mph zone. Rooker allegedly sped away at more than 80 mph. He then allegedly rammed into two cruisers. Rooker's vehicle eventually crashed and the pursuit ended. Jenkins then shot and killed Rooker.

An officer who approached the crash after the pursuit observed Jenkins with his service weapon pointed toward Rooker's vehicle. He said Rooker appeared to be seriously injured. Jenkins then put his hands on his face, and looked " seriously affected at what had just happened," the officer wrote in the report. Another officer who arrived after the crash observed several shell casings on the ground near the deputies' cruisers and saw blood coming from the suspect's head and chest.

Police officials haven't said how many deputies fired at Rooker or many times he was struck. Dickerson fired shots at Rooker's vehicle during the chase. However, Rooker continued driving. Dickerson and Henderson have not been charged. Henderson reportedly is the brother of Richard Henderson, who was the sheriff at the time but resigned in May. Pike County Sheriff Charles S. Reader said he has fired Jenkins.

In the other shooting Jenkins called a non-emergency line at the sheriff's office late on the night of Dec. 3. He told a dispatcher that his gun had misfired and that his neighbor had been shot. Police found Brady dead of a gunshot to the head. Jenkins told authorities that Brady had been visiting. He said he was showing Brady the gun when it went off.

Jenkins was arrested on Dec. 4. He was charged with involuntary manslaughter in the Dec. 3 shooting. However, the grand jury heard evidence from both shootings. Jenkins had already been released from jail on bond on the earlier charge. As of late Thursday night, had not yet been taken into custody on the new indictments.

Not Guilty!
Posted: December 10, 2015 — 3:55 PM EST ~ Updated: December 11, 2015, 11:45 AM PST

PITTSBURGH, PA (WCJB) - An ex-Marine and former Pittsburgh police officer was acquitted of all charges in the 2013 shooting death of his longtime friend.

Allegheny County jurors on Thursday found Kenneth Farnan, 53, not guilty of murder and voluntary manslaughter in the death of Shawn Evans, 56.

Farnan had said he and Evans fought inside Condrin's Tavern in Pittsburgh in the early morning hours of Sept. 8, 2013. He said Evans hit him in the head as he nodded off at the bar. The two then fell to the floor while grappling.

Farnan's lawyer, said Evans was much bigger and tried to get a gun out of Farnan's holster, but that he got the gun first and shot Evans six times, killing him. The attorney said his client shot in Evans in self-defense.

Deputy District Attorney Jan Necessary argued that the bartender couldn't verify any of Farnan's testimony. She said the men left the bartender's sight immediately before the shots rang out.

Several family members from both sides were in the courtroom. Sweeney said Farnan hopes both sides that "are hurting" can now move on.

Outstanding!
Posted: December 10, 2015, 06:34 PM MST ~ Updated: December 11, 2015, 09:23 PM PST

DENVER, CO — Jason Wood (pictured above, center) has been identified by Denver Police as the suspect in the shooting of Officer Tony Lopez Jr. Wood is being held for investigation of Criminal Attempted Murder First Degree of a Peace Officer. He is also being held on investigation of Robbery related to a carjacking shortly after the shooting. Police say Wood is also being held on an outstanding warrant for Robbery. Lopez was on a traffic stop in northwest Denver on Tuesday when he was shot several times. Lopez (pictured below, center) remains in the hospital, where his family says he is scheduled for another surgery on Friday.


Planned!
Posted: December 9, 2015, 07:34 PM PST ~ Updated: December 9, 2015, 08:04 PM PST
Posted: November 30, 2015, 12:34 PM MST ~ Updated: December 3, 2015, 07:34 PM PST

COLORADO SPRINGS, CO — Robert L. Dear Jr., 57 (pictured above, center-right) blinked rapidly and then slowly as a judge read the initial charge against him. Dear wore a padded vest meant to prevent suicide. He had shackles on his hands and legs. Dear is the man accused of fatally shooting three people during a rampage at a Planned Parenthood clinic in Colorado last week.

The police have not discussed a motive. It remains unclear whether Mr. Dear targeted Planned Parenthood because he opposed abortion. However, according to one senior law enforcement official, Mr. Dear mentioned "no more baby parts" during a rambling interview with officials after he surrendered. The shooting last week was the latest in a long series of attacks on abortion clinics. It has fueled conversations about two of the country's most heated topics: guns; and abortion rights.

The authorities in Colorado said Dear turned a snow-covered shopping center into a scene of carnage on Friday. He killed an Iraqi war veteran, Ke'Arre Stewart, 29; a police officer, Garrett Swasey, 44; and a mother of two children, Jennifer Markovsky, 35. Nine other people were wounded by gunfire. Hundreds more people were trapped in nearby businesses as the police struggled to take the gunman into custody.

He made his first court appearance on Monday afternoon. Mr. Dear spoke from a cinder-block room at the El Paso County Criminal Justice Center. He is being held without bond. In the video he appeared next to a public defender. The P.D. has tried some of the highest-profile cases in the state. The public defenders' office will represent Mr. Dear, he said.

Judge Gilbert Anthony Martinez of Colorado's Fourth Judicial District presided over Dear's hearing. About 20 people sat in the gallery in the courtroom. Several had told court officers that they were connected to the attack. During Monday's hearing, Judge Martinez spoke from a courtroom where a video feed of Mr. Dear was streamed in.

Judge Martinez: "The initial charge is murder in the first degree. The penalty is a minimum of life in prison and a maximum of death."

Any questions? the judge inquired.

Mr. Dear: "No questions," (said slowly in a deep voice, seemingly slurring his words).




El Paso district attorney, Dan May, declined to say whether he would seek the death penalty after the hearing. He added that he had "been in discussion" with federal officials about the possibility of federal charges. Mr. Dear could be charged with a federal hate crime. He could also be charged with violating a 1994 federal law that makes it a crime to use physical force against patients and clinic employees. Senior officials in the Justice Department have said they are considering whether to bring a case.

In Colorado, prosecutors recently sought the death penalty in two cases. The first case was the trial of James E. Holmes. Holmes killed 12 people in a movie theater in Aurora. They also sought death in the trial of Dexter Lewis. Lewis stabbed five people to death in a Denver bar. In both cases, the juries returned life sentences.

Court records surfaced on Monday showing that Mr. Dear had been arrested in 1992. He was accused of raping a South Carolina woman. The police alleged that Mr. Dear had shown up at a woman's apartment door, put a knife to her throat and sexually assaulted her. The South Carolina Law Enforcement Division offers criminal records checks to the public. SLED has no record of Mr. Dear's being convicted of those crimes. This means the case was most likely dismissed.

The rape accusation was not Mr. Dear's only brush with the law before the shooting. Dear's former wife, Pamela Ross, 54, filed a complaint with police authorities in 1997. She claimed that her husband had locked her out of her home. He then "hit her and pushed her out the window" when she tried to climb in. Criminal charges were never filed in the matter. In 2002, a neighbor told the police that Mr. Dear had hidden in her bushes in an attempt to peer into her house. The criminal charges were later dropped.

Dear had spent the last few months living in a trailer off a desolate stretch of highway in Hartsel. Hartsel is about 65 miles west of Colorado Springs. He previously lived in North Carolina, South Carolina and Kentucky, according to his former wife, Pamela Ross. His next court date is Dec. 9, when prosecutors will present a list of specific charges.

Posted: November 28, 2015, 12:34 PM MST ~ Updated: November 28, 2015, 12:34 PM PST



COLORADO SPRINGS, Colo. (WCJB) -- Robert Dear, 59 (pictured above, center) opened fire inside a Colorado Springs Planned Parenthood clinic. The location of the shooting is less than 6 miles from the street where a man shot and killed two of three people before dying in a gun battle with police on Halloween day. The shots sent people inside the clinic racing for cover. Dear was arrested Friday after engaging in gun battles with police during an hours-long standoff. Authorities said they haven't determined a motive for the shooting. They could not say whether the shooter had any connection to Planned Parenthood. "We don't have any information on this individual's mentality, or his ideas or ideology," police Lt. Catherine Buckley said.

For several hours, the firing of a long gun was the only indication police had that the shooter was in the building, Buckley said. Officers finally made voice contact by shouting to him and convinced him to surrender, she said. The suspect surrendered about five hours after entering the building. Video from media sources showed a tall man in a white T-shirt being led away by police as snow fell on the frigid evening.

A number of people were evacuated during the standoff — some wrapped in blankets in the blowing snow — to a nearby Veterans Administration clinic. Jennifer Motolinia, a mother of three, hid behind a table inside the clinic. She called her brother. Her brother told sources that he heard multiple gunshots in the background. "She was telling me to take care of her babies because she could get killed," Joan Motolinia said of his sister. He rushed to the clinic. However, a police barricade kept him from getting close. "People were shooting for sure. I heard someone shooting. There was a lot of gunfire. She was calm, she was trying to hide from those people," he said.

Cynthia Garcia said Police inside the building ushered staff and patients to the second floor without saying why. Then she heard gunshots, but she couldn't tell where they were coming from. Police cordoned off the clinic; nearby medical offices; and a shopping center. Authorities ordered everyone in the area to take shelter where they were. Mike Pelosi works at a deli nearby King Soopers grocery store. He said he heard over the store's loudspeaker just before noon that nobody could leave the store.

Denise Speller is a manager of a nearby hair salon. She said she heard as many as 20 gunshots in less than five minutes. She told media sources that she saw two officers near a bank branch, not far from the Planned Parenthood facility. One of the officers appeared to fall to the ground and the other officer knelt down to help and then tried to get the officer to safety behind a patrol car, she said. Another officer told Speller to seek shelter inside the building. "We're still pretty freaked out," Speller said by phone while still trapped inside the salon. "We can't stop shaking." Shelley Satulla said she saw five or six people put on stretchers and placed in ambulances lined up next to King Soopers shopping center near the clinic.

A police officer, 44-year-old Garrett Swasey, and two unidentified civilians died in Friday's attack. Nine other people were wounded, including five police officers. All were shot and are in good condition, police said. Three officers were shot while responding just before noon to the initial report of shots fired. More than two hours later, the gunman shot another officer in an exchange with police inside the clinic, Buckley said. Swasey was a police officer with the University of Colorado in Colorado Springs. The university police department confirmed the officer killed was Swasey, a six-year veteran of the force.

Planned Parenthood released a statement that said it did not know the full circumstances or motives behind the attack, or whether the organization was the target.

Banked!
Posted: December 3, 2015, 06:00 AM EST ~ Updated: December 4, 2015, 02:10 PM PST

Miami, Florida -- A Miami, Florida man was shot and killed by Miami Beach Police officers this morning. Police have refused to release the man's name. According to Miami Beach Police, the man was accused of having tried to rob a nearby Bank of America. It is unclear why the man had no shirt on if he was robbing a bank. He was unarmed during the bank robbery. Police say he allegedly claimed to have a bomb. He did not actually have any bomb.

The incident happened at approximately 10:30 this morning. The alarm at the 1414 Alton Road Bank of America went off and police arrived on the scene. The suspect did not face off with the police. Instead he ran to a local barber shop where he tried to hide. Det. Kathleen Prieto alleges the man put a straight razor for shaving beards in his pocket prior to exiting the barber shop. She refused to elaborate and only said: "shots were fired and the subject is deceased."

The video was uploaded by Marcellus Johnson. Johnson is a Miami-based event photographer. "The video shows the disturbing story unfolding in front of a framing store near 15th Terrace and Alton Road. The footage "shows a shirtless man clad in jeans walking down the middle of Alton Road toward officers with their weapons raised. Shortly after the man puts his hands on a police cruiser, one of the cops fires, and the man falls to the ground clutching his chest." Johnson commented, "Miami Beach Police Officers tried to talk him down, but he just wouldn't cooperate. Early morning shenanigans on Miami Beach. I just want my coffee with 3 creams and 3 sugars."




From the video, it seems clear that the officers told the man to set the razor down. He seems to take it out of his pocket, very slowly, and try to place it on the roof of the cruiser. That's when one officer in particular – already freaking out because of the bomb claims – fired on the man repeatedly with his AR-15 rifle. Officers much closer to him did not feel the need to pull the trigger. The female officer in the video seems confused as to why the rifle-armed officer pulled the trigger.

Well-Rounded!
Posted: December 3, 2015, 06:00 AM EST ~ Updated: December 4, 2015, 02:10 PM PST

Aberdeen, Md. -- Officer Jason Easton is a 10-year-veteran of the Aberdeen Police Department force. He was shot when he went to investigate the complaint of a threat in a residential neighborhood. Police said Easton was shot in the face early Friday morning while responding to a call on Ohio Court. The shooting occurred around 3 a.m. on a small, dead-end court of single family homes located not far from the center of Aberdeen. The neighborhood is bordered by woods and is near a freight railroad line. Police said they recovered a .410 caliber shotgun which is believed to have been used in the assault on the officer. Police have given no motive for the shooting.

Easton was flown by Medevac to the University of Maryland Shock Trauma Center in Baltimore. Police said earlier that Easton had suffered an eye injury. He was listed in serious condition Friday afternoon. At 9:30 p.m., Aberdeen Police spokesperson Sgt. Shannon Pershun said Easton underwent surgery around 5 p.m. Persuhn wrote in a news release: "He is in recovery at this time and the surgery is believed to have gone well." He is expected to survive.

An intense manhunt involving several police agencies take place after the shooting. The gunman was still on the loose around 7 a.m. Harford County Public Schools delayed the opening of five area schools by three hours. Shortly after 9 a.m., HCPS officials announced that due to the ongoing search, those schools would remain closed all day for students and staff. The affected schools were: George Lisby at Hillsdale Elementary; Hall's Cross Roads Elementary; Bakerfield Elementary; and Aberdeen Middle and Aberdeen High. All after school activities at those schools also were canceled.

Officers briefly detained a man near the scene of the shooting around 9 a.m.. However, they quickly released him. The first suspect is identified as Tyler Testerman, 21. Police said Testerman was considered armed and dangerous. They asked anyone with information as to Testerman's whereabouts to call 911. He was taken into custody several hours later. Police said he was arrested without incident in Edgewood at 10:25 a.m. Aberdeen Chief Henry Trabert conducted an 11 a.m. press briefing. He said Testerman had an address listed in online court records on Schmechel Street in Aberdeen. He was taken into custody by a Harford County Sheriff's Office Tactical Response team in the 1000 block of Waterside Court in Edgewood.




Scott Patrick Lawrence, left, and Tyler Scott Testerman (Aberdeen Police)pictured above, center


Aberdeen Police Sgt. Will Reiber said Testerman was brought to the Aberdeen Police Department for questioning. He also said Testerman was facing "a litany" of charges. The most serious charge is attempted murder. Reiber also said police believe Testerman was acquainted with someone at the Edgewood address where he was arrested. Police said they then arrested a second suspect around 4 p.m. Friday. The second suspect is identified as Scott Patrick Lawrence, 26, of Abingdon. Aberdeen Police said they determined Lawrence's alleged involvement "through a relentless investigation." Police said both suspects are facing attempted murder and other charges.



Persuhn said she did know the relationship between Testerman and Lawrence. Persuhn could not say how detectives determined Lawrence was allegedly involved in the shooting. His involvement didn't emerge until Friday afternoon, she said. "We didn't know about him, Officer Easton didn't see the second suspect, he only saw one," Persuhn said. "The homeowner only saw one." She said Testerman (pictured above, center) "is definitely the triggerman. Both were present at the scene of the shooting."

Easton was working on the night shift. He was responding to a call for suspicious activity in the 500 block of Ohio Court.Reiber said someone had been receiving threatening text messages and felt compelled enough to call police. Reiber said the officer got out of his car and went to the rear of a home in the block. He spoke with the person who called police. "At that point, an individual appeared and fired some type of long gun, hitting the officer in the face with six to eight projectiles," Reiber said.

Domestic Executions!
Posted: December 2, 2015, 05:34 PM EST ~ Updated: December 30, 2015, 11:10 PM PST
... Not Terrorism!
Posted: December 3, 2015, 05:34 PM EST ~ Updated: December 5, 2015, 06:10 AM PST


Syed Rizwan Farook, one of the suspects in the San Bernardino, Calif., shooting. Photo Credit: California Department of Motor Vehicles.


SAN BERNARDINO, CA — Syed Rizwan Farook, 28 (pictured above, center) and Tashfeen Malik, 27, met online. They married two years ago. Farook presented himself online on a Muslim dating site as a devout young man who liked to fix cars and memorize the Quran. Farook posted on one of the dating services that he was open to dating a woman of any faith. However, he said he was looking for "someone who takes her religion very seriously and is always trying to improve her religion." Farook said he spoke Urdu when he registered for one of two dating services he used. Friends said the couple spoke to each other in English.

Farook was a lanky six feet tall and had a full beard for long periods of his life. Farook grew up in Riverside. His parents were born in Pakistan. He graduated from California State University, San Bernardino, with a degree in environmental engineering. He worked for the San Bernardino County health department, checking food surfaces at restaurants; bakeries; and chlorine levels in public swimming pools. Farook had two sisters and a brother. The brother, also named Syed Raheel Farook, enlisted in the Navy in 2003. He served for three years aboard the aircraft carrier Enterprise. Navy records show he left the service in 2007. Neighbors said the police searched the brother's home on Thursday.

Farook's father, also named Syed Farook, was an alcoholic and could be violent. His mother Rafia Farook said her husband repeatedly lashed out at her and the children. According to statements she asserted in a series of divorce proceedings beginning in 2006: The father called his wife names; screamed at his children; hurled home appliances; and, at the worst moments, grew so combative that his children had to step between him and his wife. Ms. Farook said in court papers that her husband forced his family to move out of their home in 2006. However, she claimed that he continued to harass her. "My husband is mentally ill and is on medication but is also an alcoholic and drinks with the medicine," she said.

Farook's father frequently dressed in traditional Pakistani attire. The attire consisted of a white robe and a head wrap. He dressed this way even when he was driving trucks for employment. His mother usually kept her head covered, neighbors said. However, the children dressed in Western clothes. Multiple efforts to contact the father were unsuccessful.

The family seemed to struggle with finances during those years of divorce turmoil. They purchased a home in Riverside in 2000. The home went into early stages of foreclosure before the title was transferred to Rafia Farook's name. Ms. Farook made an overdue mortgage payment in 2011. The marriage was formally dissolved this year.



Very little is known about Malik (pictured above, center). She lived with Farook and his mother in Redlands. They lived about five miles from where the attack took place. Farook brought her to the United States in July 2014. She arrived with a Pakistani passport and a K-1 visa. The visa designated her as Farook's fiancée. He applied for a permanent resident green card for her in September 2014. She was granted a conditional card last July after passing a background check. The couple registered at Target when Ms. Malik became pregnant. They created a cheery newlyweds' catalog of wishes: a car seat; diapers; and safety swabs. They were described by friends as quiet and unobtrusive.



Farook and Malik were observant Muslims. Farook was well known in the religious Muslim community in San Bernardino. From 2012 to 2014, he showed up twice a day for services at the Islamic Center of Riverside. Mustafa H. Kuko, the director of the center, said sometimes Farook arrived as early as 4:30 a.m. and again in the evenings. The mosque's attendance on Fridays regularly topped 1,000. However, Farook stood out as one of the most devout members. He was usually observed wearing long robes to Friday services. Mr. Kuko said: "He always kept a bit of a distance between him and other people. He never had any dispute with anyone here at all. Mostly when the service is over, his usual move is from the prayer to his car. If he saw the director on the way out, he said "salaam," but that was it."



Mr. Kuko said that before Farook went to Saudi Arabia to pick up his future wife, "he was asking my advice, my blessings. He did double-check on her family background, and he was quite convinced that she was the right person for him." They held the religious ceremony in Saudi Arabia. The reception was held at the mosque in Riverside, once they returned. Farook continued to work for the county health department. His name appears on a county inspection report as recently as Oct. 1 for Cuca's Mexican Restaurant in Rialto, Calif. Despite all the outward signs of suburban normality, this couple, according to the police, used their comfortable home in a middle-class community near here to stockpile weapons and build pipe bombs.



On Wednesday morning, they left their 6-month-old daughter with her grandmother. They headed to a holiday party with Mr. Farook's co-workers. Once there police say, they killed 14 people and wounded 21 others. Mr. Kuko said that a woman who was wounded in the shooting: was a member of the mosque; the wife of the mosque's program director; and a county worker. A few hours later, they died in a crush of bullets in a brutal face-off with the police.

Posted: December 2, 2015, 02:34 PM EST ~ Updated: December 3, 2015, 05:34 PM PST



SAN BERNARDINO, CA — San Bernardino is a major north-south city of more than 200,000 people. It's about an hour's drive east of Los Angeles. Three armed persons stormed the Inland Regional Center for people with disabilities in San Bernardino on Wednesday. The two men and one woman killed 14 people. They wounded 21 other people. Large contingents of officers, many in body armor, cordoned off the 1300 block of Waterman Avenue. The radio traffic conveyed a chaotic and tense situation. Officers guided civilians from the building and described graphic scenes as they passed victims inside. Some time after the attack began, an officer radioed, "They just found another room with more victims." A while later, another officer asked, "Do you need assistance on the scene or do you need us to stay mobile in case these guys hit again?"

Other officers hustled survivors from the building complex across the avenue to the golf course of the San Bernardino Golf Club. Emergency crews treated victims lying in the street. Several medical helicopters landed on the golf course to ferry the most seriously hurt patients to hospitals. Loma Linda University Medical Center reported that it had four patients from the shooting and expected at least three more. Arrowhead Regional Medical Center said it had six gunshot victims from the center.

The Inland Regional Center, which was opened in 1971, is a nonprofit agency that serves people from San Bernardino and Riverside Counties. The facility's Facebook page said 670 staff members served more than 30,200 people. Investigators believe that one of the gunman had worked at the facility. He recently had a dispute with fellow employees, according to law enforcement officials. The attack came just five days after a gunman killed three people and wounded nine others at a Planned Parenthood clinic in Colorado Springs. It is the latest in a long string of mass shootings that have rocked the country and prompted debates about the easy availability of firearms.




Farhan Khan is Farook's brother-in-laaw. He said Farook was a "normal person" who kept halal "just like any other Muslim. Why would he do something like that? I have absolutely no idea. I am in shock."


The bloody day started around 11 a.m. The three gunmen pulled up in a dark S.U.V. at the complex of buildings occupied by the Inland Regional Center. The building is a service center for people with disabilities. People who work at the facility said the shooting occurred inside a building that houses a conference center. The conference center is often rented to other groups. On Wednesday it was being used by the San Bernardino County Health Department for a holiday party. Chief Jarrod Burguan of the San Bernardino police said most of the victims were found in one part of the building that houses the conference center. He said it was as if that had been the gunmen's focus, but it was not clear whether they had specific victims in mind, or who they were.

The motive in the shooting remains unclear. However, Chief Burguan said it was clear that the gunmen had planned the deadly assault. "They came prepared for what they did and they were on a mission. They came in with a purpose." He alluded to reports that the two men and one woman may have worn masks and body armor. The gunmen, he said, "were dressed and equipped in a way that indicate they were prepared, and they were armed with long guns, not handguns." A witness has told police that although the gunmen had their faces covered, one of them sounded and appeared very similar to an employee who had left the facility earlier in the day. "They had their appearances covered but a witness believed it had been someone who worked there," the official said.

After the first reports of gunfire, the building was soon surrounded by officers from several local law enforcement and emergency medical agencies. Teams of officers searched room by room for survivors or suspects. The F.B.I. and the Bureau of Alcohol, Tobacco, Firearms and Explosives also dispatched agents. The search was slowed by the discovery of some unidentified objects that officers feared could have been explosives left behind by the gunmen. Officials said bomb disposal crews were helping clear the scene. It was still not certain whether the items were dangerous. Officials said it appeared that the gunmen fled either before the police arrived or shortly after. However, the officers did not encounter the gunmen at the scene.

One officer initially came across the suspects as they drove in a black sport utility vehicle less than two miles from where the shooting took place. The officer tried to engage with the people in the S.U.V. The trio put up a fight. The police engaged in a shootout with the trio in a nearby suburban neighborhood. It remains unclear what happened during that initial gunfire exchange. However, dozens of heavily armed police in tactical gear quickly descended on the scene. Officials said the shootout left one suspect dead; one most mortally wounded; and a third suspect on the run. One officer was injured in the shootout, a police official said.

Video footage from television helicopters circling overhead showed a bullet-riddled black S.U.V. The vehicle was similar to the one witnesses described seeing the suspects flee in earlier in the day. Witnesses described a wild gun battle. Sandra Wood told media sources that she had heard 25 to 30 shots. The trio in the S.U.V. fired on the police and the police fired back as nearby residents hid in their homes behind locked doors. One suspect could be seen on street outside the S.U.V. in a bloody pool. "There were shots fired, officers were involved, and a suspect is down," a police spokeswoman, Sgt. Vicki Cervantes, said. Another gunman was still in the vehicle, but that person's condition was unclear.

When the shooting stopped, one gunman remained on the run. Law enforcement officers, many armed in tactical gear, swarmed the neighborhood. They went door-to-door hunting for the suspect. A manhunt continued for the third person, with law enforcement setting up a perimeter around the area where the shootout took place. Chief Burguan and other law enforcement officials declined to speculate on the identity of the gunmen. "We have no information at this point to indicate this is terrorist related in the sense that people may have been thinking," the chief said, adding that at minimum, "we have a domestic terrorism-type situation that occurred here."

---
---
The first word that something was wrong at the complex spread quickly. People began hiding inside and sending messages to loved ones on the outside. A quiet morning turned into a scene of utter panic and bloodshed for hundreds of people who worked in the buildings, or were clients of its services. People fled or hid behind locked doors. Some hid under desks. Many began communicating with loved ones through panicked phone calls and text messages.

Jamille Navarro works with special needs children at the center. She made a panicked call to her mother, Olivia. She told her that there were gunmen in the building. "She was hiding in her room," Olivia Navarro, crying, said: "They turned off the lights. She was whispering because she didn't want to be heard. I told her to stop talking. I said, 'All right, I'll be right there, turn out the lights, don't do a thing.' Why would somebody want to hurt somebody who helps children?"

Terry Pettit told media sources that his daughter had texted from inside the building. "Shooting at my work," he recounted, his voice choking up. "People shot. In the office waiting for cops. Pray for us." Similar messages reached other distraught relatives, many using language all too familiar with mass shootings.

Gabriel Torres said his wife spent half an hour or more on the phone with him as she hid under her desk, crying. Carina Torres is a social worker who works at the center. Her supervisor told her to take cover. Terrified, Ms. Torres told him that he should make sure to take care of their four daughters, ages 10 to 24, if anything were to happen to her. Maria Hernandez is Carina's mother. She said: "We know she is O.K., I'm going to be O.K., I can tell you, I'm going to pass out. These feelings — I cannot tell you."

Peter Asten is a member of the board of trustees at Inland Regional. He said there was "not a lot" of security at the campus. He also said that he did not believe there were on-duty security guards. He said he knew nothing about the attack or the victims beyond what had been reported on the news. "It befuddles me how someone could be so sickened and depraved," he said. "Who'd have ever thought that this would be a place that would get attacked?"

Lavinia Johnson is the executive director of Inland Regional. She said that when the shooting started, she and her staff were in another building on the property. They sheltered in place and remained hidden in their offices for two hours. Law enforcement officers led them to safety. The center routinely has employees of a variety of social service organizations working there, both private ones, and local and state government agencies.

---
Planned Execution!
Posted: November 28, 2015, 12:34 PM EST ~ Updated: December 1, 2015, 07:34 AM PST

Chicago, Ill. -- Corey Morgan is one of three men charged with the execution-style murder of Tyshawn Lee, 9 (pictured above, center) of Chicago. Morgan was denied bond in his first court appearance Friday. Prosecutors revealed chilling details of the boy's final hours and his "execution." Morgan, 27 (pictured below, center) is one of three men currently in custody or being sought in connection to Tyshawn Lee's death on Nov. 2. Morgan is a convicted felon. He was out on bond on a gun charge when he was arrested. Chicago Police Superintendent Garry McCarthy described him at a news conference as having an "extensive violent criminal history who likely shouldn't have been on the streets."



Cook County prosecutors gave a chilling description of the final hours of Lee's life, during Morgan's initial court hearing. Prosecutors said Lee was targeted amid a murderous cycle following the death of Morgan's brother, Tracey. Morgan's brother died in an alleged gang-related feud on Oct. 13. "Shortly after the shooting, [Morgan] stated that since his brother was killed and his mama shot, he was going to kill grandmas, mamas, kids and all," prosecutors said. "After that day, [Morgan] and two others went out daily armed with guns, looking to retaliate."




Lee was in a neighborhood park in Chicago's Auburn Gresham neighborhood when police say he was "lured" into an alley and shot multiple times. Prosecutors revealed witnesses' accounts that allegedly place the three suspects in the park at different times while Lee was in the play lot, swinging in a swing set with his basketball down next to him.

At one point, Morgan and one of the other men drove away in a black SUV while the third suspect stayed in the park. The man even picked up and dribbled Lee's basketball. The same ball later found near the boy's body. Later, the man and Lee allegedly went to the alley together. They were followed by the black SUV that Morgan and the other man were seen getting into. When the boy walked to about the middle of the alley, he was shot several times, prosecutors said, citing witnesses who allegedly heard multiple gunshots. After the shots, the SUV sped away, according to the prosecutors.

An autopsy revealed several gunshot wounds in Lee's body. The wounds included one to the head and others at close range. A wound to the right hand appeared to show Lee tried to block the gunshot, according to the autopsy the prosecutors presented. The prosecutors have asked that Morgan be given a life sentence, court documents show. An arrest warrant for first-degree murder was also issued for 22-year-old Kevin Edwards (pictured below, center) and a third man. Police have not named the third man. He is in custody on an unrelated offense, according to police. All men are documented gang members, police said.



An attorney representing Morgan, Jonathan Brayman, issued a statement, saying: "Corey has absolutely denied involvement in Tyshawn Lee's tragic death. At this point, we have very limited information and will need time to investigate how it is Corey came to be named in this case."

Fourth Suspect!
Posted: November 27, 2015, 11:34 AM EST ~ Updated: November 27, 2015, 07:34 PM PST

Minneapolis, Minn. -- The Minneapolis Police Department said late Wednesday that they arrested a fourth suspect in connection with the "Black Lives Matter" protest shooting. The shooting left five protesters injured. The protests were sparked by the fatal police shooting of 24-year-old Jamar Clark (pictured below, center). The police confirmed the arrest of Joseph Daniel Blackman, 27 (pictured below, center). Blackman is said to be the fourth suspect wanted by police. Police also confirmed the Tuesday arrests of Allen Lawrence "Lance" Scarsella III, 23; Nathan Wayne Gustavsson, 21; and Daniel Thomas Macey, 26. Police said in the news release that they weren't seeking any more suspects.



A group of white supremacists allegedly opened fire on Black Lives Matter protesters Monday night in Minneapolis. Blackman, Scarsella and Gustavsson appear to be white while Macey appears to be Asian. The four men arrested appear to have connected through 4chan message boards for firearms enthusiasts and racially charged political commentary. Media sources also reported that Gustavsson and Macey were both are students in the gunsmithing and firearms technology program at Pine Technical and Community College.



Court records showed one of the men who was arrested called a police officer he knew to confess to shooting the demonstrators. A search warrant application showed that Scarsella called a Mankato, Minnesota police officer identified only as "Levin." The officer was an old high school friend of Scarsella. He called the officer at 1 a.m. Tuesday to confess to the shooting. Scarsella told the officer that he went to the protests to livestream. He then got into a confrontation with demonstrators, according to the newspaper. Police searched Scarsella's Bloomington home for white supremacist paraphernalia. They found camouflage clothing, ammunition and several firearms, including an AR-15 rifle.

The investigation was ongoing with the help of the FBI. Local prosecutors have until Monday to file charges against the men being held. Hennepin County Attorney Mike Freeman told media sources that an extension for prosecutors to file charges against the four men expires at noon Monday. Previously, the source reported that authorities were weighing whether to treat the shooting as a hate crime.

Posted: Nov 24, 2015, 2:17 PM ET ~ Updated: Nov 27, 2015, 09:54 PM PT



Minneapolis, Minn. -- The peaceful demonstration for Jamar Clark and Black Lives Matter exploded into violence late Monday night in Minneapolis. Protesters were staging a demonstration around the 4th Precinct in Minneapolis to protest the killing of Jamar Clark. Witnesses say Clark was handcuffed on the ground when shot by the police. Protesters have been demanding justice and the release of video surveillance footage. The police have acknowledged video footage exists, but have not yet released it.



Several suspected white supremacists opened fire on the protesters. Protesters have alleged that the shooters were white supremacists based on their earlier behavior and presence at the rally. Police and others say that they may have been equipped with bullet-proof vests. A Black Lives Matter spokeswoman told media sources, "A group of white supremacists showed up at the protest, as they have done most nights." Protesters tried to eject them peacefully when they suddenly opened fire about a block away from the 4th precinct.

Media sources confirmed with police that five people had been shot. The confirmation supported what many other protesters stated via Twitter. John Elder, Minneapolis police spokesman, confirmed that number and that three were assisted to the hospital by private vehicle. Police have stated that all wounds were non-life threatening and that those hurt are now well. One protester was taken into surgery, but is stable at this time.

Police have announced at 9:51 that a suspect in the shooting of five protesters in Minneapolis has been arrested. The first suspect is a 23-year-old white man who was arrested in Bloomington. Several other media sources are reporting that a second suspect has also been arrested, a 32-year-old Hispanic man arrested in south Minneapolis.

Copper Chase!
Posted: Nov 27, 2015, 2:17 PM ET ~ Updated: Nov 27, 2015, 09:54 PM PT

ST. JOHNS COUNTY, FL -- Investigators say a man robbed the Circle K on LPGA Boulevard in Daytona Beach at about 5 p.m. The man is identified as Daniel J. Ruddell, 45 (pictured above, center) of Palm Coast. Police say he threatened the store clerk with a bottle of liquid he claimed was toxic. Officials say he then demanded money. Ruddell then fled in a 2015 black Chevy Silverado. Officers from the Daytona Police Department and Volusia County Sheriff's Office attempted to stop him near Nova Road and 10th Street. However, Ruddell took off northbound on I-95. A three-county chase along I-95 eensued.

Police say Ruddell led them on a chase into Flagler County. Deputies with the Flagler County Sheriff's Office deployed stop sticks twice. Ruddell avoided hitting the stop sticks on both occasions. He then drove into St. Johns County. Deputies there tried once again to deploy stop sticks near the State Road 207 exit. Ruddell again avoided the stop sticks. Police said he then rammed a patrol car and tried to run over deputies.

Several deputies fired shots at the suspect's vehicle. The suspect continued northbound until deputies were able to execute a maneuver that caused Ruddell to crash near the County Road 214 overpass. Ruddell was taken into custody without further incident. He was taken to Flagler Hospital for evaluation. Officials say no one was seriously hurt. Ruddell was then arrested on a charge of aggravated fleeing and attempting to elude with property damage. Further charges are pending.

Investigators say Ruddell used to work for several law enforcement agencies, including the Flagler County Sheriff's Office; Daytona Beach Police Department; and Putnam County Sheriff's Office.

Murder One!
"Criminal attacked officer, that officer killed criminal."


-- March 2015 police report conclusion by investigating (Chicago police) officer in the LaQuan McDonald officer involved shooting!Posted: Dec. 17, 2015, 2:17 PM EST ~ Updated: Dec. 17, 2015, 05:54 PM PST


Posted: Dec. 7, 2015, 2:17 PM EST ~ Updated: Dec. 7, 2015, 06:54 PM PST


Jason Van Dyke, officer in Laquan McDonald video tied to another police shooting death.


CHICAGO, ILL. -- The city of Chicago released hundreds of pages of Chicago police reports from the fatal shooting of Laquan McDonald. The city has released information (including the video) in dribs and drabs. It was only after the video's release, in fact, that Emanuel fired police Superintendent Garry McCarthy, saying McCarthy had lost the public trust. The newly released reports are most striking for one simple reason. They are dramatically at odds with the dash-cam video of the shooting.

The reports are a collection of handwritten statements from the night of the shooting. The reports are the first detailed accounts from the officers at the scene. The reports offer a way to examine what Van Dyke and his colleagues say happened. The reports show that Officer Jason Van Dyke and at least five other officers claim that the 17-year-old McDonald moved or turned threateningly toward officers. One patrol officer said McDonald was advancing on the officers in a menacing way. The officer claims McDonald swung his knife at them in an "aggressive, exaggerated manner" before he was shot and killed. Officers claimed that even after McDonald had been shot by Van Dyke, the teen tried to lift himself off the ground with the knife pointed toward the officers. They claimed that although McDonald had been mortally wounded, he still presented a threat.




The video of the October 2014 shooting shows McDonald walking away. The walking away scenario is sketched out by Cook County State's Attorney Anita Alvarez in charging Van Dyke with murder. In charging Van Dyke with first-degree murder, prosecutors said the officer opened fire six seconds after exiting his squad car. Van Dyke fired 16 rounds at McDonald in about 14 seconds as the teen was walking away. He was reloading when another officer told him to hold his fire. For 13 of those seconds, McDonald was already lying on the street, prosecutors said.

The shooting has sparked protests across the city. It has cost the city's top cop his job. The shooting has embroiled Mayor Rahm Emanuel in a scandal. The filtered release of information seems to prolong the scandal around McDonald's shooting. With the video of the shooting as a backdrop, the police reports diverge dramatically from the video. The video prompted the city to pay McDonald's family $5 million. The family was not even required to file a wrongful death lawsuit.

Federal officials also are investigating the shooting. Records show that a federal grand jury subpoenaed the Chicago Police Department for these same reports on Aug. 28. A federal grand jury investigation has involved more than 80 witnesses. The investigation has branched into possible obstruction of justice by the officers at the scene. In particular, the sources said, federal prosecutors are investigating the officers who made statements as well as the officers who prepared the reports of the statements.

Officers wrote follow-up reports in the days and months after the shooting. They often refer to Van Dyke as "VD" in the reports and call him the victim. McDonald is referred to as "O", for offender. Some of the reports are in police shorthand. "VD believed O was attacking w/knife," said a report of Van Dyke's account. "Trying to kill VD. In defense of his life, VD backpedaled + fired. O fell to ground, continued to move/grasp knife. VD continued firing. O appeared to be attempting to get up, still holding knife. Pointing at VD."




The statements prompted police supervisors to rule McDonald's death a justifiable homicide. They made the ruling just hours after McDonald had been shot 16 times on South Pulaski Road and 41st Street. The video did not show McDonald lunging toward officers as some of them claimed. There does appear to be a silver object in McDonald's right hand. The video shows McDonald briskly walking down the middle of the street when Van Dyke fired from the teen's left side. The autopsy on McDonald found that he had the drug PCP in his system.

The reports hint at how Van Dyke may try to defend his actions and explain a perceived threat. A day after the shooting, Van Dyke recalled a bulletin from the department that warned about knives that also shoot bullets. Included in the reports is a December 2012 bulletin about the knife, attributed to an unnamed "Midwest intelligence organization" that warned officers to "remain cognizant of its threat to personal safety." Van Dyke also told an investigator that he was aware of the dangers of spring-loaded knives. He claims he was familiar with the so-called 21-foot-rule. The rule suggests a suspect armed with an edged weapon can injure an officer from that distance.

The reports state investigators viewed the video and found them consistent with officers' accounts. The reports also note the 911 call after the shooting and radio transmissions from the scene "were consistent with the statements of the police officers." The falsified reports suggest one possible avenue for additional investigation. However, bringing charges against the officers for their statements could be difficult.

Under federal case law, statements the officers were compelled to make as part of the Police Department's internal investigation cannot be used against them in any criminal prosecution.

That shooting unfolded as Van Dyke and his partner responded to a radio call of a man who had popped a tire with a knife. It was 50 degrees outside on a clear night, and the busy commercial street was well-lit, according to the reports. As the partner, Joseph Walsh, drove their Chevrolet Tahoe police SUV west on 40th Street, they saw McDonald running through a Burger King parking lot, "knife in hand."

Van Dyke, according to the report, exited his vehicle and drew his handgun, then stood in the street, facing north, as McDonald came toward him with a knife in his hand. McDonald, the report states, was swinging the knife wildly.

"McDonald was holding the knife in his right hand, in an underhand grip, with the blade pointed forward," the report states. "He was swinging the knife in an aggressive, exaggerated manner."

According to Van Dyke's account, he repeatedly ordered McDonald to drop the knife, which he failed to do. McDonald advanced, Van Dyke said.

"When McDonald got within 10 to 15 feet of Officer Van Dyke, McDonald looked toward Van Dyke," the report states. "McDonald raised the knife across his chest and over shoulder, pointing the knife at Van Dyke."

Van Dyke then shot McDonald until his gun magazine was empty. No other officers fired their guns.

While some officers on the scene said in the reports that they did not see Van Dyke shoot McDonald, at least five corroborated Van Dyke's account. Walsh, for instance, said McDonald was advancing toward him and Van Dyke, swinging the knife combatively.

Walsh said in his account that he also drew his handgun, then came around the rear of the SUV to join Van Dyke.

Walsh said he repeatedly ordered McDonald to "drop the knife" as he approached the officers.

The report says Walsh was backing up as McDonald drew closer, swinging his knife at police officers — action that did not occur, according to the video the Emanuel administration made available after a judge ordered that it could no longer be kept from the public.

"Officer Walsh also backed up, attempting to maintain a safe distance between himself and McDonald," the reports state. "McDonald ignored the verbal direction given by both Walsh and Officer Van Dyke, and continued to advance toward the officers. When McDonald got within 12 to 15 feet of the officers, he swung the knife toward the officers in an aggressive manner."

Van Dyke opened fire and continued to shoot: "Van Dyke continued firing his weapon at McDonald continued moving on the ground, attempting to get up, while still armed with the knife."

Walsh, according to the reports, did not shoot because Van Dyke was in his line of fire. But he was certain McDonald posed a threat to the officers.

"Officer Walsh said he believed McDonald was attacking Walsh and Officer Van Dyke with the knife and attempting to kill them when the shots were fired," the reports state.

The reports say that when McDonald stopped moving, Walsh kicked the knife away.

"Threat eliminated," the report states.

Then Walsh said he told McDonald that an ambulance was on its way. He also offered some encouragement. "Hang in there," he said.

There was no discernible audio released with the dash-cam videos, however, that would corroborate what officers said at the scene.

As is the case with all police shootings, supervisors and union officials came to the scene. Just hours later, the reports suggest the direction the investigation was headed when the department made a preliminary finding that Van Dyke was justified in shooting McDonald.

One report states that three officers were "battered" by McDonald. Another lists Van Dyke as having been injured.

"Based upon information available at the time of this report it is the preliminary determination of the undersigned that Officer Van Dyke fired his weapon in compliance with Department policy. Officer Van Dyke fired his weapon in fear of his life when the offender while armed with a knife continued to approach and refused all verbal direction," Deputy Chief David McNaughton wrote in a report.

McNaughton, the incident commander on the night of the shooting, declined to comment Friday on why he cleared Van Dyke so quickly.

In December 2014, the department officially recorded the shooting as a justifiable homicide.

"McDonald committed aggravated assault against the three officers, finally forcing Officer Van Dyke, in defense of his life, to shoot and kill McDonald," according to a report of that determination.

Again and again in reports, Van Dyke's account is supported by the other officers at the scene, each one describing the teen as a threat to the veteran cop. Four officers claimed that McDonald advanced toward Van Dyke, even though the video shows him walking away. Two others said he turned or raised an arm toward him.

"She heard the officers repeatedly ordering McDonald to 'drop the knife!' as McDonald got closer and closer to the officers, continuing to wave knife," according to an account attributed to Officer Janet Mondragon.

"McDonald ignored the verbal direction and instead, raised his right arm toward Officer Van Dyke, as if attacking Van Dyke," Officer Dora Fontaine told an investigator. "At this time, Van Dyke fired multiple shots from his handgun, until McDonald fell to ground and stopped moving his right arm and hand, which still grasped the knife."

"McDonald ignored the verbal directions and continued to advance on the officers, waving knife," Officer Daphne Sebastian said.

Attempts by the Tribune to reach Van Dyke, Walsh and the other officers on the scene of McDonald's shooting were unsuccessful.

A Police Department statement late Friday night noted the federal investigation but did not speak directly to the details in the reports. The department confirmed, however, that the other officers on the scene have not been disciplined for their roles or put on desk duty. The Cook County state's attorney's office did not respond to requests for comment.

Dean Angelo Sr., president of the police union, said it is a mistake to rely solely on the dash-cam video for what happened.

"The video does not show what the officers on the scene were able to see," Angelo said. "You seem to think that everyone there had the exact view of the dash cam, and that isn't the case."

How police viewed the shooting, though, was clear. In the report that closed the investigation, filed in March, a detective offered this terse assessment.

"Criminal attacked officer," the report says, "that officer killed criminal."

Posted: Nov 24, 2015, 2:17 PM ET ~ Updated: Nov 27, 2015, 10:54 PM PT

CHICAGO, ILL. — Officer Jason Van Dyke (pictured above, center) was ordered held without bond Tuesday. He is charged with 1st degree murder in the shooting death of Laquan McDonald, 17. Prosecutors laid out their case against Van Dyke in court. Prosecutors claim that of eight responding officers, Van Dyke was the only one who felt inclined to use force — and use it 16 times. The documents provided by prosecutors describe an exchange between Van Dyke and his partner after the officer shot at McDonald 16 times over about 15 seconds. The partner is identified as Officer A:

"Officer A reported that there was a brief pause in the shots when he looked at defendant and saw that he was preparing to reload his weapon. Officer A could hear McDonald struggling to breathe, told defendant to hold his fire."

Read the state's case against Van Dyke here:



State of Illinois v. Jason Van Dyke (Murder ~Proffer) by Leegal Counsel
---
Murder Duece/$1M!
Posted: Nov 9, 2015, 03:45 PM ET ~ Updated: Nov 14, 2015, 02:12 PM PT
PHOTO:
Jeremy Mardis, 6, died after law enforcement officers allegedly shot his father's vehicle.

Marksville, Louisiana -- Derrick Stafford (pictured above, center-right) and Norris Greenhouse Jr. (pictured above, center-left) both law enforcement officers, were charged in the killing a 6-year-old boy. Jeremy Mardis, 6, died after the two law enforcement officers allegedly shot up his father's vehicle. They fired multiple shots at Chris Few's car in Marksville, Louisiana on Wednesday (Nov. 4). Stafford and Greenhouse Jr. have both been charged with second-degree murder and attempted second-degree murder. Both are each being held on a $1 million bond.

State District Judge William Bennett held the closed bond hearing today at the jail where the officers are being held. District Attorney Charles Riddle recused himself from the case during the hearing. Greenhouse's father has worked as an assistant prosecutor in the District Attorney's office for more than 13 years. Their personal relationship would be a "conflict with the fair and impartial administration of justice." According to the recusal order, the state Attorney General's office will now take over the prosecution of the case as a result.

The circumstances surrounding the shooting are still under investigation. Specifically, why the officers were trying to stop Few's car, is still under investigation. Few was driving in the vehicle with son Jeremy, when the boy was fatally shot in the incident. Few was wounded and is still being treated for his unspecified injuries. A representative for the Alexandria Rapides Regional Medical Center confirmed to media sources that Few is now in fair condition.

Stafford and Greenhouse were two of four law enforcement officers who were on the scene at the time of the shooting. State police reported that Stafford is a full-time lieutenant with the Marksville Police Department. Greenhouse is a full-time city marshal. State police said both were working part-time as deputy marshals in Marksville's Ward 2 when Tuesday's shooting occurred. However, they are the only two believed to have fired their weapons. Superintendent of the Louisiana State Police Col. Mike Edmonson held a news conference Friday night in Baton Rouge when the officers were arrested. He said: "Nothing is more important than the integrity of this badge. Tonight, the badge has been tarnished by these two individuals."

The funeral for Mardis is being held this afternoon in Hattiesburg, Mississippi.

Posted: Nov 7, 2015, 12:52 AM ET ~ Updated: Nov 7, 2015, 05:12 AM PT

Marksville, Louisiana -- Jeremy Mardis, age 6 (pictured above, center) and autistic, was shot and killed. His father, Chris Few, was wounded when officers opened fire on their vehicle on Tuesday night. The shooting occured in the central Louisiana town of Marksville. Louisiana authorities have arrested two of the four officers involved in the shooting.



Col. Mike Edmonson is the head of the state police announced. In a late Friday night press conference he gave few details of what exactly unfolded Tuesday night. Edmonson said the two officers are being booked on charges of second-degree murder and attempted second-degree murder in the shooting. Edmonson identified the two officers as Norris Greenhouse Jr. (pictured above, center-left) and Derrick Stafford (pictured above, center-right). Edmonson said both officers were working secondary jobs in Marksville as marshals when the shooting happened.

He would not say what led authorities to arrest the officers. Edmonson made his disgust clear regarding body camera footage that was recovered from the officers. He said: "It is the most disturbing thing I've seen, and I will leave it at that." Edmonson said earlier that no weapon was found in the vehicle. When Edmonson was asked whether he anticipated any more arrests, he said: "We'll see where it takes us." The two other officers involved in the incident have not been charged.

State police have been investigating the Tuesday night shooting. The shooting raised questions almost from the start. State police are combing through forensics evidence, 911 calls, conducting interviews and reviewing the body camera footage, Edmonson said, as the investigation continues. It's still unclear what led police to pursue Few and what triggered the shooting. The parish coroner said earlier this week that the officers were serving a warrant on Few when he fled. However, Edmonson later said he had no information about a warrant.

Morris German is Few's 57-year-old stepfather. He has accused the marshals of indiscriminately opening fire on the vehicle. German said Few was heavily sedated, unable to talk and has bullet fragments lodged in his brain and lung. He described Few as a loving father and added the man's son "was his whole life." German added that the 6-year-old had been diagnosed with autism. He described him as a delightful child who "loved everything, everybody." German said the boy had no siblings and the family had recently moved to Marksville from Hattiesburg, Mississippi. "I know a 6-year-old should not have been shot," German said.

Natchitoches!
Posted: Oct 17, 2015 9:54 AM PDT ~ Updated: Oct 24, 2015 12:58 AM PDT

Natchitoches, LA Robert Barthelemy (pictured above, center) is a Former Natchitoches police officer. Barthelemy was indicted on Sept. 9, 2013 on charges of first degree murder; second degree kidnapping; and home invasion. Investigators say Tony Procell was forcibly taken from his Sabine Parish home by Barthelemy at gunpoint. Procell's body was found 5 days after his disappearance in a shallow grave in the Kisatchie National Forest. Barthelemy and Procell had served in the National Guard together. Prosecutors have said the killing was the result of a dispute over a woman.

Barthelemy initially pleaded not guilty to the charges. He later changed his plea to not guilty by reason of insanity. Barthelemy was tried for first degree murder. The trial lasted 6 days. Barthelemy's defense attempted to convince the jury that he killed Procell because he had Post-Traumatic Stress Disorder (PTSD). Barthelemy and Procell both served in the same battalion during his second tour in Iraq.

Barthelemy was found guilty Thursday. It took the jury 2 hours to return a guilty verdict late Thursday night. Victim impact statements were heard as the sentencing phase got under way on Friday. The plea deal was taken Saturday morning. Procell's family was approached with the plea bargain in which Barthelemy gave up the right to appeal and accepted it. Barthelemy will spend the rest of his life in prison without parole.

Barthelemy's attorney described Barthelemy as a soldier broken by war and tormented by haunting memories of combat. He blames PTSD for eventually leading Barthelemy to kill Procell. Barthelemy believed Procell had impregnated his estranged wife. The attorney called the life sentence a "good result," considering his client was facing the possibility of the death penalty.

Procell's Family left a statement on the Justice for Tony Procell page on Facebook:


"'Please know that we, as a family, gave him his sentence and we are happy with our decision. Also know that with this sentence he has waived his right to appeal the case in any manner. Unlike some families experiencing similar tragic circumstances we will not be tied up in endless trials for years to come. We can finally have the closure we hoped to have. There are no winners here. While we are happy with the outcome we would give anything to have our sweet angel back in our lives. We'll miss him. Everyday for the rest of our lives we'll miss him. But we can know that as each and everyone of us wishes him the peace he deserves that he's shining down upon us affirming our wishes with a great big "roger that!"'"

The jury, which was selected in St. Landry Parish due to pre-trial publicity and has been dismissed.

BROKEN ARROW!
Posted: July 25, 2015 5:06 AM
This Friday, July 24, 2015 booking photo provided by the Tulsa County Sheriff's Office shows Robert Bever, 18.


BROKEN ARROW, Okla. (WCJB) — Police in Oklahoma turned to social media posts for clues about the motive of a teenager accused in the stabbing deaths of his parents and three siblings. The murders took place during a late-night attack that left bodies strewn through the family's home. Robert Bever, 18 (pictured above, center) stands accused of five counts of first-degree murder and a count of aggravated assault in the attack Wednesday night. A booking document filed by police in the Tulsa suburb of Broken Arrow confirmed Bever's arrest and charges.



Bever's 16-year-old brother Michael (pictured above, center) is also was being held. He is a juvenile. Officers have not announced charges against him. Broken Arrow Police Cpl. Leon Calhoun said both brothers were cooperating with the investigation. Calhoun said Friday that the agency was still looking for a motive. They were searching social media accounts that they believe belong to Bever. Those include community site Pinterest and a Facebook account. Documents filed to support the teenager's arrest said a caller from the home was able to tell police "their brother was attacking their family." Police had said Thursday that the 911 call was silent. Calhoun said the agency would release audio on Monday.

After officers arrived at the home, "officers could hear a faint voice from inside asking for help" and found the 13-year-old bleeding from multiple stab wounds, the affidavit said. The young girl was still alive and made statements to the officers that "her brothers" were responsible for the attack, it said. Fresh footprints in the backyard led officers to a wooded area, where they found the brothers.

The dead include his parents: David Bever, 52, and April Bever, 44. The Oklahoma State Medical Examiner's Office on Friday also identified the three dead siblings. They are Daniel Bever, 12; Christopher Bever, 7; and Victoria Bever, 5. An unidentified 13-year-old sister was in serious but stable condition in a hospital. An unnamed 2-year-old sister wasn't harmed and was placed in state custody.

On Pinterest: Bever showed an interest in Star Wars; the rock group Linkin Park; and sports cars. A Facebook post lists him as a recent graduate of Citizens' High School. The school describes itself as providing "a home-school curriculum" for people hoping to earn a college degree. The neighbors say the Bevers kept out of sight and to themselves. The kids played alone in the backyard, or walked down neighborhood streets bunched together. The parents didn't socialize much. This appeared to carry over to the father's work. David Bever's former co-workers in the IT department at Samson Resources described him as a quiet man who kept to himself.

"He was a nice guy, but we weren't close," said Lisa Wolfe, Bever's supervisor at Samson. "I hired him. He worked for us for several years as a contractor. He was a good worker and a nice guy. He didn't get involved in any office politics, and those are the kind of people I like to work with. "He liked to do his work and focus on that. He didn't socialize a lot with the folks he worked with," Wolfe said.

A neighbor of the family, Matt Jacobsen, on Friday described the 16-year-old as a follower, not a leader, and "nerdy," given his interest in computers and technology. Others in the subdivision noted the family seemed isolated to the point that they appeared to avoid community events. David Bever's sister, Tamela Massey of Seminole, Florida, said her family is dealing with grief following the death of her brother and members of his family and that they do not know what may have triggered the tragedy. "We have no idea," she said.

---
Reader Pageviews by Country
---
From: Nov 29, 2015 12:00 PM – Dec 6, 2015 11:00 AM PST
---
«•
Thank you for visiting Corrupt Justice™. Enjoy our Free Movie Intermission! Don't forget to Bookmark Us & Tell A Friend! We're Global!
•»
---
Movie Intermission!
Forty-Four Minutes

North Hollywood
---

Description: Jacksonville, Florida – The North Hollywood shootout was an armed confrontation between two heavily armed and armored bank robbers and officers of the Los Angeles Police Department (LAPD) in the North Hollywood district of Los Angeles on February 28, 1997. Both robbers were killed, eleven police officers and seven civilians were injured, and numerous vehicles and other property were damaged or destroyed by the nearly 2,000 rounds of ammunition fired by the robbers and the police.

---
---