---
Click on Banner to Sell Your Home(s)!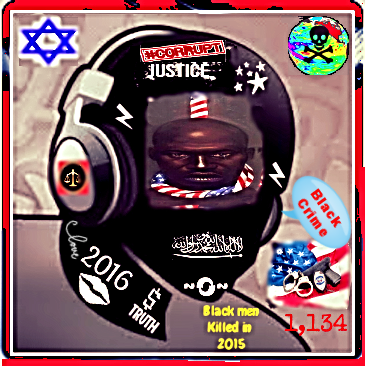 Runtime:
00:01:31 (One minute, thirty-one seconds)
Video Site:
@Wilabee™
---
---
"The only good nigger is a dead nigger and they should hang you in the town square to prevent any other nigger from coming in the area."
-- July 2011 Statement by Oakland Public Schools Police Chief Pete Sarna, referring to an African-American police officer.
---
Top News Stories!
Frame-Up!
POSTED: 12:47 PM, OCTOBER 6, 2016 ~ Updated: 09:01 PM, OCTOBER 7, 2016
ST. LOUIS, MO (WCJB)
– A former St. Louis-area police officer has been ordered to spend four years and three months in federal prison for conspiring with others to arrest a mayoral candidate on false allegations.
Thirty-six-year-old Steven Blakeney was sentenced Thursday in St. Louis. He was convicted in January of one count each of conspiracy against rights, deprivation of rights and falsification of records.
Witnesses testified that while he was a Pine Lawn police officer, he ordered someone to falsely report a mayoral candidate stole a campaign poster from a business and arranged for that candidate's arrest.
Last month, a St. Louis jury deadlocked during Blakeney's misdemeanor assault trial related to charges that he punched a man outside a St. Louis bar in 2014.
Blakeney was fired from the police force in 2014.
---
Sheriff's Beatdown!
Runtime:
00:13:01 (Thirteen minutes, sixteen seconds)
Video Site:
The Attorney Depot™
Hot Seat!
Posted: June 14, 2016 - 3:17 pm ~ Updated: June 16, 2016 - 3:17 pm PST
LITTLE ROCK, Ark.
— The trial of a Garland County circuit judge charged in the hot-car death of his son has been moved to August.
Judge Wade Naramore initially was scheduled to be tried this week on a misdemeanor charge of negligent homicide, but Special Judge John Langston canceled that trial date earlier this month at the request of state prosecutors who said they would not be ready. On Tuesday, Langston rescheduled the trial for Aug. 15-19.
Langston also denied a motion by the defense for an order either dismissing the case or requiring the state to present more facts than it has already presented to support the charge. He scheduled a pre-trial hearing for July 29.
Prosecutors say that on July 24 Naramore forgot to drop off his 17-month-old son, Thomas, at daycare and left him in a hot car in Hot Springs for several hours, which resulted in the boy's death.
If convicted, Naramore could be sentenced to up to one year in jail and fined up to $2,500.
The Arkansas Supreme Court has ordered Naramore suspended with pay until all criminal and disciplinary proceedings against him are resolved.
Indicted!
Posted: 01/29/2016 10:40:25 AM MST ~ Updated: 02/01/2016 01:12 AM PST
Florida
-- A federal grand jury in Tampa has indicted former Marion County sheriff's deputy Jesse Terrell, 33. The former Florida sheriff's deputy was indicted on charges of violating the civil rights of an unarmed Black man. Derrick Price was brutally beaten after surrendering to Terrell and four other officers following a brief foot chase last year. All of the officers are White.
The indictment was handed down late Tuesday. Terrell is accused of using excessive force against Price during the incident in August 2014. Four of Terrell's former colleagues pleaded guilty to the charge after accepting a deal. All of the officers have either resigned or been terminated from the sheriff's department. A fifth officer looked on at the attack. However, he did not intervene. This deputies fate as of yet, ... remains unclear.
The beating was captured on video. It contains footage from security cameras and one officer's body camera. The two-minute video was posted online. Price fled when the deputies attempted to execute a drug-related arrest warrant. The video shows Price running into the lot. He puts his hands into the air. He is lying facedown on the concrete before any officers reach him. Seconds later one officer reaches Price.
The deputy who reaches Price first kneels beside him and pulls Price's arms behind his back as if to cuff him. Four other officers arrive and surround Price on the ground. In the video an officer can be heard ordering Price to "stop resisting." Although Price was clearly complying with their commands, they proceeded to brutally beat him. One officer who knees him in the ribs a dozen times and another repeatedly punches Price in the head. Price was left bloodied in a parking lot where he surrendered.
Marion County Sheriff Chris Blair released a statement, saying, "The abusive and unprofessional actions they displayed shocked me to my core." After reviewing the video, the sheriff added that he requested the officers' termination with "absolutely no hesitation."
Rival Motorcycle Clubs!
Posted: 01/31/2016 10:40:25 AM MST ~ Updated: 02/01/2016 01:12 AM PST
Denver, CO
-- Members of the Mongols Motorcycle Club and Iron Order Motorcycle Club are blaming each other for a fight Saturday that left one man dead and seven others shot or stabbed. The Iron Order Motorcycle Club is largely made up of police officers, military members and other law enforcement officers. A large number of the Mongols were at the Colorado Motorcycle expo. The Mongols are a biker gang whose website advises that they are "the baddest motorcycle club known worldwide." The U.S. Department of Justice classifies the Mongols as a highly organized criminal enterprise. Members of other outlaw motorcycle gangs including the Bandidos and Hells Angels were also there. The seven injured bikers from the Expo remain hospitalized. Police said no arrests have been made as of Sunday.
An attorney for the Mongols Motorcycle Club says members of the Mongols did not fire a single bullet during the confrontation. "The only person who died here was shot by a member of the cop club." He said members of the Iron Order Motorcycle Club taunted Mongols into an argument. The Iron Order members then escalated the violence that led to the fatal shooting of a Mongols member. "The Iron Order are cowards," the attorney said Sunday. "The Iron Order started an argument. An Iron Order member threw the first punch. And when they were handily losing the fight they pulled out a gun and shot a Mongol. "Even Mongols have a right to defend themselves," the lawyer said.
The Mongols attorney claims that the Iron Order likewise identifies itself as an outlaw motorcycle club. They signify their OMC status through the use of three patches to identify different ranks of members. The attorney continued, "They are known for picking fights and being jerks. It was a fair fight until the Iron Order member pulled out a gun. For them to come out and play the victim when they picked the fight is outrageous. They are a bunch of cops who say the rules of society don't apply to them."
The attorney for the Mongols said the incident began near the basement. Several Mongols had booths set up to sell T-shirts he said. He said several Iron Order members were drinking beers and staring the Mongols down. A group of Mongols walked over and said, "What are you doing here? Get out of here." One Iron Order member the shoved a Mongol. A Mongol knocked a beer out of his hand. During a fight that broke out, another Iron Order member, who appeared to be drunk, pulled out a gun, waved it in the air, yelled profanities and threatened, "I'll shoot you," the attorney said.
At that point, one of the Mongols charged the gun-toting man to tackle him. The Iron Order member shot him according to the attorney. A melee broke out in which the Mongols had beaten their rivals. The man who was armed stood up on the stairs and began waving his gun again. Another Mongol charged after him again and the Iron Order member fatally shot him. The Iron Order member who shot two men was handcuffed and taken to the police station to be questioned, he said.
The version a lawyer for the Iron Order Motorcycle Club tells is much different. The Iron Order attorney is flying to Denver Sunday to help handle the matter. He said the fight started on a flight of stairs. He said the shootout may have started when three members were jumped by members of one or more biker gangs. He said only about 15 members of the Iron Order were attending the event. When the three got separated from the group and were jumped by members of the Mongols, and possibly others, he said. "Once that happened, there was an opportunity to jump them, and they were sorely outnumbered," the attorney said.
"There were Mongols in front, and Mongols in back," and they began harassing an African-American member of the Iron Order. "One of the Mongols knocked a beer out of his hand and called him a racial slur," he said. Another member of the Mongols then confronted the corrections officer, and another Iron Order member, who was later taken into custody. The attorney said the Mongols shot first. "It grazed one of our guys, and then hit another one. Then they stabbed one of our guys repeatedly and started beating up the other fellow." The attorney said a Colorado Department of Corrections officer fired a shot during the incident. The corrections officer fired his gun "clearly in self defense," Whitfield said. However, he didn't know if that bullet hit any Mongols.
Vince Bohm, who identified himself as a member of the Mongols Motorcycle Club, said an off-duty police officer fatally shot a Mongol. Neither the attorneys, or Bohm witnessed Saturday's brawl at the 38th annual motorcycle expo. However, each relayed what they heard from numerous members of the two clubs. The primary combatants were members of the cop club and the Mongols. However, it was an off-duty cop who fatally shot the Mongol, he said. Bohm, a former "patched" member of the Mongols, said he arrived at the show just after the shooting as a large group of Bandidos were streaming out of the Expo.
He said he is concerned that any investigation will not result in charges against a police officer. He said even though shooting a gun at a crowded show with kids is very dangerous. "If a cop shoots him they'll find some way to get him off," Bohm said Sunday.
Detectives continue to interview witnesses Sunday, Raquel Lopez, Denver police spokeswoman said. "As of right now there are no arrests," Lopez said. "They are still trying to figure it out." Lopez said she does not know which gang the person who died Saturday is affiliated with. That isn't a detail that Chief Robert White is going to release at this point, she said.
Detectives have not been able to question some of the key witnesses, including those who were shot or stabbed, because they are still undergoing treatment. "There is a lot of information that is still not known," Lopez said. Lopez said she cannot comment on whether guns used in an exchange of gunfire have been obtained. That information is part of the investigation and will not be revealed, she said. The Denver Coroner's Office will release the identity of the dead man, she said. The attorney for the Mongols declined to name the dead man.
Denver police spokesman Sonny Jackson said the melee will be thoroughly investigated and when the review is complete, the case will be presented to District Attorney Mitch Morrissey for possible charges. "We're hearing different things about what happened," Jackson said. Before the police department releases facts about what happened they will conduct an investigation including collecting evidence at the scene.
The injured were taken to Denver Health Medical Center. The hospital was put on lockdown for a few hours Saturday afternoon. The lockdown has since been lifted. The hospital is in normal operations, though officers are still on the scene to prevent further trouble. The seven people injured Saturday remained hospitalized Sunday. Three are listed in critical condition and four are listed in stable condition.
Denver officials canceled the expo's Sunday session at the National Western Stock Show Complex. On Sunday, the expo's organizer posted a short message apologizing to vendors and patrons for the inconvenience.
Robert Lee comes to the event every year from his home in England to buy and sell motorcycles. On Sunday, he was loading a pair of motorcycles he had sold into a trailer. The shooting broke out near the spot where he was selling. However, he had left his booth to get a bowl of chile. He didn't witness the bloodshed. When he returned to the booth, police had cordoned it off, and he was unable to sell anything else. The violence, "just killed business stone dead," he said. "We do get gang fights in England, but they try not to do it in public. It is just wrong to bring guns to an event like this," he said.
Donald Haverland was showing motorcycles at the Expo with his wife. He has come to the event for each of the past seven years. During that time, there have been altercations between packs of bikers, but nothing as serious as Saturday's deadly brawl. "But I have noticed a level of antagonism increasing over the years," he said. When the couple first began coming to the show, Haverland said, he often saw several members of different motorcycle clubs talking to each other. Most of the bikers considered the event neutral territory. However, over the past two or three years, he noticed a change in attitude.
"Someone would walk up to somebody real fast like they were mad, and then stop about 10 feet away and stare at them, and there were groups bumping into others, he said. "I haven't wanted to come for the past five or six years because I could see an escalation," Haverland said. He came this year because his wife, Rochelle Hayes-Haverland, insisted. She said she heard about the brawl while she was attending the Tanner Gun Show, held at the Denver Mart, on East 58th Avenue. "I was shocked," she said.
Bitchin' Up!
Posted: Fri. January 22, 2016 EST ~ Updated: Wed, January 14, 2016 PST
Bloomfield, New Jersey
-- Ex-Bloomfield, New Jersey Police Officer Orlando Trinidad, 34, wept openly in court wiafter being sentenced to five years in prison for lying on a police report. Trinidad had already been convicted of official misconduct and other charges. Trinidad and his partner, Sean Courter, were both convicted in November. Courter has not yet been sentenced.
Trinidad and Courter accused Marcus Jeter of trying to grab Courter's gun during an arrest. However, dashcam video showed Jeter with his hands in the air while exiting the vehicle. He is repeatedly heard stating, "I'm not grabbing……..I did nothing wrong." Jeter says he still has nightmares about the incident. "I feared for my life that night. It's a situation that I would never want anybody to be in, and I believe that I didn't do anything to provoke the officers that night." Trinidad was convicted of simple assault for striking Jeter. If it had not been for the dashcam video, Jeter could've been convicted of eluding arrest and aggravated assault. Jeter has filed a lawsuit against both the city of Bloomfield and the officers.
Prosecutors argued that Trinidad's actions "show a complete lack of respect for Marcus Jeter and the citizens of Bloomfield; Essex County; and for his position as a law enforcement officer." Trinidad said he was "truly sorry" during sentencing. His apology was the result of a false police report he submitted after a 2012 arrest. "I am truly sorry for everything that has transpired." Trinidad was surrounded by family and friends. "I am a different man today as I stand here before you. I am a humbled man." Trinidad must serve the entire sentence. New Jersey law requires a mandatory five year sentence for official misconduct convictions.
NYPD Contradictions!
Posted: Wed, January 13, 2016 EST ~ Updated: Wed, January 14, 2016 PST
New York
-- Jean Scott, 33; Peterson Duplan, 28; Ricardi Joseph, 29; and Samantha Dabel, 24, said that they were approached by a man who tried to buy drugs from them at a hardware store. A store video shows an undercover NYPD officer approach Duplan. Duplan appears to verbally confront the undercover cop before brushing him off. Scott's attorney told media sources that Duplan recognized the man as an undercover cop. He claims Duplan told the cop: "Get the fuck out of here."
The video does not include audio. Duplan is wearing a dark sweatshirt. Scott sports a gray hoody and dark baseball hat. The undercover NYPD officer was identified as Winston McDonald. McDonald arrested all four in Brooklyn for allegedly trying to rob him on Dec. 26, 2015. He testified in court that Duplan allegedly flashed a switchblade at him outside of the store, and said, "Give me your money or I will stab you." According to McDonald, Duplan and his three friends the surrounded and threatened him, stating, "We are going to fuck you up." An NYPD spokeswoman said that the attempted robbery of the undercover cop happened outside the store. However, she referred questions to the Brooklyn District Attorney's office. They refused to comment to media sources.
The newly-released surveillance video (above) contradicts the undercover officer and NYPD. The video shows the group walking away from the store. There doesn't appear to be an attempted robbery outside the store in the video. McDonald follows them and the four were arrested about 10 minutes later. All four friends were arrested and charged with resisting arrest, menacing, obstructing governmental administration and robbery. Joseph was also charged with selling marijuana. The NYPD also confirmed that no switchblade was recovered from the crime scene.
According to a defense lawyer, "The Detective's statements of facts are directly contradicted by the videotape." The attorney told media sources, "In light of this, justice can only be served, in this instance, by an immediate dismissal of all of the charges for all of the defendants. This case screams for the conclusion that there is no right way to view the video tape wrong," he added.
Stormy!
Published: Jan. 20, 2016, 12:27 pm PT ~ Updated: Jan. 20, 2016, 03:37 pm PST
MESA, Ariz.
– A man and a woman are facing serious charges after a 3-year-old little girl was found in a trash bag and bound with duct tape.
"This is one of those cases that just shocks the soul," said Chief John Meza, with the Mesa Police Department.
Police say the child was discovered by a man who met the alleged suspect, 30-year-old Fransisco Javier Rios-Covarrubias, online.
According to a police report obtained by media sources, the man said Rios-Covarrubias showed him the 3-year-old girl, whose hands were secured with duct tape, and asked if he wanted to have sex with her.
After police were called, they allegedly found the child in a trash bag with duct tape around her mouth, hands, arms and legs. Authorities say she was only wearing a diaper and a t-shirt and was "covered in feces."
"The child was forensically examined and many bruises, scratches and blisters were observed on her body," Meza said. "The level of neglect was so harsh, she couldn't stand on her own."
Officers eventually found the girl's mother, who admitted to leaving the child with Rios-Covarrubias, adding that she only saw her about one day a week.
The mother, Mayra Yomali Solis, also told police that she shaved the girl's head and told people the child had cancer to get money.
Solis is now facing child abuse charges. Rios-Covarrubias is facing charges of sex trafficking, kidnapping, sex conduct with a minor and child abuse.
Stormy!
Published: Jan. 15 2016, 3:27 pm ET ~ Updated: Jan 15 2016, 7:07 pm PST
Washington
-- The winner of the Miss Washington USA pageant gave up her crown after it emerged she had been convicted of drunk driving one month before the victory. Stormy Keffeler, 23, pleaded guilty to DUI in September 2015. She spent two days in jail last month. Keffeler broke pageant rules by not disclosing the incident on her paperwork before entering Miss Washington USA, or after she won the 2016 crown in October.
Organizers found out about the conviction following an email tip-off earlier this month. This led to a "legal discussion" with Keffeler that ended in her voluntarily stepping aside. "She is very remorseful," event organizers said. "I can't wait to see how she turns herself around and impact massive lives in a positive way."
Police stopped Keffeler in April of 2015. Two of her car's tires were flat. Her eyes were "droopy, bloodshot and watery. Her speech was very slurred and she was having problems putting together full sentences. Her blood-alcohol level was .22 — nearly three times the legal limit.
Media sources were not able to reach Keffeler for comment early Friday. However, in an interview with a local TV station, she said she realized it was time to go.
"For days I told people, 'You can take my title off my cold, dead body.' I was willing to fight to the end," she said. "But after having a meeting with the pageant production company and seeing my family I realized the most selfish thing I could do was to continue on with this."
Before her pageant career, Keffeler played for Seattle Mist in the Legends Football League, which was formerly known as the Lingerie Football League and features scantily-clad female players. Her pageant bio says she is a freelance hair and makeup artist and is studying journalism, hoping to become a sports commentator.
Keffeler's title has since been transferred to runner-up Kelsey Schmidt.
Indicted!
Published: December 30, 2015, 3:42 pm EST ~ Updated: December 31, 2015, 11:42 pm PST
Montgomery County, Pa.
-- The Comedian and actor Bill Cosby was charged Wednesday in Montgomery County, Pa. Cosby, 78, was charged with three counts of aggravated indecent assault. The criminal events allegedly took place just shy of 12 years ago. Prosecutors in Pennsylvania charged the comedic icon on the eve of the statute of limitations running out. Dist. Atty. Kevin Steele told reporters the charge stems from "new evidence" uncovered this year. The evidence includes Cosby's own statements in a civil lawsuit recently unsealed by a judge. Cosby admitted to having given drugs to women he wanted to have sex with.
Cosby arrived for arraignment before District Court Judge Elizabeth McHugh in Elkins Park (a suburb of Philadelphia) shortly before 3 p.m. EST. The court set bail at $1 million. At the arraignment hearing, McHugh warned Cosby that as a condition of his bail, he should not contact the victim or her family. "If that occurs, you could be arrested," the judge said. Cosby responded that he understood. Cosby's bail was immediately posted.
Cosby was clad in a gray hooded sweatshirt and black velour sweatpants. He was led away after the brief hearing to the township Police Department to be processed and fingerprinted. Media sources captured Cosby walking unsteadily with a cane and looking frail.
The alleged claims result from the first woman to accuse Bill Cosby of drugging and sexually assaulting her in 2004. The complaint identified Andrea Constand as the alleged victim. Constand is a former Temple University employee. The incident allegedly occurred at Cosby's home in Cheltenham Township, near Philadelphia, in January or February of 2004.Constand had publicly accused Cosby and filed a lawsuit against him. The suit was settled in 2006.
Constand, 42, has since moved to Canada. Steele said in an earlier press conference announcing the charges that the alleged victim "has indicated that she is willing to cooperate with us going forward." Her lawyer told reporters this past fall that she was eager and willing to cooperate with authorities in the matter. "She's a very strong lady," the lawyer said. "She'll do whatever they request of her."
The criminal charge comes after a dramatic year for Cosby. More than 40 women came forward with a torrent of similar accusations against the comedian. The allegations span four decades. Steele's decision is a reversal of a decision by his predecessor in 2005 not to charge Cosby. In 2005, Cosby told police that the sexual contact was consensual. The case in southeast Pennsylvania. A conviction could send Cosby to prison for as many as 10 years. It marks the first time criminal charges have been filed against him.
Join the conversation on Facebook >>
Steele, who did not refer to Constand by name in his public remarks, said Cosby began a relationship with a member of the Temple basketball team and "established a relationship" with her. The woman considered Cosby "a mentor and friend," and rejected two sexual advances Cosby made toward her, the prosecutor said. He said Cosby "then urged her to take pills he provided to her, and drink wine, the effect of which rendered her unable to move, respond to his advances and he committed aggravated indecent assault upon her."
The charge is a first-degree felony, involving "digital penetration," and alleges the woman was "substantially impaired" during the crime. "She was frozen, paralyzed, unable to move," Steele said of Constand. Steele said "there are a number of things that are undisputed" regarding what occurred between Cosby and the woman in the 2004 case. "We got that from statements and depositions and from the victim," he said. "We have examined the evidence in this case. The evidence is strong and sufficient to proceed at this point," he said.
In the complaint, investigators alleged that Cosby repeatedly invited Constand to his home for dinner, took her to restaurants and introduced her to some of his friends, including some in the New York entertainment industry.
It says that because Cosby is 37 years older, she considered him a "mentor."
She told police that she was attacked after Cosby invited her to his home to discuss her "future career plans."
When she described being stressed and unable to sleep, he urged her to relax and take some pills, the complaint said, adding that he told her "these will make you feel good .… The blue things will take the edge off."
She said he assured her the pills were "herbal." She took the pills, then drank some wine at his urging, according to the complaint.
She soon began feeling "rubbery, blurry and dizzy," after which Cosby physically assaulted her and placed her hand on his genitals, prosecutors alleged in the complaint.
Constand said she awoke early the next morning to find herself partially undressed.
"Cosby gave her a muffin, walked to the front door, opened it and said, 'Alright.'"
Cosby and his lawyers have repeatedly denied the allegations that have been aired against him by a growing number of women. The comic filed a countersuit against seven of the women, accusing them of defamation.
Cosby said the women's allegations have seriously damaged his reputation as a longtime beloved American comedian and television star.
Three months after the alleged assault in 2004, Constand moved back to her parents' home in Canada, according to the criminal complaint. When Constand's mother learned of what happened to her daughter, she confronted Cosby on the phone and contacted local law enforcement.
Cosby told the mother that he could not read the prescription label on the pill bottle because of an "eye condition," but he conceded that he and Constand had had sexual contact, according to the complaint.
"Cosby apologized and offered to cover any expenses associated with therapy," the complaint said. "Investigators recognize that individuals who are falsely accused of sexual assault generally do not unilaterally offer generous financial assistance, and apologies, to their accuser and their accuser's family."
Cosby's changing statements about what drugs he gave Constand also "demonstrates his consciousness of guilt," investigators wrote in the complaint.
In January 2005, Canadian police forwarded a report of their investigation to Pennsylvania authorities. Cosby was interviewed by police in Montgomery County, Pa., and he "admitted" that he had not told the victim the true nature of the pills, according to the complaint.
"In short, Cosby described the incident as a consensual sexual encounter," the complaint said.
When asked directly if he and the alleged victim ever had sex, the complaint said that Cosby gave an "unusual answer: Never asleep or awake."
Cosby grew up in North Philadelphia and graduated from Temple. He later became an ardent booster of the school and a member of its board of trustees. As the allegations against him mounted, Cosby resigned from the board about a year ago.
---
Diaper Pirates!
Published: December 30, 2014, 3:42 pm EST ~ Updated: December 30, 2015, 8:42 pm PST
Dallas, TX
- Spencer Matthew Henderson, 23, of Dallas is accused of seriously wounding his infant daughter's genitals during a diaper change. Dallas police officers responded to a possible child abuse report Dec. 8 at Children's Medical Center Dallas. A 6-month-old girl had been taken to the hospital with wounds to her genitals, according to police records. Henderson's girlfriend, who is also the baby's mother, told police that she thought Henderson accidentally cut the infant with his long fingernail. The couple put the diaper on the infant, but she was still bleeding several hours later. That's when they took her to a hospital, police records show.
During police interviews, Henderson said that he was rough with the baby while he was changing her diaper because he was having a bad day and had a lot on his mind, the warrant says. "I know I was being rough with her," records show Henderson told detectives. He said that while he was trying to change the baby's diaper, she was keeping her legs straight. He said that he aggressively pulled her legs apart and used a baby wipe to clean her "hard" and "fast." He told police that he thinks he might have "ripped" her, the warrant says. He was arrested Tuesday and remains in the Dallas County Jail in lieu of $125,000. He has been charged with injury to a child.
---
Porch Pirates!
Published: December 8, 2015, 3:42 pm EST ~ Updated: December 8, 2015, 8:42 pm PST
LAKELAND, Fla. (WCJB)
– A Lakeland woman was caught on camera stealing presents from her neighbor's house Friday night. Polk County Sheriff Grady Judd calls the suspect's actions in this case "shocking." The woman seen on surveillance is not your typical thief. She is the wife of a Haines City police officer. Dana Hagar (
pictured above, center
) was busted on burglary charges Monday and booked into the Polk County jail.
Surveillance video of the incident was posted to
Facebook
and seen nearly 50,000 times. Hagar seems as though she had no shame as she causally strolled up to a family's home. Hagar eventually returned the presents early Monday morning around 4:30 a.m., placing them on the porch already opened. The Sheriff says it's too little, too late. The video eventually lead to the Hagar's arrest. According to Sheriff Judd, there's more to this bizarre case.
The house she hit belongs to another cop and his wife. The packages were meant for their two-year-old little girl. The crime happened at 10 p.m. on a Friday night. Everyone was home during the theft. "Their car was in the driveway. So, she went right around the driveway and took their packages, and I'm just floored by that," said neighbor Diane Calabrese. Calabrese said she was a victim last year when a man pulled up to her home and stole her son's gifts. "She should know better, I hope she gets what's coming to her," Calabrese said.
According to Sheriff Judd: "The fact that she's a cop's wife is shocking. The fact that she stole from another cop's wife is shocking. And, then my wife saw it on
Facebook
and knew more about it than I did." Sheriff Judd said it's not the first time Hagar has been caught. He says she's already on probation for shoplifting. As for Dana Hagar, the Sheriff admits he's extremely disappointed, even going so far as to describe it as "disgusting." He maintains, "In law enforcement, we are held to a higher standard in the way we live. It's important."
Homeowners in the upscale Lakeland neighborhood say it's not the first time they've been hit by other porch pirates. Now, they're arming themselves with home surveillance cameras. "Here's the word. We're watching the porch pirates, the cops' wives are watching the porch pirates," the sheriff told WFLA. "
Facebook
is watching the porch pirates. We're gonna put you in jail and you'll stay in our jail where you won't need any presents." The Sheriff warns people to guard their presents. "Criminals are watching you and waiting," he said. Detectives call it a "crime of opportunity."
Pen Pals!
Posted: November 30, 2015, 12:34 PM PST ~ Updated: December 1, 2015, 07:34 AM PST
Los Angeles, CA
-- Los Angeles sheriff's deputies Sussie Ayala and Fernando Luviano were sentenced to prison on November 30th for the beating of a man. Deputy Sussie Ayala received a six-year sentence and deputy Fernando Luviano received a seven-year sentence. Earlier this year, Los Angeles Sheriff's Sergeant Eric Gonzalez was sentenced to eight years in prison. A federal judge refused to grant them leniency because of their law enforcement status.
In 2011, Gabriel Carrillo and his then-girlfriend were found carrying cellphones in the lobby of the jail visiting center. Carillo entered the county jail to visit his brother.
Carillo was told cell phones were not allowed in the jail. An argument ensued and they were handcuffed and taken into a private room. Possession of cell phone in a county jail is a violation of state law. Carillo alleges he was shoved into a back room where he was viciously beaten by at least five deputies.
According to other media sources:
"'"After Carrillo mouthed off to Ayala, she summoned Luviano, who threw Carrillo to the floor. Other deputies joined in, unloading a barrage of kicks and punches. As Carrillo was held down and still handcuffed, Luviano pepper-sprayed him in the face.

Carrillo suffered a broken nose, bruises over his body and cuts on his face. Prosecutors argued during the trial that Ayala, Luviano and other deputies — under Gonzalez's guidance — concocted a story that Carrillo had attacked the deputies and tried to escape when one of his hands was uncuffed for fingerprinting.

Based on that account, Carrillo was charged in state court with assaulting the deputies. The charges against Carrillo were dropped shortly before his trial was to have begun. The county later paid him $1.2 million to settle a civil lawsuit."'"
Initially, two other deputies, Pantamitr Zunggeemoge and Neal Womack, were facing the same charges for also having participated in the beating. However, after years of sticking to the false narrative that Carrillo only had one arm cuffed and was putting up a brutal fight (that had them all grasping for survival and they struggled to detain the uncontrollable man), both struck a plea deals. They agreed to cross the blue line and admitted that they beat Carrillo because he had "mouthed off. In exchange, both were spared imprisonment, but will not be allowed to work in law enforcement again. A sixth deputy who was apparently involved in the 2011 beating was indicted last month. Byron Dredd will be the next to face trial. Dredd no longer works for the sheriff's department.
Unlike many judges, who tend to take a soft approach to convicted cops, U.S. District Judge George H. King has been holding these deputies as an example of what happens to bad cops. "There are real consequences for the type of gross misconduct we have here," Judge King said after sentencing Gonzalez earlier this month.
Father of Child Sex!
Posted: 2:03 p.m. EST November 25, 2015 ~ Updated: 12:59 a.m. PST November 26, 2015
ST. PAUL, Minn.
-- Father Finian McDonald (
pictured above, center
) who for years worked as a counselor at St. John's University, had sex with at least 200 people and paid child prostitutes for sex while abroad, according to documents released on Tuesday.
Attorney Jeff Anderson released the personnel files of five monks and priests who were part of St. John's Abbey in Collegeville.
The five, including two who are now deceased, were previously listed by St. John's Abbey as credibly accused of child sexual abuse. Anderson said the redacted version of the posted on his website, show that priests who admitted battles with sexual urges still had access to potential victims.
"What the files show us is a culture of permissive access by known offenders," said Anderson, who for decades has represented child sex abuse victims in lawsuits against the Catholic Church and other institutions.
Among the documents was a 1992 psychological evaluation of McDonald.
According to the psychologist who authored the report, McDonald breaking his oath of celibacy and had sex with as many as 15 college students.
McDonald also admitted to the psychologist that he had stolen from church collection plates and paid young male prostitutes for sex while working in Japan. Anderson contends the McDonald continued to have access to young Catholics until five years ago.
"And he admits in the file an attraction to boys as young as 12, with no ability to control his sexual impulses," Anderson said.
The other files Anderson released Tuesday related to Frances Hoefgen, Bruce Wollmering, Richard Eckroth and Tom Gillespie. Eckroth and Wollmering are now deceased, and St. John's Abbey said that the other three are in situations where they're closely supervised.
In a statement posted online this week, St. John's Abbey said the files were turned over voluntarily in the interest of transparency and to further healing of the victims.
"The huge majority of the documents in each of these files acknowledges the very real failures of some monks while showing each of the accused monks as a fallible, relatable person," the statement read, in part.
Anderson's caseload grew considerably after Minnesota lawmakers passed the Child Victim Act in 2013, when opened up a three-year window for people who at least 24 years old to file sex abuse civil suits regardless of how much time had passed since the offense.
That window will close May 25, 2016, at which time Minnesota will revert back to the old six-year statute of limitations for such civil lawsuits. That's why Anderson is asking other victims of priest sex abuse to come forward as soon as possible.
---
---
"And when I say the clock is ticking there is yet but six months yet for survivors to find their voice, share their secret, and come forward and do something," Anderson told reporters.
"They don't have to use their name, and it can remain private and non public."
Anderson Tuesday was joined by abuse survivor Troy Bramlage, who began as a John Doe client in a lawsuit against St. John's Abbey and Father Allen Tarlton. The lawsuit, based on abuse that occurred in 1977, was settled out of court last year.
Bramlage urged other survivors to come forward and contact a therapist or an attorney before the May 25 deadline.
"The guilt that we feel as survivors does not belong to us," Bramlage said. "It belongs to the person that did this to us. And the shame belongs to the people that covered it up, behind us."
One of the priests whose file was released, Frances Hoefgen, was tried for sex abuse in criminal court last spring in Dakota County, but was acquitted by the jury. Anderson was disappointed that the trial judge wouldn't allow the jury to hear from other alleged victims.
"It was a real kick in the gut," Anderson remarked. "I mean it was heartbreaking for those survivors who were prepared to testify."
The Hoefgen personnel file includes a cancelled check for $28,000 and a reference to a payment of $30,000. Anderson contends the money was paid to Hoefgen to encourage him to leave the priesthood.
"Here they're paying offenders to be quiet, keep quiet and walk away quietly."
But St. John's Abbey disagrees with that characterization, and argues there's no evidence in the files that the abbey tried to cover up any allegations of abuse.
---
Late 2015!
---
Subway Twin!
Posted: Nov 20, 2015, 2:17 PM ET ~ Updated: Nov 21, 2015, 10:54 PM PT
SACRAMENTO, CA (WCJB)
-- Joshua Vasquez, 31 (
pictured above, center
) is accused of sexually assaulting an elementary school student. The investigation into Vasquez began Tuesday when he was accused of sexually assaulting a student at Mark Twain Elementary School. The Sacramento Police Department said he was arrested Friday. Vasquez was arrested at police headquarters and booked into Sacramento County Jail for oral copulation with a victim less than 10 years old.
Vasquez was a leader for the after-school program "START". He also worked part-time for the city of Sacramento. When the allegations came to light Tuesday, Vasquez was released from the Sacramento City Unified School District. He was placed on administrative leave by the city. He resigned from his position with the city Friday.
The ongoing criminal investigation into Vasquez is being conducted by the Sex Assaults and Child Abuse Unit. Investigators believe there is a possibility that there are additional victims related to the case.
Homicidal Paedophilia!
Posted: Nov 20, 2015, 2:17 PM ET ~ Updated: Nov 21, 2015, 12:54 AM PT
Scottsville, Kentucky
-- Timothy Madden, 38, of Scottsville, has been arrested for allegedly sexually assaulting and murdering 7-year-old Gabriella "Gabby" Doolin (
pictured above, center
). Gabby was found dead after going missing last Saturday at a football game in Scottsville, Kentucky. The suspect was taken into custody by the Kentucky State Police Friday morning. Madden is charged with kidnapping, rape, sodomy and murder, police said. He is slated to be processed and lodged in Kentucky.
At a press conference in Bowling Green on Friday Trooper Barry Eaton said police are not releasing other details on the case, including the cause of death. A preliminary autopsy report ruled the girl's death a homicide. Eaton said the investigation is still ongoing. Eaton said Madden knew the Doolins. "I know they were acquaintances, I don't know how in-depth but they do knew each other," he told media sources.
The Doolins were at a pee-wee football jamboree on Saturday when Gabby went missing at 7:40 p.m. At approximately 8:05 (25 minutes later) a search volunteer spotted her body in a wooded area on the edge of the Allen County Scottsville High School. The location of her body is about 400 yards from the school's football field where she was last seen alive.
It was not immediately clear if Madden had representation. He has not yet made a court appearance. Madden (
pictured above, center
) is being held without bond. Media source couldn't immediately reach Madden's family.
---
Mid-2015!
---
Lamb Hunter!
Posted: November 19 at 11:29am ~ Updated: Nov 21, 2015, 1:45 AM PT
Indiana
-- Former Subway spokesperson Jared Fogle pleaded guilty to child pornography and additional sex crime charges on Thursday, though it was defense psychiatrist Dr. John Bradford who initiated gasps in the court room. According to Bradford's analysis, Fogle became "hypersexual" after losing more than 240 pounds while constantly consuming Subway sandwiches.
"Once he lost weight, it seemed as though in a short time he had hypersexuality," Bradford said during the sentencing, according to the Indianapolis Star. Bradford added that Fogle "battled" an eating disorder throughout his college years, resulting in his decision to slim down via the Subway diet before eventually becoming the face of the company. The psychiatrist confirmed that Fogle experienced "mild or infrequent fantasies about pre-pubertal children." However, the ultimate diagnosis was "mild pedophilia."
Fogle's attorneys insist that the disgraced Subway celebrity is "profoundly sorry for what he has done," adding that he apparently suffers from the aforementioned hypersexuality and "alcohol abuse/dependence." Though his attorneys were seeking a five-year prison sentence, Fogle was ultimately sentenced to 15 years and eight months in prison on Thursday, according to the Associated Press.
Posted: Oct 29, 2015 1:00 AM ET ~ Updated: Oct 28, 2015 11:00 PM PT
"I had a little boy. It was amazing!"
-- Subway pitchman Jared Fogle
Zionsville, Ind.
-- Subway pitchman Jared Fogle was caught on secretly recorded audio tapes boasting of his sexual attraction to children. He said wanted to travel "across the world" to fulfill his desires. The married father of two told Rochelle Herman-Walrond:
"I would fly us clear across the world if we need to. To Thailand or wherever we want to go. If we're gonna try to get some young kids with us it would be a lot easier."
At one point, Herman-Walrond asked him about being with children. Folge responds:
"I had a little boy. It was amazing," the 38-year-old Fogle said. "It just felt so good. I mean, it felt — it felt so good."
She also asked him which he preferred — young girls or young boys. Folge responds:
"Both of them."
Herman-Walrond is a former Florida journalist. She befriended Fogle so she could expose his sexual abuse of children. The recordings and an interview with Herman-Walrond are scheduled to be aired Thursday and Friday on a television show.
Fogle then asks her disturbing questions about her own kids. He asks:
"Are there any of your kids' friends that you think are pretty hot? What if we put a camera in your kids' room, would they be OK with that?"
Herman-Walrond told media sources she came to view herself as a victim as well after enduring the lurid interviews. "I had to be two separate people in order to continue on with this investigation," she said.
Herman-Walrond first met Fogle in 2006 when he was a guest on her radio show. She says he shocked her by saying middle-school girls were "hot." She subsequently taped the conversations that she later turned over to the FBI. The tapes led to criminal charges against Fogle and his ouster as Subway's rep.
Fogle paid out $1 million to 10 of his 14 victims after pleading guilty to child-pornography and sex-crime charges. He faces between 5 and 12¹/₂ years behind bars. His wife, Katie, filed for divorce shortly after the scandal erupted.
Music, Boys & Porn
Posted: Nov. 19, 2015 at 12:34 PM PT ~ Updated: Nov. 19, 2015 at 08:52 PM PT
STOCKTON, CA
— Timothy Walth, 30 (
pictured above, center
) was a Stockton music teacher. He was a music teacher at Tully C. Knoles Elementary School in the Lincoln Unified School District. The school listed his course instruction as Beginning String and Beginning Choir instructor for fourth-graders. He was placed on compulsory leave in October. Compulsory leave is an unpaid leave. A Google Plus account associated with Walth's name said he attended Lincoln High School from 2000-2003. The account indicates he studied at California State University, Sacramento.
Walth's account also lists him as a musician for the First Congregational Church of Stockton. Walth turned himself in to Stockton Police last month after accusations surfaced that he was involved in an inappropriate relationship in 2012 with a 13-year-old boy he met at church. The church has said he is no longer involved with its music program. No charges have been filed regarding those allegations.
Walth now stands accused of posting semi-nude photos of himself on the social media website Tumblr. Under the username "TrebleMaker" on Tumbler, his page contained several pictures of himself in various poses wearing only a shirt. Walth briefly appeared before Judge Ronald A. Northrup on Thursday morning for a continued arraignment on charges of possessing obscene images and contacting a minor with intent for sex. He will now appear before a judge on Dec. 15, 2015, for further arraignment. Prosecuting attorneys said the case still is in its "discovery" phase.
Chief Deputy District Attorney Kristine Reed with the child abuse and sexual assault unit requested the continuance Thursday morning. Reed spoke after Walth's appearance. He said: "Because (Walth) had retained his own counsel, we still need to hand over what we have to (the attorney). We just need some more time to give him everything so we can proceed."
Reed said Walth had retained a criminal defense attorney from Modesto. The new attorney is the same one who represented Ethan Morse, the son of Merced County District Attorney Larry Morse II, last year. Morse was accused of driving a getaway vehicle during a 2013 shooting in Atwater. His attorney was able to get the charges dismissed when prosecutors could not prove their case, according to his website. The new attorney was unavailable for comment Thursday.
Erapist!
Posted: 05:52 PM CST Nov 13, 2015 ~ Updated: Nov 19, 2015, 07:22 PM PT
EDINBURG, TX
- A Texas Jury sentenced Erasmo Mata Jr. (
pictured above, center-right
) to four years in prison and a $5,000 fine. The former Pharr police officer was found guilty of sexual assault a child on Friday. Mata Jr. was accused of sexually assaulting a teenage girl back in 2013. Mata was convicted of one count of sexual assault of a child. The 26-year-old was acquitted of the other sexual assault charge against him. Prosecutors said he met the girl while on patrol at an apartment complex. Mata's bond was revoked following his conviction. Mata was fired from the Pharr Police Department.
Mike's Baby!
Posted: Nov 9, 2015, 03:45 PM ET ~ Updated: Nov 15, 2015, 02:22 PM PT
SACRAMENTO, Calif. (WCJB)
— On Friday a California jury convicted Ka Yang, 34 (
pictured above, center
) of first-degree murder and assault. Yang went on trial for the microwave oven death of her 1-month-old daughter. The jury rejected her argument that she was in the midst of a seizure and didn't know what she was doing. Yang is married and has three other children. Prosecutors say Yang put her daughter, Mirabelle Thao-Lo, in the microwave at her Sacramento-area home in March 2011. The baby was in the microwave for 2½ to 5 minutes. The girl suffered what authorities said were extensive thermal injuries.
She initially told investigators that she blacked out while working on the computer with Mirabelle in her arms. She claimed that she woke up on the ground with the baby injured next to a space heater. Yang had a history of seizures. However, paramedics did not find her to be disoriented when they arrived, according to a police affidavit. Investigators who arrived at the scene found the girl burned from head-to-toe and her pacifier in the microwave. The baby's pajamas and hair were not singed, according to the affidavit. When detectives pointed out inconsistencies in her story, Yang later acknowledged she lied and said she might have a split personality, the affidavit said.
Yang's attorney said after the verdict that she was disappointed. "Ms. Yang suffers from epilepsy. She had an epileptic seizure. It was not deliberate conduct," the attorney said. Yang is facing 26-years-to-life in prison. She is scheduled to be sentenced in December.
Murder Duece/$1M!
Posted: Nov 9, 2015, 03:45 PM ET ~ Updated: Nov 14, 2015, 02:12 PM PT
PHOTO:
Jeremy Mardis, 6, died after law enforcement officers allegedly shot his father's vehicle.
Marksville, Louisiana
-- Derrick Stafford (
pictured above, center-right
) and Norris Greenhouse Jr. (
pictured above, center-left
) both law enforcement officers, were charged in the killing a 6-year-old boy. Jeremy Mardis, 6, died after the two law enforcement officers allegedly shot up his father's vehicle. They fired multiple shots at Chris Few's car in Marksville, Louisiana on Wednesday (Nov. 4). Stafford and Greenhouse Jr. have both been charged with second-degree murder and attempted second-degree murder. Both are each being held on a $1 million bond.
State District Judge William Bennett held the closed bond hearing today at the jail where the officers are being held. District Attorney Charles Riddle recused himself from the case during the hearing. Greenhouse's father has worked as an assistant prosecutor in the District Attorney's office for more than 13 years. Their personal relationship would be a "conflict with the fair and impartial administration of justice." According to the recusal order, the state Attorney General's office will now take over the prosecution of the case as a result.
The circumstances surrounding the shooting are still under investigation. Specifically, why the officers were trying to stop Few's car, is still under investigation. Few was driving in the vehicle with son Jeremy, when the boy was fatally shot in the incident. Few was wounded and is still being treated for his unspecified injuries. A representative for the Alexandria Rapides Regional Medical Center confirmed to media sources that Few is now in fair condition.
Stafford and Greenhouse were two of four law enforcement officers who were on the scene at the time of the shooting. State police reported that Stafford is a full-time lieutenant with the Marksville Police Department. Greenhouse is a full-time city marshal. State police said both were working part-time as deputy marshals in Marksville's Ward 2 when Tuesday's shooting occurred. However, they are the only two believed to have fired their weapons. Superintendent of the Louisiana State Police Col. Mike Edmonson held a news conference Friday night in Baton Rouge when the officers were arrested. He said: "Nothing is more important than the integrity of this badge. Tonight, the badge has been tarnished by these two individuals."
The funeral for Mardis is being held this afternoon in Hattiesburg, Mississippi.
Posted: Nov 7, 2015, 12:52 AM ET ~ Updated: Nov 7, 2015, 05:12 AM PT
Marksville, Louisiana
-- Jeremy Mardis, age 6 (
pictured above, center
) and autistic, was shot and killed. His father, Chris Few, was wounded when officers opened fire on their vehicle on Tuesday night. The shooting occured in the central Louisiana town of Marksville. Louisiana authorities have arrested two of the four officers involved in the shooting.
Col. Mike Edmonson is the head of the state police announced. In a late Friday night press conference he gave few details of what exactly unfolded Tuesday night. Edmonson said the two officers are being booked on charges of second-degree murder and attempted second-degree murder in the shooting. Edmonson identified the two officers as Norris Greenhouse Jr. (
pictured above, center-left
) and Derrick Stafford (
pictured above, center-right
). Edmonson said both officers were working secondary jobs in Marksville as marshals when the shooting happened.
He would not say what led authorities to arrest the officers. Edmonson made his disgust clear regarding body camera footage that was recovered from the officers. He said: "It is the most disturbing thing I've seen, and I will leave it at that." Edmonson said earlier that no weapon was found in the vehicle. When Edmonson was asked whether he anticipated any more arrests, he said: "We'll see where it takes us." The two other officers involved in the incident have not been charged.
State police have been investigating the Tuesday night shooting. The shooting raised questions almost from the start. State police are combing through forensics evidence, 911 calls, conducting interviews and reviewing the body camera footage, Edmonson said, as the investigation continues. It's still unclear what led police to pursue Few and what triggered the shooting. The parish coroner said earlier this week that the officers were serving a warrant on Few when he fled. However, Edmonson later said he had no information about a warrant.
Morris German is Few's 57-year-old stepfather. He has accused the marshals of indiscriminately opening fire on the vehicle. German said Few was heavily sedated, unable to talk and has bullet fragments lodged in his brain and lung. He described Few as a loving father and added the man's son "was his whole life." German added that the 6-year-old had been diagnosed with autism. He described him as a delightful child who "loved everything, everybody." German said the boy had no siblings and the family had recently moved to Marksville from Hattiesburg, Mississippi. "I know a 6-year-old should not have been shot," German said.
Operation Wolf Hunter!
Posted: Oct 27, 2015 9:54 AM ET ~ Updated: Oct 27, 2015 09:18 PM PT
Okaloosa County, Fla.
-- Operation Wolf Hunter began October 21 and concluded the morning of October 27. The operation netted a total of 16 arrests. Undercover investigators went online to various chat forums searching for individuals who were looking for sexual activity with a child. All suspects are charged with
Traveling to Meet a Minor and Using an On-Line Service to Lure/Entice a Minor
.
Operation Wolf Hunter Arrests:
• James Patrick Applegate, DOB 03/22/1986
Address: 1918 W. Mistral Lane, Mary Esther, FL
• Ali Khaleel Huthail, DOB 05/07/1991
Address: 166 N. Fox Avenue, Panama City, FL
• Jacob James Brenner, DOB 03/23/1988
Address: 1809 Natures Way, Gulf Breeze, FL
• Michael Bradley Christmas, DOB 12/23/1982
Address: 1154 Lost Trail, Fort Walton Beach, FL
• Adam Chay Bairos, DOB 05/04/1994
Address: 133 Menzel Street, Valparaiso, FL
• William Max Gage Calton, DOB 11/21/1989
Address: 138 Menzel Street, Valparaiso, FL
• David Allen Royce, DOB 12/11/1983
Address: 7 Caswell Branch Road, Freeport, FL
• Garrett Thomas Richards, DOB 09/01/1996
Address: 90368 Room A220, Hurlburt Field, FL
• Tejay Landon Aplin, DOB 01/26/1990
Address: 400 E. 19th Street, Panama City, FL
• Darin Roger Paddie, DOB 09/23/1994
Address: 304 Reeves Street, Niceville, FL
• Chad Michael Keiser, DOB 05/14/1978
Address: 6110 Cypress Point Drive, Panama City, FL
• Robert Donald Lawson, DOB 10/22/1996
Address: 15988 S. Hwy 29, Andalusia, AL
• Cameron William Ahlsen Girard, DOB 11/25/1987
Address: 101 SE Waynell Circle, Fort Walton Beach, FL
• David McLeod, DOB 07/01/1987
Address: 100 8th Avenue, Shalimar, FL
• John Joseph Schreiner, DOB 04/27/1987
Address: 57 Robys Drive, Mary Esther, FL
• William Myrick, DOB 02/01/1943
No Address Available
NYPD Exposed!
Posted: Oct 23, 2015 9:54 AM ET ~ Updated: Oct 27, 2015 04:48 PM PT
New York City
-- Steven Esposito (
pictured above, center
) is a 56-year-old retired New York City Cop. Esposito was arrested after he pulled out his penis and started stroking it in front of a woman on a New York City subway. A man followed him while recording his conduct. Esposito then pulled a gun on the man (who followed him while recording) stating" "[T]urn around and mind your own fucking business." Esposito was arrested as a result of the eight-second video.
The video was posted on several New York City news sites. Viewers and Readers were urged to contact police if they recognized him. Media sources dubbed him "the Midtown Masturbator." It turns out that "the Midtown Masturbator" was retired NYPD Officer Steven Esposito. Esposito admitted to pulling out his penis. However, he claims he was only peeing on the subway platform in Midtown, not masturbating. Media sources have now dubbed him as "Esposito the Exposer."
Esposito also admitted to pulling out his gun on the man. He was charged with misdemeanor public lewdness and menacing on Wednesday. He was released without bail. Esposito is scheduled back in court on December 1.
New York City has some of the strictest gun laws in the country. Esposito was allowed to carry a gun after he obtained "good guy letter" from the NYPD. He is also collecting a pension. NYPD cannot distance themselves from him as much as they would like.
It has not been rare for a cop to be caught masturbating or exposing themselves in public. Last month in coast-to-coast incidents, a San Jose, California cop and a Boston, Massachusetts cop were arrested for masturbating in public. A New Jersey cop named Jason Miller was arrested earlier this year for pulling men over and placing his exposed genitals in their faces. He would then let them go without writing a ticket. Miller accepted a misdemeanor plea deal that did not require him to register as a sex offender.
In 2014, a Los Angeles police officer named Ryan Eric Galliher was arrested after he was seen walking up to several victims, pulling down his pants and exposing himself. In the same year, a New Jersey cop named Benito Gonzalez was arrested for masturbating in a Starbucks. He pled guilty earlier this year to lewdness charges. He was allowed to retire.
Meat Hunter!
Posted: Oct 19, 2015 1:00 AM ET ~ Updated: Nov. 2, 2015 09:50 PM PT
Missouri
-- A Chesterfield, Missouri cop with an oral fixation for penis was able to convince 60 straight men to come to his home for fellatio. Chesterfield police officer David Cerna would place an ad on Craig's List posing as a woman. He would send men online photos of a woman. He would tell them that she wanted to perform oral sex on them. The men would get aroused and make arrangements to meet the woman at her home.
Once the men showed up, they'd learn that the woman was shy and did not want to show her face. The men would then stick their penis through a hole in a door as Cerna kneeled on the other side. He would then perform oral sex on them. Sixty men in 18 months fell for this ruse. The Missouri cop would video record the sex acts and post them online on a gay porn site he ran.
Cerna would also arrest boys and transport them to the police station. Once there he would take them in a backroom and frisk them thoroughly by fondling their genitals. Cerna then exposed the boys genitals so they would be recorded by a secret camera. Cerna also set up a video camera in the bathroom of a local gas station to provide material for his website.
The gas station camera is what led to his arrest. A local television reporter began investigating a secret camera found in the Mobil on the Run gas station. The reporter then informed police about the camera. The police began investigating and tracked the camera to their fellow officer. The investigation by police led to videos of the minors and videos of the men who fell for the fellatio-through-the-door ploy.
Cerna had been on the force for six years. He was arrested and fired. He is now facing a litany of charges. Those charges include invasion of privacy charges (related to the videos from the Craig's List hookups); and sexual exploitation of a minor (stemming from the boys he secretly recording while fondling their genitals).
Cerna, 34, pled guilty to the invasion of privacy charges. He has yet to attend trial for the sexual exploitation charges.
Natchitoches!
Posted: Oct 17, 2015 9:54 AM PDT ~ Updated: Oct 24, 2015 12:58 AM PDT
Natchitoches, LA
Robert Barthelemy (
pictured above, center
) is a Former Natchitoches police officer. Barthelemy was indicted on Sept. 9, 2013 on charges of first degree murder; second degree kidnapping; and home invasion. Investigators say Tony Procell was forcibly taken from his Sabine Parish home by Barthelemy at gunpoint. Procell's body was found 5 days after his disappearance in a shallow grave in the Kisatchie National Forest. Barthelemy and Procell had served in the National Guard together. Prosecutors have said the killing was the result of a dispute over a woman.
Barthelemy initially pleaded not guilty to the charges. He later changed his plea to not guilty by reason of insanity. Barthelemy was tried for first degree murder. The trial lasted 6 days. Barthelemy's defense attempted to convince the jury that he killed Procell because he had Post-Traumatic Stress Disorder (PTSD). Barthelemy and Procell both served in the same battalion during his second tour in Iraq.
Barthelemy was found guilty Thursday. It took the jury 2 hours to return a guilty verdict late Thursday night. Victim impact statements were heard as the sentencing phase got under way on Friday. The plea deal was taken Saturday morning. Procell's family was approached with the plea bargain in which Barthelemy gave up the right to appeal and accepted it. Barthelemy will spend the rest of his life in prison without parole.
Barthelemy's attorney described Barthelemy as a soldier broken by war and tormented by haunting memories of combat. He blames PTSD for eventually leading Barthelemy to kill Procell. Barthelemy believed Procell had impregnated his estranged wife. The attorney called the life sentence a "good result," considering his client was facing the possibility of the death penalty.
Procell's Family left a statement on the Justice for Tony Procell page on Facebook:
"'Please know that we, as a family, gave him his sentence and we are happy with our decision. Also know that with this sentence he has waived his right to appeal the case in any manner. Unlike some families experiencing similar tragic circumstances we will not be tied up in endless trials for years to come. We can finally have the closure we hoped to have. There are no winners here. While we are happy with the outcome we would give anything to have our sweet angel back in our lives. We'll miss him. Everyday for the rest of our lives we'll miss him. But we can know that as each and everyone of us wishes him the peace he deserves that he's shining down upon us affirming our wishes with a great big "roger that!"'"
The jury, which was selected in St. Landry Parish due to pre-trial publicity and has been dismissed.
Below the Belt!
Posted: October 19, 2015 7:53 AM ET ~ Updated: October 23, 2015 3:53 PM PT
BALTIMORE, MD (WCJB)
— Cpl. Michael Flaig, 31 (
pictured above, center
) of Baltimore, is no longer an Anne Arundel County police officer. He was charged with public intoxication. Flaig was off-duty on Cinco de Mayo when he got into a fight outside a bar. He was accused of biting the other man's testicles during the fight.
The fight in May erupted after the victim accused Flaig of groping his female roommate. The victim said he straddled Flaig to keep him from getting away. Flaig then bit his testicles. Officials decided not to prosecute Flaig on a second-degree assault charge. He was convicted of public intoxication and endangering the safety of another person.
Flaig was sentenced to serve one year of probation. County police spokesman Lt. Ryan Frashure told media sources Flaig is no longer employed by the department as of Sept. 23. Frashure wouldn't elaborate on why Flaig left. Flaig's attorney says Flaig's behavior may have been a side effect of job-related stress.
Never Guilty!
Posted: October 17, 2015 - 7:35am ~ Updated: October 19, 2015 - 12:35am PT


(Cpl. Maxine Evans, Cpl. Jason Kenny, Pvt. Eric Vinson, Pvt. Abram Burns, Pvt. Christopher Reed, Pvt. Burt Ambrose, Pvt. Paul Folsome, Pvt. Frederick Burke and Pvt. Andrew Evans-Martinez (pictured above, center))
Chatham County, GA
-- A Chatham County Superior Court jury on Friday acquitted two former sheriff's deputies of involuntary manslaughter in the January in-custody death of Mathew Ajibade — but found each guilty of lesser charges. Ajibade, 21, died late Jan. 1 or early Jan. 2 while strapped in a restraint seat after an altercation with jailers.
What the Chatham County Superior Court jury found in the Ajibade death case:
Jason Kenny, Age 31
• Not guilty: Involuntary manslaughter on or about Jan. 1 while in commission of reckless conduct caused the death of Ajibade without intent to do so by tasing him while he was restrained.
• Not guilty: Aggravated assault upon Ajibade with a Taser, "an object and device when used offensively against a person is likely to result in serious bodily injury by drive stunning him while he was restrained."
• Guilty: Cruelty to inmate while being a jailer caused intentional inhumanity to Ajibade, an inmate under his care and custody by using excessive force.
• Not guilty: Perjury on or about July 24 while under oath before the Chatham County grand jury knowingly and intentionally made a false material statement that he told deputy Lt. Debra Johnson that he tased Ajibade four times before Nurse Brown checked the restraints on Ajibade.
Kenny was a corporal on duty when Ajibade was placed in a restraint chair after a scuffle with deputies on Jan. 1.
Maxine Evans, Age 56
• Not guilty: Involuntary manslaughter between Jan. 1 and Jan. 2 while in the commission of reckless conduct caused the death of Ajibade without the intent to do so by failing to monitor the inmate while he was in restraints.
• Guilty: Public record fraud on Jan. 2 by falsifying a Corrections Bureau Restraint Chair log by entering checks that did not occur.
• Guilty: Perjury by testifying before the Chatham County grand jury knowingly on June 24 by stating that she entered a check performed by Deputy Eric Vinson at 12:20 a.m. on Jan. 2 into the restraint chair log when it was reported.
• Guilty: Perjury before the Chatham County grand jury while under oath that she entered a check by Deputy Mark Caper at 12:40 a.m. on June 2 as the fourth check on the restraint check log.
• Guilty: Perjury before the grand jury on June 24 by stating under oath she recorded the checks in the restraint chair log as they happened.
Evans was a corporal on duty when Ajibade was placed in a restraint chair after a scuffle with deputies on Jan. 1.
Gregory Brown
• Not guilty: Public records fraud by falsifying a Corrections Bureau Restraint Chair Log jail for Jan. 2 by signing an official sheriff's log indicating that checks occurred that did not occur.
• Guilty: Making a false statement by telling a Georgia Bureau of Investigation agent that he checked Ajibade while he was in restraints, which checks did not occur.
Gregory Brown was a 45-year-old licensed practical nurse for Corizon Health. He was on duty at the jail the night of Ajibade's (
pictured below, center
) death.
Defense attorneys contended there was no proven cause or time of death and that the defendants did not cause Ajibade's death.
The verdicts came after jurors deliberated for more than 11 hours over two days. Jurors had asked Chatham County Superior Court Judge James F. Bass Jr. if they could again view the jail video from 11:45 p.m. on June 1 when Ajibade was put in the restraining chair until 12:10 a.m. on Jan. 2. A check of the inmate was allegedly made at this time. Prosecutors contended Kenny stunned Ajibade, who they claimed was no longer resisting, four times with a Taser and that he died of a combination of events. Bass denied the request.
Bass previously suggested he might consider declaring a mistrial for any counts the jury had not reached verdicts on by 5 p.m. "If it gets close to 5 o'clock and they haven't reached a verdict, you know what might happen," Bass told attorneys with jurors in the jury room. "I'll probably declare a mistrial." He told lawyers his comments were only speculation, "because I have no idea of what they are hung up on."
District Attorney Meg Heap said she was disappointed with the verdicts, but "I have to respect the verdicts. That's why we have a jury. I had two of my most experienced prosecutors in a long hard fight. They fought a hard battle. Primary to their case was their contention that Ajibade was left unattended for an hour and a half while the defendants ignored him, then attempted to cover up their actions. We received the case and after what the Georgia Bureau of Investigation said was a complete investigation presented the case to the grand jury. They decided not to return a felony murder count but did return the involuntary manslaughter."
In a statement for the Ajibade family after the jury verdicts, Chris Oladapo, Ajibade's cousin, said, "I am not surprised by the verdict. I knew that ... same system that failed Mathew would not be the system that got him justice. I had already warned my family not to expect anything. We expected nothing, and we got nothing."
Bass scheduled sentencing for Nov. 6. He set bonds at $5,000 for each. They were taken into custody and will remain in custody until they post bond.
"Rap-Related Death!"
Posted: Oct. 8, 2015, 9:46 AM PT ~ Updated: Wed., Oct. 28, 2015, 12:24 PM PT
Los Angeles, CA
-- The Los Angeles Police Department is claiming a 15-second promo video posted to Instagram caused two of their officers to kill a man on Saturday night. The man was unarmed. The victim's name has still not been released. The department has not yet located his family. The attorney who is representing the officers stated that the pair had seen the video in at least two roll call meetings they had attended.
The video was taken from a car behind an LAPD patrol vehicle. The video was posted by Brownside. Brownside is a 1990's rap group trying to make a comeback. The video footage begins with a Los Angeles police officer getting out of his patrol car. The video shows the LAPD vehicle. The video pans down to show someone holding a revolver. The video shot of the handgun shows it is being held by a person watching the officer. It then cuts back to the patrol vehicle as an officer exits and walks off.
The LAPD took the promo video as a threat. They warned all officers to be on alert during their roll call meetings. The two officers involved in the killing were briefed on the video on Saturday. The briefing included warnings that they may be ambushed from behind. The briefing allegedly spooked them so bad, they killed someone later that evening.
The man allegedly threw a beer bottle through the patrol car vehicle of the officers on Saturday evening. The officers claimed they believed they were being ambushed and shot at. As a result, they shot and killed the man. The officers told investigators that they believed they were under attack due to seeing the video.
"Both officers were very focused on that (the video)," the attorney told media sources. "When the window got blown out, they looked at each other and said, 'We're being shot at.'" The attorney defended their actions by explaining that even if the video was not a threat, there are others who want to hurt police officers. "Officers feel very, very vulnerable out there right now. They feel that at any moment somebody could attack them," he said. "The officers feel terrible because they were 100% convinced that the guy was shooting at them."
LAPD acknowledges the video is not a threat. The admit it was simply made as a promo video. "The investigation revealed that the film was made by members of an early 1990s rap group no longer in fashion," an LAPD statement said, and was "posted on social media to ignite a comeback." However, a warrant has been issued for the man seen holding the gun. The search warrant was carried out on his home on Tuesday morning. The department has been in touch with his attorney.
A member of the group named Toker told media sources that his brother is the one in the video. He said the gun is a plastic prop that they had bought earlier in the day for a music video they were making. They also arrested another person involved with the video on an old outstanding warrant involving a property crime.
NUTS!
Posted: Mon., Sept. 21, 2015, 9:46 AM ~ Updated: Mon., Sept. 21, 2015, 6:54 PM PT
Albany, Georgia
-- Stewart Parnell (
pictured below, center
) a former peanut executive convicted of knowingly shipping salmonella-tainted peanut butter, was sentenced today to 28 years in prison in what is believed to be the most severe punishment ever handed out to a producer in a food-borne illness case.
Parnell, 61, is the former owner of the Peanut Corporation of America. He was convicted by a federal jury in September of last year of shipping the tainted peanut butter from a plant in Blakely, Georgia, to food producer Kellogg and other companies. The salmonella outbreak that started in early 2009 killed nine people and sickened 714 people in 46 states, according to health officials.
Parnell faced a possible 803 years in prison.
Before the court proceedings began today, Parnell's attorney Ken Hodges told ABC News that the possible life sentence "would not serve any purpose and that we hope the judge will take into account that Stewart is a good man who never intended to hurt anyone."
"He ate the product and fed it to his children and grandchildren," Hodges said.
On Friday in U.S. District Court in Albany, Georgia, Judge W. Louis Sands said Parnell faces a possible prison sentence of 9,636 months, or 803 years. He was found guilty of 70 felony counts. Parnell and his brother, Michael, a food broker, were found guilty of faking results of lab tests that screen for salmonella. His brother faces 19 to 24 years in prison. The plant's quality control manager, Mary Wilkerson, faces five years after she was convicted of obstruction of justice.


PHOTO: Stewart Parnell, is seen in this file photo, Feb. 11, 2009, during a House Energy and Commerce Committee hearing on Capitol Hill in Washington.
Victims and families of victims of the outbreak are expected to provide impact statements to the court. Among the victims in court are Peter Hurley and his son, Jake. Jake was infected with salmonella in January 2009, when he was 3 years old, after eating Austin Toasty Crackers with Peanut Butter, manufactured by Kellogg. Last year, the pair testified at a congressional hearing for the Peanut Corporation of America about food safety.
Shirley Almer is another victim who became sick after eating a peanut butter snack just a few days before Christmas 2008, when she was recovering from cancer, authorities said. She later died. Today, her son Jeff is in the courthouse.
Private Corrections!
Posted: Sept. 13, 2015 3:51 p.m. ET ~ Posted: Sept. 13, 2015 7:51 p.m. PT
Oklahoma
-- A riot at a private Oklahoma prison on Saturday killed four inmates, the second time in three months that violence has erupted at the facility.
The fight at Cimarron Correctional Facility in Cushing, Okla., began Saturday afternoon and lasted for approximately two minutes, according to a statement from Corrections Corp. of America, which operates the facility and is the country's largest private prison company. It then took prison staff around 40 minutes to secure the housing area where the incident took place.
The Nashville, Tenn.-based company described the incident as a fight between inmates and said staff quickly quelled the disturbance.
As of midday Sunday, four inmates had died from the fight and three others were hospitalized in stable condition, officials said. It's still unknown what caused the injuries, according to Alex Gerszewski, a spokesman for the Oklahoma Department of Corrections.
The facility, which houses medium- and maximum-security male inmates, remained on lockdown Sunday, meaning inmates were confined to their housing areas.
The riot was contained to a single housing pod in the 1,720-bed prison, and no staff members were injured, according to the CCA.
The incident is being investigated by the CCA and the inspector general's office at the Oklahoma Department of Corrections, officials said.
In June, hundreds of inmates were involved in a fight at the same prison, injuring around a dozen inmates, according to news reports at the time. That incident is still under investigation.
Stop Resisting!
Posted: Sept. 10 2015 5:57 PM ET ~ Updated: Sept. 13 2015 5:57 PM PT
The Fairfax County, Va., Sheriff's Office has finally released video of deputies' ultimately fatal encounter with Natasha McKenna, who later died after being shocked four times with a Taser, even as she was fully restrained, NBC Washington reports.
In the video, deputies dressed in biohazard suits can be seen attempting to restrain McKenna, who suffered from mental illness, in a chair so that she could be transported to Alexandria, Va. Deputies can be heard telling the woman to "stop resisting" and "hold still."
Original reports indicated that at first McKenna was cooperative and allowed herself to be handcuffed. However, she soon began to struggle, supposedly deteriorating into a psychotic episode because she thought deputies were hurting her.
"You promised me you wouldn't kill me. I didn't do anything," McKenna said, according to a report by the commonwealth's attorney.
McKenna, who weighed about 130 pounds, was subject to four 50,000-volt shocks as deputies attempted to restrain her. Throughout this, her hands were cuffed behind her back, her feet shackled and her face covered so that she wouldn't bite or spit.
After being shocked, McKenna eventually lost consciousness and deputies performed CPR. The 37-year-old mother, however, died five days later.
"It was Ms. McKenna's severe mental illness, coupled with the tremendous physical exertion she put forth over an extended period of time struggling with deputies, that resulted in a cascade of lethal chemical reactions inside her body," Fairfax County Commonwealth's Attorney Raymond F. Morrogh wrote in his report, ruling the death a tragic accident, according to the news station.
According to NBC Washington, the medical examiner declared that the cause of death was excited delirium, in relation to being physically restrained and the use of the Taser. McKenna's schizophrenia and bipolar disorder were also listed as contributing causes.
"It's a horrific tale of suffering," Morrogh added.
An investigation concluded that deputies did not do anything wrong. However, since the incident, Tasers are no longer used in the jail, and according to the news station, a team from the sheriff's department has traveled to observe model programs meant to redirect mentally ill inmates from jail and into treatment.
The Skids!
Posted: July 17, 2015 ~ Updated: Wed., Oct. 28, 2015, 12:24 PM PT
Los Angeles, CA
-- A video taken by a homeless resident of Skid Row in Los Angeles captured a disturbing scene where another homeless man in a wheelchair was surrounded by ten LAPD officers, tased, and shot with bean bags.
Police claim that Christopher Zareck, 43, tried to attack them with a pole, but the community and homeless advocacy groups are outraged.
In the witness video, ten officers are seen attempting to take the wheelchair bound Zareck into custody. Three bean bag rounds can be heard being deployed at the helpless man.
---
Reader Pageviews by Country
---
From: Oct 18, 2015 10:00 PM – Oct 25, 2015 9:00 PM
---
«•
Thank you for visiting Corrupt Justice™. Enjoy our Free Movie Intermission! Don't forget to Bookmark Us & Tell A Friend! We're Global!
•»
---
Movie Intermission!
Officer Daniel Holtzclaw's

Rape Interrogation

(Full Video)!
---
Description: Oklahoma City, OK --
The above interrogation was conducted by Oklahoma City Police Sex Crimes Detectives Kim Davis and Rocky Gregory. The interrogation took place at the Oklahoma City Police headquarters during the late afternoon hours of June 18, 2014 - approx. 13-hours after accuser Jannie Ligons claims she was pulled over and sexually assaulted. These are the only comments Daniel Holtzclaw has ever made regarding the rape allegations against him.
---
---