---
Click on Banner to Sell Your Home(s)!
Runtime:
00:01:31 (One Minute, Thirty-one seconds)
Video Site:
Harry Williby
---
---
"They rape, ... They rape a 100 white women a day, ... that's FBI statistic from 2005."

-- Dylann Roof, explaining to FBI Agents why he entered Emanuel African Methodist Episcopal church in Charleston, South Carolina, on June 17, 2015 and killed nine members of the black congregation attending a Bible study inside.

---
---
Top News Story!
"The only good nigger is a dead nigger and they should hang you in the town square to prevent any other nigger from coming in the area."


-- July 2011 Statement by Oakland Public Schools Police Chief Pete Sarna, referring to an African-American police officer.

Touchy Situations!
Posted: 11:30 AM, January 10, 2018 ~ Updated: 11:48 AM, February 10, 2018

DEARBORN, Mich. - Justin Smith is a Dearborn police officer. He was found not guilty of inappropriately touching a woman during a traffic stop. Smith was charged with second-degree criminal sexual conduct. His jury trial was canceled and it became a bench trial where the judge decided he was not guilty.

"Under the facts of this case that I have seen, I do not find that sufficient evidence has been proven beyond a reasonable doubt that this misconduct... was done with any taint of humiliation in sexual contact," the judge said. "It appears as though it was done because the defendant and the complaining witness were friends and had a relationship."

Smith did not follow proper procedure when he pulled the woman over. The judge said the court was troubled to hear that proper procedures were being broken. The judge also said the court was troubled to hear that officers within the department pull over friends and family for personal reasons while on duty. The judge said:

"I do not find that this rises to the level of factual basis sufficient beyond a reasonable cause in that it was done with a corrupt intent. It does appear to me to be a case of somebody who knows somebody and was doing what other officers shouldn't do, but clearly have done."

Smith was accused of sexually assaulting a woman in May 2016. Court testimony revealed that he knew the woman, with whom he is friendly. She worked as a waitress at a local restaurant. The unidentified woman claimed Smith stopped her car after she left her boyfriend's house near Cherry Hill and Telegraph roads. She said the contact was unwelcome and entirely unexpected. The woman said in court:

"It was an awkward silence, and then he just turned into the car, reached in and touched my (breast) and then went on about his business."

There is dashcam video of the incident. However, it does not show much. Smith said he only touched the woman's shoulder. He was suspended without pay.

Lap Dogs!
Posted: February 6, 2016 04:25 PM PST ~ Updated: February 26, 2016 06:25 PM PST

Los Angeles, CA -- Los Angeles police officers, Luis Valenzuela, 43, and James C. Nichols, 44, have been arrested and charged with a combined 32 charges of sexual assaults. Prosecutors are alleging a rampage of rape and sexual assault. The two men are accused of preying on women who were under arrest for drug charges. They allegedly exploited their fear of jail and fear of being shot in order to force sex on them. Most of the sexual assaults were allegedly committed while the two were on duty.

The arrests come more than two years after they were put on suspension during an internal investigation. The case is yet another reminder of that police in this country have way too much power and way too little accountability. It exposes a system that allows men with violent urges to get away with their behavior by hiding behind a badge. Their victims are often people who are vulnerable because they don't have a lot of public sympathy.

The details of the criminal complaint reads like a horror story. The complaint paints a picture of predators allowed to run unchecked for years. It is true that these men are facing criminal charges for this alleged behavior. However, their conduct is demonstrative of a police culture, where command staff are often all too eager to look the other way on sexual abuse allegations against officers. The current police culture is a perfect recipe for cases like this one. Many years passed before anyone got it together to do anything about these two officers.

The first complaint against the officers came in 2010. However, the detective assigned to the case said he had trouble finding the alleged victim. Therefore nothing came of the complaint. A second woman came forward a year later. However, "but for reasons not explained in the warrant, the investigation stalled again for the next year and a half." A third complaint was filed in 2012. This time from a man who said he overheard prostitutes talking about the rapist cops.

According to media sources, "It wasn't until one of the women filed a lawsuit against the cops in 2013 that their fellow LAPD officers moved in." LAPD the began "seizing phones and computers belonging to Valenzuela and Nichols." This means that it was three years between the first woman alleging rape and the LAPD actually taking serious action on the issue.

One of the many reasons it took so long for LAPD to take action was the two allegedly preyed on women who were in a vulnerable spot. All four women had been arrested on drug charges. Some of the women seem to have been involved in illegal sex work, as well. One woman alleges that the officers were using her as a drug informant. She claims they assaulted her on six different occasions. Each time they used the fear of jail to gain compliance from her. One of the officers is also accused of pulling a gun on one of the women.

The details of the rapes sound all to familiar. The actions and conduct of these two officers resembles the Modus Operandus (M.O.) of convicted police rapist Daniel Holtzclaw. Holtzclaw is the Oklahoma police officer who was recently sentenced to 263 years for assaulting women while on duty. Thirteen Black women told stories of Holtzclaw using his power to arrest them on drug charges and outstanding warrants as leverage to force sex with them. He maintained his brazen demeanor, in which he assumed he had carte blanche to treat vulnerable women however he liked. This brazen demeanor was on display during the last moments of his trial. As the guilty verdicts were read, Holtzclaw, appearing astounded, mouthed: "... [h]ow could you do this[?]" to the jury.

The confidence demonstrated by Holtzclaw and the LAPD two officers in raping women with impunity, ... isn't delusional. The sad truth is that police officers have every reason to think they'll get away with rape. They target women who have outstanding warrants, or other legal troubles. This makes it unlikely the victims will report the rape. However, even if they do report the rape, the odds are high that the police officer taking the report will more likely (than not) side with their fellow officer, ... than with the victim.

All women generally have trouble getting people to believe their stories of sexual assault. A woman of color, or a woman who has prior trouble with the law (or both) makes it that much harder to get people to take you seriously. The fact that these cases both dragged on for years before anyone took real action shows exactly how hard it is to stop a police officer who wants to rape women from behind the badge. An arrest of the offending officer(s) or resulting trial does not make much of a difference. The instinctive trust that juries often put in police officers, coupled with unwillingness to take rape accusers seriously, makes it hard for prosecutors to get convictions.

Two NYPD officers were acquitted of rape in 2011. Multiple witnesses said the woman was too drunk to stand (which is why cops were called in the first place) and the woman was able to get one cop on tape admitting he had sex with her. The Holtzclaw case is demonstrative of juries inability, or unwillingness to believe rape victims over cops. The Holtzclaw jury only found him guilty on half the charges brought by the State. This suggests the jury was struggling over how much they believed the 13 accusers.

In November 2014, media published a report showing that about 1,000 officers over a six-year period lost their badges for sexual misconduct. That only encompasses those who get caught. Chief Bernadette DiPino of the Sarasota Police Department in Florida said: "It's happening probably in every law enforcement agency across the country. It's so under reported and people are scared that if they call and complain about a police officer, they think every other police officer is going to be then out to get them."

This pattern showed up again in this LAPD case. One alleged victim took two years to report. Two women said they were targeted multiple times. Two of the alleged victims that were dug up were found because of a tip from the man who overhead chatter about it. Under the circumstances, it's easy to see why cops who do this sort of thing think they are going to get away with it. It's because quite a few do get away with rape.

Point 9!
Posted: Jul 31, 2015 04:25 PM EDT ~ Updated: Aug. 1, 2015 11:15 PM PDT

Charlotte-Mecklenburg, NC -- The Police Department reported that an Officer was Charged With DWI After Crashing Patrol Car While on Duty. Police say Officer Richard Andringa has been placed on administrative leave after registering a .09 blood alcohol level in a test he was given after he crashed his police cruiser Friday night.

Child Rapist!
Posted: 5:49 p.m. CDT May 14, 2015 ~ Updated: June 10, 2015 09:26 AM PDT

WAUSAU, WI – Zachary Dorr, 34, a Lincoln County Sheriff's deputy, is accused of molesting a 15-year-old girl at his Wausau home. He was ordered held on a $100,000 cash bond Thursday by a Marathon County judge. Dorr faces three felonies in connection with the case. He is accused of having sex with the girl after they met at a function. The deputy then took the girl to his home where the assault took place, according to the Marathon County Sheriff's Department. Dorr was arrested and faces charges of sexual assault of a child, child enticement and exposing his genitals to a child. Dorr was off duty at the time of the incident, Marathon County Sheriff Scott Parks said.




A different Lincoln County deputy told a detective with the Marathon County Sheriff's Department that he and other co-workers attended a wedding May 9 for two other deputies at a Wausau-area hotel. They witnessed Dorr kissing the girl and giving her beer, according to a criminal complaint.

Lincoln County Sheriff Jeff Jaeger confronted Dorr with the accusations made by his coworkers. However, Dorr claimed there was a misunderstanding and he actually attended the wedding with a 21-year-old woman who looked similar to the teen, the complaint said. The 15-year-old girl later told police she was the person who was at the wedding with Dorr, the complaint said.

The girl told officers she met Dorr about a month ago at a barbecue in his neighborhood and the two exchanged phone numbers and began to contact each other on Facebook, the complaint said. The girl denied ever having sex with Dorr, but admitted the two had exchanged nude photos, the complaint said.

Jaeger said Dorr, a deputy for about 4 1/2 four and a half years, resigned from that position on Thursday morning.

Tussed Up!
Posted: May 15, 2015 03:18:41 PM PDT - Updated: June 07, 2015 08:27:41 PM PDT



Baltimore, MD (WCJB) --

A Baltimore City police officer has pleaded guilty and will serve prison time in a police brutality case. Vincent Cosom Jr., 29, pleaded guilty Friday (May 15) to second-degree assault. He was sentenced to five years in prison with all but six months suspended. Cosom's attorney requested a full suspended sentence, but the judge said she would not consider it. The sentence makes sure the officer spends some time in jail. Cosom's attorney sought leniency, telling the judge that Cosom made an error in judgment and accepted responsibility for his actions. Without a doubt, the attorney said, Cosom is going to lose his job.




The attorney said prior to throwing the blows, Cosom saw Truss push and shove Truss' girlfriend. Truss was charged with assault, but the charges were dropped when an investigation determined Cosom's story was contradicted by the video. The case hinged on whether the force used by the officer was justified. The attorney admitted the situation could have and should have been handled differently.

Baltimore City Circuit Court Judge Melissa Phinn seemed determined that Cosom would spend some time in jail. What troubled her in the video was watching as others got in between Cosom and Truss and seeing Cosom "bouncing around like you were in a boxing ring." She said, "This gives me no pleasure when sentencing Cosom," and she reminded him that officers are held to a higher standard. The judge said Cosom embarrassed himself and put a cloud of stain on every Baltimore City police officer.

In a written victim impact statement given to the court, Truss called it a traumatic incident that caused him ridicule and humiliation. He has filed a multimillion-dollar police brutality lawsuit.

"No one is above the law," Baltimore City State's Attorney Marilyn Mosby said. "It is our job to pursue justice fairly and equally in all cases regardless of one's occupation and that is exactly what we did today."

On June 15, 2014, city crime cameras show Cosom hitting Baltimore resident Kollin Truss in the face at a bus stop at Greenmount and North avenues. Attorneys representing the Baltimore man said their client was viciously beaten by the police officer for no apparent reason.





A Baltimore City police officer has been charged in a case of alleged police brutality, but attorneys for the victim don't believe those charges go far enough.


A woman who said she witnessed a vicious attack on the friend at the hands of a Baltimore City police officer talked exclusively with media sources on Tuesday about what happened.

Violated!
Posted: Mar 27, 2015 5:26 AM PDT ~ Updated: Mar 28, 2015 11:26 AM PDT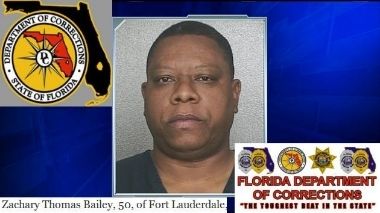 CORAL SPRINGS, Fla. (WCJB) -- A South Florida parole officer was arrested after being accused of sexually assaulting a woman on probation, and the victim said she has video to prove it.

According to police, 50-year-old Zachary Thomas Bailey used his authority to target the victim, telling her he needed to do a "study" of her home in Coral Springs. "This is someone who is hired to protect you," said Coral Springs Police Lt. Joe McCue, "hired to say, 'Hey, protect the society,' and you don't expect your probation officer to be acting in this manner."

The victim said, during two separate visits Bailey made to her home, the parole officer forced himself onto her while her daughter was in the next room, even after she asked him to stop.




During the first home visit, the victim said Bailey blocked her from leaving her bedroom and touched her genitals. "The first time he went there, he said he needed to check out the bedroom," said McCue. "While in the bedroom, Mr. Bailey did sexually batter the victim by putting his hands down the front of her pants."

According to the police report, the victim responded by saying: "Mr. Bailey, you can't do that. What are you doing?"

The next day, during the second home visit, Bailey allegedly followed the victim to her bedroom and asked for a massage. When she refused, the victim said Bailey took off his clothes, put a condom on, pushed her onto the bed and raped her.

The victim said she recorded the incident on her phone not only so police would believe her, but so Bailey would not be able to write a false parole violation against her for reporting the rape. "The victim said, 'This is rape. This is rape. I don't want you to do this,'" said McCue. "Unfortunately, she was in fear that if she reported this, he would violate her probation and put her back in jail."

The video shows Bailey taking off his clothes and putting on the condom, which he later left in her home. "The video is extremely explicit," said the victim's attorney, Bradford Cohen. "It actually shows what her accusations are."

Police are using both the video and the condom as evidence.

Bailey has worked with the Florida Department of Corrections for more than 25 years. He was fired on Wednesday. Zachary Thomas Bailey, 50, of Fort Lauderdale, was released from jail at 4:08 a.m. Wednesday on $15,000 bond after spending about 12 hours behind bars, records show. He faces two counts of sexual battery on a victim over 12 years of age under special conditions.

Police are now urging any additional victims to come forward. "At this time, we're really uncertain if there's additional victims out there or not. However, if there is additional victims, you need to go to the authorities," said McCue. "Don't be afraid your probation is gonna be violated. It's very important that you come forward."

NY Slap back!
Posted: Nov 9, 2014, 5:07 PM ET ~ Updated: Nov 10, 2014, 7:43 PM PST
The booking photo of former sergeant Shawn Glans:


Halfmoon, NY -- Shawn Glans (pictured above, center) an upstate New York Saratoga County Sheriff's officer, resigned Monday morning. His resignation came after video surfaced of him allegedly slapping a man and cursing at him for refusing to let the officer search his car. The 48-year-old former sergeant now faces charges including official misconduct and harassment.

Video of the incident taken Friday shows Glans cursing at a suspect after the officer saw a .22-caliber rifle in the back seat of a car in a parking lot. The man and his friend had broken no laws. Glans said they were wearing dark clothes and acting suspiciously, according to local media sources.




The officer can be heard demanding the owner's car keys. When the owner refuses to let the officer search the car without a warrant, Glans becomes confrontational. "We'll get a fucking search warrant," Glans can be heard saying before calling the man a "fucking idiot."

"Let me see your fucking keys, I'm searching your fucking car," he says. Though not captured on camera, an audible slap can be heard as the officer yells "you want to fucking resist?" After calling the vehicle's owner an "asshole," Glans tells a man filming that he can get "even more intense."

"I'll rip your fucking head off and shit down your neck," Glans says to the man filming the outburst.

After being suspended on Friday, Glans told media sources that he would have handled the situation differently only because he was being filmed. "If I had to do it all over again...I'd probably do the same thing," he told the publication. "If I knew the camera was there, no, because it does look bad."

The recorded tirade is not Glans' first time inciting anger for his on-duty action. In 1996, the town of Wilton paid a $60-million federal lawsuit after the former officer slammed his police car into another car, leaving 45-year-old Douglas McEarchron -- a father of six -- permanently paralyzed. McEarchron can no longer walk or talk. Glans lost control of his cruiser and crashed head-on into a vehicle driven by 45-year-old Douglas McEachron, leaving the father of six paralyzed. Glans was traveling at least double or possibly three times the speed limit of 20 mph when he crossed into the westbound lane and hit McEachron's 1989 Chevrolet, according to court records.

Glan's wife, Carrie, told media sources that her husband reacted poorly in the incident caught on video, but that there were "circumstances that came beforehand."

"He's had a very hard year," she said.

Posted: Nov 9, 2014, 5:07 PM ET ~ Updated: Nov 9, 2014, 7:43 PM PST

Halfmoon, N.Y. -- A New York sheriff's deputy has been suspended after cursing and apparently slapping a young man. A video captured Sgt. Shawn Glans assaulting the man. The man (on video) refused to let Sgt. Shawn Glans (pictured above, center) and another officer search his vehicle. The man's friend filmed the encounter. It shows Glans cursing at the man and insisting he has a right to search the vehicle. The vehicle allegedly had a rifle on the backseat.



The deputy apparently slaps the man; the strike can be heard but isn't seen. The deputy then tells the friend he could "rip your fuckin' head off, .. shit down your neck."

Media sources in New York reported that Sgt. Glans was suspended Saturday over the encounter Friday in Halfmoon. Glans told the newspaper the two had been acting suspicious but hadn't broken any laws. Saratoga County Sheriff Michael Zurlo calls the video disturbing.

Trumps!
Posted: Wednesday, June 10, 2015 11:15 pm ~ Updated: Wednesday, February 23, 2016 11:15 pm

Atlantic City, NJ -- A New York state trooper was indicted Wednesday in the alleged sexual assault of a woman inside a Trump Taj Mahal hotel room.

Devon Thomas, 36, is accused of holding the 34-year-old New York woman down on a bed and raping her "while she was intoxicated and physically unable to resist."

Police were called to the Trump Taj Mahal just after 8 a.m. April 25, 2014.

Video shows Thomas entering the room where the woman was lying unconscious, according to information previously revealed in court. He stayed in the room for seven minutes.

Thomas' semen was found on the woman's stomach and clothing, Chief Assistant Prosecutor Pamela D'Arcy said during a court appearance in October.

New York City Police Officer Andrei Torres was originally charged along with Thomas, but the Atlantic County Prosecutor's Office dismissed those charges in May.

The grand jury indicted Thomas on charges of aggravated sexual assault and sexual assault. The aggravated charge carries a potential sentence of 10 to 20 years in prison. The sexual assault has a five- to 10-year term.

Thomas is currently free on $175,000 bail.

"We were surprised that Officer Thomas was indicted," defense attorney Joseph Levin said. "We maintain that the charges are unjust, and we look forward to a trial and exoneration."

Posted: Wednesday, May 27, 2015 2:10 pm ~ Updated: February 23, 2016 11:17 PM



Charges have been dropped against one of two New York law enforcement officers charged with aggravated sexual assault inside an Atlantic City casino hotel room.

Andrei Torres had been charged with aggravated sexual assault and sexual assault by force in the April 24, 2014, attack on the 34-year-old woman at the Trump Taj Mahal.

Charges remain against New York State Police Officer Devon Thomas, who allegedly held the woman down on a bed "while she was intoxicated and physically unable to resist," the complaint states.

"The public hears of an arrest and, unfortunately, often never learns the rest of the story," Torres' attorney, John Zarych, said "People just assume the person is guilty and are never made aware when the accusations turn out to be false. In situations where a claim involves a police officer, this is even more devastating as an arrest is highly publicized while a dismissal doesn't have the same degree of interest. In the age of the Internet, where Mr. Torres' name will forever be associated with this allegation, it is more important than ever to inform the public of a dismissal."

During the officers' first court appearance in October, Chief Assistant Prosecutor Pamela D'Arcy indicated that the case against Thomas was stronger.

Torres was released on his own recognizance, while Thomas was held on $175,000 full cash or bond.

At the time, D'Arcy said Thomas' semen was recovered from the woman's stomach and clothing, and that video showed him enter the room where the woman was lying unconscious and remained there for seven minutes.

"The state is conducting an investigation regarding (Torres)," D'Arcy said at the time. "Regarding (Thomas) the proofs are substantial."

"We strongly believe that the charges against Officer Thomas are also unwarranted," said defense attorney Joseph Levin.

He said they will continue talks with the prosecutor in the case to dismiss the charges against Thomas as well.

"If indicted, then we intend to fight the charges vigorously," Levin said. "We still remain confident that it will not progress to that point."

Zarych thanked the Atlantic County Prosecutor's Office for properly investigating the matter.

"Too often, there is pressure to move ahead with cases that are unsupported by the evidence, especially when the suspect is an officer of the law," he said.

Torres served as a Marine, and was deployed in Afghanistan from 2005 to 2006.

"We hold law enforcement and those who served in the military in extremely high regard and are doubly happy when we can help those who put their lives on the line keeping us safe." Zarych said. "He still has a long road ahead of him as he picks up the pieces. But he can once again look forward to a bright future without having the threat of prosecution hanging over his head."

Posted: Thursday, October 9, 2014 6:45 pm ~ Updated: 09 October 2014 11:19 PM PDT



Atlantic City, NJ -- Atlantic County's chief assistant prosecutor said Thursday the state has "significant" evidence against one of two New York law enforcement officers charged with raping a woman inside an Atlantic City casino in April.

Andrei Torres, 32, of Middle Village, N.Y., and Devon Thomas, 35, of Hollis, N.Y., face aggravated sexual assault charges in the alleged rape of a 34-year-old woman at the Trump Taj Mahal Casino Resort on April 24. Both men pleaded not guilty before Judge Michael A. Donio Thursday.

In a bail discussion, Chief Assistant Prosecutor Pamela D'Arcy said the state has video showing Thomas entered the room where the woman lay unconscious and remained there for seven minutes. She said semen that matches Thomas' DNA was later recovered on the stomach and clothing of the woman and that she provided vague memories to authorities of her alleged assault.

D'Arcy revealed these specifics of the case after Thomas' lawyer asked why the state had offered a bail agreement to Torres but had not done the same for his client. Torres was released on his own recognizance but is forbidden to contact the victim and must sign a restraining order, turn in his passport and remain in New York state except for matters pertaining to his trial. Thomas' bail was ultimately set at $175,000 full cash or bond with no 10 percent option and the same stipulations.

D'Arcy was relatively tight-lipped about the state's case against Torres but said it has evidence showing the victim went to the hotel room with Torres, after which point he left the room and told Thomas she was there, unconscious. She did not say whether the state had DNA evidence against Torres but implied the case against Thomas is stronger.

"The state is conducting an investigation regarding (Torres)," she said. "Regarding (Thomas) the proofs are substantial."

After the state's evidence was revealed, Levin did not dispute the DNA match but said he did not have non-consensual sex or sex with an unconscious woman.

Both men's attorneys pointed to their clients' years of military service and current employment in law enforcement as evidence of their character. Thomas is a three-year New York State Police veteran and Torres has been with the New York Police Department for seven years. Both served in the United States Marine Corps in Iraq and Afghanistan.

Rothschild Rapist!
Published: 4:04 p.m. CDT October 6, 2014 ~ Last Updated: 1:04 a.m. PDT October 8, 2014

SCHOFIELD A Rothschild, Wisconsin -- A Rothschild police officer was arrested over the weekend after a 21-year-old Schofield woman told police the officer sexually assaulted her. The sexual assault allegedly occurred in her home Friday after the two spent the night watching the Packers game at a bar. The victim reported the sexual assault. The officer, Corey A. Yolitz, 22, of Kronenwetter, was charged in Marathon County court Monday. His charges are second-degree sexual assault and burglary. The woman is not being named in accordance with our policy of not naming sexual assault victims.

Investigation into the incident began Friday afternoon when police were called to Aspirus Wausau Hospital for a report of a sexual assault that occurred at a Schofield home. The victim told police that she ran into Yolitz Thursday night when she went to a local bar to watch the Green Bay Packers game. The woman continued drinking after the game. She drank until bar-closing time at 2 a.m. Friday. She claims was "extremely intoxicated" and accepted a ride home from Yolitz, according to court records. The woman told police Yolitz dropped her off and left. She went to bed, according to court records.

The woman told police she was awakened by someone having sex with her later in the night. The woman initially thought it was her boyfriend. When she spoke to the man having sex with her in the darkened room, he responded as if he were the boyfriend, court records said. At some point, she realized it wasn't her boyfriend and confronted the man. The man then ran from the home. As the man ran, he set off motion lights outside the home. The victim was able to identify the man as Yolitz. The woman described the car he got in, as the same car he had driven earlier that night, according to court records.

Yolitz initially denied having sex with the woman when police confronted him on Saturday. However, he later changed his story, according to court records. He told Everest Metro police that after he dropped the woman off, he became concerned that she might try to return to the bar to retrieve her car and drive home, records said. Yolitz said he drove back to the bar, saw the woman's car still there and then drove to her home to be sure she wasn't walking to the car, records said. When he arrived, he found the door to her home locked, but he entered the home without announcing himself or turning on any lights, the report said. He found the woman sleeping in her bed, then got into bed with her and initiated sexual contact, the report said. Yolitz told investigators he "count not recall" if he had intercourse with the woman, records said. After Yolitz was interviewed by Everest Metro officers Saturday, he was taken into custody later that evening, according to Everest Metro Chief Wally Sparks.

Marathon County Circuit Court Judge Jill Falstad ordered Yolitz held on a $2,500 cash bond and ordered him to have no contact with the woman and to consume no alcohol. Yolit'z defense attorney said he expected Yolitz to post the bond and be released from jail later Monday. He faces 52 1/2 years in prison if convicted on both charges.

Rothschild Police Chief Jeremy Hunt issued a press release Monday in which he briefly outlined Yolitz's employment history. Yolitz had been a Rothschild officer since June 9, 2014. He was immediately removed from duty Friday when Hunt learned of the allegations. Hunt said in a press release that Yolitz resigned Saturday. Hunt referred all questions to the Marathon County District Attorney's Office.

Homers!
Posted: Oct 03, 2014 3:15 PM PDT ~ Updated: Oct 04, 2014 10:55 PM PDT




TEMPE, Ariz. - A Tempe police officer was caught on camera punching a homeless man and since the alleged attack, the video has gone viral. The video shows the police officer trying to move the homeless man. The two struggle on the sidewalk. The man throws a punch. The officer responds, hitting the man four times while his head is against the sidewalk. After getting hit four times, the man was taken to a hospital. We don't know his condition.

The video was showed to people along Mill Avenue. "That's despicable," said Detroit Thomas. "Just from the physicality of it, I think it could have been handled a little differently." However, others point out the man can clearly be seen throwing a punch before the officer responds with force. "When the police give you a command, you are supposed to listen to that command and if you don't, that is when the trouble can start," said Arnie Miller.

"I hope that the officer isn't judged too harshly by public opinion, which is again sometimes quick to judge," said real estate broker Joseph Lewis. He captured the fight on a video camera he has in front of his Mill Avenue office. The cameras are streaming and recording the Mill scene 24 hours a day. "The first time was difficult. It is still difficult, however the more I learned about the incident, the more I learned that there is two sides to every story," said Lewis. "As an officer, you have to make a split decision and your job is to subdue this suspect. You don't know if he is going to have a knife on him or what is going to happen next," said Lewis.

Tempe police have a copy of this video and an internal investigation is underway. The officer is still on duty.

Guilty!
Posted: 7:58 PM, Sept. 12, 2014 - Updated: Wed. Sept. 17, 2014 03:13 PM PDT

TERRE HAUTE, Ind. - Putnam County Deputy Terry Joe Smith was found guilty on two counts of using excessive force Friday afternoon. Smith was convicted of depriving two people of their civil rights while they were under arrest. Smith faces 24 to 30 months in prison. The conviction will end his career as a deputy and a member of the Greencastle City-County Council.

Federal prosecutor Bradley Blackington told the jury during closing arguments Thursday that Smith was "a thug with a badge." Seven other police officers testified about Smith's actions, including punching a handcuffed man in the face as he was lying on the ground. Smith's Defense attorney told jurors that Smith was innocent of using excessive force and that the county sheriff's department was deeply divided.

Beatdown!
Posted: 1:44 PM EDT, Saturday, Aug 30, 2014 • Updated: 9:00 PM PDT, Sunday, Aug 31, 2014

New York, NY • Police say three people were arrested for beating up an off-duty officer in the Bronx and trying to steal his gun.

The three people arrested, one of whom was a 15-year-old boy, allegedly started assaulting the officer in a bodega on the Grand Concourse at 6 a.m. on Saturday.

The three allegedly kept beating up the officer even after he identified himself as a cop and the 15-year-old ran off with the officer's gun.

All three suspects were eventually apprehended, along with the stolen gun, and the officer was treated for non-life threatening injuries that included a swollen eye and cuts on his arm, neck and head.

Rape Patrols!
Published: August 28, 2014 - 1:11 pm ~ Last Updated: August 28, 2014 - 1:13 pm

FORT WAYNE, Indiana — Mark Rogers, 46, a Fort Wayne police officer, has pleaded guilty to raping a woman who prosecutors say he had arrested for drunken driving. Rogers pleaded guilty to one count each of rape, sexual misconduct and official misconduct charges during an Allen County court hearing Thursday. Media sources report that prosecutors are dropping another count of rape and a false informing charge.

The rape charge to which Rogers pleaded guilty states that the woman was so mentally disabled she was unable to consent to sex. Authorities said Rogers stopped the woman in September 2013 and took her to a hospital for treatment of a high intoxication level. Prosecutors say Rogers took her to a city park after she was released and had sex with her.

Drunk Patrols!
Published: Tuesday, August 26, 2014, 4:31 PM EDT ~ Updated: Wednesday, August 27, 2014, 7:31 AM PDT

Oklahoma -- An Oklahoma Highway Patrol trooper arrested on suspicion of DUI in July has resigned.

Trooper Joshua Davies on Tuesday submitted a letter of resignation to Oklahoma Department of Public Safety Commissioner Mike Thompson. A predetermination hearing for Davies had been scheduled for Wednesday, according to an Oklahoma Highway Patrol news release.

OHP Chief Ricky Adams characterized Davies' actions as "an egregious breach of the standard of conduct demanded by our profession," saying that the troopers who arrested Davies "enforced the standard without exception."

About 4:30 p.m. July 3, OHP officials received reports of a single-vehicle collision involving an OHP patrol vehicle and boat near U.S. Highway 59 on Applegate Cove Road south of Sallisaw.

Troopers arrived to find a marked OHP SUV towing a patrol vessel being driven by Davies, who showed signs of intoxication. Troopers arrested him on suspicion of DUI and he was booked at the Sallisaw Police Department. Arresting troopers later administered a routine state breath test in which Davies registered over the legal limit.

Davies had been with the OHP for eight years. He had been placed on administrative leave pending an internal investigation.

Leesburg!
Published: Friday, August 22, 2014, 4:31 PM EDT ~ Updated: Wednesday, October 8, 2014, 6:31 AM PDT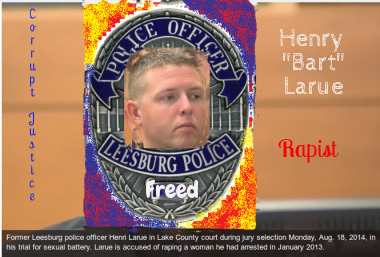 TAVARES, Fla. -- A 24-year-old woman has launched an online petition in an attempt to prevent a fired Leesburg police officer she accused of sexually assaulting her from getting his job back. The woman launched the petition after his acquittal last week. The petition started by the woman who brought the allegations against Henry Bart Larue, 27, has generated almost 1,400 signatures in two days, .

Larue pulled over the woman in October 2012 for driving with a dim tag light and learned she had several active suspensions on her license. The woman said the officer forced her to perform a sex act after making a U-turn and driving to a secluded alley behind a strip shopping center. Larue was later arrested and lost his job.

Defense attorneys hammered away at the prosecution's timeline of events and said the alleged victim made "materially false statements."

A jury of four women and two men on Friday found Larue, 27, not guilty of armed sexual battery by a law-enforcement officer. "I think the justice system came through correctly this time," Larue told the news media after the verdict was delivered at the Lake County Courthouse. Larue could have been sentenced to life in prison if he had been convicted.

Published: Tuesday, August 19, 2014, 4:31 PM EDT ~ Updated: Tuesday, August 19, 2014, 6:31 PM PDT

TAVARES, Fla. -- Officer Henri Bart Larue arrested a woman in October 2012 for driving with a suspended license. The woman alleged she was raped by the Leesburg police officer on her way to jail. Larue was arrested in January 2013 after the Florida Department of Law Enforcement spent several months looking into the woman's arrest. Leesburg police later fired Larue after a report showed he joked with dispatchers about flirting with the woman. State prosecutors said DNA evidence backed the woman's claims, and that Larue took nearly twice as long as he should have taking the woman to jail. Defense attorneys argued investigators found no bodily fluids, and said the slow trip could have been caused by stop lights.

Six jurors and two alternates were seated Monday in Larue's trial. The woman, now 24, took the stand Tuesday after opening statements in Larue's trial for sexual battery with a weapon. She told a Lake County jury her emotional story. Corrupt Justice™ is not identifying the woman in accordance with the laws regarding the identity of sex crime victims.

In the beginning the woman said Larue made a comment about not having "pink fluffy handcuffs." The victim claims she thought it was just inappropriate flirting. The woman then testified that Larue took her to the Leesburg Police Department. The woman claims that when they left for the Lake County Jail, Larue made a U-turn and headed behind an empty shopping center. Next, the woman told jurors that she was let out of Larue's squad car, still in handcuffs.

"My arms were still cuffed, so he reached around my arms, pulled up my shirt and grabbed my [expletive]," she said. "He just placed my hand on it and made me touch it." The woman then said Larue, with his police-issued handgun near her head, continued to rape her. "He did it continuously until he was done," she told jurors." The alley felt a mile long at the time, and I felt like cooperating was the safest thing for me," said the woman,

Larue's attorney tried to poke holes in the woman's story on cross-examination. The attorney asked her why she didn't tell anyone at the jail or go home to her child after the alleged incident. "I guess you can't understand that because you aren't the victim of a rape," the woman answered, "but I was not in a state to go see my baby off to school." The trial is expected to continue through the rest of the week.

Published: 11:12 am EDT, August 19, 2014 ~ Updated: 6:43 pm PDT, August 19, 2014

LEESBURG, Fla. -- Former Leesburg police officer Henri Larue is on trial for sexual battery in Lake County. Larue is accused of raping a woman he arrested and was supposed to be taking her to jail. Larue was arrested in January 2013 after state investigators spent several months looking into his arrest of a woman driving with a suspended license. The Leesburg Police Department fired Larue after a report showed he joked with dispatchers about flirting with the woman. The Florida Department of Law Enforcement concluded it took Larue too long to take her to jail and said they found DNA evidence in his patrol car to support her sexual battery claim.

Attorneys spent Monday choosing from 36 prospective jurors, eventually choosing six jurors and two alternates. They will be asked to decide if Larue is guilty of sexual battery by a law enforcement officer with a firearm. Opening statements are expected to start Tuesday.

Larue was in court Monday and his attorney seemed to indicate the ex-police officer might not take the stand. "So, if you don't hear from one side, would you tend to favor the side you did hear from?" asked Larue's attorney. Larue's attorney has previously questioned the 23-year-old woman's credibility, saying she had been arrested several times.

FBI Sting!
Updated: 08/15/2014 7:49 AM | Created: 08/15/2014 7:27 AM

Rio Arriba County, NM -- The FBI confirms Rio Arriba County Sheriff Tommy Rodella was arrested Friday morning. According to Frank Fisher with the FBI, both Rodella and his son, Tommy Rodella, Jr., were arrested and are now in FBI custody. The reason why both men were arrested has not been disclosed, but federal officials are expected to announce the filing of a significant federal indictment at the U.S. Attorney's Office at 11 a.m. Friday. In June, FBI agents executed a search warrant at Rodella's home in connection to the arrest of a man who claimed the sheriff and his son threatened him and then falsely charged him with aggravated assault on a peace officer.

Another Rapist!
Published: August 11, 2014 - 4:23pm - Updated: August 12, 2014 - 1:15 pm pdt
"We take any complaint of misconduct very seriously. When this complaint was received against Trooper Eric Roberts, I ordered an immediate investigation into the matter. I expect the completion of this investigation very soon. These allegations are especially disturbing and must be properly completed. Any type of conduct of the nature alleged will not be tolerated." Roberts, a 16-year veteran of OHP, has been suspended with pay.

-- Chief of Patrol Colonel Ricky Adams.



TULSA, Oklahoma - The Oklahoma Highway Patrol announced last week that it had suspended Trooper Eric Roberts on July 24th pending an investigation. However, they would not divulge the nature of that investigation concerning Roberts' suspension. However, a woman filed a lawsuit against Oklahoma Highway Patrol Trooper Eric Roberts on Monday. The Plaintiff is accusing him of raping her during a traffic stop on July 22, 2014. On Monday, August 11, 2014, an attorney filed a lawsuit in Tulsa federal court on behalf of a 28-year-old woman against Roberts.

According to the lawsuit, Roberts was patrolling near Town West Shopping Center on July 22, 2014. (Roberts is assigned to Troop YB, which means he patrols the Turner Turnpike.) On that afternoon he saw the woman identified in court documents by only her initials, A.M.F. The lawsuit claims she was driving with a female friend. Roberts made eye contact with her and turned his cruiser around. The woman pulled into the parking lot of a motel where she and the friend were planning to stay. At this point Trooper Roberts initiated a traffic stop. A.M.F. claims she was stopped even though she had not violated any traffic laws.




The lawsuit says Trooper Roberts told the woman he could smell marijuana stating, "You just made my day." Trooper Roberts made the woman get into his patrol car. She says he immediately began asking her inappropriate questions and making inappropriate comments. She says Trooper Roberts asked her if she had a phone with internet access and she said she did. Trooper Roberts then told her to have her friend get a room without her.

The suit alleges Roberts then told the woman to drive to a nearby convenience store. The lawsuit says Trooper Roberts bought two bottles of water. He then ordered her to get into his cruiser. According to the lawsuit, Trooper Roberts ordered her to strip from the waist down and to call up a pornographic video on her phone. The woman claims Trooper Roberts started to drive and forced the woman to perform sex acts on herself while he watched her and the video. In the lawsuit, the woman claims she received multiple calls on her phone as the video played. Trooper Roberts would make her restart the porno video after every call.



The woman says once Trooper Roberts reached a secluded spot, he stopped the car and raped her while standing outside the passenger door of the patrol car. Afterwards, the woman claims, Trooper Roberts poured one of the bottles of water he had purchased onto his groin area, then got a blue rag out of the trunk "along with a substance with a medicated smell to clean himself." The woman says Trooper Roberts then allowed the woman to get dressed as he drove her back to her car where he said, "I'll see you later."

The lawsuit says the woman confided in a friend who got the number for the Oklahoma Highway Patrol. The next day the woman called the OHP and made a report. According to the lawsuit, the woman led investigators from the highway patrol to the store where she said Trooper Roberts purchased the water. She then led them to the place where she says she was raped. The lawsuit says she believes the investigators were able to retrieve the condom she says Trooper Roberts used.

On Monday afternoon, the Oklahoma Highway Patrol released a statement on the lawsuit:

"The Oklahoma Highway Patrol confirms state trooper Eric Roberts has been placed on suspension with pay pending the outcome of an internal investigation. Trooper Roberts, a sixteen year veteran of the OHP, was suspended Thursday, July 24th, when Patrol officials received allegations of misconduct and launched an immediate investigation into the matter.

'We take any complaint of misconduct very seriously. When this complaint was received against Trooper Eric Roberts, I ordered an immediate investigation into the matter. I expect the completion of this investigation very soon. These allegations are especially disturbing and must be properly investigated. Any type of conduct of the nature alleged will not be tolerated,' stated Chief of Patrol Colonel Ricky Adams.

Creek County District Attorney David Max Cook said Monday he's aware of the investigation but could not comment on it. No further details will be released pending the outcome of this investigation." The woman's attorney said the woman was terrified for her life during the ordeal. He stated that she has no criminal history other than minor traffic violations. He said she is getting the help she needs to get through this.

'Heroic'!
Published: August 11, 2014 - 4:23pm - Updated: August 12, 2014 - 6:23am pdt

Oklahoma -- Police have identified Sebastian County Sheriff's Deputy Joshua Heidelberg (pictured below-center) as the off-duty officer involved in the deadly Brooken Hill shooting of a carjacker Saturday. Justin Wayne Higgins, 23 (pictured above, center) was shot dead after police responded to a domestic disturbance call just before 5 p.m. Saturday where investigators say Higgins took a man hostage in his vehicle, shot at police and then attempted to take another family hostage when Heidelberg intervened.



"Higgins was holding a gun to the head of a family friend of Heidelberg and Higgins was about to drive away with Heidelberg's friend and Heidelberg's children in the vehicle," states a news release from Lt. Philip Pevehouse with the Sebastian County Sheriff's Office. "Deputy Heidelberg's swift and decisive action stopped an active shooter who had already shown a disregard for human lives."

Sheriff Bill Hollenbeck said Heidelberg's actions were "at the very least heroic," and although it was a "horrible situation" considered it a "justified shooting."

According to a police report, after fleeing the first hostage victim Higgins ran behind the residences toward 21 Bellhaven View Court where he tried to steal another vehicle in the driveway, "but encountered an off-duty Sebastian County deputy, who owned the vehicle."

"He pointed his weapon at a passenger in the vehicle and when ordered to exit the vehicle, he did so, but pointed his weapon at Deputy Josh Heidelberg and was then shot," a police report states.

Higgins was from the Muskogee and Wagoner county areas of Oklahoma.

Heidelberg, who has been with the sheriff's office for two years, is on paid administrative leave pending an internal review and has access to counseling, Hollenbeck said.

Higgins had convictions in Muskogee County for larceny from an automobile and a house, second-degree burglary, assault and battery with a dangerous weapon and unauthorized use of a vehicle, as well as an unauthorized use of a vehicle conviction in Wagoner County, according to the Oklahoma Department of Corrections website.

He had an active warrant out of Muskogee stemming from a 2013 felony methamphetamine arrest in which he pleaded guilty and received a 15-year suspended sentenced and was ordered to complete inpatient treatment. He also had a warrant for failure to comply with the terms of his sentencing in unauthorized use of a vehicle cases in Muskogee and Wagoner counties, according to on-demand court records.

Higgins was last released from jail in Oklahoma in October, according to court records.

Vengeance is Mine!
Published: 2:41 PM, Aug 8, 2014 - Updated: August 12, 2014, 11:05 am pdt

NOWATA COUNTY, Okla. - On June 16, 2014, state trooper Jerrod Martin (pictured below-center) shot and killed Joshua Stand (pictured above, center) in the town of Delaware. The June fatal shooting of Stand trooper Martin has been ruled justified. Trooper Martin has been released from routine suspension and returned to active duty. According to the DA's memo, evidence indicates Martin "was in danger of serious bodily injury or death" and his use of deadly force was justified. According to the district attorney's office, while on duty that morning, Martin witnessed Stand walking on Highway 169. Martin checked with dispatch on any warrants and moved along when told there was no reason to stop Stand. Martin was aware of Stand's contact with Nowata County sheriff's deputies the weekend before and that was his reason for inquiring about warrants.



After moving along, Martin was notified by dispatchers of reports that Stand was walking in the middle of the highway with a knife. The trooper turned around and located Stand. According to a memo from DA Kevin Buchanan, Martin ordered Stand out of the road and to drop the knife but Stand refused, telling the trooper to leave him alone. The memo states Martin's microphone continued recording for a short time but eventually reception became spotty and the recording became mostly inaudible.

Eventually Stand ran from Martin, who followed on foot. Martin told investigators Stand stopped and ran several times during the incident and made chopping and stabbing motions with the knife. At one point, Stand put the knife in his pocket and began walking away. Martin said he considered physically engaging Stand but then Stand turned and removed the knife from his pocket, taking a step toward the trooper. At that time, Martin, who estimated the distance between the two at less than 20 feet, shot Stand multiple times. Stand died at the scene.

An autopsy found Stand had nine gunshot wounds but it wasn't clear if some of the rounds made more than one injury, according to the memo. Two of Stand's wounds were likely what caused his death. In Buchanan's memo, he writes "Of concern in the (ME's) report are three gunshot wounds, which appear to have entered Joshua Stand's body from behind," though Martin said he didn't remember firing at Stand when his back was turned. The ME also determined Stand was in a state of "acute methamphetamine intoxication," which the DA's office says "quite possibly enhanced" his erratic behavior and "added to the unpredictability of the circumstances."

Martin had previously arrested Stand for driving under the influence and firearm possession. He reported also witnessing Stand's combative behavior at the jail on separate occasions. Following the DA's decision to forego filing criminal charges, the Oklahoma Highway Patrol returned Martin to active duty Friday.

Chief of Rape!
Published: August 7, 2014, 5:30 pm - Updated: August 10, 2014, 5:34 am pdt

ALBUQUERQUE, NM (WCJB) – The former Chief of a New Mexico police department is now facing charges that he raped a woman who was in his custody. New Mexico state police arrested former Jemez Springs police chief Shane Harger (pictured above, center). Harger was fired from his position with Jemez Springs police in February (2014). Harger, 40, a former Taos Police Department officer, was arrested Thursday (Aug. 7) on charges of raping a 19-year-old woman detained at a police station in Jemez Springs. A spokesperson for the New Mexico State Police confirmed Shane Harger, 40, was taken into custody at his Edgewood home.




News cameras were rolling as Harger was walked by state police officers to their Albuquerque office on Thursday afternoon, shortly after he was taken into custody in Edgewood. Harger did not respond to requests for comment and kept his head down as officers walked him away in cuffs. State police say Harger was taken into custody without any problems. He's now awaiting a court date in the Sandoval County Detention Center.



Investigators say they've been looking at the case since January (2014). State Police say Harger pulled over a car in early January while he was still the Jemez Springs police chief. Police aren't saying why the car was pulled over. However, media sources learned that police found heroin inside of the stopped car. According to state police, another officer took three men inside the car into custody and two of them were charged. Meanwhile, Harger took the woman alone.

A warrant for his arrest was filed with the Thirteenth Judicial District Court Thursday. The warrant was filed after he was indicted by a Sandoval County grand jury. The charges include criminal sexual penetration, criminal sexual contact, kidnapping and extortion. The paperwork says Harger illegally detained the woman, then touched the woman's private parts and raped her. State Police say the woman was released three hours later after she was taken into custody and was not charged. The indictment says Harger then threatened the woman with charges if she told anyone about it. New Mexico state police pulled Harger over Thursday in Edgewood and arrested him.

Harger's attorney issued a statement Thursday to address the charges:


"Mr. Harger is innocent of these charges and that will be proven as this case moves forward. This is yet another instance where police officers must be forever vigilant when they take people into custody. The fact that the alleged victim in this case did not testify before the grand jury panel is telling about her own credibility."

This isn't the first time Harger has been in the news for his questionable behavior. Harger got in a heated argument with TSA and Albuquerque Police at the Albuquerque Sunport in late January (2014). He was trying to get past security screening with identification cards that had two different names. The incident was caught on camera and happened after the alleged rape. It ended with Harger appearing irritated. Meanwhile, a security agent was heard saying "You know, in my opinion, he's a poor excuse for police chief." Harger was fired by Jemez Springs Village Council in February, but at the time they wouldn't say why.



Harger left the Taos Police Department in 2005 while at the center of several lawsuits alleging he assaulted, battered or falsely imprisoned suspects during his one year on the job. Federal court records indicate he was named as a defendant in two lawsuits during 2005. During 2004, he was named as a defendant in two lawsuits filed with state courts. One federal lawsuit, which was settled by the town of Taos, alleged Harger pepper sprayed a restrained suspect and later arrested the man's mother, purportedly as an act of revenge. The lawsuit, which also named former chief Neil Curran as a defendant, raised concerns about Harger's record as a law enforcement officer. Harger's behavior at the Taos Police Department prompted a series of complaints and tort claims, the lawsuit said, and purportedly spurred one captain to resign. Harger's subsequent departure from the Taos Police Department was "not retirement," according to municipal officials. The officer later worked at the Milan Police Department and was most recently chief of police in Jemez Springs.

"It can give all of law enforcement a bad name when something like this happens… and nobody that takes this job serious and wants to do a good job appreciates this kind of behavior from anybody wearing a uniform," said Sgt. Damyan Brown of the New Mexico State Police Department.

The Keplers!
Posted: November 7, 2016 1:02 PM PDT - Updated: November 7, 2016 3:02 PM PDT


Tulsa, OK -- Former Tulsa Police Officer Shannon James Kepler, 56, is accused of first-degree murder in the shooting death of Jeremy Lake. He also faces charges for shooting at his daughter and Michael Hamilton. Hamilton is Lake's (now) 15-year-old brother. Kepler's trial is ongoing at the Tulsa County Courthouse. Various Tulsa police officers testified against Kepler earlier in the trial. The prosecution rested its case on Tuesday. Wednesday morning Kepler took the stand as the first witness. The defense questioning focused on his background as a police officer and raising adopted children.

Kepler testified Wednesday that he shot his daughter's 19-year-old boyfriend in self-defense. The defendant described seeing movements by Lake toward his waistline during the brief confrontation. Kepler testified that he had long been frustrated with his daughter Lisa Kepler. She had begun dating Jeremy Lake just prior to his death on Aug. 5, 2014. The former police officer testified that movement led to him drawing a .357 revolver one-handed, ... to fire shots. Kepler said he definitely saw a gun in Lake's hand after firing the initial shots. He testified: "He's stumbled around, and then he's coming back up. I retreated as best as I can. Training kicked in, and I fired three shots."

The Prosecutor's cross-examination focused on Kepler's account of the incident, which included what Kepler conceded were several apparent policy violations. He testified: "With my daughter involved, yes, I may break a law or two to make sure my daughter is safe." When the prosecutor asked for further explanation about breaking the law, Kepler restated his comment. He stated: "I misspoke. 'Break the rules' is what I meant. Not 'break the law.'"

The Rules or policy Kepler admitted to violating include checking the Tulsa Police Department's official records search to investigate Lake's background; not calling in the shooting; or waiting for police at the scene, which Hepler said department policy requires. Kepler testified: "I should have called. I should have called and gone down there. I made a lot of mistakes, you know." Kepler testified he instead drove to midtown immediately after the shooting to meet his wife. She had contacted attorneys. He testified: "I thought of my wife. I thought of my family. A loss of a life is not anything I take lightly. If he hadn't of forced my hand, I wouldn't have defended myself."

Under further cross-examination Kepler said he saw what looked like a gun before the initial shots. Kepler testified: "He started moving forward. I started watching his hand. You could tell he was agitated and wasn't going to let me go by, and it was pretty obvious he wasn't going to let me talk to her (Lisa) ... You watch the hands. When he started making that movement, he's reaching for something. That got my attention." No gun was discovered in Lake's possession or at the scene. Kepler also testified that he shot wildly in the heat of the moment and under stress. He testified: "I don't have time to stop and aim. I probably shot a little early. When someone's coming at you with a gun, I don't necessarily have time to stop and aim."

The prosecutors questioning then turned to Kepler's household rules. Kepler admitted the rules were strict. Kepler described frustrations with Lisa Kepler that included the 18-year-old getting on Facebook and talking to boys against house rules. Kepler testified: "We were trying to get her on a good path. We were working on getting her a car. But her behavior. She wouldn't abide by the rules of our house. She began using Facebook and contacting people through Facebook messaging. She was having those people come by the house … You had to have a key (to lock the home's door), and she was leaving the door unlocked."

Assistant District Attorney Kevin Gray asked why should that be surprising. Gray said: "That sounds to me like an 18-year-old girl." Kepler responded: "She was going out at two and three in the morning and doing sex acts for drugs. I didn't want to bring that up, but since you're going that direction." Gray then insinuated Kepler was calling his daughter "a whore." Kepler retorted: "No, I did not." Simultaneously, District Judge Sharon Holmes, sustained an objection and instructed the jury to disregard the statement.

Kepler also denied earlier testimony by his daughter that he had grabbed her neck once to prevent her leaving the home. Kepler said: "Her moods would go from nothing to hysterical at times over things that were not all that big. She said I grabbed her by the throat. I grabbed her by the shoulders. … Several times we had to do that."

Jurors will return Thursday morning for closing arguments in the high-profile murder trial.

Posted: Aug 09, 2014 1:02 PM PDT - Updated: Aug 10, 2014 3:02 PM PDT

TULSA, Okla. (WCJB) - Officer Shannon Kepler is jailed on a first-degree murder complaint. The complaint alleges Kepler is the perpetrator in the Tuesday shooting of 19-year-old Jeremey Lake. Kepler's wife, Gina Kepler, was arrested as an accessory to murder after the fact.

Tulsa police say the weapon and the sport utility vehicle believed to have been used by the two officers in the shooting and killing of their daughter's boyfriend have been found. Sgt. Dave Walker told reporters Friday that the weapon believed to have been used was given to police by Shannon Kepler's attorney. The SUV the couple is believed to have been driving was found at a motel in east Tulsa.

Shannon Kepler remains jailed without bond. Gail Kepler was released on $25,000 bail. Gail Kepler declined comment after being released. Both are expected to be arraigned Tuesday.

Posted: Thurs., August 7, 2014 @ 07:40 AM PDT ~ Updated: Thurs. Aug. 7, 2014 @ 08:00 AM PDT



TULSA, Okla. (WCJB) — Jeremy Lake,19, was found shot to death Tuesday night on a street near downtown Tulsa. Jillian Roberson, a police department spokeswoman, said two Tulsa police officers, who are married have been arrested in the fatal shooting of the 19-year-old man. Shannon Kepler, 54 (pictured above, center-left) was arrested on a complaint of first-degree murder and Gina Kepler, 48 (pictured above, center-right) was arrested on a complaint of accessory to murder after the fact. The Keplers are City of Tulsa police officers. They have 24 years on the force and were off duty at the time of the shooting, Roberson said.



Lake (pictured above, center) was killed as he was walking with the daughter of both officers, authorities said. Lake was walking with the Keplers' 18-year-old daughter, Lisa Kepler, when Shannon Kepler confronted him, Roberson said. An argument ensued and the father lashed out, shooting Lake, Roberson said. Lisa Kepler started to run, and was shot at, but the bullet missed, Roberson said. Lisa Kepler said at a news conference Wednesday that her parents had kicked her out of their home a week ago, and she said was living with Lake at the time of the shooting. "I don't know what could have led them to do this," she said. "They didn't even know Jeremy."

Both Keplers were booked Tuesday night in the Tulsa County jail. It wasn't immediately clear whether they have attorneys. The Keplers are on paid administrative leave, Roberson said.

Police Chief Chuck Jordan said in a statement that "the circumstances around this incident drives home the fact that domestic violence is a societal problem and transcends all economic groups." "I as well as the whole department am saddened for both families involved in this tragic event," Jordan said. Roberson did not immediately return a message late Wednesday seeking clarification on what Jordan meant in reference to domestic violence.

Reinstated!
Posted: Wed., Jul 30, 2014 @ 11:40 PM PDT ~ Updated: Wed. Aug. 6, 2014 @ 08:12 AM PDT

Oakland, CA -- Robert Roche, an Oakland Police Officer shattered Scott Olsen's skull with a lead-filled munition. Officer Robert Roche then threw an explosive tear gas grenade at persons who were attempting to come to Olsen's aid as he lay critically injured on the ground. This conduct occurred in clear view of the police and media sources. Roche was fired, but on July 30, 2014, an arbitrator overturned the termination and reinstated him with full back pay.

The arbitrator's decision was apparently based in part on the fact that Roche had been ordered to deploy gas by then-Captain Paul Figueroa. At the same time, Figueroa authorized the use of "beanbag" impact munitions, on persons who might attempt to throw the teargas devices back at the police. It was inevitable that Scott Olsen and others would be seriously injured or killed, yet Figueroa was not disciplined and has since been promoted to Assistant Chief. This is one reason that attempts at police discipline consistently fail in Oakland: commanders are never made to take responsibility.



The OPD's Crowd Control Policy, adopted as part of a federal court order in settlement of earlier litigation, prohibits officers from deploying the CS Blast grenades or the impact munitions into a crowd. Yet, that is exactly what was done on October 25, 2011, and that is still OPD's practice, despite the serious brain injury to Scott Olsen which led to a $4.5 million settlement. Scott Olsen, his attorneys, and the National Lawyers Guild and ACLU are demanding that Chief Whent comply with the Crowd Control Policy and ban these weapons for crowd control.

"Desk Duty!"
Posted: 5:02 PM EDT, Sat August 2, 2014 ~ Updated: 2:48 AM PDT, Mon. August 4, 2014

New York City, NY (WCJB) -- The New York City medical examiner's office confirmed Friday that Eric Garner, 43, died July 17 after being confronted by police on Staten Island for allegedly selling cigarettes illegally. Demonstrators have been saying for weeks that the choke hold killed Garner. The cause of Garner's death was "compression of neck (choke hold), compression of chest and prone positioning during physical restraint by police," said Julie Bolcer, a spokeswoman for the medical examiner's office. The death was ruled a homicide. The police officer's choke hold on Garner while he was being arrested for selling loose cigarettes, killed him. Two EMTs and two paramedics were suspended without pay, according to Erika Hellstrom, vice president of development at Richmond University Medical Center.

Officer Daniel Pantaleo, who is seen on the video choking Garner, was also put on modified assignment and stripped of his badge and gun amid the investigation, the New York Police Department said. A second police officer was placed on desk duty. The choke hold tactic is prohibited by the NYPD. In a statement, Patrolmen's Benevolent Association President Patrick J. Lynch called Pantaleo's reassignment "a completely unwarranted, kneejerk reaction for political reasons." He said the move "effectively pre-judges this case and denies the officer the very benefit of a doubt that has long been part of the social contract that allows police officers to face the risks of this difficult and complex job."

"Police officers don't start their days expecting or wanting something like this to occur in the performance of their duties," PBA president Patrick Lynch said in a statement. "The ME's report indicates that Mr. Garner was a man with serious health problems so there will have to be a complete and thorough analysis of all the factors that played a part in this tragedy. We believe, however, that if he had not resisted the lawful order of the police officers placing him under arrest, this tragedy would not have occurred."

During the encounter, Garner raised both hands in the air and told the officers not to touch him. Seconds later, a video shows an officer behind him grab the 350-pound man in a choke hold and pull him to the sidewalk, rolling him onto his stomach. "I can't breathe! I can't breathe!" Garner said repeatedly, his cries muffled into the pavement. The video of the incident showed the Staten Island man lying on the ground motionless after he was taken down by a group of officers. An asthmatic, Garner was later declared dead at a nearby hospital.

Acute and chronic bronchial asthma, obesity and hypertensive cardiovascular disease were listed as contributing conditions to the controversial death. Police said he suffered a heart attack and died on the way to the hospital. This ruling sparked anti-police demonstrations and calls for a federal investigation. Demonstrators in New York called the police response during his arrest excessive and criminal. On July 19, Garner's friends and family rallied with Sharpton in Harlem, demanding a full investigation into Garner's death.

On Saturday, Garner's widow, Esaw, appeared at a Harlem rally with the victim's mother, Gwen Carr, and the Rev. Al Sharpton. "First of all, I want to thank the God above for giving us justice for my husband so that we can move forward," she said. "I met with the prosecutors and I feel like I did the right thing by doing that and I just want them to do the right thing and get me justice for my husband." Sharpton is planning a march across the Verrazano-Narrows Bridge, which connects Brooklyn and Staten Island, for August 23.

Douglas Auer, a spokesman for the Richmond County district attorney's office, said the investigation into the death was continuing. "We await the issuance of the official death certificate and the autopsy report," he said in a statement. "The District Attorney will be examining the case to determine if the use of the choke hold was necessary to subdue and arrest Garner, or was an excessive use of force resulting in death," a legal analyst for the media said. A former deputy chief of homicide for the Brooklyn District Attorney's office, the legal analyst said a choke hold does not violate state law but is prohibited by NYPD guidelines on excessive force. The U.S. Justice Department has said it is monitoring the investigation. If local prosecutors decline to file criminal charges, the federal justice department could conduct an investigation into whether the victim's civil rights were violated.

Police Commissioner William Bratton ordered an extensive review of the NYPD's training procedures after Garner's death. After a two-hour meeting with NYPD Training Commissioner Ben Tucker last week, Bratton ordered a "top to bottom review of all the training that this department provides to its personnel, specifically focusing on force, how do we train our officers for a takedown, how do we train them to use the various levels of force that they're authorized to use."

"I would anticipate that coming out of this effort that there will be a retraining of every member of the New York City Police Department in the weeks, months and potential years ahead," Bratton said.

Posted: Sunday, Jul 20, 2014 @ 11:40 PM PDT ~ Updated: Monday, Jul 21, 2014 @ 12:00 AM PDT



New York -- Officer Daniel Pantaleo (pictured above, center) is the New York police officer seen in a video apparently putting a chokehold on a man who later died. Eric Garner's death has led to outrage. Garner, who was 6-foot-3 and roughly 350 pounds, died after a struggle as police tried to arrest him, according to the NYPD. The video obtained by media sources appeared to show that the man was put into a chokehold as he was arrested. The chokehold is prohibited by NYPD departmental policy. Mayor Bill De Blasio called the video of the arrest "very troubling" and delayed a planned vacation for a day after hearing about the incident. De Blasio said NYPD internal affairs and the local district attorney were investigating the incident.




Garner was arrested in Staten Island after he was allegedly seen selling "loosie" cigarettes, police said. Garner was known for selling individual cigarettes for 50 cents each in his Staten Island neighborhood. Police said the cigarettes come from North Carolina and Garner is the end of the supply line. Because the Staten Island man allegedly sold cigarettes to children, the police called the cigarettes a "quality of life" issue in the neighborhood. The video shows officers approaching Garner, who initially denies that he's selling loose cigarettes. "I'm minding my business why don't you leave me alone," Garner can be heard saying. Eventually when police officers move in, Garner appears to not comply and at least five officers wrestle him to the ground as they attempt to handcuff him. As Garner is being held down, he can be heard telling police that he "can't breathe." Eventually when officers realize he is not responsive, they called in an ambulance, which took Garner to a hospital where he died a short time later. Police said he appeared to suffer a heart attack.

Pantaleo is an 8-year veteran. It is reported that he has had his gun and badge taken away pending the outcome of investigations into what happened. Police Commissioner Bill Bratton had announced Friday that the cop and his partner were on "desk duty," but they still had their guns and shields. The NYPD announced tonight that Pantelo has been placed on "modified assignment," pending the outcome of the dual probes by the district attorney and Internal Affairs.

The apparent violence of the arrest led to outrage and the internal investigation. On line, numerous people tweeted #JusticeforEricGarner, calling attention to the deadly incident.

Policeman's Benevolent Association President Patrick Lynch, questioned by media sources about what constitutes an appropriate use of force, said the public should not rush to judge before the official investigation is concluded. "At times, when officers are required to make an arrest, they must employ the use of force in order to get compliance from an individual who NYPD policy requires must be rear-cuffed for transport to a precinct," Lynch said. "Force, by its very nature, is an ugly thing to witness. Taken out of the context of what is happening, necessary force can be misinterpreted to be excessive by those who are not trained in law enforcement procedures."

Garner's family has been devastated by the loss. Garner's wife Esaw Garner collapsed into tears as she attended a crowded memorial rally today at Rev. Al Sharpton's National Action Network.

"This is going to be a real test to see where policies are in the city now and whether the change that we feel occurred has occurred," Sharpton said. "We are the only ones in the social setup that has to deal with fear of cops and robbers."

Stomp Down!
Posted: August 2, 2014 12:09 AM PDT ~ Updated: August 2, 2014 12:17 AM PDT




New York City, NY -- A week after a Staten Island man's death following an alleged chokehold by a New York City police officer, another man whose violent run-in with police was also caught on video briefly spoke about his experience Saturday.

Jahmil-El Cuffee, 32 years old, and his family joined the Rev. Al Sharpton at the National Action Network headquarters in Harlem, alongside family members of Eric Garner, who died last week after a confrontation with officers.

"I just want it all to stop," said Mr. Cuffee, who is seen on the video apparently being stomped in the head by an officer. "(I'm) a little sore but I'm alright. I'll be alright."

The incident involving Mr. Cuffee occurred around 8 p.m. Wednesday outside 223 Malcolm X. Blvd. in the Bedford-Stuyvesant neighborhood, police said.

Officers on patrol in their squad car allegedly saw Mr. Cuffee rolling a marijuana cigarette outside the home, authorities said. The officers approached Mr. Cuffee, whom authorities said was caught trying to put the rolled cigarette behind his chair.

After he produced identification, the officers tried to place him under arrest and, when Mr. Cuffee refused, the skirmish occurred, police said.

A roughly seven-minute video of the incident shows officers handcuffing Mr. Cuffee. A little more than 1 1/2 minutes into the video, an officer identified by a law-enforcement official as 37-year-old Joel Edouard can be seen walking away from the suspect only to return and stomp him once on his head.

Police said the NYPD's Internal Affairs Bureau has opened an investigation into the actions of officers involved in the incident, and Mr. Edouard has been placed on modified duty during the course of the investigation. The officer has been with the NYPD since 2006. He couldn't be reached for comment.

Mr. Cuffee was arrested on charges including resisting arrest, tampering with physical evidence and disorderly conduct.

"My brother is not a criminal," said his teary-eyed sister Rashida Rahim, 39. "There is no excuse to stomp a man on the ground after he was cuffed."

Patrick Lynch, president of the Patrolmen's Benevolent Association, said video recordings of arrests never tell the full story.

"They never capture the criminal act or offense that brings police action to the scene," said Mr. Lynch in a statement. "They present an isolated period of a police interaction but never the entire scenario. That's why it is necessary when videotapes surface to have a complete review of the facts in every case before arriving at any conclusion."

Wednesday's incident comes as the NYPD grapples with the fallout of Mr. Garner's death, which has prompted NYPD Commissioner William Bratton to order the retraining of all 35,000 on the use of force. Additionally, the two officers who first approached Mr. Garner have been placed on administrative duty, and the officer who apparently used the chokehold has had his gun and badge taken away. Separately, four emergency responders who were at the scene have been placed on desk duty.

"When I saw [Mr. Cuffee's video] it was almost like, here we go again," said Mr. Sharpton.

Saturday's news conference at NAN came a day after Mr. Sharpton and Mr. Garner's family met with senior prosecutors in the U.S. Eastern District of New York in Brooklyn for about 30 minutes on Friday. Mr. Sharpton announced that he and the family are scheduled to meet with Staten Island District Attorney Daniel Donovan on Monday to ask him to defer to the federal government.

"We are using the model of the Abner Louima case, where Kings County stepped aside and let the Eastern District conduct the case'" said Mr. Sharpton.

A Rapists' Revenge!
Posted: July 31, 2014 ~ Updated: August 2, 2014 1:58 AM PDT

New York, NY -- Kenneth Moreno, a former NYPD officer, was acquitted on charges of raping a young woman in her East Village apartment. Moreno has now gone on the offensive by filing a $175 million lawsuit against his accuser, the city, the Manhattan DA, and others. Moreno and his partner Franklin Mata were arrested in 2008 on charges of raping the unidentified 27-year-old woman in her East Village apartment. The woman was highly intoxicated and was having trouble walking from a cab to her apartment. The cabbie called police, and the two officers escorted the woman upstairs, making sure she got home safe. They also took her keys. Moreno and Mata then returned to the apartment several more times that night. Moreno was caught on tape fabricating an unrelated 911 call from a pay phone so that they had an excuse to return to the area.

Moreno, along with his partner, went on trial for two months in a case that shocked and riveted the city. During the two month trial, Moreno admitted to singing a Bon Jovi song to the victim while spooning with her on her bed. However, he insisted there was no rape. Despite Moreno's denials, during a heated pre-trial confrontation with his accuser outside the 9th Precinct Stationhouse, he was caught on tape telling her he used a condom. The jury found the Manhattan DA's case ultimately unpersuasive. However, the two officers were convicted of official misconduct, and Moreno served nine months in prison. Moreno says that since his release he has struggled to find work as a contractor. He alleges he was sent home from a job after carpenters learned he was the so-called "rape cop."

He filed the lawsuit in Bronx Supreme Court. Moreno's lawsuit accuses prosecutors of rushing the case to trial in order to advance their careers. "Most prosecutors have an agenda," his lawyer told media sources. "They want their 15 minutes of fame. Most people lick their wounds and walk away. He is fighting back." In his attorney's press release, which identifies Moreno's accuser by name, his attorney says, "Moreno is forever scarred with the scarlet letter of 'Rape Cop.' Mr. Moreno hopes this lawsuit will vindicate his name and make the schemers pay for their malicious conduct. We failed Mr. Moreno on so many levels here because of people's own personal self-agendas," says his lawyer. "Thank goodness, the jury saw through this false rape scheme."

In a 2011 interview, Moreno's accuser said, "I remember, obviously, that I was in a cab. I remember that two police officers helped me in the hallway. And I remember that I was raped by them. I think the memory I've held onto is the penetration. I woke up to being penetrated from behind. I woke up because the action of his penetration was so hard that my head was moving toward the window [at the head of her bed] like it was going to go through it."

Reserved!
Posted: July 31, 2014 ~ Updated: August 1, 2014 2:37 AM PDT

ST. CHARLES, Mo. — Rico Frazier, 23 (pictured above, center) who works as a reserve police officer in the St. Louis suburb of Pine Lawn is facing charges for allegedly breaking into his ex-girlfriend's apartment and raping her. A 22-year-old Lindenwood University student reported the attack in May, at her apartment about two miles from the St. Charles campus. Frazier and the woman were involved in a relationship until October. Police say Frazier used a rock to smash through a sliding glass door while the woman was sleeping, then sprayed her in the face with law enforcement-grade pepper spray, and sexually assaulted her. Frazier was arrested Wednesday and charged with burglary, rape, felonious restraint and two counts of sodomy. He is jailed on $200,000 cash-only bond, and does not have a listed attorney.

Tow Fraud!
Posted: July 21, 2014 ~ Updated: August 1, 2014 2:37 AM PDT

PHILADELPHIA, PA – Dorian Parsley, 44 (pictured above, center) of Philadelphia, pleaded guilty today to conspiracy, solicitation of a bribe, and honest services fraud in connection with a scheme to give an unfair advantage to certain tow truck operators. Between February 2011 and December 2013, Parsley, a former Philadelphia Police Department ("PPD") dispatcher, used her position to provide confidential police information, such as locations of automobile accidents, locations of PPD squad cars, and vehicle registration information, to tow truck operators who provided her with cash bribe payments. She typically received $100-$200 per week for the information. She agreed that she received $35,400 in bribes.

Parsley would surreptitiously text information that came into PPD dispatch from her personal cellphone directly to those tow truck operators. For an additional cash fee, Parsley agreed to provide certain tow truck operators with the name and address of a vehicle owner by running the license plate and vehicle registration through the PPD dispatch computer. PPD computers automatically access the National Crime Information Center ("NCIC") located in West Virginia when a vehicle registration was inputted, thereby affecting an interstate wire.

Co-defendant William Cheeseman also pleaded guilty today to one count of bribery for paying Parsley cash bribes for the information on accident locations. He agreed that the value of the information he received was $9,000.

Parsley faces a potential statutory maximum penalty of 35 years in prison, three years of supervised release, a $750,000 fine, and a $300 special assessment. Cheeseman faces a potential statutory maximum sentence of 10 years in prison, three years of supervised release, a $250,000 fine, and a $100 special assessment. The court scheduled Parsley's sentencing date on October 21, 2014 and Cheeseman's on October 24, 2014.

Posted: May 12, 2014 1:10 PM ~ Updated: July 19, 2014 4:37 PM PDT

Philadelphia, PA -- A Philadelphia police dispatcher has been indicted by a federal grand jury for accepting up to $200 a week in bribes to divert calls for tow trucks to a particular company, and disclosing confidential information. Dorian Parsley, 44, was named in the indictment unsealed last Friday, along with three employees of the Philadelphia towing company K&B Autocraft. Parsley has been a PPD dispatcher since 1998, with full access to state and NCIC criminal justice databases. She was employed in 2011, the U.S. attorney says, when the city instituted a tow rotation system to end a long-standing practice of tow companies chasing accidents and vehicle breakdowns. On several occasions tow company employees engaged in dispute and fights, including a fatal incident. Parsley also signed standard PPD employee agreements not to accept gifts, loans or favors, and not to disclose confidential information. However, the indictment alleges that between Feb. 2011 and Dec. 2013 Parsley secretly texted tow company employees the locations of accidents, police units and vehicle registration information, in exchange for cash bribes totaling $100 to $200 a week. Specifically, a confidential informant inserted into the operation by the FBI said Parsley alerted tow truck drivers of incidents needing a tow truck prior to them being assigned to the tow rotation system. Parsley also provided the informant with confidential vehicle registration information. Parsley is charged with four counts of bribery and two counts of wire fraud. Each count carries a maximum sentence of 10 years in prison. Parsley has been suspended by the police department for 30 days "with intent to dismiss."

Philly Narcs!
Posted: 04/01/15 2:25 pm est | Updated: 04/01/15 2:25 pm pst

PHILADELPHIA, PA (WCJB) — Michael Casciolo, a thin man with sunken eyes and dressed in a gray suit and tie, testified Wednesday in a federal police corruption trial.

Casciolo was 31 and making as much as $50,000 a month selling marijuana and hallucinogenic mushrooms to a few select middlemen. He testified that he left his penthouse apartment with a black laundry bag stuffed with high-grade marijuana. Suddenly, he saw a half-dozen men in dark clothes and ski hats pick up the pace down the hallway. The men tackled Casciolo. "My first immediate thought was, it was the Mafia and I was getting robbed." Casciolo continued, "I was thinking: Everything is catching up to me."

It turns out Casciolo was being tackled by six members of an undercover Philadelphia drug squad. The drug squad landed at Casciolo's door 10 days after they stopped 18th-floor neighbor Robert Kushner. Kushner grew up on Philadelphia's wealthy Main Line and graduated from George Washington University. He was the government's leadoff witness Tuesday in the projected 10-week trial. The narcotics officers had stopped his car on Nov. 16, 2007, and found $30,000 inside. He spent a night in custody while police tore through his apartment. Police officers allegedly stole a safe with $80,000 in it, he testified. The safe nor its contents were ever listed on the police property report. The traffic stop paperwork listed just $13,000 in seized cash, the indictment said.

Kushner named Casciolo as his drug supplier. The information led the squad to storm the 19th floor hallway on Nov. 26, 2007. Speaking nervously about the November 2007 takedown, Casciolo said they ransacked his apartment without a warrant and ignored his plea for a lawyer. He initially refused to give up his supplier or the password to his Palm Pilot. The device held the locations of his $424,000 in drug proceeds. Squad supervisor Thomas Liciardello ordered two colleagues to throw him over the balcony, he said. "They actually started to lift me a little," Casciolo testified. "I was afraid. It was the middle of the night. No neighbors came out. ... (So) I gave them the password." Casciolo testified that because he feared for his life, he agreed to lure his New York-based supplier, Jeremy Sarkissina, into the police dragnet.

Police brass soon held a splashy news conference to announce the arrests and the seizure of what they called 16 pounds of potent "AK47" marijuana they valued at $812,000, 12 pounds of mushrooms worth $614,000 and nearly $440,000 in cash.

Liciardello, 38, is the lead defendant in a racketeering indictment that accuses rogue narcotics officers of stealing millions in cash, drugs and valuables from suspects from 2006 to 2012. More than 100 convictions have been overturned. Defense attorneys insist the government case is based on tainted testimony from 19 drug dealers and a rogue former colleague caught red-handed in an FBI sting. Liciardello, accused of 15 armed shakedowns, is in custody, while defendants Brian Reynolds, Linwood Norman, Michael Spicer, Perry Betts and John Speiser are on house arrest.

In opening statements Monday, defense lawyers questioned why Casciolo, for instance, would not have screamed on the balcony and awakened neighbors. Scores of drug suspects stand to cash in from related civil-rights lawsuits — and get revenge against police — if the officers are convicted, the lawyers argued. On cross-examination Wednesday, Casciolo acknowledged that he initially lied to FBI agents and never filed a police complaint over the alleged civil-rights violations.

Former squad member Jeffrey Walker is expected to be pivotal to the trial's outcome. He has admitted planting evidence in a suspect's car and skimming $15,000 in seized cash. Like Kushner and Casciolo, he agreed to set up his squad mates, who were suspended when the Justice Department named them in a 26-count racketeering indictment last summer.

Posted: 07/30/14 6:46 pm edt | Updated: 07/31/14 6:46 am pdt

Philadelphia, PA -- Six Philadelphia Police narcotics officers were arrested this morning on a litany of federal corruption charges. All six men pled not guilty at a pre-arraignment hearing in a federal courtroom. The 26 count federal indictment identifies officers Thomas Liciardello, Brian Reynolds, Michael Spicer, Perry Betts, John Speiser and Linwood Norman. They are accused of robbing and extorting suspected drug dealers and creating false police reports to cover their crimes. Over 22 separate incidents they hauled in over $500,000 in cash, drugs and property. The officers are accused of robbery, extortion, kidnapping, and drug dealing. In many incidents they would allegedly steal the seized drugs and money from suspects or break into the drug dealer's homes while they had put them in lockup. They would threaten violence or shake down the suspects to get the cash or drugs. The officers will be held until their next hearing, scheduled for Monday.



Sources previously confirmed that a federal grand jury has been investigating allegations that Philadelphia narcotics officers stole drugs and money and committed robberies of drug dealers, in some cases allegedly using their guns to do it. In one incident, officials say, the accused held one of the drug suspects for days in a hotel while threatening him and making threats against his family. In another alleged incident, one victim was reportedly dangled over the edge of an 18th-floor balcony in order to get information.

"It was a nightmare, an absolute nightmare," James McIntyre told media sources in an interview. McIntyre, in a lawsuit filed against several of the officers, claims he was manhandled then wrongfully arrested, spending six months behind bars before charges were withdrawn. The joint investigation by the Philadelphia Police Department and the FBI also revealed the officers would play a "game" in which they scored points by coming up with different ways of abusing suspects.

Following announcement of the indictments, Philadelphia police commissioner Charles Ramsey said, "I've been a police officer for over 40 years and this is one of the worst cases of corruption I've ever heard."

The accused are also said to have robbed drug dealers, taking items including cash and expensive watches.

A key figure in this case is Jeffrey Walker, a former cop who has pleaded guilty to corruption and is now cooperating with authorities. He was arrested last year on corruption charges and reportedly started cooperating immediately. Over the past year, authorities have been working to corroborate the information he provided, which resulted in the six arrests as dawn broke this morning.

The incidents reportedly took place between 2006 and 2012. One of those charged, Liciardello, is said to have been the main culprit in falsifying records after the incidents.

Reverse Brutality!
Posted: 4:55 PM EDT, Sun. July 27, 2014 - Updated 5:55 PM PDT, Sun. July 27, 2014

Escondido, California -- Police officers in California are grieving one of their own. An Officer's husband sits in jail accused of shooting his wife and trying to cover up her murder by lighting his house on fire. Freddy Perez-Rodas called 911 on Wednesday and said his wife, Laura Perez, was inside their burning home in Escondido, California, according to police. Investigators suspected arson after firefighters put out the blaze and were unable to find her inside.

"We started to look for her and it became something of an arson, missing person investigation," said Murrieta Police Lieutenant Tony Conrad. Within hours, police took Perez-Rodas into custody and charged him with murdering his wife. Police said that Perez-Rodas confessed. "He essentially admitted to shooting his wife three times in the chest and removing her body from the home and taking it to a storage locker," said Conrad. Perez-Rodas pleaded not guilty.

Escondido Police Chief Craig Carter said she graduated from the police academy in December. "[She was] quickly moving into a leader on her shift and with her teams," said Carter. The couple's 4-year-old daughter is being watched by family members as Perez-Rodas awaits his trial.

Rapist!
Posted: Tuesday, Jul 22, 2014 @ 2:00 AM PDT ~ Updated: Thursday, Jul 24, 2014 @ 5:24 AM PDT

Mississippi -- Averal "Junior" Burnett, 47 (pictured above, center) a former local law enforcement officer, is currently jailed without bond on a forcible rape charge. Burnett had been denied bond on June 16 in 15th District Circuit Court on the rape charge. Burnett has now been charged with two counts of attempted capital murder in a murder-for-hire scheme. He allegedly tried to orchestrate the murders from his cell. Burnett is accused of giving money to a former inmate at Pearl River County Jail to kill two people who were tied to the rape case. "They are two separate and distinct cases," District Attorney Hal Kittrell said.

Burnett has 22 years in law enforcement. The first 21 years were with Hattiesburg Police Department. He worked less than a year with Lamar County Sheriff Department. Due to the fact he had once worked in Lamar County, Burnett had been moved to Pearl River County Jail. Kittrell said Burnett, if indicted by a grand jury, will face trial on the rape charge in Lamar County. Burnett could face up to life in the prison on the rape charge. If indicted on the attempted Murder for hire, Burnett would face trial in Pearl County on two counts of attempted capital murder.

The case evolved after the former inmate allegedly tipped off Picayune Police Department to Burnett's scheme. Warren Strain, public affairs officer with the Mississippi Department of Public Safety, confirmed that agents with the Mississippi Bureau of Investigation had been assisting the Pearl River Sheriff's Department with the investigation. The investigation is ongoing.

The attempted capital murder charge could carry up to a life sentence if decided by jury. If it went to a judge, the sentence would range from no less than 20 years up to "one day less than life." If the maximum was imposed by the judge, an actuarial table similar to an insurance company's would be used to determine Burnett's lifespan, Kittrell said. He then would be sentenced to that age, less a day.

Fudger!
Posted: Friday, Jul 18, 2014 @ 11:27 PM EDT ~ Updated: Friday, Jul 18, 2014 @ 04:27 AM PDT

Miramar, Fla. -- Antonio Dwayne Hester (pictured above, center) 34, a Miramar Police officer. was arrested on petit theft and official misconduct charges. Officials say he stole two bottles of liquor while investigating a shoplifting case. Hester is also facing a charge of falsifying records. All charges stem from his investigation into a May 14, 2014 theft at a Walgreens store. According to police, Hester had detained the suspects and found several items in their car. The items included two bottles of Johnnie Walker Black Label liquor, police said.

It turned out the alcohol didn't belong to Walgreens but had been bought in Tampa. The items were brought back to the Walgreens store, and the women were released and given trespass warnings by Hester, police said. Store surveillance captured Hester place the alcohol in the trunk of his police car. A civilian observer who was riding with Hester also saw him place it into his trunk, police said. However, in his incident report, Hester said he had returned the alcohol to the suspects, police said.

Hester was booked into jail and later released on bond. It was unknown whether he has an attorney. Hester, who has been with the department since April 2006, was placed on administrative leave.

Rank-n-File Brawl!
Posted: Monday, Jul 14, 2014 @ 11:27 PM EDT ~ Updated: Friday, Jul 18, 2014 @ 04:27 AM PDT

Miami, Fla. -- What started out as a traffic stop ended up with a Miami Police officer and a Miami Police Lieutenant fighting with each other and having to be pulled apart by fellow officers. The incident happened last month outside a gas station on Flagler Street and 18th Avenue. Officer Marcel Jackson saw a car near Marlins Park. Officer Jackson had a personal camera rolling on his dashboard. The video showed the car moving faster than the flow of traffic. Jackson said the man in the car was speeding and eventually pulled the silver vehicle over. The driver of the silver car turned out to be Lieutenant David Ramras from Internal Affairs from the same department as Officer Jackson.




The traffic stop turned violent. The video shows the lieutenant pushing his way out of the car and then in a scuffle with Officer Jackson, who then took the lieutenant to the ground. As other officers arrived, the two law enforcement officers were pulled apart and exchanged words.

Lt. David Ramras: "Do you know who the *expletive* I am?"
Officer Marcel Jackson: "No, I don't."
Lt. Ramras: "I showed you ID."

Officer Jackson called and told a man named Rick on the phone after the incident: "You know, I was actually on my way to a call. The only reason I stopped him is because he approached a pedestrian. He was flying, so I pulled him over." Officer Jackson said on the phone that Lieutenant Ramras commented on Jackson's appearance. "He's like, 'What's all that stuff on your face,'" Officer Marcel said on the phone. "And I'm like, 'Excuse me? I said, 'Sir, that's none of your concern.' And then he, and then he pushes open the door."

Both officers are members of the Fraternal Order of Police. The FOP said in a statement that parts of the story are incorrect. "Some of the conversations and information provided in these stories were not captured by the secret records or coming from credible sources," the FOP said in its statement.

Officer Jackson has been relieved of duty with pay. Lt. Ramras has been reassigned to an investigations unit. The state attorney's office is investigating the matter because Lt. Ramras' division was internal affairs, which typically investigates matters like this.

Monday night, Officer Jackson's attorney, Scott Srebnick sent a letter to Miami Police Chief Manuel Orosa and Major Jorge Martin of the Special Investigations Section. The letter requested that Miami Police recuse themselves from the case and "demand that Officer Jackson be returned to duty forthwith."

The letter said in part: "Given the incident involves a high ranking officer formerly assigned to IA, and given the disparate treatment of the two officers to date, fairness and the appearance of fairness require that this matter be assigned to another law enforcement agency for investigation. Indeed, one of the matters that ought to be investigated is the handling of the investigation in the hours immediately following the incident....The fact that the internal investigation is apparently being handled by a unit other than IA - the Speical Investigations Section - provides me no additional comfort given Lt. Ramras's high-ranking position in the MPD. Moreover, given the statements attributed to Chief Orosa in the on-line edition of the Miami Herald today, it appears that Chief Orosa has already reached certain conclusions about the facts before any formal statements have ever been taken and withou even knowing all the facts."

Botched!
Posted: Tuesday, Jul 15, 2014 @ 12:51 PM EDT ~ Updated: Friday, Jul 18, 2014 @ 4:38 AM PDT




Florida -- Miami-Dade County taxpayers will pay $600,000 to the families of three men who were shot to death in a botched police sting in the Redland three years ago, despite police claims that the shootings were justified.

Without admitting liability, the county has agreed to pay $240,000 each to representatives of Antonio Andrew and Roger Gonzalez Sr., and $120,000 to the survivors of Jorge Lemus, according to documents provided today by the county attorney's office.

The family of a fourth man killed -- informant Rosendo Betancourt -- did not join in the settlement as they continue to press their wrongful death and civil rights lawsuit in federal court.

The three whose families are settling their claims were lured to a county-owned home on June 30, 2011 by Betancourt, who told them drugs and money were stashed there.

In fact, more than 100 Miami-Dade police officers were setting a trap at the house for a home invasion crew they say was responsible for dozens of attacks.

Click here to read the state attorney's memo closing out the case.

All four of the men were shot to death, including Betancourt, who is seen on aerial surveillance with his hands up, slowly getting on the ground, surrendering, as instructed by officers. Seventy seconds later, he would be shot to death by an officer who said Betancourt reached for a gun in his waistband.

Chief assistant state attorney Don Horn told media sources he does not believe an officer's statement that Betancourt did not say anything before, the officer claims, he made a move for his gun. Horn said he expected Betancourt would use a phrase that police knew would identify him as the informant: "I'm going to Disney World."

But, without evidence to contradict what that and three other officers said in voluntary statements, prosecutors said they could not bring a criminal charge.

Prosecutors determined only the killing of Lemus – shot in the head as he held a handgun when challenged by one officer – was justifiable.

Citing "unusual, counter-intuitive, suspicious and/or disturbing factors," prosecutors could not say definitively the other three killings were justified. But, they concluded, there was insufficient evidence to support any criminal charge against the officers.

Psych-Record Seizure!
Posted: July 17, 2014 1:10 PM ~ Updated: July 19, 2014 4:37 PM PDT

LOS ANGELES, CA (WCJB) — California Highway Patrol investigators have served a search warrant Tuesday for the medical records of Marlene Pinnock. Pinnock is the woman seen on video being repeatedly punched by a CHP officer on the side of a Los Angeles freeway (pictured above, center). The now-viral video shot July 1 by a passing driver shows Pinnock, 51, being repeatedly punched as she's straddled by the officer. The CHP said the woman was walking on Interstate 10 west of downtown Los Angeles, endangering herself and people in traffic. They claim the officer was trying to restrain her. The woman had begun walking off the freeway but returned when the confrontation occurred. Chris Arevalo, executive administrator for psychiatric services at Los Angeles County-USC Medical Center, confirmed that the CHP seized the medical records.




The attorney for Marlene Pinnock — the woman in the video — said she was notified by Arevalo on Wednesday. The attorney claims she was told the search warrant was for "property or things that are evidence that tend to show that a felony has been committed or tends to show that a particular person has committed a felony." Pinnock's attorney said the CHP took files that included statements to her doctor about how she was feeling and references to her attorney. She said she was outraged by the violation of doctor-patient privacy and attorney-client privilege. Harper has said she plans to file a federal lawsuit alleging civil rights violations and will hold a news conference Thursday. "She suffered a traumatic head injury," the attorney said. "How can you give away files about someone injured ... to the very people who beat her?"

The incident has drawn outrage from U.S. Rep. Maxine Waters. Waters called it police brutality and demanded the officer be fired. Civil rights groups including the American Civil Liberties Union of Southern California have also called for the officer's termination.

CHP Commissioner Joe Farrow, head of the California Highway Patrol, said he was shocked and the agency's reputation is hurt by a video showing an officer repeatedly punching the woman as he pinned her on the side of a Los Angeles freeway. "This is one of the most significant events of my 34-year career that I've ever dealt with," Farrow said. "We've never seen this before." Farrow has promised an internal investigation that concludes in weeks rather than the usual months. The investigation will primarily focus on the video itself, Farrow said. "The whole issue ... comes down to what happened when the encounter got into a physical altercation," Farrow said. "What was the cause for (the officer) to use force? And that's where we are right now."

Farrow told media sources on Wednesday as he was returning from a second meeting with concerned community groups in Los Angeles that he couldn't confirm the search warrant. "I think what they're trying to do is, they don't have a statement from her, and they're trying to find that out," Farrow said. "I don't think the CHP is trying to put her on trial or make it an issue about her. What I'm looking at is entirely about the circumstances, we all saw what happened. Our job is to find out the why and the how."

Farrow said state law prevents him from revealing the officer's name. The officer, who had been on the job for 1 1/2 years, hasn't been identified and is on desk duty pending completion of the internal investigation.

Pinnock's attorney says she remains hospitalized. Her family found her covered in bruises, ice packs and taking pain medication. "I'm just so overwhelmed," daughter Maisha Allums told reporters Tuesday. "I can't believe a CHP officer that was supposed to protect my mom and help my mom beat her like a — I can't even say like a dog because if it was a dog getting beat like that he would have been in jail."

Carry-On Luggage!
Posted: 07.03.2014 at 2:00 PM EDT ~ Updated: 07.04.2014 at 7:27 AM PDT

WALWORTH CO./WEST ALLIS (WCJB) — Steven Zelich, a former Wisconsin police officer, told investigators he accidentally killed two women during rough bondage sex. He claims both died before he stuffed their bodies into suitcases. Zelich admits to hiding them for months in his home and car, and then dumping the bags in tall grass along a county road, a detective testified Thursday. Two suitcases containing the remains of 19-year-old Jenny Gamez, of Cottage Grove, Ore., and 37-year-old Laura Simonson, of Farmington, Minn., were found June 5 by a highway worker in the Town of Geneva, Wis. Zelich was arrested June 25 and charged with two counts of hiding a corpse. He made his first court appearance Thursday but did not testify.

Walworth County Sheriff's Detective Jeffrey Recknagel said during a preliminary hearing that the 52-year-old suspect, Zelich, told him "it was an accident." He said Zelich, a former police officer in the Milwaukee suburb of West Allis, told him that he met both women in S&M chat rooms and that they had agreed to meet him for sex. "Unfortunately, I have not been able to ask anyone other than Mr. Zelich if it was consensual," Recknagel said. "He told me that he had been storing these bodies in the trunk of his vehicle and the smell was so strong that he decided he had to get rid of them," Recknagel said.

Gamez, a teen mother who lost custody of her son, was the first to die. Zelich told the detective he spent several days with her in a hotel in Kenosha County, Wis., in late 2012. She was killed during a bondage session. Her foster family and friends did not report her missing, telling police they thought she had fallen out of touch after moving away from Oregon. Police had suspected Zelich in the November disappearance of Simonson. She was a mother of seven who had struggled with mental illness and placed her children in her father's care. Her father said she had advertised on Craigslist as an escort. After being contacted by Simonson's family, officers searched Zelich's apartment in January but found no signs of her. She was last seen checking into a Rochester, Minn., hotel with Zelich on Nov. 1; he checked out alone the next day.

Zelich's public defender argued that the deaths were accidental and that he was not trying to conceal crime. Judge Phillip Koss disagreed. "If there's purely no crime, I'm not sure why one doesn't call 911 immediately, but beyond that, if there's no crime, it's not clear why these (bodies) need to be hid at all," Koss said. He then ordered Zelich held for trial and scheduled a July 17 hearing for him to enter a plea. Homicide charges could still be filed in the cities where the women died.

Zelich, a private security officer since resigning from the force after an altercation with a prostitute in 2001. He was working for Securitas Security Services USA when he was arrested and had passed regular background checks.

Posted: 07.02.2014 at 2:00 PM EDT ~ Updated: 07.03.2014 at 7:27 PM PDT

WALWORTH CO./WEST ALLIS (WCJB) — Former West Allis police officer Steven Zelich is charged with two counts of hiding a corpse in connection with two bodies found in suitcases in the Town of Geneva. Newly-released documents show West Allis police searched Zelich's apartment in January. The search was done at the request of Minnesota police who were trying to find Laura Simonson. The bodies of 37-year-old Simonson of Farmington, Minnesota and 21-year-old Jenny Gamez of Oakridge, Oregon were found in suitcases on the side of the road in the Town of Geneva on June 5th.

Newly-released incident reports show that police in Farmington, Minnesota told West Allis police they had reason to believe Simonson was with Zelich. According to a West Allis police report from January 17th, Farmington police asked West Allis authorities to check Zelich's apartment for Simonson. Farmington police described Simonson as being in an "S&M/sex slave type relationship." The responding officer wrote he "did not observe anything that would indicate Simonson had been staying at the residence."

The records show police returned to Zelich's home three more times in late January and early February. They were trying to deliver a letter from the Farmington, Minnesota police. However, each time, Zelich was never home, so they left it after the third attempt.

Nearly 13 years earlier, in the spring of 2001, a woman told West Allis police that Zelich, an officer at the time, had assaulted her. The woman said she was a stripper, and had agreed to go home with Zelich for a "private show." When they went into Zelich's bedroom, the woman says Zelich "dropped something into his pants pocket" that "sounded like handcuffs." When she tried to leave, the woman says Zelich "grabbed her and threw her to the ground." Zelich was never charged in the incident. Three months later, he resigned from the West Allis Police Department.

Steven Zelich has not been charged with murder in the deaths of Simonson and Gamez at this time.

Posted: 06.26.2014 at 3:00 PM EDT ~ Updated: 07.03.2014 at 7:27 PM PDT



WEST ALLIS, Wis. — Steven Zelich, 52 (pictured above, center) a security officer and former police officer is suspected in the deaths of two women. Both of the women's bodies were stuffed into suitcases and discarded on a rural Wisconsin highway. Zelich met his victims online, in one case possibly through a bondage website, according to police and a criminal complaint. He was charged Thursday with two counts of hiding a corpse. Zelich was arrested the day before. Zelich made his first appearance in court in Walworth County through a video monitor in jail Friday, June 27th. Zelich was ordered held on a $1 million bond on the two counts of hiding a corpse.

During his arrest Zelich said he met both women online. Detectives wearing hazmat suits, removed large brown bags of evidence. A refrigerator was also removed from his apartment in West Allis, a Milwaukee suburb. Zelich told investigators he hid one for about a year and a half, moving it between his home and vehicle, the complaint says. It wasn't until the first week in June that Zelich says he took the suitcases to the Town of Geneva, according to the complaint. Highway workers discovered two suitcases containing female remains June 5 in the Town of Geneva, some 50 miles southwest of Milwaukee. Both bodies were decomposed.



Police identified one woman as Laura Simonson, 37 (pictured above, center) of Farmington, Minnesota. Simonson was found naked with a rope around her neck. A sexual ball gag was also strapped into her mouth with a collar, according to the criminal complaint filed in Walworth County, Wisconsin. Police said in Simonson's case, Zelich may have met her through a bondage website. He told investigators he killed Simonson in Rochester, Minnesota, in November 2013, the complaint says. Rochester is more than 300 miles northwest of Milwaukee. Police believe Simonson died at the Microtel Inn and Suites because she checked in with Zelich on Nov. 2, and Zelich left alone the next day, Rochester police Capt. John Sherwin said. Investigators have collected evidence from the hotel and interviewed people who stayed there on those days. A woman who answered the phone at the hotel said employees had been told not to talk to the media.

Farmington police detective Sgt. Lee Hollatz told media sources that Zelich has long been his "No. 1 person, by far, of interest" in Simonson's disappearance. He discovered Simonson went to the hotel with Zelich soon after her family reported her missing on Nov. 22, but he said all he had was a missing person's case until the bodies were discovered. Hollatz said Simonson was identified within a day by her tattoos. "I saw Laura as a vulnerable adult because of things in her life that she was dealing with," Hollatz said. Simonson's father, Richard Wierson, told the Milwaukee Journal Sentinel that his daughter had struggled with mental illness since adolescence and her seven children were placed in foster care with him in 2010. Wierson also said she placed escort ads on Craigslist.



Authorities have released the identity of the second woman as Jenny Gamez (pictured above, center). She is described her a white female with long, dark hair, a pronounced overbite and a small heart tattoo on her lower left abdomen. Gamez' hands were bound behind her back. Zelich told investigators he killed Gamez in Kenosha County, Wisconsin, in late 2012 or early 2013. A report out of Oregon state claims Gamez' foster mother says investigators told her Zelich met his victims on an online dating website, and that sexually-deviant content was found on Gamez' computer.

At least a half-dozen law enforcement agencies have been involved in the investigation because events happened in different places. Police said they expect homicide charges to be filed where the women were killed.

Walworth County public defender Travis Schwantes said he would most likely be the attorney assigned to represent Zelich in Wisconsin. Schwantes declined to comment on the allegations until he'd spoken with Zelich.

Zelich worked for the West Allis police department from February 1989 until his resignation in August 2001. He has been a licensed private security officer with Securitas Security Services USA since 2007, according to the Wisconsin Department of Safety and Professional Services. Securitas said Zelich passed criminal background checks done by the state every two years to renew his license and his employment record reflected "no extraordinary or remarkable incidents."

RomeO!
Posted: 06.30.2014 at 3:00 PM EDT ~ Updated: 07.03.2014 at 1:00 AM PDT

ROME, NY -- An off-duty Rome Police Officer is facing rape charges, according to the Rome Police Department. 32-year-old Jason A. Paul (pictured above, center) was arrested and charged with third degree rape after the investigation into an incident that happened in the early morning hours of June 29 in Rome.

Paul is accused of having sex with a woman without her consent. We have reached out to Rome Police for more information into the incident. Paul has been suspended without pay pending the investigation.

Paul was arraigned in Rome City Court Monday afternoon. There was no information about a future court date.

Stubbed Tow!
Posted: 10:51 AM EDT, Sat June 21, 2014 ~ Updated: 06:35 PM PDT, Sun. June 29, 2014

ST. ALBANS, Vt. — Police video and documents provided to Corrupt Justice™ shows how an ordinary traffic stop last week degenerated into a physical altercation. The matter further disintegrated into the use of ethnic and homophobic slurs. Local attorney Peter J.R. Martin, 74, was stopped by Officer Mike Malinowski of the St. Albans Police Dept. The stop occurred Thursday, June 12, at 5:30 p.m. Martin was stopped for having tinted windows, which are not legal in Vermont. The incident occurred on Lake Road near Cherry Street at St. Albans Bay. Martin was subsequently charged with disorderly conduct and resisting arrest. He has pleaded not guilty.




A nine-minute police video taken by a camera on Malinowski's cruiser shows an ordinary police stop. Malinowski explains why he has stopped Martin, asks for his license, registration and insurance. They have a brief conversation in which Martin objects to the law, pointing out he could purchase a new car with tinted windows included. During this conversation, Martin says to Malinowski, "You're just doing your job." Martin also says, "I have eye conditions, not that you care." Malinowski answers, "Unfortunately, Vermont doesn't recognize that." They discuss Martin's military service, and Malinowksi asks if Martin is still on active duty. He is not.

Malinowski returns to his cruiser and spends several minutes verifying Martin's license and registration. He then returns to the car and presents Martin with the ticket. He explains that he offers everyone receiving such a ticket the opportunity to remove the tinting. "If you do take it off and you come back to the office and show me you don't have it on, I'll void the ticket," Malinowski says. "It's not your fault; you didn't write the law," Martin tells him.

Martin asks about Malinowski's ethnicity. The officer replies his name is Polish. "All right sir, hope you have a better day, okay," Malinowski says, and Martin replies, "Adios." Malinowski starts back toward his car and Martin attempts to drive off. Martin ends up farther off the side of the road. "It doesn't look like it," Martin says, apparently in reply to Malinowski having wished him a better day. Malinowksi offers to call a wrecker.

A second video picks up after the wrecker has arrived. Martin is standing outside his vehicle. The tow truck operator, identified in court documents as Todd St. Pierre, is preparing to tow the vehicle. Malinowski is on the radio, describing the situation to someone. Martin, he reports, is unwilling to have St. Pierre tow the car because he's going to have to pay for it himself. According to a statement provided by St. Pierre, Martin began to protest when St. Pierre said they could not bill Martin's insurance directly and he would have to ask the insurer to reimburse him.

"He's saying he's going to sue them," Malinowski reports. He walks toward where Martin is attempting to stop St. Pierre from attaching chains to his car. As Martin continues to object to having the car towed, the officer says, "I said I'm going to get a wrecker and you said, 'Thank you very much." At this point, St. Pierre is attaching chains to the car. Martin says, "I don't want him towing it. Take if off of there."

Malinowski asks Martin to step away from St. Pierre and Martin replies, "No … arrest me." Martin apparently touches St. Pierre, because Malinowski says, "Don't touch him," to which Martin replies, "I'm not going to touch him. Arrest me." When Malinowski asks why, Martin says, "Because I'm going to take it off of there and if he gets in my way I'm going to push him out of the way."

St. Pierre returns to his truck at this time, and Martin puts his hands behind his back, encouraging Malinowski to cuff him. "Why are you being difficult?" Malinowski asks. "All you have to do is pay the gentleman."

"I'm sick of you people," Martin says, leading to the following exchange with Malinowski.

"Doing what? Doing our jobs?"

"That's what you might think. I don't think so. My German-American uncle died fighting Nazis in World War II. I will not tolerate you people."

St. Pierre approaches the driver's side of the car. Malinowski advises Martin to back away from the car, saying, "I don't want you getting hurt." Martin reiterates his demand to be arrested, referring to the chains, "Take this (expletive deleted) thing off my car." St. Pierre opens the door to the car, and Martin says, "Get out of my car." He attempts to grab St. Pierre.

Malinowski intervenes and a short scuffle ensues in which Martin fell to the ground, hitting his head. Malinowski draws his Taser and points it at Martin, who is prone on the ground, saying, "Do you want to get tased?" He then notices Martin's Smith and Wesson .38 Special on the ground next to Martin. Saying repeatedly, "Step away from the gun," Malinowksi uses his foot to push Martin onto his back in the opposite direction of the gun. "I'm not stepping anywhere. I'm on my back," Martin says. After moving the gun out of reach, Malinowski orders Martin onto his stomach. Martin instead tries to rise and Malinowski pushes him onto his stomach and cuffs him. Once Martin is secure, Malinowski empties the bullets from Martin's weapon.

The officer asks whether Martin has anything else which can hurt him and Martin replies "Only the truth." Martin says he has a heart condition, and Malinowski calls for an ambulance before assisting Martin to his feet. As he searches Martin, Martin says, "You're a disgrace as an American." He also tells the officer, "We're going to have fun now."

As Malinowski is searching him, the two men have the following exchange:

"How did you cut your face? Did that happen when you rolled over?" Malinowksi asks.

"You threw me on the ground."

"Yeah, because you resisted."

"That's right," Martin says.

Sgt. Frank McCarty arrived just as Malinowski was leading a bloodied Martin back to his car. "Well, well, well you missed all the fun," Martin tells McCarty. McCarty instructed Malinowski to take Martin to St. Albans Town Hall where he could be seen by ambulance personnel. He then gathered up the gun and bullets and a knife Malinowski found while searching Martin, and secures them in his vehicle.

McCarty caught up with Martin at Northwestern Medical Center. According to his affidavit, Martin looked at McCarty's name tag and said, "McCarty, you're Irish like me, but you're a disgraceful Irishman." He also overheard Martin tell his wife, "I got thrown to the ground by that little polack." According to McCarty, Martin kept up his derogatory comments, calling the officers, "Nazi (expletive deleted) cops and nervous little faggots."

This is not the first public altercation between Martin and St. Albans police. Martin also used homophobic slurs and sexist language during a March 2011 traffic stop.

Martin and his wife were departing a restaurant when a female officer stopped them for a burned out taillight. The stop became public knowledge when Martin wrote a letter to the editor of a newspaper about it. The officer, Marie Beland, reported she had smelled alcohol and asked Martin if he had been drinking. He said he had not, but refused to step from the car for a roadside sobriety test, according to SAPD Chief Gary Taylor. Taylor responded to Martin's letter with his own accounting of events. Ultimately, Martin was physically removed from the car and arrested by SAPD officers. During the arrest, Taylor reported Martin called a male officer "homo" and asked him "if he was some sort of faggot." Taylor did not report the specific slurs directed at Officer Beland. According to police, Martin also said, "We need to stop having little ladies running around on the police force." Martin had not been drinking and no charges were filed in the case.

Metro Sex Predator!
Posted: 3:13 p.m. CDT June 26, 2014 ~ Updated: Jun 26, 2014 03:10 PM PDT

Nashville, TN -- The decommissioned Metro police officer accused of raping his ex-girlfriend will leave his post after a 29-day suspension.

Lt. Curtis Watkins, 36, sent his letter of resignation effective the end of his suspension to police on Thursday, according to a release from the Metro Nashville Police Department. He was arrested on June 13 after a Davidson County grand jury indicted him on three counts of rape during a two-year period.

Watkins was decommissioned from his position on January 27 after the alleged victim contacted police with her concerns. The suspect was subject to two Metro investigations about the matter at the time of his resignation, police said.

Before his decommissioning, Watkins worked in the Investigations Unit at Metro's Madison precinct. He was a 15-year veteran of the police department.

Watkins remains free on $100,000 bond. His next appearance in court is scheduled for August 6.

Underage Girl Contacting!
Posted: June 24, 2014 - 4:05 am ~ Updated: 6:58 PM PDT, Tues. June 24, 2014

Van Buren, Ark. -- A patrol officer with the Van Buren Police Department was put on unpaid suspension after he made contact with a 16-year-old girl on Facebook.

Cpl. John Cao (pictured above, center) returns to work today after an internal investigation determined he violated a departmental policy but made no criminal violations, Van Buren Police's public information officer detective Jonathan Wear confirmed Monday.

Parents of the teenage girl, who was stopped for speeding and not given a ticket, filed a complaint with the Police Department after it was learned that Cao contacted her on the social media site.

Posted 5:42 pm, June 23, 2014 ~ Updated at 10:11pm, June 23, 2014

Van Buren, Ark. -- A Van Buren Police Officer was put on an unpaid suspension following a complaint from parents about his communication attempts with their 16-year-old daughter, police say.

The 16-year-old daughter was stopped by Officer John Cao for speeding as she was going over the Midland bridge coming into Van Buren on (May 11) according to the Van Buren Police Department. She was not given a ticket according the department.

It's not abnormal for that situation to happen because Cao was looking for driving while intoxicated (DWI) violations that night, and cops often stop a lot of vehicles for various problems because they are looking for drunk drivers, according to Van Buren Police Chief Kenneth Bell.

"It is not a paid suspension," Bell said. "It`s an unpaid suspension for seven 12 hour shifts."

"It was one of those things, he runs radar at one location, he stops a lot of people for speeding and very seldom do people get speeding tickets," Bell said.

Bell explained that cops working DWI are strictly looking for DWI.

The video from that night was reviewed, and no violations were found, according to Bell.

Later, though, the officer attempted to contact the teen on Facebook. The girl talked it over with her parents, and they filed a complaint on her behalf, Bell said.

Cao does not face criminal charges, and an internal investigation was completed. No criminal violations were found, according to Bell.

There was a department policy that was violated, and he was disciplined according to that policy, Bell said.

Bell explained the Van Buren Police Department takes all complaints seriously.

"Obviously his behavior is not what we want the public to think that we are about, using our position to make personal arrangements or personal engagements. The Van Buren Police Department is not about that at all, and we took the complaint very seriously and disciplined officer Cao," Bell said.

Cao returns to work on Tuesday (June 24).

No Hu-Manatee!
Posted: 9:47 am, June 23, 2014 ~ Updated: Monday, June 23 2014, 11:49 PM PDT

Eagle River, Alaska -- Federal agents arrested Joseph Keenan May, 60 (pictured above, center) a former Florida, Manatee County sheriff's deputy. May has been a wanted fugitive on the run for the last 23 years. He avoided trial over charges of raping a six-year-old. May was arrested on charges of raping a 6-year-old girl in 1990. However, he fled the county even before the trial. May was finally arrested by FBI agents in Eagle River, Alaska. Following the arrest, the FBI found a large cache of firearms and ammunition in May's home and vehicle. He had been living under the false identity Michael Camp, his stepbrother who died in the 1970s.

"According to the indictment, May has been living under the identity of a stepbrother, Michael Camp, who died in his teens in the 1970s in Pennsylvania," a release from Federal authorities stated. May has also been charged with aggravated identify theft as he used his dead stepbrother's Social Security number to apply for an Alaska driver's license in 2009 and unemployment benefits in 2013. Assistant US Attorney Thomas C. Bradley told media sources that May must have been really careful to avoid any brush with the law so far, including getting fingerprinted even for a job. "I've done a lot of cases with fugitives; people who have been on the run for two, three years, even 15 years. But for the type of charges he has, this is the longest I've ever seen," Bradley said.

Law enforcement authorities are surprised on how the former police officer was able to hoodwink investigating agencies for so long. Although a statewide arrest notice was issued against May in 1993, he until last Friday, had never been apprehended by any law enforcement agencies in the country. It was only recently that the FBI agents, while running cross-references, found a resemblance in the pictures used in May's Social Security number and his brother's. On further investigation, the FBI found that Camp was long dead and it become clear that both Camp and May are now one person.

May will be imprisoned for life for the rape charges, while for the charges of identity theft, he could be sentenced to at least 12 years.

Benson Banks!
Posted: 9:47 am, June 22, 2014 ~ Updated: Sunday, June 22 2014, 09:57 PM PDT

BENSON, N.C. — Benson police have charged a former police officer in connection with a bank robbery. Media sources reported that Gregory Scott Corbett (pictured above, center) faces robbery with a dangerous weapon charges and three counts of first-degree kidnapping. Officials say Corbett went into the First Federal Bank in Benson on Friday and pulled out a gun before demanding money. They say he then forced employees into the bank vault.




Corbett was previously charged with a bank robbery back in the 1990s. He once worked as a police officer in Selma and Clayton before leaving in the mid 1990s. He is currently being held in the Johnston County Jail under a $500,000 bond.

Rape in Corrections!
Posted: Saturday, June 21 2014, 04:31 PM EDT ~ Updated: Sunday, June 22 2014, 04:31 PM PDT

Ogden, N.Y. -- An Albion corrections officer was arrested Friday for third degree rape. New York State Police said John M. Randolph, 49 (pictured above, center) was arrested for Third Degree Rape and Official Misconduct. After a one month investigation, NYSP discovered that a relationship developed between Randolph and an inmate inside the Albion Correctional Facility. The relationship then turned physical while the inmate was outside on a work release program. Randolph and the inmate had sex multiple times in the Town of Ogden. The Corrections Officer was arraigned in Ogden Court, and remanded to the Monroe County Jail with $2,500 bond. Randolph is expected to return to court on June 23 at 2 p.m.

Stop Signs!
Posted: May 1, 2014 - Updated: 02:13 pm PDT, Wednsday, June 20, 2014

New Mexico -- Jeremy Martin, a 24-year-old UNM law school student, says he was kneed in the groin by an APD officer so hard, it shattered one of his testicles.




It was after midnight Friday and Martin was driving a carload of friends through the UNM area. Police say he ran a stop sign. According to the police report, APD officer Padilla said Martin seemed drunk and admitted to having three beers. After a field sobriety test, Officer Padilla told Martin to sit on the curb, but says Martin resisted.

Martin's attorney says what happened next is hard to stomach. "This officer felt the necessity to knee him so directly and with so much blunt force that it shattered his testicle," the attorney said. Jeremy was booked on DWI and marijuana possession charges--both misdemeanors. "He was taken to Presbyterian Hospital where he had emergency surgery to have his testicle removed," according to the same attorney.

The attorney said he is in the middle of filing a lawsuit against the officers involved, but most of all, an answer to this:

"How does a DWI investigation with a first year law student -- when he absolutely did nothing to provoke the officer -- result in the shattering of his testicle and emergency surgery to remove it?" the lawyer asked.

There is also a confusing line in the police report filed by the officers who arrested Martin. The report says he blew a stop sign while traveling north on Wellesley Place, but there is no way to travel northbound on Wellseley to the stop sign in question.

Locked In!
Published On: Jun 19, 2014 02:11:54 PM EDT ~ Updated On: Jun 22, 2014 05:35:00 PM PDT

MIAMI, Fla. - An Opa-locka police sergeant was found guilty on two of three charges Thursday in the trial of the so-called "dirtiest cop" in Florida. A jury found police Sgt. German Bosque (pictured above, center) guilty of false imprisonment and tampering. Bosque was also facing a charge of battery, but he was found not guilty on that count. "It's just never a good day when you have to bring down a police officer because we expect them to protect us, so it's kind of bittersweet," assistant state attorney Sandra Miller-Batiste said.




The state and defense both rested their case Thursday morning, and closing arguments began in the afternoon.

Korey Davis claimed Bosque punched him in the face while he was holding his 14-month-old baby in April 2011 and placed him in a holding area against his will when he went to the police station to file a report against Bosque.

The defense only called two witnesses, former Opa-locka Police Chief Cheryl Cason, whom Davis called the night of the incident to ask for advice, and Davis' ex-girlfriend, the mother of their son, who was present the day of the alleged assault. Bosque decided not to testify in his own defense. "I'm against bad policemen," Bosque told media sources. "I'm against, you know, dirty cops. ... I like the person in the mirror."

Bosque has been arrested, disciplined, suspended, fined and sent home with pay more than any officer in Florida. He has been accused of slamming the head of a handcuffed suspect, beating juveniles, hiding drugs in his police car, stealing from suspects, defying orders and falsifying police reports.

His lawyers said they plan to appeal.

Posted: 12:32 pm EDT, Tuesday, June 17, 2014 - Updated: 03:13 pm PDT, Wednsday, June 18, 2014

MIAMI, Fla. (WCJB) – Opening statements got underway Tuesday in the trial of a suspended Opa-locka police sergeant who faces a number of charges including false imprisonment and tampering with a witness.

In her opening remarks, Assistant State Attorney Ansley Peacock told jurors German Bosque punched Corey Davis in the face on August 3rd, 2011 when Bosque and other officers arrived on a domestic call. Davis was sitting with his toddler on his lap in a car, refusing to return him to his mother who had called police.

Peacock said Bosque grabbed the boy from Davis, then punched the man in the face and let him go. When Davis went to the police department to make a complaint, the dispatcher summoned Bosque who allegedly slammed him against a wall, cuffed him and kept him in a holding cell for about 15 minutes before letting him go.

Security video only shows the alleged victim in the lobby, and in the holding cell where Bosque removed the handcuffs. The alleged battery by the officer would have to have occurred out of camera range.

A Defense attorney told jurors Bosque cut a belligerent Davis a break by not arresting him at the scene of the domestic incident where he allegedly tried to strike the baby's mother with his car. She said at least five officers who were there will testify Bosque never hit the man. She said Bosque cut him another break by not arresting him at the police station for resisting officers at the domestic scene and for allegedly using his car as a weapon.

The lawyer said Davis fabricated the alleged abuse with making money in mind.

"This case is about Corey Davis laying the groundwork for a civil lawsuit," Bosque's attorney said.



(pictured above, center: The wife and child of Officer German Bosque)


Bosque has a checkered past with the police department. During his career there, he's been fired, then re-instated, eight times. The last time the city fired him, October 2012, Bosque faced a number of allegations including:

•» Busting a handcuffed suspects skull;
•» Beating juveniles;
•» Caught with drugs and alcohol in his squad car;
•» Ripping off suspects;
•» Falsifying reports;
•» Participating in an unauthorized chase where four people were killed; and
•» Calling in sick from Cancun.

In a court hallway before the start of the trial Bosque said he's confident that a jury will acquit him.



"The facts are always studied. Every single time, I'm always found acquitted, I'm standing on my feet, I get my job back because I am a good officer," said Bosque.

Bosque says he has been wrongly portrayed in the news.

"Anybody who doesn't know me or know about the case exactly, they hate me. I hate myself when I read what the media says about me, and it's not true."

The trial is expected to last several days and Judge Miguel de la O hopes to have closing arguments done by Friday.

Police Powers!
Posted: 6:33 p.m. Thursday, April 24, 2014 - Updated: 2:33 a.m. Sunday, April 27, 2014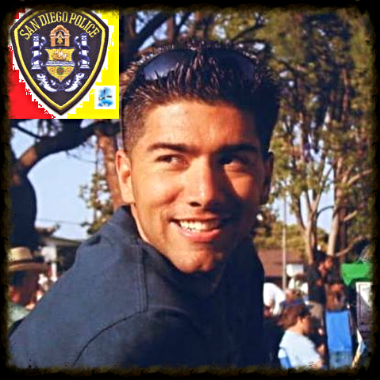 LA MESA, CA — San Diego police officer Gilbert Anthony Lorenzo, a seven-year department veteran, was arrested and jailed on a charge of felony domestic violence against his wife in La Mesa on Tuesday, authorities said. La Mesa police Lt. Matt Nicholass told reporters that the incident involved the 31-year-old officer's wife and she did not require medical treatment. La Mesa police took Lorenzo into custody and booked him into jail. Authorities declined to give any details about the incident or where it took place. Lorenzo was later released on $50,000 bail.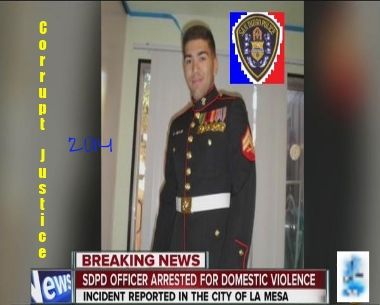 San Diego Police Chief Shelley Zimmerman revoked his police powers and suspended him after learning about the incident. "We are not going to tolerate misbehavior from our officers," Zimmerman said. Zimmerman said the District Attorney's Office has not filed charges in the case. "I was very disappointed, very disappointed to hear the news," Zimmerman said. She said Lorenzo worked in the Northern Division area of the city, along the coast, and had previously been assigned to the Mid-City Division. Zimmerman said someone called San Diego police at 1:45 p.m. Tuesday to report domestic violence involving one of their officers. She declined to say who made the call. An internal affairs investigation began, and La Mesa police were notified because the incident occurred in the city, Zimmerman said. "Everybody has due process, even police officers," she said.

The department has dealt with a number of officers in recent years who were accused of sexual misconduct. The Department of Justice is reviewing the agency's hiring, training and supervisory policies.

Ambient Mistrial!
Posted: Apr 4, 2014 - Updated: May 12, 2014 11:48 PM PDT

FAIRFIELD, CA -- Solano County Superior Court Judge Robert Bowers declared a mistrial Thursday in retired Vallejo police captain Tony Pearsall's bizarre driving-under-the-influence and hit-and-run case. Pearsall -- who's married to former two-term Vallejo City Councilwoman Stephanie Gomes -- was arrested on July 22, 2012. The case involved the widely prescribed sleep medication Ambien. Both charges are misdemeanors with a maximum jail sentence of six months. The judge declared the mistrial after the jury announced it was deadlocked after just three hours of deliberations. Nine jurors felt Pearsall was guilty of the DUI charge; three felt he was guilty of the hit-and-run charge.

The case stems from Pearsall's arrest, after he allegedly struck a parked car in a shopping center parking lot. He later bumped a police car in front of his house in the 200 block of El Camino Real in Vallejo. According to police, officers received a complaint at about 9:15 p.m. of a hit-and-run in the parking lot of the former Lucky supermarket at Tuolumne and Redwood streets. A witness gave officers a description of the suspect's vehicle and a license plate number, which turned out to be Pearsall's, police said. Officers then drove to Pearsall's residence trying to find the car. As the patrol car turned south on El Camino Real officers saw the vehicle driving on the wrong side of the street at a slow speed, police said at the time.

On Tuesday, Police Officer Megan Sheridan testified that Pearsall appeared to be "confused" and "disoriented" when she approached his car to ask him for his keys. At some point, Sheridan said Pearsall's car jolted forward and struck the front of the police car, possibly because he had taken his foot off the brake without putting his vehicle in park. She also said Pearsall had trouble keeping his balance when he exited the car, adding that his eyes were bloodshot and his speech was slow and staggered. Pearsall told police he had two glasses of wine with dinner before taking Ambien around 8:30 p.m. Although he intended to go to sleep, he said he drove to the supermarket -- which is about a mile from their house -- because his wife asked him to buy her some Benadryl. After paying for the Benadryl, he said he blacked out.

On Wednesday, Gomes testified she'd asked her husband to buy some Benadryl for an allergic reaction she was suffering. A short time later, Gomes said she heard screaming outside and a women yelling, "Get out of the car." Gomes added she didn't recognize her husband at first when she went outside and later asked officers to take him to the hospital because she thought he needed medical attention. Also on Wednesday, Solano County Criminalist Supervisor Denise Lyons testified that Pearsall tested positive for Ambien and a small amount of alcohol. She said mixing alcohol with Ambien intensifies the effects. "It causes drowsiness," Lyons said. "You're too tired to stay awake. When you combine that with alcohol I'd expect that to be more intense."

Pearsall, 68, didn't dispute the evidence that he drove while impaired. Instead, he fought the charges based on his belief that he didn't know -- and wasn't properly warned -- about the medication's intoxicating effects. Pearsall testified he forgot he had taken Ambien before heading to the store. "The first place I knew where I was was in the back of a police car," Pearsall testified Wednesday. When he regained consciousness and realized what had happened, he said he was "devastated." In a recorded interview with officers, Pearsall said he didn't recall the drive home from the store. The interview, taped at Kaiser Permanente Vallejo Medical Center after Pearsall had been read his rights. The interview was played for the jury on Wednesday. "I thought maybe I hit something ... but I wasn't sure what it was," he can be heard saying. He added that he thought he'd gone over a curb. Pearsall told officers he didn't feel impaired when he left for the store. "The whole thing is just weird," he said. Pearsall was cited at the hospital and released to his family.

The defense also presented evidence of Pearsall's reputation for sobriety and community service, including his 36 years as a police officer, his Vallejo City Council term from 2003 to 2007 and his work for the neighborhood revitalization non-profit Fighting Back Partnership. Pearsall retired from the Vallejo Police Department in 2003. During the three-day trial, police Lt. Herman Robinson, former Solano County prosecutor Doug Keener and former Vallejo Mayor Tony Intintoli testified about Pearsall's reputation and work in the community.

Pearsall's defense attorney said, "It was a tough case and I'm hoping the district attorney realizes they are never going to get a conviction." He added, "Mr. Pearsall was hoping for vindication. I'm sad because I would like it to be a verdict for him."

Solano County Deputy District Attorney Rashaan Jones argued Pearsall should have known about Ambien's effects because he had been taking it off-and-on for 18 months to help him sleep. Pearsall said the medication was prescribed after neck surgery. He added that the medication's warning label at the time advised patients not to mix the drug with alcohol and to "use care" if operating a car. Jones acknowledged Pearsall's good work in the community, but urged the jury not to give the defendant a "free pass." "That's not how the law works," Jones said.

Jones said afterward the case will be re-tried. A trial-setting date was scheduled for May 2, in Bowers' Fairfield courtroom.

---
Reader Pageviews by Country
---
From: Jul 31, 2014 3:00 AM – Aug 7, 2014 2:00 AM
---
«•
Thank you for visiting Corrupt Justice™. Enjoy our Free Movie Intermission! Don't forget to Bookmark Us & Tell A Friend! We're Global!
•»
---
Movie Intermission!
Officer Daniel Holtzclaw's Rape Interrogation (Full Video)!
---

Description: Oklahoma City, OK -- The above interrogation was conducted by Oklahoma City Police Sex Crimes Detectives Kim Davis and Rocky Gregory. The interrogation took place at the Oklahoma City Police headquarters during the late afternoon hours of June 18, 2014 - approx. 13-hours after accuser Jannie Ligons claims she was pulled over and sexually assaulted. These are the only comments Daniel Holtzclaw has ever made regarding the rape allegations against him.

---