↓↓↓↓↓↓↓↓↓ Blog Post Starts Below ↓↓↓↓↓↓↓↓↓
---
Click on Banner to Sell Your Home(s)!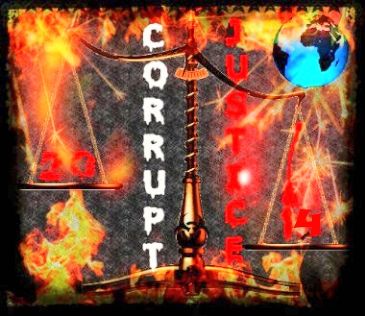 ---
---
"The only good nigger is a dead nigger and they should hang you in the town square to prevent any other nigger from coming in the area."


-- July 2011 Statement by Oakland Public Schools Police Chief Pete Sarna, referring to an African-American police officer.

Top News Story!
Fair Meth!






Fairfax, VA

-- Richard Scott Silverthorne, Mayor of the DC suburb of Fairfax, and occasional substitute teacher, has been arrested in an alleged drugs for sex scheme. The mayor of the City of Fairfax was arrested Thursday for distribution of methamphetamine in an uncover sting, which authorities say involves an offer to exchange drugs for group sex.

Unjustified!
Published: March 24, 2015, 9:40 am ~ Updated: March 24, 2015, 6:08 pm

HUMMELSTOWN, PA (WCJB) – Lisa Mearkle, a Hummelstown police officer, has been charged with criminal homicide. The charges stem from the fatal shooting 59-year-old David Kassick of South Hanover Township last month. Mearkle is a 14-year veteran of the Hummelstown Police Department. She was arraigned before District Judge Lowell Witmer. Mearkle was led out of a district judge's office in handcuffs following her arraignment Tuesday. She was initially sent to Dauphin County Prison without bail. However, she was released after bail was modified to $250,000. A preliminary hearing is scheduled April 20.

Following a state police investigation, Dauphin County District Attorney Ed Marsico said he concluded 36-year-old Lisa Mearkle was not justified in using deadly force when she shot Kassick. "When police officers break the law, we will charge them accordingly," Marsico said at a news conference Tuesday.

According to the criminal complaint filed by state police, Kassick was not physically aggressive. He had no contact with Mearkle. He was not facing her when she fired the first shot. Mearkle again ordered Kassick to show his hands and was still using the stun gun when she fired the second shot. The second shot was fired while Kassick was facing the ground. Mearkle told investigators she fired because she believed Kassick was reaching for a gun in his jacket pocket. She also claims he ignored her orders to show his hands. She acknowledged that she did not see him display anything that could have been considered a weapon, the complaint states.

On Feb. 2, 2015, Mearkle attempted to stop Kassick for an expired inspection sticker. Kassick failed to yeild and drove to his sister's home in the 100 block of Grandview Avenue. He then fled on foot. Mearkle chased him behind the house and used her stun gun, striking Kassick in the back with the probes, Marsico said. Kassick fell to the snow-covered ground and was lying face down when Mearkle ordered him to show his hands. She continued to use the stun gun while Kassick was on the ground. She then shot him twice in the back. Mearkle performed CPR on Kassick after additional officers arrived, but he died at the scene. "She did what she could there at the scene," Marsico said. "I'm sure she's remorseful."

The district attorney said Kassick did not have a gun and never brandished anything that could have been viewed as a potential weapon. He said the only item recovered near Kassick was a syringe. Video from the stun gun's camera shows that while Kassick's left hand briefly was not visible to Mearkle, nothing can be seen in either hand. Kassick does not point anything at the officer at the time the rounds were fired, police said.

"She did not know what this person had under his belly and he kept going to it time and time again," her attorney said. "She felt that pulling that trigger was the only option she had to protect her life. This is a guy on federal parole, who was running from a police officer, who is showing signs of being under the influence of drugs and alcohol, who has been Tased four times, and who keeps going to his waist," her attorney said. "How does she know what he is going to do? Ultimately, she squeezed the trigger, but if he had complied he would be alive today."

Samurai Kid!
Posted: Feb 20, 2015, 9:30 PM ET ~ Updated: Feb 20, 2015, 9:30 PM ET

SALT LAKE CITY, UT -- The U.S. Department of Justice is investigating the shooting of a young Utah man killed by police while wielding a samurai sword.

A letter Thursday from the U.S. Attorney's Office in Utah and the Justice Department's civil rights decision says federal officials are reviewing the September shooting of Darrien Hunt by two Saratoga Springs police officers.

The letter was shared with reporters by an attorney for Hunt's family, which has filed a civil rights lawsuit against the officers and the city of Saratoga Springs.

City spokesman Owen Jackson said Friday that the city had not been notified of the review, but it welcomes any outside investigation and will cooperate.

Hunt's family believes the young man wasn't a threat and was treated differently because of his race.

Hunt was black. The officers who shot him were white.

Bell Hopper!
Posted: Feb 09, 2015 4:54 PM PST ~ Updated: 1:56 AM PST, Mon. Feb. 11, 2015

BRYAN COUNTY, Oklahoma -- Curtis Bell, 18 (pictured above, center) faces first degree rape charges. He is charged with the sexual assault of a classmate. Bell is a Southeastern Oklahoma University student and employee. Bell also works in a campus cafeteria. Bell is accused of sexually assaulting a female SOSU classmate inside the Choctaw dormitory last week.

The woman told a university police officer she knew Curtis Bell. She claims to have passed out in her friend's dorm after a round of drinking games. According to the arrest affidavit "she said that she pulled away from him in hopes that he would leave her alone." But then "she felt him pull her shorts and underwear down." The document alleges she again tried to pull away. At this point, "[Bell] then put his hand over her mouth so she couldn't make any sound."

A sexual assault nurse confirmed the woman's injuries were consistent with the alleged rape. Bell was placed under arrest on February 5th, the day after the alleged incident. Bell posted a $50,000 bond and was released from a Bryan County Jail Thursday. University officials cited federal privacy laws when we asked if bell is still a student or currently employed on campus. However he could be subjected to student conduct codes which could include expulsion. Bell's next court date is set for March 19th.

"When I got the email that said that a girl was sexually offended, my eyes just burst out of my face," said student Devin Petty. "I feel sorry for her," fellow student Megan Routh said. "I hope that she doesn't have to think about this for the rest of her life."

"Campus safety and security are issues that Southeastern and colleges across the nation are facing more and more every day,'' said Southeastern president Sean Burrage. "While an incident like last Wednesday's is rare on our campus, it is nonetheless disturbing. Because an investigation is ongoing, I cannot discuss the specifics of that particular incident, other than to say that we have been focused on the needs and concerns of the victim first and foremost. We must continue to be diligent in our efforts to provide what our students expect and deserve – a safe and secure learning and living environment.''

Samuri!
Posted: 11:44 PM MST, Feb. 1, 2015 ~ Updated: 1:56 AM PST, Mon. Feb. 2, 2015

PALMDALE, Calif. (WCJB) -- Ricardo Medina, Jr. (pictured above, center) who is best known for his role as the red Power Ranger, was booked for murder at Palmdale Sheriff's Station. Medina, 36, was arrested in connection with fatally stabbing his roommate with a sword in their Green Valley home. Los Angeles County sheriff's deputies said Medina got into an argument that turned into a physical fight with his roommate Joshua Sutter, 36. Los Angeles County sheriff's deputies said Medina called 911 at about 3:50 p.m. to report the stabbing in his home in the 38000 block of San Francisquito Canyon Road. Sheriff's deputies said Sutter allegedly followed Medina and his girlfriend into their room by forcing the door open. Medina then stabbed Sutter in the abdomen with a sword kept next to the bedroom door.



Sutter was taken to a hospital, where he later died. Sutter's sister, who didn't want to talk on camera, says her brother told her Medina was a little crazy and that the two of them had been having problems. Neighbors say Medina, who has only lived in the home for about two months, kept to himself. "We brought him some bread and just tried to interact a little bit with him, but he was more of the, you know, the type of guy that didn't really want to communicate," said neighbor Justin Adamson.



Medina played the Red Lion Wild Force Ranger in 2002, according to IMDB. Jason Faunt, a fellow Power Ranger and close friend, says he's stunned by the alleged crime. "I was just with him a couple of months ago and he seemed great. He seemed like himself," Faunt said. "He is a great friend and a great client. It's something I can't even conceive. I don't see that in him. He was a very helpful guy and great with his dog. It's such a shock," said Gar Lester, Medina's former agent who has known the actor for 12 years. Faunt and Lester, Medina's former agent, believe there is more to the story. "You're just shocked by it cause you think he's not capable of that. He seems too gentle of a person to be that way," Faunt said.

Medina is set to make his first appearance in court Tuesday morning. Medina is being held in lieu of $1 million.

Quigley Contracts!
Posted: 8:44 PM MST, November 25, 2014 ~ Updated: 3:04 AM PST, Sun. Feb. 1, 2015

North Texas -- A North Texas teacher could face up to 40 years in prison if convicted on charges that he allegedly had sex with a 16-year-old female student, who he offered good grades in exchange for keeping the relationship secret from his wife.

James Lester Quigley, a 34-year-old teacher at Richardson High School, has been charged with one count of improper relationship between an educator and student and one count of sexual assault. Both charges are second degree felonies, each punishable by up to 20 years in prison.

The student's mother told officers with the Richardson Police Department on Thursday that her 16-year-old daughter had received unwanted texts and emails from Quigley, according to a department news release.

Detectives interviewed the student, who told them that she and Quigley, her English teacher, had engaged in sexual contact between May 1 and June 30, according to the release.

The student told officers that Quigley allegedly began sending her text messages and emails in March 2013 telling her they could be "friends with benefits" after requesting her phone number and email to send her details regarding an essay, an arrest affidavit obtained by the San Antonio Express-News says.

Quigley allegedly proceeded to send the student emails and texts telling her she was "pretty" and that she had a "pretty neck," according to the affidavit.

The 16-year-old female told detectives Quigley arrived in front of her house in May or June with a hotdog for her dog and hugged her, kissed her forehead and grabbed her behind while hugging her when she opened the door, the affidavit says.

The teacher then began parking outside of the student's house on multiple occasions, she told police. Quigley told her on another occasion that he "thought about her when he touched himself," according to the affidavit.

During another incident in 2013, Quigley left the student a note with a Starburst candy on her desk that said, "I would smash you into thin powder, mix you with water and drink it." She told police that she stopped attending Quigley's classes and tutoring sessions because he continued to make sexual advances.

Quigley then approached the student with a "written contract," according to the affidavit.

The 34-year-old English teacher told the female that signing the contract would grant her a grade of 85 percent or higher in his class in exchange for her silence regarding his advances. He also told her she must stay away from his wife, who also taught at the school.

The female student told police she did not sign the contract and sent Quigley multiple texts and emails telling him to stop harassing her, the affidavit said. Quigley refused.

A friend of the female student, also 16, told police said the student was seen "hanging out" with Quigley, bragged about "making out" with Quigley and told her friends that "his beard bothers me when his (sic) kisses me."

The female student admitted to police detectives she had met with Quigley more than once outside of school and said Quigley allegedly came to her residence on two occasions. She said they had sex both times.

Police arrested Quigley Friday. He is being held in Dallas County Jail on a $100,000 bond, according to jail records.

Coke is It!
Posted: 8:44 PM EDT, Thu October 16, 2014 ~ Updated: 2:44 AM PDT, Fri. October 17, 2014

Washington, D.C. (WCJB) -- The Navy Reserve discharged Vice President Joe Biden's son Hunter Biden this year after he tested positive for cocaine, U.S. officials confirmed. Biden was commissioned as an ensign in May 2013 and assigned as a public affairs officer in a Norfolk, Virginia-based reserve unit. A month later, he tested positive for cocaine, and he was discharged in February, according to the report. The vice president's office didn't comment on the report. The U.S. official said the Navy never had contact with the vice president's office over the issue. The Navy further stated the standard procedure for failed drug tests is administrative discharge.

The discharge of Biden, a 44-year-old lawyer and managing partner at an investment firm, was first reported on Thursday. He confirmed the report in a statement to media sources. "It was the honor of my life to serve in the U.S. Navy, and I deeply regret and am embarrassed that my actions led to my administrative discharge. I respect the Navy's decision. With the love and support of my family, I'm moving forward," he said. Hunter Biden is the younger of Biden's two sons. His older brother, Beau Biden, is Delaware's attorney general and a major in the Delaware Army National Guard. He was deployed for a year in Iraq.

Sayers!
Posted: 6:04 AM EDT, Sat October 11, 2014 ~ Updated: 3:56 AM PDT, Sat October 11, 2014

Sayreville, N.J. (WCJB) -- Many Football players dream of ascending to the ranks of gridiron warriors. Hazing is endured as an ugly rite of passage for rookie football players. However, when upper classmen allegedly sexually hazed freshmen in a New Jersey high school locker room, it crossed a legal line. It may have gone on for up to a year. Police have taken six players into custody. Seven players now face charges as of Friday. Prosecutors are not naming them because they're juveniles.

Older players allegedly flipped off the lights in the cloistered dressing room. The room suddenly filled with jeers as they accosted and sexually harassed their younger targets. They penetrated at least one of them, prosecutors allege. Officials have not disclosed details. A news article indicated that it likely did not involve intercourse.




Three are accused of aggravated sexual assault, aggravated criminal sexual contact, conspiracy to commit aggravated criminal sexual contact, criminal restraint, and hazing for engaging in an act of sexual penetration. One of the three, plus four more players face counts of aggravated assault, conspiracy, aggravated criminal sexual contact, hazing and riot for allegedly participating in the attack of other victims, Middlesex County prosecutors said.

The Sayreville Bombers took the state championship three out of the past four years. The team launched into a promising season this year. Now, shame has emptied the bleachers at Sayreville War Memorial High School. It may have been proud of its state champion teams' years of gridiron triumphs, but silence has snuffed out the cheers and floodlights. The superintendent has halted this year's football season, ostensibly assured of the allegations. "There were incidents of harassment, intimidation that took place on a pervasive level, in which the players knew, tolerated and in general accepted," Superintendent Richard Labbe said.

Parents once used to applauding their sons' conquests on the field are now upset they have been benched for the duration. "I've never seen so much dedication out of my son, and I want him to play the rest of this season," a mother said at a school meeting to the roar of applause. They are at odds with parents and players who broke the allegations. A group that is less vocal and has declined to be interviewed on camera. Many say they are afraid to voice grievances out loud. Despondent players vented frustration over not being able to finish what they so confidently started. The despair haunting the school hallways has infected the surrounding working class neighborhood. For some the despair is turning into the fear of jail time.

Dolfinned!
Posted: 10/09/2014 11:20 AM PDT ~ Updated: Oct 10, 2014 11:55 PM PDT

Fort Lauderdale, Fla. -- Accusers say Miami Dolphins defensive end Derrick Shelby grabbed the buttocks of two women inside Cyn nightclub, the reason management kicked him out of the Fort Lauderdale hotspot.

That's according to new police reports released to the public Thursday. Shelby has been suspended indefinitely by the Dolphins as they try to sort out exactly what happened in his bye-week altercation with police.

Shelby has been charged with trespassing and resisting arrest without violence, both misdemeanors. Through his attorney, Shelby has professed his innocence.

But with each passing day, Fort Lauderdale police continue to build their case against Shelby through the media, releasing an avalanche of paperwork that all tells the same story:

Shelby became irate after his removal from Cyn, wanted to return to the club to "face [his] accusers," and ignored officers' commands to leave the area.

Shelby was ultimately hit three times with a stun gun and left with a bloodied and swollen face, which police say was the result of a fall during a struggle with police.

"I did not strike, nor did I observe any law enforcement officer strike Shelby, anywhere on his face or body," said the on-scene supervisor.

Added another Fort Lauderdale cop who was involved in the arrest: "Neither myself or any other officer on scene utilized any striking techniques against Shelby."

Other details from police records:

Before the scuffle, an officer asked Shelby to move 20 yards away from the front of the nightclub. Shelby's response: "OK, I don't have a yardstick. How far is 20 yards?"

During processing, Shelby accused one of the officers of kneeing him in the back when Shelby was face-down on the ground. The officer said that did not happen.

He demanded the cop's name and badge number. The officer identified himself as Sgt. Cruz.

Shelby then reportedly asked: "Do you like your job, Sgt. Cruz?"

According to another officer, the Dolphins defensive end claimed his lip was bloody because Shelby bit it during the struggle.

Blowin' Trees!

Conroe, Texas -- Adrian Peterson (the suspended Vikings running back) is in danger of being arrested for breaking the terms of his pre-trial bail agreement. Peterson admitted to smoking marijuana when taking a court-ordered drug test. Peterson submitted a urine sample Wednesday in Conroe, Texas. The Pro Bowler allegedly admitted he recently "smoked a little weed" in a discussion with an employee of the company administering the test. Conroe, Texas is the site of his upcoming trial for child abuse.

A positive drug test would be a violation of his bond. Media reports indicated prosecutors are pressuring the judge to place him under arrest. A decision on whether to arrest Peterson likely will not take place until at least Friday. If Peterson is found in violation of his bond, the judge may force him to be jailed until his trial begins. Judge Case set a Dec. 1 trial date. However, it is possible the case will be moved up if another trial moves from the docket.

Montgomery County District Attorney Brett Ligon requested the recusal of judge Kelly Case during Wednesday's arraignment hearing. The request was due to comments Case made about the attorneys involved in the case. That hearing will take place Friday morning, with a decision on Peterson's status possibly coming after. If Case is recused, however, another trial date would have to be set—possibly one that's much later.

Corrupt Justice™ provides more details from Peterson's lawyer:

The somewhat expedient nature of the case came at the behest of Peterson's attorney. The attorney has made clearing his client's name a top priority. He referred to Peterson as a "good man" multiple times at the pre-trial hearing and indicated a quick trial was the best way to avoid tainting a jury pool and allow the Vikings running back to defend himself. "The only way to get this solved is to have a quick and speedy trial," the attorney said. "We are asking the court to give us a trial absolutely as quickly as possible."

Peterson, 29, faces up to two years in prison if found guilty of abusing his four-year-old son. The mother of the child filed abuse charges in Texas after noticing wounds on his body. Peterson claims the wounds came from a corporal punishment using a "switch" and has maintained his intent was not to hurt his son. "My goal is always to teach my son right from wrong and that's what I tried to do that day," Peterson wrote in a statement. "I accept the fact that people feel very strongly about this issue and what they think about my conduct. Regardless of what others think, however, I love my son very much and I will continue to try to become a better father and person."

The Vikings placed Peterson on the exempt/commissioner's permission list on Sept. 17, banning him (with pay) from all team-related activities. Given the Dec. 1 trial date and the likelihood that the case will take weeks to complete, it is unlikely Peterson plays football again in 2014.

Minnesota's final game of the regular season is Dec. 28.

The Spill!
Posted: Oct 10, 2014 3:15 PM PDT ~ Updated: Oct 10, 2014 06:55 PM PDT

Spillman, who is also accused of sexually assaulting a woman on Sept. 21, tried to force a massage therapist to perform oral sex on him while he was with the San Francisco 49ers last season, according to a report filed by the Santa Clara Police Department.

Santa Clara, CA -- The NFL suffered through a month-long public relations nightmare. The organization came under scrutiny over the way it handles domestic violence, sexual assault and other cases involving violence against women. Roger Goodell and other NFL officials promised this week that the NFL would redeem itself. However, the nightmare seems unabated and redemption afar. A well known Civil rights attorney met with Lisa Friel (a sex-crimes adviser to Goodell) in New York on Wednesday. The attorney represents a woman who claims NFL Player C.J. Spillman sexually assaulted her on Sept. 21, 2014. This was one day after Goodell promised at his awkward press conference that he would crack down on players accused of violent crimes.



NFL'er C.J. Spillman Accused of Att. Rape (Police Report - 2013) by Leegal Counsel


Media sources also reported this week that Spillman, a special teams player with the Dallas Cowboys, was accused of attempted rape by a massage therapist in Santa Clara, Calif. The allegations arose last season when he was with the San Francisco 49ers.

Homers!
Posted: Oct 03, 2014 3:15 PM PDT ~ Updated: Oct 04, 2014 10:55 PM PDT




TEMPE, Ariz. - A Tempe police officer was caught on camera punching a homeless man and since the alleged attack, the video has gone viral. The video shows the police officer trying to move the homeless man. The two struggle on the sidewalk. The man throws a punch. The officer responds, hitting the man four times while his head is against the sidewalk. After getting hit four times, the man was taken to a hospital. We don't know his condition.

The video was showed to people along Mill Avenue. "That's despicable," said Detroit Thomas. "Just from the physicality of it, I think it could have been handled a little differently." However, others point out the man can clearly be seen throwing a punch before the officer responds with force. "When the police give you a command, you are supposed to listen to that command and if you don't, that is when the trouble can start," said Arnie Miller.

"I hope that the officer isn't judged too harshly by public opinion, which is again sometimes quick to judge," said real estate broker Joseph Lewis. He captured the fight on a video camera he has in front of his Mill Avenue office. The cameras are streaming and recording the Mill scene 24 hours a day. "The first time was difficult. It is still difficult, however the more I learned about the incident, the more I learned that there is two sides to every story," said Lewis. "As an officer, you have to make a split decision and your job is to subdue this suspect. You don't know if he is going to have a knife on him or what is going to happen next," said Lewis.

Tempe police have a copy of this video and an internal investigation is underway. The officer is still on duty.

Guilty!
Posted: 7:58 PM, Sept. 12, 2014 - Updated: Wed. Sept. 17, 2014 03:13 PM PDT

TERRE HAUTE, Ind. - Putnam County Deputy Terry Joe Smith was found guilty on two counts of using excessive force Friday afternoon. Smith was convicted of depriving two people of their civil rights while they were under arrest. Smith faces 24 to 30 months in prison. The conviction will end his career as a deputy and a member of the Greencastle City-County Council.

Federal prosecutor Bradley Blackington told the jury during closing arguments Thursday that Smith was "a thug with a badge." Seven other police officers testified about Smith's actions, including punching a handcuffed man in the face as he was lying on the ground. Smith's Defense attorney told jurors that Smith was innocent of using excessive force and that the county sheriff's department was deeply divided.

Beatdown!
Posted: 1:44 PM EDT, Saturday, Aug 30, 2014 • Updated: 9:00 PM PDT, Sunday, Aug 31, 2014

New York, NY • Police say three people were arrested for beating up an off-duty officer in the Bronx and trying to steal his gun.

The three people arrested, one of whom was a 15-year-old boy, allegedly started assaulting the officer in a bodega on the Grand Concourse at 6 a.m. on Saturday.

The three allegedly kept beating up the officer even after he identified himself as a cop and the 15-year-old ran off with the officer's gun.

All three suspects were eventually apprehended, along with the stolen gun, and the officer was treated for non-life threatening injuries that included a swollen eye and cuts on his arm, neck and head.

Prepaid Debit!

SONOMA COUNTY, Calif. — A jury duty scam that has been reported in other Bay Area counties has surfaced in Sonoma County.

A person claiming to be from the Jury Commissioner's or Sonoma County Sheriff's office calls the victims to say they have failed to report to jury duty, Sonoma County District Attorney Jill Ravitch said.

The caller threatens the victims with an arrest warrant for failing to honor the jury summons. The victims are told to purchase a prepaid debit card for several hundred dollars to suspend the warrant or they will be arrested by police, Ravitch said.

"No police officer or court or jury service personnel will ever call you and demand money," Ravitch said. "If you get such a phone call, hang up. Never provide prepaid debit card numbers over the phone to people you do not know," Ravitch said.

Residents who receive a jury summons and do not appear will receive a letter from the jury service office with another summons to appear for jury duty, Ravitch said.

Those who still fail to appear face being fined by a judge, Ravitch said.

Residents should call the Superior Court Jury Services for Sonoma County at (707) 521-6640 if they want to verify any correspondence or communication they receive from the jury service office, Ravitch said.

Carjacking!
Posted: 1:44 PM EDT, Mon. July 28, 2014 - Updated 7:40 AM PDT, Thurs. July 31, 2014

PHILADELPHIA, PA (WCJB) – Johnathan Rosa and Cornelius Crawford were each charged with three counts of felony murder and other crimes, police said. Authorities also charged that the carjack victim was sexually assaulted before the men crashed her sport utility vehicle. Police said Rosa and Crawford forced a woman into her sport utility vehicle on Friday. Police on Monday charged both men with murder in the carjacking and subsequent crash that killed three children. They were also charged with critically injuring the kids' mother as they were selling fruit on a street corner for a church fundraiser.



A defense lawyer for Rosa said he got in the vehicle after Crawford carjacked it. He said Rosa will regret that decision the rest of his life but is now cooperating with police. Crawford, who had recently been released from prison, was in custody Monday and couldn't be reached for comment. He didn't have a lawyer. The arrests followed a three-day manhunt underway since the Friday carjacking and crash.

Posted: 1:44 PM EDT, Mon. July 28, 2014 - Updated 7:03 AM PDT, Thurs. July 31, 2014

PHILADELPHIA, PA (WCJB) — Johnathan Rosa, a 19-year-old man, has admitted his role in a carjacking that ended with the hit-and-run deaths of three children in Philadelphia. Rosa decided to cooperate "to atone for what happened," his lawyer said Monday. He also claims a second man initiated the carjacking. Rosa told investigators the man was driving the sport utility vehicle Friday when it sped out of control and struck a family selling fruit at a street corner for a church fundraiser. Police previously said they were questioning two men in the carjacking deaths but hadn't filed charges. They didn't name the men they were talking to.

Rosa told investigators he and the man who drove the car had been hanging out together for a few days. On the day of the carjacking the other man noticed a woman coming down the steet and decided to carjack her, the attorney said. The woman was forced at gunpoint into the backseat, police said. Approximately a mile from the carjacking site, the accident occurred. Keiearra Williams, 15, and her brothers, Thomas Reed, 10, and Terrence Moore, 7, were killed. Witnesses reported seeing a car speeding through the intersection, then children lying motionless on the ground. Their mother, Keisha Williams, 34, was also struck and remained in critical condition Monday. The carjacked real estate agent and a friend helping the family sell fruit were also injured in the accident.

The accident touched off a citywide manhunt. Rosa was brought to the police station for questioning Saturday after his cellphone was found in the backseat of the carjacked vehicle, his attorney said. At that time Rosa claimed his cellphone had been stolen and he was released. After talking with his mother and pastor, he decided to turn himself in Sunday, the attorney said. "He and his mother sat down and decided the best thing they can do is try and cooperate to atone for what happened," he told TV stations. He said Rosa had never been arrested before and planned to join the Marines in two months. Rosa's attorney said he "made the decision to get in the car. I'm pretty sure that's one he's going to regret for the rest of his life." Rosa "can't get the image of the girl flying over the hood of the SUV out of his mind," the attorney said.

As the two men were being questioned, Police Commissioner Charles Ramsey told a radio station on Monday that that "we don't have to have a manhunt out there right now." But he stopped short of calling the two men suspects.

The Heat is On!
Posted: 10:51 AM EDT, Sat June 28, 2014 ~ Updated: 11:35 AM PDT, Sat June 28, 2014

Cobb County, Georgia (WCJB) -- Justin Ross Harris (pictured above, center) has pleaded not guilty to charges of murder and second-degree child cruelty. The charges result from the death of his 22-month-old son, Cooper Harris. The boy died after he was left seven hours in a sweltering SUV on June 18. Harris is being held in jail without bond. He has an appearance before a judge set for next Thursday. As Harris sits in jail, his wife, Leanna, would not discuss the case with the media. Police in Cobb County, part of metro Atlanta, have been tight-lipped and haven't said whether what they found on his computer is one of the reasons they arrested Harris.

Harris, 33, now a criminal suspect in a Georgia toddler's death, told police he used the Internet to research child deaths inside vehicles, a search warrant said. "During an interview with Justin, he stated that he recently researched, through the internet, child deaths inside vehicles and what temperature it needs to be for that to occur," according to a sworn statement in the warrant from a police officer. "Justin stated that he was fearful that this could happen." Cobb County Police said the purpose of the search warrants was to find blood, DNA, writings, photographs relating to child abuse, child neglect, homicide to children, and cruelty to children. The search warrants issued by a Cobb County magistrate court detail a number of items investigators seized from the father's home. They include: An iPhone 5, Hyundai car, home laptop computer, computer tower, a "Google chrome cast internet searcher" and other electronic devices.

Police initially described the death of the toddler as the result of tragic absent-mindedness. They said the dad had apparently forgotten the boy was in the back seat of his Hyundai Tucson. Harris claimed he didn't remember Cooper was in the car until he was done with his workday, drove a couple of miles and pulled into a shopping center parking lot. However, suspicions grew as police investigated. "The chain of events that occurred in this case does not point toward simple negligence, and evidence will be presented to support this allegation," said Cobb County Police Chief John House.

The criminal warrant released Wednesday described the events that led to Cooper's death. Harris stopped for breakfast at a fast-food restaurant on the day Cooper died. Afterwards he strapped his son into a rear-facing child restraint seat on his SUV's back seat, police said. He drove to his workplace about a half-mile away. He works as a Web designer there. Usually, he would take his son to an on-site day care. But on that day, police said, Harris left him in the car seat. During his lunch break, he returned to his car, opening the driver's side door to put something inside, police said. After work, around 4:16 p.m., the 33-year-old father got in his car and drove away. A few miles away, he stopped the car at a shopping center and called for help. When it became clear Cooper was dead, Harris was so inconsolable police had to restrain him. "What have I done?" he wailed as he tried to resuscitate the boy.

The Cobb County medical examiner's office found the child's cause of death "consistent with hyperthermia and the investigative information suggests the manner of death is homicide," according to a Cobb County Department of Public Safety statement issued Wednesday. Temperatures hit 92 degrees Fahrenheit on the day of his death. The medical examiner's office is waiting for toxicology test results before making an official ruling as to the cause and manner of the toddler's death.

The funeral for Cooper Harris was to be held Saturday in Tuscaloosa, Alabama. Harris won't be allowed out of the Cobb County Jail to attend, sheriff's office spokeswoman Nancy Bodiford said. The child's mother wanted to obtain photos of her son from seized computers for use at the funeral. However, Cobb County police turned down her request, said an attorney for Harris. Police spokesman Michael Bowman told media sources, "If we have evidence, we will not be releasing that due to chain of custody issues." Bowman would not confirm what, if any, evidence they had in their possession. Harris works as a web designer for The Home Depot. Harris' employer will pay for the funeral. The funding of the funeral from the Home Depot charity, the Homer Fund, is a "standard approach," said spokeswoman Catherine Woodling. Harris has been placed on unpaid administrative leave, she said. In an obituary for Cooper appearing in the Tuscaloosa News, the family asks that in lieu of flowers, donations should be made to the Homer Fund.

Bishop Foley!
Posted: Jun 25, 2014 11:18 AM PDT Updated: Jun 25, 2014 11:24 AM PDT

Kathryn Ronk, 29, is charged with 5 counts of CSC, after an alleged relationship with a 15-year-old student.


MADISON HEIGHTS, Mich. (WCJB) -- 29-year-old Kathryn Ronk, a female teacher at a Catholic school in metro Detroit, is accused of having a sexual relationship with a male student has been charged. Ronk was employed as a Spanish teacher at Bishop Foley High School in Madison Heights. It is alleged that Ronk engaged in multiple acts of sexual penetration with a 15-year-old student. After the Madison Heights police investigation concluded, The Oakland County Prosecutors Office charged Ronk, of Birmingham, with five counts of first degree criminal sexual conduct, a felony punishable by up to life in prison.

Ronk turned herself in to the Madison Height Police Department Wednesday and was arraigned on the charges. Ronk posted $50,000 bond and was released. She was ordered to wear a GPS tether. Ronk will return to court on July 9 for a preliminary examination.

Stanford!
Posted: June 15, 2014 - 4:05 am ~ Updated: 1:58 AM PDT, Thurs. June 26, 2014

PALO ALTO, Calif. — According to the victim who was raped by a classmate, Stanford has changed the punishment for a student accused of sexually assaulting a classmate. The alleged assailant was going to be suspended for five quarters starting in the summer session. Now the victim says the school will instead withhold his degree for two years. The victim, Leah Sharon Francis also reported the attack to the university and pursued adjudication through what's known as the Alternative Review Process, a board consisting of students and staff trained to handle sexual assault cases. Documents provided by the university said the ARP panel based their sanction on precedent.

Francis, says she's unhappy with the way Stanford is handling the situation because she says the alleged rapist will still be able to attend graduate school in 2016, supervise undergrads and live on campus. Francis says he violently sexually assaulted her and when she reported it to campus officials, the process was mishandled.

"It's supposed to take 60 days. Mine took over 120 so it's dragged out. Another thing is once my assailant was found responsible for sexual assault he remained on campus for two weeks," said Francis.

Students are rallying around her and holding a protest against the university again Thursday afternoon. They want Stanford to provide more resources to victims and revamp its policy on how it handles sexual assault investigations.

Francis says she wants the university to be more transparent on its judicial findings on rape cases. She hopes to spur a change.

The university will not talk about this specific case for privacy reasons, but says it will be happy to look at revising its policy and will work with students this summer on that.

Since the university has only expelled one student for sexual assault in school history, basing an adjudication on precedent is bad policy, said Stanford law professor Michele Landis Dauber, former co-chair of the Board on Judicial Affairs overseeing campus adjudications. There is no national standard for sexual assault expulsions, and colleges often choose not to disclose what sanctions they use. According to information obtained by media sources, nine Stanford students have been found responsible for sexual assault since 2005. Only one of them was expelled, and he was determined to be involved in multiple cases. Between 1997 and 2005, no students at the school were found responsible for sexual assault. Suspensions for eight other cases where a student was found responsible for sexual assault ranged from one quarter to eight quarters.

From 2008 to 2013 at the University of California, Berkeley, for example, the flagship institution found 38 students responsible for sexual misconduct, and it expelled or suspended nine, according to information provided to media sources.

UC Berkeley declined to say exactly how many students were expelled, saying "the numbers would be small enough to be identifying." However, no one has been expelled since 2011.

A few of Stanford's peer institutions, including Dartmouth College, Yale University and Brown University, release annual or semi-annual reports about how many students have been expelled or suspended for sexual assaults.

Between 2010 and 2013 at Dartmouth, the school removed two students for sexual violence, suspended two others and placed two more on probation. Brown expelled two students for sexual misconduct in the 2012-13 academic year, and suspended two others.

Since fall 2008, Harvard University has dismissed a total of five undergraduates for "social behavior - sexual," according to a report prepared by the school. Two others were placed on probation for "social behavior - harassment/sexual."

Dauber advocates for expulsion in cases of sexual assault, given that most campus rapes are committed by serial offenders, according to research from the psychologist David Lisak.

Child Sex Trafficking!
Posted: 7:07 PM EDT, Mon June 23, 2014 ~ Updated: 3:58 AM PDT, Tues. June 24, 2014

United States (WCJB) -- The FBI has rescued 168 children and arrested 281 pimps in a countrywide crackdown on child sex trafficking. The operation, which took place over the last week in more than 100 cities, involved nearly 400 law enforcement agencies, authorities said Monday.

The message, said FBI Director James Comey, should be clear: "Our children are not for sale. ... We will respond and crush these pimps who would crush these children. These are not far-away kids in faraway lands. These are our kids, on our street corners, our truck stops, our motels, our casinos. These are America's children," Comey said. Speaking alongside the director, Leslie Caldwell, assistant attorney general for the Justice Department's criminal division, stressed scores of more children remain victimized. She urged anyone with information about such abuse to contact authorities. "Just one call, just one online report could mean all the difference for a child who now can only dream of a normal childhood and a life outside prostitution," Caldwell said.

Since 2008, the FBI and its partners have rescued close to 3,600 children. The agency said investigations have led to 1,450 convictions and the seizure of more than $3 million in assets.

Iowa State!
Posted 8:40 pm, June 12, 2014 ~ Updated at 10:16pm, June 21, 2014

AMES, Iowa – The federal government has accused an Iowa State University student of being a spy using the college to help funnel military secrets to China.

A search warrant was served on the ISU campus last year to gather information from the college's computers about the alleged smuggling operation. We obtained a copy of that warrant then, but we have held on to it until now because we didn't want to interfere with the criminal case. That warrant is expected to be unsealed in the coming days.

The search warrant is dated December 30th, 2013, and outlines the case the federal government has built against ISU graduate student Wentong Cai. The warrant claims Wentong tried to buy about 20 ARS-14 military grade sensors under the guise of needing them for research at Iowa State University, but really planned to illegally smuggle them to China.

The sensors are used for ground and aerial military vehicles and are regulated under federal arms trafficking laws. They also have civilian uses.

According to the document, Wentong tried to buy them from an Albuquerque based manufacturer using his Iowa State University email and ISU letterhead.

Back on October 25 2013, an undercover federal agent contacted Wentong saying that "He/she is a distributor for the ARS 14-sensors. The UCA, (undercover agent) and Wentong Cai went on to have approximately 22 email communications"

Wentong later asked the undercover agent about exporting the sensors to China but was told that is illegal. Then, according to the warrant, the undercover agent explained to Wentong Cai he could smuggle the sensor into China using his "proven method" of transporting the sensors through Mexico to China, and Wentong agreed, knowing it was illegal.

On November 21st, the undercover agent received an email from Wentong saying "Me and my colleague, his name is Bo, in China are planning to visit you in early December." The email continues, "Bo is working on the money and other stuff, he will contact you later."

On December 4th, the warrant alleges, the undercover agent received a wire transfer of $27,000 from Bo Cai's company, Nanjing Shuntai Technology.

On December 9th, the agent met with Bo and Wentong in Albuquerque and the agent again warned the pair that what they are doing is illegal, saying "You know we could all be arrested. I just want you to understand, um, I'm willing to do it. I think your business is good and I think these embargoes with China, they're crazy." Bo Cai replied, "What I want is just get the sensor I don't care how to get it."

On December 11th, the agent gave Bo Cai one non functioning sensor to take back to China, "concealed within a Dell computer speaker," the warrant states.

On February 10th, Wentong was arrested in Santa Fe, New Mexico.

Both Wentong and Bo Cai are being held in Santa Fe County Jail without bail. A spokeswoman for ISU said this is the first she has heard of these accusations, so she is not able to comment on them.

Gulelmelli!
Posted: 12:15 am, Friday, June 13, 2014 EDT - Updated: 04:11 AM PDT June 18, 2014

San Fernando, CA -- Vitamin tycoon Dino Gulelmelli (pictured above, right) pleaded guilty to attempted murder in the second degree. In an 11th-hour plea deal ahead of his expected trial, Gulelmelli copped a plea deal on Friday. He admitted to hiring a hitman to murder his wife, Model Monica Olsen (pictured above, left). Formal sentencing will be held next week where he faces nine years in jail and three years probation after serving his jail sentence. The 53-year-old Gulelmelli once ran a multi million dollar beauty products business. Guglielmelli has spent eight months in custody awaiting trial after prosecutors discovered he had secretly wired $4.4 million out of the country and planned to flee. He filed for bankruptcy while in custody.

The last-minute deal spares ex catwalk model Monica from testifying against the father of her two young daughters. Guglielmelli has a son and daughter from his two previous marriages. He appeared before San Fernando judge Lloyd Nash wearing an orange jump suit and appeared nervous. When asked if he understood the terms of the plea deal, he was barely audible when he responded: 'Yes, your honor.' No members of his family or friends were in court to support him.

In an exclusive interview a week prior, Monica said: 'It's surreal. I don't know - I don't know how to feel I have mix emotions, it's still shocking to me that he took the plea, I can barely believe this is happening. 'When I go to to court next week and hear him plead guilty then perhaps I will fully believe that justice has been served. At the moment I still feel that I am dreaming.' Guglielmelli was embroiled in an increasingly bitter divorce with third wife Monica when he offered unemployed Army vet Richard Fuhrmann $80,000 to kill her. Fuhrmann freaked out and called cops before secretly taping Gulielmelli discussing ways of killing Monica, 32.

Furhmann was expected to be the star witness at Guglielmelli's trial next month. His friendship with Guglielmelli turned sour after Monica slapped him with a subpoena to give evidence during a custody hearing. Furhmann said he didn't mention Guglielmelli's threats then but after Guglielmelli exploded in temper over his perceived disloyalty he feared the former waste disposal entrepreneur would find another hitman, according to court papers.

Outside court, his lawyer said: "'Dino is devastated. He has four children and we were in a debate about the evidence against him. If he had lost it would have been life imprisonment. Those tapes were pretty strong. Dino regrets what he said. He just lost and messed up. Dino is a decent guy and wants to get on with his life.'" The attorney claimed Guglielmelli, who will return to court for formal sentencing next week, had not hidden money oversees or elsewhere,

Assistant distrct attorney Emily Cole told media sources that Monica was happy with the plea deal. Montreal-born Monica gave up her runway career when she married Guglielmelli 10 years ago but developed her own successful Skin by Monica beauty line shortly afterwards. She claims he became jealous and tried to destroy her career as their marriage broke down. Guglielmelli and Monica were embroiled in an increasingly bitter custody battle over daughters Cienna, nine, and six-year-old Vandella when he allegedly tried to have her killed.

Knife Fights!
Posted: 02:32 pm, Tuesday, June 17, 2014 - Updated: 04:13 pm PDT, Tuesday, June 17, 2014

This panel of booking photographs released by the Salem, N.H., Police Department show from left, Allen, Ashley, Brian, Damian and Joshua Perry, arrested on a variety of charges Monday, June 16, 2014, for assaulting police officers during a melee that erupted when security guards at Canobie Lake amusement park told them to leave their knives in the car.

SALEM, N.H. (WCJB) — Five members of a Vermont family assaulted police officers during a melee that erupted when security guards at a New Hampshire amusement park told them to leave their knives in the car, police said Tuesday.

The fracas started at about 1:30 p.m. Monday when the Perry family tried to enter Canobie Lake Park in Salem. Some of the family members had knives on their belts and were told they couldn't bring them into the park, police said.

The family became belligerent and eventually two Salem officers responded to quell the disturbance. The family became more irate, yelling profanities at the officers in front of other visitors, police said.

After several verbal warnings, an officer told one man he was under arrest and tried to handcuff him, leading to the fight that included people jumping on the backs of the officers, punching, kicking and grabbing for their weapons, police said. Two officers were injured, including one who was treated at a hospital for a dislocated shoulder.

As backup officers arrived, the mother of the family faked a seizure, police said. She was examined by paramedics and released at the scene.

Those arrested included Joshua Perry, 23, of Sutton, Vermont, who was charged with felony riot, resisting arrest with serious injury, trespassing and disorderly conduct. Brian Perry, 18, of Lyndonville, was charged with felony riot, assault and resisting arrest. E. Allan Perry, 45, of Lyndon, was charged with felony riot, felony assault, disorderly conduct and resisting arrest. All three were held on $10,000 cash bail, assigned a public defender and scheduled to return to court on June 25.

Damian Perry, 18, of Lyndonville, was charged with disorderly conduct and trespassing. Ashley Perry, 20, of Sutton, was charged with disorderly conduct and trespassing. Each was released on a $5,000 personal recognizance bond. It could not immediately be determined if they had lawyers.

Reader Pageviews by Country
---
From: June 3, 2014 7:00 PM – June 10, 2014 6:00 PM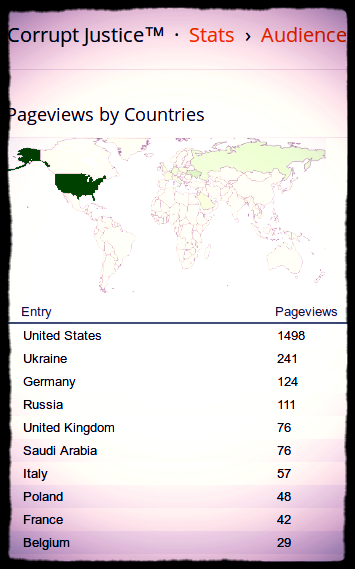 ---
«•
Thank you for visiting Corrupt Justice™. Enjoy our Free Movie Intermission! Don't forget to Bookmark Us & Tell A Friend! We're Global!
•»
---
Movie Intermission!
The O.J. Simpson Murder Saga:
20 Years Later!
---




Description: Simpson hired a high-profile defense team, initially led by Robert Shapiro and subsequently led by Johnnie Cochran, and which also included: F. Lee Bailey, Alan Dershowitz, Robert Kardashian, Gerald Uelmen (the dean of law at Santa Clara University), Robert Blasier, and Carl E. Douglas, with two more attorneys specializing in DNA evidence: Barry Scheck and Peter Neufeld. Los Angeles County believed it had a solid prosecution case, but Cochran was able to persuade the jurors that there was reasonable doubt about the DNA evidence (a relatively new form of evidence in trials at the time) -- including that the blood-sample evidence had allegedly been mishandled by lab scientists and technicians -- and about the circumstances surrounding other exhibits. Cochran and the defense team also alleged other misconduct by the Los Angeles Police Department. Simpson's celebrity and the lengthy televised trial riveted national attention on the so-called "Trial of the Century". By the end of the criminal trial, national surveys showed dramatic differences in the assessment of Simpson's guilt between most black and white Americans.

Previous Video: Courtroom Brawls, Outbursts, Fights with Cops, suicide, murder and more!

Read more on the State of Florida v. Michael Dunn (Indictment, Police Reports, Civil Complaint).

---
---