↓↓↓↓↓↓↓↓↓ Blog Post Starts Below ↓↓↓↓↓↓↓↓↓
---
Click on Banner to Sell Your Home(s)!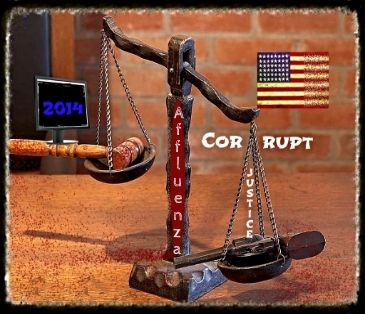 ---
---
Top News Story!
Probation!
Posted: 10:35 AM EDT Tuesday, August 23,2016 ~ Updated at 04:35 AM PDT Wed., August 24, 2016

East Longmeadow, Massachusetts -- David Becker, 18, of East Longmeadow, Massachusetts, was charged with two counts of rape and one count of indecent assault and battery. He accused of sexually assaulting two high school classmates. Becker is was placed on two years of probation. The district attorney's office's recommended two years in prison. The D.A. considered the recommendation "appropriate and fair, based on the facts and circumstances of the case."

According to court documents, on April 2, 2016, Becker was accused of digitally penetrating two girls who were sleeping in a bed after a house party. Becker and the alleged victims were all seniors. Becker told investigators that when one of the girls "didn't protest," he assumed it was "OK." Becker denied to police having any physical contact with the other alleged victim.

Becker's case was ordered continued without a finding (of guilt, or innocence) for two years by Palmer District Court Judge Thomas Estes. A continuance without a finding allows the court to continue a case without a guilty finding for a certain period of time. The continuance without a finding lasts as long as the defendant adheres to the terms of his or her probation. The (rape) case(s) is/are dismissed if the probation is successfully completed. Judge Thomas Estes then placed Becker on probation. Becker's probation requires him to remain drug & alcohol free and not contact the victims. He also has to undergo an evaluation for sex offender treatment. If Becker completes his probation, he will not have to register as a sex offender. A clerk for Estes' office told media sources he could not comment on the judge's decision to continue the case without a finding.

The president of the Rape, Abuse and Incest National Network said he was disappointed by the decision. "It's really discouraging when everyone in the process does their job and ... then you see a sentence like this," he told media sources today. He said the judge's decision in this case is probably "discouraging for the victims" and likely "deters other people from reporting their crimes" and "putting themselves through this entire criminal justice process" because they will wonder, "Is it worth it?" He said sexual assault should be taken seriously, even with an 18-year-old. "I don't think it would ever occur to a judge or lawyer that after someone [was] convicted of a murder, that they [would] just get probation because they deserve a second chance," he said. "There would be a universal understanding that there are consequences for committing a crime that bad."

Becker's defense attorney did not immediately respond to media sources request for comment. However, he told other sources that his client "can now look forward to a productive life without being burdened with the stigma of having to register as a sex offender." Becker's case comes just months following the outrage after former Stanford swimmer Brock Turner, who was found guilty of the assault of an unconscious woman, was given just six months in jail.

@GunPoint!
Posted: 10:35 AM EDT Tuesday, Jul 7, 2015 ~ Updated at 10:35 AM EDT Tuesday, Jul 7, 2015

Prince George County, Maryland -- A Maryland State Police trooper is accused of forcing a woman to have sex with him at gunpoint Monday morning, according to Prince George's County Police.

A Prince George's County officer patrolling in the area of Rochell Avenue and Hazelwood Drive about 2 a.m. saw a man and woman standing outside an SUV parked in a cul-de-sac in a commercial area, police said.

The woman told the officer the man had a gun, and the man identified himself as a state police trooper.

According to the investigation, the woman and the off-duty trooper, 43-year-old Brian Tucker, of Fort Washington, agreed to a sex act in exchange for money. The woman said during that act, Tucker forced her to perform another sex act at gunpoint against her will, according to police.

The handgun was not Tucker's service weapon, police said.

Tucker is charged with a first-degree sex offense and a handgun charge.

Bam, or Damned!
Posted: July 06, 2015 at 1:29 PM ET ~ Updated: July 08, 2015 at 1:54 AM PT

Tallahassee, Florida -- Surveillance footage of Florida State freshman quarterback De'Andre Johnson punching a female student in the face at a bar last month was released by the State Attorney's Office in Tallahassee, Florida on Monday.

Johnson, 19, faces a misdemeanor battery charge for the incident and is currently suspended from the football team indefinitely.




In the video above, Johnson enters the bottom of the screen in the center and is seen wearing a hat. The 21-year-old female FSU student swings on the quarterback, who responds with a punch of his own.

After reviewing the surveillance video footage from the incident, the State Attorney's Office in Florida issued an arrest warrant for Johnson and he later turned himself in. Following the initial accusations, Florida State coach Jimbo Fisher indefinitely suspended Johnson for a violation of team rules.

Johnson, a former Jacksonville, Florida First Coast High star, enrolled at FSU in January and threw a pair of touchdowns in the Seminoles' spring game against the team's backup defenders. Rated as a three-star recruit by 247Sports, he was named the state of Florida's Mr. Football in 2014.

With the Seminoles looking to replace Heisman Trophy winning quarterback and No. 1 overall NFL draft pick Jameis Winston this offseason, Notre Dame transfer Everett Golson and junior Sean Maguire are expected to battle for the open job during fall camp.

Damned!
Scuttle That!
WNBA Smackdown!
Posted: April 23, 2015 7:38 p.m. PST ~ Updated: April 25, 2015 01:11 p.m. PST


Women's National Basketball Association (WNBA) player Brittney Griner of the Phoenix Mercury is shown.


PHOENIX, AZ (WCJB) - U.S. women's basketball star Brittney Griner (pictured above, center) and her fiancee, fellow WNBA player Glory Johnson (pictured below, center) have been arrested on disorderly conduct and assault charges. Police said their arrests came after a fight at their Phoenix home. Both were booked into the Maricopa County Jail in Phoenix on Wednesday. They were released early on Thursday, authorities said.




Women's National Basketball Association (WNBA) player Glory Johnson of the Tulsa Shock is shown.


Police went to the house the two 24-year-old women share in the city's western suburb of Goodyear. Police were summoned after a 911 call about a fight on Wednesday afternoon. A police report by the first officer on the scene said the person who called about the fight was Johnson's sister Judith. "She advised the two females were currently in the living room throwing things at each other," the report said. The report also said Griner told the officer the couple had been having shouting matches every day. The arguments were due to the stress of recently buying that home together, and of planning their wedding.

She described a four-to-six-minute fight with Johnson that began with them standing and ended on the floor, the report said. Both suffered minor lacerations, and Griner's left middle finger was bitten, it said.

The officer concluded from the evidence, including interviews with both women, Johnson's sister and another witness, that it appeared "mutual combat" occurred, with both behaving recklessly and causing each other physical injury as the onlookers tried to pull them apart. They were taken into custody without incident, and a female police officer who searched and booked the suspects noted in the report that they were both "very cooperative. "Lisa Kutis, spokeswoman for the Goodyear Police Department, issued a statement regarding the arrests. "Upon arrival officers found the two had been in a physical fight with one another resulting in minor injuries to both. They were both arrested and booked into 4th Avenue jail on assault and disorderly conduct charges," she said.

Griner has played with the Phoenix Mercury team since 2013. Griner, a 6-foot-8 (2.03-meter), two-time WNBA all-star, was a three-time All-American at Baylor and was voted most outstanding player of the Final Four in 2012, when Baylor won the national championship. Johnson plays for the Tulsa Shock. Johnson, who is 6 foot 3 (1.91 meter), was a WNBA all-star in 2014. The couple announced their engagement last year.

WNBA spokeswoman Dina Skokos said the league is aware of the incident and is working with the Phoenix Mercury and Tulsa Shock organizations to obtain more information.

Guilty!
POSTED 1:17 PM, NOVEMBER 24, 2016 ~ Updated: NOVEMBER 30, 2016, 08:11 PM PST




Los Angeles, CA -- A Los Angeles judge sentenced former NFL safety Darren Sharper to 20 years in prison Tuesday. The 41-year-old pleaded no contest to raping two women as part of a plea deal for charges in multiple states. An Arizona judge previously sentenced him to nine years in federal prison In March 2015. Sharper entered a guilty plea in a Louisiana court In July 2015. The plea resolved court cases in Louisiana, California, Arizona and Nevada. Prosecutors originally agreed to allow Sharper to serve a nine-year prison sentence as part of his case in Louisiana. However, sources reported in August that Sharper drugged and raped potentially up to 16 women in Nevada, California, Louisiana and Arizona. A federal judge handed down an 18-year sentence to Sharper in August. Sharper's multiple prison sentences will be served concurrently rather than consecutively.

As part of Sharper's sentencing hearing Tuesday, one of his victims gave a statement to the court:


"'I can only imagine myself lying there like a vegetable while he took advantage of my body without my permission. I have lost every bit of self confidence I've ever had and am always in fear while alone. It doesn't matter whether it's day or night, I can see a guy and automatically in my head think, 'What if this guy tries to rape me?'"

In October (2016) Erik Nunez and Brandon Licciardi, a former St. Bernard Parish, Louisiana, deputy sheriff, received prison sentences of 10 and 17 years, respectively, for their roles in helping Sharper commit his crimes. They admitted to giving women drugs with the intent of raping them, according to the Times-Picayune's Ken Daley. Licciardi pleaded guilty to a charge of second-degree rape as well.

Posted: March 23, 2015, 12:11 PM PST ~ Updated: March 23, 2015, 08:11 PM PST

LOS ANGELES, CA — Former NFL star Darren Sharper removed all doubt Monday that he drugged and raped women, taking the first of several steps to own up to sex assaults in four states that will send him to federal prison for about nine years.

In two separate court cases, Sharper pleaded guilty to sexual assault in Arizona and no contest in California to raping two women he knocked out with a potent sedative mixed with booze.

Sharper, 39, wearing a striped, light blue suit, said it was in his best interest to enter the pleas.

The pleas came as Los Angeles prosecutors were prepared to present evidence of Sharper's fall from grace as a former all-pro safety who won a Super Bowl with the New Orleans Saints. His clean-cut reputation took a hit when women began telling police in several cities similar stories of blacking out while drinking with him and waking up groggy to find they had been sexually abused.




Defense lawyers had previously said the sexual intercourse was consensual. One lawyer had said Sharper didn't mix the sleepy shots of alcohol.

But Sharper wielded no defense in court Monday.

By not contesting the California charges, he admitted he raped two women he drugged after meeting them at Bootsy Bellows, a West Hollywood bar. The pleas have the same effect as a conviction.

Both encounters were eerily similar.

In October 2013, Sharper invited a woman and her friend to go to a party but stopped on the way to get something at his Century City hotel and invited them upstairs.

He insisted they drink a shot and they blacked out. One woman awoke with Sharper on top of her having sex.

The women were not in court, but prosecutors said they had agreed to the plea.

Under the unusual deal negotiated by Sharper's lawyers and state and federal prosecutors, Sharper will serve sentences concurrently in federal prison, though the full term has not yet been announced.

He was sentenced to nine years in the Arizona case and will face 20 years in the California case when sentenced July 15. However, because the crimes in California only require serving half the term and he gets credit for 13 months spent in jail, he'll serve about nine more years, lawyers said.

The sentence is no slap on the wrist, but it spares Sharper a potentially longer term if sentences involving at least nine alleged victims were added together and he also avoids notoriously rough state prisons, said Jeffery Rubenstein, a former Los Angeles prosecutor.

"This could have gotten really ugly and very likely this guy would have never seen the light of day," said Rubenstein, who didn't work on the case.

From the prosecution standpoint, victims were saved from reliving the event through testimony and having their credibility questioned by a seasoned team of defense lawyers, Rubenstein said.

Hearings will follow in Las Vegas on Tuesday and in New Orleans in the next month. In each state, he's accused of drugging and sexually assaulting women when they were unconscious or otherwise unable to resist or consent.

Sharper's worked as an NFL network analyst after retiring in 2011 from his 14-year NFL career. His arrest reverberated as the league dealt with off-field problems with players accused of crimes ranging from spousal abuse to murder. He was working

Sharper appeared in a Phoenix courtroom by video-conferencing from LA and admitted he sexually assaulted one woman and tried to attack another in suburban Phoenix in 2013.

Prosecutor Yigael Cohen said one victim didn't have the ability to resist and suffered emotional harm.

A search of the Tempe apartment turned up a shot glass with a residue of the sedative zolpidem, sold under the brand name Ambien.

In the California case, he pleaded no contest to four counts of furnishing zolpidem, a controlled substance.

Sharper was told he couldn't later change his mind and withdraw the California plea and that it would stand even if deals in other states collapse.

"To use the vernacular, do you understand that this is a final answer?" Judge Michael Pastor said.

"Yes, sir," Sharper replied.

Indicted!
Posted: December 12, 2014, 12:11 PM EST ~ Updated: December 17, 2014, 12:11 PM PST

New Orleans, La. -- Former Saints safety Darren Sharper, 39, Brandon Licciardi, a deputy with the St. Bernard Parish Sheriff's Office and Erik Nunez of Metairie, could face life sentences in prison. The three men were charged Friday (Dec. 12) in a nine-count grand jury indictment stemming from multiple rape allegations in New Orleans. Sharper was indicted on two counts of aggravated rape. These charges stem from accusations that he sexually assaulted two impaired women at his downtown luxury apartment on Sept. 23, 2013. He was additionally charged with simple rape of a different woman on Aug. 31, 2013. Orleans Parish Criminal District Court Judge Karen Herman set bond for Sharper and Nunez at $2.5 million. Licciardi's bond was set at $2.9 million.

Licciardi, a friend of Sharper's, was indicted on a charge of aggravated rape of a woman on Feb. 2, 2013. Licciardi additionally was charged with three counts of human trafficking for the purposes of providing sexual conduct. He was also charged with one count of battery with a dangerous weapon for an incident investigators said occurred on Nov. 17, 2013.

New Orleans police obtained arrest warrants for Sharper and Nunez on Feb. 27, 2014. The warrants came five months after a woman first accused the former football star of raping her after a night of drinking. An arrest warrant accused Sharper and Nunez of having sex with two passed out women "without their knowledge or consent" early on Sept. 23, 2013. Nunez, another Sharper acquaintance, was charged with two counts of aggravated rape. His charges are based on his alleged involvement with the two women at Sharper's apartment on Sept. 23, 2013. Nunez was also charged with obstruction of justice for actions alleged to have occurred between Sept. 23, 2013, and Feb. 28, 2014.

Sharper has been jailed in California since Feb. 27, 2014. He is awaiting his next hearing there on charges that he drugged and raped two women in Los Angeles County. The Los Angeles charges include two counts of rape by use of drugs. He also faces four counts of furnishing a controlled substance and one count of possession of a controlled substance. All of the charges are felonies. Sharper could face more than 30 years in state prison if convicted on the California charges.

He has also been indicted in Arizona on charges he drugged three women and sexually assaulted two of them in their apartment in the Phoenix suburb of Tempe. Similar accusations in Las Vegas remain under investigation. The Louisiana case now moves to the top of Sharper's concerns. If convicted of aggravated rape in Louisiana, Sharper, Nunez and Licciardi each could be sentenced to life in prison without the possibility of parole, probation or suspension of sentence.

See: Federal Indictment for Conspiracy to Distribute Narcotics.

UoM DomVio!
Posted: 4:51 p.m. Sunday, Nov. 16, 2014 ~ Updated: 9:51 p.m. Sunday, Nov. 16, 2014

ANN ARBOR, Michigan -- Frank Clark, a senior defensive end for Michigan, was arrested Saturday by the Perkins Township police department in Ohio. Clark, a senior starter from Cleveland, was listed as an inmate on the Erie County Jail on suspicion of domestic violence. An officer at the prison said Clark is being held without bond until his 9 a.m. court appearance at 9 a.m. Monday at the Sandusky Municipal Court. Bond will be set at that time.

A Michigan spokesman says the program is aware of the report and in the process of gathering more information. The Michigan senior was also arrested on felony theft charges prior to his sophomore season in 2012. Clark admitted he stole an $1,800 MacBook Air laptop from a Michigan dorm room. Clark was sentenced under the Holmes Youthful Trainee Act. He was ordered to pay $1,741 in fines and costs and was also given one year's probation. Michigan suspended Clark for the season-opener game against Alabama for that arrest. Clark completed his probation the felony was wiped from his record.

Coach Brady Hoke did not have a formal comment early Sunday morning. Clark's arrest is the latest in a string of off-field issues for Michigan. Graham Glasgow, the starting offensive lineman, was arrested for drunken driving in the spring. Glasgow was stopped driving with a passenger hanging out of his car in downtown Ann Arbor. He ultimately pleaded guilty to a misdemeanor charge of operating a vehicle while visibly impaired. He received 12 months probation and was suspended one game by Hoke.

Over the summer Hoke booted former wide receiver Csont'e York from his program. York was arrested on assault charges after punching and severely injuring a man outside an Ann Arbor bar in July. York was ultimately sentenced to seven days in prison and received two years of probation. Former Michigan left tackle Taylor Lewan was charged with three misdemeanors stemming from a fight outside an Ann Arbor bar in December 2013. Those charges were ultimately dismissed earlier this fall when Lewan entered a guilty plea to drunk and disorderly conduct and disturbing the peace. Lewan was allowed to play in Michigan's Buffalo Wild Wings Bowl game less than a month after the incident took place. Lewan is now with the Tennessee Titans. In Addition, former Michigan kicker Brendan Gibbons, was arrested in 2009 as part of a sexual assault investigation. He was expelled from school in December of 2013 for violating the university's sexual misconduct policy.

Note: Michigan was off Saturday, and will host Maryland on Saturday for senior day. Clark has 42 tackles (13 1/2 for loss) and 4 1/2 sacks this season.

Nat'L Kush League!
Posted: 6:47 PM EST, Wed November 5, 2014 ~ Updated: 3:47 AM PST, Sat. November 8, 2014

Tuscaloosa, AL -- NFL free agent and former University of Alabama running back Le'Ron McClain has been arrested by Tuscaloosa police for reportedly trafficking synthetic marijuana. He's accused of selling 122 grams of fake pot. Tuscaloosa Police tried to serve a warrant on McClain, November 5th. Drug agents told Le'Ron McClain not to leave Tuscaloosa while they tested substance they found at his home. He was gone when they returned. McClain's mother told narcotics agents that he left this state the afternoon of the 5th. Narcotics agents in Tuscaloosa say McClain briefly went on the run. TPD later said Le'Ron McClain was arrested at a location in the 2300 block of University Boulevard. He was booked in jail on $500,000 bond.



McClain, 29, was drafted in the fourth round of the 2007 NFL draft by the Baltimore Ravens after spending four years at Alabama. The bruising fullback had stints with the Kansas City Chiefs and San Diego Chargers, as well, but he was most successful while with the Ravens. In four seasons under Brian Billick and John Harbaugh, he made two Pro Bowls and was named a First-Team All-Pro in 2008. McClain last played in 2013. He has tallied 1,867 yards from scrimmage and 16 touchdowns in his professional career.

Booking Blotters!
Posted: 4:51 p.m. Friday, Nov. 14, 2014 ~ Updated: 9:51 p.m. Saturday, Nov. 15, 2014

Palm Beach County, Fla. -- The Palm Beach County Sheriff's booking blotter website was back up and running Friday after almost a week of hiatus. However, police officers arrested this year remained out of the online database. Lawyers and bail bondsmen complained that they used the blotter in their daily work and didn't understand why it was taken down without warning. Sheriff Ric Bradshaw took down the entire online booking blotter with a "until further notice" notice on Monday. The removal came after media sources reported Sunday that the agency had deleted arrested officers' names from the public jail log.

When media sources initially asked why officers were not showing up in the blotter, the sheriff's office said there was an issue with software so they couldn't redact certain protected information like addresses and dates of birth. On Thursday, the agency released a statement on its Twitter account explaining there was a technical problem with the blotter and that it would be fixed shortly. That statement was tweeted two hours after a media lawyer threatened to take legal action to enforce the public's right to see, in a timely manner, the records of people booked into the jail.

"The effect of this action is that public records requests for information that was, until now, readily available on the PBSO website, are now being frustrated and unreasonably delayed, which is tantamount to a denial of those requests," the attorney said in an email to the sheriff's office.

The sheriff's office has yet to explain why fixing a glitch required the entire database to be taken offline. Media sources pointed out that as recently as last year, arrested officers appeared in the booking blotter with the information redacted. Media sources requested records multiple times for all bookings since Monday morning. The sheriff provided no timeline of when the records would be released. Friday afternoon, after another email from a media lawyer, the records were released on paper. Hours later, the same records were posted online. When the blotter was restored Friday, the sheriff's office released a statement:

"After a recent news article the Sheriff's Office reviewed the operation of the Booking Blotter website and determined that it was not operating in a manner consistent with what was expected of the site. "Sheriff's personnel met today and have corrected the issues regarding the booking blotter website. The website is now in acceptable operating condition."

Spokeswoman Teri Barbera said officer's names and charges will now be in the blotter. However, she did not offer any reason why officers previously arrested remained out of the blotter. Boynton Beach police officer Stephen Maiorino is accused of raping a woman at gunpoint and Palm Beach County Sheriff's Office deputy Roger Kirby allegedly beat a 5-year-old boy. Their names were not listed on the blotter. The sheriff's office did not explain why.

Posted: 4:51 p.m. Thursday, Oct. 30, 2014 ~ Updated: 9:51 p.m. Wednesday, Nov. 26, 2014


The Honorable Moses Baker, Jr., father of Former Palm Beach County Sheriff's Deputy Moses Baker was told to either give up his badge, or possibly face criminal charges for allegedly having sex with prostitutes in his patrol car.


Palm Beach County, Fla. -- Former Palm Beach County Sheriff's Deputy Moses Baker resigned in July after an internal affairs investigation. The investigation was started in February after several prostitutes told investigators they had sexual relations with Baker in his patrol car. According to the internal affairs investigation report: "During the week of February 23, 2014 PBSO Internal Affairs received information that Deputy Baker had engaged in sexual activity with known prostitutes while on duty." According to their executive assignment disposition memorandum: Deputy Baker was told to either give up his badge, or possibly face criminal charges for having sex with prostitutes in his patrol car.

The Palm Beach County State Attorney's Office contacted the governor's office because they felt uncomfortable handling the case due to Baker's law enforcement ties in the county. Baker's father is a judge and his sister is a prosecutor with the Palm Beach County State Attorney's Office. The Martin County State Attorney's Office was selected to handle the investigation. A letter was sent to Governor Rick Scott on Oct. 23rd stating that the investigation was finished.

According to the letter, Baker had to:

1. Immediately relinquish his certificate as a law enforcement officer.
2. Take an HIV test and submit the results to the state attorney's office.
3. Complete a five hour class called "Prostitution Impact Prevention Education Class."

According to the letter, "As a result of this, no charges will be filed against Mr. Baker. Mr. Baker has completed these requirements, therefore this case is closed."

A former FBI Agent and attorney reviewed the reports for media sources. "Clearly any deputy or any law enforcement officer having sex in a marked patrol car under any circumstances is inappropriate," the attorney said. He says the situation was handled correctly. "I think they did an excellent job on the administrative side....it's all about balancing the public interest of protecting the institution, being PBSO, against the individual interests of the deputy...I believe it was appropriate," the attorney said.

A spokeswoman with the Palm Beach County Sheriff's Office declined commenting, only confirming Baker was no longer with the agency. Baker did not return calls for comment.

Sonic Dope-fiend!
Posted: 4:53 p.m. EST November 14, 2014 ~ Updated: 08:53 p.m. PST November 14, 2014

Seattle, WA -- Robert Swift, 28, former Seattle Supersonics and Oklahoma City Thunder big man, was charged Thursday with unlawful possession of a short-barrel shotgun. Swift is now in serious trouble with the law. Federal authorities raided the shared Seattle-area home of Trygve Bjorkstam, 54 and Swift in connection with drug charges. Bjorkstam is accused of amassing an 18-gun arsenal to protect his drug business. During the time of the raid Bjorkstam is said to have defended Swift to police, describing him as a "good guy" who helped him try to collect a heroin debt but did not deal drugs himself. As a result police believed Swift was uninvolved with the activities occurring at the residence. However, authorities now allege that Swift was more than a casual bystander to Bjorkstam's activities.

King County prosecutors describe Swift as a heavily armed heroin addict who admitted to helping his drug dealer-turned-roommate collect a drug debt. Bjorkstam is currently facing federal drug and gun charges. The apparent details of the case go well beyond a single charge. Police allege that Swift is a heroin addict who has been involved in very serious activities. "There were used needles, methamphetamine pipes with residue, baggies with residue and pieces of used aluminum foil scattered in plain view throughout the residence and in both suspects' bedrooms," the officer said in court papers. Investigators contend a military-style grenade launcher and sawed-off shotgun were seized from Swift's bedroom during the Oct. 4 raid on the Kirkland home.

According to the ATF agent's statement, Swift's bedroom was well stocked with firearms. A 12 gauge shotgun was propped behind his door and seven firearms were found on or under his bed. One of those firearms was a sawed-off shotgun, 8 ½ inches shorter than federal law requires. Police also seized was a 40 mm grenade launcher locked in a safe in Swift's room, the ATF agent said. It's unclear whether the weapon, which retails for $1,800, was registered appropriately. The home is reportedly located 100 yards from an elementary school. "(Swift) did not admit to dealing drugs, but stated that he is addicted to heroin and uses it daily," the ATF agent told the court. Swift said he helped Bjorkstam confront a dealer Bjorkstam had paid $2,000 to during a failed heroin purchase, the agent continued.

The affidavit includes many more statements and allegations involving Bjorkstam's operation and Swift's involvement in it, so I recommend reading it in full to get a more complete view of the situation. In one sentence, though, here's what is being said about Swift — he is addicted to heroin, was living with his drug dealer, served as that dealer's muscle in one instance to collect a debt, and had a grenade launcher and sawed-off shotgun in his bedroom at the time of the raid.

These are just allegations included in the federal case at this point, but it does not appear to help Swift that both he and Bjorkstam seem to have corroborated several details. Regardless of the eventual resolution to this case, Swift appears to have been involved in very heavy activities, even if only on a personal level. Many former athletes have money troubles, but few become addicted to heroin and live in the residence of an arrested drug dealer. It's a very dark situation with no apparent positives.

Sadly, this news is only the latest and most severe negative in Swift's life. The 7-foot-2 center went directly from high school to the NBA and became the 12th-overall pick in the 2004 draft. After initially showing promise, Swift suffered several serious knee injuries and had the rights to his contract renounced by the Thunder in 2009. Swift had brief stints with the Bakersfield Jam (his hometown team) of the NBDL and the Tokyo Apache of Japan's top pro league, but his basketball career essentially petered out. His awful situation became clear in February 2013, when it was reported that Swift would not vacate his foreclosed-upon home and was living in squalor amidst empty cans of alcohol and various other signs of serious neglect. With this gun charge and a serious chemical dependency, Swift's future is now in much greater doubt.

Dirty Deeds!
Posted: 4:19 PM EST, Fri. November 7, 2014 ~ Updated: 11:19 PM PST, Fri. November 7, 2014

New Zealand -- In a matter of 24 hours New Zealand prosecutors have dropped the murder-for-hire charge against the AC/DC drummer Phil Rudd (pictured above, center). Prosecutors say there wasn't enough evidence to move forward. Rudd's future changed drastically and now fingers are being pointed at police by Rudd's lawyer. Rudd's lawyer said the decision to charge Rudd was made by police without consulting with prosecutors. Rudd's attorney also hinted that there could be legal action ahead. "Mr. Rudd has suffered unnecessary and extremely damaging publicity as a result of widespread and sensational reporting of a very serious allegation, which on any basis was never justified. The damage to Mr. Rudd is incalculable."

Police refused to answer questions about their decision to charge Rudd and whether they stood by it, reports New Zealand media sources. They also refused to say whether they regret not seeking Crown advice before arresting Rudd, or any distress the withdrawn charge caused him. The 60-year-old member of the popular Australian band still faces a serious charge of threatening to kill, which comes with a maximum prison term of seven years. He also faces charges of possessing methamphetamine and marijuana.

In a statement, Tauranga Crown Solicitor Greg Hollister-Jones said his office became responsible for prosecuting Rudd after he had been charged by police and had appeared in court. "The file was obtained today and reviewed," Hollister-Jones told media sources on Friday, adding he "made the decision that there was insufficient evidence to proceed with the charge of attempting to procure murder."

Rudd himself blames the media. After appearing in court on Thursday, the drummer refused to speak with gathered media as he pulled away from the court in a late-model soft-top Mercedes, driven by a woman who had watched the court proceedings from the public gallery, reports the Herald. Once home, Rudd took a minute to flip off the media gathered outside his two-story home. A neighbor told the media sources he was shocked by the news of Rudd's arrest. "I know Phil, he's a good neighbor ... we'll chat about any old thing. I even see him out mowing the lawn for the elderly lady next door, so he's a pretty down-to-earth guy."

AC/DC said in a statment Rudd's arrest won't affect its upcoming tour or the new album release. Rock or Bust is due to be released on Dec. 2 and will be the band's first new studio album in six years. The band plans to promote it during a world tour next year.

Posted: 4:35 AM EST, Thu November 6, 2014 ~ Updated: 4:35 AM EST, Thu November 6, 2014

New Zealand (WCJB) -- Phil Rudd, 60, the drummer for legendary hard rock band AC/DC, has been charged with attempting to have two men killed. Rudd appeared in a New Zealand court Thursday afternoon facing a count of attempting to procure the murder of two men, said Bay of Plenty district's police spokesperson, Kim Perks. Police searched Rudd's waterfront home in Tauranga on Thursday morning, TVNZ reported. He was also charged with threatening to kill, possession of methamphetamine and possession of cannabis, Perks said. The names of the men he allegedly wanted killed and the name of the alleged potential hitman are suppressed according to NZ Law. Rudd entered no plea to the charges at the Tauranga District Court, and was bailed until November 27, local media reported.




AC/DC is one of the world's biggest-selling musical acts. Rudd is an Australian-born drummer who moved to New Zealand in 1983. He was sacked by the group in the same year. He rejoined the group years later. AC/DC was inducted into the Rock and Roll Hall of Fame in 2003. Their latest album, Rock or Bust, is scheduled for release later this month.

"Priorities!"
Posted: Friday, October 10, 2014 | Updated: 11:39 pm, Friday, October 10, 2014

"I made a mistake. I was human. I was part of it. I'm not proud of it. [...] We knew it was wrong...For whatever reason, it just kind of got glossed over. I'm no psychiatrist, so I can't really get into what that part of it is. I'm just telling you how I was. I've got to look at myself first. And I was part of that, but I didn't stand alone."

Chicago, Ill. -- Former Chicago Bears general manager Jerry Angelo, who spent three decades working in the NFL, claiming that NFL teams hid hundreds of domestic violence cases during his time of employment.

Media sources reported on the matter Thursday, documenting Angelo's comments. The interview was about current NFL commissioner Roger Goodell. Angelo doesn't believe Goodell was trying to cover up anything that happened in the domestic violence scandal surrounding former Baltimore Ravens running back Ray Rice. However, he did acknowledge the league's "failure to obtain the video" painted the NFL in an understandably negative light. Goodell came under fire for his initial mishandling of the Rice situation, in which Rice was suspended just two games. Once footage of Rice's incident surfaced, though, he was dealt an indefinite suspension and the Ravens cut him.

Angelo acknowledged not reporting such cases while he was in the league, instead deferring responsibility to the commissioner to uphold player conduct standards:


"Our business is to win games. We've got to win games, and the commissioner's job is to make sure the credibility of the National Football League is held in the highest esteem. But to start with that, you have to know who's representing the shield...We got our priorities a little out of order."


Former Bears defensive tackle Tank Johnson also knew of domestic violence cases going unreported, but he didn't fault Angelo for it. Johnson references the Rice videotape in his assessment of the issue that has rocked professional football and raised overall awareness as a result:


"Looking at the Ray Rice situation, it's got to make everybody step back and say, "OK, how many times has this happened and it's gone unreported?" And how many times have we overlooked this? Anytime you a picture or a video to something, it makes it 100 percent more real. …When you see something so vivid, so violent, it makes everyone gasp and say, "Wow, this is real."


Bears legend Mike Ditka's responded to the allegations. Ditka called the comments "gutless:"


"If you didn't do anything while you were running the team, then shut up. Don't live in the past."


The league declined comment on Angelo's claims.

Significant changes are expected to be made to the NFL's personal conduct policy prior to the Super Bowl, as Goodell met with league owners in New York this week to outline solutions. The league has already put in place new, harsher penalties for domestic violence in particular. As of now, a first-time offense means a six-game suspension; a second-time offense leads to a lifetime NFL ban. Each "offense" wouldn't necessarily require a court-of-law conviction. The league plans to assess all instances on a case-by-case basis.

insufficient evidence!
Posted: 08/13/2014 9:49 AM MDT ~ Updated: 08/14/2014 9:49 AM PDT

SaQwan Edwards (left), Crusoe Gongbay (center), and Ryan Ruff (right).


New Mexico -- The Bernalillo County District Attorney's Office on Wednesday announced the district attorney will not pursue rape charges against two University of New Mexico football players and a Central New Mexico Community College student.

District Attorney Kari Brandenburg released the following statement regarding the charges against Crusoe Gongbay, SaQwan Edwards and Ryan Ruff: "After reviewing the evidence in the alleged sexual assault case, our office has determined not to move forward with the criminal prosecution of the three defendants. We have determined that there is insufficient evidence to prove guilt beyond a reasonable doubt before a jury or a judge."

In April, a UNM student told police she was raped at gunpoint inside a BMW. Police later arrested and charged football players SaQwan Edwards and Crusoe Gongbay and CNM student Ryan Ruff in the case.

Two months ago, the district attorney's office temporarily dismissed the charges against all three men while they reviewed all of the evidence. The district attorney has now dismissed the case.

Evidence Test!
Posted: August 8, 2014, 2:16 PM ET - Updated: 07:21 pm PDT, Monday, August 11, 2014

LOS ANGELES, CA -- A preliminary hearing has been set for Sept. 16 for former NFL All-Pro safety Darren Sharper on charges that he drugged and raped two women he met at a West Hollywood nightclub.

Arizona, which has charged Sharper in a similar case, wants to extradite him there for trial. He's also been investigated in Louisiana, Nevada and Florida. In May, authorities in Florida found insufficient evidence to pursue charges there.

Sharper has pleaded not guilty in California, and he and his lawyers have denied the allegations in the other states.

Prosecutors said outside court the preliminary hearing will take about two weeks. They're seeking to show there is sufficient evidence to order Sharper to stand trial.

He is accused of giving women drugs and raping them while they were unconscious.

Police, ... Search Warrant!
Posted: Jun 30, 2014 2:23 PM PDT - Updated: 10:21 pm PDT, Monday, July 7, 2014

NEW ORLEANS, LA (WCJB) - As prosecutors in New Orleans investigate the alleged aggravated rape of two women in the Warehouse District last September, there are indications that a third person may be involved. A source with knowledge of the case tells media sources that Sgt. Brandon Licciardi, a St. Bernard Deputy, recently received a search warrant for his DNA. Investigators had previously interviewed Sgt. Brandon Licciardi in connection with the case. St. Bernard Parish Sheriff Jimmy Pohlmann says Licciardi is no longer in a law enforcement capacity with the Department and he's been moved to an administrative position. Licciardi's attorney told media sources that since there's a pending investigation, he could not comment.

In March of this year, the NOPD issued arrest warrants for Darren Sharper and 26-year-old Erik Nunez. Both were arrested for two counts of aggravated rape, but have not been formally charged. According to the New Orleans police report, a woman claims she met her perpetrator at a bar and he took her to his apartment where she was sexually assaulted. In a February report, a source told news sources that Licciardi introduced Sharper to the alleged victim on the night of the incident and investigators wanted information about text messages sent from Sharper to Licciardi. At the time, Licciardi's attorney told media sources his client was only a witness and was fully cooperating with the Orleans D.A.'s office.

Erik Nunez, also accused of aggravated rape in New Orleans, is free on bond. Darren Sharper remains in the Los Angeles County jail where he's charged with drugs and rape. Besides New Orleans, he's being investigated for sexual assault in Las Vegas and Tempe, Arizona.

Ponzi Scheme!
Posted: 12:32 pm EDT, Wednsday, June 18, 2014 - Updated: 03:13 pm PDT, Wednsday, June 18, 2014

TRENTON, N.J. (WCJB) -- Sentencing for a former NBA player convicted of ripping off investors in a Ponzi scheme was postponed Wednesday as attorneys for each side squabbled over how much money his victims lost.

Tate George (pictured above, center) was scheduled to be sentenced in federal court in Trenton, but after a status conference between attorneys and U.S. District Judge Mary Cooper, the sentencing was pushed back to Aug. 19-20 to allow for more time to decide the monetary issue.

George, a former UConn star who later played for the New Jersey Nets and Milwaukee Bucks, is best remembered for a buzzer-beating shot in the NCAA Tournament in a 1990 game against Clemson.

George didn't attend the hearing. He has been held in jail in New Jersey since his conviction last fall on four wire fraud counts.

The U.S. attorney's office said George operated a Ponzi scheme by persuading victims, including other pro athletes, to invest in a purported real estate opportunity.

Instead of purchasing the real estate he'd touted, prosecutors said, George used the money to pay off earlier investors and to cover personal expenses.

Wire fraud carries a maximum 20-year sentence, though defendants rarely receive the maximum. Since George had no previous criminal history, his sentence under federal guidelines will depend largely on the total monetary loss to his victims, George's attorney, David Schafer, said Wednesday.

That figure has been estimated at about $2 million, but Schafer said the government is claiming a higher figure based on more victims than the seven who testified at trial. He said he is seeking a sentence of three to four years, while the government is pushing for about nine years.

The U.S. attorney's office, through a spokeswoman, declined to comment on what sentence it was seeking.

''Mr. George had a consulting and development business over many years,'' Schafer said. ''The government is basically going back and seeing who is claiming to be a victim.''

Among the witnesses testifying for the prosecution at George's trial were Detroit Pistons forward Charlie Villanueva and ''The Apprentice'' winner Randal Pinkett.

George's victims will have the opportunity to testify at his sentencing. Schafer said he expects George to speak as well.

Hard Headed!
Posted: 4:48 pm, Thurs., May 15, 2014 - Updated: 5:48 pm, Thurs., May 15, 2014

Charlotte, NC -- A request for a temporary restraining order against Carolina Panthers defensive end Greg Hardy was dismissed by Judge Charlotte Brown on Thursday. Hardy's accuser failed to appear at a civil hearing in Charlotte. Hardy was also not present at the hearing in front of Brown. A short time later, Judge Becky Thorne Tin, the judge who presided over Hardy's bond hearing Wednesday on two misdemeanor charges, amended the conditions of the bond. Hardy was required to turn over all of his weapons and firearms. Nicole Holder, 24, requested in the restraining order she sought against the Carolina Panthers' All-Pro defensive end, that he surrender all weapons. She also wanted him barred from her home, the uptown complex where she works, and the home of her parents in an adjacent county.

Holder's attorney was present at Thursday's hearing, but Holder was not. The attorney said Holder would no longer be his client, by their joint decision. He cited irreconcilable differences with Holder as the reason, and wouldn't say if Holder had retained other counsel. The attorney said this is the first time since 1996 he has withdrawn from representing a client. The criminal case against Hardy, regarding the two misdemeanors including assault on a female, will continue. The attorney would not say where Holder stands regarding the criminal case.

Posted: 4:48 pm, Wednesday, May 14, 2014 - Updated: 5:48 pm, Wednesday, May 14, 2014




Charlotte, NC -- Greg Hardy, 25, was arrested on domestic violence charges. Hardy is a NFL Carolina Panthers star defensive end. Hardy's girlfriend is claiming in court records that he threw her on a couch covered in firearms and threatened to shoot her if she told anyone about their fight. The Pro Bowl lineman was arrested Tuesday on misdemeanor charges of assaulting a female and communicating threats. The arrest warrant accuses the 6-foot-4, 290-pound Hardy of throwing the 24-year-old Nicole Holder to the floor and into a bathtub. He is also accused of slamming her against a futon and "strangling" her during an argument at his home. The warrant also states that Hardy said he would kill her. "A threat made in a manner and under circumstances which would cause a reasonable person to believe that the threat was likely to be carried out."

In a complaint accompanying her request for a restraining order against Hardy, Holder added compelling details to her version of the fight. They include allegations that an enraged Hardy choked her with both hands and threatened to kill her. At one point during their struggle, she said in her complaint that Hardy picked her up and threw her into a tub, then dragged her across the floor by her hair. As Hardy screamed threats, Holder said he lifted her over his head and threw her on a couch "covered in assault rifles and/or shotguns." She said Hardy keeps a cache of 25-30 "AK-47s, automatic-looking weapons, shotguns, rifles and pistols" in his North Tryon condo and a former residence. Holder said Hardy threatened to shoot her if "I went to the media or reported his assaults to anyone," according to her complaint. "I begged them to let me go and I wouldn't tell anyone what he did," she wrote. "They took me out into the hall, pushed me down and went back inside his apartment." When police arrived, Holder said she met them while crawling to the elevator.

On Wednesday Hardy appeared in court with his attorney. Mecklenburg County District Court Judge Becky Thorne Tin said Holder's injuries and the nature of the allegations against Hardy "raise concerns" about Holder's safety. Hardy's attorney, however, told Tin that Holder attacked Hardy and his friend and assistant, Sammy Curtis. He also argued that his client called 911 when Holder refused to leave his home. He said that after the fight, Holder called Curtis more than a dozen times Tuesday trying to reach the player. The dueling versions of events don't explain what ignited the predawn confrontation. Alcohol may have been a factor in the fight. The fight broke out during an early morning "after party" at Hardy's uptown residence. Tin noted that both Hardy and Holder were intoxicated when police arrived.

During Hardy's bond hearing, Judge Tin ordered the NFL player to attend three Alcoholics Anonymous meetings each week until his next court date on June 27. She then warned Hardy not to have any contact with Holder, even if she called. "Do you understand?" the judge asked Hardy, who stood with his hands clasped behind him. "Yes, ma'am," he responded quietly. He was released on $17,000 bond. Hardy traded in his orange inmate jumpsuit for sunglasses, a black tank top and Panther sweatpants. He did not talk to reporters waiting outside the jail. His attorney, says the charges against his client are unfounded.



Later Wednesday afternoon, a series of 911 tapes connected to the case were released. In one, a heavily breathing Hardy describes girlfriend Nicole Holder as out of control, intoxicated and trying to attack him with the heel of her shoe. "Like, yo, she's out of it, my man," Hardy tells the 911 operator. "And she will not stop coming at me, bro." An unidentified woman made another call from the security desk of Hardy's building. The woman claims to have attended the gathering in the player's condo. She is heard yelling that a woman had been beaten there for more than 30 minutes. "We need the police here now before this girl gets seriously hurt. Now!" she said.

An Instagram post by Curtis appears to show that Hardy spent part of Monday night at Bubble, a champagne lounge and nightclub in the EpiCentre, the uptown complex where Holder works as a waitress. The club is about two blocks from Hardy's residence. In February 2013, Holder was convicted of DWI. Her license was suspended and she was fined $100 plus court costs, and ordered to serve 20 hours' community service. Holder did not attend the hearing, but she appeared in the corridor outside the courtroom afterward with a woman later identified as a sister. She was wearing a dress, large sunglasses and had her arm in a sling. Her attorney said Holder was "torn up" about the incident and was in no condition to talk. He said Holder had been injured "head to toe" and had gone to the emergency room afterward. Her worst injury, he said, had been to an elbow. "My client was not the aggressor by a long shot," the attorney said after the hearing. "She weighs less than 120 pounds. ... It was a fight. He threw her around the room."

Hardy's legal problems could grow. On Thursday afternoon, a judge will hear Holder's request for a restraining order. She wants Hardy barred from her home. She wants him barred from the EpiCentre where she works and from her parents' residence in an adjoining county. She also wants the courts to block Hardy from buying more weapons and seize the ones he has.

North Carolina law requires permits for handgun purchases, which are good for five years. Buyers can obtain up to three permits with a single application. Each permit is good for one handgun or up to five long guns. In her complaint, Holder says some of Hardy's guns have permits and some do not.

Police did not mention any guns in their report or on the arrest warrants. A department spokesman did not respond to an emailed question on whether police will be investigating the claims about Hardy's weapons.

The Panthers said in a statement Tuesday they were "very disappointed" to learn of the allegations and planned to investigate. Earlier that day, while Hardy was still in jail, his team dealt with the irony of hosting a domestic violence awareness rally in the very stadium in which Hardy has starred. A league source said the Panthers met with Hardy and his agent, Drew Rosenhaus, on Wednesday to discuss the arrest. The Panthers are scheduled to pay Hardy $13.1 million for the coming season. Rosenhaus, who attended Hardy's court hearing, declined comment as he left the courthouse. Even before his first known arrest, Hardy's off-the-field behavior already has troubled the Panthers. The franchise is in the midst of deciding whether to offer the player tens of millions of dollars over a multiyear contract. Carolina selected him in the 2010 draft after Hardy fell down other teams' draft boards because of questions about his character. At the University of Mississippi, he was suspended for missing team meetings and violating team rules.

The Panthers organization is particularly sensitive to domestic violence issues. In 2001, Panthers wide receiver Rae Carruth was found guilty of conspiring to murder his girlfriend, Cherica Adams, who was carrying his child. Carruth was sentenced to 18 to 24 years in prison. Hardy's court appearance occurred on the same day the Panthers hosted a breakfast at their stadium for "Men For Change," a group that serves victims of domestic violence.

Nutta' Bunch Fools!
Posted: Saturday, 04.12.14 - Updated: 07:49 p.m. PDT Saturday, 04.12.14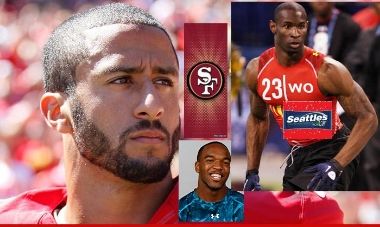 Miami, Fla. -- Miami police confirmed that San Francisco 49ers quarterback Colin Kaepernick (pictured above, center-left) is under investigation for possible sexual misconduct at a Brickell hotel. A woman who said she previously had a sexual relationship with Kaepernick told police on April 3 that she passed out in Apt. 4710 in the Viceroy Hotel and Residences around midnight two days earlier. Soon after, someone in the apartment contacted Miami Police, sources familiar with the incident said. When officers arrived, they grew concerned about the woman's frame of mind and called Fire Rescue, which transported her to the hospital. "At 12:32, Miami Fire Rescue was dispatched to the Viceroy and transported a 25-year-old female from the Viceroy to the Jackson Memorial Hospital emergency room," Miami Fire Lt. Ignatius Carroll said. The woman woke up the next morning with no idea how she got there, according to Walter Sarrafiore, of the Miami Police Department's Special Victims Unit, which investigates sexual battery and other serious crimes. Fire Rescue's records did not name the hospital or the woman.

The woman went to police on April 3 in reference to a "suspicious incident" at the Viceroy, 485 Brickell Ave., according to the police report. Although Kaepernick is listed as a suspect in the police report ... police have not concluded he committed any crime. Also listed on the police incident report are Kaepernick's teammate Quinton Patton (pictured above, center) 23, a second-year pro from Louisiana Tech who has played sparingly, and Seattle Seahawks wide receiver Ricardo Lockette, 27 (pictured above, center-right). "We have to examine evidence and wait for some tests to come back, including toxicology reports," Police Chief Manuel Orosa said Friday. "We can present it to the state attorney and they can decide whether to continue." The chief added: "It's too early to determine what the evidence indicates."

In her interview with officers, the woman said she went to visit Lockette at his apartment around 9 p.m. on April 1 and found Kaepernick and Patton there. She told police she had a sexual relationship with Kaepernick in the past. "They talked for a while and she mixed some drinks for all of them and gave them shots," the incident report states. The report goes on to say "that they told her in order to drink the shots she had to 'hit' the bong, which contained marijuana." The woman said she began to feel lightheaded while they were watching a basketball game, according to the report. She went to a bedroom to lie down, took off her jacket and jewelry, and was followed by Kaepernick, who began kissing her. He undressed her and left the room. They never had sex, she said.

The woman told police that Patton and Lockette then opened the door and "peeked" inside. The woman told police she said, "What are you doing? Where is Colin? Get out," to the two other football players, who left and closed the door. "She can't remember anything after that," the report states. The woman underwent a rape test, sources said, and the results weren't made public. The incident first was reported on the gossip an entertainment website, which posted a photo of Kaepernick surrounded by nine women in bikinis next to a pool supposedly at the Viceroy.

Kaepernick denied the allegations Friday on Twitter. "The charges made in the news story and other stories I've seen are completely wrong. They make things up about me that never happened," the NFL star posted Friday morning on Twitter. "I take great pride in who I am and what I do, but I guess sometimes you have to deal with someone who makes things up." Kaepernick, 26, also tweeted, "I want to thank all of the people who have shared their encouraging sentiments. I assure you that your faith is not misplaced." According to the media sources, Kaepernick's agency, released a statement: "We stand by Colin 100 percent and are fully confident that the truth will be evident once the facts come to light regarding this matter." Calls to Patton's agent were not returned. "No comment, buddy," Lockette's spokesman, Zeke Sandhu, said Friday.

The investigation is ongoing. No charges have been filed.

Top Starter!
Posted: 10:57 a.m. EDT March 27, 2014 - Updated: 05:04 a.m. PDT March 28, 2014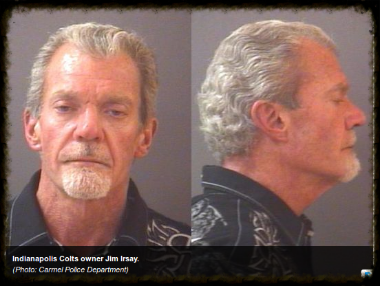 Carmel, Indiana -- Many new details about Jim Irsay's, owner of the Indianapolis Colts, arrest are contained in police reports obtained by Corrupt Justice™. Irsay, 54, was stopped by police on March 16, 2014. Irsay was pulled over at about 11:40 p.m., near the intersection of Horseferry Road and Main Street, driving a silver Toyota Highlander. A Carmel officer on routine patrol observed him driving erratically. "I observed a vehicle traveling east bound that appeared to be traveling at approximately 10 mph in a 35 mph zone," the officer wrote in his report.

"As I passed the vehicle I continued to observe it in my side view mirror. I observed the vehicle come to a complete stop on W. Main Street for no apparent reason. I turned my squad car around and began to drive to the vehicle's location. As I was approaching the vehicle it began to slowly move east bound and came to another complete stop in the lane of travel for no apparent reason." After Irsay's vehicle began moving again, the officer noted that he observed Irsay make a right hand turn onto Horseferry Road without using a turn signal. That is when the officer initiated a traffic stop.

The officer's first contact with Irsay came when he walked to the driver's side window of the SUV. "I asked him if he knew why I pulled him over," the officer wrote in his report. "Irsay advised that he was trying to find his house and gets confused with what road it is located on." The officer asked to see Irsay's driver's license, which led to Irsay opening a metal briefcase that was sitting on the passenger's seat. "As Irsay searched through the brief case for his driver's license," the officer reported, "I observed prescription bottles in the brief case next to his wallet." The report continues, "I also observed that his eyes were red and watery. He also displayed poor manual dexterity." The officer then called for another patrol officer and a sergeant to come to the scene to assist with the investigation.

The officer initiated several "pre-exit" field sobriety tests before asking Irsay to get out of his vehicle. Irsay was asked by the officer to recite a portion of the alphabet, starting at "C" and ending at "N." Irsay completed that test successfully but then started again — this time continuing through the entire alphabet. "After reciting the letter Z," the officer reported, "Irsay recited the lettering I, N and G." Irsay was asked to get out of his vehicle. The report said Irsay was unsteady and had trouble standing and his speech was slurred. Officers were prompted to cut short some dexterity testing. Irsay was unable to stand heel to toe and two officers "continuously had to support Irsay in order to prevent him from falling over," the report said. At one point, the officers had Irsay sit on the hood of a squad car because they were concerned he might fall.

Irsay denied having consumed any alcohol, according to the arresting officer. He admitted taking several medications. The arresting officer told a supervisor called to the scene that he "believed Irsay to be intoxicated on a substance other than alcohol." Irsay agreed to take a portable breath test and the sergeant at the scene also called in a "certified drug recognition expert." The result of that test was redacted in the police reports obtained by Corrupt Justice™. He was handcuffed at the scene and booked into the Hamilton County Jail.

The investigation continued at the jail. Irsay was taken into a private interview room and the drug evaluation was conducted. Irsay declined to answer questions at the jail without his attorney present, so he was not interrogated. Irsay refused to voluntarily submit to a blood test. The officers then took Irsay's driver's license for refusing to submit to the chemical test. Under Indiana law, refusing to submit to such a test leads to a mandatory one-year driver's license suspension.

Carmel officers took an inventory of Irsay's vehicle at the jail his vehicle. The report said those officers "recovered numerous prescription medication bottles containing pills." In addition to the pills found in Irsay's briefcase, reports said they found more pills in bottles located in the two bags. Records list 11 pieces of evidence under the notation of "drugs/prescription," but it is not clear if that means 11 pills or 11 different types of pills. Officers also reported finding $29,029 in cash. The inventory turned up $14,516 in the briefcase, $2,513 in Irsay's wallet and $12,000 in one of two "laundry" bags on the passenger's side floorboard, according to police records. The vehicle was then towed to a storage facility.

He was held for several hours on a preliminary charge of driving while intoxicated and four preliminary counts of possession of a controlled substance. The four preliminary drug charges are felonies, each carrying a potential sentence of from six months to three years in prison. The charges are related to the pills found in Irsay's vehicle for which he could not immediately provide proof of a prescription. The police reports obtained by Corrupt Justice™ do not identify the drugs. A news release after his arrest said they were Schedule IV prescription drugs. Those types of drugs include Xanax, Darvocet, Valium, Ativan and Ambien.

Irsay has not been formally charged in the case. According to a statement issued by the Colts, Irsay is now undergoing unspecified treatment at an out-of-state medical inpatient facility. In 2002 he admitted undergoing treatment for prescription drug abuse. In a statement Tuesday, the Hamilton County prosecutor said no formal charges have yet been filed against Irsay and that an initial court hearing set for Wednesday had been postponed indefinitely. The statement said the hearing was canceled at the request of Irsay's attorneys, and the prosecutor did not object. Irsay's attorneys cited the team owner's admission to the out-of-state medical facility as the reason for their request. The statement also said the prosecutor would have no further comment "unless or until charges are filed."

---
Kneegrows Aint Got Cints!
By: Leegal Counsel (Posted - March 23, 2014)

Global -- Nah dis kneegrow gone do sum tyme. Dis kneegrow ain't got no cints. Da kneegrow gone put stuff en dem gurls drank den staut juugin dem. Wus rong wit dees kneegrows. I doe no why da boy done wint drug da gurl up den do dem thangs to dem. Da boy mussta like awl dem gurls nocked out ann not moobin ann stuf. Dem wite fokes gone git dis kneegrow. Hee awl on dey telleebison likah he uh guud kneegrow. Dey say da boy done raype dem gurls in awl dem stakes. Ebin en navadda ware OJAY at. Dees wite fokes fitnah put dis kneegrow enna sell wit OJAY. Him ann OJAY gone hab uhlott ta tauk bout to. Dey daze enna poefeshonal spoats. 1 thang foe show, u aint gotta drug dem gurls en prizzen (dey got da same tangs da boys got ann wont da same tang to). Dey do stuf win dey aint got no drug en dem. Hell dem gurls en prizzen wont ya to drug dem up firse. Nah u no u done did sum rong win OJAY paroll date cum up beefoe urz do.

Say da boy done wint dawn nare to Nue Awllins messin wit dem gurls dawn nare. Say da boy gade da gurl slea pinn pills, den staut juugin da gurl. Say da kneegrow let da mezzkin boy inna hoe tell rum ann let da mezzkin boy do dem thangs too 1 of dem gurls. Dey say da woemin woke up wit da mezzkin boy stannin dare wit nuttin butt his draws on. Din dey say da boy Shawpa cum out da rum en his draws to. I doe no dis, butt I tank da mezzkin boy and Shawpa midda bin juugin each udder to. I doe no doe. Im jus sayyin. Boeda dem up en dare wit no close on anna da gurl nocked out. No tellinwat Shawpa ann dat mezzkin boy was up en dare doo en (ium taukin bout too eat udder).

Sumtin rong wit dis kneegrow. Dey say dis dam phool done wint way dawn nare too aireezoena messin wit dem gurls ann dem drugs. Naw u no dis kneega uh dam phool, ... aint no kneegas en aireezoena. Dis Kneega luckee dey did ent baree his azz down en dat dezzurt. Lawd habe murcee on dis chile. Dey got awl dees gurls run nen rond gibbin dat stuf way foe free, ann dis kneegrow gone put sumtin en da gurls drank tu git him sum. Dis kneegrow gone lurn da hard way. Win dem wite fokes git finnid wit dis kneegrow, lawd habe murcee.

Naw dey say Bill Causbee done did da same tang. Dey say tirtene wimins done sade Bill done put stuf en dey drank den juuged dem. 1 Da wumin say Bill pent hur on da bed ann maid hur tuch him dawn nare on his pryvit paut. Den da gurl say Bill took hur to Denna ann she had had 1 sip uh wine ann she blakked out. Da gurl say win she whoke up she was towwin up en da toelit ann she had uh tee-shurt on dat wasint hurs. ann nuttin else. Gurl say Bill was stan nen ober hur wit nuttin on butt uh robe. Nah I doan unda stan y Bill gone go do sumtin lik dat. Awl dat moenee da Kneega got. Yung wimins lik ole phoolish Kneegas wit moenee. Sumtin done wint rong wit Bill. Aint dat sumtin. Lawd habe murcee. Wat dis wurl cummin too. Knot Bill, I hoep da kneega did ent do it. I no kamill jus basize huself. It doan sown rite ta me doe. Ushellie wite fokes doan lye on Bill Causbee. Mayebee sum udder kneega, butt knot Bill Causbee.

Lawd lemee telya, dey say da Kneega Bill ann dat Kneega wid da guud Voce (u no, da phat 1 dat kin sang guud. I taut dat boy was Gaye.). Wat dey call dat kneega "Da Voce?" Dey shuud call dat kneega "da pill." Say dat kneega put sum stuf en da wimin drank to. Jus lik Bill ann Shawpa. Naw ebbey boddee no dis kneega Bill no betta dan dat. Dis kneega iz way to ole tu bee axen lika dam phool. I doan undastan why dees kneegrow den jus bye sum dat stuff. Dees Kneegrows got moenee. Dey say da boy Shawpa had moe dan uh millyun dollas. Ebbey boddee no Bill Causbee got moenee. Nah da kneega da voce he got moenee to, awl dat sangin he ann did. Da kneegas got awl dat moenee ann dey tryna git sum foe free. Awl dees kneegrows had too do was gibe dem gurls a wall green giff caud or uh lil chayange. Butt nah dees kneegrows to cheep ta gide da gurl uh lil funkee wall green giff caud. Hell dey cudda gabe da gurl uh Mic Dawnall giff caud, dat wooda bin bet den nuttin. Awl dat moenee and dees kneegas to cheep. Naw dey gotta gibe awl dat moenee to dem lawyours.

I tank dey awl did wat dem gurls say dey did. Wite fokes aint got no reesin to lye on dees kneegas. Way I no dey did dis is cuzz jonnie cockrin aint dey lawyour. Dats how I nose dees kneegas is gill tee. If dees kneegrows was ennoecint Jonnie Cockrin wood bee enna cote tellin dem wite fokes dees Kneegas is ennoecint. U aint herd uh wurd from jonnie cockrin, dats how ya no dees kneegas is gill tee. Dey say ya gibe da kneega uh rowpe, kneega wannabee uh caow boy. Dees kneegas done wint hung dey self wit da rowpe dey gibe dem. Nah heer uh nutta bunncha kneegas trien ta bee Caoboys. Wach dis biddeo (http://youtu.be/T2UBlHl3By0?t=17m2s).

Nah U no dis Kneega aint gotta lic uh cints. Da Kneega say, "I neeber nu wat dey was do en. Dey cum run nen bak too da kaa ann dey put da pisstull too ma stummic ann toll me ta dribe."

Madgin dat, Shawpa, da voce, bill causbee ann OJAY en prizzen tagetter. Da kneegas kin put ona show. Da voce do da sangin, Bill telda jokes, Shawpa serb da dranks and OJAY bee da sacurredy holelin da shank. Dey cant let da mezzkin boy dat play futbal rond Shawpa, da boyce, bill causbee ann OJAY in da prizzen. Say dem mezzkins ann blaks doan git long in da prizzen. Da Mezzkin boy dat play futbal mussa lawse his dam mine to. Dey say dey gibe him fiddee millyun dollas ann he out dare killen fokes. He done lawse his dam mine. Hell Mezzkins wirse dan Blaks, dey aint gotta lic uh cints needer.

Nah dat wite boy quatabac (was his name, play foe pissburd steallurs,... Ben Rocsberd) he da onleeist 1 to make out guud. Nah dey say da wite boy was ketchin da gurls go en too da badroom ax da bar. Say he juuged dum in da badroom, but he aint go ta gel. See he mussa bin smaut bout it ann gade dem gurls summa dat moenee. See wite fokes aint gone sin no wite boy quatabac ta prizzen wid no kneegas. U aint nebber herd uh no wite boy quatabac go en too no prizzen. Speshellie if da wite boy quatabac is juish. U-uh see a blak prezadint foe u see uh wite boy quatabac en prizzen wid kneegas. I no wat da wite fokes done toll da wite boy. Dey say jus go gibe da gurls uh lil chayange ann weeill say da gurls aint had no ebbadince ta say ya rayped dem en no badroom.

---
A Different World!
Posted: Wednesday, Feb 12, 2014 09:46 AM PST - Updated: March 22, 2014 at 07:30 PM PDT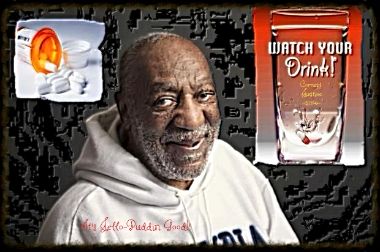 PHILADELPHIA, PA — In 2004, 13 women came forward with allegations that comedian Bill Cosby drugged and sexually abused them. One woman claimed that Cosby, 69, assaulted her at his mansion in Cheltenham, Pa., in early 2004 after giving her pills. The woman went to police about a year after the alleged encounter, but Montgomery County prosecutors declined to file criminal charges. She then filed a lawsuit. Attorneys for Cosby say the comedian gave the woman Benadryl after she complained of stress and sleeping problems. The federal judge presiding over the case earlier denied Cosby's request for a gag order and the plaintiff's request to shield the names of other women who say Cosby assaulted them.

Cosby settled the lawsuit with Constand for an undisclosed sum of money in 2006. Terms of the settlement will remain confidential, according to a one-paragraph statement released jointly by both sides. Cosby's publicist, David Brokaw, said there would be no further comment. At the time, the lawsuit made a minor ripple in the media and their accounts were eventually dismissed as barely a blemish on the spotless image of a beloved celebrity. Some of the accusations raised by the other women go back for decades, and none has a pending lawsuit filed against him.

Now, their stories are re-emerging. Last week, a news magazine interviewed Tamara Green, one of the women who served as a witness in the case brought forth by Andrea Constand. Constand was the woman who alleged in her lawsuit that the entertainer drugged and sexually assaulted her at his home outside Philadelphia. Both Green and 46-year-old Barbara Bowman joined Constand's lawsuit as witnesses in 2004 after hearing about her case on TV. As one reporter explains that "neither had anything to gain financially, as the statute of limitations had expired for both of them." Bowman's account strongly resembles the other stories of Cosby's alleged victims, many of whom have provided detailed accounts of how Cosby mentored them, became a father figure, then drugged and raped them.


Bowman claims, "I was assaulted a number of times from age 18 to 19 [by Cosby]." She also claims 'Cosby would warn me before out-of-town trips': "You aren't going to fight me this time, are you?"

Bowman alleges that, "[o]nce in Reno, Nevada, he flew me out for a celebrity ski classic. He got me in a hotel room and fed me a lot of alcohol. He pinned me down in his suite on the couch, and he had me masturbate him. He really intimidated me, and I panicked. From them on, I would be praying and begging to God that it was in my imagination, it didn't happen. I'd sit on the plane and say "Please God, please God, this is really about my career–I'm lucky." And then I'd get there and he would just intimidate me and make me so scared…"

"The first time I was drugged for sure was in New York, when he invited me to dinner at his apartment. There was a chef, a butler; we had dinner, it was all fine. I had one glass of wine and then I blacked out. I woke up throwing up in the toilet, and he was standing over me, pulling my hair out of my face. I was wearing a white t-shirt that wasn't mine, and he was in a white robe."

"I think the final time I was assaulted by him was in Atlantic City. He took me there for a show and got me very drunk. Later, [the hotel] lost my luggage, so I was on the phone with the concierge and [Bill] had an absolute fit that I was on the phone, and went ballistic. The next morning, he summoned me into his room and started berating me and calling me names and yelling at me, telling me I had embarrassed him, and he threw me on the bed and blocked me with his elbow and got on top of me and started taking his pants off and I was screaming and crying and begging him to leave me alone and I fought so hard and I was screaming so loud that he got mad and threw me aside and got away from me, and that was it.

I was ditched. I was dropped like a hot potato by my agent. I was thrown out of my housing. They pulled the plug on me and said I had embarrassed [Cosby]." Cosby said "I better never ever hear your name or see your face ever again."

When Bowman came forward about the alleged assaults, a lawyer "laughed me out of the office," she said. "He thought it was absolutely preposterous … He treated me as if I was delusional." She remained silent until she heard about Constand's case in 2004, and decided to come forward even though her statute of limitations had long run out.

---
Drinking Pills!
Sharper Image!
Posted: April 18, 2014 10:02 am ET - Updated: April 18, 2014 7:59 pm PDT

Tempe, Arizona -- On March 11, 2014, Darren Sharper was indicted in Arizona on two counts of sexual assault and three counts of administering dangerous drugs. On Thursday, April 17, 2014, Sharper was denied bail by a judge in Phoenix. Judge Warren Granville pointed out that Police testified they found DNA from the accuser on Sharper's clothing when making his ruling. Granville, via media sources, said there was "proof evident and presumption great" that Sharper raped a woman in Tempe on Nov. 21. In the event Granville had ruled that the prosecution didn't find "proof evident," Sharper could have been released.

Sharper was originally arrested Jan. 17 on two counts of rape in Los Angeles. He posted $1 million bail, but has been incarcerated since Feb. 27, when investigations and charges in multiple states began to surface. The former NFL star has been held without bail since then.

Judge Renee Korn in Los Angeles will hold a separate hearing on whether to release Sharper on Friday.

Posted: April 10, 2014, 1:51 p.m. - Updated: April 13, 2014, at 9:50 PM PDT

Few details about Sharper's accusers have been made available by law enforcement. Yet police reports in Tempe show that at least some of the female complainants aren't just similar in terms of their allegations—they are also similar in appearance: white, with long hair, in their early 20s or younger, thin build, standing approximately 5'6" tall. Two law enforcement officials who asked not to be identified—one in Arizona and one in Louisiana—believe in the possibility of more alleged Sharper victims who have declined to come forward.

Arizona -- Former NFL player Darren Sharper is slated for a hearing next week in Phoenix to decide whether he can continue to be held in a Los Angeles County jail without bail on charges that he drugged and sexually assaulted two women in Tempe last year.

The Arizona charges are the latest against the Super Bowl-winning safety who has been charged with sexually assaulting four women and is under investigation in connection with another four assaults on women across several states.

Los Angeles prosecutors initially charged Sharper, 38, with two rape and five drug counts, alleging he drugged and attacked two women he met at a West Hollywood club in two separate incidents.

After first being released, he was taken into custody again in Los Angeles on Feb. 27 at the request of New Orleans police, who issued an arrest warrant for him in connection with two alleged rapes there.

Sharper has since been indicted by an Arizona grand jury on two counts of sexual assault and three counts of administering dangerous drugs in connection with attacks that allegedly occurred Nov. 20 in Tempe.

A Maricopa County judge has ordered a hearing for Wednesday in Phoenix to set bail on the Airzona charges.

Maricopa County prosecutors have appealed that decision because they argue that only a Los Angeles judge can decide whether to release Sharper on bail because he's in an L.A. County jail.

Sharper's lawyers, Blair Berk and Larry Levine, have argued that their client should be released on house arrest in Los Angeles. They say Arizona and L.A. prosecutors are using the new charges to hold the former athlete without bail. If he were to get to Arizona, they argue, he would likely get bail and be free. They allege that the new charges were filed after it became obvious that the New Orleans arrest warrant wouldn't keep Sharper in an L.A. jail.

L.A. County prosecutors have acknowledged that even though they are holding him on an Arizona charge, they don't intend to let him leave the state to appear in an Arizona court before they try him on the local charges.

Court documents filed in Los Angeles make allegations against Sharper similar to those from women in other states. Victims reported meeting the five-time Pro Bowl player, usually at a nightclub, then going back to his hotel room or home. Sharper allegedly offered the women shots of alcohol to drink.

Afterward, the women said, they immediately blacked out. Many of the women woke up with little or no memory of what happened but believed that they had been sexually assaulted.

Sharper played for the Green Bay Packers, Minnesota Vikings and New Orleans Saints. He has been fired from his job with NFL Network.

Posted: March 19, 2014, 4:37 PM ET - Updated: March 23, 2014 at 8:50 PM PDT

PHOENIX, AZ -- Arizona authorities say they won't seek to extradite former NFL All-Pro safety Darren Sharper on rape charges until his sexual assault case in California is resolved. He remains charged with drugging and raping two women in Tempe, Ariz., in November (2013). Maricopa County Attorney Bill Montgomery says prosecutors will wait until after the California trial to put him on trial in Arizona. Montgomery said Wednesday that if Sharper is convicted in California, it could strengthen the Arizona case.

However, Sharper isn't waiting for officials in Arizona to act. Sharper's lawyers asked a Phoenix court to hold a hearing to determine whether their client can be granted bail in Arizona. They are arguing that the former player is being deprived of due-process in not getting such a hearing.

Sharper remains held in Los Angeles after being denied bail last week on charges that he drugged and raped two women in October at a nightclub. He has pleaded not guilty in California, and denies the other allegations. Separate sex assault investigations involving Sharper are ongoing in Florida, Nevada and Louisiana.

Posted: March 13, 2014 at 11:36 AM - Updated: March 13, 2014 at 10:50 PM PDT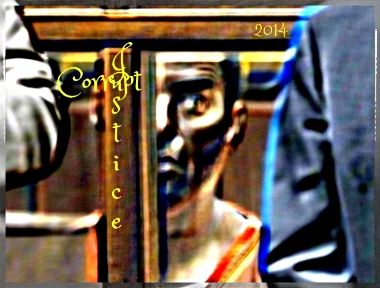 Los Angeles, CA - Former New Orleans Saints safety Darren Sharper will remain jailed in Los Angeles, a judge ruled Thursday, citing his new Arizona indictment on charges that he drugged three women and raped two in the Phoenix suburb of Tempe. Judge Renee Korn of Los Angeles County Superior Court denied a request by Sharper's attorneys to release the former NFL star and put him on house arrest under modified terms of the $1 million bond he posted last month when a criminal investigation first came to light.

That bond allowed Sharper to be free but required that he remain in Los Angeles County and avoid nightclubs while awaiting trial on charges that he drugged and raped two other women on two different dates there. Korn said the new charges from Arizona were sufficient reason for Sharper to remain held without bail. Sharper has been jailed since Feb. 27, when he surrendered in Los Angeles on an arrest warrant obtained by New Orleans police. The NOPD warrant accuses Sharper and acquaintance Erik Nunez of Metairie of raping two women Sept. 23 in Sharper's Central Business District apartment.

Posted: March 12, 2014 at 4:11 PM CDT - Updated: March 13, 2014 at 12:26 AM PDT



Tempe, AZ -- Arizona is the second jurisdiction to bring charges against Former Saints star Darren Sharper, who is under investigation in five states after nine women reported being raped by the retired NFL player. Sharper is charged in Arizona with sexually assaulting and drugging two women, authorities said Wednesday. Sharper is currently jailed in Los Angeles. He is charged in California with drugging and raping two women and drugging two others. He was free on bond -- with a judge's orders to stay in the Los Angeles area and away from any women he didn't know before October of last year -- until Feb. 27, when a New Orleans arrest warrant on two counts of aggravated rape put him back in jail.

An Arizona grand jury charged Sharper with two counts of sexual assault and three counts of administering a dangerous drug. The sexual assault charges do not allow for bond, said Tempe Police spokesman Sgt. Michael Pooley. The charges in Arizona include allegations he drugged a third woman, who did not accuse him of a sex crime. Sharper, 38, provided drug-laced drinks to the three women during a night of partying in a Phoenix suburb in the early hours of Nov. 21, investigators wrote in reports. When one of the women suddenly grew incoherent and fell asleep at a nightclub, the women returned to their Tempe, Ariz., apartment with Sharper, where they took more shots, causing them to black out, the report says. Two of the women later woke up and felt as though they had been raped, the report says.

"Darren is vigorously denying the accusations and at the end of the proceedings we expect he will be exonerated," said his Arizona defense attorney. Sharper's Arizona attorney, said Wednesday he is worried about the media attention to the cases. "I am concerned about the huge amount of publicity generated by various agencies in different states. I have a concern that it may affect his ability to obtain a fair trial," the attorney said.

According to the Tempe police report, Sharper was an acquaintance of one of the women, whom he had met in Las Vegas, and took them out drinking. That night, Sharper took the women clubbing with four of his friends, including one who may have been a current or former Arizona Cardinals player, an arrest report said, without fully identifying the other athlete. The group went to a club called The Mint and later to another called American Junkie. There, one of the women "began acting strange," the report said, "falling asleep sitting at the table and was unable to carry a conversation." That woman's friend took her home, the report says, and Sharper returned to their apartment with them. That woman later told police she believed Sharper had "slipped her a molly" previously, referring to an ecstasy-like drug often used in date-rape cases.

Around 2:15 a.m., after the other woman was put to bed, Sharper offered the other woman and a roommate who had not been out with them shots. The roommate began to feel "physically strange and disoriented" after drinking the beverage, the report says, and she went to her room to lie down. The other woman blacked out and did not regain consciousness until 8:30 a.m., the report says. Later, the roommate went to the bathroom and observed Sharper on top of the unconsciousness women on the living room couch, "with his buttocks exposed moving in a thrusting motion," according to authorities. The third woman awoke in the morning naked from the waist down and had no memory of anyone removing her clothing. Later, all three women sought medical attention, and two of them underwent rape exams.

The cup Sharper used to provide one of the drinks in Arizona tested positive for zolpidem, or Ambien, according to authorities.

In New Orleans, Sharper is accused of raping two passed-out women at his Central Business District apartment last September along with his acquaintance, Erik Nunez, a waiter who described himself on Facebook as an NFL event promoter. Sharper has not been charged by Orleans Parish District Attorney Leon Cannizzaro's office, which confirmed Wednesday that Sharper's case has not yet been presented to a grand jury. It remains an open case, the office said. New Orleans prosecutors indicated a case there would not advance this week. His attorneys in Los Angeles and New Orleans have said that the sexual contact there was consensual.



The rape accusations that have surfaced in New Orleans, Miami Beach, Fla., Las Vegas and California involve a similar pattern as the one described by Arizona authorities. Los Angeles prosecutors charged Sharper on Feb. 14 with drugging four women who he met at the same nightclub and raping two of them in separate incidents in October and January. Authorities there say Sharper used morphine and zolpidem, commonly known as the sleep-promoter Ambien.




All told, Sharper is suspected of drugging and raping nine women and drugging three others in five cities between September 2012 and January 2014. Two other women made a complaint against him in Miami in 2011, saying they thought he had sexual contact with them while they were asleep, but that case was closed without an arrest. A Los Angeles County District Attorney's Office spokeswoman has said Sharper will be prosecuted first in California, since they filed charges first. Sharper is set to appear Thursday before a Los Angeles judge who was expected to release him if New Orleans authorities had no filed charges. With the Arizona charges, it's unclear if Sharper will be released or set for extradition.

Sharper, who played a prominent role as a safety in the Saints' 2009 season Super Bowl victory, retired from the NFL after the 2010 season. He was working as an NFL Network commentator until his Jan. 17 arrest in Los Angeles, when he was suspended without pay. He was recently fired.

March 10, 2014 at 1:21 PM - Updated March 10, 2014 at 2:11 PM



New Orleans, LA -- Erik Nunez, the Metairie man who stands accused of joining former Saints safety Darren Sharper in the aggravated rapes of two women, was freed Monday from Orleans Parish Prison after posting a $400,000 bond. According to OPP records, Nunez bonded out of custody at 10:16 a.m. Nunez, who turned himself in Feb. 28, was freed on his 11th day in custody. He is due back in court for a preliminary hearing on March 21.

New Orleans police identified Nunez, a self-described NFL events promoter who actually is a server at Morton's steakhouse, as the man they say joined Sharper in raping two women last September at Sharper's apartment in the 700 block of Tchoupitoulas Street. The women told police they awoke in a "stupor" and had been sexually assaulted by both men while under the influence of an unknown substance. Sharper remains behind bars in the Los Angeles County Jail, after he surrendered on the New Orleans warrant on Feb. 27.

Sharper, the subject of rape and drugging investigations in five states, had been free on $1 million bond while awaiting an April hearing in Los Angeles, where he has been charged with raping two different women in separate incidents. Sharper has pleaded not guilty to those charges and has not been charged in any other jurisdiction. A California Superior Court judge last week gave New Orleans prosecutors until this Thursday to bring formal charges against Sharper or see him released from custody.

An arrest warrant says both Sharper and Nunez admitted to other witnesses that they had each engaged in oral and vaginal sex with both women "without their knowledge or permission." Attorneys for Sharper and Nunez have asserted their clients' innocence. Orleans Parish prosecutors said at Nunez's bond hearing last Friday that the 26-year-old has been linked by DNA evidence to at least one of the two women who said they were assaulted Sept. 23.

Prosecutors also said Nunez had tried contacting both of the women in what assistant district attorney David Pipes called "an act of intimidation."

Posted: 6:06 PM PST March 6, 2014 - Updated: 03:52 AM PDT, Friday, March 12, 2014

Los Angeles, CA -- Former NFL safety Darren Sharper will remain in custody at the Los Angeles County Sheriff's office until Thursday, when a judge will determine whether or not to dismiss an extradition complaint in connection with a New Orleans, La. rape investigation. The 38-year-old Sharper turned himself in to authorities in L.A. last week after New Orleans police and the Orleans Parish district attorney's office obtained an arrest warrant for Sharper and 26-year-old Erik Nunez, who both face two counts of aggravated rape. Sharper has also been charged in L.A. County on seven felony drug and rape counts, and has pleaded not guilty in that case.

The ex-Saints, Vikings and Packers player appeared before L.A. Superior Court Judge Renee Korn Friday, and Korn said her intention was to release Sharper and not extradite him to Louisiana since there was no charging document yet. Korn set a 10-day window for New Orleans authorities to present charges against Sharper, with that window beginning March 3, the date when the extradition hearing was originally scheduled to take place. Sharper is also under investigation in three other states -- Florida, Arizona, and Nevada -- for similar alleged criminal behavior: drugging women and then sexually assaulting them.

In the L.A. case, Sharper allegedly drugged four women total, in two separate incidents, and has been charged with raping two of those women. He met all four at the same West Hollywood nightclub before allegedly taking them back to his hotel room.

High-powered attorney Gloria Allred was present at Sharper's hearing Friday, and told the Daily News via email that she represents one of the alleged female victims in the L.A. case. "Under the California Constitution, an alleged victim in a criminal case has a right to her own private attorney to assert her rights in that case," Allred wrote. "We would like the Los Angeles criminal case to proceed before any case in New Orleans if Louisiana decides to charge him, which they have not yet done."

Sharper's attorney, declined comment on Friday's hearing. In an application for an arrest warrant signed by a New Orleans detective and an investigator for the New Orleans DA's office Feb. 27, it states that two alleged female victims were sexually assaulted by Sharper and Nunez Sept. 23, 2013 in New Orleans. The document says both alleged victims, "awoke from a stupor with the accused, Darren Sharper completely nude on top of her."

The document says further that neither alleged victim gave consent for Sharper to have sex with them.

"Through further investigation by the Detective's it was learned that Nunez and Sharper admitted to other known witnesses that he and Sharper had vaginal and/or oral sex with victim's #1 and #2 without their knowledge or permission," reads the document.

Sharper was fired from his analyst job at the NFL Network last week.

Posted: 6:06 PM PST March 6, 2014 - Updated: 12:52 AM PST, Friday, March 7, 2014




LOS ANGELES, CA — Darren Sharper will return to court on Friday where his attorneys will argue that the former NFL All-Pro safety should be released from a Los Angeles jail. Sharper has been held without bail because of an arrest warrant issued by Louisiana authorities accusing him and another man of raping two women. Sharper's attorneys filed a motion Thursday in Los Angeles Superior Court arguing that since Sharper has not been formally charged in Louisiana, he should be released on the terms of $1 million bail he has already posted.

The former player and football analyst had pleaded not guilty to charges he drugged and raped two women in Los Angeles County and turned himself in last week when New Orleans police issued an arrest warrant on the similar charges. Sharper was released on the Los Angeles case on $1 million bail on the condition that he remain in the city, stay away from nightclubs and not be alone with any woman he did not know before October, when the first allegations emerged. His attorneys contend he did not violate any of those terms before turning himself in after the Louisiana warrant was issued. Sharper, 38, has submitted DNA samples to New Orleans police and had agreed to turn himself in if he was charged and a judge has already indicated bail will be set if the athlete is formally charged, the motion states.

The athlete's attorneys contend that Los Angeles prosecutors are using the Louisiana case to improperly keep Sharper behind bars until his Los Angeles case is resolved. "This appears to be an attempt to detain Mr. Sharper indefinitely and unconstitutionally without bail," his attorneys wrote in Thursday's motions.

District Attorney's spokeswoman Jane Robison declined comment, saying prosecutors would address their arguments at Friday's hearing.

Authorities in Florida, Tucson, Ariz., and Las Vegas also are investigating Sharper for possible sexual assault cases. One attorney for Sharper has said Sharper would be cleared in the cases. "All of these were consensual contact between Mr. Sharper and women who wanted to be in his company," Levine said after a court hearing last month.

Sharper was selected All-Pro six times and chosen for the Pro Bowl five times. He played in two Super Bowls, one with the Green Bay Packers as a rookie and was part of a successful championship run while with the New Orleans Saints. Sharper retired after the 2010 season. He worked as an analyst for the NFL Network, but was fired last week.

Posted: 6:06 PM CST Feb 28, 2014 - Updated: 12:52 AM PST, Saturday, March 1, 2014



NEW ORLEANS — New Orleans police issued an arrest warrant for former New Orleans Saints safety Darren Sharper on two charges of aggravated rape. An arrest warrant was also issued for Sharper's acquaintance, 26-year-old Erik Nunez (pictured above, center) on charges of aggravated rapes of two women in New Orleans last September. Sharper, 38, and Nunez each face two counts of aggravated rape. Last week, investigators learned that two women were allegedly sexually assaulted by Sharper in the same apartment the night of Sept. 23. New information uncovered also indicates that Nunez also allegedly raped both women that night at the same location. The investigation continues and additional arrests are possible, police said.

Nunez has turned himself in to police and has been booked on two counts of aggravated rape. A bond commissioner said Friday afternoon that Nunez would be detained without bond until a March 7 hearing. Sharper turned himself in to Los Angeles authorities Thursday in connection with a separate alleged sexual crime.




In total, Sharper is now being investigated in eight cases in five states on accusations of sexual crimes. In seven cases in four states, law enforcement in Arizona, Nevada and Louisiana are all actively investigation claims against Sharper on allegations he drugged and sexually assaulted women. It was reported last week that Sharper was being investigated in Miami Beach on accusations of sexual battery, according to Miami media sources. The investigation of Sharper, 38, stems from a report filed last month, the Miami news station said. The details of the investigation were unknown.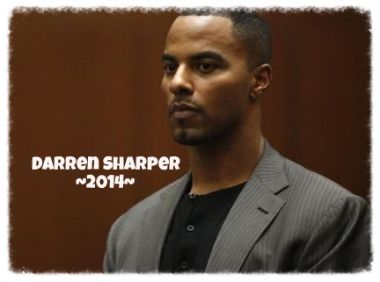 Sharper is charged with two counts of rape by use of drugs, four counts of furnishing a controlled substance and one count of possession of a controlled substance, all felonies, the prosecutor's office in Los Angeles said. The charges stem from alleged incidents involving two women in Los Angeles in October and January.

Sharper is an analyst for the NFL Network, which suspended him "indefinitely" and without pay. While active, Sharper, 38, was a safety with the Saints, Packers and Vikings. The multi-year Pro Bowl player was part of the Super Bowl championship team while in New Orleans. Sharper retired from the game after the 2010 season, having played 14 years in the NFL.

Louisiana law states that a person convicted of committing aggravated rape shall be punished by life imprisonment at hard labor without benefit of parole, probation or suspension of sentence.

Posted: Friday, February 14th, 2014 - Updated: 10:12 PM PST, Friday, February 14th, 2014

Los Angeles, CA -- Former NFL player Darren Sharper was charged with two counts of rape and several other charges in a Los Angeles court on Friday. Sharper has just been charged with 2 counts of rape in L.A. ... after the former New Orleans Saints superstar allegedly drugged multiple women and raped them in his hotel room ... Corrupt Justice™ has learned. Among the charges ... two counts of rape by use of drugs, four counts of furnishing a controlled substance and one count of possession of a controlled substance, all felonies. Sharper -- who had a Hall of Fame-caliber NFL career as a safety -- is accused of drugging the women with zolpidem (Ambien).

Sharper was arrested on January 17 in Los Angeles but posted $200,000 bail. He was immediately suspended from his analyst position at the NFL Network without pay. Now, however, Sharper faces three different accusations of rape and several criminal charges.

The charges are in relation to alleged sexual assaults that took place in October and January. After his arrest, LAPD spokeswoman Sally Madera said that the charges fell under California Penal Code 261(A)(30), "where a person is prevented from resisting by any intoxicating or anesthetic substance, or any controlled substance, and this condition was known, or reasonably should have been known by the accused."

Sharper adamantly denied the charges, via media sources, and has claimed that in one of the cases, a sexual encounter did occur but was consensual. He claimed to have no idea who the other woman accusing him of rape is and said she fabricated the story.

Sharper's legal troubles aren't confined to Los Angeles, however, as he was also accused of raping a woman in New Orleans in September, according to a police report released on January 24. An investigation related to those accusations is currently ongoing, and charges have not been filed as of now.

Sharper spent 14 years in the NFL playing safety for the Green Bay Packers, Minnesota Vikings and New Orleans Saints, finishing his career with 63 interceptions. He made five Pro Bowls and was a first-team All-Pro selection in 2000 and 2009.

St. Bernard!
Posted: 4:52 PM CST Feb 19, 2014 - Updated: 2:02 PM PDT, Wed. Mar. 12, 2014

NEW ORLEANS, LA — A sergeant with the St. Bernard Parish Sheriff's Office has been interviewed by investigators from New Orleans regarding text messages that were sent by former NFL standout Darren Sharper on or about the night Sharper is accused of raping a local woman. Sharper is being investigated after a woman filed a September 2013 complaint alleging he drugged and assaulted her during a night of drinking at area bars. The case was first reported by Corrupt Justice™ last month. The rape allegedly happened at a Warehouse District condominium.

Corrupt Justice™ has learned that the messages were sent to Sgt. Brandon Licciardi from an account believed to belong to Sharper. Licciardi's attorney confirmed that his client has been in contact with the Orleans Parish authorities, but did not specify what agency they represent. Those conversations took place last week. He added that Licciardi made the introduction between Sharper and the alleged victim just hours before the incident in question.

Social media accounts belonging to Licciardi include multiple retweets of posts by Sharper.

Separately, Sharper is charged in Los Angeles in connection with two alleged rapes. He is scheduled for arraignment on Thursday after making a court appearance last Friday. The former All Pro safety, who has most recently worked as a television analyst, is currently free on bond, though under court order to remain in the Los Angeles area. Sharper has not been charged in New Orleans, but authorities tell Corrupt Justice™ the investigation remains active. Women in two other states -- Arizona and Nevada -- have also independently come forward to accuse Sharper of sexual assault. Police in Tempe, Ariz., on Wednesday released a report detailing the allegations from two women there.

A St. Bernard Parish Sheriff's Office spokesman said Sheriff James Pohlmann is aware that Licciardi has been in contact with investigators regarding the matter, but did not go into further detail. In addition to his work in law enforcement, records show Licciardi owns a bar in Arabi. He is not accused of any misconduct and his attorney does not believe he is the target of any investigation.

A NOPD spokeswoman had no additional detail on the matter. A message left with the Orleans Parish District Attorney's Office was not returned Wednesday afternoon. Both agencies are involved in the Sharper case.

Posted: 9:11 PM EST, Fri. January 17, 2014 - Updated: 12:42 PM PST, Mon January 20, 2014



Los Angeles, CA -- Darren Sharper, Former NFL football player and TV analyst has been arrested for two different incidents of sexual assault in Los Angeles. Sharper was charged with rape for two assaults in October 2013 and January 2014 in the West L.A. area, Officer Sally Mardera, of the Los Angeles Police Department told media sources Saturday. She said the investigation is ongoing and no information about the victim or victims was available. The charges are defined when a victim is prevented from resisting by an intoxicating or controlled substance and the accused should have known. New Orleans police are also investigating Sharper for another sexual assault that allegedly occurred on Sept. 24, police told media sources.

Sharper, 38, was arrested Friday afternoon and released late Friday night on $200,000 bail, according to the Los Angeles County Sheriff's Office. His next scheduled court date in the morning of Feb. 14.

Sharper played for the Green Bay Packers, Minnesota Vikings and New Orleans Saints — making five Pro Bowl teams and being named All-Pro in 2000 and 2009. The safety retired in 2010 after 14 years in the league. He started working as an analyst on the NFL Network in 2012 after retirement. The network has suspended Sharper without pay until further notice, and declined further comment, according to a statement.

Freed!
Posted: Monday, January 6, 2014, 1:01 PM - Updated: Wenesday, January 22, 2014, 7:01 AM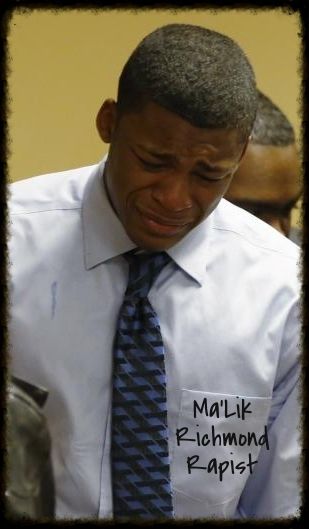 Steubenville, Ohio -- Ma'lik Richmond, one of two teens convicted in the explosive Steubenville, Ohio rape case, has been sprung from juvenile detention after nine months, according to a report. In March, Richmond and buddy Trent Mays were found guilty of penetrating the girl in August 2012 during a night of heavy drinking with pals from the Steubenville High football team. At the time of the conviction, Richmond was 16 and Mays was 17. Mays received a two year sentence for disseminating nude photos of the girl, who was a minor. Richmond was released from the Cuyahoga Hills Juvenile Detention Facility on Sunday, some three months shy of the yearlong sentence he received for raping a 16-year-old girl in 2012, local media sources reported.

"The past sixteen months have been extremely challenging for Ma'lik and his extended family," attorney said in a statement. "At sixteen years old, Ma'lik and his family endured hardness beyond imagine for any adult yet alone child. He has persevered the hardness and made the most of yet another unfortunate set of circumstances in his life …" The teen's lawyer said Richmond had "reflected, learned, matured and grown" during his time behind bars. "He is a better, stronger person and looks forward to school, life, and spending time with family," the statement said. As a result of his sentence, Richmond must register as a sex offender every six months for the next 20 years. However, he could have the requirement dropped, depending on how his rehab process goes.

The victim's attorney said in a statement that it was "disheartening" Richmond's legal team didn't say anything about the girl or her family upon his release. "Although everyone hopes convicted criminals are rehabilitated, it is disheartening that this convicted rapist's press release does not make a single reference to the victim and her family — whom he and his co-defendant scarred for life," the attorney said. "Rape is about victims, not defendants," he said.

Fallout from the case extended far beyond the working class Rust Belt town after it was alleged that football players, teachers and coaches sought to cover up the rape in order to protect Big Red football players. In November, four other people, including the schools superintendent, were indicted for crimes related to the case. Three of them were placed on leave from their jobs with local schools.

NBA Bound!
Posted: July 24, 2012 - Updated: August 3, 2012 1:29:12 AM PDT
"I didn't do it."



-- July 24, 2012 Statement by Darrell Williams as the verdicts were read, convicting him of two counts of rape by instrumentation and one count of sexual battery.

STILLWATER, Okla. -- Darrell Williams was convicted Monday night of two counts of rape by instrumentation and one count of sexual battery, though the jury acquitted him on two other counts of rape by instrumentation. Prosecutors accused the 22-year-old of groping the women and reaching inside their pants without their consent at a party in December 2010. The Oklahoma State basketball player broke down in tears as he was convicted on charges that accused him of sexually assaulting two women, then turned to jurors and yelled "I didn't do it." The outburst prompted Assistant District Attorney Jill Tontz to quickly move to the other side of the prosecutors' table and cry as she clutched a sheriff's deputy. The prosecutor later said she felt intimidated.

One defense attorney cried as well, as the verdicts were read, saying "Oh my Jesus God" as he bent over and banged his hands on the defense table. Several of his teammates left the packed courtroom without commenting, and an inconsolable female relative was helped out as Williams was taken away by sheriff's deputies. Defense attorneys throughout the trial tried to cast doubt that Williams was the perpetrator. Witnesses testified that several players at the party wore similar Oklahoma State warm-up suits, and his attorneys claimed that could have led to a misidentification. One of Williams' Defense attorneys referred to the case as a "he said, she said situation." She noted during closing arguments that no one heard anyone scream at the party, saw any struggles or reported anything inappropriate. Neither of the women suffered any cuts or scratches, and no clothing was torn after the alleged incident.

With little physical evidence to bolster prosecutors' case, Assistant District Attorney Jill Tontz had to rely on testimony from the two women. Both women testified during the trial and said they identified Williams as their attacker after police showed them a photo of the Cowboys basketball team. One woman said Williams held her against her will and dragged her in a yard. She said the attack happened in the basement of the house and that no one came to her aid. "It made me feel violated and sick to my stomach," she testified.

"'No' means just that: It means 'no,'" Tontz said during closing arguments earlier Monday. "These girls felt dehumanized, embarrassed." After the verdicts, Tontz said the women "waited 16 months to tell a jury what Darrell Williams did to them. This verdict represents justice."

Jurors, who deliberated for about eight hours, recommended that he be sentenced to a year in prison for each of the two rape by instrumentation counts. His formal sentencing is set for Aug. 24. After the verdict, one attorney for Williams said she was "very disappointed" with the outcome. She had asked the judge to release Williams pending his sentencing, but the judge denied the request, noting Williams' sudden outburst as the verdicts were read.

Williams has long denied the allegations, and did so in a recorded interview with police that attorneys played at the trial last week. "I don't know what happened in the basement," Williams said on the audio recording. "I was probably misidentified." Oklahoma State basketball coach Travis Ford testified on Williams' behalf Wednesday, saying he believed the young man was innocent. The coach declined comment after the verdicts Monday. Williams was suspended from the team in February 2011. Before that, he led the team in rebounding and averaged 7.1 points per game.

'Forced Score'!
Posted: August 1, 2012 - Updated: August 3, 2012 2:01:12 AM PDT

MISSOULA, Mont. - Prosecutors plan to charge University of Montana quarterback Jordan Johnson with raping an acquaintance in February after she invited him to her room to watch a movie. Missoula County Assistant Chief Deputy Attorney Suzy Boylan filed documents in state court late Tuesday afternoon asking a judge to determine whether there is probable cause to proceed with a charge of sexual intercourse without consent against Johnson. Boylan said in the documents that bail has not been set and that Johnson's attorney has assured prosecutors that the quarterback will appear voluntarily when summoned.

According to Boylan's court documents, Johnson and the female student have known each other since 2010 and they began texting each other regularly in December 2011. On February 4, they decided to watch a movie together in the woman's room. He then kissed her, pulled her on top of him and tried to take off her shirt, according to the court documents. When she resisted, he became aggressive, pulled her clothes off and raped her, Boylan wrote in the documents. Afterward, the woman sent a text to her roommate in the next room that said, "Omg ... I think I might have just gotten raped."

"She has sought counseling and has shown signs of depression, panic and Post-Traumatic Stress Disorder consistent with Rape Trauma Syndrome," Boylan wrote. Boylan added that Johnson said it was consensual sex and that he broke off communications with her afterward because he liked another woman and didn't want that woman to be upset if she knew he had sex with the alleged victim.

Johnson has previously denied the allegation. His attorney released a statement Tuesday that said Johnson and his family "are surprised and saddened" by the timing of the criminal charge, since the encounter took place in February and police have been aware of the allegation since the woman, another student, filed a report six weeks later. "Jordan strongly maintains his innocence and looks forward to the opportunity to prove his innocence at trial, clear his name and return to pursuing his education," his attorney said in the statement.

University president Royce Engstrom told Missoula media sources that upon verification of the charge against Johnson, "our student conduct code would call for immediate suspension from team activities." It's the latest turn in a sexual assault scandal at the university that has prompted three investigations by federal governmental agencies and the NCAA. The Department of Justice and Department of Education are investigating how the university and city officials responded to reports of sexual assault on campus and in Missoula.

A university investigation earlier this year found nine allegations of sexual assault that had gone unreported over 18 months, and two others have been made public since then. Some have involved student athletes, but only those cases involving criminal charges have been made public. In January, running back Beau Donaldson was suspended from the team after he was charged with raping an acquaintance in September 2010. He has pleaded not guilty. In the aftermath of that report and as the federal investigations became publicly known, Engstrom fired head football coach Robin Pflugrad and athletic director Jim O'Day, saying a change in leadership was needed.

If Johnson is suspended from the team, that will leave more uncertainty at the quarterback position. Johnson was the starter, and backup Gerald Kemp has been indefinitely suspended from the team for violating unspecified team rules. Another backup, Nate Montana, transferred from Montana earlier this year.

e-Nuggets!
Published: May 10, 2012 | Updated on: May 12, 2012 | 21:55 PDT |
Denver, CO -- The Denver Nuggets reserve center Chris "Birdman" Andersen was excused indefinitely from all team-related activities after sheriff's deputies in Douglas County, Colo., searched his home Thursday as part of an investigation by the department's Internet Crimes Against Children unit. Andersen answered the door at his Larkspur, Colo., home, about 40 miles south of Denver, and let deputies in, said Deborah Sherman, a sheriff's spokesperson. "He did cooperate. He spoke with deputies," Sherman said. Another sheriff's spokesman, Ron Hanavan, confirmed that the search took place Thursday. Andersen had not been arrested and Hanavan said no arrest warrant had been issued. The unit investigating Andersen deals with child pornography, Internet luring and child predators. The department began investigating Andersen in February after receiving information from a law enforcement agency in California. Hanavan declined to release details, including the nature of any possible charges, citing the ongoing investigation.

The sheriff's office said it recovered property from Andersen's home that investigators believe is connected with the case. Sherman said items typically seized by the unit include computers, hard drives, and thumb drives, though she said she could not provide details on what items were seized from Andersen's home, citing the ongoing investigation. An arrest is not imminent, Sherman said, saying that it typically takes several weeks to a month for investigators to collect evidence from the seized items.

Andersen's agent and attorney, said: "At this time, I respect the process and I have no further comment to protect the integrity of everyone involved. We'll proceed from there."

Andersen was not expected to be on the bench when the Nuggets faced the Los Angeles Lakers in Game 6 of their playoff series Thursday night. The team announced Andersen's absence "as he deals with the reported investigation" and declined further comment. Andersen, 33, has not played in the post-season after averaging 5.3 points and 4.6 rebounds during the regular season.

"For me right now, I think I'm at a stage where I don't know enough information," Nuggets coach George Karl said before Thursday night's game. "I think we all were advised probably not to talk about it until we know the information. The only thing I will say is I trust Chris. In my years with him, he's been fantastic. I think he's really grown as a person. We're going to support him and stand by him."

Andersen is in his 10th year in the N.B.A. and his seventh season in Denver. He was barred from the N.B.A. in 2006 for violating the league's drug policy, missing nearly two seasons. Andersen signed a five-year contract with the Nuggets in July 2009. "He's been dealt a bad hand by me," Karl said. "For a guy that's played great basketball for me and the Nuggets over the years, (he's) kind of been phased out because of the youth movement, and in the middle of the season is not always fair. While Andersen is in his seventh season in Denver, his playing time dropped dramatically this season as young players gobbled up more minutes. I personally think Bird is a very good basketball player, can play for many NBA teams. He could play for us someday, if the situation would open itself up again." Karl said he had a chance to speak with Andersen after the morning practice. "He was emotional. I was in a state where I didn't think, I didn't want to spend a lot of time on that," Karl said. As for how the news might affect his team on the court, Karl wasn't quite sure. "I think enough guys individually have been told what's going on. I don't think we have the full information, the full story to analyze or scrutinize," Karl said. "Like I said before, I trust Bird. I think Bird will figure this out."

A message left at Andersen's home wasn't immediately returned.

---
Reader Pageviews by Country
---
From: Mar 8, 2014 11:00 PM – Mar 15, 2014 11:00 PM
---
«•
Thank you for visiting Corrupt Justice™. Enjoy our Free Movie Intermission! Don't forget to Bookmark Us & Tell A Friend! We're Global!
•»
---
Movie Intermission!
Murder Trial of Michael Dunn
State's Rebuttal XVI
---




Description: Jacksonville, Fla. -- The State Attorney's Office presented one witness, Rhonda Rouer, in rebuttal and showed one video in rebuttal (with Det. M.A. Musser being recalled). A police interview between Michael Dunn and Jacksonville Sheriff's Office detectives Marc Musser and Travis Oliver was shown as part of the prosecution's rebuttal. The interview highlighted contradictions between Dunn's testimony in court today and what he told police the day after 17-year-old Jordan Davis was shot and killed.

Read more (Indictment, Police Reports, Civil Complaint) on the State of Florida v. Michael Dunn @ http://www.scribd.com/collections/4443911/State-of-Florida-v-Michael-Da.

---
---