↓↓↓↓↓↓↓↓↓ Blog Post Starts Below ↓↓↓↓↓↓↓↓↓
---
Click on Banner to Sell Your Home(s)!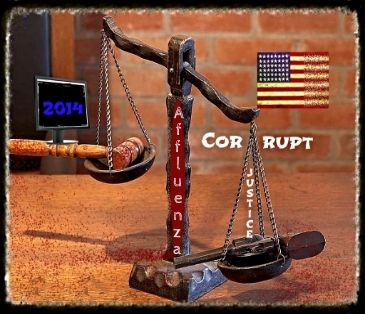 ---
---
"The only good nigger is a dead nigger and they should hang you in the town square to prevent any other nigger from coming in the area."


-- July 2011 Statement by Oakland Public Schools Police Chief Pete Sarna, referring to an African-American police officer.

---
Meat Hunter!
Posted: Oct 19, 2015 1:00 AM ET ~ Updated: Nov. 2, 2015 09:50 PM PT

Missouri -- A Chesterfield, Missouri cop with an oral fixation for penis was able to convince 60 straight men to come to his home for fellatio. Chesterfield police officer David Cerna would place an ad on Craig's List posing as a woman. He would send men online photos of a woman. He would tell them that she wanted to perform oral sex on them. The men would get aroused and make arrangements to meet the woman at her home.

Once the men showed up, they'd learn that the woman was shy and did not want to show her face. The men would then stick their penis through a hole in a door as Cerna kneeled on the other side. He would then perform oral sex on them. Sixty men in 18 months fell for this ruse. The Missouri cop would video record the sex acts and post them online on a gay porn site he ran.

Cerna would also arrest boys and transport them to the police station. Once there he would take them in a backroom and frisk them thoroughly by fondling their genitals. Cerna then exposed the boys genitals so they would be recorded by a secret camera. Cerna also set up a video camera in the bathroom of a local gas station to provide material for his website.

The gas station camera is what led to his arrest. A local television reporter began investigating a secret camera found in the Mobil on the Run gas station. The reporter then informed police about the camera. The police began investigating and tracked the camera to their fellow officer. The investigation by police led to videos of the minors and videos of the men who fell for the fellatio-through-the-door ploy.

Cerna had been on the force for six years. He was arrested and fired. He is now facing a litany of charges. Those charges include invasion of privacy charges (related to the videos from the Craig's List hookups); and sexual exploitation of a minor (stemming from the boys he secretly recording while fondling their genitals).

Cerna, 34, pled guilty to the invasion of privacy charges. He has yet to attend trial for the sexual exploitation charges.

Indicted!
Posted: August 25, 2015 at 10:03 AM | Modified: February 21, 2016 at 11:20 AM

California -- A Santa Clara County grand jury indicted Former San Francisco 49ers defensive lineman Ray McDonald on a charge of raping a woman in December. McDonald faces up to eight years in prison. He was arrested and posted bail. The grand jury has also indicted 49ers linebacker Ahmad Brooks with misdemeanor sexual battery for acts committed against the same woman. Brooks will face up to six months in jail if convicted on his misdemeanor charge.

The unnamed woman has sued McDonald. She claims she fell and passed out while attending a Dec. 15 party at McDonald's home. The woman said McDonald didn't call 911. She claims she passed out multiple times. She alleges at one point Brooks "groped" her.

She claims before she fully regained consciousness, McDonald carried her to his bedroom and had sex with her. McDonald has said the sex that night and the next day was consensual. The woman's suit does not mention whether the couple had sex the next day. A police report in the case claims they did, but notes she was not initially aware of what had happened while she was passed out.

McDonald has had multiple run-ins with the law in recent years. He was released by the 49ers in December after the investigation became public. He was subsequently signed by the Chicago Bears. The Bears released him after two months with the team because of a domestic violence arrest.

Brooks is a 2013 Pro Bowler. He is the 49ers' projected starter at left outside linebacker.

General manager Trent Baalke issued the following statement:

The organization is aware that a misdemeanor charge has been filed against Ahmad Brooks stemming from a December 2014 matter. We take any charge against a member of this organization seriously and are in communication with the NFL. Ahmad is returning home to California and will not participate in Saturday's game.

Baalke said no decision on Brooks' future with the club had been made as of Thursday, according to Matt Barrows of the Sacramento Bee.

Brooks may also be subject to discipline under the NFL's personal conduct policy, though it's likely that would happen after legal proceedings.

Rajat!
Posted: Monday, June 8, 2015 3:15 pm - Updated: 04:11 PM PDT, Tues. June 9, 2015

WORCESTER, Mass. — Rajat Sharda, 34, a former police officer, charged in 2014 with sexually assaulting a woman two years ago while on duty was convicted June 4. A jury of nine women and three men deliberated for a little over five hours before finding Sharda guilty of rape, open and gross lewdness, witness intimidation and larceny under $250. He showed no signs of emotion as the verdicts were read. Sharda's lawyer as well as his victim declined to comment on the verdicts. Sharda kept his head down, apparently fighting back emotions, even as he maintained his innocence before the sentencing on June 8.

Worcester Superior Court judge David Ricciardone revoked Sharda's $7,500 cash bail and ordered that he remain in custody without bail until the sentencing. He later sentenced Sharda to a 5-7-year prison term. Members of the defendant's family reportedly wept loudly outside the courtroom after Sharda was taken into custody by court officers.

Authorities said Sharda found a man and woman having sex in a parked sport-utility-vehicle at Bancroft Tower in the morning hours of Aug. 6, 2013. The woman, from Connecticut and now 29, testified that the officer sexually assaulted her after handcuffing her boyfriend. He ordered her from the vehicle and asking if she was willing to have sex with a police officer in order to avoid being arrested.

Testifying in his own defense, Sharda acknowledged encountering the couple on the morning in question, but denied any wrongdoing. His employment with the city ended in September 2014, shortly after he was indicted on charges of rape, witness intimidation, open and gross lewdness and larceny.

The investigation that led to the charges began after the woman ran into a police officer she knew on Oct. 29, 2013, and told him what had happened to her. Although the woman told Officer Nathan Lafleche she did not wish to pursue charges, he reported it to a superior, and a formal investigation was launched.

Sharda's attorney told the jury in his closing that his client loved his job, was extremely proud to be the city's first Indian American police officer, and would not have thrown it all away by doing the things he was accused of doing.

The defense lawyer said the case was a matter of "she said, he said, and you decide" and criticized police for not doing a more thorough investigation, adding that there were a number of inconsistencies presented at the trial by both the victim and her boyfriend, Michael Betancourt.

Sharda was part of a police recruit class that was laid off in 2008. He worked for Arlington Police for two years before returning to Worcester.

"That legacy is gone," his attorney said. "The history is gone."

The report said that Sharda is the father of a 1-year-old boy, a religious man who serves meals to the homeless, and is part of an extremely close-knit family, Ettenberg said. Sending Sharda to jail would be torture, the defense lawyer argued.

As conditions of parole, Sharda will undergo treatments, register as a sex offender and must stay away from the victim in the case.

Posted: Feb. 5, 2014 - Updated: 01:11 AM PST, Mon. February 17, 2014

WORCESTER, Mass. (T.A.D.) -- A Worcester police officer is on administrative leave after being arrested on rape, witness intimidation, armed robbery and other charges.

Late last summer, Officer Rajat Sharda allegedly asked a woman, while in uniform, what lengths she would go to in order to avoid being arrested, the media reported. Sharda, 32, of Worcester was arrested Monday night and arraigned Tuesday on aggravated rape, extortion by a police officer, open and gross lewdness, armed robbery and witness intimidation charges.




Worcester police found out about the incident, which occurred on Bancroft Tower Road, from the victim. While the case was being investigated, Sharda was put on restricted duty. The victim told investigators that Sharda exposed himself to her and raped her digitally, the Telegram reported. Sharda is also accused of stealing the woman's bed sheet at gun point and threatening her and her family.

Sharda pleaded not guilty Tuesday, posted $7,500 bail and was ordered to turn in his passport. He is due next in court on March 25.

"Pedo-Professional"
Posted: 3:49 PM EDT, Wed May 21, 2014 - Updated: 2:18 PM PDT, Wed May 21, 2014

New York (WCJB) -- They are people children are supposed to trust: A New York Police Department officer, a Fire Department of New York paramedic, a rabbi and a scoutmaster were among more than 70 people arrested in a major child porn bust, authorities said Wednesday.




Special Agent in Charge James Hayes, head of Homeland Security Investigations New York, called the arrests the largest enforcement operation in New York "targeting predators (who) possess, produce or distribute sexually explicit images of children." The activity, he said, has "reached epidemic proportions."

"The backgrounds of many of the individuals ... is shocking," Hayes said. "These defendants come from all walks of life ... This operation puts the lie to the classic stereotypical profile that child predators are nothing more than unemployed drifters. Many of the defendants are, in fact, well-educated and successful in private and professional lives. They work as registered nurses, paramedics, caretakers for mentally ill adults, computer programers and architects." One of those arrested -- a supervisor with the Transportation Security Administration -- allegedly traveled to the Dominican Republic to have sex with children, a law enforcement official said. He allegedly made more than 50 trips there. Hayes said the January arrest of Brian Fanelli, chief of the Mount Pleasant Police Department in upstate Valhalla, New York, on child pornography violations helped lead to the other defendants.

The investigation, involving agents from U.S. Immigration and Customs Enforcement as well as New York authorities, began as part of an undercover operation into peer-to-peer networks, authorities told reporters Wednesday. The suspects, who do not appear to know one another, were able to search files using graphic terms and descriptions. Software continuously scanned files and automatically uploaded images to personal computers, laptops and mobile phones.

The continuing operation resulted in 71 arrests -- including one woman -- and the seizure of nearly 600 devices, including desktop and laptop computers, tablets, smartphones and thumb drives with tens of thousands of sexually explicit images and videos of children, Hayes said. The pornographic images of children were shared at no charge, authorities said. About a third of the suspects remain in custody, and the others were released on bonds ranging from $30,000 to $500,000.

State and federal authorities said the alleged offenders included:

•NYPD Sgt. Alberto Randazzo is on paid suspension after being arrested in February 2013 by the Internal Affairs Bureau on 57 felony counts of child pornography. Randazzo was allegedly communicating with women in video chat rooms and ordering the women to sexually abuse their children, prosecutors said. In one video allegedly recorded by Randazzo, he can be heard directing a woman to molest her infant child.

•Samuel Waldman, a rabbi and an instructor of Judaic studies, was arrested at his Brooklyn residence and charged under federal law with possession of child pornography, prosecutors said. Using a file sharing system, agents identified Waldman's IP address as one that offered the dissemination of videos of child pornography.

•Kenneth Gardner, a registered nurse at Westchester County Medical Center, was arrested in April at his residence in Queens, New York. He was charged with promoting a sex performance of a child under age 17, possessing an obscene sexual performance by a child, and possessing a sexual performance by a child, according to prosecutors.

•Eduardo Salcedo Urzola, who was working as an au pair, was arrested in April at his Brooklyn home and charged with possession of child pornography under federal law. Prosecutors said agents identified an IP address at a residence associated with him that made known images and movies of child pornography available for distribution.

•Aaron Young, a paramedic with the Fire Department of New York, was arrested in Queens in April and charged with possession of child pornography. Agents identified an IP address at Young's residence that made known images and movies of child pornography available for distribution.

•Yong Wu, an NYPD officer, was arrested in April in Queens and charged with possession of child pornography under state law. Prosecutors said Wu made known images and movies of child pornography available for distribution.

•Jonathan Silber, a Boy Scout den master and Little League coach, was arrested at his residence in upstate New York and charged under state law with possession of child pornography. Silber allegedly made known images and movies of child pornography available for distribution via his computer, prosecutors said.

Lawyers for the defendants were not immediately available for comment.

"Hawking Loogies!"
Posted: Monday, February 17, 2014 13:09 EST - Updated: Monday, February 17, 2014 15:45 PST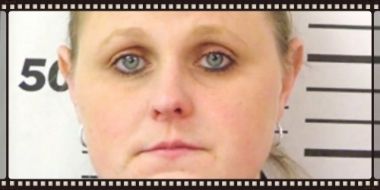 Erwin, Tenn. -- Amanda Engle, 29, a Pizza Hut manager in Erwin, Tenn., was arrested after adding an ingredient not ordered by the customer: Spit. Engle was nabbed on Jan. 24 for disorderly conduct after a customer noticed her hawking a loogie into the pizza he purchased, according to media sources. The customer just happened to be Unicoi County Sheriff's Deputy Frank Rogers, who detailed the soggy encounter in a police report.

"I sat down on the bench which is straight in front of the counter," he wrote, according to media sources. "The pizza oven is directly behind the counter. As the defendant removed the pizza from the oven I observed her ... look at me. The defendant then leaned over the pizza that she had begun to slice, and I observed her spit on the pizza which had been purchased by me."

Rogers then asked Engle if she knew who he was, and she confessed that he arrested her last year for a DUI. It turns out that Engle recently pleaded guilty to the charge after knowingly allowing a friend to drive her car drunk, which is also a DUI charge under Tennessee law. She spent two days in jail and paid a $350 fine, WSBT.com reported.

Rogers arrested Engle on the spit, er, spot and took her to the Unicoi County Jail where she was booked and later released on bond.

She was later terminated from her job at Pizza Hut, according to Unicoi County Sheriff Mike Hensley, who added that the department does not hold the restaurant responsible for Engle's actions.

"Public Defender!"
Posted: Monday, February 17, 2014 13:09 EST - Updated: Monday, February 17, 2014 15:45 PST

Lackawanna County, Pennsylvania -- Ken Kovaleski, a former assistant public defender in Lackawanna County, Pennsylvania is on trial soon for having allegedly raped a 15-year-old girl in 2012. Kovaleski had been working as a court appointed representative for parents in child custody disputes when he was charged with the crime. He was charged with nine counts related to the alleged rape of a 15-year-old. He told the county detective who arrested him that the girl's allegations were "crazy." Kovaleski's attorney said that his client "is innocent of these charges," which include felony rape, involuntary deviate sexual intercourse, aggravated indecent assault, and child endangerment.

According to prosecutors, Kovaleski told the girl that "I know every single [District Attorney] in this town, and every single police officer, and no one is going to believe you." After the charges against Kovaleski were reported by media sources, a Connecticut woman came forward, alleging that Kovaleski had raped her 12 years ago, when she was 15 years old. Judge Margaret Bisignani Moyle granted a prosecution's motion that this woman be allowed to testify at the current trial, despite there being no record of any other law enforcement agency having knowledge of this alleged crime.

"This is difficult, it's sad, it's certainly not something we take any pleasure in. This is an individual we had a professional relationship with. But, we don't have the luxury of choosing which child predators we prosecute, we follow the evidence wherever it leads us," Assistant District Attorney Mariclaire Hayes told media sources at the time of his arrest.

He currently remains free on $50,000 bail.

---
911 ...
Posted: 03/24/2014 02:06:18 PM PDT

SAN JOSE, CA -- Geoffrey Evatt Graves, a six-year member of the San Jose Police Department, made his first court appearance since he was charged with rape. Graves allegedly raped a woman while on duty last fall. Graves was arraigned in a San Jose courtroom Monday. Clad in a black suit with his San Francisco-based attorney standing alongside, Graves did not enter a plea. Graves' only words were "Yes, your honor" when confirming he waived his right to a preliminary hearing within 60 days. He was held to answer allegations that in September (2013) he escorted a woman to a hotel after she had been involved in a domestic dispute. After waiting for another officer to leave, Graves entered her room and raped her.

Judge Hector Ramon signed orders barring the police officer from contacting his accuser and requiring him to surrender his firearms. Graves remains free on $100,000 bail. His next court date was set for April 14. The charge of forcible rape carries a maximum penalty of eight years in prison. He did not speak to reporters after the brief hearing.

Graves, 38, of Gilroy, was arrested March 10 following a five-month Internal Affairs investigation into the Sept. 22 incident. The crime occurred after a police call to a home where a married couple were arguing. After the four responding officers -- including Graves -- determined no crime had occurred, the woman told them she did not want to stay at home that night and asked to be taken to a hotel. According to the investigation, Graves and another officer traveled to the hotel and waited for the woman to check into a room. After the second officer left to answer another police call, Graves reportedly stuck around and later returned to the woman's room. Upon gaining entry he overpowered her and "forcibly engaged in sexual intercourse with the victim before leaving the hotel approximately 10 minutes later."

On Oct. 13, about three weeks later, the woman came forward to allege the attack by Graves. Social-justice groups hailed her bravery. Her report spurred an investigation that reportedly discovered her DNA on Graves' bulletproof vest. He reportedly shed parts of his uniform but kept the vest on during the alleged attack. Sources said the nature of the DNA and amount of bodily fluid present could not have come from casual contact. "No one's happy about this," said Deputy District Attorney Carlos Vega, referring to the public-trust damage from the rape charge. "But based on the evidence we have, we believe we can prove this case beyond a reasonable doubt."

The case has shone a harsh spotlight on police and strained its relationship with immigrant communities. The disturbing accusations against Graves grew even more serious. Sources allege that the alleged victim is an illegal immigrant with a limited command of English. Social-rights advocates say this made her particularly vulnerable and likely fearful of challenging a police officer. San Jose police policy bars officers from inquiring about residency status to encourage residents in immigrant communities to cooperate with police. However, suspicion and deportation fears persist in the community.

This is not the first time Graves' police career has been in jeopardy. In 2011, amid a custody battle with his ex-wife, she obtained a protective order against him after alleging a violent road encounter. Graves successfully fought her attempts at a restraining order that would have prevented him from possessing firearms.

Graves has been placed on paid administrative leave from SJPD. Police discipline policy relies on a "preponderance of evidence" of misconduct rather than the "beyond reasonable doubt" standard required in criminal court. So even if he avoids conviction, Graves could still be terminated if the police department decides his credibility has been too damaged to return to duty.

Posted: 03/11/2014 10:15:52 AM PDT | Updated: 03/11/2014 09:15:52 PM PDT

SAN JOSE, Calif. — Geoff Graves, A Northern California police officer has been arrested on suspicion of sexual assault, authorities announced Tuesday. Authorities said Graves raped a woman who had reported a domestic violence incident and whom he had transported to a hotel for the night. Physical evidence supports the victim's allegations, investigators said.




The Santa Clara County District Attorney's Office filed one count of forcible rape against 38-year-old San Jose Police Officer Geoff Graves for an incident that occurred on Sept. 22, 2013. Graves, who is a six-year veteran of the police force, surrendered to authorities on Monday, and he was booked into the county jail and placed on administrative leave. Graves posted $100,000 bail and was released Tuesday. Graves' arraignment is scheduled for March 24.

911 ...
Posted: March 7, 2014 | Updated: March 10, 2014 3:18 am PST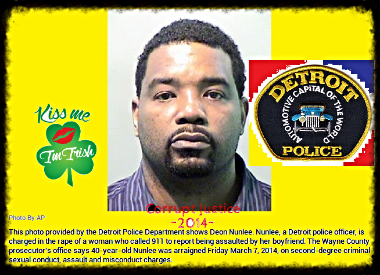 DETROIT, MI (WCJB) — Deon Nunlee, 39, a Detroit police officer, is accused of raping a woman who had called 911 to report being assaulted by her boyfriend. A 31-year-old woman told investigators that after the officers arrived she was taken to an upstairs bedroom by one while the other remained downstairs with her boyfriend. The woman said she was sexually assaulted in the bedroom by the officer, who told her he would return later that morning, prosecutors said. DNA evidence connected Nunlee to the sexual assault, Police Chief James Craig told reporters Friday afternoon. He is suspended without pay. Nunlee has been with the police force since 2008. "This is the type of misconduct that should never happen," Craig said. "This does not reflect the work the Detroit Police Department does each and every day."

"I would go out and say that I think the majority of the public has a great deal of confidence and faith in this police department," Craig continued. "And people should never lose sight that when we hire police officers we hire from the community, and you all know that there's people in our community that commit crimes. They make bad choices, make bad decisions, and police officers are no different."

Prosecutors confirmed in a news release that Nunlee and his partner responded to a domestic disturbance complaint at a home on Detroit's northwest side around 3 a.m. on Oct. 30, 2013. Nunlee was arraigned Friday on second-degree criminal sexual conduct, assault and misconduct charges, according to the Wayne County prosecutor's office. He faces an April 17, 2014, preliminary examination. Corrupt Justice™ was unable to determine Friday afternoon if Nunlee has an attorney. A telephone number for Nunlee wasn't listed.

Nunlee was not the only Detroit officer to appear on the wrong side of a courtroom in recent days. Suspended officer Dana Bond was arraigned Tuesday on charges of failing stop at an injury accident, failing to stop at an accident that caused property damage and driving with a high blood alcohol content. Authorities said Bond tried to drive away after Sunday's crash, but struck a snow bank.

Another officer, 46-year-old Johnny Ray Bridges, was charged this week with unlawful imprisonment, assault with intent to do great bodily harm, domestic violence and reckless discharge of a firearm. A 31-year-old Detroit woman was punched and kicked in the face and body on Tuesday during an argument. At some point during the argument, a handgun was fired into the air. The woman said she escaped by breaking out a window and fleeing to a nearby restaurant. Bridges was off duty at the time.

Bluffin'
Posted: 02/26/2014 05:30 PM - Updated: 03/01/2014 01:01:10 AM PST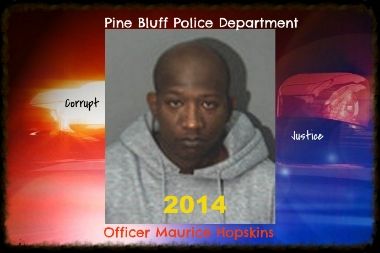 PINE BLUFF, AR - A local policeman has been fired for conduct unbecoming of an officer after being charged with rape. The Pine Bluff Police Department (PBPD) says Officer Maurice Hopkins, 32, is accused in a Feb. 23 incident. Hopkins has 10 days to appeal his termination. The PBPD says a criminal investigation was started after the victim filed a report on Monday. The resulting information was forwarded to the Jefferson County Prosecutor's Office for consideration and the decision was made to file the charge. Officer Hopkins had served two years and nine months with the Pine Bluff Police Department. There is a $100,000 secured bond for Hopkins and a no contact order with the victim. The PBPD says no further information will be released until the conclusion of its internal investigation.

Blue Hero
Posted: 02/25/2014 05:00:10 PM PST - Updated: 02/25/2014 05:01:10 PM PST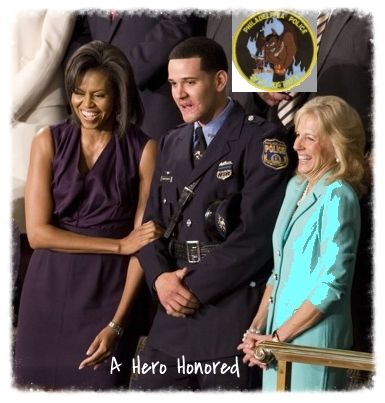 PHILADELPHIA - (WCJB) -- Former hero-cop-turned-rape-suspect Richard DeCoatsworth pleaded guilty today to dramatically reduced charges in the drugging and assault of 2 women - alleged prostitutes with whom he was sharing heroin.

DeCoatsworth pleaded guilty to Promoting Prostitution, Possession and Distribution of Illegal Narcotics, and Simple Assault.

More than 30 charges were dropped, including rape and involuntary sexual intercourse.

DeCoatsworth has been in jail for the past ten months, held on $3-million bail. He will be sentenced in two weeks and could face 7 to 14 years in prison.

The former Philadelphia Police officer was arrested back in May 2013 and charged with Rape, Indecent Deviant Sexual Intercourse, Sexual Assault and other offenses after authorities said he drugged and raped two women and forced them into prostitution.

He was also charged with an assault on his girlfriend.

DeCoatsworth was hailed as a hero police officer after he was shot in the face during a traffic stop in September 2007 but still managed to chase after his attacker, who was later sentenced to 36 to 72 years in prison.

It was an act of valor that got him an invitation from Vice President Joe Biden to attend the president's televised February 2009 address to Congress and a seat next to First Lady Michelle Obama.

DeCoatsworth later retired from the police department on disability in December 2011.

Casa Nova
Posted: 02/27/2014 05:36:10 PM PST - Updated: 02/28/2014 07:06:10 PM PST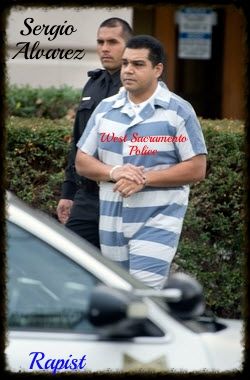 West Sacramento, CA -- Sergio Alvarez, 38, a former West Sacramento police officer accused of sexually assaulting women while on duty, was convicted on multiple charges Thursday. Alvarez was found guilty on 18 counts including rape, oral copulation against will and kidnapping by a Yolo County Superior Court jury. Jurors were hung on nine related counts.

The jury received the case nearly two weeks ago. The jury announced they had reached a verdict on Wednesday, but the judge sent jurors back to deliberations after finding mistakes on how they filled out their verdict forms. On Thursday, it barely took the jury 15 minutes to clarify guilty verdicts on all remaining charges, including two counts of rape, five counts of kidnapping and multiple counts of forced oral copulation.

---
The verdict per count:

Count 1: Guilty; Count 2: Guilty; Count 3:Guilty; Enhancement 3A: True; Count 4: Hung; Count 5: Hung; Enhancement 5A: N/A; Count 6: Hung; Count 7: Hung; Enhancement 7A: N/A; Count 8: Guilty; Count 9: Guilty; Count 10: Guilty; Enhancement 10A: True; Count 11: Hung; Count 12: Hung; Enhancement 12A: N/A; Count 13: Guilty; Count 14: Hung; Enhancement 14A: N/A; Count 15: Guilty; Count 16: Guilty; Count 17: Hung; Enhancement 17A: N/A; Count 18: Hung; Count 19: Guilty; Enhancement 19A: Hung; Count 20: Guilty; Enhancement 20A: True; Count 21: Guilty; Enhancement 21A: True; Count 22:Guilty; Enhancement 22A: True; Count 23: Guilty; Count 24: Guilty; Enhancement 24A: True; Count 25: Guilty; Count 26: Guilty; Count 27: Guilty; Enhancement 27A: True; Count 28: Dismissed; Count 29: Dismissed; and Count 30: Dismissed.

---
Five women testified against Alvarez. When he took the stand, he denied the women's allegations in some cases or testified the sex was consensual.

After they were dismissed, some of the jurors spoke outside the courthouse with reporters.

"You're in there for a month, and it's hard to not allow some of the personal things that are going on in people's lives interject and come into the jury room," jury foreperson Dwayne Chapel said. Chapel added that the jury had a difficult time going through all the evidence. "There were some pieces that you couldn't even duct tape together," Chapel said. "You know, there were just some holes that even logically you couldn't really connect, so if you can't do that, then it's hard to find someone guilty of certain things."

Juror Harold Takahashi said he found some of the victims less convincing than others. "Their testimony wasn't always coherent," Takahashi said.

Not all the jurors were satisfied with the outcome. One juror, who wanted to remain anonymous, said he thought Alvarez was guilty on all counts, including the nine that were hung. "It's devastating what happened to these women," the juror said. "I can't imagine that there aren't others out there that were also victimized."

As the case moves to the sentencing phase, Yolo County District Attorney Jeff Reisig called a news conference to announce his plans. "As a result of those crimes against these vulnerable victims and his horrific betrayal of his position of trust as a police officer, we will be asking that he spend the rest of his life in prison," Reisig said.

Posted: 02/14/2014 05:36:10 PM PST - Updated: 02/20/2014 10:06:10 PM PST

Sacramento, CA -- The trial of Sergio Alvarez, 38, a former West Sacramento police officer facing sexual assault charges, came to a close on Friday and is now in the hands of the jury. He pleaded not guilty to charges of kidnapping, sexual penetration, oral copulation and sodomy. Alvarez was arrested in February 2013 and remains in custody with bail set at $26.3 million. Alvarez is accused of using his position as a uniformed police officer to coerce at least five female victims to have sex with him. Alvarez, who testified on Tuesday, admitted to having consensual sexual relationships with three of the five female victims and did not deny that a number of the sexual occurrences happened while he was on duty. Closing arguments began on Thursday morning, highlighting victim testimony and various pieces of evidence in the case.

Supervising Deputy District Attorney Garrett Hamilton said that Alvarez was a "rogue" police officer who drove the West Sacramento streets in the early morning hours, targeting the "vulnerable members of our society" and using his authority to subdue them. Hamilton went over each of the five victims, stating that "these women were selected by Alvarez for victims on the belief that they were not going to report it, and that no one would believe them if they did." The alleged victims were prostitutes and drug addicts. He told the jury that if "common sense" tells them that Alvarez committed crimes involving one of the victims, that he is "disposed or inclined to commit other sexual acts."

Hamilton, who began his closing argument by reminding the jury not to "automatically disregard" victim testimony because they are prostitutes and drug addicts, gave his rebuttal. He said that in terms of the kidnapping charges, it is "not so much about the distance" but is more about the "risk of physical or psychological harm" to the victim. Hamilton said that when you are put in the back of a police car, you are a prisoner. "You can't get out unless the cop lets you out," he said. Hamilton told the jury to compare and consider all of the evidence, and pointed out a distinct lack of evidence on behalf of the defense to support Alvarez's testimony. He called Alvarez a liar, and addressed what he called his "biggest lies."

During his testimony, Alvarez had no recollection of one of the victims, despite running her name for warrants. He was also asked why had not been turning on the video surveillance or "MAVE" system on his police cruiser during the routine stops with the victims. Hamilton said Alvarez chose not to even though he was disciplined in May 2012 for not using it. "He's guilty and that's a sad reality for him," Hamilton said.

Defense counsel for Alvarez, approached the jury and gave his closing argument on Friday. Defense Counsel said that this case is really about an embarrassed police force "throwing the book" at an officer. The case, according to defense counsel, is actually about two things: the women Alvarez admitted to having sex with, and the women that he didn't. The attorney commented on Hamilton's repeated use of the term "common sense," analogizing it with duct tape. He said that if there is a gap that he needs to fix, he uses duct tape to fix it. Hey said this is the same thing Hamilton is doing, filling the gaps in his argument.

Defense counsel described one victim, identified as "KR", as a "flirtatious addict" who was "turned on" by Alvarez. In her testimony, KR said that she did not feel like a victim, despite being listed as one in the indictment. KR is one of the women Alvarez admitted to having sexual contact with. Another victim, referred to as "AB," in her Grand Jury testimony told Alvarez, "well you know, I think you're kind of cute," and said "I'm not going to do anything with you without being put into handcuffs." Defense Counsel said that these statements show that AB, who he described as a "fairly accomplished liar" was in no way traumatized by the event. In fact, AB proceeded to give Alvarez her phone number after the sexual assault. "This is a prostitute that is doing kinky things," he said. "No one who was truly a victim would act anyway that AB did in this case." He also addressed the kidnapping charges, stating that "kidnapping requires more than driving around the corner." Alvarez is charged with "aggravated kidnapping," which is kidnapping with the intention to commit sexual assault.

In regards to the victims, defense counsel said that addicts "don't think the way other people do," and he reminded the jury that these women also have a financial interest in the outcome of the trial.

The jury will continue deliberations on Tuesday. The Yolo County Courthouse is closed on Monday in observance of Presidents' Day.

Posted: 9:59 AM PST Feb 12, 2014 - Updated: Monday, February 20, 2014 15:45 PST

WOODLAND, Calif. - Sergio Alvarez, 38, the former West Sacramento police officer accused of raping women while he was on duty, testified at his trial Tuesday. He was arrested in February 2013 and accused of targeting women who frequented the West Capitol Avenue area. Alvarez faces charges of rape, sodomy and kidnapping five women, ages 20 to 47. Alvarez denied having sex with some of the alleged victims.

Under oath, In graphic testimony, Alvarez explained he sometimes preferred oral sex to intercourse in his squad car because the police gear he was wearing made it more convenient. Asked why he would do this on the job, Alvarez would only admit to bad judgement. In other cases, he admitted to having sex with women while on the job, but claimed it was always consensual. The prosecutor questioned Alvarez's claims that the sex was consensual. When he asked him why not wait until he was off duty, Alvarez answered, "I don't know." The prosecutor responded to Alvarez - suggesting while Alvarez was on duty and in uniform, he had the most power over the women in the backseat of his squad car. Alvarez denied the charge. He also said the reason he used a spy camera to record some of the acts was because he was curious.

Attorneys for both sides declined to comment about the case. The trial is set to resume Thursday.

Blue Stiles
Posted: 9:59 AM CST Feb 12, 2014 - Updated: Monday, February 17, 2014 15:45 PST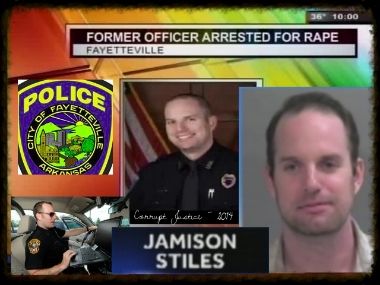 FAYETTVILLE, Ark. — Jamison Stiles, a former Fayetteville police officer who was fired and charged with sexual assault, pleaded not guilty at his arraignment in court Wednesday. His trial date is scheduled for April 8, 2014.

Stiles was fired last year after a woman said she woke up naked with him standing over her bed inside her apartment. She told investigators she was drunk at a Fayetteville bar and the officer took her home instead of arresting her. The accusations of sexual assault came later from two different women. Documents obtained from the investigation also show that after Stiles' firing, a dispatcher told another fired Fayetteville police officer, David Nquyen, that she was sexually assaulted by Stiles. Nguyen did not disclose this information to his supervisors until he was directly questioned, according to documents. (READ: Fayetteville officer's firing linked to sexual assault investigation)

Corrupt Justice™ has learned that at least two women have also come forward saying he made them feel uncomfortable during traffic stops. The report says a 54-year old woman told investigators on that on June 8th of last year, Stiles pulled her over for 'failure to dim her lights'. The woman says Stiles "spoke very inappropriately" to her when he shined his light on her shirt instead of her face and asked "if she knew her shirt was very see-through?" Stiles only gave the woman a warning ticket. The report also shows another woman described Stiles to investigators as "different and friendly". The 32 year old told investigators Stiles pulled her over in a traffic stop for 'improper safety equipment' and then motioned for her to move her car deeper into the parking lot behind a church. The document quotes her as saying, "he made me feel uncomfortable" because he looked at her in what she described as "a sexual manner". She said he was not respectful and looked at her "too hard and too strongly". She said he did not make any outright inappropriate comments to her and he did not have any physical contact with her. The woman did say she had a friend in the car with her. She also was just given a warning. Two other women that Stiles pulled over were interviewed. They said nothing inappropriate happened during their traffic stops.

Fayetteville police wanted to know if Stiles showed favoritism to women while on patrol. The document said investigators also analyzed how often stiles pulled men over versus women. A check of tickets and warnings issued by Stiles, according to investigators, showed no patterns or preferential treatment to either sex.

Posted: 5:57 PM CST Feb 11, 2014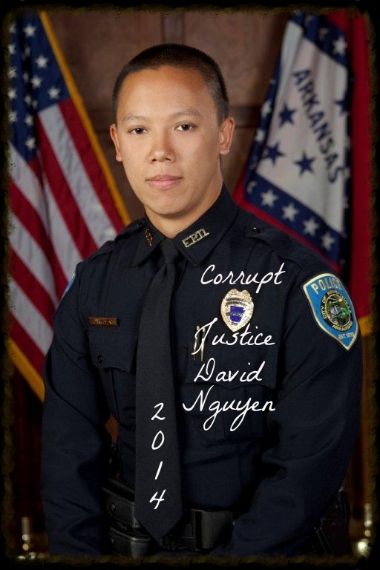 Fayetteville police officer David Nguyen was fired from the department last month. Nguyen was scheduled to appear at a city Civil Service Commission trial on Tuesday (Feb. 11) at 8:30 a.m. to appeal his Jan. 3 firing, but dropped his appeal of the firing this week, officials said. However, the trial was canceled after his lawyer submitted a letter to the city of Fayetteville on Monday (Feb. 10), asking for the appeal to be dismissed. That means Nguyen's employment with the police department will not be reinstated, officials said. Nguyen is the second Fayetteville police officer fired in recent months.

According to an amended termination letter signed Feb. 10 by Police Chief Greg Tabor, Nguyen was fired for failing to inform supervisors that a police dispatcher told him she was sexually assaulted by then-Officer Jamison Stiles. (Read the documents in the internal investigation into Nguyen and his connection to the Stiles case. WARNING: Some graphic content!) Officer Stiles was arrested and fired in December 2013. A woman said he sexually assaulted her after handcuffing her and taking her home from a bar while on duty. The Fayetteville Police Department initiated an internal investigation into Stiles following the rape allegation. A former police dispatcher later accused him of sexually assaulting her at her home.

An internal investigation report states Stiles responded in October 2013 to JR's Lightbulb Club in Fayetteville, in response to a woman who was passed out drunk. The bar held a contest that night called the "Drunken Spelling Bee," and the woman said she had been a contestant, according to the report.




After arriving at the scene, Stiles handcuffed the woman and placed her in his squad car. After finding out where the woman lived, Stiles told her she was not going to jail and turned off his police recording device, which is against protocol, according to the report. When the recording device came back on, it showed the woman lying down on the car seat with her pants down around her knees, the internal investigation found. The internal investigation documents say Officer Stiles had been counseled before by supervisors for turning recording devices off during arrests and traffic stops.

Around the same time, Stiles received a message, possibly a text, from a person whose name is redacted from the document, asking, "No arrest?" Stiles responds, "Nah, just didn't have the heart, especially when she could have stayed there," according to records obtained by the internal investigator. The officer then pulled the woman out of the vehicle and again turned off his recording device for 26 minutes, during which the woman initially said Stiles raped her. She later recanted that claim and said he was on top of her and touched her breast inside her apartment at the Cliffs II, where Stiles lived and also volunteered as a courtesy officer, the report states.

Management at the apartment complex told investigators Stiles had a master key to the apartments because of his position as a courtesy officer. However, they had never had any problems with him, they said. The day after the alleged assault, the woman went back to the bar angry, saying an officer had raped her and that she "wanted to kill him," according to the internal investigation.

The woman reported the situation to police Nov. 10, after which Stiles was interviewed several times by internal investigators and by detectives with the Washington County Sheriff's Office. In his version of events, Stiles told an internal investigator the woman came onto him, clutching him close and holding his hand to her breast while telling him she wanted them to "make a baby." Stiles said he rebuffed her advances, telling her he was happily married, and left her apartment, according to the internal investigation.I n another later interview, Stiles said he had not told investigators everything, that the woman had kissed him while clutching him close in her apartment. He said he did not initially tell investigators the detail because he was scared, according to investigation documents.

Stiles denied doing anything wrong in the interviews and said he turned accidentally turned off his recording device out of habit, later saying he turned off the recording device so the woman in the back seat of his car could have some dignity, the investigatory report states. The officer was later ordered to undergo a polygraph test to help determine if he was telling the truth about the events with the woman accusing him of sexual assault. He refused the direct order and was fired from the police department for eight violations, police said.

The woman who accused Stiles of fondling her breast in her apartment has been arrested several times by Fayetteville police over the last few years on suspicion of public intoxication and driving while intoxicated, records show. During the subsequent investigation into the situation, Deputy Chief Mike Reynolds sent an email to an investigator stating, "Sounds like this female has some issues with alcohol. Nonetheless, the (recording device) being turned off and 27 minutes at the female's residence are concerning."

Stiles was arrested a few days later on suspicion of rape, second-degree sexual assault and residential burglary. He was booked into the Washington County Detention Center on Dec. 20 and was released the next day on bond. Stiles' court date was scheduled for Feb. 12, 2014 in Washington County.

Stiles had been employed by the Fayetteville Police Department for almost three years before being fired, said Sgt. Craig Stout, spokesman for the police department. After Stiles' termination, a former Fayetteville Police Department dispatcher reported she had also been sexually assaulted in her home's driveway by Stiles in July 2013. She said Stiles was on-duty and in uniform at the time of the alleged assault, according to investigators.

"Fayetteville PD Stiles!"
Posted: 12/20/2013 09:57 PM | Updated: 05 January 2014 at 12:07 AM PST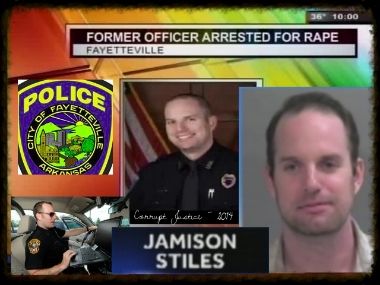 FAYETTEVILLE, AR (WCJB) -- Officer Jamison Stiles, an Fayetteville police officer has been arrested and charged with rape. According to a press release, on Nov. 10, 2013 the Fayetteville Police Department received a report from a woman who said she had been sexually assaulted two weeks prior by a uniformed police officer. A police department supervisor spoke with the victim and forwarded the report to the Chief of Police through the chain of command.

Investigators spent the next several days investigating the allegation, conducting interviews, reviewing radio logs, Digital Mobile Video Recorder data, and metadata from the GPS tracking data from patrol cars.

On Dec. 3, Officer Jamison Stiles was interviewed and relieved of duty for the remainder of his shift.

The next day, police said Stiles was placed on paid administrative leave and was relieved of his badge and gun pending the outcome of the internal investigation. A separate criminal investigation was initiated by the Fayetteville Police Department Criminal Investigation Division.

NOPD Sex Predator!
Posted: Thursday, February 13th, 2014 - Updated: Friday, February 14th, 2014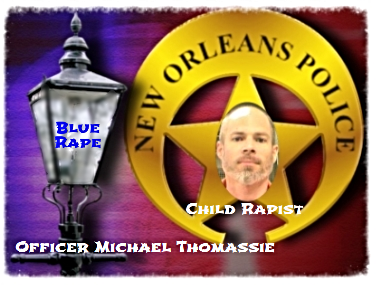 New Orleans, LA -- A New Orleans police officer was arrested for rape Thursday, said NOPD Director of Public Affairs Remi Braden. Officer Michael Thomassie turned himself in to NOPD Public Integrity Bureau detectives after being indicted earlier in the day by an Orleans Parish grand jury. Media sources reported that Thomassie is accused of committing the sexual assault when the victim was between 7 and 9 years old. Thomassie was placed on emergency suspension without pay following the arrest, Braden said. A 12-year veteran of the force, Thomassie was most recently assigned to desk duty in the NOPD's 4th District, which patrols Algiers.

DPD Sex Predator Two!
Posted: February 6, 2014 at 6:31 PM - Updated: Saturday, February 15th, 2014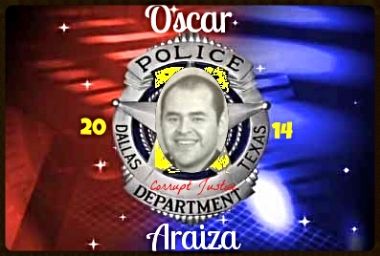 Dallas, Texas -- Dallas Police Senior Corporal Oscar Araiza was arrested and fired Friday for allegedly sexually assaulting a woman who was sleeping on his couch. On Oct. 6, 2013, Araiza ran into a female acquaintance and her friend while off duty at a bar. After drinking, they went to Araiza's townhome. The friend of the acquaintance passed out on the couch, and at about 3:00 a.m. her friend left, according to a Dallas police news release. Shortly after, the victim says she awoke when she was being sexually assaulted by Araiza. He was arrested for felony sexual assault.




Department sources say the allegation stems from an encounter with a former Dallas school teacher at the senior corporal's East Dallas apartment in October. Dallas police's Public Integrity Unit conducted a criminal investigation and ran a search warrant on his home. Sources who spoke on the condition of anonymity say charges were expected to be filed against him. It is department policy that the internal investigation follows the criminal probe. No action was taken while internal affairs investigators launched a separate investigation.

During a disciplinary hearing Thursday, supervisors of a Dallas police senior corporal recommended he be fired basedu upon the allegation that he raped the woman after a night of drinking. Police Chief David Brown fired Araiza, an 18-year Dallas police veteran, following an internal affairs investigation. Araiza was hired in 1995 and assigned to the southwest patrol division. Araiza has a right to appeal his termination. His attorney declined to comment.

This is the second Dallas police officer accused of sex assault this year. Last week, Officer La'Cori Johnson was arrested for allegedly raping a woman in his squad car in return for him not taking her to jail on an outstanding warrant.

DPD Sex Predator One!
Posted: January 28, 2014 at 2:59 PM - Updated: Saturday, February 15th, 2014

DALLAS, TX — La'Cori Johnson, a five-year veteran of the Dallas Police Department, was arrested at police headquarters Tuesday, just after he resigned. He was charged with sexual assault, a second-degree felony.

According to the arrest affidavit, the assault occurred September 9, 2013. Johnson detained a woman and a man in the 9200 block of Larga Drive, near Bachman Lake. He ordered the man to leave, but told the woman she had an outstanding warrant. The affidavit states he ordered her into the back seat of his marked car and when she began to cry, he said, "Why are you crying? You don't have to go to jail if you do what I tell you to do." According to the affidavit, Johnson drove his squad car a short distance, to a dead end circle in the 3300 block of Storey Drive, behind an apartment complex. The affidavit said he got into the back seat, took off his gun belt, placed it beside them, and raped the woman.




The affidavit says Johnson dropped off the victim on nearby Clydesdale Drive and she walked home, telling her mother what happened. Police said the victim reported the incident to them on October 4. Johnson was placed on leave at that time, according to a statement from Dallas police, and a public integrity investigation began. An internal affairs investigation started January 24. Johnson was questioned by internal affairs Tuesday. Then he submitted his resignation, was arrested, and booked in jail. His bond was set at $25,000.

"With any sexual assault, the victim is going to have lasting damage from that attack; but in this particular case, the damage extends beyond the victim, and it impacts the entire public," said a Dallas attorney. The attorney is not directly involved in this case, but is outraged by it, saying it shakes the public trust. "You know, the public thinks things like, 'Is this person the only Dallas police officer who has done this? Might there be other victims that Johnson has attacked?'When it's by a police officer, on a citizen, while that police officer is on duty, in a marked car, pulling someone over, seeking this out, it's at the top of egregiousness," the attorney said.

The Dallas Police Department says La'Cori Johnson was hired as an officer in April 2009 and was assigned to the Northwest Patrol Division.

Excusable Conduct:
Paedophilia !
Posted: Jan. 23, 2014 - Updated: 09:11 AM PST, Thurs. January 23, 2014
Ricky Vitte Jr. claimed he 'did not want (the boy) to feel pressured on feeling the need to have to have sex with someone, when he can fix those needs by masturbating to porn,' according to a report. So he twice engaged in the act with the pre-teen boy five years ago, but claimed a dresser blocked their views of each other.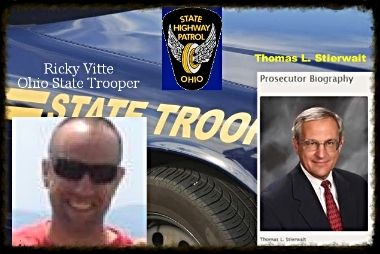 Ohio -- Ohio State trooper Ricky Vitte Jr., will go entirely unpunished and remain in his $83,000-a-year job despite reportedly confessing to carrying out sick sex acts twice with a pre-teen boy five years ago. Vitte Jr., who watched porn and masturbated with the young boy "to teach him about sex will" not be charged with any offense. He claimed that he "did not want (the boy) to feel pressured on feeling the need to have to have sex with someone, when he can fix those needs by masturbating to porn." A dresser was also blocking their view of each other as they pleasured themselves, Deputy Sean O'Connell added.

Vitte is said to have told his wife all about the seedy rendezvous. Sandusky County Prosecutor Tom Stierwalt said, on that basis, he wouldn't present the case to a grand jury. Vitte, he reasoned, might be able to defend himself against the alleged actions.

Clinical Counselor Marlene Boas said,"I can't imagine a situation where that would be appropriate in our culture," where the present outcome would have been the same outcome if the alleged victim had been a girl. "If he would've masturbated in the same room as (a pre-teen girl), don't you think he would be prosecuted?" she added.

Media reports indicate that it's not the first time the law enforcer has himself been in trouble with the law. Ten years ago Vitte was charged with domestic violence after spanking his then-girlfriend's 5-year-old son until his buttocks bled and head-butting his mom when she complained. Vitte is also fighting a custody battle over his five children with his wife, who claims he punched holes in walls and doors when he was angry.

"Hebephile!"
Posted: 1:47 p.m. Friday, Jan. 24, 2014 - Updated: 5:47 p.m. pst Friday, Jan. 24, 2014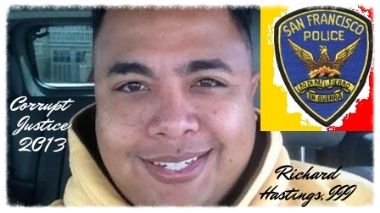 MARTINEZ, Calif. — Richard Hastings, 38, a San Francisco police officer, appeared in Contra Costa County Superior Court in Martinez Thursday. He is charged with nine felony counts of lewd and lascivious acts on a 15-year-old child and one felony count of possession of child pornography. Prosecutors allege that he molested a 15-year-old boy in Concord and kept child pornography. Deputy District Attorney Alison Chandler said the alleged molestation occurred between last June and August, but she declined to provide further details about the case.

Hastings was arrested in Concord on Aug. 21 on suspicion of child molestation after police launched an investigation into the allegations. He was later released on bail and prosecutors initially declined to file charges against him pending further investigation. Hastings turned himself in on an arrest warrant Tuesday at the county jail in Martinez, where he is being held on $910,000 bail, according to Chandler. Hastings is set to return to court on Monday for a bail hearing and arraignment. A private attorney, said Thursday that she expects to represent him.

The San Francisco Police Department, where Hastings has worked since 2001, immediately suspended him without pay following his arrest, according to a San Francisco police spokesman.

"Fanelli!"
Posted: 01/23/14 10:10 AM EST - Updated: 01/23/14 04:40 PM EST




WHITE PLAINS, N.Y. (WCJB) — A suburban New York police chief who taught sex-abuse awareness classes to children has been charged with downloading child pornography. Mount Pleasant Chief Brian Fanelli was arrested Thursday by Homeland Security agents. Fanelli has been chief for just two months in Mount Pleasant, about 25 miles north of New York City. He first joined the department in 1981.

In a complaint filed with the court, an agent says Fanelli told investigators that he first viewed child pornography as research for the sex-abuse awareness classes he was teaching at two schools.

According to the complaint, he then began viewing the pornography "for personal interest."

Fanelli appeared in federal court in White Plains and was released on $50,000 bond. No plea was entered. Fanelli's attorney refused to comment after the court session.

Monte Hodge!
Posted: 01/22/14 10:10 PM EST - Updated: 01/23/14 04:40 PM EST

BENTON, AR -- A city police officer, Lt. Monte Hodge (pictured above, center) an 18-year veteran with the Benton Police Department (BPD), has been arrested and charged with raping a juvenile, according to reports. Benton was arrested Wednesday after the Arkansas State Police notified the BPD of the alleged incident on Oct. 26.




The Benton Police Department sent the following statement out via email on the case:

On 10/26/13, the Benton Police Department was notified by the Arkansas State Police that an officer with our agency was allegedly involved in an off-duty incident they were investigating. The officer in question, Lt. Monte Hodge, was immediately placed on administrative leave pending the outcome of the investigation.

An internal investigation was immediately launched into this allegation and we've worked closely with investigators throughout the entire ordeal. The internal investigation is still on-going at this time.

Lt. Hodge has been with the Benton Police Department for over 18 years and was assigned to the patrol division until Oct. 26th. We respectively refer all questions regarding the investigation to the Arkansas State Police or Special Prosecutor Chuck Graham, the Lonoke County Prosecutor.

$1.6M Enema!
Posted: 9:11 PM EST, Thu January 16, 2014 - Updated: 12:42 PM PST, Mon January 20, 2014

Hidalgo County, New Mexico -- David Eckert, a New Mexico man, has settled with local authorities for $1.6 million. Eckert claimed police forced him to undergo "multiple digital penetrations and three enemas" on an invalid warrant. A warrant which failed to yield any of the illicit drugs they were looking for. Eckert "feels gratified that the city and county acted quickly, and ... that they recognize his dignity and humanity," his lawyer said Thursday. "He expects that it won't happen to anyone else ever again." Eckert, 54, who sued the county and police departments last year, said that he feels he "got some justice, as I think the settlement shows they were wrong to do what they did to me." The lawsuit laid out in vivid detail Eckert's version of his 12-hour ordeal early in January 2013. "I feel grateful to live in the United States," Eckert said in a statement posted on his lawyer's Facebook page. "Bad things happen, but in America there is a way to get justice."

According to a police affidavit accompanying that lawsuit, a detective asked a different officer to pull over Eckert's 1998 brown Dodge pickup truck for not properly stopping at a stop sign. After Eckert was pulled over, a Deming police officer said that he saw Eckert "was avoiding eye contact with me," his "left hand began to shake," and he stood "erect (with) his legs together," the affidavit stated. Eckert was told he could go home after a third officer issued him a traffic citation. But before he did, Eckert voluntarily consented to a search of him and his vehicle, according to the affidavit. A K-9 dog subsequently hit on a spot in the Dodge's driver's seat, though no drugs were found.

"Hidalgo County K-9 officer did inform me that he had dealt with Mr. Eckert on a previous case and stated that Mr. Eckert was known to insert drugs into his anal cavity and had been caught in Hidalgo County with drugs in his anal cavity," the affidavit said. While media sources could not corroborate that claim, a search of Eckert's criminal history indicated he has been arrested several times on drug possession charges, though many of those charges were dismissed. Eckert was then put in "investigative detention" and transported around 2 p.m. to the Deming Police Department. After that, a judge signed a search warrant "to include but not limited to his anal cavity."

Eckert's next stop was Gila Regional Medical Center, where the lawsuit states "no drugs were found" in "an X-ray and two digital searches of his rectum by two different doctors." One doctor at this time found nothing unusual in his stool.

Three enemas were conducted on Eckert after 10:20 p.m. A chest X-ray followed, succeeded by a colonoscopy around 1:25 a.m. Again, in all these tests, authorities found "no drugs" on Eckert, according to his lawsuit. "(Authorities) acted completely outside the bounds of human decency by orchestrating wholly superfluous physical body cavity searches performed by an unethical medical professional," the plaintiff asserted.

Because Eckert "merely looked nervous during a traffic stop," the lawsuit claims that authorities ended up violating his constitutional right against unreasonable searches and seizures on a number of grounds. One was that "the language in the warrant was overly broad and, therefore, invalid," said the plaintiff, asserting that the chest X-ray and colonoscopy, for instance, weren't related or confined to the "anal cavity."

Moreover, many of the tests took place outside the 6 a.m. to 10 p.m. timeframe for which any such search warrant (unless otherwise authorized) is legally valid under New Mexico law, according to the lawsuit. Because Eckert "merely looked nervous during a traffic stop," the lawsuit claims that authorities ended up violating his constitutional right against unreasonable searches and seizures on a number of grounds.

The New Mexico man said, in his latest statement, that he wants to maintain his privacy and -- to whatever extent he can -- not have his "face ... be linked with jokes related to anal probing." At the same time, Eckert said that he was heartened by those who relayed their sympathy and their own horror stories involving police on online articles about his lawsuit. "I felt very helpless and alone that night," he wrote. "The comments I have read on news stories from people have made me feel much better and not so alone." Eckert agreed to the $1.6 million settlement on December 20, according to his attorney, but it became public only in recent days.

Hidalgo County, New Mexico, Manager Jose Salazar, the top official in the county involved in the settlement, declined to comment on Thursday. A media call to Deming, New Mexico, police Chief Brandon Gigante was not immediately returned.

"No Remorse!"
Posted: 23 December 2013 at 12:07 ET | Updated: 05 January 2014 at 12:07 AM PST
"(Scott) has never exhibited any remorse and he does not appear to understand the horrific nature of his crimes"


-- Det. Supt. Peter McPhillips Cleveland Police



United Kingdom -- Wayne Scott had denied rape and attempted rape offences involving one woman, but was found guilty after a trial last month. He admitted raping another woman on seven occasions and a sex offence involving a child. Scott, 37, formerly from Stockton, was sentenced at Newcastle Crown Court earlier. In addition to the seven rapes, Scott admitted two common assaults, one sexual assault and two counts of inciting a child to engage in sexual touching. A statement from one of Scott's victims was read out in court describing how she was worried about his release as he had already tried to contact her since being in prison. "Your offending has had an enormous impact on the well-being, confidence and lives of those against whom you offended, destroying their lives," he said. Judge Goss said Scott would serve 15 years in custody He also issued restraining order protecting the victims and ordered Scott to register as sex offender for life.

Scott joined the Cleveland force in August 2002. Scott's offenses came to light after he was dismissed when a member of the public complained about him touching her sexually while on duty. He was arrested in August 2011 on suspicion of sexual assault and perverting the course of justice in relation to an incident while he was on duty. He was dismissed in October 2012. Although he was not prosecuted for that offense, the publicity led other women to come forward. Officers said allegations had been made by a eight additional victims. Those allegations did not make it to court, however police have appealed for any other victims to come forward.

Det. Supt. Peter McPhillips said Scott was a "sexual deviant and a predator who manipulated his victims". Mr. McPhillips said Scott's crimes had resulted in a "significant detrimental impact" on his victims. "Yet he has never exhibited any remorse and he does not appear to understand the horrific nature of his crimes," he said.

Lieutenant Child Sex-Predator!
Published: Thursday, 31 Jan 2013, 3:56 PM EST - Updated: Friday, 01 Feb 2013, 9:04 PM PST
AHOSKIE, N.C. (WCJB) - Ahoskie police officer Andres Jorge Snape, Jr., who has worked with the city for nine years is behind bars on 21 sex charges involving a teen. Officer Snape, Jr. was recently promoted to the position of lieutenant, according to Ahoskie Town Manager Tony Hammond. According to Chief Troy Fitzhugh with the Ahoskie Police Department, agents with the North Carolina State Bureau of Investigation (NCSBI) were contacted following a criminal complaint about Snape, Jr.




During the NCSBI investigation, Snape (pictured above, center) was placed on administrative leave with pay. Fitzhugh said Snape was fired Jan. 30, arrested in Hertford County on the same day and charged with seven counts of statutory rape of a teen girl between the ages of 13 and 15. He was also charged with seven counts of indecent liberties with a child and seven counts of sexual offense.




"It just shocked me, because I didn't think he would do something like that," Ahoskie resident Shineque Moore said. "I think that is nasty and disgusting," Moore said. "Someone that is suppose to protect you is hurting you. All police officers can't be judged by what he did. It's just sad that someone you looked up to to protect you is breaking the law. I hope justice is served and he gets what's coming to him."

Snape's first court appearance will be Feb. 1 and a $1 million bond has been set.

---
Reader Pageviews by Country
---
From: May 2007 – February 2014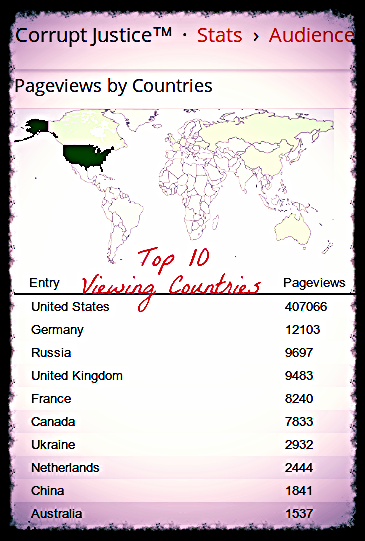 ---
«•
Thank you for visiting Corrupt Justice™. Enjoy our Free Movie Intermission! Don't forget to Bookmark Us & Tell A Friend! We're Global!
•»
---
Movie Intermission!
Murder Trial of Michael Dunn
State's Case VIII
---



Description: Detective Karen Smith worked for the Jacksonville Sheriff's Officer for 13 & 1/2 years. She now currently works in TN as a consultant. Angela Corey handled the direct of this witness. Smith responded to a supplemental call in December to document Michael Dunn's vehicle, a black sedan. Smith testified that there was no damage to Michael Dunn's vehicle. Smith walks the jury through exhibit photos she took of Michael Dunn's vehicle. It was Smith who found the second magazine that Miranda didn't find. During his cross, Strolla asks Smith why they called her since she wasn't originally part of the investigation. She says there was a search warrant issued for Dunn's car, Kipple was off work that day, and it was her shift. Strolla is asking Smith about four shell casings that were found upon her arrival. She says it didn't "sit well with me" that these items were found after the vehicle had already been searched and processed. Under re-direct, Smith says she would be using the same tools that she's using.

Read more (Indictment, Police Reports, Civil Complaint) on the State of Florida v. Michael Dunn @ http://www.scribd.com/collections/4443911/State-of-Florida-v-Michael-Da.

---
---