↓↓↓↓↓↓↓↓↓ Blog Post Starts Below ↓↓↓↓↓↓↓↓↓
---
Click on Banner to Sell Your Home(s)!
---
---
Nightmares II!
---
Best & Brightest, Again!
Published: June 21, 2016 - Updated: Tuesday, June 21, 2016 2:00 PM PST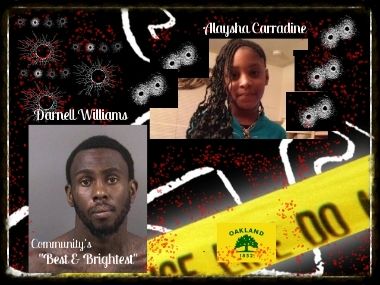 Oakland, CA – On June 2, 2016, the jury in the trial of Darnell Williams returned a verdict finding that Williams should receive the death penalty for his conviction of two first degree murders. Sentencing is scheduled for September 21, 2016. At the sentencing hearing, the trial judge will review the evidence and determine whether the evidence supports the jury's penalty verdict.

On May 6, 2016, the same jury convicted Williams of first degree murder for the killing of eight-year-old Alaysha Carradine and the separate first degree murder of Anthony Medearis. Williams was also convicted of other charges, including attempted murders, assault with a firearm, and being a convicted felon in possession of a firearm.

"This defendant committed the most heinous of crimes. The senseless and brutal slaying of eight-year old Alaysha Carradine and murder of Anthony Medearis will forever devastate their loved-ones. The children who survived the injuries caused by Williams will always live with the memories of the horror he inflicted," says District Attorney Nancy E. O'Malley. "I hope that with the verdict in this trial, each victim and each family member will have a sense that justice was served and will, in their individual ways, begin to heal from the trauma they have suffered."

On the evening of July 17, 2013, Williams went to an apartment on Wilson Avenue in Oakland, seeking retaliation for an earlier shooting the same day. Eight-year-old Alaysha Carradine was at the apartment for a sleepover with her seven-year-old friend. Williams rang the doorbell and waited for the children to open the door. As the door opened, Williams fired thirteen shots from a pistol into the apartment. Alaysha Carradine was struck and killed. Two other children and a woman in the apartment were wounded by gunfire. The jury found that the murder was committed intentionally by means of lying in wait, a special circumstance.

On the afternoon of September 8, 2013, Williams attempted to rob Anthony Medearis at gunpoint outside an apartment building on Eighth Street in Berkeley. Mr. Medearis ran away from Williams, yelling for help. Williams chased after Mr. Medearis and fired at him fifteen times. Mr. Medearis was struck by one bullet in the back and died. During the shooting, a seven-year-old child was struck in the face and injured by a bullet fragment. The jury found that the murder was committed during the commission of attempted robbery, a special circumstance. The jury also found that Williams committed multiple murders, a separate special circumstance.

"I am extremely gratified with today's outcome and would like to thank the jury that worked so diligently to reach a just verdict in this matter, as well as the many law enforcement officers who investigated these crimes," says prosecutor John Brouhard.

Published: Tuesday, Oct 1, 2013 - Updated: Tuesday, October 1, 2013, 10:20 PM PDT

OAKLAND, CA (WCJB) - Alameda County District Attorney Nancy O'Malley said two people have been charged in connection with the murder of 8-year-old Alaysha Carradine. Alaysha was shot during a sleepover at an apartment in Oakland's Dimond District on July 17. Alaysha, who was about to enter the third grade at Fruitvale Elementary School, was killed when shots were fired through the front door of an apartment in the 3400 block of Wilson Avenue. O'Malley said at a news conference at Oakland police headquarters Tuesday morning that prosecutors believe the shooter was 22-year-old Darnell Williams. A second suspect, 27-year-old Oakland resident Joseph Carroll, has also been charged with murder for the killing. O'Malley said Carroll is believed to have helped plan the shooting.




Alaysha's mother, Chiquita, spoke out at Tuesday's arraignment. "I'm pissed, but I'm excited. I've been waiting for this day since I got the phone call that she was dead. I'm ready. I'm ready to fight." said Chiquita. "I'm here at every court date, every parole hearing. She said she's also angry at the father of Alaysha's friends who she said never came forward to help police with the investigation. She said she hopes the people charged in connection with her daughter's murder are convicted and spend the rest of their lives in jail. I don't get to see no years, more with my daughter and I don't want them to see anymore light on the street. I want complete justice for my daughter."

O'Malley said it appears the shooting was an act of retaliation for a previous gang-related shooting. She said the suspects were targeting someone inside the apartment but she did not say whom. Three other people were injured in the shooting but survived, and Williams and Carroll were also each charged with three counts of attempted murder. O'Malley said Williams also is charged with murder for allegedly fatally shooting 22-year-old Anthony Medearis in the 1400 block of Eighth Street in Berkeley around 5:45 p.m. on Sept. 8, about seven weeks after Alaysha was killed. O'Malley said Williams and Medearis had been friends but for some reason Williams decided to rob and kill Medearis.

Berkeley police Officer Shan Johnson said in a probable cause statement that the shooting occurred at a dice game to which Williams brought his 7-year-old nephew. Johnson said Williams fired multiple shots at Medearis and a bullet fragment also struck his 7-year-old nephew in the face. Williams is charged with assault with a semi-automatic firearm for shooting his nephew. Laquana Nuno, 28, is also charged with murder for Medearis' death. O'Malley didn't disclose Nuno's role in the killing but Johnson said in his statement that Williams advised her in a text message that he was about to commit a robbery and she agreed to pick him up afterward. Johnson said Nuno then picked Williams up after the shooting and evaded police for a short time when they tried to stop her vehicle. Williams later fled on foot when Nuno pulled over but officers were able to find and arrest him in a nearby shed, Johnson said.

Prosecutors allege that Williams has a prior conviction for assault with a semi-automatic firearm on Jan. 27, 2010. Williams faces three special circumstance murder allegations that potentially could result in the death penalty if he's convicted: committing multiple murders, lying in wait in the fatal shooting of Alaysha and attempting to commit a robbery during the course of murdering Medearis.

During the course of the investigation into Alaysha's killing, OPD developed information that several related suspects were conspiring to commit an additional murder, which officers say they were able to prevent from taking place.The attempts to kill the two alleged potential victims occurred on Sept. 13 and Sept. 20, according to a probable cause statement by Oakland police Officer Eric Karsseboom. However, Oakland police officers and special agents from the California Department of Justice set up surveillance teams at the locations where the shootings allegedly were supposed to occur and were able to prevent harm to the potential victims, Karsseboom said. O'Malley said Carroll and three other men also are charged with conspiracy to commit murder for making several attempts to kill two men they believed had "disrespected" Carroll and his brother, Coleon Carroll. Prosecutors also allege that Joseph Carroll, who was arrested in Harris County in Texas over the weekend, has two prior convictions: one for possession of a firearm by a felon on Jan. 14 of this year and one for evading an officer on Sept. 24, 2007.

Homicidal Infanticide!
Posted: April, 13, 2016, 2:17 PM ET ~ Updated: April, 14, 2016, 1:54 AM PST

LANSING, Mich. -- Melissa Mitin, 26, of Okemos has been sentenced to 27.5 to 40 years in prison. The 26-year-old learned her punishment Wednesday. The Lansing-area woman pleaded guilty last month to second-degree murder as part of an agreement with prosecutors. Ingham County Circuit Court Judge James Jamo honored the plea deal during the sentencing hearing. Jamo seemed to consider setting the minimum higher or lower than the what was included in the plea agreement. He asked Mitin's attorney and Roth what would happen then. The consensus was that the case would proceed to trial. It was an alternative Jamo said he ultimately couldn't force on the parities.

The charges stemmed from the 2013 death of her newborn daughter. The infant was found face-down in a wastebasket with umbilical cord and placenta still attached. Mitin was freed on bond after being charged with first-degree murder in her daughter's death. Police began investigating the 2014 disappearance of Mitin's baby boy. The infant is presumed dead. Prosecutors said the boy was born while Mitin was free on bond. As part of her plea agreement, Mitin will not be charged in her son's disappearance.

Prosecutors said the cremated remains of the infant girl continue to sit at a funeral home. Ingham County Assistant Prosecuting Attorney Jonathan Roth said this fact sheds light on why Mitin was able to kill her second child (the infant boy) a year later. He said it shows a lack of remorse. Roth told Jamo that Mitin committed a "frighteningly heartless crime." He argued that hiding her relationship with the father of the children contributed to what happened. He also read a passage from Mitin's journal written about the anniversary of the first baby's death.


"'So Friday was the one-year anniversary of when this (expletive) happened. Crazy that it has been one year,'" Roth said, reading the passage. "She described the murder of her child as 'this (expletive)' because that child meant nothing to her. As the (pre-sentence report from the Department of Corrections) indicates, she felt no remorse for having killed this child."


"I'm very, very sorry for everything that happened," Mitin told Jamo before she was sentenced. "And thank you for your time." Jamo said he struggled with the balancing of punishment, rehabilitation and deterrence in setting Mitin's sentence. "The conduct is not understandable," he told Mitin. "It's not rational to me. It's not understandable. I can't really place it in a way that helps guide me as to what is appropriate for your sentence, as a result."

Mitin was facing up to life in prison without the possibility of parole if convicted of first-degree murder at trial.

Homicidal Paedophilia!
Posted: Nov 20, 2015, 2:17 PM ET ~ Updated: Nov 21, 2015, 12:54 AM PT

Scottsville, Kentucky -- Timothy Madden, 38, of Scottsville, has been arrested for allegedly sexually assaulting and murdering 7-year-old Gabriella "Gabby" Doolin (pictured above, center). Gabby was found dead after going missing last Saturday at a football game in Scottsville, Kentucky. The suspect was taken into custody by the Kentucky State Police Friday morning. Madden is charged with kidnapping, rape, sodomy and murder, police said. He is slated to be processed and lodged in Kentucky.

At a press conference in Bowling Green on Friday Trooper Barry Eaton said police are not releasing other details on the case, including the cause of death. A preliminary autopsy report ruled the girl's death a homicide. Eaton said the investigation is still ongoing. Eaton said Madden knew the Doolins. "I know they were acquaintances, I don't know how in-depth but they do knew each other," he told media sources.

The Doolins were at a pee-wee football jamboree on Saturday when Gabby went missing at 7:40 p.m. At approximately 8:05 (25 minutes later) a search volunteer spotted her body in a wooded area on the edge of the Allen County Scottsville High School. The location of her body is about 400 yards from the school's football field where she was last seen alive.



It was not immediately clear if Madden had representation. He has not yet made a court appearance. Madden (pictured above, center) is being held without bond. Media source couldn't immediately reach Madden's family.

Gunfight!
Posted: June 19, 2015 ~ Updated: June 19, 2015 11:35 pm pdt

CINCINNATI, OH (WCJB) — Cincinnati's police Chief Jeffrey Blackwell says Trepierre Hummons, 21, fatally shot Officer Sonny Kim. The Friday morning shooting occurred in the Madisonville neighborhood. Kim was a decorated 27-year veteran of the Cincinnati Police Department. Blackwell said Hummons apparently wanted police to kill him. The chief described it as "suicide by cop."

Blackwell said Kim was responding to two 911 calls about a man with a gun. The caller reported that the subject was belligerent and in his early 20s. The suspect was described as wearing a white T-shirt with a gun tucked in his waistband. Officer Sonny Kim was the first officer to arrive after the 911 calls. The chief said Hummons shot 48-year-old Kim. He then walked over to where Kim was lying wounded and began struggling with the wounded officer over Kim's gun. The suspect took Kim's gun. Another officer then arrived and a gunfight broke out.

Blackwell said that Hummons "engaged" Kim in a gunfight. A probation officer then arrived and the suspect began firing at him as well. Police specialist Tom Sandmann then arrived and became involved in gunfight with the suspect. Blackwell said: "Police specialist Sandmann was able to stop the threat, secure the suspect and maintain the scene." Hummons was fatally shot. Blackwell did not identify who fired the fatal shot. He said other officers arrived and began first aid on Kim.

Blackwell said at a Friday night news conference: "We now know that the caller himself was the shooter of our officer." Hummons' mother told police he had been having troubles with a girlfriend. She said he hadn't been behaving like himself. Blackwell said an alleged sex offense had been filed against Hummons earlier Friday morning. Blackwell said: "The suspect posted on Facebook just prior to the shooting. Hummons also sent several text messages to friends indicating or demonstrating that he was planning suicide by cop." Blackwell said the mother left the house looking for her son. She found him in the street just as officers arrived.

Blackwell said the suspect's juvenile history included aggravated robbery and aggravated burglary felonies. He had a history of criminal trespassing and several traffic violations as an adult. Blackwell also said Hummons was a gang member.

"High Pursuits!"
Posted: 3:08 p.m. Tuesday, June 16, 2015 ~ Updated: 4:08 p.m. Tuesday, June 16, 2015

Georgia -- Montgomery County Sheriff Ladson O'Connor was killed early Tuesday. He crashed his patrol vehicle while pursuing an armed suspect. The Georgia Bureau of Investigation said the suspect, Jim Edward Lowery, 35, later surrendered after exchanging gunfire with authorities. GBI spokeswoman Sherry Lang said the incident began around midnight in Toombs County. Toombs County is a rural community about three hours southeast of Atlanta. Montgomery County is about two hours southeast of Atlanta in southeast Georgia. The chase came to an end near the town of Uvalda. Lang said the GBI is investigating both the chase and the officer-involved shooting that occurred during Lowery's apprehension.

Lang said Deputies were reportedly assisting a motorist when the driver of another vehicle "attempted to leave the area" after spotting them. The driver of the second vehicle piqued the deputies' interest. They attempted to initiate a traffic stop. Lowery fled and O'Connor joined in the chase. The pursuit continued on Ga. 56 into nearby Montgomery County. Lang continued: "During the pursuit, Sheriff O'Connor lost control of his vehicle, wrecked and was dead on the scene." Lang said an autopsy was being performed at the GBI's crime lab in Savannah.




Southeast Georgia, Montgomery County Sheriff Ladson O'Connor was killed early Tuesday. (Credit: Georgia Bureau of Investigation)


What led O'Connor to lose control of his vehicle was unclear. However, Lang said either Lowery, or his passenger Nicole Dixie Best, 36, fired shots at officers during the chase. Lang said State troopers placed "stop sticks" on the road. Lowery crashed his vehicle and managed to escape (for a few hours, at least). Georgia State Patrol SWAT team members located Lowery in McNatt Falls at about 9:30 a.m. Tuesday. McNatt Falls is a town in Montgomery County. Lowery surrendered after an exchange of gunfire. Lang continued, saying: "Lowery had sustained an injury to his leg but it is unknown at this time if the injury is a result of the shooting or if it occurred while he was on the run from law enforcement."

Lowery was arrested and charged with three counts of aggravated assault on a police officer; one count of fleeing; and attempting to elude a police officer. Lang said Nicole Dixie Best, the passenger in his vehicle, was also detained. She "is being held in the Montgomery County jail while warrants are being obtained for her arrest." She was charged with four counts of aggravated assault on a police officer. Messages left with the Montgomery County Sheriff's Office on Tuesday were not immediately returned.

Stolen Patrol!
Posted: May 6, 2015, 1:03 AM ET ~ Updated: May 6, 2015, 1:43 AM PT


Coeur d'Alene, Idaho -- Sgt. Greg Moore was a northern Idaho police officer. Moore was shot about 1:30 a.m. Tuesday after checking on a suspicious person in a neighborhood. Moore was shot by Jonathan Renfro, 26. Renfro then stole his patrol car. Police arrested Renfro after a car chase that reached speeds of 125 mph. The pursuit ended when a police dog dragged him from his hiding place underneath a commercial truck.

An officer from nearby Post Falls, Idaho, was listening to radio traffic about the shooting. He saw a Coeur d'Alene police car race by about 90 mph. The officer gave chase close to the Washington state line. Post Falls Police Chief Scott Haug said: "Pursuit speeds reached 125 mph." The officer found the patrol car abandoned. Haug said the Washington State Patrol and Kootenai County Sheriff's Office helped set up a perimeter.

Haug said a police dog found Renfro about two hours later hiding under a tractor-trailer. He was wedged off the ground between the axle area and the truck. The truck was located near a Wal-Mart in Post Falls. Haug continued: "He was engaged by the dog when he would not comply and taken into custody." Renfro appeared in court Tuesday afternoon and was charged with attempted murder: theft of a police vehicle; theft of an officer's gun; and being a felon with a gun. His bail was set at $2 million. He is being held in the Kootenai County jail. Renfro has a long criminal record and was on probation.

Coeur d'Alene Police Chief Lee White said Moore died of his injuries Tuesday evening at 5:50 p.m. Police spokeswoman Sgt. Christie Wood said Moore died at Kootenai Health in Coeur d'Alene, Idaho. Wood told media sources: "He was out doing routine random patrols in an area that we have experienced some auto burglaries in. So he was doing what we do. It's just incredibly tragic." White said at an early morning news conference: "Moore called dispatch to get information on Renfro. Not long after, a resident called police." The chief continued: The resident "had heard a noise that sounded like a gunshot and they shortly after said that there was a body lying in the street. From the information I've received so far, it doesn't look like an ambush-style attack. This was just a bad guy doing bad guy stuff and our officers doing what they were trained to do — and that's trying to keep our communities safe." White said a motive for the shooting hasn't been determined.

Stu Miller is a spokesman for the Kootenai County Sheriff's Office. He said The Idaho State Police is the lead agency investigating the shooting. Miller said investigators are collecting evidence from multiple scenes, including dash cam video from Moore's car. Miller did not know if the weapon used against Moore had been recovered. Moore was married and had two children, officials said.

"Uncontrollable Lust!"
Posted: May 4 2015 12:51 PM ~ Updated: June 8, 2015 04:40 p.m. PDT

Wisconsin -- Inmate Christopher Scarver gained nationwide notoriety after he killed serial killer and cannibal Jeffrey Dahmer in prison in 1994. After killing Dahmer, Scarver killed another inmate, Jesse Anderson. Scarver claims he killed Anderson for what he describes as racist antics. Scarver killed Anderson in November 1994 because the inmate vandalized a painting of Martin Luther King Jr. He also attempted to frame black men for his wife's murder, for which Anderson was ultimately convicted.

"There was a picture in the arts and crafts room that a prisoner had spent a lot of time painting, and he hung it up in that room to dry," Scarver recalled in a recent interview. "[Anderson] painted a blood dot on [MLK's] forehead as if it were a bullet wound."

Scarver said he was also mad when he realized that Anderson attempted to blame two black men for his wife's death. Barbara Anderson was killed in a shopping mall parking lot after the couple had dinner at a restaurant. Anderson told authorities that a pair of black men killed her and pointed to a Los Angeles Clippers cap found at the scene that he said one of them was wearing. However, Anderson was later connected to the purchase of the hat, thanks to witness testimony, and he was ultimately convicted.

Posted: April 29, 2015 8:38 a.m. EST ~ Updated: April 29, 2015 02:11 p.m. PST

Serial killer Jeffrey Dahmer was done in by his uncontrollable lust for human flesh, the man who whacked him in prison 20 years ago told The Post, revealing for the first time why the cannibal had to die.

Christopher Scarver — who fatally beat the serial killer and another inmate in 1994 — said he grew to despise Dahmer because he would fashion severed limbs out of prison food to taunt the other inmates.

He'd drizzle on packets of ketchup as blood.

It was very unnerving.

"He would put them in places where people would be," Scarver, 45, recalled in a low, gravelly voice.

"He crossed the line with some people — prisoners, prison staff. Some people who are in prison are repentant — but he was not one of them."

Scarver, who arrived at Wisconsin's Columbia Correctional Institution around the same time as Dahmer in 1992, knew right away to keep a safe distance from the serial killer.

Scarver said the madman had a personal escort of at least one guard at all times when he was out of his cell because of his friction with other inmates.

"I saw heated interactions between [Dahmer] and other prisoners from time to time," Scarver said, adding that he didn't think much of Dahmer.

"There was no impression," he said.

Like a lone wolf, Scarver watched Dahmer from afar on the prison yard, but never approached him, because he did not want to become a target of his sickening humor.

"I never interacted with him," he said.

But that all changed on the morning of Nov. 28, 1994, when Scarver doled out his vigilante justice in a gymnasium of the Portage, Wis., prison.

Dahmer, 34, Scarver and a third inmate, Jesse Anderson, were led unshackled to clean the bathrooms by correction officers, who left them unattended.

Scarver, who was repulsed by the youth-molesting cannibal's lust for flesh, kept in his pocket a newspaper article detailing how Dahmer killed, dismembered — and in some cases ate — 17 men and boys from 1978 to 1991.

Scarver, then a 25-year-old convicted murderer, had just retrieved his mop and was filling a bucket with water when someone poked him in the back.

"I turned around, and [Dahmer] and Jesse were kind of laughing under their breath," Scarver recounted. "I looked right into their eyes, and I couldn't tell which had done it."

Morgue photo of Jeffrey Dahmer at the Rare Serial Killer Exhibit.

The three men then split up, and Scarver followed Dahmer toward a staff locker room.

Scarver grabbed a metal bar from the weight room and confronted Dahmer with the news story he had been carrying in his pocket.

"I asked him if he did those things 'cause I was fiercely disgusted. He was shocked. Yes, he was," Scarver said.

"He started looking for the door pretty quick. I blocked him," Scarver said.
Modal Trigger

With two swings of the bar, Scarver crushed Dahmer's skull.

"He ended up dead. I put his head down," he said.

He then casually crossed the gym and entered a locker room where Anderson, 37, was working.

"He stopped for a second and looked around. He was looking to see if any officials were there. There were none. Pretty much the same thing [happened] — got his head put out," Scarver said of Anderson, who was serving a life term for killing his wife in 1992.

Scarver believes it was no accident that he ended up alone with Dahmer — since prison officials knew he hated the madman and they wanted him dead.

"They had something to do with what took place. Yes," said Scarver, noting that the guards disappeared just before he clobbered Dahmer with the 20-inch, 5-pound metal bar.

But Scarver refused to elaborate out of fear for his own safety.

"I would need a good attorney to ensure there would not be any retaliation by Wisconsin officials or to get me out of any type of retaliatory position they would put me in," Scarver said.

Wisconsin Correction Department spokeswoman Joy Staab did not return calls for comment about those claims — but an investigation following the killings determined he acted alone.

Scarver initially pleaded insanity to the murders but later changed it to "no contest" in exchange for a transfer to a federal penitentiary.

He was sentenced to two life terms on top of the life sentence he was already serving.

Scarver was locked up for killing his former boss during a robbery in 1990.

Scarver believes it was no accident that he ended up alone with Dahmer — prison officials knew he hated the madman and they wanted him dead.

After getting fired from a job-training program at the Wisconsin Conservation Corps, Scarver started drinking heavily and said he heard voices that called him "the chosen one."

He returned to his former workplace with a .25-caliber semiautomatic pistol and demanded cash from site manager John Feyen. When he gave only $15, Scarver put a bullet in the head of a worker, Steven Lohman.

He shot Lohman two more times before Feyen knocked the gun out of his hands and ran off.

Hours later, cops arrested Scarver sitting on the stoop of his girlfriend's apartment building.

After the killings, Scarver bounced from prison to prison until he landed at his current home: Centennial Correctional Facility in Canon City, Colo.

Scarver says he has been evaluated by 10 to 20 prison doctors but still doesn't understand his mental issues.

He partly blames prison food for his insanity.

"I found out in my own research what the problem is: Certain foods I eat cause me to have a psychotic break — bread, refined sugar," he said. "Those are the main culprits."

He now spends his days writing poems for his site. He also has self-published poetry books for sale on Amazon.

Shultz!
Posted: 02/06/2015 5:13 PM EST ~ Updated: 02/06/2015 5:37 PM PST

DISCOVERY BAY, Calif. (WCJB) -- William Shultz , 18, of Discovery Bay, is accused of fatally stabbing 9-year-old Jordon Almgren. Jordon was fatally stabbed inside his home on Frost Way on Sunday. Police say Shultz was a family friend and stayed at Jordan's home overnight. Police arrested Shultz at a local hospital on Sunday. The suspect confessed in a jailhouse interview given to media sources. Shultz admitted to killing the young boy. He said: "I wanted to see what it was like to take a life before someone tried to take mine." Shultz also said: "I wish that I hadn't. I think about what if that was my little brother."

He had been evaluated for possible mental health issues twice in the 24 hours before the incident. Shultz was at his family's home in Discovery Bay on Saturday. Contra Costa Sheriffs were called. Contra Costa Sheriffs Department spokesperson Jimmy Lee said: "Apparently the family wanted the deputies to check his mental health status. So the deputies spoke to him and based on that contact, they determined that he did not meet the criteria for welfare and institutions code 5150. You have to have some kind of threat to themselves or to others or that they are gravely disabled." Shultz did voluntarily go to the county hospital in Martinez for evaluation. However, he was released a few hours later.

Shultz is being held at the Martinez jail on $1 million bail.

Cuzzins!
Posted: 02/06/2015 5:13 PM EST ~ Updated: 02/06/2015 5:37 PM PST

Albany County, NY -- Tiffany Van Alstyne, 20, is accused of killing her five-year-old cousin. The Albany County woman has been indicted on second degree murder charges. She is accused of strangling Kenneth White in December. Alstyne then lied to police, claiming masked men had kidnapped him. In addition to murder, the indictment also charges Van Alstyne with manslaughter. She's due to be arraigned sometime next week.

Merritt a McStay!
Posted: Nov 8, 2014, 5:07 PM ET ~ Updated: Nov 9, 2014, 7:43 PM PST


FILE - This undated file image provided by the San Diego Police Department shows members of the McStay family whose abandoned SUV was found near the Mexico border near San Diego. Authorities say they will release new information Friday, Nov. 7, 2014 in the murder investigation of the family of four whose bodies were found in shallow graves late last year. (AP Photo/San Diego Police Department, File)


SAN BERNARDINO, Calif. (WCJB) — Charles "Chase" Merritt, 57 (pictured below, center) made a brief court appearance on four counts of murder Friday in the deaths of Joseph McStay, 40, his wife, Summer, 43, and their sons, 4-year-old Gianni and 3-year-old Joseph. Investigators believe McStay vanished with his wife and two young sons in 2010. Authorities said Merritt, of Homeland and a former business associate of Joseph McStay, bludgeoned the family to death before he buried their bodies in the desert in 2010. Merritt did not enter a plea and was due back in court next week. His attorney did not immediately return a call or email.



Joseph McStay designed and installed home water features. Investigators said he had asked Merritt, who owned a waterfall company, to design some special waterfalls, and the two met at a restaurant on the day the family is believed to have been killed. They say the family members were killed in their home in the San Diego County community of Fallbrook on Feb. 4, 2010. Investigators found their dogs outside with no food or water, eggs rotting on a counter, and bowls full of popcorn in the house. Investigators said there were no signs of forced entry at the family home or in their SUV. Nothing was missing from the home, and the couple's credit cards and tens of thousands of dollars in bank accounts were untouched.




The long, convoluted investigation began when the family vanished from their home without a trace. At the time, San Diego County sheriff's detectives said it appeared they had fled at a moment's notice. Four days after the family vanished, their white Isuzu Trooper was found at a San Diego shopping mall just steps from Tijuana, Mexico. A dark surveillance video shows four people walking across the border. Authorities initially thought they might have been the McStays but later discounted that theory. The family's skeletal remains were found late last year by someone riding an off-road vehicle in the desert outside Victorville. The gravesite is not far from heavily traveled Interstate 15, which connects San Diego and Las Vegas. San Bernardino County Sheriff John McMahon said they were victims of blunt-force trauma.

Investigators served new search warrants on the house after the bodies were found, Fisher said, but declined to say what they revealed. Authorities also refused to discuss a motive or any further details of how the family was killed, or evidence found at the home or at the site of the shallow graves. There was no "smoking gun" that helped solve the case after so many years, San Bernardino County sheriff's Sgt. Chris Fisher said. The agency re-examined 4,500 pages of evidence handed over by authorities in San Diego County, where the probe began. They served 60 search warrants and did 200 interviews. Evidence found at the gravesite also helped, Fisher said, declining to elaborate. "Our job is to look at everyone and eliminate who we could and see where this was going to take us — and it led us to him," he said of Merritt. Merritt's name had surfaced previously in the investigation. In 2011, Merritt told investigators that Joseph McStay's last cellphone conversation was to him. Fisher said investigators had interviewed Merritt several times but declined to say what information he provided.

"Joseph was a great brother, a great father," Joseph McStay's brother, Michael McStay, said as he choked back tears. "He would've done anything to protect those boys and Summer and he tried to help Chase and provide work for this guy and this is how he was repaid. ... He'll get what he's got coming to him." Family members said the arrest brought them some peace but left many questions.

Merritt was arrested Wednesday in the Chatsworth area of Los Angeles. Merritt, who has served prison time for burglary and receiving stolen property. He was sentenced to a total of more than two years in prison in the 1970s and 1980s for convictions on burglary, receiving stolen property and violating parole, said Bill Sessa, a prison spokesman. Court records in Los Angeles County show he also was sentenced for grand theft and burglary in 2001. Bennett Merritt, Merritt's brother, said in a brief phone interview that his sibling was "absolutely not guilty."

Cellie Pics!
Posted: Oct 18, 2013 4:43 PM PDT - Updated: October 20, 2013 - 4:10 PM PDT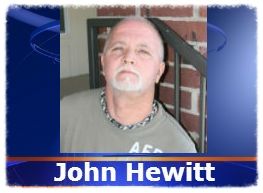 Bryant, Ark. -- A tip helped lead Bryant Police to arrest a man for rape and sexual indecency with a child.

Investigators received a tip two weeks ago that John Arthur Hewitt, 49, had inappropriate pictures of a 14-year-old girl on his cell phone.

Officers managed to identify the girl and interview her. After talking with the girl and gathering other evidence, investigators arrested Hewitt at the Fairway's Apartments in Bryant where he lives with his wife.

Hewitt is charged with rape, five counts of fourth degree sexual assault, five counts of sexual indecency with a child, and endangering the welfare of a minor.

He is also charged with unauthorized use of another person's property to facilitate a certain crime because police say the crimes took place at a rental property.

Burnin' Down da' Howse!
Posted: October 8, 2013 - 5:12pm - Updated: October 9, 2013 - 4:43pm PDT

Webbers Falls, Oklahoma -- A former Gore reserve police officer entered a blind plea of no contest to a first-degree arson charge Tuesday in Muskogee County District Court, according to a District 15 District Attorney's Office representative.

Charles "Mark" Shamblin, 46, of Webbers Falls faced the arson charge for allegedly having attempted to burn his house with his wife and stepdaughter inside.

Associate District Judge Norman Thygesen accepted Shamblin's plea, ordered a presentence investigation and set sentencing for Dec. 18. Under Oklahoma law, Shamblin would have to serve 85 percent of his sentence before becoming eligible for parole.

A blind plea is done without a pre-existing agreement with the state. Presentence investigations allow judges to examine a defendant's past for mitigating or exacerbating circumstances before determining sentencing.

Gore Town Administrator Horace Lindley said Shamblin, a Gore reserve officer for several years, resigned from the police department shortly after the March 30 incident.

According to court records, Cherokee Nation Marshals arrested Shamblin on April 3 in Webbers Falls and booked him into the Muskogee County jail.

According to an affidavit by District Attorney Larry Moore, Webbers Falls Police Chief Aaron Gage said Shamblin allegedly brought a can of gasoline into his house and told his wife and stepdaughter he would burn the house down. According to the affidavit, Shamblin had already set a fire inside the home, allegedly using a cigarette lighter to set a pillow case on a bed and a shirt on fire.

According to court records, Shamblin waived a preliminary hearing on June 17, and pleaded not guilty at his formal arraignment on July 11. He was released from jail on a $50,000 bond on April 8, conditioned on his surrendering his firearms to the Gore Police Department, staying out of Webbers Falls and undergoing a competency evaluation.

Best & Brightest!
Published: 2:25 PM EDT, Sun September 29, 2013 - Updated: Tuesday, October 1, 2013, 10:20 PM PDT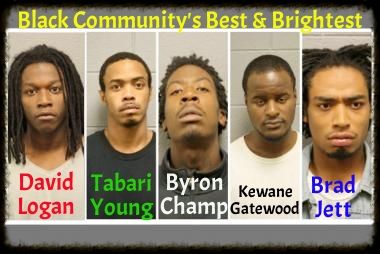 Chicago, Illinois -- Chicago police have arrested a fifth suspect in connection with a shooting that injured 13, including a 3-year-old child, earlier this month. Bullets from an assault rifle and another gun wounded the 13, all survived. Two of the victims were 15 years old. Deonta Howard, a toddler, was the youngest hit. Authorities think the violence may have been gang-related.

David Logan, 22, faces charges of unlawful use of a weapon and obstructing justice, police said Saturday. The arrest happened on Wednesday. Before Logan's arrest, four others had been arrested in connection with the shooting. Those four have been charged with attempted murder and aggravated battery with a firearm, police said. Police said two of the suspects -- Tabari Young, 22, and Bryon Champ, 21 -- fired shots onto a full basketball court. Champ is a documented gang member, according to authorities. Young is accused of firing the assault-style rifle. Police say Champ also fired a gun of some kind.

A third suspect, Kewane Gatewood, 20, is accused of supplying the assault weapon, and Brad Jett, 22, was allegedly the lookout during the shooting, police said.

Boiling Point!
Published: Sunday, September 29, 2013, 7:51 PM - Updated: Tuesday, October 8, 2013, 12:20 AM PDT

PITTSBURGH, PA — A two-decade family feud came to a violent end when a man shot dead the two home invaders that killed his wife and son, not knowing the assailants included his long-estranged daughter, authorities said Sunday.

Though the investigation of Friday's shootings continues, authorities said it appears Josephine and Jeffrey Ruckinger planned to murder her family at their rural central Pennsylvania home — but it remains unclear what exactly led to the deadly confrontation.

"They parked at the bottom of a long driveway, and walked up, heavily armed," said Cambria County District Attorney Kelly Callihan. Josephine Ruckinger was armed with a sawed-off 12-gauge shotgun and her husband had a Derringer pistol and a .22-caliber semi-automatic handgun as they approached the Frew family home in Ashville, about 40 miles southwest of State College, according to investigators.

John Frew, his wife Roberta, and their son John Jr., 47, had just returned from dinner out, and were watching TV in the living room of the white mobile home when there was a knock at the door, authorities said.

Police say Roberta, 64, answered the door, and cried out something like "Oh my God, they have guns!" before her daughter shot her at point-blank range. John Jr. then may have attempted to arm himself with a gun, but Jeffrey Ruckinger shot him multiple times in the chest, killing him, police said.

The elder Frew, 67, grabbed a .22 revolver and came out from the bedroom to find the daughter he didn't initially recognize pointing the shotgun at him. Frew fired once, hitting her in the head, then turned and exchanged fire with Jeffrey Ruckinger, killing him. He then called police.

Josephine Ruckinger was still alive when police arrived, but later died at an area hospital. John Frew was not hurt.

Callihan said that the preliminary investigation suggests that the elder Frew and his family were victims "of a pre-planned murder" plot, and that he acted in self-defense. Police also found a can of gas and lighter fluid in the Ruckingers' car.

Ballistics and toxicology tests are pending, investigators said.

Authorities are still exploring possible motives, but say there may have been burglaries and robberies at the Frew residence in the past.

A relative, Virginia Cruse, said the daughter and mother did not get along, but that she had no idea what spawned Friday's tragedy. The daughter had "a hatred toward the family," she said.

When Josephine was about 20, she and a boyfriend trashed her parents' home and stole items including a pistol, then fled to Pittsburgh, Cruse said. After that, she said, "more or less, they disowned her."

N.I.M.B.Y.
Posted: 09/20/13 03:34 PM ET EDT - Updated: 2:12 PM PDT, Wed. October 9, 2013

NASHVILLE, Tenn. — A grand jury has indicted a man and his girlfriend on murder charges in the shooting deaths of a woman and three teenagers in what prosecutors called a robbery during a pot deal in Tennessee.

On Friday, a Cumberland County grand jury indicted 26-year-old Jacob Allen Bennett (pictured below, center) and 25-year-old Lina Yvonn Moser (pictured above, center) on four felony murder and two attempted aggravated robbery charges. Bennett, who is accused of being the gunman, was also charged with four counts of premeditated murder.

Media reports that Bennett said during his arraignment Friday that he wanted to plead guilty, but the judge instead assigned him an attorney.

Bennett and Moser are accused of trying to rob two of the victims during what the Tennessee Bureau of Investigation described as a marijuana exchange.

Posted: 4:12 PM EDT, Fri September 13, 2013 - Updated: 2:12 PM PDT, Fri September 13, 2013



Tennessee -- John Lajeunesse, 16, said he was heading to Renegade Mountain to go four-wheeling in rural Tennessee. He and three other young people ended up shot dead inside a car on a mountain road not far from the small community of nearby Crossville. Lajeunesse and a pair of 17-year-olds, Steven Presley and Dominic Davis, were the passengers. Danielle Jacobson, 22, was in the driver's seat. A passerby discovered the car with the four victims, including a young mother, on Thursday.

Michael Rick, who lives with Lajeunesse's family, said he dropped the 16-year-old at Presley's house on Wednesday afternoon. Lajeunesse mentioned that the pair were going to go four-wheeling at the mountain and spend the night at his friend's house. The next day, Lajeunesse didn't call Rick to be picked up. "You just get that gut feeling when nothing is right," Rick said. It wasn't until Thursday night that police were able to confirm what they feared: Lajeunesse was among those killed. "This is something traumatic that has never happened before in our county," Cumberland County Sheriff Butch Burgess said. Authorities previously named a lone suspect: Jacob Allen Bennett (pictured above, center). Bennett has not been charged in the killings but was arrested on an unrelated charge as investigators continue their work.

The local community "can rest assured that we believe that we have this person that committed these crimes in custody," Tennessee Bureau of Investigation Director Mark Gwyn said. "We identified him as a suspect pretty quickly," he added. Crossville is a small town, and along with messages of condolence, rumors of what might have happened also began to spread. Was it a drug deal gone bad? A theft? A fight? Residents want to know, but police refuse to speculate. "There's a lot of emotion that goes into this case just simply based on the age of these children," said Casey Cox, the chief investigator for the sheriff's department.

According to the Cumberland County Board of Education, Lajeunesse was a former student at two local high schools who most recently was home-schooled. Three of the victims were current or former students of the local school district. A friend of Jacobson's said the 22-year-old lived for her son. "She loved her little boy more than life itself. She talked about her child a lot. That's what saddens me the most," said the friend, who asked not be named because they had not been friends for too long. The two other victims, Presley and Davis, were also locals. Davis was a student at Cumberland County High School, and Presley graduated from Phoenix High School just months ago.

Bag of Torture Tricks!
Posted: September 12, 2013 11:54 AM - Updated: 8:02 PM PDT, Thu September 12, 2013 PDT

KANSAS CITY, Mo. - Edward Bagley (pictured above, center) a southwest Missouri man, was sentenced to 20 years in federal prison for keeping a young woman as a sex slave for six years.

The 46-year-old Bagley was sentenced Wednesday after a federal court judge in Kansas City accepted a plea agreement.

He pleaded guilty in January to one count of using an interstate facility to entice a minor into illegal sexual contact.

Bagley, of Lebanon, Mo., originally faced 11 federal charges.

He was accused of enticing an underage girl to be his sex slave, torturing and mutilating her, and allowing others to view the torture sessions.

Bagley and his wife, Marilyn, said the woman voluntarily engaged in bondage and sadomasochism after she turned 18.

"Even though Ed pleaded guilty, he still hasn't told the truth," the victim said in court during Bagley's sentencing Wednesday, reports the Kansas City Star.

As part of his sentence, Bagley also agreed to pay about $123,000 toward counseling and medical care for the victim, who is now 27, the paper reports.

Three other men have also been sentenced in the case. On Wednesday, Bradley Cook received a 20-year sentence and Dennis Henry was sentenced to 10 years, both were found guilty of sex-trafficking charges. James Noel was sentenced to five years in prison on Thursday for his role in the case.

Marilyn Bagley and Michael Stokes, another defendant, are scheduled to be sentenced later Thursday.

Black & White Streets!
Posted: 8:33 PM EDT, Thu September 12, 2013 - Updated: 8:02 PM PDT, Thu September 12, 2013 PDT

Brunswick, Georgia -- De'Marquise Elkins, the teenager convicted of malice murder in the shooting death of a 13-month-old boy in Brunswick, Georgia, earlier this year was sentenced Thursday to life in prison without parole, plus 105 years. A jury convicted Elkins, 18, on August 30 of 11 charges, including aggravated robbery, cruelty to children and possession of a firearm during the commission of a felony. Elkins was also convicted of aggravated assault and other charges for shooting pastor Wilfredo Calix-Flores during a separate mugging 10 days before West's son, Antonio Santiago, was killed. Elkins' mother, Karimah Elkins, who was tried along with her son, was convicted of tampering with evidence for her role in trying to cover up the shooting. Elkins was spared the death penalty, because he was 17 when he shot Santiago. A Georgia law prohibits anyone who is under 18 years old during the commission of a crime from being executed. His mother could be sentenced to up to 10 years in prison for her conviction.

Before Judge Stephen D. Kelley delivered Elkins' sentence, Sherry West, the victim's mother, read a poem about her child in open court. "The love my life was taken away, far away." West said. "All I can do is cry and wonder when I am going to die. All that is near is fear." West wept on the stand last month during the trial as she recounted how Elkins shot her son in broad daylight on March 21, after he and another teen tried to mug her.

"I told him I have a baby and I have expenses and I didn't have it. He asked me if I wanted him to shoot my baby. I told him, 'Please don't shoot my baby.' He shot a warning shot into the ground," West said, weeping. "I asked him, 'Why are you doing this? Please don't do this.' It felt like he shot me in the ear. Then he shot me in the leg. My left leg." West said one of the teens then did the unthinkable -- he aimed for the baby. "I tried to stop him. I put my arms over my baby but he still shot him," she said. "He walked over and shot my baby."

During his closing argument, Elkins' attorney attacked West's recollection of the shooting, saying she couldn't confidently identify Elkins as the shooter. He also accused her of plotting her baby's death to profit from a life insurance policy. "Sherry West is a woman who was very distraught, who was very emotional. But also who acted in a rather bizarre way. You saw the video of where she is laughing and cutting up with officers, and making jokes with them just after her child was murdered," Elkins' attorney said.




"Incidentally, does anybody know what the protocol is for how you are supposed to act when you watch your child get shot in the face," prosecutor Jackie Johnson said during her closing argument. Johnson called the defense attorney's accusation that West planned her baby's death a "grand conspiracy" and an attempt to distract from the reality that his client is guilty. "We have a defendant who preyed upon the weak. He preyed upon the weak when he was looking for Mexicans to rob, because he knows lots of times they can't speak English. They are afraid. They might be here illegally. They may not even report to police," said Johnson. "They don't see any more Mexicans that morning. They see something even better, something even more weak, something even more vulnerable, a mother and a child." Johnson ended her closing argument with an emotional plea to the jury to find Elkins guilty of murder. "This case cries out for malice," Johnson said.

The teenager accused of being Elkins' accomplice is Dominique Lang, who was 15 at the time of the shooting. Although Lang is a minor, media sources are identifying him because he is charged as an adult, and media outlets have been naming him since his arrest. Lang has pleaded not guilty to the multiple charges against him, which include felony murder. He will go on trial later, separately from Elkins, and also faces life in prison. Lang testified against Elkins during the 18-year-old's trial, identifying him as the shooter.

"Kuhn-ing!"
Posted: 4:24 PM EDT, Thu October 18, 2012 - Updated: 11:17 PM PDT, Thurs. September 12, 2013




Colorado -- On November 1, 2011, police received a 911 call for a report of a child not breathing. When authorities arrived, they said the baby's father, Dylan Kuhn, told them he awoke to his daughter, Sailor, hanging over the side of the bed with a blanket wrapped around her neck, according to the affidavit. During an interview with police, Kuhn admitted Sailor had fallen off the couch a couple of days before she died. An autopsy revealed Sailor had "subdural hematomas and hemorrhaging in her optic nerve sheath which was a recent injury." A medical examiner determined the baby's injuries were "consistent with a baby being slammed against a soft but unyielding surface similar to that of a firm mattress," the affidavit states. The medical examiner explained to Kuhn that the baby's "injuries were not caused from Sailor falling off the couch and bumping her head," according to the affidavit.



Kuhn eventually admitted to slamming his daughter down on a bed the night she died, but said he "did not mean to hurt her," police said in the affidavit. When asked if the blanket was ever wrapped around Sailor's neck, Kuhn admitted the "blanket was not wrapped around her neck." Kuhn said he walked away after he forcefully put his daughter on the bed and she "became quiet afterwards," the affidavit states. Authorities said when they asked Kuhn why he lied to them, he stated "he was scared" and that his girlfriend, Sailor's mother, was going to "hate him when she finds out what happened."

Kuhn was subsequently charged with child abuse causing death and manslaughter. In a plea deal, prosecutors said they agreed to drop the child abuse charge in exchange for Kuhn pleading guilty to manslaughter. Kuhn, who admitted to causing the death of his 6-month-old infant daughter was sentenced to 90 days in jail after pleading guilty to manslaughter. At his sentencing, District Court Judge Douglas Walker cited Kuhn's lack of a criminal history, his age and the likelihood that he would not be a repeat offender as some of the reasons for not sending him to prison. Judge Walker told Kuhn at his sentencing to "Make this best of this opportunity, if nothing else, to honor your daughter."

In addition to his 90 day sentence, Kuhn must complete four years' probation, submit to a mental health evaluation, and substance abuse evaluation. He is not allowed to be alone with any child under age 10 and must complete a parenting class.

"The public record shows that I strongly advocated in court for a prison sentence because of what the Defendant did to Sailor Kuhn," District Attorney Russell Wasley told media sources. "The Court disagreed with my position. I respect the Court, but the Office of the District Attorney felt prison was appropriate, and was deeply disappointed in the sentence."

"We will let the record stand on its own," Rob McCallum of the Colorado Judicial Department told media sources,

"Twang Bangers!"
Posted: 11:17 AM EDT, Sat. September 7, 2013 - Updated: 11:17 PM PDT, Thurs. September 12, 2013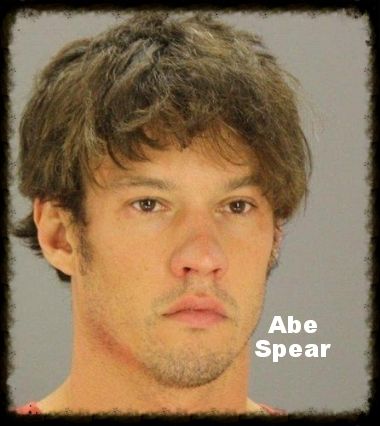 Dallas, Texas -- A country musician has been sentenced to 17 years in jail for arranging to have sex with two young girls, a 7-year-old and a 9-year-old. What banjo player Abraham Spear didn't know was that the girls' "mother" -- whom he made the grotesque "deal" with online -- was actually an FBI agent. The 30-year-old Banjo player, who was set to perform with the Josh Thompson band at the time of the incident, was sentenced to 210 months in federal prison in Dallas, Texas.

Abe had traveled to Dallas in September, 2012, for a show at Toby Keith's I Love This Bar & Grill with a Nashville band. The musician, who went by the name Abe Spear, had been based in Nashville. According to his Facebook page, he had performed with Thompson Square, Joe Nichols, and Eric Church for a show in July, 2012. Spear, a 30-year-old former member of the band Twang Bangers, had logged onto a website, using the screen name MUSICMAN30 and began communicating with the FBI agent he thought was the mom of two young girls. He asked the woman to send photos of the girls -- and in exchange, he sent back a photo of himself in his underwear, and offered to be the girls' "teacher". He then reportedly said he wanted to "admire them and rub on their legs" and some other sexually explicit suggestions. Instead of finding it horrible that the girls' "mom" would agree to this, he arranged to meet up with her and the children.

Spear was arrested at the restaurant in Dallas on September 20, 2012, where he arranged to meet the undercover FBI agent, posing as the mother of the two young girls. As soon as he arrived as the destination for the illegal rendezvous, he was arrested.

He reportedly broke down sobbing and said he "wasn't actually going to do anything." Oh boy. How many times in your life have you heard this excuse? Someone is basically completely set up to do something immoral or wrong, and when caught, tries to claim it was all a joke, or a test, or that they had no plans to actually go through with it.

Spear also reportedly admitted he had a "problem." Spear also admitted that he had engaged in sexually explicit communications with other mothers of minor girls, including one in which he offered to pay $200 to engage in sexual acts with the mother's minor daughter,' according to the U.S. Attorney's Office. According to court documents, he has expressed remorse and said he 'feels he has a problem.'

He faced between 10 years to life, a $250,000 fine and a lifetime of supervision if he was released.

Bored to Death!
Posted: Sun, Jul 14th, 2013 - Updated: 5:24 PM PDT, Fri. September 13, 2013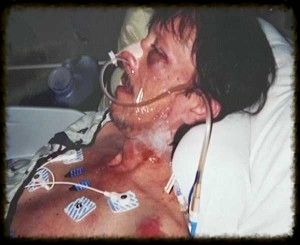 North College Hill, OH -- Pat Mahaney (pictured above, center) a man assaulted and robbed by six teens during a "boredom beating" in North College Hill has died. Mahaney, age 46, passed away Friday at University of Cincinnati Medical Center a little less than a year after the vicious beating that caused him to suffer internal bleeding and put him in the hospital for four days.

Marty Korte said he still doesn't understand why anyone would want to hurt his neighbor. "He was a good boy. He was taking care of his mother," said Korte, who has lived on the Dallas Avenue block where Mahaney was attacked for 50 years.

Investigators determined the teens instigated the August 2012 attack because they were "bored" and looking for something to do. North College Hill Police Chief Gary Foust said the juveniles jumped Mahaney from behind, hit him in the head and knocked him to the ground with a six-pack of beer he had just purchased. "As they were approaching the individual they actually discussed this event, before actually doing the event," Foust said.

Mahaney was released from the hospital within a couple of weeks after the attack. If the man's autopsy points to the attack as a cause of death then further charges against the teens will follow.

Hot in Sommerville!
Posted: 11:17 AM EDT, Wed September 4, 2013 - Updated: 11:17 PM PDT, Tues. September 10, 2013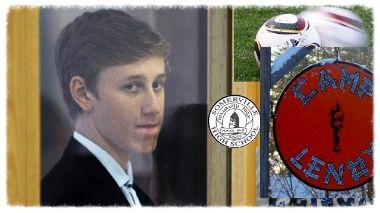 Massachusetts (WCJB) -- Galileo Mondol, a Massachusetts teen and one of three Somerville high school junior varsity soccer players accused of raping a fellow student at a summer sports camp, pleaded not guilty Tuesday. At Tuesday's hearing, prosecutors said the three went into the freshman cabin searching for victims, using a broomstick to assault them. Mondol, 17, authorities allege, entered a cabin occupied by freshman students and assaulted three victims at a camp in western Massachusetts. The assaults occurred last month at Camp Lenox near Otis, a town in western Massachusetts, according to the Berkshire District Attorney's Office. Mondol is being tried as an adult and faces charges that include aggravated rape of a child under 16, indecent assault and battery on a person who has turned 14, assault and battery and intimidation of a witness.

A criminal investigation began after the allegations were reported to members of the Somerville High School athletic department. Two other JV soccer players, both 16, face similar allegations, prosecutors said in a statement. It was unclear Tuesday whether they had been arraigned or entered pleas in response to the charges. Frederick Lantz, a spokesman with the Berkshire District Attorney's office, said he could not reveal details about their cases because they were minors.

Mondol's Attorney told media sources that Mondol was an innocent bystander and actually tried to stop the other students from getting involved. On Tuesday, he should have been heading to school for the first day of classes. "I imagine he planned on getting dressed for his first day of school, and instead he had to get arraigned on felony charges," the attorney said. "He's very mature for his age. He understands the severity of the charges, but he's also confident because he knows he didn't do anything. He knows he will be exonerated."

Mondol is being held without bail pending a "dangerousness" hearing Friday, Korman said. If Mondol is found to be dangerous, the judge can continue to hold him without bail for 90 days. If the judge finds him not dangerous, his bail will be set at $100,000.

The city of Somerville, just northwest of Boston, rented the facility for team-building activities for its fall sports teams. "We are disturbed and appalled that these crimes may have taken place," Somerville's mayor and schools superintendent said in a joint statement, "and our thoughts and concerns are with the victims and their families."

American Infanticide!
Posted: 8:40 AM EDT, Mon September 2, 2013 - Updated: 12:00 AM PDT, Mon September 3, 2013

New York City (WCJB) -- A 1-year-old boy was shot and killed as his parents pushed his stroller across a Brooklyn street Sunday evening, New York City police said.




The parents of Antiq Hennis were pushing the stroller across Livonia Avenue, near their home, about 7:19 p.m. when the child was shot in the left side of the head, a police statement said. He was pronounced dead on arrival at Brookdale Hospital. The police statement offered no details on the circumstances of the shooting and said no arrests had been made.

The shooting came two days after a Georgia jury convicted an 18-year-old man of murder in the shooting of a 1-year-old baby in a stroller in the coastal city of Brunswick. De'Marquise Elkins faces a mandatory life sentence in the March 21 killing of Antonio Santiago. The child's mother said Elkins shot her and the baby after demanding money.

Teen Depravity!
Posted: Thursday, August 8, 2013, 12:38 PM EDT - Updated: Monday, Sept. 2, 2013, 08:55 PM PDT

Texas -- Tyler Holder, 17, the Texas teen suspected of raping and murdering a 6-year-old girl from his neighborhood was transferred Wednesday from the hospital to jail. Holder is still receiving treatment for a gunshot wound to the head. Holder will only interact with medical personnel at Tarrant County Jail. Doctors from John Peter Smith Hospital are repairing injuries Holder received after an officer shot him in the head.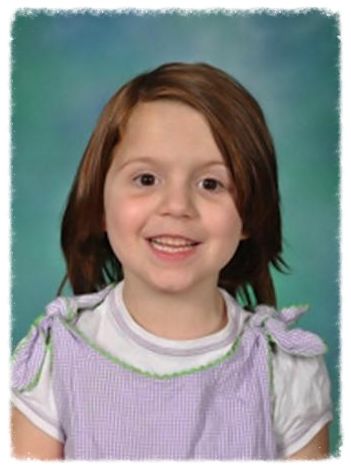 "It is common for accused child offenders to be housed separately from the general population because typically other inmates target them," sheriff's office spokesman Terry Grisham told media sources. Other prisoners — like those on the outside — recoil in disgust when they hear how Holder allegedly sexually violated Alanna Gallagher in a manner too gruesome to detail, suffocated her with white Walmart bags that he fastened with red duct tape, dumped her body in a black trash bag and hid her beneath a large gray tarp on the side of a road in their town of Saginaw. "Even if he had no medical issues, he would be housed in a single cell by himself," Grisham said.

Police say Holder opened fire on officers serving his arrest warrant, so they fired back. The suspected child rapist's bullet struck Arlington Police Detective Charles Lodatto, who was released from the hospital Tuesday. He thanked God and his colleagues his survival. "The bullet is still lodged in his pelvic area… he is at home recuperating," said Grisham.

Holder is charged with capital murder for Alanna's death and attempted capital murder for shooting Lodatto.

1st View of Rage!
Posted: Aug 29, 2013 8:22 AM PDT - Updated: Aug 29, 2013 10:04 PM PDT

CLEARWATER, FL (WCJB) - Police have been trying to figure out who killed a 22-year-old man for eight months. Now, they say a 16-year-old has confessed to the murder.

Jason Paul died in January of this year after he was stabbed while riding his bicycle home from work near Crest Lake Park. Police say Mychal King has confessed to killing Paul.

King, 16, allegedly told them he did it because he had been fighting with his family that day and "just wanted to kill the first person" he saw.




The case is the latest in a string of high-profile acts of violence by teenagers. A 13-year-old St. Petersburg boy was charged with shooting a 15-year-old after being taunted. In Oklahoma, one of three teenagers charged with the murder of a jogger said they acted out of boredom.

Despite the headlines, USF professor of criminology Kathleen Heide told media sources that juvenile homicide is down after peaking in 1993 during the crack cocaine epidemic.

Heide is the author of three books on homicidal adolescents and said physiology plays a major role.

"The last area of the brain to develop is the pre-frontal cortex, which is the area of the brain associated with thinking, and deliberation and judgment," Heide explained.

Offenders also lack any empathy or connection with their victims.

"It's as if that individual, for that moment, meaning the victim, is simply an object in their way, or an object toward their gratification, or an object on which to act out," she continued.

Jason Paul's mother knows how wrong that misperception can be. Describing her son, Renee Langfritz said Paul, "...had good friends, had a girlfriend he was madly in love with. They were getting ready to move in together...he wanted to go to school to be a vet tech."

Paul was riding his bicycle home from one of his two jobs when King confronted him. Clearwater police chief Anthony Holloway said, after the murder, King gave the knife used in the crime to a friend, who later turned it over to detectives.

Detectives say King has a long criminal history and was already in jail on other charges.

"He just had a whole bright future ahead of him," Langfritz added. "It just makes me sick that someone could do this to someone who's so innocent and so full of life."

"Anti-Authority!"
Posted: August 23, 2013, 9:17 AM - Updated: August 23, 2013, 5:06 PM PDT

LAS VEGAS, NV - David Allen Brutsche (pictured above, center-right) and Devon Campbell Newman (pictured above, center-left) attended training sessions about sovereign citizen philosophy, shopped for guns, found a vacant house and rigged it to bind captives to cross beams during interrogation, and recorded videos to explain their actions and why officers had to die. The movement they were intending to promote does not follow U.S. laws. The couple spent hundreds of hours over four months plotting to abduct, torture and kill Las Vegas police officers as a way to attract attention to their anti-authority "sovereign citizens" movement, police said. Brutsche 42, an ex-con child sex offender from California, practiced stalking Newman, posing as a police officer and putting a gun to her head to take her into custody, the report said. Newman, 67, of Las Vegas was a bit nervous, according to a police report. She asked at one meeting to unplug the television because she thought authorities could use it to listen to their conversations. According to police Thursday, at every step, an undercover officer was with them, documenting and recording the alleged plot.

Police said the investigation began when the unidentified undercover officer befriended Brutsche and Newman in April. Authorities haven't released video evidence, but the 10-page police report states that every one of the 30 meetings with the undercover officer was recorded by audio or video. "We need to arrest the police and take them to our jail and put them in a cell and put them on trial in a people's court," Brutsche said July 9, according to the arrest report. "If we run into the position that they resist, then we need to kill them." During a tour of gun stores the next day, Brutsche said that what they were planning was going to be big, "and that they would really get a large following once they started because of the publicity," the report said.

The SWAT arrests of Brutsche and Newman this week at their apartment about three miles east of the Las Vegas Strip, scuttled a carefully planned operation to draw the world's attention to the sovereign citizen cause, Las Vegas police Lt. James Seebock told reporters. "They were furthering their `sovereign citizen' ideology by committing criminal acts toward law enforcement," Seebock said. "The suspects believed that once the first kidnapping and execution was accomplished, they would be compelled to keep repeating their actions, kidnapping and killing multiple officers." He characterized the case as a domestic terror plot. Police said that when Brutsche was arrested, he denied that police had authority to hold him.

Federal authorities regard sovereign citizen extremists as domestic terrorists. Authorities have linked sovereign citizen groups with violent confrontations in recent years, including deadly police shootings in Louisiana and Arkansas. In Louisiana last year, police said that at least some of the seven people arrested after a shootout that left two deputies dead and two others wounded had links to a sovereign citizen group. In Arkansas in 2010, a father and son identified as sovereign citizen followers shot and killed two police officers before being killed by authorities in a separate shootout.

Brutsche and Newman were held Thursday at the Clark County jail in Las Vegas pending court appearances on charges including conspiracy to commit murder and attempted kidnapping. It was not immediately known if they had lawyers.

Newman told a media source in a jailhouse interview Thursday that she didn't really think Brutsche was serious about kidnapping and killing police, and that officers overstepped their authority in arresting her. She also denied being involved in the "sovereign citizens" movement, but agreed with people that believe in restrictions on the government outlined in the Constitution.

"Money Team!"
Posted: August 23, 2013 - Updated: August 23, 2013, 8:04 PM PDT

OAKLAND, CA -- Five suspected members of an East Oakland gang believed responsible for shootings, robberies and other violent crimes were arrested Thursday morning during raids across the East Bay.

Other suspected members of the Money Team gang were still being sought, police said.




The 10 search warrant raids were conducted because the suspects failed to abide by terms laid down by Operation Ceasefire, Oakland interim Chief Sean Whent's main crime-fighting strategy.

Under Ceasefire, known violent criminal offenders or representatives of the gangs and groups they belong to are told by police that unless they stop the violence and change their lifestyles, they will be arrested.

Money Team members are believed responsible for numerous killings, shootings, armed robberies and residential home-invasion robberies, police said. They have been involved in a bloody feud since last year with another East Oakland gang known as Case Boys, many of whose members were rounded up in a similar operation in March.

Another One!
Posted: August 21, 2013, 7:01 PM - Updated: August 21, 2013, 11:32 PM PDT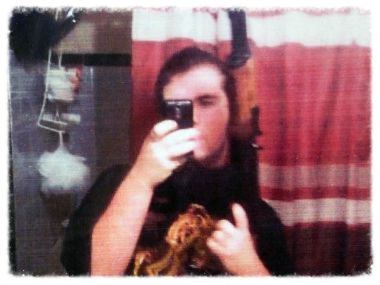 LITHONIA, Ga. -- Michael Brandon Hill (pictured above, center) the suspect in Tuesday's Atlanta-area school shooting took a photo of himself with an AK 47-style rifle. Police said he then packed up nearly 500 rounds of ammunition — enough to shoot more than half the school's students — and proceeded to the school. "We have to make a reasonable assumption he was there to do harm to someone," said DeKalb County Police Chief Cedric L. Alexander. No one was injured Tuesday, but the suspect exchanged gunfire with police who surrounded Ronald E. McNair Discovery Learning Academy in Decatur. The school's 870 students in pre-kindergarten through fifth grade were evacuated.

Police said Hill, 20, got the gun from an acquaintance, but it's not clear if he stole it or had permission to take it. Investigators said Hill may not have gone into the school with the idea of killing students, media sources reported from Decatur, Ga. They said that Hill had another motive, but what that was, police won't say.

On Wednesday, media sources obtained a police report showing Hill was arrested earlier this year for allegedly threatening on Facebook to shoot his older brother in the head "and not think twice about it." The Henry County police report shows that Hill's older brother, Timothy Hill, told police last New Year's Eve that threats Michael made a day earlier made Timothy "fear for his life." Timothy Hill told police that he knew his younger brother had "mental issues" and was under a doctor's care but that he didn't know where Michael was living at the time. "Mr. Hill advised his brother stated on Facebook that he would shoot him in the head and not think twice about it," a police officer wrote in the report. More than two months later, in March, Michael Hill turned himself in on the outstanding warrant for making "terroristic threats."

Hill's brother told media sources the suspect is bipolar and schizophrenic and has tried to kill himself several times. In June 2009, he admitted to setting his parents' house on fire.

In a 911 tape that was released Wednesday, emergency dispatchers were told during the standoff that Hill was off his medication and that he thought he should have gone to a mental hospital instead of a school. Hill held two staff members in the front office captive for a time, the police chief said, making one of them call a local TV station. The gunman demanded that police pull back. Hill can be heard on the call giving orders to police through his hostage. "Tell them stand ..," Hill told Tuff, before she told the emergency dispatcher: "Tell them to stand down now. 'Tell them to stand down now,' he said." McNair school bookkeeper Antoinette Tuff spoke for the 20-year-old Hill. She told dispatchers that Hill said he had nothing to live for and wanted police to call the DeKalb County probation office. "He doesn't want the kids," said Tuff. "He wants the police. So back off, and, um, and what else, sir? He said he don't care if he die. He don't have nothin' to live for. And he said he's not mentally stable."

"I just want you to know that I love you, though, OK?" Tuff was heard telling Hill on the 911 recording. "And I'm proud of you. That's a good thing that you just given up and don't worry about it. We all go through something in life."

At some point, he fired into the floor of the school office. As officers swarmed the campus outside, he shot at them at least a half a dozen times with an assault rifle from inside the school and they returned fire, police said. Police came into the school office, and Hill surrendered.

Meanwhile, a woman whose family once took Hill in said Wednesday that he was mentally ill but never violent in the past. Natasha Knotts told media sources that Hill lived with her and her husband for a time when he was in his late teens. She said she served as a mother figure for Hill in after he started coming to the small church where she and her husband are pastors. Knotts said Hill called her sister Tuesday afternoon before the shooting and said he had a rifle but didn't say what he was planning to do. She said she believes that Hill acted out as a plea for help. "This is something that's totally out of his character. This is not him. This is not the Mike that I know. For anyone that knew Mike, this was a total devastation," she said in an interview at her home in Lithonia. Knotts said she thinks of herself as the 20-year-old Hill's adoptive mother. Hill told her that his birth mother was dead and that he didn't know his father. He also has a brother.

Police questioned him for hours at headquarters, but declined Wednesday to discuss what he said. DeKalb County Police Detective Ray Davis said a court date could take place in the coming days. Davis said Hill's motive was unclear but he'd had contact with the school office before. Hill had an address listed in court records about three miles from the school in Decatur, but no clear ties to the school.

Hill is charged with aggravated assault on a police officer, terroristic threats and possession of a firearm by a convicted felon.

Posted: August 20, 2013, 9:22 PM - Updated: August 20, 2013, 4:38 AM pdt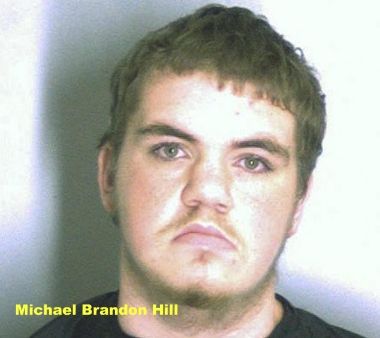 DECATUR, Ga. -- Just a week into the new school year, more than 800 students in pre-kindergarten to fifth grade were evacuated from Ronald E. McNair Discovery Learning Academy in Decatur, a few miles east of Atlanta. A man, identified later as 20-year-old Michael Brandon Hill, armed with an assault rifle and other weapons exchanged gunfire with officers Tuesday at the Atlanta-area elementary school before surrendering, a police chief said. No one was injured. Dramatic overhead television footage captured the young students racing out of the building, being escorted by teachers and police to safety. They sat outside along a fence in a field for a time until school buses came to take them to their waiting parents and other relatives at a nearby Wal-Mart. When the first bus arrived about three hours after the shooting, cheers erupted in the store parking lot from relieved relatives, several of them sobbing.

Though the school has a system where visitors must be buzzed in by staff, the gunman may have slipped inside behind someone authorized to be there, Alexander said. The suspect, who had no clear ties to the school, never got past the front office, where he held one or two employees captive for a time, the chief said. A woman in the office called media sources to say the gunman asked her to contact the Atlanta station and police. Media sources said during the call, shots were heard in the background. An Assignment editor said she spoke with the woman who said she was alone with the man and his gun was visible.

The suspect, Hill, fired at least a half-dozen shots from the rifle from inside McNair at officers who were swarming the campus outside, the chief said. Officers returned fire when the man was alone and they had a clear shot, DeKalb County Police Chief Cedric L. Alexander said at a news conference. They observed the shooter firing into the air, he then went inside the building to the school office where he saw the deputies and apparently immediately dropped his weapon and got on the ground. Hill surrendered shortly after and several weapons were found, though it wasn't clear how many, Alexander said.

"It didn't take long to know that this woman was serious," the editor said. "Shots were one of the last things I heard. I was so worried for her." School clerk Antoinette Tuff in a television interview said she worked to convince the gunman to put down his weapons and ammunition. "He told me he was sorry for what he was doing. He was willing to die," Tuff told media sources. She told him her life story, about how her marriage fell apart after 33 years and the "roller coaster" of opening her own business. "I told him, `OK, we all have situations in our lives," she said. "It was going to be OK. If I could recover, he could, too." Then Tuff said she asked the suspect to put his weapons down, empty his pockets and backpack on the floor. "I told the police he was giving himself up. I just talked him through it," she said.

DeKalb County Schools Superintendent Michael Thurmond praised faculty and authorities who got the young students to safety, staying calm and following plans in place. All teachers and students made it out of the school unharmed. "It's a blessed day, all of our children are safe," Thurmond said at the news conference. "This was a highly professional response on the ground by DeKalb County employees assisted by law enforcement."

School volunteer Debra Hayes said she encountered the suspect without knowing it. She stopped by the office at the end of her shift and saw a man talking to a secretary but she did not see a gun. "I heard him say, `I'm not here to harm any staff or any parents or students. He said he wanted to speak to a police officer."

"By the time I got to 2nd Avenue, I heard gunshots," she said.

Police had no motive for the shooting. An arrest report obtained by media sources late Tuesday found he was arrested on March 13, 2013 for making "terroristic threats." It was not clear Tuesday what those threats involved. Hill is charged with aggravated assault on a police officer, terroristic threats and possession of a firearm by a convicted felon.

---
Reader Pageviews by Country
---
From: Oct 1, 2013 9:00 PM – Oct 8, 2013 8:00 PM
---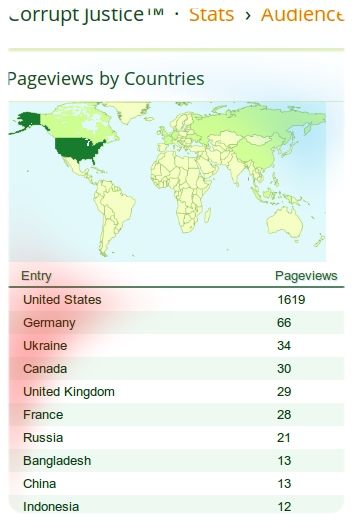 ---
---
«•
Thank you for visiting Corrupt Justice™. Enjoy our Free Movie Intermission! Don't forget to Bookmark Us & Tell A Friend! We're Global!
•»
---
Movie Intermission!
L.A.P.D. Stephanie Lazarus'
Homicide Interrogation (Full)!
---

Description: Los Angeles -- Detective Stephanie Lazarus was sentenced to 27 years to life in prison with the possibility of parole for killing her ex-boyfriend's wife nearly three decades ago in a fit of rage and jealousy. Prosecutors said in a "statement of views" filed in court that "Lazarus misused her police training in the most profound way imaginable by utilizing that training and experience to commit murder and to cover up her crime. Lazarus betrayed the trust placed in her by the Los Angeles Police Department and by people of Los Angeles in order to pursue her own murderous ends."!

---
---