↓↓↓↓↓↓↓↓↓ Blog Post Starts Below ↓↓↓↓↓↓↓↓↓
---
Click on Banner to Sell Your Home(s)!
---
Top News Story!
Mentalaska!
Published: October 30, 2016 ~ Updated: November 1, 2016 11:30PM PDT

Fairbanks, Ak -- Sgt. Allen Brandt was an 11-year veteran of the Fairbanks, Alaska police department. The officer was shot earlier this month. Brandt was shot five times Oct. 16, 2016, while responding to a report of gunfire. Prosecutors said the officer was struck twice in the right leg; once in the left leg; and once in the right foot. A grazing wound hit his right knee. Brandt's Body armor stopped a shot to his chest. However, at least two bullet fragments entered his right eye.




Brandt initially was released from an Anchorage hospital. He addressed a Fairbanks city council meeting Oct. 24, 2016.
He had been hospitalized Thursday for a scheduled procedure to have shrapnel removed from his eye. Brandt died Friday of complications from surgery related to his injuries. Fairbanks Acting Police Chief Brad Johnson told reporters that Brandt had "suffered complications afterward which continued to deteriorate throughout the day and from which he was unable to recover."



The suspect in the shooting is Anthony George Jenkins-Alexie, 29 (pictured above, center-inset-left). Prosecutors say Jenkins-Alexie took Brandt's gun from the officer's hand while he was lying on the ground. He tried removing ammunition from Brandt's duty belt but could not. He then stomped on Brandt's head. Brandt struggled to stand and tried to get away. Jenkins-Alexie followed, mocking him, then got into the patrol car and drove away. Jenkins-Alexie confessed to the shooting. He wrote a letter of apology to Brandt. The letter read in part: "I am mental just a little bit You didn't deserve it. I was seeking vengeance from [Fairbanks Police] for taking my relatives lives and closest friends. I was wrong."

Jenkins-Alexie has been charged with attempted murder and a slew of other charges as follows: assault; theft of a firearm; theft of a patrol car; evidence tampering; possession of a firearm as a felon; and firing a gun at a building. Fairbanks District Attorney Greg Olson said late Friday that his office was considering upgrading the attempted murder charge against Jenkins-Alexie to murder after Brandt's death.

Guilty!
Posted: June 9, 2015 - Updated: June 9, 2015 - 7:38 pm PDT

New York -- Wojciech Braszczok, 34, An undercover New York police detective and another man were found guilty on Tuesday of assault. The two were part of a group of motorcyclists who dragged a driver from his car in Upper Manhattan and beat him in front of his wife and baby daughter. State Supreme Court judge Maxwell Wiley, in Manhattan, acquitted the two men of the top charge they faced: first-degree gang assault. The defendants chose to have the judge decide their cases rather than a jury.

On Tuesday morning, after a three-week trial, Justice Wiley found the detective guilty of second-degree assault, coercion, riot and criminal mischief. However, he rejected the most serious charges, gang assault and first-degree assault. The judge said the prosecution had not proved the detective shared the intent of the other attackers to hurt the victim. The other defendant on trial, Robert Sims, 36, an electrician, was convicted of attempted gang assault, second-degree assault, coercion, riot and criminal possession of a weapon.

Justice Wiley allowed the two men to remain free on bail pending their sentencing hearings. Sentencing has been scheduled for early August. Detective Braszczok faces at least two years in prison, while Mr. Sims faces at least three and a half years. Lt. John Grimpel, a Police Department spokesman, said Detective Braszczok had been "suspended pending termination," meaning he would be fired.

The victim, Alexian Lien, and his wife, Rosalyn Ng, testified that dozens of motorcyclists first forced their car to stop on the Henry Hudson Parkway near 125th Street after getting into a minor dispute with them on the road. The couple's 2-year-old daughter was in the back seat. When bikers surrounded their car and threatened them, Mr. Lien said, he hit the accelerator, running over one of the motorcyclists, Edwin Mieses, and breaking the man's spine. Scores of bikers gave chase and caught up to Mr. Lien's car on 178th Street.

The attack was recorded by one motorcyclist's helmet camera and on an iPad belonging to another biker. In one video, Detective Braszczok can be seen punching the back window of the car, then kicking the side panel twice, just before others dragged Mr. Lien out. The video, along with a series of photographs, also show Mr. Sims first trying to force Ms. Ng from the car, then walking around the rear end and joining the attack on Mr. Lien, stomping him with his feet. Both men were identified through their helmets and distinctive motorcyclist clothing.

Detective Braszczok never touched Mr. Lien. He testified that he was only trying to stop the car from fleeing an accident. He claims that he did not know the other bikers would attack the driver. He said he reflexively smashed the rear window with his hand after a projectile punched a softball-size hole in it — a projectile he thought had come from inside the car. In that moment, he said he became scared, and a few seconds later fled on his motorcycle, seeing the crowd pummel Mr. Lien as he left.

Before his arrest in 2013, the detective had spent several years as an undercover investigator. He worked first as a drug purchaser in narcotics investigations. He was then assigned to infiltrate the Occupy Wall Street movement. During the trial, the detective had tried to keep his face hidden, covering his head with a T-shirt when he came to and left court. However, after the verdict, Detective Braszczok allowed photographers to take his picture. He declined to explain why.

Outside court, the detective's lawyer said Justice Wiley had vindicated his client. "He didn't intentionally cause any injury to Mr. Lien or to anyone," he said. "He wishes to move on with his life." Mr. Sims's lawyer said he hoped to persuade Justice Wiley to give his client — who spent 16 months in jail before posting bail — the minimum sentence, given the circumstances. Though Mr. Sims did not testify, his lawyers argued that his actions were provoked by the sight of Mr. Lien's car crushing a fellow motorcyclist. "This is a case where there is bad behavior on behalf of a lot of folks," the lawyer said. "I think in the heat of the moment they did some dumb things, but I think a lot of folks did a lot of dumb things."

Justice Wiley did not explain his decision to acquit the men of gang assault, except to say he had carefully parsed the evidence about the intent each man had during the episode and then applied the law.

The Manhattan district attorney, Cyrus R. Vance Jr., said on Tuesday that the convictions showed his office's resolve not to tolerate mob violence. "The explosive nature of this gang assault, much of it captured on camera, was shocking, and for the victim and his family, a terrifying ordeal," Mr. Vance said. Nine other bikers had pleaded guilty to second-degree assault for their roles in the attack, which took place on Sept. 29, 2013, on 178th Street near Wadsworth Avenue during a motorcycle rally that drew hundreds of bikers.

Undercover Beatdown!
Posted: Oct. 9, 2013 - Updated: Oct. 9, 2013 - 9:38 pm PDT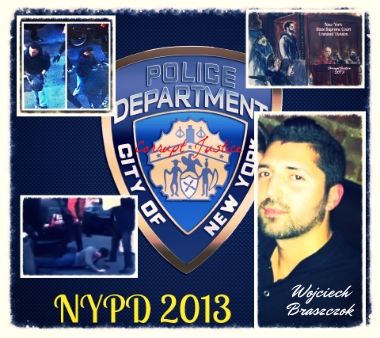 New York City -- Wojciech Braszczok (pictured above, center-inset-right) an off-duty undercover New York City cop, was officially charged today for alleged his role in the assault of an SUV driver. The undercover narcotics police detective was part of a group motorcycle riders that assaulted SUV driver Alexian Lien. Braszczok initially told his superiors days after the incident that he saw the attack but did not stop it for fear of blowing his cover, police said. But video captured at the scene revealed that he actually participated by smashing the back window of Lien's Range Rover, law enforcement sources said. He is a 10-year veteran of the NYPD, according to a law enforcement source. He is an undercover detective who spent much of his police career in narcotics but recently transferred to another division, the source said. Internal Affairs had been reviewing Braszczok's former narcotics cases as charges against him were being contemplated, the source added.

Braszczok, 32, was charged with gang assault, assault and criminal mischief in connection with the attack on Lien on Sept. 29. Those charges include felonies -- upgraded from the initial misdemeanor charges of riot and criminal mischief announced by authorities when he was arrested Tuesday. During his appearance in Manhattan's criminal court, Braszczok wore army fatigues and a black hooded sweatshirt. He stood motionless as the charges were read. Braszczok is being held on $100,000 cash bail or $150,000 bond. Braszczok's attorney called the gang assault charge an "absolute overcharge" and said there's no evidence the detective knew the other bikers. The riders are a loosely knit group that arranges rides via the Internet, his attorney said. Braszczok's attorney said his client is accused of breaking "what was already broken." There was a "gaping softball [sized] hole" in the window that the detective is accused of breaking, the attorney said during the court appearance.




While Braszczok is not accused of directly assaulting Lien, prosecutors said he terrorized the driver's family. He was captured on video kicking the passenger-side rear door multiple times where, prosecutors pointed out, Lien's 2-year-old daughter was in the back seat. Braszczok is the latest in a string of arrests connected to the incident. Five other motorcyclists have been charged, and police say they are continuing to search for suspects. "In the last few days, serious charges have been brought against several defendants in last Sunday's attack," Erin Duggan, a spokeswoman for Manhattan District Attorney Cyrus Vance, said Tuesday. "As we said from the beginning of the investigation, the NYPD and the district attorney's office are methodically scrutinizing the evidence to build the strongest possible cases in our continuing effort to hold accountable those responsible." Police released photos of additional suspects to the public on Tuesday.

Investigators believe that while Braszczok was one of three cops on the ride in the general area of the attack, he was the closest to the beating and the only one to have a clear view of what was happening, a law enforcement source said. They believe another detective was further away from the attack and a third, an officer, was "in the way back" of the motorcycle pack, the source said. The other two officers' conduct was being probed, but investigators said they were not expected to face criminal charges, the source added.

The melee began around 2 p.m. on Sunday, Sept. 29, when Lien, who was driving on the highway with his wife and 2-year-old daughter on an outing to celebrate the couple's wedding anniversary, tapped the back of a motorcycle that cut in front of him and slowed down, police said. The rest of the bikers then closed in on him, prompting Lien to speed off, hitting three bikers as he accelerated away from the group, according to the NYPD. The group chased Lien and then pulled him from his car and beat him, cops said. Clint Caldwell, 32, was also expected to be arraigned today for his role in allegedly helping to pull Lien out of the SUV and beat him.

Much of the chase was caught on a helmet camera video that was then uploaded to the Internet. Police said they have used the video and images taken at the scene to identify suspects. Detectives have also obtained additional footage and photographs from others that have helped them piece together what went on, sources said.

A grand jury is already hearing evidence in the assault cases that have been filed, and Lien is expected to make a video statement for prosecutors for the grand jury, authorities said.

Choice Words!
Posted: Friday, May 15, 2015 - Updated: May 20, 2015 - 4:59 pm PDT

Denver, CO — Denver Police Officer Choice Johnson is currently on a mandatory 30-day vacation. Surveillance camera footage showed him shoving Brandon Schreiber down a flight of stairs. In a police report he lied about the incident. Schreiber was charged with assault and resisting. The charges were eventually dropped after this video surfaced.

Had the surveillance camera footage never been released Schreiber would have most likely been convicted of a crime he did not commit. This was the first time, out of a whopping 17 complaints against officer Johnson that he was ever reprimanded.




Armondo Prado was roughed up at the same bar as Schreiber by officer Johnson.

Prado was out with his sister and her friend in 2013 when her friend was asked to leave for being too drunk. The three were then violently thrown out of the bar by officer Johnson and Prado was slammed into the wall and punched multiple times.

Prado was charged and convicted of resisting arrest despite knowing that he did not resist. It was only his word against officer Johnson's.

After the initial arrest, Prado's sister, Angie Dena, contacted internal affairs to ask for the surveillance camera footage which could prove their case.

Internal affairs, in an overt lie, replied, "The HALO camera did not have footage."

"I went back to the bar and counted about 5-7 cameras outside. All around and above the area where the incident occurred. Unless those were off the night of the incident they absolutely had to get some footage." said Dena.

Through a public records request, the video was finally released.

"I feel like I can't trust anybody in law enforcement," Dena said after obtaining the footage police claimed never existed.

In his report, Officer Johnson stated that "Prado continued to actively fight with closed fists and kicks." But when we look at the video, this is not the case.

"They don't tell you the truth. They tell you stuff doesn't exist, and they investigated themselves and cleared themselves," explains Prado.

When asked to comment on why they lied and said the video did not exist, the DPD declined.

Knox Tourette's Syndrome!
Posted: May 12, 2015 03:18:41 PM PDT - Updated: May 14, 2015 10:27:41 PM PDT

Mount Vernon, OH — A Knox County deputy is now being investigated after he fatally assaulted 33-year old David Dehmann on April 21. Dehmann was autistic and had Tourette's Syndrome, and this was well-known by the local law enforcement.

Mount Vernon police picked up Dehmann on the 21st for being intoxicated but was released within a couple hours after being cleared by a hospital for release. At 7:43pm that same day, he was arrested near a public school for disorderly conduct – harm to self, at which point he was taken to Knox County Jail by MVPD Cpl. Travis Tharp when things took a turn for the worse.

During the booking process, Dehmann would not make it 15 feet into the station before his life would be ended.

The sickening surveillance camera footage of his killing was released last week which showed this deadly act of police rage.

The video starts out showing Dehmann being completely cooperative. He maintained this cooperation throughout the entire process.

He's seen helping the deputies to remove his clothing and his shoes. At one point, he even playfully pats one of the deputies on the back; something a child might do.

Most of the deputies in the room seemingly laugh it off as an innocent autistic man being silly because he's drunk. This was apparent by the lack of restraints on Dehmann.

However, Deputy Chase Wright was not enjoying Dehmann's shenanigans.

As Dehmann is walking past the officers, either drunkenly or playfully, he points his finger at them; never making actual physical contact. When he gets to deputy Wright, he points just like he did to the first, but he is swiftly met with physical retaliation. His hand is slapped and deputy Wright proceeds to slam the autistic and impaired Dehmann to the ground with so much force that when his head hit, it killed him.

Prior to the body slam, Dehmann can be seen with his arm up in what seems to be some sort of physical move. However, his fist is not closed and is fingers are out. He was obviously not trying to punch nor was he in any capacity to cause harm to Wright.

Dehmann's family is left devastated. Dehmann's step-mother Melissa spoke on the tragedy, saying "He might have had his issues in the past and everything, but he didn't deserve to die because of this."

The original statement by the KCSO stated,

"While Dehmann was in the jail's intake area he became aggressive with the jail staff making an aggressive move towards Deputy [Chase] Wright. Mr. Dehmann did attempt to hit Dep. Wright in the face causing Dep. Wright to place Mr. Dehmann into a take down hold, taking him to the ground to get control of him. Once control was gained it was found that Mr. Dehmann had hit his head on the floor during the incident. Mr. Dehmann was transported to KCH ER by Mount Vernon medics for a medical evaluation."

When you watch the video below, it is all too clear who "became aggressive" in this situation.


Russian Roulette!
Posted: May 12, 2015 03:18:41 PM PDT - Updated: May 14, 2015 10:27:41 PM PDT




CHICAGO, Ill. — The Chicago City Council on Wednesday unanimously voted to approve a historic $5.5 million reparations fund for torture victims of the notorious Chicago police Cmdr. Jon Burge and his so-called midnight crew of rogue detectives.

"This is another step, but an essential step, in righting a wrong — removing a stain," Mayor Rahm Emanuel said of the reparations fund that he backed and advocates say is the first of its kind in the nation. "Chicago has finally confronted its past and come to terms with it and recognizing something wrong was done."

The vote came after an emotional debate in which some of Burge's victims looked on from the gallery in council chambers.

Alderman Howard Brookins, 21st, chairman of the council's African-American caucus, noted that approval was a long time in coming. "We have shown today that that type of abhorrent behavior will not be tolerated in our city," Brookins said.

"Does it totally make up for what happened?" asked Alderman Joe Moore, 49th. "Absolutely not. But it's a powerful statement."

While Emanuel hopes the fund closes "the Burge book on the city's history," it's likely that dozens more people will come forward to claim they were tortured at the hands of Burge and his associates.

The ordinance under consideration also includes a formal apology and states that the city "wishes" to provide other benefits to more than 50 torture victims and their families that "may include" free City Colleges tuition, various types of counseling, job training and placement and senior services.

The deal also would create a permanent memorial recognizing the victims and ensure that eighth- and 10th-grade students attending Chicago Public Schools would be taught about the Burge case and its legacy, cementing the scandal's role in city history.

Between early 1972 and late 1991, Burge and his men allegedly tortured confessions out of scores of mostly African-American South Side men using electric shocks, beatings, smotherings and simulated Russian roulette.

Slam Dunk!
Posted: Friday, September 27th, 2013 - Updated: Oct. 9, 2013 - 9:38 pm PDT

Tennessee - A federal inmate with two broken legs -- including a compound fracture with bone protruding through the skin. One video showing police officers raining down dozens of blows on him. Then two police officers fired over what the chief called their use of excessive force against halfway house inmate Adam Tatum. It seemed like a slam-dunk case.



But now an administrative law judge has ruled that former Chattanooga police Officers Sean Emmer and Adam Cooley should be reinstated with full back pay and benefits. The city should also pick up the tab for the three-day proceeding, the judge said.

They could be back on the job within weeks, despite Police Chief Bobby Dodd's concerns and Mayor Andy Berke's objections.

"I'm just stunned by the decision," said Dodd, who is meeting with city attorneys this morning. "We'll make a decision on how we're going to move forward from here."

The city has until Oct. 9 to file an appeal to the Secretary of State Administrative Procedures Division. The city also may appeal through Hamilton County Chancery Court.

The Attorney who represented Emmer, said the officers are ready to return to work and were just doing their jobs that night.

"I'm happy for these officers. Quite frankly, Mayor [Andy] Berke has been saying for weeks that we need more police officers out on the streets and I've got two right now who are willing to go back out there," Hoss said.

As part of her opinion, Judge Kim Summers wrote: "Certainly, the use of force and the injuries sustained by Mr. Tatum were not ideal but neither were they dictated by the conduct of officers Emmer and Cooley. As such, it would not be an acceptable ending to this situation to ruin the lives and careers of two otherwise unblemished and promising police officers who came across the path of Mr. Tatum only because he chose to violate his parole by taking cocaine, engaging in violent behavior, and disregarding lawful directives from law enforcement. It was Mr. Tatum, not officers Emmer and Cooley, who set in motion this very regrettable chain of events as well as the unfortunate, but avoidable, conclusion."




The incident happened June 14, 2012, as officers responded to a disorder call at the Salvation Army halfway house on McCallie Avenue. At the time, Tatum was completing a sentence for robbery.

Tatum, 37, initially had a knife even though officers did not immediately realize it. The officers used a stun gun and pepper spray before striking Tatum more than 40 times to subdue him.

"While the number of baton strikes may have been extraordinary, so was the level of Mr. Tatum's resistance," Summers wrote.

Video of the incident showed Tatum on the ground passively resisting, law enforcement experts testified at the hearing.

Tatum is unemployed and living off his family because he can't do any manual labor, said his attorney. He is representing Tatum in a $50 million federal lawsuit against the city. A trial date has been set for 2015.

"It just looks like there's no common sense being applied to this. It really boggles the mind that an administrative law judge could look at that as perfectly acceptable behavior of a police officer or anybody," Flores said.

But Hoss said the officers "were responding to a bad situation."

"This judge heard over 20 hours of testimony and had a trial and found these officers did nothing wrong, but acted pursuant to policy," he said.



The officers were fired in November 2012. A Hamilton grand jury declined to indict them and federal investigators never filed charges against them.

Berke said in an emailed statement Thursday he is "extremely disappointed" with the judge's opinion.

"Any kind of misconduct is unacceptable and will not be tolerated in the Chattanooga Police Department," he said.

Dodd has said he didn't trust the officers to interact with the public after Tatum's beating. If they return to the department, it's unclear where they will be assigned. Before the firing, they worked evenings in the downtown Bravo district.

One of the arguments made during the hearing was that the officers did not maliciously beat Tatum. Summers agreed in her order.

"Neither Officer Emmer nor Officer Cooley arrived at the Salvation Army facility with the intent to beat and injure Mr. Tatum but were only using their training and experience to resolve a very difficult and unexpected situation as quickly as possible. ... There were no allegations against the officers of any deliberate misconduct, only that the officers did not use good judgment and that their actions, under very trying circumstances, were not appropriate. However, even with the benefit of hindsight, no one has been able to offer a better approach for resolving the situation," Summers wrote.

Posted: Thursday, December 6th, 2012 - Updated: Oct. 9, 2013 - 9:38 pm PDT

Tennessee - The Hamilton County grand jury recently declined to indict two former Chattanooga police officers who beat a man until he had severe injuries to his legs, including a compound fracture.

The grand jury had the option to charge former officer Sean Emmer on a class C felony charge of aggravated assault and former Officer Adam Cooley on a class A misdemeanor charge of assault after viewing evidence, according to a "no bill" issued last week.

Evidence in the case includes a video from the Salvation Army on McCallie Avenue where federal inmate Adam Tatum was housed as part of an inmate program.

"It makes Rodney King look tame. It's bad," said an attorney who is representing Tatum, who recently viewed the video.

Police responded to a call about a disorder in July where Tatum was reportedly kicking the door of a control room. He had a knife that was taken away from him early on during the scuffle. Officers used mace and a stun gun on Tatum. Neither seemed to affect him. Both officers continued to strike Tatum.

The attorney is seeking a settlement from the city of more than $10 million, he said.

He referenced a 2008 case in which a Chattanooga police officer shoved a 71-year-old Walmart greeter and the grand jury chose not to indict the officer after seeing video footage of the incident. The department suspended the officer for 28 days at the time.

Now with this latest case, Flores said, "It tells me that the Hamilton County grand jury -- when it comes down to force issues -- they will not indict an officer. If it were anyone else, they would indict."

"Self-Defense!"
Posted: 2:09 pm - August 01, 2013 — Updated: 03:32 pm PDT - August 03, 2013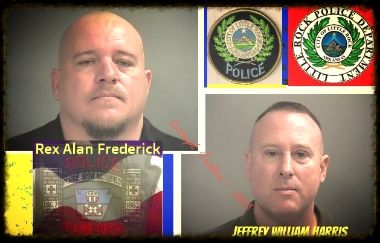 Fayetteville, Ark. -- Two Arrest Warrants were issued for former Little Rock police officer Jeffrey William Harris, 44, and former Prairie Grove police officer Rex Alan Frederick, 43, for misdemeanor counts of harassment and disorderly conduct, according to a news release. A warrant for aggravated assault, a Class D felony punishable by up to six years in prison, was also issued for Harris. The Two former police officers are accused of involvement in an altercation at a Fayetteville bar.

On April 13, Harris and Frederick got drunk at Billy's Bar and Grill, 989 S. Razorback Road, Fayetteville, and began harassing other customers, including sitting down uninvited at people's tables, buying drinks for the girlfriends/wives of men at the tables, grabbing their arms and slapping them on the back, which people interpreted as the men trying to start a fight, according to the arrest warrant affidavits. Frederick shoved one man after a verbal confrontation ensued, while Harris pointed a gun "directly at individuals," according to the warrants. Harris claimed he pointed his weapon "in self defense of a third party" but witness statements and surveillance video contradict his account, according to an affidavit.

On Thursday, Washington County Circuit Court Judge William Storey swore in Crawford County Prosecuting Attorney Marc McCune as special prosecutor for the case. Both men turned themselves in, according to a jail official, after McCune announced a judge issued warrants for their arrests Thursday. Harris was booked into the Washington County Detention Center at 8:02 p.m. and released at 8:24 p.m. on a $2,500 bond. Frederick was booked at 4:24 p.m. and released at 4:50 p.m., also on a $2,500 bond.

Both men were fired from their respective departments after the altercation. Both Frederick and Harris are represented by private attorneys.

Beatdown!
Posted: Aug 01, 2013 12:55 PM PDT Updated: Aug 03, 2013 09:55 PM PDT




LIVINGSTON PARISH, LA (WCJB) - According to officials, a Walker, LA police officer was arrested after being accused of hitting a juvenile rape suspect several times who was already in custody.

The Livingston Parish Sheriff's Office responded to a disturbance on Walker South Road in Denham Springs, LA. When deputies arrived on the scene, a Walker Police Officer had a suspect in custody.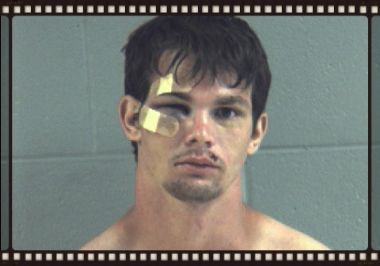 The suspect, 19-year-old Raymond Robison (pictured above, center) is accused engaging in sexual acts with a juvenile.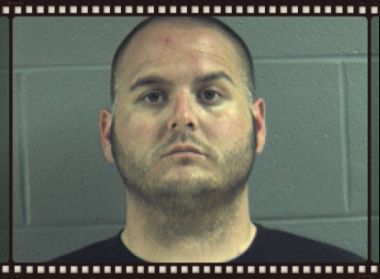 The officer, 32-year-old James Dipuma (pictured above, center) is accused of striking Robison several times while in custody. According to officials, Dipuma also failed to stop a family member of the victim from hitting the suspect while in custody.

Officer Dipuma was arrested and charged with malfeasance in office and second degree battery. He is no longer in the Livingston Parish Detention Center.

Raymond Robison was arrested and charged with molestation of a juvenile, resisting an officer and aggravated rape. He is currently in the Livingston Parish Detention Center and his bond is set at $150,500.

The family member of the victim who hit the suspect was arrested and charged with simple battery. He is no longer in the Livingston Parish Detention Center.

The Last Show!
Published On: Wed, Jul 17th, 2013 - Updated: 08/15/2013 02:32:09 AM PDT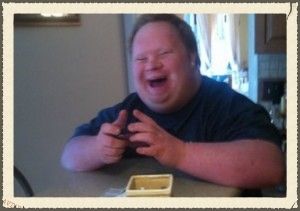 Frederick County, Md. -- New documents reveal that Frederick County sheriff's deputies, who tried to force a young man with Down syndrome out of a movie theater, were warned he would "freak out" if they touched him. The decision led to his death as Robert Ethan Saylor's aide tried to explain his condition, but sadly this contributed to his death. The aide's statement about what happened the day Saylor died is among a package of documents released to the Saylor family's attorney and media sources by the sheriff's department detailing its criminal investigation. Before the documents were released, only the most basic details of what happened that January day were known. "I don't understand why it has taken this long to produce," an attorney for the family, said of the report Monday night. "We're happy that we finally have it."

The aide, whose name was redacted from the documents, said Saylor had a history of angry outbursts and had lost his temper earlier that evening. As they stood outside the theater after the movie, he began cursing and punched a storefront window, frightening her, she wrote. "Next thing I know, there are I think three or four cops holding Ethan, trying to put him in handcuffs," the aide told authorities, according to documents from the Frederick County Sheriff's Department obtained Monday by media sources. "I heard Ethan screaming, saying 'ouch,' 'don't touch me,' 'get off' and crying. Next thing I hear is nothing."




Advised over the phone by his mother and another caregiver to give him a few minutes to calm down, the aide went to get the car, leaving him in front of the theater, she told authorities. By the time she returned, Saylor was in the theater, seated, and a manager was telling her that he couldn't watch the movie because he hadn't paid for a ticket.

"I explained, 'Yes, we are having a little issue, I'll handle it. We just have to be patient,' " the aide wrote in her statement. "Then a sheriff came and said, 'Another show is starting. I have to go get him out. I explained Ethan is (sic) Down syndrome." The aide said she advised the deputy to "wait it out."

"Then the sheriff went in and started talking to Ethan and Ethan was cursing at him," the woman wrote, adding that the officer threatened to arrest Saylor. "I then said, 'Please don't touch him, he will freak out.' "

The 98-page incident report and handwritten statements from 22 witnesses provide the most detailed account yet of how Saylor, age 26, went from wanting to watch a movie he liked twice to dead from asphyxiation within minutes. A witness said one of the deputies had a knee on Saylor's back, but no one reported seeing the deputies touch Saylor's neck. The Chief Medical Examiner's Office in Baltimore ruled Saylor's death a homicide as a result of asphyxia. There was unexplained damage to his larynx.

Federal Way Suburb!
Posted: 04/22/2013 01:32:09 AM PDT - Updated: 04/22/2013 01:32:09 AM PDT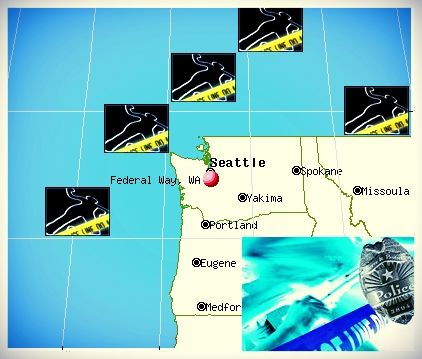 Seattle, WA - Five people were killed in a shooting at an apartment complex near Seattle late on Sunday, including a suspect who was shot by officers, police said. Officers were called to a shooting in progress at around 9:30 p.m. local time (12:30 a.m. ET) emergency call from the complex in Federal Way, which is between Seattle and Tacoma, police spokeswoman Cathy Schrock said. Gunshots were still being heard when officers arrived at the complex, she said.




"As officers assessed the scene two males could be seen in the parking lot injured," Schrock said in a statement. "An officer attempted to rescue the men, and as the (police officer) approached, one of the males on the ground reached for a weapon." This led to police officers firing on the suspect. Three men were confirmed dead in the parking lot, and a woman and another man were found dead in a nearby apartment, police said. No officers were injured in the incident.

While there was no word on what caused the gunfire, police said they did not think another shooter was on the loose.

1 Down, 1 Dead!
Posted: 04/19/2013 02:52:09 PM PDT - Updated: 04/20/2013 01:52:11 AM PDT

This undated photo provided by the Massachusetts Bay Transportation Authority shows transit police officer Richard Donohue, 33, who was critically injured in an early morning shootout Friday, April 19, 2013, with the two suspects in the Boston Marathon bombings. (Massachusetts Bay Transportation Authority)




CAMBRIDGE, Mass. (WCJB) — The transit police officer who authorities say was severely wounded by the Boston Marathon bombing suspects remains in critical condition at a Cambridge hospital. Mount Auburn Hospital spokesman Michael O'Connell says the officer had emergency surgery after suffering a single gunshot wound. The 33-year-old Richard Donohue (pictured above, center) was brought to the hospital at about 1 a.m. Friday after a shootout with the suspects. Massachusetts Bay Transportation Authority spokesman Joe Pesaturo says Donohue is a married father of a 6-month-old child. He has been with the MBTA's police department for three years. Donohue graduated in the same police academy class as Sean Collier, the Massachusetts Institute of Technology police officer who authorities say was killed by the two suspects. One of the bombing suspects is dead. The other remains at large.

Potrero Hill!
Published: Wednesday, April 17, 2013 Last Updated: Apr 18, 2013 at 3:06 AM PDT




SAN FRANCISCO, CA (WCJB) -- A San Francisco police officer shot a domestic violence suspect in the city's Potrero Hill neighborhood Wednesday night. Police say they received a 911 call around 9:45 p.m. from a man in the 900 block of De Haro Street, at the corner of Southern Heights Avenue. The man told police that he had just stabbed his brother-in-law. A dispatcher heard the victim in the background asking for help. When police arrived they saw the victim bleeding in the doorway and the brother-in-law standing near him with a hammer in his hand. When he refused to put down the hammer, police say they shot and killed him. The stabbing victim was taken to the hospital where he is in serious condition. A large knife, described to be like a machete, was found nearby.

Justified Force!
Published: Wednesday, April 17, 2013 at 9:20 PM - Updated: April 21, 2013 at 12:06 PM PDT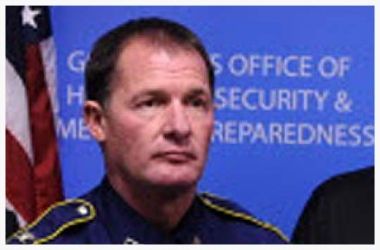 New Orleans, LA -- State Police Superintendent Col. Mike Edmonson (pictured above, center) in a April 17th afternoon press conference, said there would be no disciplinary action taken against any of the nine white plainclothes troopers involved in and incident where they tackled two young black men in the French Quarter the Sunday before Mardi Gras. Edmonson said that although the tape of the incident is "unsettling" to watch, he believes the troopers acted justly and with "minimal force." Edmonson said the troopers suspected the young men were in violation of curfew. But they were incorrect: One was 17 and the other was 18, which means they were not subject to curfew regulations. The video, which lacks audio, shows 17-year-old Sidney Newman and 18-year-old Ferdinand Hunt standing against a wall. Suddenly, a group of plainclothes officers approaches. Some of the officers tackle the teenagers to the ground. As part of his evaluation, Edmonson said he watched the video dozens of times, with his academy trainers, "frame by painstaking frame." The trainers, he said, found the troopers in the video acted consistently with the State Police's academy standards.




Later in the video, a uniformed NOPD officer approaches the group. She reportedly tells them she is Hunt's mother, and the officers shortly let both men go with her. Hunt's mother is NOPD officer Verna Hunt, who works in NOPD's 8th District, which patrols the French Quarter.

Edmonson said the troopers' use of force was justified because, as the undercover officers approached the duo around 11:10 p.m. in the 700 block of Conti Street, Hunt tried to run and Newman reached into his pants pocket. "That changes the scope of the matter," Edmonson told reporters. "At that point, the officers, they don't know what they have. They believe they have something because one is trying to get away. Look, I teach my own kids if somebody comes up to you and tells you they're a police officer, you stop right there. You listen to them. And that didn't happen here."

At Wednesday's news conference, Edmonson said that the undercover team's 111 curfew arrests were done in "the exact same way." He said those arrests included both black and white juveniles; however, he did not break down the numbers further. He said the undercover task force was largely enforcing juvenile curfew, weapons and drug laws. Such proactive policing by State Police and the NOPD, Edmonson said, "I think is why we have the only place on earth where Mardi Gras can take place and it's in a safe manner."

According to an NOPD incident report, however, Hunt and Newman told police the plainclothes officers never identified themselves as police either verbally or with their badges. Hunt told NOPD Sgt. Mark Mumme, who wrote the report, that as the men approached and "grabbed for him," he "attempted to get back inside the restaurant by his mother." In her statement to the NOPD, Officer Hunt said she had just warned her son and his friend about holding their iPhones out in the French Quarter, as there had been a recent rash of iPhone snatchings. When the group of men approached, Newman told the NOPD, he hastily put his iPhone in his pants pocket "for safe keeping," the report says. One of the troopers tackled Newman to the ground, and held him there until the uniformed NOPD officer came toward them, screaming. Those movements by Hunt and Newman caused the undercover officers to assume the pair was "resisting" and thus, the police were warranted in using more force, Edmonson said, arguing that the young men should have stayed still.

NOPD Superintendent Ronal Serpas, however, said he disagrees. "Anyone who has watched that video -- law enforcement or not -- will agree that the teenager who was brought to the ground by a state trooper should have been treated differently," Serpas said in a statement. Hazel Newman, Sidney Newman's mother, told media sources that she thought the officers overreacted, and she wondered whether race was the reason. "Why take a child or a young man that's 130 pounds and sling him across? Why not just walk up to him and say, 'What are you doing? What's your name or why are you here?' That's a human being," Hazel Newman told the station. "I would hate to think that it was because these boys were young black boys."

Officer Hunt told the NOPD she exited Oceana Restaurant, where she was waiting for takeout food for her and the young men, when a cook told her there was a "problem" outside. When she first came outside, the undercover officers' badges were not visible, she told the NOPD. "Get your motherfucking hands off of my son!" Hunt yelled, according to NOPD Detective Brett Mathes' statement in the NOPD report. Mathes was the only NOPD officer accompanying the nine troopers that night. State Police Sgt. Chris Jordan identified himself to Officer Hunt. "I don't give a fuck who you are! Get your fucking hands off my son!" she reportedly said. At that point, Jordan ordered the troopers to release the two young men, the report says.

Edmonson said he found Hunt's intervention "troubling." State Police filed a complaint with the NOPD's Public Integrity Bureau alleging Hunt had interfered with a police investigation. Edmonson said he personally wrote a letter to Serpas asking him to investigate Officer Hunt's actions. While the NOPD's Public Integrity Bureau is investigating the complaint -- as they do with all formal complaints filed -- Serpas defended Officer Hunt in his statement Wednesday. "As far as NOPD Officer Verna Hunt is concerned -- first and foremost -- I saw a mother protecting her child, not a police officer interfering with an investigation," Serpas said.

Both Hunts and Newman declined to participate in the State Police internal investigation. State Police investigators tried several times to interview them, Edmonson said. The internal investigation relied on statements from all the troopers involved, as well as several videos from multiple angles, Edmonson said.

Officer Hunt may have declined to speak out of fear of retaliation at her job or by the State Police, said Danatus King, the president of the local chapter of the National Association for the Advancement of Colored People. "There's a good portion of the public that has an idea that the mother may have been coerced into not giving a statement," King said, noting the State Police's insistence that the NOPD investigate her actions. "That, in and of itself, is intimidating. (Fear) would be a natural reaction."

When asked about the possibility of the trio being afraid to speak to State Police investigators out of fear of retaliation, Edmonson responded, "My initial response is that's a sad day. But I know the public -- they don't want to hear that. Because some of them truthfully feel that. I can promise you, if you approach the Louisiana State Police, you will be treated with the utmost respect, the utmost professionalism and you will never be retaliated against from this department."

State Police declined to release their complete investigation in response to a public-records request by media sources. King said for the public to have any confidence in the investigation, State Police should release the complete report. "It's important that all the evidence be released," he said, "because right now, the conclusion reached by the State Police is inconsistent with the only evidence the public has been made aware of."

New Orleans Mayor Mitch Landrieu, Superintendent Serpas and NAACP local chapter president King lambasted the findings of a Louisiana State Police internal investigation unveiled Wednesday that found that nine white plainclothes troopers acted appropriately when they tackled two young black men in the French Quarter the Sunday before Mardi Gras. State Police officials said the U.S. Department of Justice is now reviewing the incident, which was caught on nearby surveillance video. "Based on what I saw on the videotape, the State Police did not handle that incident in the right way," Mayor Mitch Landrieu said in a statement Wednesday. "Based on what I have seen, I believe it was wrong." The findings by the State Police were not the conclusions Landrieu was hoping for. "I hope that the State Police will use this video in future trainings," Landrieu said in a statement, "to teach their troopers what not to do in similar situations."

[Un]Happy Meal!
Published: April 19, 2013 at 11:46 AM PDT Last Updated: Apr 19, 2013 at 2:26 PM PDT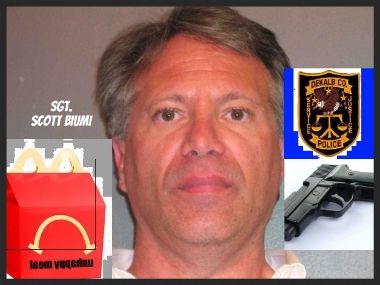 Georgia -- A police Sargent grew impatient when the person in front of him in the drive-thru line at McDonald's was moving too slowly. DeKalb County police Sgt. Scott Biumi is charged with felony aggravated assault after allegedly pulling a gun on a customer in the line.

The driver, 18-year-old Ryan Mash, told media sources that he had no idea the man was a police officer. According to Mash, the man accused him of "holding up the line," then got out of his car and threatened him by sticking a gun to his neck. Biumi was apparently angry at the amount of time it was taking for him to get his food.

Biumi is a 20-year veteran of the DeKalb County Police Department and has been placed under administrative leave with pay while the incident is investigated.

Justice
of the
Peace!
Published: April 17, 2013 at 11:46 AM PDT Last Updated: Apr 18, 2013 at 2:26 AM PDT

KAUFMAN, Texas — In a surprising twist, the wife of a jailed former justice of the peace was charged Wednesday with capital murder after authorities say she confessed to helping her husband kill two North Texas prosecutors who aggressively secured a theft conviction against him.

The overnight arrest and charge against Kim Lene Williams (pictured above, center) is the latest turn in an investigation that had recently focused on Eric Williams after authorities searched his home and a nearby storage facility stocked with guns. An arrest affidavit alleges she told investigators Tuesday that her husband shot and killed Kaufman County assistant prosecutor Mark Hasse in January and District Attorney Mike McLelland and his wife last month.

The affidavit does not specify what role she played in the killings. Investigators said they would not release further details until briefing the victims' families.

Eric Williams, 46, who has not yet been charged in the slayings, remained jailed on a $3 million bond Wednesday on a charge of making a terroristic threat. Kim Williams, 46, was being held on a $10 million bond.

"I don't think anyone could have written a novel that would play out like this," said Kaufman County Judge Bruce Wood. He said county employees were relieved the case was moving forward but also were shocked by the recent developments.

Published: April 08, 2013 at 11:46 PM PDT Last Updated: Apr 17, 2013 at 1:09 AM PDT



Kaufman County, Texas -- Eric Lyle Williams (pictured above, center) 46, a former justice of the peace is now a top suspect in the deaths of a Texas district attorney and his wife. Williams is expected to be charged with capital murder this week, law enforcement authorities said. Authorities told media sources that Williams could be hit with capital murder charges as early as Tuesday. During a search of a Seagoville storage unit linked to Williams on Saturday, authorities found several weapons and a Ford Crown Victoria car similar to one seen leaving the couple's neighborhood on the morning of the killings, according to local media reports. Investigators have conducted forensic testing on the car to see if it is linked to the deaths, with the results pending. "It's a very good feeling when the pieces start to fall into place," one law enforcement official told the source.




Williams was arrested Saturday on a charge of making a terroristic threat. His arrest came after federal and local agents investigating the March 28 deaths of Kaufman County District Attorney Mike McLelland and his wife, Cynthia, searched Williams' home on Friday. An anonymous email sent to county officials threatening another attack if demands were not met -- which was sent out the day after the McLellands were found dead -- was also traced back to Williams' computer. McLelland prosecuted Williams last year for theft. The McLellands were killed about two months after one of McLelland's prosecutors, Mark Hasse, was slain outside the local courthouse.

Williams has said he submitted to gunshot residue tests and turned over his cellphone after both McLelland and Hasse were found dead. Williams' attorney said in a statement Friday that Williams "has cooperated with law enforcement and vigorously denies any and all allegations."

McLelland and Hasse both participated in last year's prosecution of Williams on charges that he stole three computer monitors from an office building. Both prosecutors gave closing arguments before a jury convicted Williams in April. They questioned his character and suggested he was prone to threatening others. An ex-girlfriend testified before he was sentenced that he had shown her a gun and frightened her enough to call the police. Williams received two years' probation, but lost his position as justice of the peace — an elected judicial officer who typically handles smaller civil and administrative matters — as well as his law license.




In a dramatic development during Williams' corruption trial, Kaufman County Judge Bruce Wood testified that the former justice of the peace had asked him in a letter to use his influence to call off the criminal investigation against him. Wood declined.

"I feel that this whole thing began because of a misunderstanding," he told investigators, according to court documents. "I never committed a theft. If I was going to steal something from the IT department, I surely would not do so exposing myself to video cameras." Though Williams was caught on surveillance video with the monitors, he argued he needed them to work on a county project and his attorneys portrayed him as an occasionally bumbling figure with good intentions.

"Look at the man on the video," his attorney said, according to a trial transcript. "Look at his eyes. He's not hiding anything. He doesn't know why he's here. He's befuddled." But Hasse and McLelland both spoke harshly of his character and dismissed his explanation. "He's an elected public servant who is just a flat-out thief and burglar and needs to be removed from office and convicted of being a thief and a burglar, (because) that's exactly what he is, with quality evidence of him doing it on video," Hasse said. McLelland described the case as an example of "the fox watching the henhouse."

Hasse alluded to several threatening statements Williams had allegedly made, including one to Janice Gray, an ex-girlfriend. Gray testified before Williams was sentenced about her first time seeing him at a conference after they broke up. After she turned down his invitation to go out to eat, he told her "he had something he wanted to give my son," Gray testified.

"And then he showed me a gun he had and said he had gotten this new gun," Gray said.

The next night, Gray said she was at a sports bar with some friends when he showed up, uninvited.

"He told me he had a gun in his bag, and if I turned around and walked away, he wouldn't — he would use it 'cause he didn't have anything to lose,'" Gray said. She called police, who guarded her hotel room that night.

Williams appealed the verdict, and on March 29 — one day before the McLellands were found dead — a state appeals court in Dallas had agreed to hear oral arguments in the case.

Two others have been arrested for making terroristic threats during the investigation into the slayings, but authorities said they had no connection to the deaths. Other possible culprits in the McLellands' deaths include a white supremacist prison gang known as the Aryan Brotherhood of Texas, which had been targeted by a task force that included McLelland's office.

Williams is being held in the Kaufman County Jail on $3 million bond. A spokeswoman for the FBI would not comment Sunday on the ongoing investigation, and Williams' attorney did not return a phone message. The deaths of McClelland and Hasse were two of several recent high-profile law enforcement killings, including the shooting earlier this month of a southern West Virginia sheriff and the March slaying of Colorado's prison chief.

Georgia King!
Published: April 08, 2013 at 11:46 PM PDT Last Updated: Apr 16, 2013 at 4:09 AM PDT




The first segment of video shows a youth being carried by officers after he was reportedly beaten by Officer Hall (#6728) on April 08, 2013. A crowd gathered and objected to the violence, and Lt. MJA Lewis (#3211) responded by attacking a man and woman in the crowd. They were both thrown to the ground, pepper-sprayed, and beaten while on the ground. The man was struck in the head, and has suffered a blood clot in his eye and other medical problems related to the beating. Finally, the father of the woman who was arrested speaks out about the abuse of his daughter and son-in-law.

Posted: Apr 10, 2013 3:29 PM PDT - Updated: Apr 16, 2013 at 4:09 AM PDT

ATLANTA, GA (WCJB) - A cell phone video of Atlanta police striking a man with night sticks outraged one Atlanta community. The video of the incident shows APD officers striking a man multiple times as he lay on the ground. Neighbors were so angered by what they saw that the following day some threw bricks and hammers at police cars that were responding to a protest at the apartment complex. The family of the man in the video claim this is a clear case of police brutality. "The police choked him from the back and wrestled him down and pepper-sprayed him and was beating him with a baton," the suspect's mother, Nisele Browning, said.

The Atlanta Chief of Police George Turner addressed the community outrage. "The individual was continuing to resist the arrest. We've formalized an investigation, any information of wrongdoing we will investigate it and deal with those officers," Turner said. Atlanta police told media sources that so far, a formal complaint has not been filed against the officers.

Shots Fired!
Posted: Apr 12, 2013 6:21 PM PDT - Updated: Apr 16, 2013 at 4:09 AM PDT

ALPHARETTA, GA (WCJB) - Alpharetta police said an officer who was shot during a traffic stop was hit five times, and that the suspected gunman had "multiple firearms" with him. An officer was shot in his right elbow, leg and lower abdomen. He was also struck twice in his vest area. He is currently in stable condition at a local hospital. The officer has been on the force for two to three years. The shooter, 52-year-old Curtis Hicks of Marietta, was killed. An officer stopped Hicks for a suspected tag violation in the parking lot of a DUI school on South Main Street. As the officer approached the car, Hicks fired several shots, striking the officer five times, then fled the location. He led officers on a chase down Georgia 400 while continuing to fire at them.

Four police cars and one woman were hit by gunfire. Her injuries are not life-threatening. She is believed to have been hit by the suspect during the police chase. Alpharetta police said the suspect was firing at police cars during the chase and that a bullet went through the woman's SUV and hit her in the hip. Roswell and Alpharetta officers chased Hicks after the injured officer called for backup. Several officers chased him south on Georgia 400. He eventually crashed his car in Sandy Springs and began firing at the officers. Four to six officers fired back, killing him.

Lynn Hayes runs the DUI school that the officer was shot in front of. She described to media sources what she and her students experienced during the shooting. "From right here I could smell gun smoke," Hayes said. "A guy said, 'My God, that's gunfire.' I flicked off the lights right off and said everybody get down. We all peeked out the window and, honey, it was like Bonnie and Clyde. We were surrounded." Hayes said several of her students' cars where riddled with bullet holes from the shootout.

All southbound lanes of Georgia 400 were closed Friday night until early Saturday south of Northridge Road as police investigated.

Body Demolition!
Posted: 03/13/2013 12:36:42 AM MDT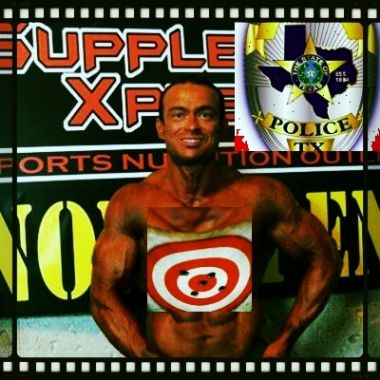 El Paso, TX -- The 37-year-old man shot and killed by an El Paso police officer last week had two lives. In one, Daniel "Danny" Saenz was a big-hearted competitive bodybuilder known for advising, encouraging and motivating others at local gyms. Saenz was very active in the gym scene and competed in local bodybuilding contests. He was a personal trainer for a handful of clients. Friends said Saenz sometimes struggled to make ends meet and lived at an East Side home with his mother, a biology professor at El Paso Community College. Until eight months ago, Saenz had been the weight-room monitor at the Loya Family YMCA on Trawood Drive. "He was a great guy," branch director Bill Coon said. "Everybody seemed to like Daniel. It surprised us all when we heard this. When we heard about this yesterday, none of us guessed it would have been Daniel. It shocked us all when we heard it was him."

"If there is a bodybuilder here in El Paso, it was Danny," bodybuilder Sergio Villa said. "He was dedicated. He really had a passion for this discipline, which is bodybuilding." Saenz had been Villa's friend and trainer for almost three years. "It makes me kind of afraid of our authorities (because) now you can't be physically fit or you will be afraid of an officer being intimidated," said Villa, who felt the shooting was unnecessary. "Danny didn't deserve to get killed like an animal," Villa said. "Animals get treated better. We got to take this stuff seriously. It was a human life. It was a great human life. He didn't deserve this."

Saenz was a regular customer at the Supplement Xpress shops, where he would joke with staff and even break out dancing at random. "I just thought it was very very shocking," said Marino Salazar, manager of the shop on North Mesa Street. "What I hear, it doesn't sound like him. I never heard of anything of him being out of control."

Friends said Saenz was a fun-loving person whose image does not match that of a man who police say began fighting with an officer while handcuffed outside the Downtown jail.

In the other life Saenz had problems. Court documents list Saenz as being 5 feet 8 inches tall and weighing 230 pounds. Court records also show, Saenz had served jail time and had numerous run-ins with the law, including being indicted last month on a family-violence charge. Last month, police arrested Saenz on Feb. 7 after he was indicted on a charge of assault of a family member from Nov. 1. In 2005, he was sentenced to 120 days in the El Paso County jail after being convicted of misdemeanor charges of theft, violation of a protective order and making terroristic threats, court records show. He had been given a type of probation on a past family violence case.

On Friday evening, police arrested Saenz on suspicion of assault on a public servant, assault with bodily injury, assault and injury to an elderly person. Police officials said Saenz was shot while handcuffed and allegedly fighting with a police officer who was taking Saenz to a hospital for a medical release. The officer's name has not been released. The number of times Saenz was shot has not been disclosed. And police have not said whether Saenz was cuffed in the front or behind his back.

The shooting, which is under investigation by the Police Department and the Texas Rangers, has come under scrutiny of the Paso del Norte Civil Rights Project, which is asking that the police provide more answers. The civil-rights group wants a transparent investigation into the shooting within 30 days, the hiring of an expert on the proper use of deadly force, and the start of a de-escalation policy and training. "This shooting, as reported, is deeply troubling," the group's lawyer said in a statement. "It is hard to believe that the only way to resolve this situation at a law enforcement facility was to kill an unarmed and handcuffed person. Not only does firing a gun seem highly excessive and unnecessary, but could also put the public and innocent people at risk."

In a statement, the Police Department responded that it would be "inappropriate and unfair to all parties" to limit the investigation to 30 days. "The El Paso Police Department is always as open as possible regarding investigations into the use of deadly force while still maintaining the integrity of the investigation," the statement read. "Chief (Greg) Allen understands the need for transparency and the importance of an open and thorough investigation in these types of cases. Therefore, on his request, the Texas Rangers are now involved in all Officer Involved Shootings that result in injuries or death."

Blue Shooting Spree!
Posted: 03/03/2013 07:49:42 AM PST - Updated: 03/03/2013 02:51:39 PM PST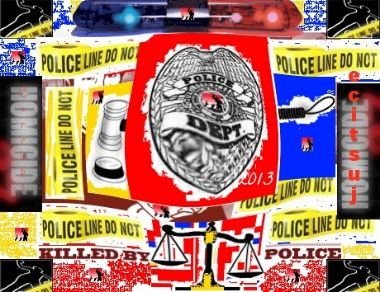 California -- In the roughly 27 hours from early Saturday to Sunday morning police in Hayward, Union City, San Jose and San Francisco each opened fire and killed a suspect who either allegedly hit them with a car or drew a pistol. The most recent clash ended around 3:20 a.m. with a Hayward police officer firing into a Honda that rammed his cruiser, which carried a civilian passenger. About 4½ hours prior Union City police shot and killed a man who they said pulled a gun on them during a foot chase around 10 p.m.

These deadly confrontations come just days after two Santa Cruz police officers were shot and killed Tuesday by a suspect who snuck up on them. It's also been a bloody start to 2013 for California police, who have already seen six officers shot dead in the line of duty, including those in Santa Cruz, according to the Officer Down Memorial Page.

The spate of violence started around 12:30 a.m. Saturday when Daly City police shot and killed a suspected car thief they chased into San Francisco.

He allegedly waived a pistol at officers during a car chase and then "raised his gun at the officers," which led to police shooting. Later in the day a San Jose officer tried to pull over a car he thought was suspicious. Instead of stopping during the roughly 2:35 p.m. run-in, the suspect allegedly rammed his car into the officer's cruiser, sparking a high-speed chase that ended when police boxed him in.

"Two officers fired several shots at the suspect when he made a threatening motion," San Jose police Officer Albert Morales said Saturday.

In the most recent shooting, a Hayward officer opened fire into a Honda that slammed into his cruiser during a traffic stop around 3:20 a.m. at the intersection of Fletcher Lane and Watkins Street, said Hayward police Sgt. Eric Krimm. The bullets hit the passenger in the Honda, a white man in his 20s, likely killing him. The car later crashed so police are looking into whether the wreck played a role in his death.

About five hours earlier two Union City police shot a man who allegedly pulled a gun from his waistband and pointed it at them. Union City police Cmdr. Ben Horner said the officer tried to pull over the suspect, whose name wasn't released, around 10 p.m. on Dyer Street south of Meteor Way.

The suspect allegedly ran from police, ignored their commands and then pulled the pistol. Horner said a loaded gun was found at the scene.

The officers in Hayward and Union City were placed on routine leave after the deaths. The Alameda County District Attorney's Office will investigate both incidents.

Police made at least one arrest in connection with the fatal confrontations. The man behind the wheel of the Honda in Hayward, identified by police as 23-year-old Arthur Pakman, was taken into custody for assault with a deadly weapon. The weapon in this case was the car, which police said he rammed into the passenger side of a police cruiser.

Krimm said the incident started as the officer, a 5-6 year veteran whose name was not released, pulled over the Honda which he believed was suspicious. During the traffic stop a civilian man riding along with the officer got out of the cruiser, but the situation quickly grew dangerous. The Oakley man ignored the officer's commands and allegedly drove toward the cruiser's passenger side door.

At this point the civilian jumped back into the cruiser and was struck, but not injured, by the police car door as it was hit by the Honda, Krimm said. The officer then opened fire.

After the gunfire the Oakley man sped away and crashed first into a street sign and then a planter box at D Street and Foothill Boulevard. Officers flooding the area after the gunfire quickly arrested the driver who ran about 30 yards before laying down and surrendering.

The shooting left people in the area rattled. Irvin Lopez, 21, whose apartment faces the site of the shooting, said he heard the confrontation from his home. He recalled hearing a car speed down Fletcher, abruptly stop followed by shouting. Then came three shots and two more.

"This is usually a great area. It's really calm," he said. "That's why it was a surprise to us."

Facial Fracas!
Published: January 13, 2013 at 11:46 PM PDT Last Updated: Apr 10, 2013 at 3:34 PM PDT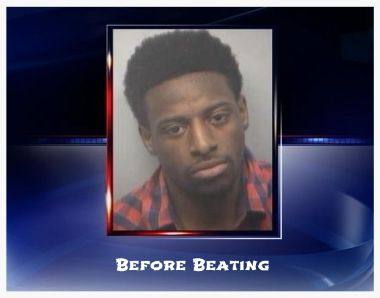 ATLANTA (WCJB) — An Atlanta police officer rushing to help a wounded rookie says he hit a suspect in the face with his gun because he feared for his life. A police report obtained Thursday by media sources states that shortly after Officer Reginald Robinson was shot in the face, Officer Andre Bent caught up with Frank Nance. According to the report, Bent said Nance turned toward him and began raising his left hand, and it wasn't clear if he had a weapon. Bent says he struck Nance and his service weapon discharged once toward the sky. Authorities said additional officers arriving in the area detained the suspect and recovered a weapon.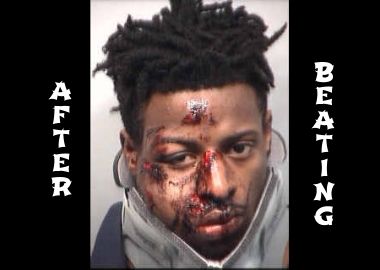 A mug shot taken after 20-year-old Nance's arrest Jan. 11 shows multiple bloody cuts on the suspect's face (pictured above, center). Police have declined to release any details on Nance's injuries. He is accused of shooting Officer Reginald Robinson, who was listed in stable condition Saturday at Grady Memorial Hospital.

Authorities said Nance was arrested for the shooting of Officer Reginald Robinson on Friday, Jan. 11, 2013. The suspect is charged with aggravated assault, being a convicted felon in possession of a firearm, having a gun while committing a crime and cocaine possession. Police said Robinson was questioning a man over a suspected drug deal when the man fled. The suspect shot the policeman once in the face during the foot pursuit, said Officer John Chafee, a department spokesman. He was listed in stable condition at Grady Memorial Hospital on Saturday.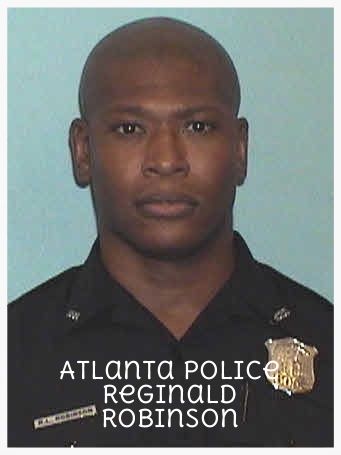 The 35-year-old officer (pictured above, center) graduated from Atlanta's police academy in November. The incident is under investigation by the department's Office of Professional Standards, a step that is taken anytime a police officer is involved in a shooting.

DUI Stops!
Published: Apr 9, 2013 at 11:46 PM PDT Last Updated: Apr 10, 2013 at 3:34 PM PDT

PORTLAND, Ore. – In June 2011, Jason Cox was pulled over by police officers in Southeast Portland. They suspected he was driving under the influence. A video provided by media sources shows Portland police officers punching and using a stun gun on Cox. It has raised the question whether officers were justified to use force in making the arrest. Cox, the man in the video is now suing the city of Portland for more than $500,000. Cox's attorney says the video speaks for itself.




The incident happened at Pallas Club, a Southeast Portland strip club near 136th and Powell. The club's motion-activated security camera captured the traffic stop in the club's parking lot. Cox can be seen arguing with officers. His attorney says the discussion centered on whether Cox was speeding as he left a nearby bar.

"Officers are allowed to use reasonable force under all circumstances. What you see here is officers choosing to punish someone because they take offense at his attitude," Cox's attorney said. He said the edits that can be seen in the video are the result of the motion-activated cameras. After one such editing gap, officers move to spread Cox's legs, but it leads them all to fall to the ground. Before Cox is handcuffed, Kafoury says his client moves his arms forward to protect himself. That leads to a struggle with officers looking to regain control. One officer administers a series of Taser shocks while another officer begins to punch Cox in the face a total of six times with his left hand.

"The police report indicates that the guy is fighting them, kicking at them, resisting in every form. And what you see is a helpless guy and his face just getting pounded by police officers," the attorney said. "There is no reason for this guy to be hurt at all."

Portland police say they're limited in responding to the lawsuit, but a spokesperson pointed out that both police Internal Affairs and the Independent Police Review Board examined the video and their reports and found officers acted within police bureau policy and state law. "The Police Review Board, every aspect of the internal affairs operation, is completely rigged in favor of the police," Cox's attorney said. "There hasn't been a police officer fired for physically injuring a citizen in this town in my lifetime."

Cox's blood alcohol content turned out to be .07, just shy of the legal limit of .08, but he was charged with several crimes and ultimately pleaded guilty to DUII. The lawsuit includes $18,000 to cover Cox's surgery for torn shoulder muscles and the income he lost as an ironworker.

F-Troop!
Wednesday, Apr 10, 2013 | Updated 2:24 PM EDT

Westbrook, Conn. -- The man killed as police were trying to apprehend suspects in an armed robbery in Westbrook on April 8 died of gunshot wounds, according to a news release from state police. Police have identified the man as Jonathan Alvarado, 24, of Deep River, and said he was one of two suspects in the robbery and shootout with police. The incident began when Old Saybrook police responded to an armed robbery at the Days Inn at 1430 Boston Post Road around 3 p.m. on Monday. Alvarado and another suspect fled the scene and led officers on a chase, police said.




State troopers joined the pursuit up Route 153 and and the suspects' vehicle collided with the trooper's cruiser on the Westbrook town line with Essex, according to police. The suspects then exchanged gunfire with Det. Scott Wisner, a 21-year-old veteran of the department, and Sgt. Keith Graham, a 14-year-veteran of the force, police said. Wisner suffered gunshot wounds to the shoulder and was taken to the Shoreline Medical Clinic in Westbrook. He was released from the hospital on Tuesday and is recovering at home.

The two suspects were also transported to the clinic, where Alvarado died. The Office of the Chief State's Medical Examiner determined the cause of death was gunshot wounds. The second suspect was transported by LifeStar helicopter to Hartford Hospital for treatment of severe injuries. He remains under 24-hour state police guard and the investigation continues.

Sgt. Graham was assigned to administrative duties pending the investigation into the shooting, which is standard procedure after a police-involved shooting.

Posted: Apr. 8, 2013 11:41 PM PT - Updated: Mar 28, 2013 7:16 PM PT

WESTBROOK, Conn. -- A state trooper was shot on Monday afternoon in Westbrook, Conn., while trying to apprehend two suspects in a robbery, and one of the suspects is dead, according to state police. Old Saybrook police were pursuing suspects in an armed robbery and and asked Troop F for help. During the pursuit, a state trooper's cruiser and vehicle the suspected robbers were in collided on Route 153 in the area of Docs Hill on the Essex, Westbrook line, police said. The trooper exchanged gunfire with the suspects and was shot while trying to take the two men into custody.

The chase began with Old Saybrook police near a Days Inn at 1430 Boston Post Road in Old Saybrook just before 3 p.m., according to a witness. The suspects checked into a room at the Days Inn, the witness said. There was also another crime scene located at the Heritage Motor Inn, 1500 Boston Post Road. The owner of the inn said that the victims of the armed robbery live at the hotel. Police would not confirm this information.

The trooper suffered severe injuries, though the injuries were described as non-life-threatening, according to state police. Officials said he was alert and conscious and taken to the Shoreline Medical Center in Essex by another state trooper. Lifestar, a helicopter rescue service, sent one aircraft to the medical center and left with one of the injured suspects onboard, according to state police. The suspect was taken to Hartford Hospital, police said.

Beatdown!
Posted: 03/29/2013 02:57:37 PM PDT

WATSONVILLE, CA -- Felony battery charges have been recommended against a former Watsonville police officer who was involved in a bar fight with a parolee this week. Watsonville police said Francisco Ibarra, 40, fought with 27-year-old Benjamin James Chavez first inside a restaurant on Main Street in Watsonville then in front of a home. The charges were recommended to the Santa Cruz County District Attorney's Office, but neither man has been arrested as of Friday. The scuffle started about 8:10 p.m. March 23, when Ibarra was ordering a drink at the bar.

It was unclear if Ibarra and Chavez knew each other or spoke to each other before they fought, but Chavez attacked Ibarra near the bar, police said. Ibarra was struck in the head and face and fought back before others quickly broke up the brawl, police said. Chavez, of Watsonville, was kicked out of the restaurant. A restaurant worker called police. A short time later, the two men found each other on the 600 block of Main Street. Another fight started and Chavez was punched and kicked on the ground outside a home, police said.

Lt. Jorge Zamora said investigators suspect Ibarra of felony battery and assault with a deadly weapon -- although the weapons were his hands and feet. Chavez was suspected of misdemeanor battery, police said. Prosecutors "have to review it and see if they want to file charges," Zamora said. "It's really in their hands." Warrants were requested for both men, Zamora added, and both were uncooperative during the investigation.

Chavez was transported to a San Francisco Bay area trauma center and released that night. Ibarra did not go to a hospital, authorities said. Chavez is in Santa Cruz County Jail on suspicion of a parole violation.

Ibarra, who now lives in Los Banos, was fired from the Watsonville Police Department in 2010 "for cause," according to police. According to Watsonville officials, Ibarra was terminated after 15 years on the police force after multiple incidents, including one of alleged excessive force that involved his K-9 in an arrest. Ibarra says he was terminated in retaliation for his work as president of the police officers union. He is pursuing legal action in state and federal courts to win his job back and to collect damages. Ibarra also was charged in Monterey County Superior Court for misdemeanor animal neglect after two former K-9s were found emaciated at his home.

Ibarra surrendered Luke, a 14-year-old German shepherd during a September 2011 investigation into possible neglect, according to the SPCA of Monterey County. Luke suffered medical problems and lack of care and had to be euthanized, the SPCA said. Another former K-9, Ingo, was seized in March 2012 after authorities found him 25 pounds underweight. Ingo was nursed back to health and is in foster care pending the resolution of the charges.

Ibarra is expected to go to trial on June 3 on two charges of misdemeanor animal neglect, said Monterey County Chief Assistant District Attorney Terry Spitz. Ibarra faces six months in County Jail and a $1,000 fine if convicted, according to court records.

Murdered!
Posted: Monday, March 25, 2013 - Updated: April 15, 2012 | 11:46 pm PDT

Castro Valley, Calif. -- A Castro Valley man identified as 49-year-old Terrence Barry, was shot by sheriff's deputies Friday and died in a hospital on Sunday, the sheriff's office announced Monday. The Alameda County Sheriff's Office first received reports at about 7 p.m. Friday from Barry's family in the 3400 block of Seven Hills Road. The family told dispatchers that Barry was acting belligerent, threatening and that the rest of the family was fleeing and leaving him in the house. Barry allegedly then called sheriff's dispatchers and said that he was going to "shoot up the world." He called again minutes later and said he had a machine gun and would shoot any deputies who arrived at his home, sheriff's Sgt. J.D. Nelson said.

To respond to the threat, deputies loaded into an armored vehicle and as they proceeded up Seven Hills Road they saw Barry come out of the side of the house. Barry allegedly threatened sheriff's deputies when he shouldered a homemade replica firearm at an approaching sheriff's vehicle. Barry ducked behind some juniper bushes near his driveway, and then popped up again behind the bushes nearby, again shouldering the apparent rifle, prompting a sergeant to shoot him, Nelson said.

A sheriff's sergeant fired three shots at Barry from a porthole on top of the armored vehicle, striking him twice. He was rushed to Eden Medical Center and was taken to emergency surgery for his wounds but succumbed Sunday afternoon. The weapon he was holding turned out to be a replica firearm, made of wood with a handle to resemble a rifle. Barry was on probation for weapons charges, Nelson said.

SWATTED!
Posted: Thursday, March 21, 2013 - Updated: April 15, 2012 | 11:46 pm PDT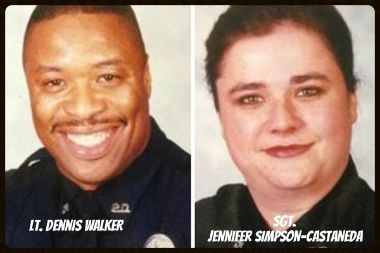 HOUSTON (WCJB) -- Authorities say the 17-year-old suspect, Edgar Omar Cuellar accused of shooting two Jacinto City officers was taken into custody following a late-night gunfight with SWAT officers at the scene. An News photographer at the scene says gunshots rang out shortly before the SWAT scene ended around 12:30am and news of an arrest was announced. Houston Police Department Spokesman John Cannon confirmed a gunfight erupted after SWAT officers entered a Jacinto City home and found the suspect, Cuellar, in the bathroom. The teen was injured in the shootout and taken to the Ben Taub with non-life threatening injuries.

This all started when two Jacinto City police officers responded to a suicidal person at the home, located in the 10400 block of North Oswego around 6pm. Family members told us Cuellar had been acting erratically over the last few days, and police say the teen already knew he was the subject of a deadly conduct investigation before the officers even showed up to the house. When officers arrived, Cuellar was being restraining by family members. Cuellar broke free, pulled a gun, and shot a male and female officer. Lt. Dennis Walker, 47, was taken by helicopter to Memorial Hermann Hospital with a gunshot wound to his chest. Sgt. Jennifer Simpson Castaneda was shot in the arm and taken by ambulance to LBJ Hospital. The shooting then sparked a multi-agency manhunt that would last hours.




Dozens of patrol cars infiltrated the residential neighborhood and blocked off several intersections. The SWAT team was dispatched to the house to keep an eye out for Cuellar while K-9 officers took their dogs door to door in search for him. At least five law enforcement agencies, including HPD and the Harris County Pct. 2 Office, responded to the scene to help the Jacinto City Police Department. Then as the evening turned into night, there was a plea from one of Cuellar's friends. "I just want him to come out with his hands up and listen to the cops. I don't want it to be a standoff and him getting killed," Cuellar's friend Nathan Carrera told us.

According to HPD, once a tank created an opening in the home, a K-9 was sent in but didn't pick up a scent. SWAT officers were then sent in to clear the home, and saw movement in the bathroom. Officers then deployed pepper spray, which had no effect. As the officers are standing in front of the home, they say the suspect opened fire on them. They then retreated and returned fire. "Moments later, he fires back at them a second time, and they fire at him a second time, at which time Cuellar is wounded," said Cannon.

Caught in the middle of it all were the neighbors. Officers prohibited them from coming and going in the neighborhood, and some families were forced to be separated for hours. "It's just shocking because it's the first time it's ever happened. It's a nice neighborhood and all of a sudden this happens," neighbor Anthony Gonzales Jr. said. "It's crazy, it's just crazy," resident Jinny Hagan said.

Both Walker and Castaneda have been with the Jacinto City Police Department for about 10 years. Castaneda's husband is a deputy with the Harris County Sheriff's Office, and Walker comes from a longtime law enforcement family. We're told his sons are officers with the DEA and Shreveport Police Department. We're told both officers are expected to survive and could be released from the hospital as early as today.

Americanned!
Posted: Saturday, March 16, 2013 - Updated: April 15, 2012 | 11:46 pm PDT



AMERICAN CANYON, Calif. (WCJB) -- An investigation is underway after police in the North Bay shot and killed a man. It happened around 10 p.m. Friday in Napa County city of American Canyon at the unfinished Newell Drive extension. Police say they tried to pull over the driver of a white pickup truck over but the man sped off, leading them on a short chase. The pursuit ended with gunfire. The driver died at the scene. His name has not been released and investigators are not saying why officers shot him.

A major crimes task force made up of several Napa County police agencies is conducting the investigation. This is the sixth deadly officer-involved shooting in the Bay Area this month.

On March 1 in Guerneville officers shot and killed an attempted kidnapping suspect.

There were three fatal officer-involved on March 2 in San Francisco, San Jose, and Union City. One that took place the next day involved Hayward police.

Electric Sledge Hammer!
Posted: April 14, 2012 | 8:18 am PDT - Updated: April 15, 2012 | 11:46 pm PDT



Los Angeles, CA -- The porn star known as Sledge Hammer died early Friday, five days after he became violent with paramedics and was stunned with a Taser and restrained by Los Angeles police officers, authorities said. The incident began Sunday when authorities responded to a call of an attempted suicide in the Reseda area. When paramedics and officers arrived they found Marland Anderson, known as Sledge Hammer on screen, with his girlfriend. Anderson had suffered a knife injury, said Lt. Andrew Neiman. The girlfriend told officers Anderson tried to hurt himself with the knife and she pried it away from him, Neiman said.




Authorities allege Anderson was then handcuffed to a gurney by police for transportation in an ambulance. Once inside the ambulance, Neiman said, Anderson tried to stand up, but acted with such force that he broke the gurney free from a floor lock and broke the handcuff. To restrain Anderson, an officer then used a Taser but it failed to stop the agitated actor, Neiman said. Several officers eventually managed to restrain Anderson, Neiman said. He was taken to a hospital, where he died Friday morning, Neiman said.

St. John's!
Posted: 2:30 PM CDT Aug 17, 2012 - Updated: April 24, 2013 12:15 AM PDT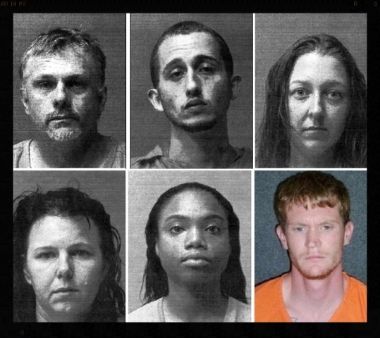 From left: Terry Smith, Derrick Smith, Britney Keith, Chanel Skains, Teniecha White, Kyle Joekel. Not shown: Brian Smith.

UPDATE -- A seventh suspect has now been arrested and charged in connection with Thursday's shootings. Britney Keith, 23, is charged with accessory to attempted first degree murder.

Those arrested and charged are:

Kyle Joekel, 28 -- charged with principal to attempted first-degree murder

Brian Smith, 24 -- charged with attempted first-degree murder

Terry Smith, 44 -- charged with principal to first-degree murder

Derrick Smith, 22 -- charged with principal to attempted first-degree murder

Chanel Sakins, 37 -- Charged with accesseory after the fact to attempted first degree murder

Teniecha Bright, 21 --charged with principal to attempted first-degree murder.

Media sources learned that Joekel was wanted on a warrant out of Gage County, Neb., on outstanding drug charges. Records there show multiple arrests dating to 2006.

An advisory on the Gage County Sheriff's website reads:



***Do not attempt to apprehend this individual yourself***



Deputies in Desoto Parish told sources on Friday that they were investigating Joekel and Brian Smith earlier this year in connection with a robbery at a public laundry facility. They said neighbors reporting seeing pistols and automatic rifles in Joekel's and Smith's possession. Officials said both men disappeared before they could be arrested. Deputies placed a trailer park home under surveillance in hopes of apprehending the two men.

LAPLACE, La. -- Officials leading the investigation into the shootings that killed two St. John the Baptist Parish deputies and wounded two others described the case as complex and asked the public for patience as the probe moves forward.

Deputies Brandon Nielsen and Jeremy Triche were killed Thursday. Two other deputies were wounded, and two of the people who were taken into custody also were injured.

The update came as Sheriff Mike Tregre reported an improved mood inside a department devastated by Thursday's attack.

"Today is a much better day. Everyone appears to be in good spirits," he said. "We're gonna get through this."

Col. Mike Edmonson with Louisiana State Police said the response in St. John Parish -- within and beyond the sheriff's office -- has motivated those involved in the investigation. "I think you all can see what an emotional toll this has taken on this community," Edmonson said. "That grieves us." Edmonson said five of the six individuals in custody have been placed at the scene of the shootings.

"We're going to very tediously, very delicately work our way through from the initial portion of this -- it's a large scene. Multiple locations, multiple weapons, multiple gunshots. We have to account for each one of those and we have to build our case."

Edmonson said investigators were continuing to interview witnesses. He said his office was aware of various reports that the suspects were under surveillance, but did not confirm that information.

BPD: 'Ding' Death!
Posted: February 12, 2013 - Updated: February 12, 2013 3:15 PM PDT

BERKELEY, CA -- The stepmother of a severely mentally ill man who died after a struggle with police in his downtown apartment Feb. 12 wants to know if officers handled the situation appropriately given his well-known problems. Police have released few details, citing an ongoing investigation.

Elysse Paige-Moore, who said she cared for 41 year-old Xavier Moore along with his father since Moore was a child, is devastated. "I don't know if it was my son's time to die, or if he was not handled with the level of care he deserved," said Paige-Moore of Berkeley on Monday. "I still don't know what happened. There have been no police reports, but there's been a lot of speculation. There have been some things that went very wrong and I would like more information."

Paige-Moore said at first she had no reason not to believe the police version of the story "and what went down," given Moore's physical and mental health history. Her stepson, who weighed 347 pounds, was paranoid schizophrenic, a heavy smoker and used alcohol, crack cocaine and methamphetamine, she said. He also was transgender and passed as a woman, she said. But after thinking about what police told her of the incident in his apartment in the Gaia Building on Allston Way, she wants more answers.

Paige-Moore said police told her someone in the building called 911 about a disturbance shortly before midnight. She said she learned from police and two house guests that when police arrived, they originally were going to take him to Alta Bates hospital in Berkeley for a psychiatric evaluation, but then they discovered an outstanding warrant for assault from San Francisco and police told him they would have to arrest him. At that point he became combative, she said. "The police told me he might have been on meth and his guests told me that and that he was agitated and that doesn't surprise me," Paige-Moore said. "What doesn't add up is he suddenly stopped breathing and that coincided with them having to restrain him." Paige-Moore said her son's house guests told her they did not believe police should have used the level of force they did.

In addition to more details from police on exactly what happened, she wants to know if police used the correct level of force to bring him under control and if they brought along a mental health professional skilled at de-escalation techniques as they did the many times in the past when they came to her home when Moore was living with her and her husband. "Anytime Berkeley police came down here to our home, they always had the mental health mobile crisis team with them, " Paige-Moore said. "I'm pretty sure they didn't this time. He may have recognized them (and calmed down) if they did."

Berkeley police have said little publicly about Moore's death, except that they responded to a disturbance and contacted Moore who became agitated and started to scream and violently resist. Police said they struggled with him and they were able to put him in restraints and put him on an ambulance gurney. But then they saw he was not breathing and began CPR. He was taken to a hospital where he was pronounced dead.

Berkeley Police Capt. Andrew Greenwood on Monday declined to say whether police showed up to the disturbance with a mental health professional, citing the ongoing investigation.

A lawyer who represented the Berkeley police officers on the scene that night who were interviewed the next day by police department investigators, said police did not use their batons or pepper spray and "showed a great deal of restraint." He said they did use simple "control holds," physical force and a wraparound restraint device on his legs. "Everyone's heart goes out to the family and several of the officers specifically say that," the lawyer said. "Any time there's a loss of life it's traumatic to the people related to the person involved and also to the officers."

Still Paige-Moore said her son was well-known to police and she hopes they did everything they could given his documented mental health issues. "Usually he would go pretty quietly," Paige-Moore said. "They knew he was very mentally ill, they should have known that."

The Alameda County coroner is investigating but has not determined a cause of death pending toxicology tests.

LASD: 'Ding' Beatdown!
Posted: October 7, 2011 - Updated: October 8, 2011 3:15 PM PDT
A Los Angeles County sheriff's rookie who graduated at the top of his recruit class resigned after only a few weeks on the job, alleging that a supervisor made him beat up a mentally ill jail inmate, according to interviews and law enforcement records. The deputy, Joshua Sather, said that shortly before the inmate's beating, his supervisor said, "We're gonna go in and teach this guy a lesson," according to the records. The attack, Sather said, was then covered up.

Law enforcement records reveal that the incident caused tensions in the Sheriff's Department. Sather's uncle, a veteran sheriff's detective, angrily confronted the supervisor about making his nephew "beat up 'dings,' " slang for the mentally disabled. He then allegedly threatened to "put a bullet" in the supervisor's head. Sather's case was pieced together by media sources from department sources as well as district attorney's documents in which Sather's uncle revealed his nephew's allegations to investigators. Sheriff's officials launched an investigation and determined that an uncooperative inmate had been subdued by force, but concluded that no misconduct had occurred. They also asked the district attorney to review the uncle's alleged threat, but prosecutors declined to file charges.

Sather's allegation is among several first-hand accounts of unwarranted deputy violence against inmates in the nation's largest jail system. Last week, two chaplains and a movie producer released sworn statements that they witnessed deputies abusing inmates. But Sather's allegations are unusual because they come from within the department's own ranks, from the point of view of a deputy. The FBI is now investigating several allegations of deputy abuse and misconduct in the jails.

Sather, a Long Beach native, had followed in his uncle's footsteps, earning a spot in the Sheriff's Academy and becoming his class' sole "Honor Recruit" for his leadership, athleticism and other abilities. As with virtually all rookies, his first assignment was jail duty. The jails are a place where inexperienced deputies learn how to handle potentially violent and manipulative criminals, while under constant supervision. For Sather, the experience quickly became disturbing. Sather's beating allegation and the drama that followed his decision to resign are documented in a seven-page district attorney's memo reviewed by media sources. The following account is based on that report:

On March 22, 2010, Sather was working on the sixth floor mental health ward of the Twin Towers Correctional Facility in downtown L.A. At some point during his shift, he, his supervisor and other deputies used force on the mentally ill inmate. Soon afterward, Sather, a muscled, tattooed 23-year-old, called his uncle, Steven Sather, crying and distraught, records show. The young man apparently told his uncle that the beating was unwarranted and then had been covered up. The elder Sather told his nephew to do the "right thing" and be honest about what occurred. The next day, worried that the rookie might be planning to quit, Steven Sather drove to Twin Towers intent on saving his nephew's career. The uncle and his partner parked behind the jail and left their guns in the trunk. In the watch commander's office, Steven Sather asked to see his nephew. But he was told the young man had resigned, citing "family issues" as his only reason.

Outside, Steven Sather and his partner had a colleague radio for Joshua Sather's supervisor, Bryan Brunsting. When Brunsting saw the two gang detectives waiting for him, he asked what was going on. "Do you know who I am?" Steven Sather asked. Brunsting peered at the name embroidered on the detective's green-and-gold sheriff's raid jacket. He realized he was talking to his trainee's uncle. The rookie had failed to show up for a morning briefing, and Brunsting had just learned he'd quit. Steven Sather led Brunsting away for a private conversation. Deputies nearby recalled that the exchange was heated. "If you don't stop [messing] with my nephew, I'm gonna kick your ass. Stop [messing] with my nephew," Steven Sather shouted. "You know what this is about, getting him into situations that he shouldn't have got into. He's a … honor recruit and you put him into situations that you shouldn't have put him in."




Sheriff Lee Baca said he would welcome a comprehensive federal civil rights investigation into the Los Angeles County jail system, a significant reversal after a week of harshly criticizing FBI inquiries into allegations of deputy misconduct. Last week, Baca denounced the FBI's investigations of his jails, which included smuggling a cellphone to an inmate — a move he said was possibly illegal. He questioned whether the agency was competent to determine wrongdoing. But as criticism mounted Friday over his oversight of the jails, Baca struck a much more conciliatory tone and acknowledged that there were problems in the jails.

"I see there's a pattern of disrespect to inmates by a small percent of deputies. But a small percent of deputies is too much. There shouldn't be any disrespect," Baca said in an interview with media sources. "We have to change the culture of the jail, improve it." Baca, who has been sheriff since 1998, said he still doesn't approve of the FBI smuggling the phone into the jail. That was part of an undercover sting that targeted a deputy who allegedly accepted a bribe to deliver the phone to a prisoner. But he added that he would let the issue go to allow a fuller examination of what's happened in the jails. "The FBI should feel welcome in further vetting the quality of Sheriff's Department investigations," he added. "The phone thing is regrettable, but we've got to move on." Baca said he would accept a so-called pattern and practice investigation of the jails. The sheriff's shift is important because such an inquiry could lead to federal oversight of the nation's largest jail system if prosecutors find evidence of systemic civil rights violations.
---
Reader Pageviews by Country
---
From: Apr 17, 2013 10:00 PM – Apr 24, 2013 9:00 PM
---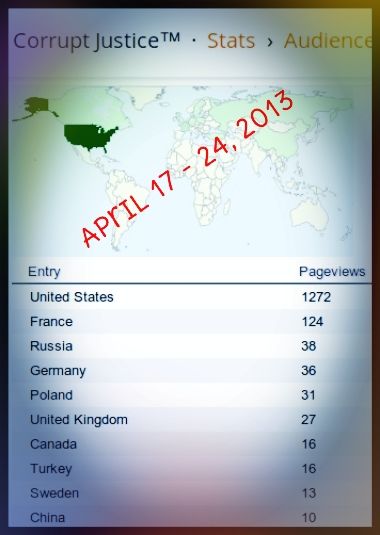 ---
«•
Thank you for visiting Corrupt Justice™. Enjoy our Free Movie Intermission! Don't forget to Bookmark Us & Tell A Friend! We're Global!
•»
---
Movie Intermission!
Real DisOrder
In the Court
~ 1998-2013!
---
Description:
Courtroom Brawls, Outbursts, Fights with Cops, suicide, murder and more!
Read more (Indictment, Police Reports, Civil Complaint) on the State of Florida v. Michael Dunn @ http://www.scribd.com/collections/4443911/State-of-Florida-v-Michael-Da.
---