---
Click on Banner to Sell Your Home(s)!
---
---
"They rape, ... They rape a 100 white women a day, ... that's FBI statistic from 2005."

-- Dylann Roof, explaining to FBI Agents why he entered Emanuel African Methodist Episcopal church in Charleston, South Carolina, on June 17, 2015 and killed nine members of the black congregation attending a Bible study inside.

Top News Story!
illegally diverting
Updated: July 1, 2018 @12:00 AM

Manhattan, New York (WCJB) -- On June 13, 2018, Ex-NYPD Deputy Chief Michael Harrington was sentenced to two years of probation for his role in a bribes-for-favors scandal that has rocked the New York Police Department. The retired NYPD officer says he deserves probation.

Posted: March 1, 2018 @9:13 PM

Manhattan, New York (WCJB) -- Ex-NYPD Deputy Chief Michael Harrington official pled guilty to illegally diverting police resources. Harrington entered the plea in Manhattan federal court on Thursday. He pled guilty to a charge of misapplication of property valued at $5,000 or more. His lawyer noted afterward that bribery charges the 52-year-old Staten Island resident once faced will be dismissed.

Harrington admitted arranging illegal police services: including a police escort for a funeral; counter-terrorism protection at a Midtown Manhattan synagogue on Jewish holidays; and for disabled children to observe NYPD training. The services were for the personal benefit of his Jewish friend(s). The friends included Jeremy Reichberg, a private citizen and his friends. They also included associate Jona Rechnitz.

Rechnitz pled guilty and is cooperating with the government. Reichberg and another co-defendant, former NYPD Deputy Inspector James Grant, are scheduled to go on trial April 30, 2018 for honest services fraud, bribery, and conspiracy charges. Reichberg and Rechnitz have donated money to Mayor Bill de Blasio in the past.

Harrington's plea deal with prosecutors recommends he be sentenced to no more than six months in prison (if he gets any prison time at all). Sentencing is set for June 11, 2018.

NYPDPay-to-Play!

New York -- NYPD cops pocketed cash bribes to "expedite" pistol permits for members of the Orthodox Jewish community. They also performed the same illegal services to a Boro Park Shomrim patrol leader. The patrol leader offered another officer a near $1 million payday to keep the scheme going. An officer in the NYPD's License Division​ allegedly confessed to the FBI that he and a supervisor accepted payments from Alex "Shaya" Lichtenstein, 44. The officer called the payments "lunch money." The scheme involved top NYPD brass and two businessmen, Jona Rechnitz and Jeremy Reichberg.

Lichtenstein was busted by the feds at his home in Pomona, Rockland County. He lives with his wife and a teenage son. Lichtenstein was hauled into court on bribery and conspiracy charges. He was brought into a packed Manhattan federal courtroom. He wore a gray golf shirt, black pants and a black yarmulke. He appeared scrawny and pale. He sniffled loudly and wiped away tears.

Prosecutor Kan Nawaday asked to have Lichtenstein held without bail as a "danger to the community." Nawaday argued: "He was no less than an arms dealer for the community in New York City. Our case is very strong. Just last week, this defendant was recorded trying to bribe an NYPD officer to obtain a permit for his clients." Nawaday also said that the feds seized two handguns during Lichtenstein's arrest and that he had a shotgun stashed in his home.

Lichtenstein's lawyer described him as a "self-employed businessman" making $80,000 a year. US Magistrate Judge Henry Pitman rejected the government's request. He set bond at $500,000. Pitman said: "I don't think dangerousness has been shown here. I think the government's characterization of him as an arms dealer is somewhat hyperbolic." He posted the bond and was sprung at around 5:30 p.m. Lichtenstein declined to comment on his way out of the courthouse but gave a thumbs-up to photographers.

Court documents say Lichtenstein was secretly recorded last week bragging about how he had secured 150 gun licenses through his connections in the division. He claimed he needed a new hookup there following a crackdown. He then offered a whistle-blowing cop $6,000 a pop to continue the scheme. Lichtenstein then used a calculator to show ​that ​another 150 permits would be worth $900,000 in payoffs. Lichtenstein said his arrangement had been derailed by the License Division's commanding officer, ​Deputy Inspector ​Michael Endall. Endall feared that people would think "had his hand in the cookie pot," according to the feds.




The complaint says Lichtenstein spent time at the License Division "on a near daily basis." From 2014 he was regularly spotted sitting near the desk of a supervisor. Sources identified the NYPD Supervisor as Sgt. David Villanueva. Villanueva told his colleagues at the License Division early this year that Endall had "banished Lichtenstein because of the money Lichtenstein was making selling gun licenses." Villanueva claimed that Lichtenstein "charged his customers $18,000 per gun license."

Another License Division cop was questioned by the FBI. Sources identified the Officer as Richard Ochetal. During questioning Ochetal admitted he knew Lichtenstein and had processed permit applications for him. "When asked if Lichtenstein paid cash bribes to [Villanueva] or [Ochetal], [Ochetal] was silent for several seconds and then said that Lichtenstein would give [Villanueva] 'lunch money' for [Villanueva] and [Ochetal]," the complaint says. "Asked how much 'lunch money' he would receive, [Ochetal] responded 'a hundred dollars.' '' No charges have been filed against Endall, Villanueva or Ochetal. The NYPD announced that all three had been bounced from the License Division less than half an hour before the Lichtenstein complaint was unsealed.

Police Commissioner Bill Bratton said Endall "is being reassigned to an administrative position pending further review." He also said Villanueva and Ochetal were both stripped of their badges and guns. They were also transferred. The demotions brought the number to nine cops who have been publicly demoted since the FBI began investigating the gifts-for-favors scheme.

The joint probe with the NYPD has also enveloped Mayor de Blasio's 2013 campaign-finance operation. Bratton told media sources that it was the department's worst scandal he has seen since the Knapp Commission. The Knapp commission revealed widespread police graft and corruption in the early 1970s. Bratton said in a statement: "This investigation will continue to go where the leads take us."

A source in the Borough Park Orthodox community said some of the pistol permits Lichtenstein obtained may have been legitimate, but many were not. The source said: "It's just a prestige thing. It shows you're hooked up in the Police Department and you have important, high-ranking friends."
Posted: Thu 12:00 PM EST April 14, 2016 ~ Updated: Thu 09:12 PM PST Apr. 14, 2016



"You'd have to probably go back to the Knapp Commission days to find one that has that focus on the senior leadership of the department."
-- New York Police Commissioner Bill Bratton

New York -- New York Police Superintendent Bill Bratton admitted on Wednesday that the corruption scandal roiling his department is historically bad. He said the NYPD hasn't been through a darker period since the early 1970s. Bratton said: "You'd have to probably go back to the Knapp Commission days to find one that has that focus on the senior leadership of the department. Back in the Knapp days, it was so pervasive throughout the department."



The Knapp Commission investigation exposed rampant bribe-taking at all ranks of the department. The investigation led to criminal charges against dozens of crooked cops. The scandal derailed the presidential ambitions of then-Mayor John Lindsay. Bratton's comments came as a fifth NYPD commander was demoted amid the widening probe into police bosses trading favors for gifts. He was the head of Manhattan's North Patrol Borough. The commander's counterpart in Manhattan South has also been questioned by the feds.

Bratton credited his Internal Affairs Bureau for initiating the investigation in late 2013. He insisted he remained plugged in even after the FBI swooped in a few months later. He is quoted as saying: "I get constant updates, including one [on Tuesday] for several hours." Bratton warned there might be more rogue cops. He continued, "We're at that stage of the investigation where witnesses are now being interviewed in person. And each interview has the potential to yield new information. We will evaluate that literally on a daily basis."

Bratton refused to say when he learned about allegations involving ex-NYPD Chief of Department Philip Banks. Banks abruptly quit in October 2014. He was recently offered a promotion to first deputy commissioner. Deputy Commissioner is the No. 2 job in NYPD. He resigned instead of accepting the promotion. Banks' bloated financial statements raised red flags. He is suspected of accepting gifts and travel from two businessmen at the heart of the scandal.

When questioned about this, Bratton said: "We really can't, at this point, since the investigation is ongoing and we're still interviewing witnesses, we can't talk about what was known about each and every [subject] over the last two years. That will come later, if the US Attorney's Office decides to file charges against anyone."

Bratton also said it was "coincidental" that he transferred four commanders. The transfers included 19th Precinct Deputy Inspector James Grant. He was transferred just hours after media sources reported that Grant was suspected of accepting diamonds and cash. The payments were for escorting Brooklyn businessman Jeremy Reichberg from the airport following diamond-buying trips overseas. Bratton says: "It had nothing to do with [it], quite frankly, none of it. This has been ongoing for over two years. At each stage of the investigation, we learn more information. As we said last week, we were acting on the information we had accumulated to date."




(Top row) NYPD Deputy Inspector James Grant and Deputy Chief David Colon, and (bottom row) Deputy Chief Eric Rodriguez and Deputy Housing Chief Michael Harrington.


Bratton touched on an array of other topics during his hour-plus visit with The Post — including fading police morale.

"Cops have been complaining about morale since police forces were created. I used to complain about it a lot when I was a young cop," he said.

"A lot of the morale problems, at this particular point in time, I'm being hard pressed to understand whether it has to do with things I control . . . The one thing I don't control is pay."


"I sat there for a couple of hours by the time I got it all done but, fried another nigger." "What?" "... fried another nigger, ... no big deal." (woman laughs).

-- New York City Police officer Michael Daragjati bragging of his false arrest of an innocent Black man in 2011.

NYPD Exposed!
Posted: Oct 23, 2015 9:54 AM ET ~ Updated: Oct 27, 2015 04:48 PM PT

New York City -- Steven Esposito (pictured above, center) is a 56-year-old retired New York City Cop. Esposito was arrested after he pulled out his penis and started stroking it in front of a woman on a New York City subway. A man followed him while recording his conduct. Esposito then pulled a gun on the man (who followed him while recording) stating" "[T]urn around and mind your own fucking business." Esposito was arrested as a result of the eight-second video.

The video was posted on several New York City news sites. Viewers and Readers were urged to contact police if they recognized him. Media sources dubbed him "the Midtown Masturbator." It turns out that "the Midtown Masturbator" was retired NYPD Officer Steven Esposito. Esposito admitted to pulling out his penis. However, he claims he was only peeing on the subway platform in Midtown, not masturbating. Media sources have now dubbed him as "Esposito the Exposer."

Esposito also admitted to pulling out his gun on the man. He was charged with misdemeanor public lewdness and menacing on Wednesday. He was released without bail. Esposito is scheduled back in court on December 1.

New York City has some of the strictest gun laws in the country. Esposito was allowed to carry a gun after he obtained "good guy letter" from the NYPD. He is also collecting a pension. NYPD cannot distance themselves from him as much as they would like.

It has not been rare for a cop to be caught masturbating or exposing themselves in public. Last month in coast-to-coast incidents, a San Jose, California cop and a Boston, Massachusetts cop were arrested for masturbating in public. A New Jersey cop named Jason Miller was arrested earlier this year for pulling men over and placing his exposed genitals in their faces. He would then let them go without writing a ticket. Miller accepted a misdemeanor plea deal that did not require him to register as a sex offender.

In 2014, a Los Angeles police officer named Ryan Eric Galliher was arrested after he was seen walking up to several victims, pulling down his pants and exposing himself. In the same year, a New Jersey cop named Benito Gonzalez was arrested for masturbating in a Starbucks. He pled guilty earlier this year to lewdness charges. He was allowed to retire.

Fast Blake!
POSTED: 06/30/2015 03:45 PM EDT ~ UPDATED: 06/30/2015 03:45 PM EDT

New York, NY -- Former tennis star James Blake (pictured above-center) was physically taken down by a plainclothes New York City police officer James Frascatore. Blake had been ranked as high as No. 4 in the world before retiring after the 2013 U.S. Open. He was misidentified by a cooperating witness as being part of a scheme to sell fraudulently purchased merchandise. Police said Officer Frascatore (pictured below-center-inset) tackled Blake as a result. A day later surveillance video of the arrest outside a Manhattan hotel became public.



Details about previous complaints over the officer's use of force, also became public. Officer James Frascatore has been with the NYPD for four years. He has been named in several civil rights lawsuits alleging excessive force. He has also been the subject of four civilian complaints. The complaints are an above-average number for NYPD officers. A message left at a number listed for Frascatore, 38, wasn't immediately returned. Officials said he was exonerated of one civilian complaint. The second complaint was unsubstantiated. He was sanctioned for not identifying himself in a third. The status of the fourth complaint was unclear.




Blake told media sources on Saturday that the officer who wrongly arrested him should be fired. "I don't think this person should ever have a badge or a gun again," Blake, 35, said. "I don't think it's too much to ask," he said. "I think that that kind of police officer tarnishes the badge, which I have the utmost respect for and I believe that the majority of police officers do great work and they're heroes," Blake told media sources. "So this person doesn't ever belong in the same sentence with the heroes that are doing the right kind of police work and keeping the public safe."



The take down prompted apologies from Mayor Bill de Blasio and Police Commissioner William Bratton.


A spokesman for the police union did not return a message seeking comment Saturday. On Friday, Patrolmen's Benevolent Association President Patrick Lynch said Blake's arrest was made "under fluid circumstances where the subject might have fled, and the officer did a professional job of bringing the individual to the ground."


Frascatore has been placed on desk duty. Internal Affairs detectives continue their investigation. The issue is not only Blake's takedown, but whether the use-of-force was properly reported up the chain of command. Police brass learned of it only after Blake spoke to the media. However, determining what discipline, if any, Frascatore might receive won't happen any time soon. He could face departmental charges, depending on the results of an internal investigation. If Frascatore chooses to fight those charges, he would do so in a departmental trial. He could face potential punishments ranging from a loss of vacation days; to performance monitoring; or other disciplinary actions. Commissioner Bratton will ultimately decide Frascatore's fate.

Blake said Saturday he was appreciative of Bratton and de Blasio's apologies. He was also appreciative of their invitations to discuss further policing issues. Those issues include the use of body cameras; training; and ways to ensure more accountability. However, he also said he hoped others who have been wrongly arrested or mistreated by officers would receive the same treatment. "I'm sure this isn't the first time police brutality has happened and I'm sure it's not the last time," he said. "So I want them to apologize to the people that this happens to that don't have the same voice that I have."

A police spokesman declined to comment on Blake's remarks. He said the internal investigation is ongoing.

Rapist!
POSTED: 06/30/2015 03:45 PM EDT ~ UPDATED: 06/30/2015 03:45 PM EDT

New York -- A woman has filed a lawsuit against a NYPD officer Harold Avalos (pictured above-center) and the city of New York. She is accusing him of raping her and taking pictures of her naked body. The woman is seeking $15 million in her lawsuit. Avalos allegedly met the woman in 2012 after he responded to a domestic violence call at her Queens home. She lived there with her then-common-law husband. The alleged victim claims Avalos targeted and "relentlessly" began courting her. He convinced her husband to file a false theft charge against her. Afterwards Avalos allegedly told the woman that she was going to be arrested and needed his counsel.

Avalos took her out to a bar for her birthday in December 2012. He treated her to drinks, according to court papers. She claims that she woke up naked in bed with Avalos the next morning. He told her they had sex. The officer allegedly showed her images of them having sex, and he also claimed to have video footage, she says. She believes she was drugged.

He also allegedly threatened to kill her family if she said anything. "You don't know how crazy I am," he allegedly said. The woman said because she was terrified she met Avalos at a motel in March 2013 after he agreed to delete the images and he raped her again, she claims. Her ex-husband then contacted NYPD Internal Affairs. "A decision on whether he will be terminated is now before Commissioner Bratton," according to the media sources. So far Avalos has not been charged criminally. The woman's attorney said Avalos had previously dated a woman who, too, was involved in a domestic incident.

S.O.P.!
Posted: APRIL 14, 2015 11:13 PM EST ~ Updated: April 17, 2015 8:13 PM PST

New York -- Attorney Arthur Aidala is the former Senior Assistant District Attorney for Kings County, New York who now appears as a legal analyst for FOX News. During a recent segment of "Fox & Friends," Aidala was discussing the killing of unarmed Walter Scott by police officer Michael Slager.

During a discussion about video footage that shows Slager appear to plant a taser on Scott in an attempt to support the narrative that Slager felt threatened, Aidala makes a surprising and shocking admission about his interactions with the New York Police Department (NYPD).

Aidala states, "It looks like he runs back to the initial scene of the altercation, picks up the taser, then runs back and drops it next to the body. And, I mean, guys, when I was in the DA's office in the 80's, 90's, that was like standard operating procedure. Police officer would keep —I mean, I hate to say this but you can read about it in books— they would keep a second gun nobody knew about on their ankle and so if they ever killed someone who they shouldn't have then, they would then take that gun out and—"

Co-host Steve Doocy interrupts Aidala stating,"You're talking about dirty cops here." Aidala responds, "I'm talking about dirty cops, in, in, in the 70's and 80's and corruption and there was, ya know, all kinds of trials having to deal with that."

When host Brian Kilmeade asks Aidala about the challenge that video footage poses to representing Slager regarding the murder charge he now faces. Aidala states, "Let's face it, there's going to be no sympathy for this police officer, except for the fact that it's a 33-year-old human being who is getting paid $40,000 to protect his own life and protect everyone else's life. Nobody thinks this cop woke up that morning and said let me go kill somebody. He made split second decisions and they were wrong. Obviously he made wrong decisions. It's going to be about, in my opinion, how much jail time does he serve."

Not Guilty!
Posted: February 3, 2015 3:09 PM EDT - Updated: February 4, 2015 6:09 PM PDT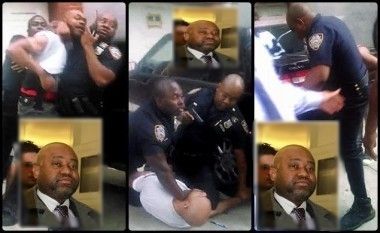 New York, NY (WCJB) - A New York police officer was charged with assault in Brooklyn. Joel Edouard, 37 (pictured above-center) was charged with one count of third-degree assault; one count of third-degree attempted assault; and one count of official misconduct. Edouard, was charged on Tuesday in connection with a July 23, 2014 incident, in which he was filmed stomping on the head of a suspect lying on the ground.

Cell phone video shows Edouard briefly pointing his gun at suspect Jahmiel Cuffee, 32. Cuffee resisted arrest and tussled with officers. He was stopped for allegedly drinking on the sidewalk -- illegal in New York. He then walks away before returning and stomping on Cuffee' head while he was being handcuffed by other officers. Cuffee and Edouard are both black. Brooklyn District Attorney Ken Thompson said the assault was "unacceptable for a police officer" but praised the "vast majority of police officers who perform their duties honorably."




The indictment against Edouard follows protests across the United States demanding legal reforms after a series of police killings of unarmed black men passed without censure. Edouard is the third policeman indicted in three months by prosecutors in Brooklyn. Edouard faces up to one year in jail if convicted. Officials confirmed that prosecutors in Brooklyn are investigating at least six other cases of police brutality.

Protests erupted in major cities across the US late last year over what demonstrators say is disproportionate police violence against unarmed African Americans. Many protesters demanded white police officers be charged for recently shooting dead a number of unarmed black men. In December, two New York police officers were shot dead in Brooklyn by a mentally disturbed man who claimed to be seeking revenge for some of the deaths.

The Queen's Blokes!
Posted: 8:40 AM EDT, Mon September 2, 2013 - Updated: 1:25 AM PDT, Mon September 3, 2013

New York (WCJB) -- Six British soldiers who have been charged with assaulting an off-duty New York City police officer are expected to appear in court this week, according to a police spokesman.

The six soldiers were arrested early Friday morning after the 30-year-old police officer was injured outside a bar in Manhattan's Murray Hill neighborhood, said New York Police Department spokesman Sgt. Thomas Antonetti. A verbal altercation quickly escalated into a physical fight, he said.

The cause is still unclear, he added.

All of the soldiers are Fiji nationals who serve in the 1st Scots Guard of the British Army, according to Antonetti. The group was visiting New York City for a battalion rugby match.

The men are identified as Iosefo Yavala, Iliakini Raderua, Thomas Shute, Felite Vunisarati, Mosese Kuruala, and Joeli Raduva according to NYPD.

The NYPD officer, 30, and a friend, 26, suffered lacerations and bruising to the face and head. They were taken to a hospital where they were treated and released, Antonetti said.

All six British soldiers were charged with third-degree assault, Antonetti said. One of the men was also charged with robbery, accused of trying to steal the NYPD officer's cell phone, he said.

The British Ministry of Defence released a statement to CNN saying it is "aware of an incident in New York involving some British Army soldiers. This is a matter for the NYPD and it would be inappropriate to comment while there is an ongoing investigation. All those who are found to fall short of the Army's high standards will face disciplinary action, up to and including discharge, if appropriate."

Three of the men will appear in a New York District Court on Tuesday, according to public records from the New York Criminal Court.

Corrective Measures!
Posted: Wednesday, August 14, 2013, 7:17 AM EDT - Updated: Thursday, August 15, 2013, 1:17 AM PDT

New York -- A city correction officer was collared for allegedly raping a relative at gunpoint during an argument in a Brooklyn apartment, police sources said Wednesday. Eddie Colon, 49, was off-duty when he began to argue with the unidentified woman and suddenly threw a mattress on the floor, the sources said. The woman tried to fight the fiend, who covered her mouth when she attempted to scream for help, sources said. Colon, brandishing a handgun, ripped the victim's clothes off and raped her, sources said.

The attack was reported to police, who arrested Colon early Wednesday. He was waiting to be arraigned on a slew of charges that included rape, assault, criminal use of a firearm, unlawful imprisonment and criminal obstruction of breathing. It was not immediately clear how long he had been employed with the city's Department of Correction, or where he was assigned.

"Like Father, Like Son!"
Posted: 03/19/2013 02:55:19 AM PDT - Updated: 03/19/2013 05:16:19 PM PDT
"I like jews about as much as hitler."

New York -- The fire commissioner's son quit the Emergency Medical Service Monday after he was accused of accused of sending racist and offensive tweets. Joseph Cassano, 23 (pictured below-center) son of FDNY head Salvatore Cassano, stepped down after less than three months on the job as an emergency medical technician. His high-ranking father — who spent the morning at a funeral for a retired EMS worker — issued a stern but loving statement as his son's dream of rising through the EMS ranks to become a firefighter went up in smoke.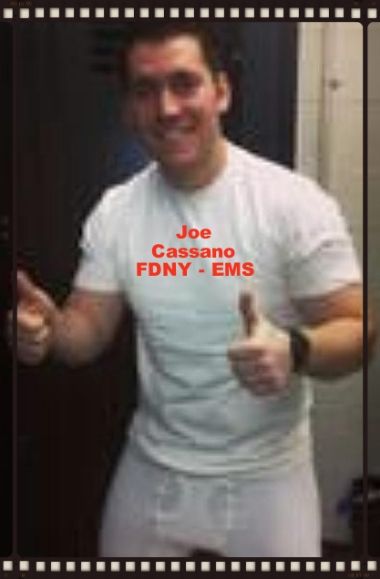 "Getting sick of picking up all these obama lovers and taking them to the hospital because their medicare pays for an ambulance and not a cab."

In other tweets, he used a derogatory slang term for black people, threatened to leave the U.S. if President Obama was re-elected and made a snide crack about Martin Luther King Jr., the newspaper said. He also reportedly wrote that every girl should be forced to get a "boob job" when she turns 18.

The Fire Department has been embroiled in a federal lawsuit brought by the Justice Department in 2007 over its racial makeup, which was 89 percent white. Before Cassano's resignation, a lawyer for the Vulcan Society — a fraternal organization of black firefighters, which joined the feds' discrimination suit against the department — called the younger Cassano's tweets disgraceful.

"I am extremely disappointed in the comments posted online by my son Joseph, which do not reflect the values — including a respect for all people — that are held by me, my family and the FDNY," said Commissioner Cassano (pictured below-center) a Vietnam vet who joined the FDNY in the 1970s. Cassano said he had "no tolerance" for divisive behavior in the FDNY — and his son was no exception. "As a parent, this is very painful for me, but I believe my son has made the right decision," Cassano added. "I love him very much and, with the support and love of our entire family, we will get through this together."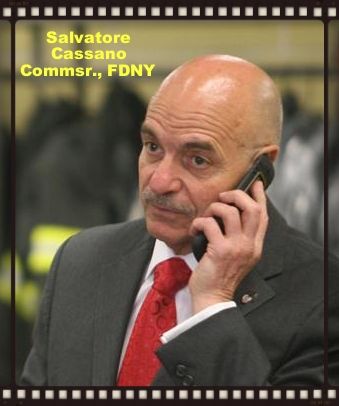 His EMT son, who had tweeted that he hated working for the EMS and made offensive comments about Jews and African-Americans, turned off his Twitter account when the remarks went public and issued an apology for his comments via the FDNY press office. But the damage control came too late to save his job.

At a news conference Monday morning, Mayor Bloomberg said, "I find the messages offensive. My understanding is he has chosen to resign from the Fire Department. That's the appropriate thing, and I'll leave it at that."

Some of Joseph Cassano's most recent tweets were still visible online, including one he posted March 6 that said, "I really don't worry if I make alot of money in my life, as soon as I can buy my wife new tits ill be a happy man."

That same day he wrote, "Got kicked in the shin by a drunk and had to carry a 275 pound guy down 5 flights of stairs...my job is the worst."

The FDNY has a code of conduct governing social media use for employees, sources said. The agency has fired Emergency Medical Service personnel in the past for tweeting or posting personal information about patients — a violation of federal medical privacy laws.

Cassano was a probationary hire with the FDNY, having graduated from his EMS class in December. He'd only been on the job for about three months and was still in his tryout phase, sources said. Cassano was featured on the FDNY website in a story about his EMS class's graduation on Dec. 21. "This is a dream come true," Cassano was quoted as saying in the FDNY story. "Since I was a kid, I've always wanted to work for the FDNY."

The young EMT wasn't going to just follow in his dad's distinguished footsteps, his father said in the same article. "He's going to make his own," the elder Cassano said.

New York Rage!
Published: Thurs. March 14, 2013, 7:56 AM - Updated: Sun. March 17, 2013, 2:38 AM PDT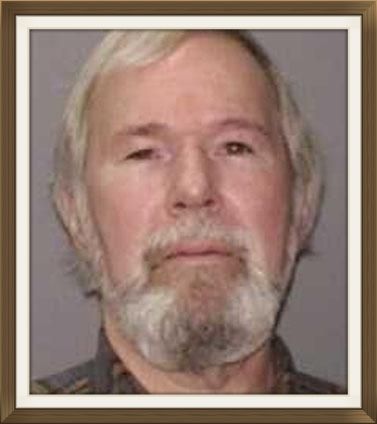 Herkimer, NY -- A deranged man who gunned down four people and wounded two others was shot dead Thursday after he capped an orgy of violence in upstate New York by killing a police dog. It was a violent end to a 24-hour drama that shattered the peace in Herkimer and Mohawk, two small New York towns east of Utica where Kurt Myers (pictured above-center) a 64-year-old loner, had been regarded as more of an oddity than a menace. Myers was killed after officers stormed the abandoned bar in downtown Herkimer where he had kept an army of cops at bay in a 19-hour standoff. "He was waiting for us," Trooper Jack Keller said. "He kills the dog. They hear shots fired. Our teams returned fire and the suspect gets shot." No police officers were injured taking Myers down, but a dog assigned to the FBI was killed when the gunman fired through a first-floor door. No police officers were injured taking Myers down, but a dog assigned to the FBI was killed when the gunman fired through a first-floor door. Officials did not release any details about the killed canine.

The bloodletting began on Wednesday morning when Myers set a fire in his building, grabbed a shotgun, and walked over to a nearby barbershop where he used to get his hair cut. "Hi John, do you remember me?" Myers asked Seymour, witnesses said. "Yes Kurt, how are you?" Seymour replied. That's when Myers began blasting, police said. Myers fled in a red Jeep Cherokee, leaving dead in his wake two customers Harry Montgomery and Michael Ransear. He also wounded Seymour and customer Dan Haslauer. His next stop was Gaffy's Fast Lube, a car wash in neighboring Herkimer, where Myers fatally shot two more people — employee Thomas Stefka and customer Michael Renshaw, police said.

With cops in hot pursuit, Myers ditched the Jeep in downtown Herkimer and hid in the basement of an abandoned building after firing off several more shots at the officers chasing him. Thus began an overnight standoff that ended around 8 a.m. Thursday when cops sicced a brave dog on a demented loner who refused to give himself up. Police still did not have a motive for the mayhem.

Survivors of the slaughter said they could not explain why Myers, an unmarried oddball who had lived in the area for years, suddenly snapped. "My brother couldn't think of any reason why he would do such a thing," said Mary Hornett, whose barber brother, John Seymour, was in critical condition after being shot in the left hand and right hip. Town residents said Myers was "very jittery and nervous" and kept to himself. "He just wasn't a people person, and he would never talk to anyone else," said Michele Mlinar, a server at a local bar Myers patronized for the past decade. "He came out of nowhere," Chief Joseph Malone, who heads the police force in both towns, told the media sources. "He was not on our radar and hasn't caused any problems." Police said that other than a drunken driving arrest in 1973, Myers did not have a record. Myers lived in an apartment building in Mohawk and police were seen removing a number of rifles from one of the residences. They did not confirm that the arsenal was his.

Coerced Omerta!
Posted: Wednesday, March 20, 2013, 1:45 AM - Updated: Monday, March 25, 2013, 5:08 AM PDT

New York -- A Gambino capo on trial for the killing of two Queens bar owners over a spilled drink was part of the triumvirate running the crime family before he was arrested in 2011 for the senseless crime, a mob turncoat testified. Former associate Howard Santos said word spread quickly throughout the Gambino ranks when Bartolomeo (Bobby Glasses) Vernace became a boss.

"It was as if you're working in an office building and certain people get promotions, you hear about it," Santos, 46, said in his singing debut on the witness stand in Brooklyn Federal Court. "That's what we talk about." Vernace became a made man in 1999 after he beat state murder charges in the killings of Shamrock Bar owners Richard Godkin and John D'Agnese in 1981.

Posted: Thurs. March 14, 2013, 12:33 AM - Updated: Thurs. March 14, 2013, 09:50 PM PDT



New York -- For many families of murder victims, there is never justice — but for Catherine Godkin, it has been particularly elusive. Her husband, Richard Godkin, and his business partner John D'Agnese were gunned down in their Queens tavern more than 30 years ago by three thugs who beat the rap due to bungling prosecutors and reluctant witnesses. But the feds may finally hold Gambino capo Bartolomeo Vernace (pictured above-center) responsible for the senseless 1981 shooting on "Western Night" at the Shamrock Bar in Richmond Hill, when two good men were blown away over a spilled drink. A former bartender admitted Wednesday that he lied to cops and jurors for more than three decades about who was responsible for the senseless murders of two tavern owners by Gambino gangsters. He claims Fear kept him silent for 30 years. "I was afraid," Joseph Patrick Sullivan testified in Brooklyn Federal Court. Sullivan was serving drinks in the Shamrock Bar in Queens on April 11, 1981, when all hell broke loose on "Western Night" after a patron accidentally knocked over a glass near a gangster's moll. Before the night was over, Shamrock owners Richard Godkin and John D'Agnese were shot dead.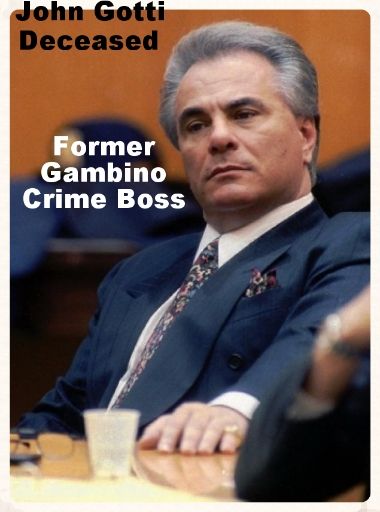 Two men were dead over a spilled drink," he said at the murder and racketeering trial of reputed Gambino capo Bartolomeo Vernace. "That was reason enough to be afraid." Testifying with immunity granted by the feds, Sullivan said he knew the goons who returned later that night to the Shamrock with guns. "A girl was making a scene," Sullivan, 55, said. "She started going into a big tirade about her dress was forever ruined." The woman's boyfriend, Frank (The Geech) Riccardi (pictured below-center) shot D'Agnese in the face, and Vernace, known as "Pepe," was struggling with Godkin, a Vietnam veteran and father of four young children, against a bowling arcade machine.



"'Where's your gun now, tough guy? Go for it,'" Vernace said to Godkin, according to the witness. Sullivan said he heard two shots in quick succession. Godkin's widow, Catherine Godkin, wept in the courtroom as the witness described her dying husband's labored breathing as he lay slumped against the wall bleeding profusely from a chest wound. A third thug, Ronald (Ronnie the Jew) Barlin fired a round into the ceiling before the killers fled, Sullivan said.

Over the next 30 years, the state murder cases crumbled against Barlin, Riccardi and Vernace as Sullivan deliberately withheld information. Charges were dropped against Barlin; Riccardi was acquitted in a state murder trial and is now deceased; Vernace was acquitted in 1998 in a state trial. No one personally threatened him, but Sullivan recalled what made him fear cooperating with the law. Shortly after the killings, he received word that Gambino mobster Ronald (Ronnie One Arm) Trucchio wanted to talk to him at the tough guy's social club. Sullivan dutifully reported to the club, but no one was there.

D'Agnese's girlfriend, Linda Gotti, was in the bar that deadly night, too, and Sullivan said that was a notorious last name in the Queens neighborhood. FBI agents have convinced Linda Gotti, niece of deceased crime boss John Gotti, to identify the men who killed D'Agnese, who was her boyfriend at the time. Charges were dropped against alleged killer Ronald (Ronnie the Jew) Barlin because Linda Gotti recanted her identification; Frank Riccardi was acquitted in a state murder trial and is now deceased; Vernace was acquitted in 1998 in a state trial. Then there were the large, "no-neck" men sitting in the front row at Vernace's state trial in 1998 when Sullivan suffered a bout of amnesia. Assistant U.S. Attorney Evan Norris asked the witness if he was testifying voluntarily. "No," Sullivan replied. "I was granted immunity, forgiveness for my past transgressions as long as I tell the truth."

"I can understand their fears," Godkin, 70, told The Daily News. "I still live in the neighborhood and I can remember what it was like then. They had to get on with their lives." Godkin had to go on with her life, too. Richard, a decorated Vietnam veteran, was the father of four children when he died. Next week, they would be celebrating their 43rd wedding anniversary. "He did not get to give the bride away three times," Godkin said. "That probably was one of the saddest moments." Godkin is thankful they are finally talking. "I applaud them for coming forward to clear their conscience," she said.

Burning Grudges!
Posted: Wed. March 13, 2013, 4:33 PM - Updated: 12:52 AM PDT, Fri. March 18, 2013

Brooklyn, NY -- A Brooklyn drug dealer was arraigned Wednesday for allegedly torturing and killing two rivals who tried to rob him, then dumping their bodies by the Belt Parkway and setting them on fire, the authorities said. Rogelio Rodriguez, 34, was charged with murder for the merciless March 6 killing of Rudy Superville, 22 (pictured below, center-right) and Gary Lopez, 25 (pictured below, center-left) whose charred remains were found by firefighters. The two pals tried to hold up the dealer's Bushwick home, police officials said, but were confronted instead by four men. Their beaten bodies were discovered after a brush fire was doused near Howard Beach, Queens.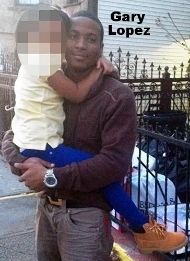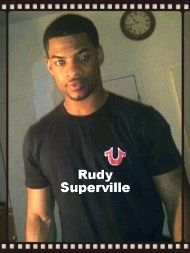 "The defendant is accused of participating in the brutal murder of two men whose bodies were dumped and intentionally set on fire in an attempt to cover up the alleged crime," said Queens District Attorney Richard Brown. Rodriguez allegedly struck Lopez with a gun and a chair after he was already shot by a cohort. Lopez, who did three years for robbery, was then shot by two others, according to the criminal complaint. Rodriguez also pistol-whipped and kicked a wounded Superville, the document added. A day after the bodies were found, the defendant allegedly dumped seven guns into Newtown Creek in Maspeth - including those used for the murders, officials charged.

Rodriguez, who's facing 25 years to life in prison, was ordered held without bail. His three alleged accomplices are still being sought.

Turn Pike!
Posted: 10:58 AM EDT, Tue March 12, 2013 - Updated: 03:27 AM PDT, Sun March 24, 2013

New Jersey (WCJB) -- Two New Jersey state troopers who led an unauthorized high-speed escort of a caravan of sports cars last year agreed Monday to resign, according to the New Jersey attorney general's office.

Sgt. 1st Class Nadir Nassry, 47, who led the March 30, 2012, caravan of exotic cars down a state highway to Atlantic City, pleaded guilty to a fourth-degree charge of falsifying or tampering with records. Nassry admitted that he used black electrical tape to change the numbers on the license plates of his troop car to conceal his participation in the escort, authorities said.

As many as 30 high-performance cars including Porsches, Lamborghinis and Ferraris reportedly reached speeds of more than 100 miles an hour during the highway run. Drivers were members of a sports car club, according to the state attorney general's office.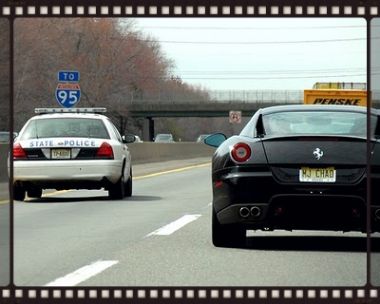 Under a plea agreement, the state will recommend that Nassry, a 26-year veteran of the New Jersey State Police, be sentenced to a term of probation, forfeit his job with the state police and be permanently barred from any law enforcement position or public employment in New Jersey.

Nassry will be sentenced April 29 according to the New Jersey attorney general's office.

A second trooper who assisted in the escort, Joseph Ventrella, 29, agreed to waive indictment and be charged by accusation with fourth-degree falsifying or tampering with records, according to the attorney general's office. Ventrella will apply for a state intervention program. If completed, the charges will be dropped.

The agreement means he did not plead guilty to the charge, but he has forfeited his job with the state police and will be permanently barred from any law enforcement position in New Jersey, said the attorney general's office.

"These troopers violated those standards and betrayed the public's trust, undermining public safety and the reputation of the force. They are justly paying a high price for their poor judgment. Both men have ended their law enforcement careers, and one will have a felony record for the rest of his life," said New Jersey Attorney General Jeffrey S. Chiesa.

Attorneys for Nassry and Ventrella did not immediately return calls for comment.

---
---
NYPD'S Occupational
Hazards!
Posted: 04/19/2013 02:42:07 PM PDT - Updated: 04/19/2013 02:42:07 PM PDT

NEW YORK — Two New York City police officials involved in separate altercations during chaotic moments of Occupy Wall Street demonstrations won't face criminal charges, officials said Friday.

Deputy Inspector Anthony Bologna and Deputy Inspector Johnny Cardona were investigated by the Manhattan District Attorney's office.

Bologna used pepper spray on a group that had spilled over into the streets during the early days of the movement in September 2011. The small group of mainly women had been corralled by orange netting used by officers to control crowds, and the official was captured on video blasting the cluster with pepper spray. Two women crumple can be seen in the video onto the sidewalk and one screams.

The video was posted online, went viral and helped propel the movement into the international spotlight.

One of the women, Kaylee Dedrick, has filed a federal lawsuit against the department and the officer.

The second incident, involving Cardona, was an altercation with protester Felix Rivera-Pitre a few weeks later. Police said Cardona was sprayed in the face with an unknown liquid by a group of demonstrators and that Rivera-Pitre tried to elbow the official in the face. Cardona is seen on video lunging at the protester.

Rivera-Pitre said the attack was unprovoked and that Cardona punched him in the face, ripped out his earring and bloodied him.

Both of the incidents occurred during mass protests in Manhattan, and the snippets of videos posted online did not appear to capture either altercation in its entirety. Erin Duggan, a spokesman for the district attorney's office, said the allegations could not be proved criminally beyond a reasonable doubt.

Ron Kuby, a lawyer who represents the protesters involved in both altercations, blasted the lack of charges. He said he would ask federal authorities to investigate.

Occupy Wall Street press liaison Bill Dobbs said Friday's decision eroded public confidence in the police and the district attorney's office.

Bologna was disciplined internally after a review found he had violated departmental guidelines when he used pepper spray. Cardona was not.

Roy Richter, president of the union representing the officials, said Cardona was the "true victim of the OWS fiasco" and was recovering from several surgeries he had after injuries suffered while policing the demonstrations.

NYPD'S Finest!
Posted: Saturday, March 23, 2013, 2:29 AM EDT - Updated: 07:27 AM PDT, Mon. March 25, 2013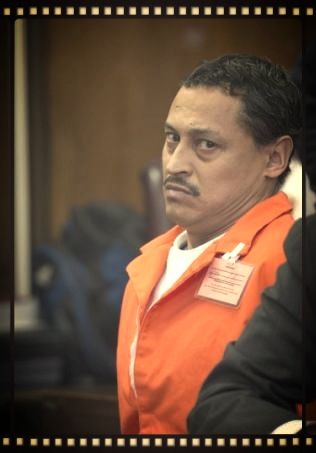 New York -- The furious dad of a troubled teen tore into her convicted rapist at his sentencing Friday, where the sick ex-cop got seven years for luring the 14-year-old runaway into a Manhattan apartment for sex.

"If I found your daughter on a park bench, I would have called for help, not taken advantage of her," the devastated Brooklyn dad screamed at defendant Darrin Nemelc, 44 (pictured above, center).

He said his daughter had a 3.6 GPA when Nemelc attacked her on New Year's Day 2011. Since then, he said, the girl has been in three residential facilities, has been admitted to hospitals numerous times and failed 10th grade.

NYPeePer!
Posted: Saturday, March 16, 2013, 3:21 PM EDT - Updated: 03:27 AM PDT, Sun March 17, 2013

New York -- The cop busted for spying with a surveillance camera was actually peeping on his own stepdaughter for sexual gratification, officials revealed Monday. Police Officer Miguel Gomez, 41, secretly watched the 21-year-old getting dressed and having sex between May 28 and July 15 in the home she shared with the cop and her mom in the Bronx, according to court papers.

However, his lawyer said Monday that prosecutors have just a single recording of the victim. It was taken in the bathroom and no sexual activity was recorded, said Gomez's attorney. "He denies it all," his attorney said. "We're going to take a hard look at the evidence."

Gomez, who has been on the force eight years, was arraigned in Bronx Supreme Court Friday on three counts of unlawful surveillance. He was released without bail. A judge barred him from being in contact with his stepdaughter. Gomez could not be reached for comment.

"I'm in total shock," said a neighbor. "He's a cop. He was so respectable." Gomez hasn't been the only city cop to land in hot water recently.

Three off-duty officers faced drunken-driving charges after the St. Patrick's Day weekend:

•» Detective Washington Mosquera, 37, hit a stopped FDNY ambulance in East New York, Brooklyn, about 1:30 a.m. Monday, police sources said. Nobody was injured, but Mosquera was charged with driving while intoxicated and refusing to take a Breathalyzer test.

•» On Sunday, Officer Joseph King, 28, was arrested after allegedly crashing his 2006 Acura into a parked vehicle on the Brooklyn-Queens Expressway in Astoria, Queens, about 4:25 a.m. Two women in the other vehicle were hospitalized for pain to their neck, back and legs. King, who prosecutors say had an open bottle of Bacardi rum in his car, was arraigned on charges of drunken driving and leaving the scene of an accident. He was freed on $2,500 bail.

•» Also on Sunday, Officer Dennis Munge, 32, crashed his 2011 Toyota into a traffic median and several parked vehicles in Jackson Heights, Queens, about 4:45 a.m., prosecutors said. He was arraigned Sunday on a drunken driving rap and released without bail.

Blue & Gray Collide!
Posted: Saturday, March 16, 2013, 3:21 PM EDT - Updated: 03:27 AM PDT, Sun March 17, 2013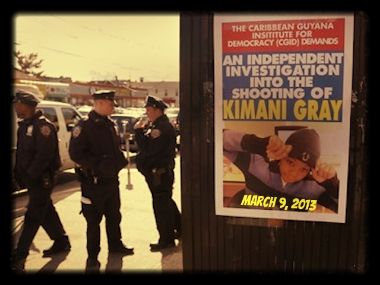 East Flatbush, Brooklyn -- East Flatbush is a community that in some ways exemplifies the kind of neighborhood that is most often heavily policed. In the mostly black neighborhood, unemployment and poverty sit above average. No publicly-financed community centers sit within a 3 mile radius, and many schools in the area rank among the city's struggling institutions. Gangs, or loosely organized crews, have a real foothold in the area, as do some of their criminal enterprises. In the last two years alone, Gilford Monrose, pastor of Brooklyn's Mt Zion Church of God 7th Day and president of the 67th police precinct clergy council, has overseen funeral services for 10 people under the age of 25.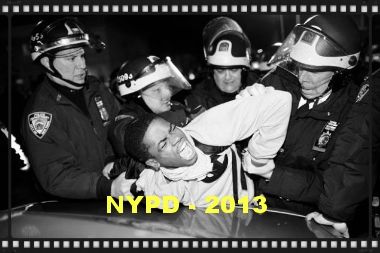 Kimani Gray, a 16-year-old boy was shot and killed March 9 by NYPD officers outside his best friend's house in East Flatbush, Brooklyn. The shooting incident has been described in different ways by police and witnesses. Major facts related to the shooting -- whether Gray was carrying a gun at the time of his death or attempting to use it when shot -- remain unclear. Thursday, March 14, 2013, marked the fourth night of protests following the death of Gray. Dozens of demonstrators have since been arrested and a police officer suffered a wound to his face after a being hit by an object. Although police maintain Gray was armed and pointed a weapon at officers, his death has provoked outrage among residents who are demanding justice.




The NYPD did not respond to a media request for information, but told another media source that plain clothes police approached Gray and a group of "men" around 11:30 p.m., identified themselves as police and ordered them to stop.


Mr. Gray turned and pointed a .38-caliber Rohm revolver at them, the police said; two officers fired, hitting the teenager. He was pronounced dead a short time later at Kings County Hospital Center. Mr. Gray did not fire the handgun, which was recovered at the scene.

The group of "men," was actually a collection of mostly teenaged boys including Gray and his twin best friends, said a lawyer representing Gray's family and a one-time New York City prosecutor who worked closely with police on gang crimes. The group was headed to a Sweet 16 party. Not far from the twins' home, police spotted the group, circled the block and then jumped out of their vehicle issuing orders to stop amid a barrage of curse words. Frightened, Gray attempted to flee but also needed to adjust his sagging pants. As he fiddled with his pants or belt, police officers shot the boy, the attorney said. Witnesses told the attorney that Gray was not armed.

Mayor Michael Bloomberg, who said a "full and fair" investigation into the shooting would be conducted, urged community members to abstain from violence. "I understand that there's anger in the community, but the way to get answers is not through violence or law-breaking," Bloomberg said. "We cannot tolerate that, and we will not tolerate that."

Gray lived in a community where police and many residents say crime and gangs warrant intense police patrols and scrutiny. Many say the use of confrontational police techniques such as NYPD's Stop and Frisk program (officially known as Stop, Question and Frisk) is also warranted. Stop and Frisk aims to identify people with illegal guns and those engaged in other criminal activity and take them off the street with a program of surprise contact with those who look suspicious. This contact can involve pat downs, and, when warranted, arrests, according to police. Mayor Michael Bloomberg has repeatedly described the program as a key crime prevention and reduction tool, and said that the program will, at minimum, remain in place through the remainder of his term, which ends at the end of this year. Gray was stopped as a part of the Stop and Frisk program, his family says.


Sergeant Mourad Mourad was one of the police officers involved in the shooting death of Kimani Gray, 16, in East Flatbush on March 9, 2013.


The two NYPD officers involved in the fatal shooting of 16-year-old Kimani Gray have reportedly been the targets of five federal lawsuits, with plaintiffs alleging civil rights violations. Sgt. Mourad Mourad (pictured above, center) and Officer Jovaniel Cordova (pictured below, center) who are accused of fatally shooting Gray seven times on March 9th, have reportedly cost the city about $215,000 in court settlements. Mourad was sued once in 2009 and two times in 2010, and allegations include a stop-and-frisk in which Mourad and fellow cops pulled down a suspect's underwear, in addition to a claim of an illegal arrest in which the plaintiff says he was slammed into a car. Cordova was sued in 2011 and 2012, with one plaintiff claiming the cop punched him in the eye. The city's issued no admission of wrongdoing, but a lawyer who's filed four out of the five suits against the cops says otherwise. "Our clients' interactions with Sgt. Mourad and Officer Cordova expose a disturbing pattern of unconstitutional and aggressive stop-and-frisk practices," the lawyer told media sources. "In each case, Mourad and Cordova attempted to cover up their misconduct by falsifying and fabricating evidence."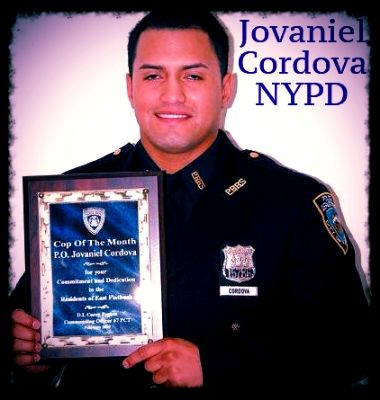 Public opinion polls have repeatedly demonstrated a sharp racial divide in the way that the program is viewed. An August 2012 media poll found that 55 percent of Whites surveyed about the program describe it as perfectly acceptable while 56 percent of blacks and 44 percent of Latinos described it as excessive. On Thursday, March 14, 2013, the New York Civil Liberties Union announced that the city's police department is well on its way to initiating 5 million stop and frisks. Of the 4.4 million stops that have already been recorded, just over 86 percent of those stopped and frisked were black or Latino and 88 percent of these interactions did not lead to an arrest or citation requiring a court appearance.

Cannibals on the Force!
Posted: 1:52 PM EDT, Tue March 12, 2013 - Updated 10:05 PM PDT, Tue March 14, 2013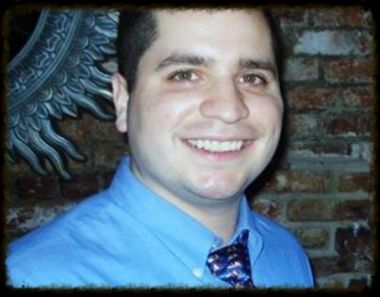 New York (WCJB) -- New York police officer Gilberto Valle conspired to kidnap women, who prosecutors argued he planned to rape, torture, cook and eat, a federal jury decided Tuesday. Valle's lawyers argued the former police officer's e-mails and online postings were just "fantasy role-play" and" dark improv theater," but prosecutors said he was "deadly serious." Valle, 28, faces life in prison for the kidnap conspiracy conviction. He was also found guilty of illegally accessing a federal law enforcement database.

The database, which Valle was trained to use and had access to as a cop, helped him research potential victims, prosecutors said. Court records show that Valle got the addresses of his alleged targets by sending them a police charity card that he claimed would "get (them) out of a minor traffic violation" if they are pulled over by police. The police charity card was a ruse, prosecutor Randall Jackson argued.




No one was ever kidnapped or eaten, but the jury did see what prosecutors said were detailed plans to carry out Valle's plot. Valle, a six year NYPD veteran, planned to kidnap three women during the week of February 20, 2012, prosecutors said, pointing to some of the e-mails and chats. He communicated online with three co-conspirators, including a man identified as "Moody Blues" or "Chris Collins" or "meatmarketman," who Valle met on the Dark Fetish Network, prosecutors said. "Meatmarketman," who lives in the United Kingdom, bragged in one conversation about one of his past victims, sending Valle a picture, and saying he "tried her alive first, actually it wasn't very good, very bloody." "His porn consists of dead bodies," Assistant U.S Attorney Randall Jackson told jurors. "That is not normal."

A document found on his wife's laptop was titled "Abducting and Cooking Kimberly -- A Blueprint." It included a photograph of Kimberly Sauer and personal information, including her bra size and shoe size. Sauer's testimony revealed that some of the information -- a different last name, birthplace, birth date and college education -- was inaccurate. The same document listed "materials needed," which included a gag, rope, chloroform and a tarp for the trunk. The FBI never found any of these items in Valle's possession. References to the blueprint were found in chats the FBI deemed "fantasy role-play," along with references to waterboarding and chloroform, terms frequently used in the online conversations.

The Defense attorney argued Valle's conduct was "pure fiction" and "make believe." The Attorney tried to show that Valle provided false information about the alleged targets' locations to some people he chatted with online. In one instance, Valle said the woman was at a college four hours away, even though she attended school in New York. In other instances, he said he was watching an alleged target, when she really lived in Ohio. Records indicate Valle never went to Ohio. The attorney told the jury that it was a part of "crude, stupid, infantile, masturbatory storytelling."

"I have a world in my mind," Valle wrote in an e-mail to one fantasy role-play partner. "In that world I'm kidnapping women and selling them to people interested in buying them," the attorney read aloud from Valle's e-mail conversation. In one online chat, Valle said he was working on a story that featured "a restaurant that sells women in all varieties, sometimes grilled or roasted as whole, sometimes in steaks or pieces, sometimes a la carte, or in a buffet."

Valle will be sentenced June 19 by U.S. District Court Judge Paul Gardephe.

Sucker Punched!
Posted: Tues. March 5, 2013, 9:43 AM EDT - Published: Mon. March 18, 2013, 6:41 AM PDT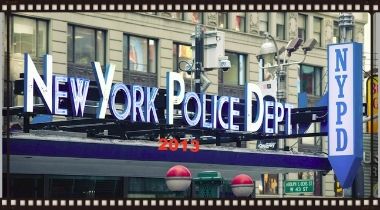 New York -- A decorated New York cop punched his three-year-old son in the face after a drunken fight with his wife, authorities said. Jason Sharp, who serves in the NYPD's Brooklyn gang unit, allegedly hit the toddler at the family home in Bellmore, L.I., in the early hours of Saturday morning. The infant was hospitalized with swelling and bruising on his right eye, cheek and nose. The toddler himself, according to the records, told police, "My daddy punched me in the face." But Sharp said, "I had an argument with my wife and punched the wall, I had a few drinks today."

Court records state the attack came after an "inebriated fight" with his 38-year-old wife Michelle. During the argument, Sharp's wife reportedly went downstairs to call for help as her husband had been "recklessly drinking."

"After a few minutes I went back upstairs and found my son Connor crying with two swollen eyes which were impairing his vision and his nose and face were swollen," Sharp said.

Sharp, who has earned 14 awards in his 10-year NYPD career, has been charged with third-degree assault, endangering the welfare of a child and fourth-degree criminal mischief. The 37-year-old decorated detective has now been suspended for 30 days from his post.

NYPD Kid Stuff!
Posted: Tuesday, February 19, 2013, 12:18 AM - Updated: Tuesday, March 19, 2013, 1:31 AM PDT

New York -- An NYPD sergeant with 15 years on the force was arrested Monday and charged in connection with having child pornography on his computer, police sources said.

Alberto Randazzo, 36 (pictured above-center) was charged with use of a child in a sexual performance, promoting sexual performance by a child and possessing a sexual performance by a child, police said. Cops found the child porn on a computer belonging to Randazzo, but it was unclear whether it was a personal computer or one belonging to the police department. Police sources said investigators have no evidence the sergeant had physical contact with a child.

Randazzo, who lives in Queens, joined the NYPD in 1998. He has been suspended without pay pending the outcome of the criminal proceeding brought against him.

The Devil's Spawn!
Posted: Tuesday, February 5, 2013, 12:16 PM - Updated: Thursday, Feb. 7, 2013, 1:25 AM PST
Brooklyn, New York -- Convicted cop killer Ronell Wilson hatched a plan to avoid the death penalty by impregnating a female guard with his evil seed at the federal jail in Brooklyn. Federal agents arrested the guard, Nancy Gonzalez (pictured right) at her Huntington, Long Island, home Tuesday. She is eight months pregnant. Gonzalez, 29, a guard at the Metropolitan Detention Center, was charged with having sexual intercourse with an inmate. She was arraigned Tuesday, February 5th in Brooklyn Federal Court. She faces 15 years in prison if convicted. Their hookups occurred over three weekends during which "the sole purpose was to impregnate her," the complaint states. Gonzalez allegedly serviced Wilson while the other inmates were locked down in their cells. Gonzalez became pregnant in June 2012, the complaint says.




Gonzalez admitted the illicit relationship in a recorded telephone conversation with her boyfriend who is incarcerated in state prison. She stated, "[I] kind of got sucked into his world" and "[I] felt like, well, why not give him (Wilson) a child as far as giving him some kind of hope," court papers state. "I took a chance because I was so vulnerable and wanted to be loved, and now I am carrying his child," she said. Gonzalez reportedly told her boyfriend's mother that she is ready to "own up to her part of it but by no means is she going to make someone go on death row," the complaint states.


During Wilson's (pictured left) 2007 trial for killing the undercover detectives in cold blood, prosecutors introduced a letter he wrote to another inmate, "I just need a baby before this pigz try to take my life. I need to have something behind me." Wilson, 30, who is facing the death penalty for murdering undercover NYPD detectives Rodney Andrews and James Nemorin during a gun buy and bust, was outed by prison snitches, according to a complaint. One informant spotted her moving away from Wilson's cell door while he was standing on the doorway "with his pants down, exposing his genitals." Wilson was moved to solitary confinement in August while agents from the Department of Justice's inspector general's office launched an investigation.





(Detective Rodney Andrews (left) and Detective James Nemorin (right) were murdered while conducting undercover gun buys.)


Wilson was sentenced to die by a federal jury but the U.S. Court of Appeals overturned the sentence due to prosecutorial error. He still faces life in prison or death by lethal injection when he is resentenced later this year. In November, a hearing was held on Wilson's claim that he is mentally retarded and therefore not eligible for the death penalty. A decision from Judge Nicholas Garaufis is pending. It is unclear how Gonzalez's arrest will affect the mental retardation motion. "If this was done by design, it's not the actions of a person who is mentally retarded," said Michael Palladino, president of the Detectives Endowment Association. "It's a devious plot to avoid the death penalty." Federal prosecutors are prepared to argue to a new jury that Wilson remains a danger in prison because of his membership in the Bloods gang and his skill at manipulating prison staff. That makes him a high risk to escape or pass messages to associates on the outside.

Campaign Cash!
Posted: Thursday, January 31, 2013 - Updated: Tuesday, Feb. 5, 2013, 11:51 PM PST

New York City, NY -- A top aide to City Controller John Liu (pictured above, center) told prosecutors she knew it was against the rules to solicit straw donations but did so because she wanted to help her boss' mayoral campaign. Sharon Lee, Liu's former press secretary, admitted hitting up family members and friends for illicit contributions and offering to reimburse them. "At the time of the offer, my mental state was to do anything and everything I could (to help the campaign)," Lee said, according to FBI notes from interviews with Lee in 2012. She said Liu had no knowledge of her actions. Lee, who still works for Liu as his labor relations coordinator, has been granted immunity to testify at the upcoming conspiracy trial of former Liu campaign treasurer Jia (Jenny) Hou and a Liu fund-raiser.

Citi Field!
Posted: Wednesday, August 8, 2012 16:42 - Updated: Tuesday, March 19, 2013, 01:07 AM PDT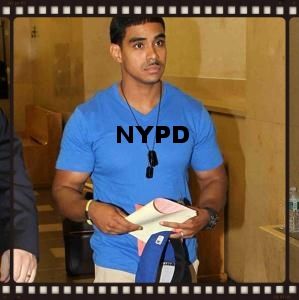 New York -- Officer Eduardo Cornejo (pictured above, center) pleaded guilty Monday to ditching his bleacher seat during a May game against the Reds at Citi Field and sneaking into the Party City deck, just above the leftfield wall.

Cornejo, who was off-duty at the time, was arrested after he ignored security guards' orders to return to his original seat, according to prosecutors.

Queens Criminal Court Judge Gene Lopez ordered Cornejo, 30, to serve three days community service and banned him from returning to Citi Field for a year. Cornejo also had to pay $120 in court fees.

An NYPD spokesman did not return a message seeking comment about whether Cornejo would be punished for the incident.

Posted: Thursday, May 17, 2012, 10:38 AM - Updated: Tuesday, March 19, 2013, 01:07 AM PDT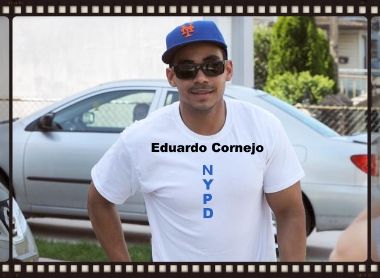 New York -- An off-duty NYPD cop ended up arrested Wednesday night for moving to a better seat at Citi Field, then refusing to budge when security cried foul. Officer Eduardo Cornejo had a legit ticket to the Mets' sad 6-3 drubbing by the Cincinnati Reds, but ballpark management confronted him once they realized he was stretched out in a seat better than the one he had purchased.

"He was in a section he wasn't supposed to be," Police Commissioner Raymond Kelly said. "They asked him to leave. He wouldn't. [A] supervisor asked him to leave. He wouldn't. The uniformed police sergeant asked him to leave. He wouldn't, and he was arrested as a result."

The obstinate 30-year-old was arraigned on criminal trespass charges Thursday and released. When Cornejo and a woman arrived at his Staten Island home afterward, he was sporting a Mets cap. "I'm sorry but I have no comment," Cornejo said.

He works within the 67th Precinct in Brooklyn and has been with the NYPD since 2005.

NYPD Death Wishes!
Posted: Wednesday, November 28, 2012, 11:31 PM - Updated: Tuesday, March 19, 2013, 01:07 AM PDT

New York -- An NYPD sergeant was arrested Tuesday on charges of harassing his cop ex-girlfriend with a flurry of vicious phone calls and texts, cops and prosecutors said. John Randazzo, 44, who is assigned to the 115th Precinct in Jackson Heights, Queens, was collared in midtown on an aggravated harassment charge Tuesday, cops said.

"I f**king wish death upon you, but I love our children," he texted on July 14, according to the criminal complaint. "I pray you and \[sic\] die on the road on his bike. You bleeding to death an laying there thinking how you messed this whole thing up," he allegedly added.

On May 18, he reportedly threatened to file a complaint with the Internal Affairs Bureau, which investigates claims against police officers. "If you don't pick up the phone I will send a letter to IAB," he wrote in a text, the complaint said.

Randazzo, a 20-year veteran of the force, was charged with two counts of aggravated harassment and a single count of harassment. It was not clear why he was busted more than six months after some of the alleged misconduct. His attorney said Randazzo has "an impeccable record with the NYPD." Randazzo was suspended from duty and was arraigned in Manhattan Criminal Court Wednesday night. He was released on his own recognizance.
---
Reader Pageviews by Country
---
From: Mar 11, 2013 2:00 AM – Mar 18, 2013 1:00 AM
---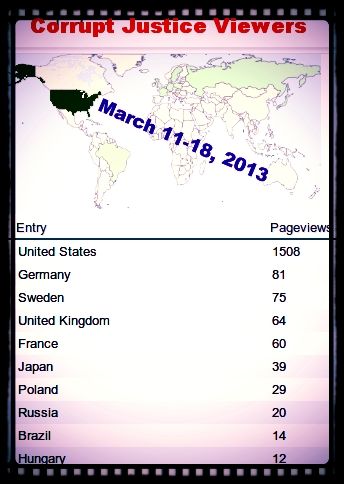 ---
«•
Thank you for visiting Corrupt Justice™. Enjoy our Free Movie Intermission! Don't forget to Bookmark Us & Tell A Friend! We're Global!
•»
---
Movie Intermission!
The Rise & Fall

of the

Gambino Crime Family!
---
Description:
Documentary: - The Rise & Fall of the Gambino Crime Family documents the formation of the Gambino Family and its fall after Crime Boss John Gotti rises to power.

(

Runtime:

01:30:14)
---
---