---
Click on Banner to Sell Your Home(s)!
Runtime:
00:01:03 (One Minute, Three seconds)
Video Site:
Harry Williby
---
---
"They rape, ... They rape a 100 white women a day, ... that's FBI statistic from 2005."
--
Dylann Roof, explaining to FBI Agents why he entered Emanuel African Methodist Episcopal church in Charleston, South Carolina, on June 17, 2015 and killed nine members of the black congregation attending a Bible study inside.
Top News Stories!
True View Photography!
Posted: 11/09/2013 03:18:41 PM PST - Updated: 11/10/2013 11:03:41 PM PST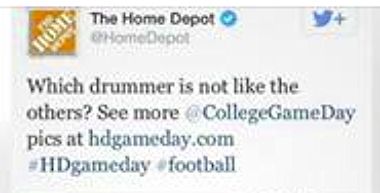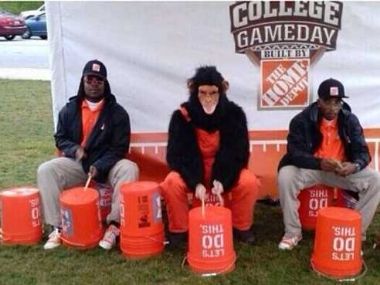 Online
-- Home Depot issued [a phony] apology for a racist tweet and blamed the agency that sent it from the company account.
The home improvement retailer pulled the tweet and apologized on
Twitter
on Thursday, saying, "We have zero tolerance for anything so stupid and offensive. Deeply sorry. We terminated agency and individual who posted it."
In a statement provided to media sources, Stephen Holmes, director of corporate communications, said, "We have zero tolerance for anything so stupid and offensive. The outside agency that created the Tweet and The Home Depot associate who posted it have been terminated. We're also closely reviewing our social media procedures to determine how this could have happened, and how to ensure it never happens again.
Customers responded to the apology on various social media sites.
"Deflecting blame and now all is hunky dory? Hmm," one
Facebook
user wrote. "So even though you hired the firm responsible for the shockingly racist tweet, you bear/accept no responsibility? Here's to hoping your company uses your one 'do over' wisely."
Another
Facebook
user wrote: "Very respectful way for you to respond to that offensive tweet. I will continue shopping at the Home Depot. Thank you for firing whoever posted that!"
"Another Nigger fried. No big deal."



-- April 16, 2011, Statement by New York City Police Officer Michael Daragjati, boasting of his false arrest of another African-American male.
The Blue D-Boyz!
Published: 4/8/2013 8:51 AM - Updated: 8/28/2013 10:51 PM PDT
Schaumburg, Illinois
-- Numbers tell the story of the ongoing fallout from the January arrests of three former Schaumburg undercover police officers charged with selling drugs skimmed from seizures. The three have pleaded innocent to multiple charges in DuPage County, including criminal drug conspiracy, delivery of a controlled substance, armed violence, theft and official misconduct. Eight months after the scandal broke, the toll stands as follows: Three former officers charged, one police chief retired, four federal lawsuits filed, and charges against at least 19 former defendants dismissed over concerns about the credibility of former officers John Cichy, 30, Matthew Hudak, 29, and Terrance O'Brien, 46.
On March 19, Schaumburg Police Chief Brian Howerton resigned. Even before the officers' arrests, the 32-year Schaumburg veteran, who spent the last four years as chief, had been the subject of an investigation that concluded in a report made public last week that he had violated policy by having an estranged girlfriend visit the police station for unofficial reasons. An interim chief was named March 29 to head the department until a new chief is selected. "With new leadership will come new ideas and fresh perspectives on how the SPD will tackle these and other challenges," Schaumburg police spokesman Sgt. John Nebl said.
Unable to sustain their burden of proof beyond a reasonable doubt, prosecutors had no alternative but to dismiss selected cases involving the officers, said Sally Daly, spokeswoman for Cook County State's Attorney Anita Alvarez. Schaumburg police supported the decision to dismiss the cases but said the number should be kept in perspective. The dismissed cases "represent a small amount of the more than 300 drug-related cases that the SPD has brought before the courts over the last three years," Nebl said in an email, pointing out the dismissed cases "involved nonviolent and/or drug-related charges." Most of the defendants whose charges were dropped in the weeks following the Jan. 16 announcement of the former officers' arrests were men in their 20s and 30s who lived in the suburbs, police and court records show.
In most cases, officers initiated investigations after informants said other individuals were selling drugs, which the informants — under the direction of police — then arranged to buy. Although Cichy, Hudak and O'Brien worked for Schaumburg, their status in the department's Special Investigations Unit gave them freedom to pursue cases in other towns. The drug transactions typically took place in parking lots outside suburban malls, groceries and liquor stores. All involved Cichy, Hudak or O'Brien — sometimes all three — who either participated in buys directly or helped provide surveillance, a review of police department and court records shows.
The amount of drugs police said the former defendants had in their possession varied. Some, like 19-year-old Raina Lewerenz, of Franklin Park, had a few pills, police reported. Others, like Richard Roh, 33, of Lincolnshire, had hundreds of grams of a controlled substance, police said. In Roh's case, police reported they recovered 474 grams of cannabis in a backpack they found in his car after his March 2012 arrest.
Several of the former defendants had criminal backgrounds. Diangelo Beasley, 25, of Chicago, has arrests for drug possession dating back to 2008. Court records indicate Robert Thomas, 29, of Hanover Park, is an "admitted addict," whose arrests for aggravated assault, possession and theft date back to 2002.
Others had access to weapons. Caesar Hernandez, 22, of South Beloit, had a loaded .357 Ruger handgun — which had been reported stolen from Janesville, Wis. — in his front pocket and 44 grams of cocaine when police arrested him in a Schaumburg parking lot on Aug. 7, 2012, police records show. When police searched Xavier Neodina's Streamwood home on Oct. 25, 2012, they recovered 119 grams of heroin and 68 grams of cocaine, along with registered weapons including a loaded Smith & Wesson AR-15, a loaded .410 caliber handgun and a loaded Ruger, records show.
Prosecutors dropped charges against all of them, including 23-year-old Russell Disney, of Palatine.
Palatine police arrested Disney in October 2012 after they say he sold Cichy a total of 2.7 grams of cocaine on two separate occasions. Prosecutors in February dismissed the charges of possession and delivery of a controlled substance against Disney, who says he was wrongly charged. Disney, who completed substance abuse treatment while on bond, says he will take advantage of his second chance. "I'm just glad this is over with," he said.
Another man breathing a sigh of relief over his recently dropped charges is Victor Aguilar-Abazan, a 24-year-old who goes by the childhood nickname "Buddha" and admits he has a "a smart mouth." Aguilar-Abazan, who attended court-ordered drug school after a 2008 marijuana charge, was arrested Jan. 4, 2012. He said about a half dozen cops — including Cichy, Hudak and O'Brien — entered his Streamwood home looking for drugs. He admits having used drugs but denies selling them.
Aguilar-Abazan said he never saw a search warrant. He also said the officers took $2,300 in cash that was a loan from his aunt to his mother, a couple of jars used to store marijuana, and two chains and a bracelet that belonged to his father. He said the officers handcuffed him and drove him to the Schaumburg Police Department. While he sat outside in a minivan with Cichy, Hudak and O'Brien, Aguilar-Abazan said the trio asked him to work with them as a confidential informant. He said they told him they wouldn't charge him if he helped them out.
"I was so scared. I wanted to get out of the situation," said Aguilar-Abazan, who said he agreed to cooperate, but said he needed time to set something up. After consulting his attorney, however, he rejected the offer and turned himself in on Jan. 25, 2012. His attorney said something about the case didn't feel right. He turned up a confidential informant agreement supposedly signed by Aguilar-Abazan on Jan. 4, 2012. Aguilar-Abazan said he signed no such document. And his signature on his driving license doesn't match the signature on the agreement, the attorney said. "The only paper I signed was on the day I turned myself in," Aguilar-Abazan said.
Aguilar-Abazan spent 2012 preparing for his trial — which had been scheduled for January 2013 in Rolling Meadows — knowing that a conviction could send him to prison for up to 30 years. He calls the day he learned the men who arrested him had themselves been arrested the happiest day of his life. But he said his father's jewelry, as well as $600 of his aunt's $2,300, hasn't been returned. And he said he fears the police, which he calls "the biggest gang out there." Looking back, the experience was something of a blessing, Aguilar-Abazan said, "a smack in the head to get myself together." He said he's drug-free, employed and working on his high school equivalency diploma.
Victor Alvarado, of Elk Grove Village, said one of the officers lied under oath, prompting Alvarado to plead guilty to drug charges in June 2012 in exchange for a six-year sentence, rather than risk a conviction at trial that could have resulted in an even longer prison stay. A Cook County judge will rule on Alvarado's motion to vacate his sentence on Friday, April 12, in Rolling Meadows. He likely won't be the last prisoner seeking to have a guilty verdict thrown out as prosecutors and public defenders continue reviewing cases to determine the extent of the accused officers' involvement and whether new trials are warranted.
But while defense attorneys praise Alvarez's decision to drop the charges, some law enforcement officials worry former defendants returning to the street could pose a threat. "Speaking from an agent's point of view, it frustrates you," said Jack Riley, special agent in charge of the U.S. Drug Enforcement Administration's Chicago office. "There are probably some bad people involved who got a free pass."
"In some cases you're throwing out the baby with the bath water," said one attorney, who represents O'Brien, a 23-year Schaumburg police veteran. "Most of the arrests (the former officers) made appear to have been legitimate arrests."
Not necessarily, said Cook County Assistant Public Defender Patrick Reardon, who says the accusations against the Schaumburg officers casts doubt on the veracity of the original accusations against the 19 defendants. Prosecutors dropping charges "doesn't mean we're releasing crooks into the community," he said. "It means whoever was accused was accused falsely."
The ripple effect of allegations of wrongdoing extends beyond Schaumburg to other law enforcement agencies. "We all feel the pain when something like this occurs," said Chris Sullivan, director of the Lake County Metropolitan Enforcement Group, a multijurisdictional task force dealing with drugs, gangs and weapons. "It's discouraging." Such allegations degrade public opinion of law enforcement across the board, said the DEA's Riley. "There's an expectation from society and the communities that officials wearing uniforms aren't going to be involved in this," said Ray Rose, Mundelein's former police chief who retired in January. "It shakes everyone's confidence," he said, and makes residents question, "is this a safe community on both sides of the equation?" Even someone stopped for a mundane traffic infraction might wonder, "Are you one of them?" Rose said.
Meanwhile, several former defendants have filed federal lawsuits saying Cichy, Hudak and O'Brien acted without probable cause, threatened them and stole property. Hudak's attorney questioned the timing of the lawsuits, which he says consist of "outrageous allegations that are dubious at best." Former defendants coming out of the woodwork to make charges doesn't surprise O'Brien's attorney. "Every defendant says they were trumped-up charges and they should be free," he said.
The Blue Manhunt!
Published: February 10, 2013 02:08 PM PST - Updated: February 10, 2013 02:08 PM PST
LOS ANGELES, CA (WCJB)
— Seeking leads in a massive manhunt, Los Angeles authorities on Sunday offered a $1 million reward for information leading to the arrest of Christopher Dorner, the former police officer suspected in a series of attacks in Southern California over the past week that have left three people dead. Authorities say he has vowed revenge against several former colleagues. The killings and threats that Dorner allegedly made in an online rant have led police to provide protection to 50 families, Beck said. Mayor Antonio Villaraigosa announced the reward, raised through several private and public donors, at a news conference at LAPD headquarters. "Our dedication to catch this killer remains steadfast," Villaraigosa said. "We will not tolerate this reign of terror."
SWAT teams with air support and bloodhounds fanned out for the fourth day to search for Dorner, who has vowed revenge against several former LAPD colleagues whom he blames for ending his career. The effort was significantly scaled back as the weekend went on, with 25 officers and a single helicopter looking for clues in the forest and going door-to-door at some 600 cabins in the San Bernardino mountains, about 80 miles northeast of downtown Los Angeles. Meanwhile, authorities said camping gear was found along with weapons inside Dorner's burned-out pickup truck. The vehicle found Thursday in the ski resort town of Big Bear Lake was so charred that investigators couldn't be more specific about the nature of its contents, Sgt. Rudy Lopez said.
A captain who was named a target in the manifesto posted on
Facebook
told media sources he has not stepped outside his house since he learned of the threat. "From what I've seen of (Dorner's) actions, he feels he can make allegations for injustice and justify killing people and that's not reasonable," said Capt. Phil Tingirides, who chaired a board that stripped Dorner of his badge. "The end never justifies the means."
Also Sunday, police investigated a taunting phone call that may have been made by Dorner to the father (
pictured, above-right at podium
) of the woman they believe he killed last week. Two law enforcement officers who requested anonymity because of the ongoing investigation told media sources they are trying to determine if the call days after the killing was made by the 33-year-old fugitive or a man posing as him. Also, newly released surveillance video showed Dorner tossing several items into a Dumpster behind an auto parts store in National City on Monday. The store's manager told another source in San Diego that an employee found a magazine full of bullets, a military belt and a military helmet. Majid Yahyai said he and the employee took the items across the street to a police station.
Published: February 10, 2013 01:49 PM PST - Updated:
LOS ANGELES, CA
-- The search for the ex-LAPD officer has spanned the region, with authorities hoping they'd tracked Dorner down in Big Bear only for the trail to go cold there. His alleged campaign to take revenge on those he blamed for his dismissal from the LAPD has stoked fears among local police, many of whom are involved in the search. The sense of chaos has been amplified by police around the state and beyond being forced to chase down bogus leads and erroneous sightings.
The manhunt in Southern California hasn't been without calamity. Los Angeles police mistakenly shot and wounded two persons Thursday in Torrance as they drove a blue pickup truck resembling Dorner's vehicle. Torrance police also fired upon another blue pickup the same day, but no one was injured in that incident, a law enforcement source said.
David Perdue was on his way to sneak in some surfing before work Thursday morning when police flagged him down. They asked who he was and where he was headed, then sent him on his way. Seconds later, Perdue's attorney said, a Torrance police cruiser slammed into his pickup and officers opened fire; none of the bullets struck Perdue. The incident involving Perdue was the second time police looking for the fugitive former LAPD officer opened fire on someone else. In the first incident, LAPD officers opened fire on another pickup (
pictured below, center
) they feared was being driven by Dorner. The mother and daughter inside the truck were delivering newspapers. The older woman was shot twice in the back and the other was wounded by broken glass. The shootings have raised concerns that the fear Dorner has instilled has added another layer of danger.
In Perdue's case, his attorney said he wasn't struck by bullets or glass but was injured in the car wreck, suffering a concussion and an injury to his shoulder. The Los Angeles International Airport baggage handler hasn't been able to work since, and his car is totaled, the attorney said. "When Torrance issues this ridiculous statement saying he wasn't injured, all they mean is he wasn't killed," his attorney said, referring to a press release reporting "no visible injuries" to Perdue. "I don't want to use the word buffoonery but it really is unbridled police lawlessness," said Perdue's attorney. "These people need training and they need restraint."
According to the police department, Perdue's car was headed directly for one of their patrol vehicles and appeared not to be yielding. When the vehicles collided, Perdue's air bag went off, blocking the view of the driver, and one officer fired three rounds. Torrance police said the officers who slammed into Perdue were responding to shots fired moments earlier in a nearby area where LAPD officers were standing guard outside the home of someone targeted in an online manifesto that authorities have attributed to Dorner. His pickup, police later explained, matched the description of the one belonging to Christopher Jordan Dorner — the ex-cop who has evaded authorities after allegedly killing three and wounding two more.
But the pickups were different makes and colors
. And Perdue (
pictured right
) looks nothing like Dorner: He's several inches shorter and about a hundred pounds lighter. And Perdue is white; Dorner is black.
A department spokesman said Saturday that the shooting is still under investigation. In a statement to media sources, the department said: "The circumstances of the incident known to the responding officers would have led a reasonable officer under normal circumstances — and these were far from normal circumstances — to believe that fellow officers were being shot at and that the vehicle traveling toward them posed a serious risk. "In the split seconds available to them," the statement continued, "action was appropriate to intervene and stop the actions of the driver of that vehicle." The Torrance police chief apologized to Perdue and offered him a rental car and payment for his medical expenses, the statement said.
"Nobody trains police officers to look for one of their own," said Maria Haberfeld, a police training professor at John Jay College of Criminal Justice in New York. "I wouldn't want to be in their shoes and I don't think anybody else would." A civil rights attorney, said it's not surprising when police make mistakes during manhunts. "They don't know where he is, and they're going to be edgy and jumpy," the attorney said. "Don't get in their way. They're in a special state of consciousness right now, and they're not used to being hunted." Perdue's attorneys said their client was shot at without warning. "As you know, officers of the Torrance Police Department attempted to kill Mr. Perdue" Thursday, the attorneys wrote in a letter to the agency's chief.
Posted: 4:03 PM EST, Sat February 9, 2013 - Updated: 4:25 PM PST, Sat February 9, 2013
San Bernardino County Sheriff SWAT team members return to the command post at Bear Mountain in Big Bear Lake, California, on Friday, February 8, after heavy snow hindered the manhunt for ex-LAPD cop Christopher Jordan Dorner. Dorner is the subject of a massive manhunt and is accused of killing one police officer and wounding two others, as well as killing the daughter of his police union representative and her fiance on Sunday.
Big Bear Lake, California (WCJB)
-- Police resumed their manhunt in snowbound mountains Saturday for a former Los Angeles cop accused of killing three people as part of a revenge plot targeting law enforcement officers. Bundled up in winter gear, teams returned to the pine forests and trails surrounding Big Bear Lake in the San Bernardino Mountains in a search for Christopher Jordan Dorner, 33 (
pictured left
) who also served in the Navy. As the dragnet entered its third day, questions continued Saturday about whether Dorner was still in the area, but police in California, Nevada and Arizona remained on alert.
Scouring the terrain by land and air, police were using helicopters, snowcats and armored personnel carriers with snow chains. The search resumed after overnight temperatures dipped into the teens. Officers trudged through knee-high snow with rifles at the ready. Patrols again visited homes Saturday in Big Bear Lake, knocking on doors and peeking into windows. They had checked on the community's 400 homes Thursday. "The possibility exists that he is here, somewhere in the forest, so we're going to keep looking ... until we determine that he's not here," said Cindy Bachman, a spokeswoman for the San Bernardino County Sheriff's Department. Police have searched an undeveloped tract owned by Dorner's mother in Arrowbear Lake, about 13 miles from Big Bear Lake, but police found nothing, Bachman said. The property doesn't have a house on it, she said.
Unconfirmed sightings of the 270-pound, 6-foot Dorner have been reported as far away as Las Vegas and the California-Mexico border, according to reports. For now, the focus of the manhunt remains on Big Bear and the surrounding mountains, where Dorner's burned-out pickup was found Thursday. The truck had a broken axle, which would have prevented the truck from moving, and footprints appear to show Dorner doubled back into the community, according to a source with knowledge of the investigation. It was unclear where Dorner may have gone from there or by what means, the source said.
Guns found in the truck also were burned, but authorities believe Dorner may have as many as 30 weapons with him, said the source, who spoke on condition of anonymity. The source was not authorized to release details to the media.
Posted: 02/07/2013 08:15:32 AM PST - Updated: 02/08/2013 02:33:10 PM PST
Los Angeles, CA (WCJB)
-- A former Los Angeles cop with military training vowed war against other men in blue Thursday, leaving one officer dead days after he allegedly killed two other people to begin a wave of retribution for being fired, police said. The focus of the intensive, expansive manhunt is Christopher Jordan Dorner (
pictured left
) a 270-pound former Navy lieutenant who has professed his venom against LAPD officers he claimed ruined his life by forcing him out of his dream job. Dorner, 33, of La Palma, is said to be targeting police officers in a bid to avenge his firing from the Los Angeles Police Department in 2008 and, according to his manifesto, to clear his name.
Law enforcement fanned out across Southern California on Thursday in a massive manhunt for the former Los Angeles police officer with a homicidal vendetta. The manhunt for Dorner spanned hundreds of miles and numerous counties. Dorner's rampage led him from Irvine to San Diego to Riverside, as he engaged officers in gunfights at least twice. By Thursday afternoon, it was largely centered around Big Bear Lake -- about 100 miles east of Los Angeles -- where authorities found the truck the suspect allegedly used in the Riverside shooting. Late Thursday, 125 law enforcement officers from various agencies searched the area around Big Bear Lake for Dorner, San Bernardino County Sheriff John McMahon said.
Hundreds more officers looked for Dorner across California and in Las Vegas, where he owns a home, or worked to protect the officers named as possible victims in Dorner's manifesto. But every hour that passed meant an even wider area where he might be.
Police confirmed that the vehicle, which was burnt out when it was found, belonged to Dorner by its vehicle identification number, San Bernardino County Sheriff John McMahon said. This discovery spurred more officers to converge on the area to conduct beefed up patrols, staff checkpoints and go to every residence in the mountain community. McMahon acknowledged the fire may have been set as a diversionary tactic, though law enforcement isn't taking any chances. Early Thursday evening, he said that aerial and K9 searches on the ground will "continue as long as we can" -- though snow is coming -- and urged locals to be on alert. "He could be anywhere at this point, and that's why we're searching door to door," the sheriff said.
In downtown Los Angeles, police wearing body armor patrolled outside their own iconic headquarters. Police have good reason to be fearful, the chief said. "Of course, he knows what he's doing. We trained him," Los Angeles police Chief Charlie Beck said. "He was also a member of the armed forces. It is extremely worrisome and scary, especially to the officers involved." "My opinion of the suspect is unprintable," said Riverside police Chief Sergio Diaz, hours after one of his officers was killed. "The manifesto, I think, speaks for itself (as) evidence of a depraved and abandoned mind and heart."
It all started Sunday when Dorner allegedly killed two people in Irvine, according to police. Police identified the victims as Monica Quan and her fiance Keith Lawrence. Quan, 27, was the daughter of retired Los Angeles police Officer Randal Quan (
pictured right
) LAPD Officer Tenesha Dobine told media sources. In his manifesto, Dorner said Quan handled his appeal. Dorner blamed retired officer Randal Quan for bungling his appeal to get his job back in an 11-page manifesto, in which he also complained of mistreatment by the LAPD. In that letter -- provided to media sources by an LAPD source -- he vowed to violently target police officers and their families, whoever and wherever they are.
"I will bring unconventional and asymmetrical warfare to those in LAPD uniform whether on or off duty," Dorner wrote. "I never had the opportunity to have a family of my own, I'm terminating yours." Authorities believe he followed through on his threats early Thursday by shooting a Riverside, California, police officer and two others. A day earlier, Irvine police named Dorner as a suspect in the double slayings Sunday of Quan (
pictured, center-rightt
) age 27 -- identified by Los Angeles police as the daughter of a retired LAPD officer -- and her fiance, Keith Lawrence (
pictured, center-left
).
By about 1 a.m. Thursday, the scene had shifted about 100 miles north to Corona, California. There, a pair of LAPD officers on a protection detail were flagged down by a citizen who reported seeing the suspect's vehicle, LAPD Deputy Chief Jose Perez said. The officers chased the vehicle and caught up to it on an Interstate 15 off-ramp (
pictured above, center
). "The officers were fired upon with a shoulder weapon," Perez said, with one of them suffering a "graze wound" to his head. The police returned fire, while the suspect set off once again.
About 20 minutes later, two police officers were in their car at a stop light in Riverside when Dorner allegedly pulled up beside them. That driver unleashed "multiple rounds" from a rifle at the officers, riddling the cop car (
pictured above, center
) with bullets and leaving a 34-year-old officer, who had been on the Riverside force for 11 years, dead, according to Diaz. The other officer, 27, was "seriously wounded but we expect a full recovery," the Riverside police chief said. Within hours, a manhunt spread throughout Southern California. Schools named by Dorner in his manifesto were put on lockdown or closed altogether. Law enforcement agencies from Pasadena to Fontana kept officers off motorcycles or barred single-officer patrols.
Days before the officers were shot, Dorner had taunted his former law enforcement colleagues, writing in a 11,000-word manifesto that their efforts to find him or prevent more violence would be useless because he knew all their techniques. His words prompted police to dispatch at least 40 protective details to individuals named in the document. The violence, as well as Dorner's background as a police officer and military trained marksman, left police on edge around Southern California. In Torrance, LAPD officers guarding one of Dorner's alleged targets mistakenly opened fire on a blue pickup truck that resembled one Dorner was thought to be driving, said LAPD Chief Beck. The gunfire left two people wounded, Beck said. Torrance police also fired on another blue pickup, but no one was injured in that incident, according to a senior law enforcement source.
A lawyer says two women delivering newspapers had no warning before they were mistakenly shot by Los Angeles police officers searching for triple murder suspect Christopher Dorner. Investigators say 47-year-old Maggie Carranza and her 71-year-old mother Emma Hernandez were in a Toyota Tundra pickup truck similar to Dorner's vehicle. They were delivering newspapers in Torrance when LAPD officers guarding a target named in Dorner's manifesto peppered the pickup (
pictured above
) with bullets, wounding the women, before dawn on Thursday.
Police Chief Beck says the pickup's headlights weren't on and it was a case of mistaken identity. The women's attorney said there were no warnings and no orders. Just gunshots. Carranza had minor hand injuries. Hernandez is hospitalized with a gunshot wound in the back.
The Los Angeles officers involved in the wounding of innocent civilians were put on paid administrative leave, police spokeswoman Rosario Herrera said Saturday. A day earlier, the Los Angeles Police Department had said the officers weren't put on such leave.
Case Re-Opened!
Posted: Feb. 9, 2013 08:53:32 PM PST - Updated: Feb. 9, 2013 08:53:32 PM PST
Los Angeles, CA
-- The Los Angeles Police Department announced today it will reopen the case of the firing of Christopher Dorner, but said the decision was not made to "appease" the fugitive former cop suspected of killing three people. Dorner, a fired and disgruntled former Los Angeles police officer, said in the so-called "manifesto" he released that he was targeting LAPD officials and their families and will keep killing until the truth is known about his case.
"I have no doubt that the law enforcement community will bring to an end the reign of terror perpetrated on our region by Christopher Jordan Dorner and he will be held accountable for his evil actions," LAPD Chief Charlie Beck said in a statement released tonight. He spoke of the "tremendous strides" the LAPD has made in regaining public trust after numerous scandals, but added: "I am aware of the ghosts of the LAPD's past and one of my biggest concerns is that they will be resurrected by Dorner's allegations of racism within the Department." To do that, he said, full re-investigation of the case that led to Dorner's firing is necessary.
"I feel we need to also publicly address Dorner's allegations regarding his termination of employment, and to do so I have directed our Professionals Standards Bureau and my Special Assistant for Constitutional Policing to completely review the Dorner complaint of 2007; To include a re-examination of all evidence and a re-interview of witnesses," he said. "We will also investigate any allegations made in his manifesto which were not included in his original complaint. "I do this not to appease a murderer. I do it to reassure the public that their police department is transparent and fair in all the things we do."
In about 24 hours, more than two dozen
Facebook pages
have appeared, some urging authorities to find and kill the former Los Angeles police officer suspected of killing three people this week. Other pages have praised Dorner and his 11,000-word manifesto that alleges LAPD corruption and weaves in pop culture references and shout outs to celebrities like Charlie Sheen, Anthony Bourdain and Tim Tebow.
One web page on Friday even declared "Christopher Dorner for President."
"This page is putting forth the proposal that we the people elect Christopher Jordan Dorner as president of the United States of America. This man has done what the founding fathers did, in declaring war on the corrupt ruling class. We propose electing a man who could no longer sit idly by and watch as malicious tyrants abuse the innocent," the community page stated. Among the most popular of the fan pages is "I Support Christopher Jordan Dorner," which had close to 2,000 "likes" by 3:30 p.m. Friday. The supporter, who said he does not know Dorner, said his support is not for Dorner's actions, but his cause. The person, who said he did not know Dorner personally, declined to identify himself.
"I don't condone the acts of killing people, but I was going to try to spin it in a way that people can actually learn from him," he told media sources during a phone interview. "It's a perfect story about a person who wanted to just do the right thing but couldn't catch a break. Maybe if enough people talk about it, hear it, see it, maybe some change can come out of it."
Dorner's own official
Facebook page
was deactivated Thursday.
Facebook
officials told media sources they do not comment on ongoing investigations but provided this statement:
"We work with law enforcement to the extent required by law, and as needed to keep the site and those who use it safe. We always seek to respond promptly to requests when we deem there's an immediate risk to the safety of any our users."
Dorner's official
Twitter account
@ChrisDorner has also been suspended, but that didn't stop the tweets. By Friday morning, at least five fake
Twitter
handles were created that provided discussions - both ridiculous and insightful - in 140 characters or less. A brief conversation included @LtChrisDorner, a parody Twitter account that uses a photo of Rambo as an avatar.
Authorities in Los Angeles, San Bernardino, Riverside and beyond continued to search for Dorner Friday after more than 100 officers combed through the snow-covered mountains in Big Bear overnight. A Blue Alert was sent throughout Southern California on Thursday notifying multiple law enforcement agencies that Dorner was being sought for the killing and wounding peace officers and civilians. Dorner's manifesto listed more than a dozen LAPD officers targeted because of their involvement in the events that lead to his 2009 firing from the department after three years of service.
(Blue) Shots fired, ...!
Posted: 02/07/2013 08:15:32 AM PST - Updated: 02/07/2013 09:33:10 PM PST
LOS ANGELES, CA
-- In Los Angeles, police are protecting dozens of people believed to be targeted by ex-Los Angeles police officer Christopher Dorner (
pictured right
) who is also suspected of killing a couple in Irvine and then killing one Riverside police officer, critically wounding another one and wounding a third cop. Dorner, who was fired from the LAPD in 2008 for making false statements, wrote an online manifesto threatening to harm numerous police officials and their families. "I will bring unconventional and asymmetrical warfare to those in LAPD uniform whether on or off duty," said the manifesto. Dorner was with the department from 2005 until 2008, when he was fired for making false statements.
Dorner is wanted in the killings of Monica Quan -- the daughter of a retired Los Angeles police captain -- and her fiance, Keith Lawrence, who were found shot to death in their car at a parking structure Sunday night, Irvine police Chief David L. Maggard said at a news conference Wednesday night. Autopsies showed that Quan and Lawrence were killed by multiple gunshot wounds in the parking structure at their condominium in Irvine, Orange County sheriff's spokesman Jim Amormino said earlier Wednesday. Quan, 28 (
pictured above, center
) was an assistant women's basketball coach at Cal State Fullerton. Lawrence, 27, was a public safety officer at the University of Southern California. Autopsies showed both were killed by multiple gunshot wounds in the parking structure at their condominium in Irvine, Orange County sheriff's spokesman Jim Amormino said earlier Wednesday.
Quan's father, Randal Quan, a former LAPD captain, retired in 2002. He became a lawyer in retirement. He later served as chief of police at Cal Poly Pomona before he started practicing law. Randal Quan, who the LAPD said was the first Chinese-American captain in department history, represented Dorner in front of the Board of Rights, a tribunal that ruled against Dorner at the time of his dismissal, LAPD Capt. William Hayes told media sources Wednesday night.
Police believe Dorner was involved in two overnight shootings. The first occurred in the city of Corona and involved two LAPD officers working a security detail, said Sgt. Alex Baez of the LAPD's Newton division, media sources reported. One officer was grazed. During the press conference, Beck said that the bullet came within inches of killing the officer. Later, two officers on routine patrol in the neighboring city of Riverside were ambushed in their patrol car at a stop light, Riverside Lt. Guy Toussaint told the same source. One died and the other was in surgery. The Riverside officers shot overnight were not actively looking for Dorner, Toussaint said. Dorner, 33, implicated himself in the Irvine killings with a multi-page "manifesto" that he wrote that included threats against several people, including members of the LAPD, police said. Los Angeles Police Chief Charlie Beck said 40 protection units have been assigned in response to the manifesto.
At 1:25 a.m. Dorner was reported in Corona, near the home of one of the targets named in Dorner's manifesto. LAPD officers on protection detail approached him, Beck said. Dorner shot at them and the officers returned fire. One officer suffered one non-life-threatening graze wound to the head, "literally inches from killing him," Beck said. Dorner fled, but because of damage to the police vehicle from the shots, officers could not pursue him, Beck said.
Minutes later, police say Dorner was driving south on Magnolia Avenue in Riverside when he came to a red light. Two Riverside police officers sat in a patrol car at the other side of the intersection of Magnolia and Arlington Avenue. He drove alongside the officers and began firing a rifle into the police car, an act Riverside Police Chief Sergio Diaz described as "a cowardly ambush." A 34-year-old training officer and a 27-year-old officer who has been on the job less than a year were both shot. Paramedics took both to Riverside Community Hospital where the training officer died. The other officer underwent surgery and was in stable condition. None of the officers have been identified. Diaz withheld his officers' names to protect their families.
"This is a vendetta against all of Southern California law enforcement," Beck said at a press conference. Dorner, he said, owns a number of guns, including an assault weapon. Beck said one of the protection units was involved in a shooting after officers saw a pick-up truck matching the suspect's vehicle driving with no lights on near the home of someone considered one of Dorner's major targets. Two people unrelated to Dorner were shot; one person was treated and will be soon released, while the second was shot twice and is in stable condition, Beck said. "Tragically we believe this was a case of mistaken identity by the officers, Beck also said."
Minutes later Torrance officers responding to a report of gunshots encountered a dark pickup matching the description of Dorner's, said Torrance Sgt. Chris Roosen. A collision occurred and the officers fired on the pickup. The unidentified driver was not hit and it turned out not to be the suspect vehicle, Roosen said. Both shootings involved pickup trucks similar to the one Dorner is said to be driving, Lt. Devin Chase told media sources. Another source reported that the shootings might involve female newspaper delivery people.
Police don't where Dorner is but think he left the area, he said. "We're asking our officers to be extraordinarily cautious just as we're asking the public to be extraordinarily cautious with this guy. He's already demonstrated he has a propensity for shooting innocent people. We can't provide a lot of information now because we're trying to capture him," said Cmdr. Andrew Smith. "We don't know where he is. We're looking for the public's help to locate this guy. Anybody who sees him or believes they see him or his vehicle should call 911."
One of the largest manhunts in Los Angeles police history has been underway for Dorner, who is considered armed and extremely dangerous. The CHP issued a "blue alert" statewide warning police officers to be on high alert for the alleged cop killer, and used the statewide network of electronic highway signs to urge anyone who spots the truck the suspect is thought to be driving to immediately call 911. A badge and identification belonging Dorner was turned into San Diego police at 2:27 a.m. Thursday. Someone found them near the San Diego airport, although police there did not immediately know when they were found.
Police authorities have confirmed a truck found burning in the San Bernardino Mountains belongs to Dorner, who is wanted in connection with the killings of three people and wounding of two others, media sources reported. Authorities described the truck as a blue or gray 2005 Nissan Titan with California license plate number 8D83997. Authorities suspect Dorner may hiding in the area, and law enforcement units are staging in Big Bear Lake, Running Springs, Arrowbear and Twin Peaks. The San Bernardino County Sheriff's Department and the Calfornia Highway Patrol have deployed helicopters to help in the search. At noon officials began evacuating and locking down local schools and resorts at Bear Mountain and Snow Summit. "We're all on lockdown. All the stores and the schools are on lockdown," said Chris Gonzales, who works at the Golden Bear Cottage Gifts in village of Big Bear Lake.
Nevada authorities also looked for Dorner because he owns a house nine miles from the Las Vegas Strip, according to authorities and court records.
Police officials told the Los Angeles Media sources they believe Dorner tried to seal a boat Wednesday night from an elderly man in San Diego. The 81-year-old boat owner reported being accosted at the Southwestern Yacht Club in Point Loma, hours before the police shootings in Riverside. He said he was tied up by a burly man who threatened him with a gun and said he wanted the boat to flee to Mexico. But while the assailant was trying to start the boat, a rope became entangled in the propeller and the boat was inoperable, authorities told the same source. The suspect took the boat owner's cell phone and fled the scene and the boat owner was unharmed.
In San Diego, Naval Base Point Loma was locked down Thursday after a Navy worker reported seeing someone who resembled Dorner (
pictured above, center
). Navy Cmdr. Brad Fagan said officials don't believe he was on base Thursday but had checked into a base hotel on Tuesday and left the next day without checking out. Numerous agencies guarded the base.
Dorner joined the U.S. Navy in 2002, achieving the rank of lieutenant in 2006, according to military records. He served as a reservist in Nevada and San Diego, and was a member of the Coastal Riverine Group deployed to Bahrain from November 2006 to April 2007. He was stationed at the Navy Mobilization Processing Site in San Diego in 2007 and the Navy Air Station Fallon reserve unit in Nevada in 2009. He left Navy service officially on Feb. 1. During his service, he was awarded the Iraqi Campaign Medal, National Defense Service Medal, Global War on Terrorism Service Medal, Rifle Marksman Ribbon, Pistol Expert Medal, among other commendations.
Fagan said Dorner was honorably discharged and that his last day in the Navy was last Friday.
The Final Straw!
Dorner graduated from the Los Angeles Police Academy in 2006 and joined LAPD, but left for a 13-month military deployment that year. He returned to the LAPD in July 2007. That year, his wife filed for divorce, according to court records. The following year, he lost his job.
The final straw for Christopher Jordan Dorner grew out of a relatively minor arrest outside San Pedro's DoubleTree hotel nearly five years ago. Dorner and his training officer were called to the well-manicured hotel because a scruffy, angry, mentally ill man would not leave. Together, the Harbor Division officers grappled with the man in a bush until he was shot with a Taser gun and submitted. But the pair differed in their versions of what happened that morning.
The discrepancy became an obsession for Dorner, who claimed his training officer brutally and unnecessarily kicked the man in the collarbone and face. After the incident outside the DoubleTree in 2008, Dorner's accusation against his training officer were said to have been proven false. In a series of hearings, hotel bellhops and officers allegedly testified that the man taken into custody had not been kicked. Dorner was terminated for falsifying that police report. His employment with the LAPD ended in 2008, according to Beck. Records indicate the firing was finalized in 2009.
Dorner (
pictured above, center-left
) was fired from the LAPD under then-Chief William Bratton (
pictured above, center-right
) who was also targeted in the manifesto. "In my case, I was the chief of police that signed off on his discharge from the LAPD," Bratton said in an interview with CNN's Anderson Cooper, who was also named in the manifesto and received a package in the mail from Dorner. "In terms of his grievances, I could understand his grievance directly toward me in my capacity as chief of police. A lot of police officers get discharged. None of them resort to the actions that this young man has taken."
The firing fed Dorner's long-festering anger at a society that he describes as racist and brutal in its treatment of him throughout his life. Dorner challenged his firing for years, losing at every turn. First, the police department's Board of Rights rejected his appeal. Then, in October 2011, a judge ruled against his appeal, according to court records. According to documents from the court of appeals hearing in October 2011, Dorner was fired from the LAPD after he made a complaint against his field training officer, Sgt. Teresa Evans. Dorner said that in the course of an arrest, Evans kicked suspect Christopher Gettler, a schizophrenic with severe dementia. Following an investigation, Dorner was fired for making false statements. Richard Gettler, the schizophrenic man's father, gave testimony that supported Dorner's claim. After his son was returned on July 28, 2007, Richard Gettler asked "if he had been in a fight because his face was puffy" and his son responded that he was kicked twice in the chest by a police officer.
Though Dorner saw himself as a victim with a superior level of integrity, his police supervisors believed he was bullying fellow officers, according to official documents. His intense feelings about that incident are the core of the lengthy, stream-of-consciousness manifesto he wrote to explain why he embarked on a killing spree - complete with a 40-person hit list. As for his own character, Dorner says "honor, courage, and commitment" are traits embedded in his DNA. His violent spree is in direct contradiction to the man who at least one friend called "well-spoken, educated, rational," and who can be seen smiling widely in numerous online photos.
---
The Blue Manifesto!
---
"The only good nigger is a dead nigger and they should hang you in the town square to prevent any other nigger from coming in the area."
-- Oakland (CA) Public Schools Police Chief Pete Sarna, in a July 2011 verbal statement to an African-American police officer under his command.
(
August 18, 2007: A high-ranking California Department of Justice official hired by Atty. Gen. Jerry Brown resigned Friday. His resignation comes a week after he crashed a state-owned vehicle and was arrested on suspicion of drunk driving. Peter C. Sarna II, deputy director of the Division of Law Enforcement, helped oversee hundreds of state agents, criminologists and other employees who provide investigative, intelligence, forensic and security services for the department. Sarna, 37, is a former Oakland police officer who headed special operations, including gang suppression efforts,

when Brown was the city's mayor

. One of the few aides Brown brought along when he took office in January, Sarna assumed a leadership role in the attorney general's anti-gang program that recently produced dozens of arrests through joint state-local raids on gang members' homes in Stockton and Atwater in the Central Valley.
)
Posted: 02/07/2013 09:17:37 AM PST - Updated: 02/08/2013 01:21:54 PM PST
United States (WCJB)
-- Prior to the shootings, Dorner composed a manifesto detailing who he planned to kill and why. On his online
Facebook page
and in his lengthy manifesto posted online, fired LAPD officer Christopher Dorner listed cities he's lived in from childhood through adulthood. They were Yorba Linda; Cerritos; Pico Rivera; La Palma; Thousand Oaks; Las Vegas; Cedar City, Utah; Pensacola, Florida; and Enid, Oklahoma. In the 14-page manifesto (written in the parlance of a police report), Dorner directly addresses "America," and describes himself as a heroic figure rendered helpless by a series of racist attacks that began when he was a first-grade student at Norwalk Christian School in Norwalk, when another student called him a racial slur. Dorner described it as his "first recollection of racism."
"A fellow student called me a (racial epithet)," he wrote of his first fight. "My response was swift and non-lethal. I struck him fast and hard with a punch an (sic) kick. He then for some unknown reason swatted me for striking (the student). How dare you swat me for standing up for my rights for demanding that I be treated as an equal human being. That day I made a life decision that I will not tolerate racial derogatory terms spoken to me."
The disgraced former officer wrote that the first of a series of injustices that defined his life happened at the Norwalk school, where he says he was the only "black kid." He said he was repeatedly disciplined for fighting throughout elementary school, but it was only because he was responding to racist name-calling. A Norwalk Christian School official on Thursday said Dorner's second-grade portrait was in the school's 1987 yearbook. It was not clear if he was pictured in the yearbooks from other years. The school decided to close down Thursday for the remainder of the day, and students were being sent home, Norwalk sheriff's Sgt. Mark Boskovich said. The principal could not be reached for contact.
Dorner also attended from John F. Kennedy High School in La Palma in 1994 and 1995, and then went on to graduate from Cypress High School in 1997, according to La Palma Police Chief Eric R. Nunez. He also briefly attended California Lutheran University in Thousand Oaks for one semester, in fall 1997, university spokeswoman Karin Grennan confirmed. Grennan, however, had few details about Dorner's attendance other than to say that he completed the semester. She added that while reports were that Dorner may have tried out for the university's football team, "it looks like he quit" before the first game of the season.
Sports Illustrated's online college football roster archive lists Dorner as a running back at Southern Utah University from 1999 to 2000. Southern Utah University spokesman Dean O'Driscoll confirmed Thursday that Dorner attended the university from 1997 to 2001, and graduated with a bachelor's degree in political science and a minor in psychology. The university is located about 250 miles south of Salt Lake City in Cedar City, Utah.
Dorner was far from a meathead despite being a football player and a memorable college buddy, said James Usera of his fellow Southern Utah University Thunderbird. "He was well-spoken, educated, rational. I didn't think he was moody or showed anything that would indicate he had mental health issues," Usera said. "My friendship with Mr. Dorner was extremely positive." Usera recalled Dorner complaining about instances of discrimination, but nothing that alarmed Usera during their college years. "He is a person who believed that racism is alive and well in the United States, not just in Utah," Usera said, "but while it is something he mentioned on some occasions, I never saw him get irate about it." Usera said Thursday afternoon that he hadn't read Dorner's manifesto in full but from what he's been told by reporters it is all shocking. "It seems very out of character. The individual I knew was a good guy and was upstanding," he said.
On Monday, Dorner posted his long, rambling manifesto that detailed his grievances against the LAPD, threatened police officers and their families, and demanded that his name be publicly cleared. "The attacks will stop when the department states the truth about my innocence, PUBLICLY!!!" says the document, titled "Last resort." Beck, the Los Angeles police chief, said Thursday that Dorner's case had been "thoroughly reviewed" and said the department would not apologize to Dorner or clear his name.
He complained he had been railroaded out of the department after reporting police brutality by another officer. Dorner also complained of a continuing culture of racism and brutality in the LAPD. But as his manifesto shows, Dorner is showing no sign of relenting.
Here is the Manifesto in full (all names have been redacted):
From: Christopher Jordan Dorner /7648
To: America
Subj: Last resort
Regarding CF# 07-004281
I know most of you who personally know me are in disbelief to hear from media reports that I am suspected of committing such horrendous murders and have taken drastic and shocking actions in the last couple of days. You are saying to yourself that this is completely out of character of the man you knew who always wore a smile wherever he was seen. I know I will be vilified by the LAPD and the media. Unfortunately, this is a necessary evil that I do not enjoy but must partake and complete for substantial change to occur within the LAPD and reclaim my name. The department has not changed since the Rampart and Rodney King days. It has gotten worse. The consent decree should never have been lifted. The only thing that has evolved from the consent decree is those officers involved in the Rampart scandal and Rodney King incidents have since promoted to supervisor, commanders, and command staff, and executive positions.
The question is, what would you do to clear your name?
Name;
A word or set of words by which a person, animal, place, or thing is known, addressed, or referred to.
Name Synonyms;
reputation, title, appellation, denomination, repute.
A name is more than just a noun, verb, or adjective. It's your life, your legacy, your journey, sacrifices, and everything you've worked hard for every day of your life as and adolescent, young adult and adult. Don't let anybody tarnish it when you know you've live up to your own set of ethics and personal ethos.
In 8/07 I reported an officer (Ofcr. -----/now a Sergeant), for kicking a suspect (excessive force) during a Use of Force while I was assigned as a patrol officer at LAPD's Harbor Division. While cuffing the suspect, (-----), ----- kicked the suspect twice in the chest and once in the face. The kick to the face left a visible injury on the left cheek below the eye. Unfortunately after reporting it to supervisors and investigated by PSB (internal affairs investigator Det. -----), nothing was done. I had broken their supposed "Blue Line". Unfortunately, It's not JUST US, it's JUSTICE!!! In fact, 10 months later on 6/25/08, after already successfully completing probation, acquiring a basic Post Certificate, and Intermediate Post Certificate, I was relieved of duty by the LAPD while assigned to patrol at Southwest division. It is clear as day that the department retaliated toward me for reporting ----- for kicking Mr. -----. The department stated that I had lied and made up the report that ----- had kicked the suspect. I later went to a Board of Rights (department hearing for decision of continued employment) from 10/08 to 1/09. During this BOR hearing a video was played for the BOR panel where ----- stated that he was indeed kicked by Officer ----- (video sent to multiple news agencies). In addition to ----- stating he was kicked, his father -----, also stated that his son had stated he was kicked by an officer when he was arrested after being released from custody. This was all presented for the department at the BOR hearing. They still found me guilty and terminated me. What they didn't mention was that the BOR panel made up of Capt. -----, Capt. -----, and City Attorney ----- had a significant problem from the time the board was assembled. Capt. ----- was a personal friend of ----- from when he was her supervisor at Harbor station. That is a clear conflict of interest and I made my argument for his removal early and was denied. The advocate for the LAPD BOR was Sgt. -----. ----- also had a conflict of interest as she was ----- friend and former partner from Harbor division where they both worked patrol together. I made my argument for her removal when I discovered her relation to ----- and it was denied.
During the BOR, the department attempted to label me unsuccessfully as a bully. They stated that I had bullied a recruit, -----, in the academy when in reality and unfounded disposition from the official 1.28 formal complaint investigation found that I was the one who stood up for ----- when other recruits sang nazi hitler youth songs about burning Jewish ghettos in WWII Germany where his father was a survivor of a concentration camp. How fucking dare you attempt to label me with such a nasty vile word. I ask that all earnest journalist investigating this story ask Ofcr. ----- about the incident when Ofcr. ----- began singing a nazi youth song about burning jewish ghettos.
The internal affairs investigation in the academy involving ----- was spurned by a complaint that I had initiated toward two fellow recruit/offifcers. While assigned patrol footbeat in Hollywood Division, Officers ----- and ----- (both current LAPD officers) decided that they would voice their personal feelings about the black community. While traveling back to the station in a 12 passenger van I heard ----- refer to another individual as a nigger. I wasn't sure if I heard correctly as there were many conversations in the van that was compiled of at least 8 officers and he was sitting in the very rear and me in the very front. Even with the multiple conversations and ambient noise I heard Officer ----- call an indivdual a nigger again. Now that I had confirmed it, I told ----- not to use that word again. I explained that it was a well-known offensive word that should not be used by anyone. He replied, "I'll say it when I want". Officer -----, a friend of his, also stated that he would say nigger when he wanted. At that point I jumped over my front passenger seat and two other officers where I placed my hands around -----' neck and squeezed. I stated to -----, "Don't fucking say that". At that point there was pushing and shoving and we were separated by several other officers. What I should have done, was put a Winchester Ranger SXT 9 mm 147 grain bullet in his skull and Officer -----'s skull. The Situation would have been resolved effective, immediately. The sad thing about this incident was that when Detective ----- from internal affairs investigated this incident only (1) officer (unknown) in the van other than myself had statements constistent with what actually happened. The other six officers all stated they heard nothing and saw nothing. Shame on every one of you. Shame on Detective ----- (same ethnicity as -----) for creating a separate 1.28 formal complaint against me (----- complaint) in retaliation for initiating the complaint against ----- and -----. Don't retaliate against honest officers for breaking your so-called blue line. I hope your son -----, who I knew, is a better officer than you, Detective -----. The saddest part of this ordeal was that Officer ----- and ----- were only given 22 day suspensions and are still LAPD officers to this day. That day, the LAPD stated that it is acceptable for fellow officers to call black officers niggers to their face and you will receive a slap on the wrist. Even sadder is that during that 22 day suspension ----- and ----- received is that the LAPPL (Los Angeles Police Protective League) paid the officers their salaries while they were suspended. When I took a two-day suspension for an accidental discharge, I took my suspension and never applied for a league salary. Its called integrity.
Journalist, I want you to investigate every location I resided in growing up. Find any incidents where I was ever accused of being a bully. You won't, because it doesn't exist. It's not in my DNA. Never was. I was the only black kid in each of my elementary school classes from first grade to seventh grade in junior high and any instances where I was disciplined for fighting was in response to fellow students provoking common childhood schoolyard fights, or calling me a nigger or other derogatory racial names. I grew up in neighborhoods where blacks make up less than 1%. My first recollection of racism was in the first grade at Norwalk Christian elementary school in Norwalk, CA. A fellow student, ----- if I can recall, called me a nigger on the playground. My response was swift and non-lethal. I struck him fast and hard with a punch an kick. He cried and reported it to a teacher. The teacher reported it to the principal. The principal swatted ----- for using a derogatory word toward me. He then for some unknown reason swatted me for striking ----- in response to him calling me a nigger. He stated as good Christians we are to turn the other cheek as Jesus did. Problem is, I'm not a fucking Christian and that old book, made of fiction and limited non-fiction, called the bible, never once stated Jesus was called a nigger. How dare you swat me for standing up for my rights for demanding that I be treated as an equal human being. That day I made a life decision that i will not tolerate racial derogatory terms spoken to me. Unfortunately I was swatted multiple times for the same exact reason up until junior high. Terminating me for telling the truth of a Caucasian officer kicking a mentally ill man is disgusting. Don't ever call me a fucking bully. I want all journalist to utilize every source you have that specializes in collections for your reports. With the discovery and evidence available you will see the truth. Unfortunately, I will not be alive to see my name cleared. That's what this is about, my name. A man is nothing without his name. Below is a list of locations where I resided from childhood to adulthood.
Cerritos, CA.
Pico Rivera, CA.
La Palma, CA.
Thousand Oaks, CA.
Cedar City, UT.
Pensacola, FL.
Enid, OK.
Yorba Linda, CA.
Las Vegas, NV.
During the BOR an officer named, Sgt. -----, from Los Angeles Port Police testified on behalf of the LAPD. ----- stated for the BOR that he arrived at the location of the UOF shortly before I cuffed the suspect. He also stated that he assisted in cuffing the suspect and that's old the BOR he told me to fix my tie. All of those statements were LIES!!! -----, you arrived at the UOF location up to 30 seconds after I had cuffed Mr.-----. All you did was help me lift the suspect to his feet as it was difficult for me to do by myself because of his heavy weight. You did not tell me to fix my tie as the BOR members and everyone else in the room know you lied because the photographic evidence from the UOF scene where -----'s injuries were photographed clearly shows me wearing a class B uniform on that day. A class B uniform is a short sleeved uniform blouse. A short sleeved uniform blouse for the LAPD does not have a tie included. This is not Super Troopers uniform, you jackass. Why did you feel the need to embellish and lie about your involvement in the UOF? Are you ashamed that you could not get hired on by any other department other than port police? Do you have delusions of grandeur? What you did was perjury, exactly what ----- did when she stated she did not kick -----.
What they failed to mention in the BOR was ----- own use of force history during her career on the LAPD. She has admitted that she has a lengthy use of force record and has been flagged several times by risk management. She has a very well known nickname, Chupacabra, which she was very proud to flaunt around the division. She found it very funny and entertaining to draw blood from suspects and arrestees. At one point she even intentionally ripped the flesh off the arm of a woman we had arrested for battery (sprayed her neighbor with a garden water hose). Knowing the woman had thin elastic skin, she performed and Indian burn to the woman's arm after cuffing her. That woman was in her mid-70's, a mother and grandmother, and was angry at her tenants who failed to pay rent on time. Something I can completely understand and I am sure many have wanted to do toward tenants who do not pay their rent. ----- was also demoted from a senior lead officer rank/position for performance issues. During my two months of working patrol with -----, I found her as a woman who was very angry that she had been pulled from patrol for a short time because of a domestic violence report made by Long Beach Police Department because of an incident involving her active LAPD officer boyfriend, -----, and herself. ----- is the same officer investigated for witness tampering. She also was visibly angry on a daily basis that she was going to have to file for bankruptcy because her ex-husband, a former LAPD officer and not -----, who had left the department, state, and was nowhere to be found had left her with a tax bill and debt that she was unable to pay because of a lack of financial means. -----, you are a POS and you lied right to the BOR panel when ----- asked you if you kicked -----. You destroyed my life and name because of your actions. Time is up. The time is now to confess to -----.
Continued ... >>>
---
Reader Pageviews by Country
---
From: Jan 26, 2013 1:00 AM – Feb 2, 2013 12:00 AM
---
«•
Thank you for visiting Corrupt Justice™. Enjoy our Free Movie Intermission! Don't forget to Bookmark Us & Tell A Friend! We're Global!
•»
---
Movie Intermission!
"LAPD Blues!" (Full Video)!
---
Description: Los Angeles, CA --
Undercover L.A.P.D. officer Frank Lyga shot and killed off-duty L.A.P.D. officer Kevin Gaines in a case of apparent road rage. The shooting of a black officer -- Gaines -- by a white cop -- Lyga -- created a highly publicized police controversy.
---
---