---
Click on Banner to Sell Your Home(s)!
---
---
"I am absolutely mortified by the events and the devastating loss of my beloved Reeva."


-- Oscar Pistorius to the Court in a written statement, during his bail hearing on premeditated murder charges of his girlfriend Reeva Steenkamp on Valentine's Day.
Top News Story!
The Shield!
Published on May 21, 2018 at 12:06 a.m. PDT ~ Updated on: July 6, 2018 at 12:08




Los Angeles, CA (WCJB) -- Michael Jace addressed the court to say he was sorry for what he had done. Jace's former mother-in-law left the courtroom.

Posted: May 31, 2016 ~ Updated: 05:13 p.m. PDT May 31, 2016



Los Angeles, CA (WCJB) -- He shot April Jace, 40, in the back and then twice in the legs at their family home in May 2014, while the couple's young children were present. Jace's son, now 10, told the court he heard his father say: "If you like running then run to heaven," before firing the second time. Jace will be sentenced on 10 June and could face up to 40 years in prison.

Deputy District Attorney Tannaz Mokayef said during the trial that the actor was upset that his wife wanted a divorce and believed she was having an affair, although no evidence was presented to support this. Jace waited for her to come home and shot her before calling police.

He later told detectives that he had planned to kill himself but could not go through with it and so instead planned to shoot his wife, a keen runner, in the leg so she would feel pain.

The 53-year-old actor played Detective Julien Lowe in police drama The Shield. He also had small roles in films such as Planet of the Apes, Boogie Nights and Forrest Gump.

Posted: 2013

Los Angeles, CA (WCJB) -- Monday night, Michael Jace, 51 (pictured above, center) called 911 to report that his wife had been shot, according to Det. Dean Vinluan. Neighbors who heard gunshots also called 911, he said. Police found April Jace, 40, shot to death in her south Los Angeles home, Los Angeles Police Det. Lyman Doster said. Investigators detained Jace at the couple's Hyde Park-area home Monday night. On Tuesday, police said Michael Jace, who played a Los Angeles cop in TV's "The Shield," had been arrested in connection with the fatal shooting of April Jace. Jace was booked into the Los Angeles jail on a homicide charge early Tuesday, according to Doster. His bail was set at $1 million. Media sources have been unable to find the name of any lawyer Jace may have hired to defend him in this homicide case. He is not expected to appear in court before Thursday, a spokeswoman for the Los Angeles County district attorney said.

He married April Jace in June 2003, a year after divorcing his first wife, with whom he shared a son who is now a teen. Two children were in the home when their mother was shot, Vinluan said. The children were taken to a police station and then handed over to a representative of California's Department of Children and Family Services, he said. "At this moment, the motive of the murder is believed to be domestic violence," a police statement said. Investigators have found no reports of domestic violence between the husband and wife at their south Los Angeles residence, LAPD Det. Iasparro said.




A woman described as a close friend of his first wife said in a sworn statement that she witnessed Jace physically abusing his wife in 1997. The declaration was in court records from Jace's 2005 custody case concerning his son with Jennifer Bitterman. Jace "choked and hit" his wife and "slammed her against the wall while (their infant son) screamed in his crib next to her," Maria De Le Vegas said in the sworn declaration obtained by media sources. Jace "was raging and out of control, and seeing the extent of his anger was one of the most terrifying things I have ever seen," she said.

Jace appeared to be suffering severe financial strain in recent years, according to court documents obtained by media sources. The actor filed for Chapter 13 bankruptcy in March 2011, citing $500,000 in debts and an annual income of around $80,000 from residuals from his TV and film work, the documents said. Jace had defaulted on the $411,000 mortgage on the south Los Angeles home where his wife died, according to the documents. His bankruptcy case is still active, according to his lawyer.

The FX police drama "The Shield" was the biggest and longest-running role in Jace's 22-year acting career. He appeared in 89 episodes as Julien Lowe, who started as a rookie officer in an inner-city Los Angeles police precinct in 2002. His character rose through the ranks to become a detective before the series ended in 2008, according to the Internet Movie Database. He acted on several episodes of "Southland," another TV drama about Los Angeles police, between 2009 and 2012. Jace often played a law enforcement or military officer on television shows. He is credited with roles in "CSI: Crime Scene Investigation," "Private Practice," "The Mentalist," "Burn Notice" and "NYPD Blue."

He had the title role of Michael Jordan in the 1999 TV movie about the NBA star, "Michael Jordan: An American Hero." Jace played Officer Brown in Russell Crowe's 2009 film "State of Play," and he portrayed a Black Panther member in the 1994 blockbuster movie "Forrest Gump."

April Jace had worked for the past year as a financial aid counselor at Biola University, a private school in La Mirada, California, according to the school. "We are obviously shocked and saddened by this terrible news, to lose a wonderful colleague, mother and friend," Biola President Barry Corey said in a written statement. "April's radiant personality brought great energy to the financial aid office," financial aid director Geoff Marsh said. "Her love for helping students and families and her great work ethic earned the respect and love of her coworkers. Her smiling face and helpful spirit will be missed by all."

---
'Wrapped Up'!!
Posted: 4:53 p.m. EST November 10, 2014 ~ Updated: 11:53 p.m. PST November 12, 2014
Daytona Beach, FL

-- A Florida cop who claimed she was shot at in a drive-by shooting while walking her dog, forcing her to return fire on the suspects, resigned last week after an internal affairs investigation determined she was drunk and lied about what happened.
---
Live Streamin' Vengence!



---
Wife-on-Fire!
Posted: July 8, 2015 ~ Updated: 09:53 a.m. PDT July 8, 2015

Orange County, CA -- A Los Angeles County Sheriff's Department deputy has been charged with multiple felonies after a brutal assault on his girlfriend, where he lit her hair on fire, threatened her with a firearm and then callously turned up the volume on the television to drown out her screams.

Alejandro Flores, 33 (pictured above, center) appeared in court on Tuesday in Orange County, where he lived with his girlfriend and a baby, described as a relative under 2 years old.

The incident occurred on June 28th, following an argument over the baby's pacifier. After throwing the woman into a wall, he allegedly hit her and grabbed her by her neck, which caused her to fall to the ground. Flores then dragged her to the stove, where he held her over the gas burner and lit her hair on fire.

The deputy then threatened to hurt her more if she called the police and took her cellphone and threw it at her "hard enough to hurt her", prosecutors stated.

Flores then turned up the volume on the television to drown out her screams and threatened her with a gun.

Flores has been charged with three counts of domestic battery with corporal injury, two counts of assault with force likely to produce great bodily injury, one count of aggravated assault, one count of criminal threats, one count of dissuading a witness by force or threat, and one count of false imprisonment by menace or violence, all felony charges.

If the deputy is convicted on all charges, he could face up to 25 years and eight months in prison for the attack.

There are many victims of domestic abuse by law enforcement, in fact, the National Center for Women and Policing reports that domestic violence is two to four times more common among law enforcement families than American families in general. The organization points to two studies, indicating that as many as 40 percent of law enforcement families have a problem with domestic violence.

"They rape, ... They rape a 100 white women a day, ... that's FBI statistic from 2005."

-- Dylann Roof, explaining to FBI Agents why he entered Emanuel African Methodist Episcopal church in Charleston, South Carolina, on June 17, 2015 and killed nine members of the black congregation attending a Bible study inside.

Sympathies!
Florida --

Casey Anthony says she can empathize with O.J. Simpson, who was acquitted of killing his wife and her friend. Her boss, Patrick McKenna, also worked on Simpson's case. Anthony spoke in a series of interviews with The Associated Press. (March 9).
Jury Selection!
Posted: 4:53 p.m. EST November 10, 2014 ~ Updated: 11:53 p.m. PST November 12, 2014

PHOENIX, AZ (WCJB) - Jury selection resumes Wednesday morning in the penalty retrial of convicted murderer Jodi Arias. Prosecutors in Arizona will again seek the death penalty after a previous jury deadlocked on punishment for Arias in the case that became a tabloid TV sensation.

On Wednesday morning, 100 potential jurors will come to Superior Court for day two of jury selection. They'll first answer a few basic questions as a group in Judge Sherry Stephens' courtroom. If they get past that point, then they fill out a very lengthy questionnaire.

The jury questionnaire for the retrial is sealed so it's unknown what is in it. However, media sources were able to look at a questionnaire from another death penalty case in the Valley. Scottsdale-based jury consultant Jeffrey Boyll said the one for the Arias retrial is likely very similar. He thinks the Arias questionnaire will almost certainly as potential jurors to rate on a scale, their views on capital punishment.

Questions about the media coverage and social habits will be included as well.

Boyll said the questions are invaluable.

"People are more willing to be honest quite frankly in writing than in open court, so you get a lot of very good information from that," Boyll said.

Finding an impartial jury for this case is not going to be easy, especially with all the national attention and media frenzy that surrounded the trial last year when Arias was found guilty of first-degree murder in the death of her ex-boyfriend, Travis Alexander.

Alexander's family was back in court Monday.

Also on Monday, about half of the 300 potential jurors were dismissed. Many of them were sent home because they said they had already made up their mind about the case and couldn't be impartial.

The jury selection process is expected to take several weeks before a 12-member panel is selected with at least four alternates. The prosecutor's office told CBS 5 News that they expect to be ready to start the retrial by October 20.

The judge expects the trial to go until Dec. 21.

Court video is embargoed until after the verdict is read.

Arias recently recused herself from self-representation and as the jury selection gets underway, there is speculation that finding jurors who haven't been exposed to any trial coverage will be like finding a needle in a haystack. That's because the trial was on every station every day for months.

The biggest hardship will be bringing you the day's testimony and the play-by-play. Judge Stephens will not allow stations to air any video on the case until after a verdict is read. "Ironically, I think this order will make the coverage more chaotic," a said media attorney. He represented all five local television stations in a recent effort to get Judge Stephens to allow video of the trial to air 30 minutes after the day's end, but Stephens denied it.

"The defendant claims that her mitigation witnesses were told there would be a camera and they might not participate if they had to suffer the harassment that stems from a camera being in the courtroom," the attorney said.

Now the media circus may be even bigger. You can count on Twitter as a way to communicate what's happening inside the courtroom.

The Rabbit's Arm!
Posted: May 08, 2014 9:37 PM PDT - Updated: 8:20 PM PDT June 4, 2014




PORTLAND, OR (WCJB) - Susan Walters' own husband paid to have her killed. Instead, the Portland woman killed her attacker with her bare hands. "Not having any clue why he was in my home, I knew, I could feel his intent to kill me," Walters said. "His last words on this earth were 'you're strong,'" Susan Walters said. She was strong enough to survive a 14 minute attack in her own home. She was strong enough to kill the man who was trying to kill her with a hammer.

It all started back in September 2006 when the ER nurse came home to Edward Haffey waiting inside. "We were within inches of each other. He said 'you're tough,'" she said in court almost exactly a year later. Walters struggled, bit back and eventually grabbed the hammer. Haffey fought through it all. In the moment that Walters had the upper hand, and when she had her attacker around the throat, she offered him an escape. "I told him 'tell me who sent you here and I will call you an ambulance.'" Haffey never said and later died.

Walters eventually got the answer to the question she posed to Haffey before he died. Her then husband, Michael Kuhnhausen, had paid the attacker $50,000 to kill her. Now, almost eight years later, her ex could walk free again. Kuhnhausen will go before a parole board and could get out later this year. "Although I've forgiven my ex-husband for what he became, and what he did to me and all those who he loved, I cannot forget what he's capable of," Walters said.

She hopes sharing her own desperate fight for life will inspire other women to fight back too. She's ready to fight again if she has to. "I didn't choose my attacker's death for him," she said. "I chose my life." She hopes her story can inspire other would-be victims to do the same. "If you feel like, 'wow I don't feel like I can do that.' You can. You're stronger than you know," she said.

After the attack, Walters agreed to a plea deal with her then husband that put him away for 10 years. She says she probably wouldn't do the same again. But, she will approach the parole board with her concerns now in hopes of keeping him away if he is released in September.


Virginia Twins!
Updated: Feb 24, 2013 4:21 PM PST
(Angela Nolen, left, and Cathy Bennett were arrested in a murder-for-hire plot Wednesday.) Roanoke, Virginia -- A Virginia kindergarten teacher was busted along with her friend when she allegedly tried to hire a hit man for $8,500 to kill her ex-husband. Angela Nolen, 47, blew her cover when she and Cathy Bennett -- the 37-year-old nurse at her school -- hired an undercover cop to do the dirty deed, according to media sources. The two women, who work at Sontag Elementary School in Rocky Mount, were arrested Wednesday after plotting the murder of Nolen's former partner, 63-year-old Paul Strickler, police told the paper. Nolen was charged with solicitation to commit murder, and Bennett was slapped with accessory to solicitation.





Nolen allegedly met with an undercover state police agent on Feb. 19, asking him to take her husband's life, according to media reports. She reportedly promised the agent more than $4,000 up front, and another $4,000 when the job was done. State police got wind of her alleged scheme from an anonymous tip.

Officers declined to comment on Nolen's motive in the murder-for-hire plot, according to another source. Strickler told a reporter that he and Nolen were working on a deal for her to buy his house. "If I was dead, she would not have to give me the money," he told the paper. "That scares the H-E-L-L out of me. I'm just so glad that the state police found out about this and uncovered it." Strickler and Nolen have a 7-year-old adopted daughter, though it's unclear what effect the incident will have on custody.

A Father's Intent!
Posted: January 25, 2013 2:45 PM EST - Updated: 12:32 AM PST, Sun January 27, 2013
Camden, New Jersey -- Police say an 11-year-old girl is in critical condition after being shot in the face by her father in a New Jersey home on Thursday night, media sources reports. Investigators said 27-year-old Byaer Johnson apparently entered the home to visit his young daughter. At point, they say, he was asked to leave, then picked up his handgun and shot his daughter in the face.

The girl was rushed to Cooper University Hospital where she is listed in critical but stable condition, according to media sources. Authorities said the girl could suffer paralysis as a result of her injuries.

Investigators say that after allegedly shooting his daughter, Johnson pointed the gun at a 28-year-old man in the home and pulled the trigger, but the weapon jammed. The man reportedly wrestled with Johnson, obtained his gun and then fired it at him, hitting Johnson in the buttocks.

Police found Johnson running toward an apartment complex and took him into custody, media sources reports. The 28-year-old man is not expected to be charged in the shooting attack.

Johnson is being treated for his injury and is expected to be transferred to the Camden County Jail. He faces charges of criminal attempted murder and other weapons offenses.

A Family Affair!
Updated: Feb 24, 2013 4:21 PM PST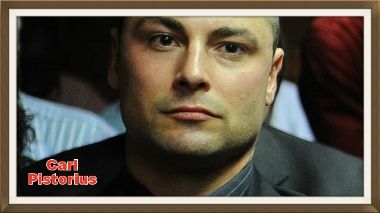 Johannesburg, South Africa -- As Olympic icon Oscar Pistorius faces a murder trial for the shooting of his girlfriend, his older brother is charged in the death of another woman. Carl Pistorius is accused of culpable homicide in the 2010 death of a female motorcyclist, a media affiliate reported Sunday. Prosecutors allege Carl Pistorius was driving recklessly in Vanderbijlpark, South Africa, when he crashed with the motorcyclist. An Attorney for Carl disputes allegations that his client was driving recklessly and said the motorcyclist rode into Carl Pistorius' vehicle.

Carl Pistorius was initially scheduled to go on trial Thursday -- the day before his brother Oscar was granted bail. But the trial has been rescheduled for the end of March, meaning Carl's trial could be completed before Oscar's trial is scheduled to begin in June. Pistorius family spokeswoman Janine Hills said she is in touch with the family and will issue a statement about Carl, but could not confirm when the statement will be released.

Oscar Pistorius, the double-amputee sprinter known as the "Blade Runner," is charged with premeditated murder in the death of his girlfriend, Reeva Steenkamp. Pistorius said he accidentally shot his girlfriend, thinking she was an intruder.

A[n] [Inter]National Tragedy!
The Cricket Bat!
Posted: Feb 24, 2013 3:00 PM CST - Updated: Feb 24, 2013 4:21 PM PST

PRETORIA, South Africa — Police have told Reeva Steenkamp's family that Oscar Pistorius bashed in her skull with a cricket bat before fatally shooting her, the Daily Mail reports. Police withheld that information at Pistorius' bail hearing last week, preferring to conceal their case, but did brief the South African model's family on details of her post-mortem examination. Family members also saw her head wounds before her cremation on Tuesday, according to the Mail. Pistorius says he used the bat to break down his bathroom door after shooting Steenkamp by mistake.

What's more, the angry father of Steenkamp's best friend has emerged to describe how Pistorius treated her during courtship, according to media reports. "He kept pestering her, phoning and phoning and phoning her. Oscar was hasty and impatient and very moody—that's my impression of him," said Cecil Myers, who once lived with Steenkamp in Johannesburg. Myers added that he talked to Pistorius about his behavior because she felt "felt caged in." Told to back off, Pistorius "agreed," said Myers, "but his face showed me what he was thinking: 'Oh, this guy is talking nonsense.'"



Bail Granted!

Published: Friday, February 22, 11:56 AM EST - Updated: Friday, February 22, 03:11 PM PST

PRETORIA, South Africa — Oscar Pistorius walked out of a South African court Friday a free man. A magistrate agreed to release him on bail ahead of his premeditated murder trial over the shooting death of his girlfriend. As Pistorius was driven away from court and chased by videographers and photographers, questions continued to hound the Paralympian about what actually happened when he opened fire and killed Reeva Steenkamp on Valentine's Day inside his home. Those questions were highlighted during the four-day bail hearing, which at times foreshadowed his coming trial. The lingering questions arose from Pistorius' account that he felt threatened and mistook Steenkamp for an intruder, causing him to fire the four shots, three of which struck and killed her in his bathroom.





Prosecutors say he intended to kill Steenkamp as she cowered in fear behind the locked bathroom door after a loud argument between the two. Yet despite poking holes in Pistorius' version of events and bringing up incidents they say highlight his temper, the state's case started to unravel during testimony by the lead investigator, Detective Warrant Officer Hilton Botha (pictured left). Botha, who faces seven charges of attempted murder in an unrelated incident, was removed from the case Thursday. On Wednesday, it was announced that the detective who was supposed to be leading the inquiry is to appear in court in May for attempted murder. It is alleged that two years ago, Detective Hilton Botha, while drunk, fired from a police vehicle at a minibus taxi full of black passengers. This kind of thing was a popular recreation for drunk, white policemen during the apartheid years. The case against Detective Botha was dropped, but has now been reopened, presumably because of the potential PR disaster.

During Friday's long session in Pretoria Magistrate's Court, Pistorius alternately wept and appeared solemn and more composed, especially toward the end as Nair criticized police procedures in the case and as a judgment in Pistorius' favor appeared imminent. Chief Magistrate Desmond Nair, who agreed to bail with harsh restrictions for the athlete, expressed his own doubts about Pistorius' story. "Why would (Pistorius) venture further into danger?" Nair asked. Anticipating the shape of the state's case at trial, he said he had serious questions about Pistorius' account: Why didn't he try to locate his girlfriend if he feared an intruder was in the house? Why didn't he try to determine who was in the bathroom before opening fire? And why did he venture into perceived "danger" in the bathroom when he could have taken other steps to ensure his safety? "There are improbabilities which need to be explored," Nair said, adding that Pistorius could clarify these matters by testifying under oath at trial. While Nair leveled harsh criticism at Botha for "errors" and "blunders," he said one man does not represent an investigation and that the state could not be expected to put all "the pieces of the puzzle" together in such a short time.


Nair set the bail at 1 million rand ($113,000), with $11,300 in cash up front and proof that the rest is available. The magistrate said Pistorius must hand over his passports and also turn in any other guns that he owns. Pistorius also cannot leave the district of Pretoria without the permission of his probation officer, Nair said, nor can he take drugs or drink alcohol. Pistorius faced the sternest bail requirements in South Africa because of the seriousness of the charge, which carries a life sentence if convicted. Nair questioned whether Pistorius would be a flight risk when he stood to lose a fortune in cash, cars, property and other assets. Nair also said that while it had been shown that Pistorius had aggressive tendencies, he did not have a prior record of offenses for violent acts. Pistorius showed no reaction as he was granted bail. Nair set Pistorius' next court appearance for June 4. The prosecution accepted the judge's decision without protest. "We're still confident in our case," prosecution spokesman Medupe Simasiku said.


Pistorius' supporters shouted "Yes!" when Nair made his decision after a nearly two hour explanation of his ruling to a packed courtroom in Pretoria, South Africa's capital. Pistorius' family members hugged each other after the decision was read, with tears in their eyes. The Olympian left the courthouse in a silver Land Rover, sitting in the rear, just more than an hour after the magistrate imposed the bail conditions. The vehicle, tailed by motorcycles carrying television cameramen aboard, later pulled into the home of Pistorius' uncle. Sharon Steenkamp, Reeva's cousin, had said earlier that the family wouldn't be watching the bail decision and hadn't been following the hearing in Pretoria. "It doesn't make any difference to the fact that we are without Reeva," she told media sources.
Gun Nut or National Hero!
Published: Thurs. February 21, 2013, 2:39 AM EST - Updated: Thurs. February 21, 2013, 12:21 AM PST
(South African "Blade Runner" Oscar Pistorius smiles with his girlfriend, model Reeva Steenkamp, at an awards ceremony in Johannesburg Nov. 4, 2012. Pistorius, a double amputee who became one of the biggest names in world athletics, was charged last week with shooting his gorgeous girlfriend on Valentine's Day.) Pretoria, South Africa (WCJB) -- On the bedside table in Oscar Pistorius' house, a shiny silver pistol sat, ever so casually, near pedestrian items like a watch, keys, sneakers and a TV remote. A gun at arm's reach — not even put away during a photo shoot for a magazine — is evidence of the darkness buried inside the double amputee who became an Olympic beacon. More indications emerged Wednesday in a report that Pistorius was not just a casual gun owner, but was trying to assemble an arsenal of weaponry in the days before he killed his ravishing girlfriend, the South African model Reeva Steenkamp.


(A Paris Match photo taken of Oscar Pistorius's bedside table, including a Taurus 9-mm. pistol, on April 18, 2010 in Pretoria, South Africa. The weapon used to kill Reeva Steenkamp — a 9-mm. Parabellum pistol — is not pictured.) Prosecutors said he committed premeditated murder. The sprinter's reputation was further muddied by media reports, which said Pistorius applied for firearms licenses for a Smith & Wesson model 500 revolver, a .38-caliber Smith & Wesson revolver, a Vector .223-caliber rifle and three shotguns three weeks before the shooting. Those guns would come on top of the licensed 9-mm. Parabellum pistol that Pistorius used to pump three bullets into his lover on Valentine's Day — a different gun from the Taurus 9-mm. photographed for the magazine.

Pistorius does not deny fatally shooting the 29-year-old blond reality-TV stunner, but has laid out an entirely different version of events. Pistorius said the shooting was an accident after he mistook her for one of the nation's slew of burglars. He said he was on a balcony retrieving a fan when he heard a noise and believed a robber was hiding in the toilet. He said he thought Steenkamp was in bed when he fired. Lead Investigator Hilton Botha, however, scoffed when Pistorius told him how it went down. "I believe that he knew that Reeva was in the bathroom and he shot four shots through the door," hitting Steenkamp three times.

On Wednesday, the prosecution case against Pistorius began to unravel with revelations of a series of police blunders and Botha's admission that authorities have no evidence challenging the double-amputee Olympian's claim he killed his girlfriend accidentally. Pistorius faces a charge of premeditated murder.


South African police say the lead investigator in the case against Olympian Oscar Pistorius faces attempted murder charges in an October 2011 shooting. Police Brig. Neville Malila said Thursday that detective Hilton Botha (pictured right) is scheduled to appear in court in May on seven counts of attempted murder. Malila says Botha and two other police officers fired shots while trying to stop a minivan in the incident. Malila also said that an internal investigation by police may lead to Botha's suspension. The charges against Botha were reinstated yesterday, according to South Africa's National Prosecuting Authority.




A Leg to Stand!

Posted: 11:24 PM EST, Tue February 19, 2013 - Updated: 12:19 AM PST, Wed. February 21, 2013

Pretoria, South Africa (WCJB) -- A pivotal question emerged Wednesday as the central detail in the premeditated murder case against paralympian Oscar Pistorius (pictured below, center).



"Was he wearing his prosthetic legs at the time of the shooting?"


The lead investigator in the case testified on Day 2 of the one-time Olympian's bond hearing. Detective Hilton Botha appeared shaky on the stand. Howver, he testified clearly that the four shots fired by Pistorius appeared to have a downward trajectory. His testimony suggested the runner had strapped on his artificial appendages before marching to the bathroom and killing Reeva Steenkamp (pictured left). The veteran cop's account contradicted Pistorius' earlier statement to police that he wasn't wearing his artificial limbs and "felt extremely vulnerable" when he fired into the toilet door believing a robber was behind it. Botha also hurt the prosecution case by claiming — without producing any test results — that police found testosterone and needles in Pistorius' home. Defense attorney Barry Roux jumped all over the investigator. "It is an herbal remedy," Roux said. "It is not a steroid, and it is not a banned substance."

Botha was also forced to admit to some sloppy police work — like the fact that the defense team found a spent bullet cartridge in the toilet bowl. Botha also 'fessed up to tramping through the crime scene in "unprotected shoes." But Botha may have done the most damage to Nel's case when he, inexplicably, contradicted his earlier testimony and said police did not find anything inconsistent with the account Pistorius gave about the fatal shooting. The detective's goofs buoyed Pistorius' hopes he might be allowed out on bail — and prompted his family to issue a press release stating they are "satisfied with the outcome of (Wednesday)'s proceedings."

Whether Pistorius was wearing his "legs" is crucial to the prosecution's effort to hold the runner without bail because strapping on the prosthetics would suggest he committed a premeditated crime. Prosecutors are expected to introduce ballistics evidence when the hearing resumes Thursday and when South Africa and the rest of the world returns to the riveting courtroom drama.

In laying out the case against Pistorius, prosecutor Gerrie Nel revealed that:

•» A witness will testify to having heard "two to three shots" and a woman's scream before "two or three more shots" 17 minutes later.

•» A witness will testify there was "nonstop talking, like shouting" before the shots were fired.

Pistorius killed Steenkamp with three rounds from a licensed 9-mm. pistol.

The prosecution also revealed that three weeks before the deadly shooting, Pistorius applied for firearms licenses for six more guns — a Smith & Wesson model 500 revolver, a .38-caliber Smith & Wesson revolver, a Vector .223-caliber rifle and three shotguns: A Mossberg, a Maverick, and a Winchester, media sources reported.


So far prosecutors haven't floated a possible motive for the deadly mayhem, although Steenkamp was close to a former flame, rugby star Francois Hougaard (pictured left) and Pistorius was said to be jealous. Hougaard and Steenkamp even shared the same agent. Hougaard is two inches shy of 6-feet tall, but he is nearly 200 pounds of solid muscle and determination. The hunky South African rugby player who may be the third side of the deadly love triangle involving Pistorius and his slain girlfriend is a superstar in his homeland.

Hougaard plays for the Blue Bulls, a team based in the South African capital of Pretoria, and also plays for the national team, the Spingboks. In a sport famous for brutish men with broken fingers and missing teeth, the handsome 24-year-old Hougaard stands out beyond the pitch. Hougaard parlayed his good looks into becoming a pitchman for Dermalogica skin and body care products. He also swears by SpiceBomb cologne by Viktor and Rolf. Born in the small but prosperous city of Paarl in the scenic wine-making region of South Africa, Hougaard, like Pistorius, moves in the small circle of elite white athletes in the mostly black country.

Shortly before Steenkamp was fatally shot, Hougaard posted a picture of himself with his ex and Pistorius having meal out with friends. Before Pistorius hooked up with blond bikini model Reeva Steenkamp, she and Hougaard dated. Hougaard and Steenkamp stayed friends and stayed in touch via social media — something police say may have enraged the jealous and controlling Pistorius. "Happier times with special people," Hougaard tweeted. "We all miss you so much Reevs."

Video Posted: February 19, 2013 (@ YouTube)






Valentine's Day:
Oscar's Version!

Posted: 11:24 PM EST, Tue February 19, 2013 - Updated: 12:52 AM PST, Wed. February 20, 2013

Pretoria, South Africa (WCJB) -- Oscar Pistorius says, It was the middle of the night and he thought an intruder was in the house. He was not wearing his prosthetic legs and feeling vulnerable in the pitch dark, he was too scared to turn on the lights. The track star claims he pulled his 9mm pistol from beneath his bed, moved toward the bathroom and fired into the door. It was only after he called to girlfriend Reeva Steenkamp -- whom he thought had been in bed beside him after a quiet evening -- that he realized something horrible might have happened. Pistorius says he broke down the locked bathroom door. At one point in his statement he says he kicked the door in, at another point he says he used a cricket bat to break it down. He then claims he scooped up the mortally wounded Steenkamp and carried her downstairs to seek help. Prosecutors, however, painted a different picture.

Pistorius told Chief Magistrate Desmond Nair in a statement read by his lawyer during his bond hearing Tuesday: "I tried to render the assistance to Reeva that I could, but she died in my arms," he said in the statement. "I am absolutely mortified by the events and the devastating loss of my beloved Reeva." While prosecutors and defense lawyers agree Pistorius shot Steenkamp, the track star denied intentionally killing her, in the statement read Tuesday.

In his statement, Pistorius said Steenkamp came over February 13, opting for a quiet dinner in over a night out with friends. They wrapped up the night with a bit of television in bed for him, some yoga for her. She had brought him a Valentine's Day present to open the next day. After the couple had gone to bed, he said he got up in the early hours of February 14 to close the balcony door in his bedroom when he heard a sound in the bathroom. Pistorius said he'd been a victim of violence and burglary in the past, and realized with terror that contractors who worked at the house had left ladders outside. Fearing someone had entered the home through the open bathroom window, moving in the dark on the stumps of his amputated legs, Pistorius grabbed his pistol from under the bed and yelled at the intruder to get out.

"I fired shots at the toilet door and shouted to Reeva to phone the police. She did not respond and I moved backwards out of the bathroom, keeping my eye on the bathroom entrance," Pistorius said in his statement. "Everything was pitch-dark in the bedroom and I was still too scared to switch on a light. When I reached the bed, I realized that Reeva was not in bed. That is when it dawned on me that it could have been Reeva who was in the toilet. I returned to the bathroom calling her name," he said. He said he threw open the balcony door and screamed for help, put on his prosthetic legs and tried to kick in the door to the separate room inside the bathroom containing the toilet. Then, he said, he picked up a cricket bat, smashing panels out of the door before finding a key and unlocking it. "Reeva was slumped over but alive," he said. Pistorius said he called for help and was told to take her to the hospital himself. He carried her downstairs and tried to help but, but she died. But he said he did not mean to kill her, and protested the charges against him. "I fail to understand how I could be charged with murder, let alone premeditated murder because I had no intention to kill my girlfriend," Pistorius said in the statement.

Prosecutors dispute the version of events that Pistorius detailed in his statement. Prosecutors say they believe Pistorius put on his prosthetic legs, picked up his gun and walked to the bathroom where Steenkamp, 29, had locked herself -- apparently after a heated argument -- and shot at her four times. Three of the bullets struck Steenkamp, who died soon after. Her funeral was Tuesday.

They rejected Pistorius' claim that he mistook her for a burglar, saying it would make no sense for an intruder to hide behind a locked bathroom door.

Instead, they say Pistorius armed himself, attached his prosthetic legs and walked 7 meters (23 feet) to shoot Steenkamp through a bathroom door after a heated argument.

Pistorius spent much of the hearing sobbing and heaving at the mention of his girlfriend's name, at one point forcing Nair to stop the proceedings to ask him to compose himself.Nair upgraded the charge against Pistorius to premeditated murder, saying he could not rule out the possibility that the track star planned Steenkamp's death. But Nair said he will consider downgrading the charge later. The allegation of premeditation makes it more difficult for Pistorius' attorneys to argue he should be released on bail pending trial. To win bail, the defense must argue that "exceptional circumstances" exist that would justify Pistorius' release.

In the statement read by his lawyer, Pistorius said he would not try to flee or influence any witnesses if he is allowed out on bail, and argued that his release wouldn't be a danger to public order. The session ended Tuesday afternoon with no decision on bail for Pistorius, 26. Prosecutors said they needed time to study the affidavits read in court before deciding how to proceed. The hearing is scheduled to resume Wednesday morning.



Valentine's Day!


Posted: 10:18 PM EST, Mon February 18, 2013 - Updated 11:58 PM PST, Mon February 18, 2013


Pretoria, South Africa (WCJB) -- Model Reeva Steenkamp (pictured left) was shot four times through the bathroom door at the home of Olympian Oscar Pistorius, a South African official familiar with the case told media sources on Monday. Authorities have released little about a possible motive in the Valentine's Day shooting, while local media have reported that Pistorius had mistaken his girlfriend for an intruder. South African authorities have stressed that the scenario did not come from them, and said there was no evidence of forced entry at the home. She was alive after she was shot and was carried downstairs by Pistorius, said the official, who was not authorized to release details to the media. Authorities also have not said whether Pistorius called for help.

Police have charged Pistorius with murder, and he will appear in court Tuesday for a bail hearing. South African prosecutors have said they intend to upgrade the charge to premeditated murder, but have not released further details. Pistorius, 26, has rejected the murder allegation "in the strongest terms," his agent said in a statement. The same day Pistorius returns to court, Steenkamp will be buried in a private service in her hometown of Port Elizabeth. Her burial Tuesday will come two days after South Africa's national broadcaster aired a pre-recorded reality TV show featuring Steenkamp discussing her exit from "Tropika Island of Treasure," on which local celebrities compete for prize money. The decision to air the program took "much deliberation," and "this week's episode will be dedicated to Reeva's memory," said Samantha Moon, the executive producer.

The shooting has stunned South Africa, where Pistorius is a national hero as the first disabled athlete to compete in the able-bodied Olympic Games. He competed in the London Games as well as winning two gold medals in the Paralympic Games. The night before the shooting, Steenkamp appeared to be looking forward to Valentine's Day. "What do you have up your sleeve for your love tomorrow?" she asked her Twitter followers the day before. "Get excited." Steenkamp was found in a pool of blood at Pistorius' home Thursday morning. Neighbors alerted authorities to the early morning shooting, saying they had "heard things earlier," police spokeswoman Denise Beukes has said. She did not clarify what the neighbors reported they heard.

The details are the latest to emerge in the shooting death that has roiled the nation and left South Africans asking what went so terribly wrong inside the upscale Pretoria home of the man nicknamed "Blade Runner" for his lightning-fast prosthetic legs. The official, who spoke on condition of anonymity, said there were indications the 29-year-old model intended to stay the night at the house: She had an overnight bag and her iPad. A blood-stained cricket bat has also emerged as key evidence in the case, according to the City newspaper of Johannesburg. Detectives are working to determine whether the bat was used to attack Steenkamp or she used it in self-defense, the newspaper reported, citing a source with inside knowledge of the case. Detectives are also looking into the possibility that Pistorius used the bat to break down the bathroom door.

Headlines about the case have dominated in the days since Pistorius was arrested, though tight-lipped authorities have revealed little about what, if anything, the track star has said. Reports say Pistorius and Steenkamp became an item around November and were popular in South African social circles. Pictures of his walk to a police car, his head covered by a sweatshirt, have flashed repeatedly across television screens.On Sunday, Pistorius canceled his appearances in five upcoming races. The move is meant to help Pistorius focus on the legal proceedings and "help and support all those involved as they try to come to terms with this very difficult and distressing situation," said Peet Van Zyl of Pistorius' management company, In Site Athlete Management.

A Woman Scorned!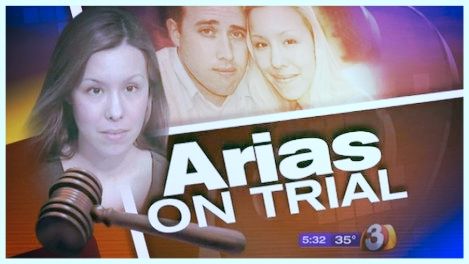 Jodi Arias is accused of shooting her ex-boyfriend Travis Alexander in the face, stabbing him 29 times and slitting his throat from ear to ear. At her trial her attorneys have argued she killed him in self-defense.
Cross-Examination!
'When You Cut His Throat, Were You Crying?'

Posted: 02/28/2013 9:31 pm EST | Updated: 03/04/2013 01:42 pm PST

Phoenix, Arizona -- Accused murderer Jodi Arias underwent more fiery cross-examination Thursday, with Maricopa County prosecutor Juan Martinez demanding to know if she was crying when she shot, stabbed and cut the throat of her ex-boyfriend. Arias is accused of the June 2008 slaying of Alexander inside his Mesa, Ariz., apartment. She faces the death penalty if convicted. Alexander was stabbed 27 times, shot twice in the face and his throat was slashed. The prosecution contends Arias was motivated by jealousy. Arias told the jury she killed Alexander in self defense after his increasing sexual demands and after she caught him masturbating to a picture of a little boy. Arias, 32, sobbed as the prosecutor showed her a picture of Travis Alexander's crumpled body.

Martinez, grilling Arias for a fourth day of cross-examination, showed no sympathy.




Prosecutor: "Were you crying while you were shooting him?"

Arias: "I don't remember."

Prosecutor: "Were you crying when you were stabbing him?"

Arias: "I don't remember."

Prosecutor: "How about when you cut his throat, were you crying then?"

Arias: "I don't know."

The exchange was one of many Thursday that left Arias looking haggard and beaten by the close of court. Earlier Thursday, Martinez questioned Arias about her activities on June 4, 2008 -- the day of the killing.

Prosecutor: Who deleted photos on Alexander's digital camera, later found in his washing machine?

Arias: "I might have deleted them ... It could have been me."

Later, during a follow-up question, Arias said:

Arias: "I believe it was probably" Alexander who deleted the photos.

Arias memory problems caused obvious frustration for Martinez.

Prosecutor: "We're here because you killed him, right?"

Arias: "Yes."

Arias said Alexander became enraged when she dropped his camera on the bathroom floor.

Arias: "I dropped it ... It landed on the mat ... and sort of did a little double bounce on the tile. He said that I'm a f--king idiot."

Alexander was so upset that he slammed her to the bathroom floor, Arias said.

Arias: "I got the wind knocked out of me and I hit my head."

Alexander chased after her and she ran to a walk-in closet, Arias testified. She said she grabbed a .25-caliber pistol off a shelf.

Prosecutor: "You chose to escalate this didn't you, even though you had the … head start, didn't you?"

Arias: "No, I didn't choose to escalate it. I was trying to deescalate it."

Prosecutor: "And you chose to deescalate the situation by … getting a handgun, right?"

Arias: "Yes."

Arias said she ran to the bathroom with the gun and held it out with both hands as Alexander charged her like a "linebacker."

Prosecutor: "He's lunging at you and he's almost on you and the gun goes off, right?"

Arias: "Something like that."

Prosecutor: "The last memory you have of him is after you shot him, right?"

Arias: "Yes."

Arias said that her mind went into a fog after she shot Alexander and that she has no memory of stabbing him 27 times or cutting his throat from ear to ear. She acknowledged she was likely the killer.

Prosecutor: "You say you went into a fog ... This gun, you tell us you took it out to the desert ... If you were in a fog ... would you agree there would be no need to take the gun?"

Arias: "I would not agree with that."

Prosecutor: "Why would you even think of taking the gun unless you really knew what was going on?"

Arias: "I can only speculate ... I don't remember taking the gun."

Arias said the next thing she remembers is being in the desert, about an hour from Hoover Dam. She said she tossed the gun and cleaned herself with bottled water. Martinez then played a recording a message Arias left on Alexander's voicemail after the killing.

Prosecutor: "This fog is not so deep that it stops you from attempting to fabricate evidence, right?"

Arias: "That would be correct."

Prosecutor: "All of these lies ... are meant for your benefit, so that you can escape responsibility."

Arias: "Yeah, so I could escape whatever for the time being."

Martinez then played a recording from a 2008 interview with the show "48 Hours." Arias said in the interview that no jury would convict her of killing Alexander.

Prosecutor: "You believe you're going to be acquitted because you came in and told those stories, don't you?"

Arias: "I can't predict the future," Arias replied.



A 'Dirty, Horny Little School Girl'

Posted: 02/27/2013 8:25 pm EST | Updated: 02/28/2013 4:55 pm PST

Phoenix, Arizona -- The Arizona trial was in session less than an hour before prosecutor Juan Martinez entered into evidence a raunchy text message Jodi Arias sent to Travis Alexander on Feb. 25, 2008. Arias, 32, is on trial in the June 2008 slaying of her ex-lover Alexander inside his Mesa, Ariz., apartment. She faces the death penalty if convicted. Arias' lawyers tried to depict her as a sexually exploited woman, intimidated by her abusive boyfriend. The prosecutor fought back, confronting Arias with her own texts to prove to the jury that this was just part of the couple's foreplay. The text message(s) read:

Arias: "Maybe u could give my ass a much-needed pounding."

Another, sent from Alexander to Arias, read in part:

Alexander: "I want to fuck you like a dirty, horny little school girl."

The text messages were intended to show the jury that Arias was an enthusiastic and willing participant in the sexual activities she engaged in with Alexander. Arias testified last week that she shot and stabbed Alexander in self-defense after he attacked her. Alexander had become increasingly violent and sexually demanding, she testified, and she claimed to have caught him masturbating to a picture of a young boy. The prosecution contends she murdered Alexander in a jealous rage. Martinez finally got to the activities that occurred at Alexander's Mesa, Ariz., home on June 4, 2008, the day he was killed. Specifically, Martinez began by questioning Arias about a bondage session she alleges she participated in that day with Alexander. Arias described for Martinez the rope she claims Alexander allegedly used during their sex play.

Prosecutor: "The rope had to be a certain length ... for [this] to take place? He wasn't going to hogtie you right?"

Arias: "No."

Prosecutor: "You were free to move, right?"

Arias: "Yes."

Prosecutor: "The purpose of this rope was purely decorative for the fantasy, right?"

Arias: "Yes."

Martinez then showed the jury a photo of Alexander's bed. He pointed at the center of the bed and asked:

Prosecutor: "You were sort of spread-eagled there, right?"

Arias: "Yes."

Published: February 25, 2013 | Updated: February 27, 2013 1:20 pm PST

Phoenix, AZ -- The argument mounted by Martinez today echoed the focus of the prosecution throughout the trial: that Arias murdered Alexander and then lied to everyone about it to evade arrest and prosecution. Martinez asked as his first question today, the 11th day Arias has been on the stand explaining her role in Alexander's death. Martinez pointed out that Arias lied to Detective Esteban Flores of the Mesa, Ariz., police department as he investigated Alexander's death. She initially denied to the detective that she was at Alexander's home in Mesa when he was killed, and later said he was murdered by a pair of masked intruders.

Prosecutor: "Ma'am you have a problem with telling the truth don't you?"

Arias: "Not typically."

Prosecutor: "You told (Flores) you would help him, but that was a lie right? You weren't there to tell the truth. You were there for another purpose: to make sure he didn't get the truth.... You were hoping, ma'am, that (Flores) would believe what you were saying so you could walk out of jail."

Arias argued with Martinez, claiming that she lied to investigators out of shame, and lied to friends immediately after the death out of confusion.

Arias: "My mind wasn't right during all that period."

Arias said referring to the hours immediately following the killing when she drove through the Arizona desert and made phone calls to McCartney and new love interest Ryan Burns.

Arias: "It's like I wasn't accepting it in my mind... because I never killed anyone before."




Prosecutors hammered Jodi Arias about her lying, getting her to admit to lies she told and playing video of her police interrogation and a TV interview in which she told stories that she has since conceded were not true. In an interview with "48 Hours," Arias said she smiled for her mug shot partly because she knew she was innocent.

Prosecutor: "You truly believe that you didn't do anything wrong here?"

Arias: "I believed that I knew that I was not guilty of first-degree murder and I did plan to be dead."

(A reference to her claim that she planned to commit suicide.)

Arias was confronted with a barrage of lies she told after she killed her ex-boyfriend Travis Alexander, but she twice defiantly declared that she was innocent of first degree murder. Arias admitted on the stand that she lied for months and years after killing her ex-boyfriend, telling investigators and friends that she had nothing to do with Alexander's grisly death, in which he was stabbed 27 times, his throat was slashed, and he was shot in the head. Eventually, Arias confessed to the killing, but claims it was in self-defense. Arias told prosecutor Juan Martinez, referring to the criminal charge that could carry the threat of the death sentence if she is found guilty:

Arias: "It's the truth. I'm innocent of that charge."

During a day of contentious questions and answers between Martinez and Arias, the prosecutor used Arias' own diary entries and text messages to show contradictions of her claims that Alexander was abusive toward her, that he hit her and tried to choke her. Arias said that in early 2008, Alexander hit her in the neck while they were riding in his car. Martinez showed a diary entry describing the day they rode in the car, and there was no mention of physical violence.

Prosecutor: "This entry does not corroborate what you told us happened in the car. With regard to the (choking incident) you didn't call police. You didn't tell anyone about it. There is no corroboration anywhere in your journal. All we have is your word. Are there photos? Any other writings? Is there a police report? Is there a medical report?"

Arias said there was no evidence that the alleged abuse happened, except for her testimony in court.

Prosecutor: "There's no evidence because it didn't happen, did it ma'am?"

Arias said that she had told one person about the abuse she claims she suffered at the hands of Alexander, and that it was another ex-boyfriend, Matthew McCartney. But when pressed for details about the conversation in which she told him, Arias became confused and changed her answers.

Arias: "I saw (Matt) a few days later, and he called me out on the bruises."

Prosecutor: "Where?"

Arias: "Over the phone, just days after I think."

Prosecutor: "Isn't it true he wouldn't have been able to see your injuries because you were talking over the telephone?"

Arias: "No, I was in Yreka (California) by then. I stopped to see Matt after I left Arizona. Let's see, I believe it was two or three days after. I'm not saying there was no telephone call, (but) it was at his house. I went and saw Matt, and some make-up wore off, and he confronted me on (the bruises)."

Martinez said that McCartney has denied the conversation ever took place. Martinez also suggested that Arias tried to find out the status of the investigation into Alexander's death so that she could know if she were about to be arrested. When a friend of Alexander's called her to report the news about Alexander's death, Arias asked about details into the investigation, the prosecutor said. She also called Alexander's Mormon bishop and asked him what he knew about the case, and then asked friends and family members what they knew, according to Martinez.

Prosecutor: "You needed to see what you needed to know to make sure you weren't charged.... You called [the bishop] at 3 a.m. You call him and spoke to him because you wanted to get the information about what he knew about the investigation.

Martinez also went over lies that Arias told to her friend, Leslie Udy, and Ryan Burns, both of whom she saw in Utah the day after killing Alexander. She talked to both about Alexander as if he were still alive. Martinez pointed out that Arias even made out with Burns in his bedroom during their visit. However, Arias claimed that it was Burns who lied about their encounter.

Prosecutor: "And with Mr. Burns, didn't you get on top of him and grind on him?

Arias said she was on top of Burns at one point, but they did not "grind."

Prosecutor: "Well, when you were romantic kissing, he did put his hand between your legs, didn't he?"

Martinez referring to Burns' own testimony in court weeks earlier.

Arias: "No," Arias said. "It could be that he's full of crap...when he says he got near my vaginal area."

Prosecutor: "This is the person who lied to him, to (friends), to Detective Flores, and yet you're telling us someone else is full of crap," Martinez asked sarcastically.

Prosecutor: "When it comes to that, yes," she said.

Published: February 25, 2013 | Updated: February 25, 2013 3:59 pm PST

PHOENIX, AZ – Jodi Arias resumed testimony Monday in her Arizona murder trial as a prosecutor hammered her about her repeated lies to authorities and how her memories seemed crystal clear during direct examination by her attorneys yet seem to have diminished greatly under his questioning. Arias said she lied to police in the early stages of the investigation because she was ashamed of having killed her lover, Travis Alexander, she says in self-defense. Arias also said she didn't want details of their raunchy sexual relationship to be revealed. Yet prosecutor Juan Martinez noted her memory of crucial details in the case against her seems surprisingly hazy under his questioning compared to her detailed recollections when questioned by her own attorneys. Arias said of her answers during direct examination:

Arias: "I reviewed those things, so I memorized them."
Prosecutor: "So everything that you have told us then in this case is based on what you have reviewed?"
Arias: "Not everything."

Martinez noted she repeatedly lied to authorities, specifically during two interrogations in July 2008, in order to avoid being charged in the killing. She agreed, but also said she was too ashamed to admit the truth.

Prosecutor: "The whole interview was a lie, right?"

Arias: "Not the whole interview," Arias said.

Prosecutor: "Anything having to do with responsibility for this crime was a lie right?"

Arias: "Yes."

Regarding the day of Alexander's death, Arias says she doesn't recall much but remembers him in a rage, body slamming her and chasing her around his home. She said she grabbed a gun from his closet, and fired it as they tussled, but she didn't know if she hit him. She says she doesn't recall stabbing him. According to court records, however, she previously told police before her trial began that Alexander was unconscious after she shot him, but then "crawled around and was stabbed." She says she remembers putting a knife in the dishwasher and disposing of the gun in the desert as she drove from Arizona on her way to Utah. And she immediately began planning an alibi. Martinez continued hammering her with questions over why she lied, noting it was solely to avoid going to prison.

Arias: "I don't know, I was trying to kill myself."

Arias previously testified she tried to commit suicide while in jail after her arrest, but she nicked her wrist with a razor and it stung, so she delayed it.

Prosecutor: "Can you imagine how much it must have hurt Mr. Alexander when you stuck that knife into his chest!"

Defense attorneys immediately objected, and the line of questioning changed.

Posted: 02/21/2013 9:09 pm EST | Updated: 02/24/2013 1:23 am PST

Accused murderer Jodi Arias, on the witness stand for a ninth day, faced her prosecutor's questions for the first time Thursday, with the prosecutor attacking her credibility during six hours of cross-examination. Jodi Arias debuted a new look for her big day, a black business suit, indicating she meant business. Arias, 32, is in the 46th day of her trial for the June 4, 2008, slaying of Alexander inside his Mesa, Ariz., apartment. She faces the death penalty if convicted. She testified on Wednesday that she shot and stabbed Alexander in self-defense after he attacked her for dropping his camera.




Sparring with veteran prosecutor, Juan Martinez, on his first day of cross-examination, Jodi Arias faced a withering cross-examination Thursday, February 21. Jodi Arias had been on the stand for so long, the jury appeared to be starting to get bored. However, when cross-examination started, they stopped taking notes. All of a sudden, a brand-new Jodi Arias emerged. Forget that soft-spoken, sobbing woman viewers got to know on the stand the past eight days. She was replaced by a smiling, sometimes smug defendant, who was ready to fight for her life. Arias Frequently smiled at the man who wants her sentenced to death. Arias, during eight days of questioning by her own lawyers, told jurors intimate details of her sex life with ex-lover Travis Alexander, including catching him masturbating to pictures of boys.

However, the prosecutor, finally beginning his cross-examination, often drew blanks. The prosecution, took direct aim at her credibility. The prosecutor grilled her about not remembering she stabbed her ex-boyfriend in June of 2008. All Arias seemed to remember is she killed Travis in self-defense, after claiming Travis attacked her.

Prosecutor: "You had a lot of memory for a lot of events involving sexual instances with Mr. Alexander, but you seem to be having problems with your memory here today."

Prosecutor: "Do you have problems with your memory, ma'am?"

Arias: "Sometimes. I have no memory of stabbing him."

Prosecutor: "What factors implement your having a memory problem?"

Arias: "Usually when men like you are screaming at me or drilling me."

Prosecutor: "That affects your memory problems, right?"

Arias: "It does. It makes my brain scramble."

Martinez, a veteran prosecutor with a reputation for courtroom hardball, aggressively questioned Arias about her finger, which she said Alexander broke during a January 2008 argument. Martinez tried to rattle her. The prosecutor says she plotted the murder of her ex-boyfriend and repeatedly lied to cover her tracks. He believes one of her biggest lies is that she's an abused woman. Arias says her crooked finger is evidence of that. She blames months before she killed alexander, he broke her finger. However, Martinez believes she injured her finger while she was shooting and repeatedly stabbing them. To make the point, Martinez showed a picture of Arias' perfectly healthy looking hand months after Alexander supposedly beat her. Martinez displayed a May 2008 photo of Arias, with her hand on her sister's shoulder, showing fingers that do not appear injured.

Prosecutor: "This picture shows you and your sister, with your left hand, on May 15, 2008. Show us how bent it is again!"

When Arias lifted her hand, Martinez said:

Prosecutor: "Higher, so we can see the damage."

Prosecutor: "Show us how bent it is again."

Prosecutor: "The fight was five months before this picture, and you don't have a bent finger here in the picture."

Prosecutor: "The injury to your finger happened on June 4, 2008, not Jan. 22 of 2008, didn't it?"

Arias: "That's not correct."

That didn't phase the newly-confident arias, either. Arias stuck with her original story.

Arias: "My finger is bent there."

Prosecutor: "You're saying your finger is bent there?"

Arias: "Yes."

Martinez then highlighted a Jan. 24, 2008, entry from Arias' journal, where she wrote:

Prosecutor (quoting Arias' Journal): "I haven't written because there has been nothing noteworthy to report."

Martinez pounced on the journal entry again when he pointed out that Arias had previously testified she caught Alexander masturbating to a photo of a little boy on Jan. 22, 2008. Martinez asked if that was "noteworthy." Arias said it was, but didn't explain why she didn't note it in her journal.

Prosecutor: "The way you make it sound is that he had a problem, right?"

Arias: "He did have a problem!"

Prosecutor: "That's what you claim."

Arias: "That's the reality!"

Arias testified earlier that Alexander sent her repeated text messages and phone calls after she discovered him masturbating. Martinez, however, vigorously questioned Arias about the claims, pointing out that there were discrepancies in text message timing and that none of the texts mentioned masturbation. The prosecutor said he doubted Arias' claim that Alexander had called her multiple times after being caught. He said phone records show Alexander called Arias only five times that entire day.

A final highlight of Thursday's cross-examination was display of magazines that Martinez said Arias tried to smuggle to a friend visiting her behind bars in August 2011. Secret messages were written on the magazine pages, the prosecutor said.

The messages, when combined, read in part: "You f--ked up. What you told my attorney next day directly contradicts what I've been saying for over a year. Get down here ASAP and see me before you talk to them again and before you testify so we can fix this."

Judge Sherry Stephens recessed court until 12:30 p.m. Eastern time on Monday, when the cross-examination of Arias will resume.

Posted: January 28, 2013 1:17 PM PST - Updated: 12:32 AM PST, Sun January 27, 2013

PHOENIX, AZ (WCJB) -- Jodi Arias was adamant at first. She said she knew nothing about her lover's death, didn't slit his throat, stab him nearly 30 times or put a bullet in his forehead. Then she offered a different story: Masked intruders killed Travis Alexander and she escaped. Arias finally settled on a third version: She had slain her abusive, on-again, off-again boyfriend in self-defense. It was kill or be killed, her attorneys told jurors during their opening statement at her ongoing trial.




However, her different stories will pose a formidable obstacle as those attorneys present their case beginning Tuesday in a Phoenix courtroom in the trial that has become a cable TV news sensation. A number of legal experts agree the primary goal for the defense will be to spare Arias the death penalty.

Brief questions posed by jurors through a judge to the lead detective as he testified could offer Arias some hope - maybe not for acquittal but possibly to avoid becoming just the fourth woman on Arizona's death row.

Did authorities check the alibis of Alexander's roommates? Yes. Were any knives missing from sets inside his home? No. Did police find Arias in possession of the gun used in the killing? No, none of the weapons have been recovered.

The questions were previously answered during the trial but might suggest jurors aren't so sure about the prosecution's case and the theory that it was a premeditated killing - a requirement for the death penalty.

All the defense has to do now is "feed the doubt," California jury consultant Howard Varinsky said.

The trial began in early January with all the elements needed for big play in the tabloids. Prosecutors presented pictures of the 32-year-old defendant and the victim taken on the day of the killing - Arias nude on his bed, Alexander in the shower, then dead on the bathroom floor.

"No jury is going to convict me ... because I am innocent and you can mark my words on that. No jury is going to convict me."


-- Jodi Arias to "Inside Edition" in a jailhouse interview just three months after her ex-boyfriend's bloody corpse was found in his bathroom.The couple's stormy courtship was replayed in court. They met in 2007 in Las Vegas. Alexander was a 30-year-old Mormon, motivational speaker and successful businessman, Arias an aspiring photographer. They dated for about five months. Arias lived in Southern California and would visit Alexander at his Mesa home.

His friends say Arias practically lived with Alexander, and that he became bothered by her possessiveness. When he broke it off, she stalked him for months, according to testimony.

She claims she ended the relationship after catching Alexander in too many lies. Still, she said she moved to Mesa at his urging after the breakup as the pair continued to have sex while he dated other women. Arias told police that on the day of the killing, June 4, 2008, Alexander invited her to his home for sex then became enraged when she dropped his new camera while snapping photos of him. She claims she had to fight for her life.

"I felt 'like a prostitute'!"


-- Testimony of Jodi Arias who is on trial for the murder of her ex-boyfriend, Travis Alexander.


The defense has yet to explain, however, why she put his camera and bedding in a washing machine, why she didn't call authorities; why she changed her story; and what happened to the weapons.

Alexander was shot in the head with a .25-caliber gun, the same caliber weapon that Arias' grandparents reported stolen from their California home about a week before the killing. Arias had been staying with them when the weapon was taken, authorities said. Prosecutors say she stabbed and slashed Alexander 27 times, slit his throat, then shot him in the head in a final salvo of rage. The sheer brutality of the attack contradicts her claim of self-defense, they contend.




In an early police interrogation of Arias, she insisted she didn't kill Alexander. "Jodi, tell me the truth, please," Mesa police detective Esteban Flores said in the videotaped interrogation played for jurors. He noted her bloody palm print and hair were found at the scene along with the photographs that prove she was there. "I did not kill Travis," Arias replied. However, she said if she were to have killed him, stabbing would have been too cruel. "I don't think I could stab him. I think I would have to shoot him until he was dead if that were my intentions," Arias told the detective. "If I had it in me to kill him, the least I could have done was make it as humane as possible."

Defense attorneys concede that she shot Alexander and say he kept fighting, forcing her to fend him off with a knife. Now that defense attorneys have said Arias did shoot Alexander, the only question is which account jurors believe.




"The truth can always be somewhere in between," said Laurie Levenson, a professor at Loyola Law School in Los Angeles and a former federal prosecutor. Levenson said the defense will attempt to explain away everything. In one scenario, Levenson said, defense lawyers could say Arias brought the gun from her grandparents' house but only for protection if Alexander got abusive, not to kill him. They could say she changed her stories out of fear, thinking no one would believe her, and that she was in shock after the killing so she didn't call police. "She just needs one, just one juror to have reasonable doubt," Levenson said. "For the defense, it's going to be a victory if she doesn't end up with the death penalty."

"Impossible Scenario!"

An Arizona prosecutor on Wednesday took aim at prior testimony given by Jodi Arias about the brutal 2008 slaying of her ex-boyfriend, Travis Alexander.

Maricopa County Prosecutor Juan Martinez showed Arias two photographs that were taken inside Alexander's home on June 4, 2008. According to Martinez, the first photo was of a live Alexander in his shower. The second photo, taken 62 seconds later, was of Alexander's bloodied body sprawled out on the floor, with Arias's foot next to his head.

Arias, on the witness stand for an 18th day, is on trial for the slaying of Alexander inside his Mesa, Ariz., home. She faces the death penalty if convicted.

During previous testimony, Arias said she had been taking photos of Alexander showering when she dropped his camera, causing him to become enraged and attack her. She testified that she shot and stabbed Alexander in self-defense.

"Your scenario is impossible," Martinez said.

"You drop the camera ... you are body-slammed, you get away, you go down the hallway, you go in the closet, you get the gun, you go into the bathroom ... You shoot him, he goes down and then, after you're able to get away, you go get the knife and you end up at the end of the hallway -- all of this in 62 seconds?" Martinez asked.

"No, that's not what I'm saying ... after the gun went off ... it started to get more confusing at that point," Arias replied.

"You didn't have the knife in your hand when you shot him. So that means, if you didn't have the knife in your hand, you had to go get it from somewhere, right?" Martinez asked.

"I don't know," Arias replied.

Martinez became agitated with Arias Wednesday afternoon, when she was evasive regarding questions about her height in comparison to the shelves in Alexander's closet, where she claims she got the gun that she used to shoot him.

"I'm not asking you to stand in the closet, I'm asking you how tall you are," Martinez snapped.

Martinez then expressed doubt that the shelves in the closet -- which he pointed out were held up by small pegs -- would have held Arias' weight if she had used one as a step to reach the gun, as she previously testified.

"Wouldn't that shelf have tipped over?" Martinez asked.

Arias defense attorney, Kurt Nurmi, objected to the question and the judge sustained the objection, meaning Arias did not have to answer.

Much of the remainder of the day was spent in a dozen or so sidebars and some additional questioning from the jury about Arias's actions on the day of the killing.

"If you still felt threatened after shooting Travis, why didn't you just shoot him again rather than stab him?" Judge Sherry Stephens asked Arias, on behalf of the jury.

"I know that I dropped the gun when he hit me ... I don't remember picking up the knife," Arias replied.

The judge recessed court until 12:30 p.m. Eastern time on Thursday, when the trial will resume.

---
Reader Pageviews by Country
---
From: Feb. 14, 2013 3:00 PM – Feb. 21, 2013 2:00 PM
---
---
«•
Thank you for visiting Corrupt Justice™. Enjoy our Free Movie Intermission! Don't forget to Bookmark Us & Tell A Friend! We're Global!
•»
---
Movie Intermission!
LAPD: 27 Years Later
---
Description:
Documentary: - LAPD Det. Stephanie Lazarus is being interrogated by LAPD Homicide Detectives. Homicide Detectives question Lazarus for 1 hour, without revealing they have her DNA sample, connecting & identifying her as a suspect in the homicide 27 years later. (

Runtime:

01:16:11)
---