---
Click on Banner to Sell Your Home(s)!
Runtime:
00:01:04 (One Minute, Four seconds)
Video Site:
Harry Williby
---
"The only good nigger is a dead nigger and they should hang you in the town square to prevent any other nigger from coming in the area."



-- July 2011 Statement by Oakland, CA Public Schools Police Chief Pete Sarna to an African-American police officer under his command. (August 18, 2007: A high-ranking California Department of Justice official hired by Atty. Gen. Jerry Brown resigned Friday. His resignation comes a week after he crashed a state-owned vehicle and was arrested on suspicion of drunk driving. Peter C. Sarna II, deputy director of the Division of Law Enforcement, helped oversee hundreds of state agents, criminologists and other employees who provide investigative, intelligence, forensic and security services for the department. Sarna, 37, is a former Oakland police officer who headed special operations, including gang suppression efforts, when Brown was the city's mayor. One of the few aides Brown brought along when he took office in January, Sarna assumed a leadership role in the attorney general's anti-gang program that recently produced dozens of arrests through joint state-local raids on gang members' homes in Stockton and Atwater in the Central Valley.)
Top News Story!
"They're animals."!
Posted: Tue. Sept. 08, 2015 at 06:45 AM PDT ~ Updated: Sat. Sept. 26, 2015 at 05:45 PM PDT

Clatskanie, Oregon -- "Clatskanie has been described as a Norman Rockwell picturesque small city nestled in green hills and valleys on the coastal range in northwest Oregon." It is actually an highly appropriate characterization of Clatskanie. Many observers believe that the bulk of Rockwell's paintings were racist. The paintings displayed a white supremacist vision of America in which black folk were perpetually subservient. Two Clatskanie, Oregon, police officers witnessed something horrific. The fallout from what they witnessed has been just as bad. The implications reveal that racism runs throughout the city.

On June 25, 2015, Clatskanie Officer Alex Stone, who is white, arrested an African-American woman. The woman is one of less than 10 black residents in the town. During the arrest, she told Officer Stone that she was going to sue the department for racism. When Officer Stone arrived back at the station he decided to debrief Police Chief Marvin Hoover on the incident. Chief Hoover is an award-winning veteran leader of this police department. What followed was witnessed by multiple officers. It is deeply disturbing.

As Officer Stone was describing his earlier arrest to Chief Hoover, he said to the chief that the woman he arrested said that local police think black people are animals. At that point, according to multiple eyewitness accounts, the chief interrupted Officer Stone and said, "That's what they are. They're animals." "Chief Hoover placed his hands in his armpits and began scratching them. Chief Hoover also started making loud monkey sounds: 'Hooo... hooo..... hooo....hahahaha...hooo.....haaah. While Chief Hoover was scratching and chanting, he started to move around the room, in a dance or jumping fashion. While jumping and moving about the room Chief Hoover momentarily beat his chest like Tarzan."

Officer Zack Gibson was also present. He witnessed the incident and stated:

"Officer Stone brushed aside the antic, but I could observe that it bothered him. At the same time I was in disbelief that the Chief of Police was acting in such a manner while an officer is concerned he may be accused of racism." At that point, Chief Hoover doubled down on his racism. "Chief Hoover then started to sing the words to Dixieland: 'In a land of cotton...old times they're not forgotten...look away...look away...look away.' As the chief sang the song, he kneeled down and began to make a punching motion with his right fist. While making a punching motion, Chief Hoover held his left hand in front of him in a gripping motion, as if he was holding a person by the shirt collar. In addition, while singing the words "look away" Chief Hoover moved his head back-and-forth to his left and right as if he was looking over his shoulder." The chief then laughed and left the room.

However, the story gets worse. Officer Stone communicated how disturbed he was to his superior, Sergeant McQuiddy. Stone states in his report: "[...] [McQuiddy] got extremely quiet and unresponsive .. and offered no guidance on filing a complaint." Officers Stone and Gibson contacted their union and local attorneys. They asked the officers to ask Sgt. McQuiddy to join their complaint one last time. Sgt. McQuiddy's response was even worse.

Officer Stone stated: "Sgt. McQuiddy told me didn't believe anything would happen to Chief Hoover and that the city would make life hell for us for doing this. Sgt. McQuiddy said it would "be hell" at least three times during our last conversation. I almost felt as if I was being dissuaded from pursuing a complaint."

Officer Gibson spoke to Sgt. McQuiddy on his own about the complaint, t. The sergeant stated that he was concerned some type of "retaliation" may come, particularly if they told City Manager Greg Hinkelman. Indeed, the retaliation has already started for Officer Stone. Officer Stone said some members of the community began harassing him after he filed the report against Chief Hoover. "I've already faced a lot of retaliation, my wife's been forced off the road twice," he explained. "I've had people in the community yelling the N-word at me."

During the investigation, Chief Hoover was given a paid vacation before he voluntarily retired. Not surprisingly, the local mayor wrote him a glowing tribute in the town newspaper without a single mention of this incident. This type of overt racism, though, is not limited to Chief Marvin Hoover in rural Oregon.

The San Francisco Police Department patrols the most liberal big city in America. While being investigated for corruption it, was also found to have a deep and horrendous problem with racism. In the current San Francisco racism scandal, thousands of cases are now under review and some cases are being dismissed outright, after a captain and highest-ranking sergeant of the San Francisco Police Department were found to be overtly racist.




San Francisco police Sgt. Ian Furminger in the Tenderloin in 2012.


According to court documents, former San Francisco police officer Ian Furminger referred to his wife's black friends in text messages with racial slurs — "Cross burning lowers blood pressure!" one text stated — and when another officer told him about the promotion of a black officer in the department, he responded: "Fuckin nigger."

The same thing happened in Ft. Lauderdale; Miami; Ohio; Baton Rouge; New Jersey; Georgia; and of course, Ferguson. Police officers routinely and freely speaking with one another in the ugliest, most violent, hateful manner about African Americans as if it's no big deal.

In Ferguson, Missouri, the exhaustive Department of Justice investigation could not determine if Darren Wilson acted on racist instincts when he shot and killed Mike Brown, but it did fully determine that his supervisor, Sgt. William Mudd, and the captain of the entire force, Richard Henke, were overtly racist. They resigned in shame, as did the chief of police, after the report was released.



In Dayton, Ohio, the popular captain of the Montgomery County Sheriff's Department, Thomas Flanders (pictured above, center) was found to be sending texts like "I hate niggers. That is all" back and forth to his top detective. A Georgia police chief resigned in disgrace after he was caught calling African Americans "niggers" in text messages. In Miami, the racism was so widespread that more than a dozen officers have been implicated and hundreds of cases are having to be reviewed.

---
Judicial Ties!
Posted: Published on Jan 16, 2018




Los Angeles, CA -- Undercover L.A.P.D. officer Frank Lyga shot and killed off-duty L.A.P.D. officer Kevin Gaines in a case of apparent road rage. The shooting of a black officer -- Gaines -- by a white cop -- Lyga -- created a highly publicized police controversy.

---
Judicial Ties!
Posted: October 30, 2014 11:17 AM ~ Updated: 04:12 AM PST 11/07/2014

Palm Beach, Florida -- The Honorable Moses Baker, Jr. was appointed to the Circuit Court of the Fifteenth Judicial Circuit in and for Palm Beach County, Florida by the late Governor Lawton Chiles in 1994. During his judicial tenure, Judge Baker served in the civil division of the Fifteenth Judicial Circuit Court for approximately six years (1994 - 2000). Additionally, from 1994 to 2000, Judge Baker presided over and/or judicially managed all of the asbestos (mass tort) litigation in his judicial circuit. He currently serves on the Court's Executive Committee and is currently assigned to the Juvenile and Dependency Division where he serves as administrative judge.

Prior to his judicial appointment, Judge Baker was a partner and/or shareholder in the prestigious personal injury law firm of Searcy Denney Scarola Barnhart & Shipley, P.A. (1984 - 1994). Prior to joining the Searcy Denney firm, Judge Baker was The Senior Homicide Prosecutor for the Office of the State Attorney for the Fifteenth Judicial Circuit (1976 - 1984).

Judge Baker is a 1973 Magna Cum Laude graduate of Florida A & M University, Tallahassee, Florida . On February 11, 1973, he was inducted into the Alpha Kappa Mu Honor Society. He holds a Bachelor of Science degree in Political Science. Judge Baker is a 1975 graduate of the University of Florida College of Law, Gainesville, Florida. During his law school career, Judge Baker received the prestigious American Jurisprudence Award (Book Award) for Evidence II.

Family Ties!
Posted: October 30, 2014 11:17 AM ~ Updated: 04:12 AM PST 11/07/2014

California Ethan B. Morse (pictured above, center) son of Merced District Attorney Larry Morse II, has pleaded not guilty to murder and gang charges in connection with the death of 18-year-old Bernabed Hernandez-Canela. Prosecutors on Wednesday said they provided crime-scene diagrams and gunshot residue test results to the attorney representing the Merced County district attorney's son in the murder case. Morse is one of four defendants charged with murder and gang involvement in connection with the deadly party near Atwater. His co-defendant, Jacob Tellez, 18, is the man authorities believe shot Hernandez-Canela. Tellez has pleaded not guilty. The California attorney general's office is prosecuting the case because of the alleged role of the district attorney's son.

Morse's attorney on Wednesday told Judge Ronald W. Hansen that his office has received the scene diagrams and gunshot residue test results, but it is still waiting for more photographs. The attorney said his office needed to examine the requested items, including additional photographs, before the Nov. 10 preliminary hearing. "The prosecution has a duty to turn over any evidence that points to the innocence of the person accused," he said. "We're glad they produced this evidence even if we had to prepare a motion for them to do so."

Barton Bowers, the deputy attorney general prosecuting the case, told the judge he would share all case evidence with the defense, including all outstanding photographs, if any exist. Hernandez-Canela was one of three people shot and killed March 30, 2013, at a house party in the 9200 block of Westside Boulevard outside Atwater. Morse's attorney told media sources that testing found gunshot residue on Hernandez-Canela's hand. The attorney said this was an important piece of information that further confirms evidence that Hernandez-Canela fired a gun the night he was killed. "It confirms evidence that (Hernandez-Canela) was in a shootout that night," the attorney said.

Forensic experts have testified in previous Merced County homicide cases that a person testing positive for gunshot residue may have fired a gun. However, the same testimony indicated the person could also have simply been in an environment with gunshot residue and come into contact with gunshot particles. Morse's attorney declined to say whether any witnesses saw Hernandez-Canela fire a gun that night. The attorney general's office declined to comment Wednesday.

The other defendants Jose L. Botello and Jose M. Carballido, both 19-year-old Atwater residents, have pleaded not guilty to murder and gang charges in connection with the deaths of the other two victims, Samantha Parreira, 16, and Matthew Fisher, 19. Botello, the alleged shooter in the deaths of Parreira and Fisher, has denied involvement, saying he is a victim of a mistaken identity. Authorities have said the deaths of Fisher and Parreira occurred separate from the death of Hernandez-Canela.

Posted: October 27, 2014 2:57 PM ~ Updated: 04:09 AM PST 11/07/2014

California Ethan B. Morse, 18, son of District Attorney Larry Morse II, has pleaded not guilty to murder for his alleged role as the driver in the March 30, 2013, death of Bernabed Hernandez-Canela. The attorney representing the Merced County district attorney's son in the murder case has filed a motion in court demanding state prosecutors turn over additional evidence. The California Attorney General's Office is prosecuting the case in light of the alleged role of the Merced County district attorney's son.

Morse's attorney said he has made numerous requests for gunshot residue tests, crime-scene diagrams and additional photographs in the time since Morse was arrested July 25. He said his office has received more than 700 pages of reports and other evidence, but still does not have all of the evidence collected by investigators. "We have no confidence that we've got all of the photographs from the scene," he told media sources on Monday. "In order to defend the case, we need all of the evidence that the Sheriff's Department has had in its possession for the last year and a half."

Nicholas Pacilio, spokesman for the California Attorney General's Office, said state prosecutors would not comment on the motion until the hearing, which is scheduled Wednesday. During an Oct. 3 hearing, McAllister and Deputy Attorney General Barton Bowers, the case prosecutor, agreed to conduct gunshot residue tests on the body of Hernandez-Canela. Morse's attorney argued that the tests had not been done. In his motion for evidence, the attorney said that, as of Oct. 17, his office had yet to receive the test results. He is also seeking a diagram of the crime scene, which he called "a basic component of any homicide investigation."

In his motion Morse's attorney enclosed several email exchanges between his office and the Attorney General's Office. In an email dated Oct. 14, Bowers informed the attorney that "no diagram has yet been prepared," as far as detectives could recall. The defense attorney responded the following day, saying reports specifically mention "a hard copy of (sic) sketch of the scene was completed," according to the documents obtained by media sources. The attorney also said he has only received 146 still photographs of the scene and 12 aerial pictures. "The email conversation ... highlights the fact that it is a virtual certainty that additional crime scene photographs were taken but have not been produced," the attorney wrote. "These are basic requests that normally don't require a motion for the prosecution to turn over," he said.

Morse is one of four defendants charged in connection with the deadly 2013 house party. His co-defendant, Jacob Tellez, 18, is the man prosecutors believe fired the shots that killed Hernandez-Canela. Tellez has also pleaded not guilty.

Posted: 09/14/2014 12:57 PM ~ Updated: 04:00 AM PST 11/07/2014



Modesto, CA -- The son of the Merced County district attorney pleaded not guilty Thursday to murder, nearly two months after his arrest. Ethan B. Morse, son of District Attorney Larry D. Morse II, entered his plea before Judge Ronald W. Hansen in Merced Superior Court. Morse, 18, is accused of driving a getaway vehicle March 30, 2013, when 18-year-old Bernabed Hernandez-Canela was shot and killed near an orchard outside a large house party near Atwater. Hernandez-Canela was one of three teenagers shot and killed at the party in the 9200 block of Westside Boulevard. Morse was arrested July 25, about 16 months after the triple homicide. Morse's co-defendant Jacob Tellez, 18, of Merced, is suspected of being the shooter. He has pleaded not guilty.

Jose L. Botello and Jose M. Carballido, both 19-year-old Atwater residents, are accused of killing Samantha Parreira, 16, and Matthew Fisher, 19. Both victims were shot in the backyard of the home. They have also pleaded not guilty. Botello, the suspected gunman in the deaths of Parreira and Fisher, has denied shooting anybody, claiming his arrest is a case of mistaken identity. They are due back in court Sept. 26. The cases against the four defendants are being prosecuted by the California Attorney General's Office because of the allegations against the district attorney's son.

Morse's attorney was scheduled Thursday to formally argue against "the sufficiency of the evidence" in the case. However, he decided not to file the motion. "I don't want to delay Ethan Morse's exoneration by filing a procedural attack on the charges," he said later. "We set the preliminary hearing so the prosecutors will show their evidence in public and we'll challenge it." A preliminary hearing is scheduled Oct. 31.

The case against Morse, a standout varsity wrestler who graduated earlier this year from Golden Valley High School, is at least partly based on statements from three witnesses. They told the Merced County Sheriff's Department they were inside the vehicle Morse was driving the night of the shootings. According to Morse's arrest warrant affidavit, witnesses told detectives Morse, Tellez and others met before the party, and Tellez showed several people, including Morse, that he was carrying a handgun. The witnesses said a plan was hatched before the party for everyone in the group to use false names.

The group left the party as the shooting in the backyard started. As they left, the vehicle slowed, and Morse was heard to say, "You gonna do it? You gonna do it? You gonna do it?" according to the affidavit. Tellez allegedly opened fire at a person running in the opposite direction from the vehicle. One of the witnesses said, "Tellez tells Morse 'I think I hit somebody! Let's dip! Let's dip!' "

Morse's attorney has said the claims made against Morse are untrue. The attorney, a veteran Modesto-based defense lawyer, has criticized sheriff's investigators and said repeatedly Morse is "absolutely innocent." He said nobody fired a gun from Morse's vehicle. He accused detectives of intimidating witnesses into saying what the investigators wanted them to say. He also said Morse came forward after Tellez was arrested July 17 to tell investigators Tellez never fired a shot and they had arrested the wrong man.

Sheriff Tom Cavallero has repeatedly brushed off Morse's claims, saying he continues to stand by the work done by detectives in the case and noting the California Attorney General's Office also believes in the the case. Morse apparently also encouraged others to come forward with information, officials have confirmed, but it remains unclear exactly what those witnesses told investigators. Morse was arrested five days after Tellez. Tellez and Morse are due back in court Oct. 3 for another hearing.

Posted: 08/07/2014 5:57 PM ~ Updated: 02:00 AM PST 11/06/2014



The homicide case against the son of the Merced County district attorney set legal wrangling in motion Thursday. The attorney defending Ethan B. Morse, son of District Attorney Larry D. Morse II, asked Judge Ronald W. Hansen for time to file a demurrer, a document formally challenging the charges filed in the case. Morse, 18, was arrested July 25 and charged with murder in connection with the death of Bernabed Hernandez-Canela, 18. Morse has yet to enter a plea in the case. Morse's attorney said he will "attack the legal sufficiency" of the charges filed against his client. "(The demurrer) challenges the allegations and can result in a more focused, more specific allegation," he said.

Hernandez was one of three teenagers shot and killed March 30, 2013, at a large house party in the 9200 block of Westside Boulevard, outside Atwater. Samantha Parreira, 16, and Matthew Fisher, 19, were also shot and killed at the same party. However, Merced County sheriff's deputies say their deaths came in a separate attack from other alleged gunmen. Those gunmen have also been arrested and charged.

Jose L. Botello, 19 and Jose M. Carballido, 19, both Atwater residents, are accused of killing Parreira and Fisher at the party. Botello has pleaded not guilty. Carballido appeared in court briefly Thursday. However, he did not enter a plea. His attorney asked Judge Hansen to postpone Carballido's arraignment until Aug. 22 to allow more time to review the evidence in the case. Ethan Morse is specifically charged with murder and permitting another person to shoot from his vehicle, according to the complaint filed in Merced Superior Court. Morse's co-defendant, Jacob Tellez, 18, of Merced has been charged with shooting Hernandez-Canela. He has pleaded not guilty.

Morse's attorney has been highly critical of Sheriff's Department investigators in the case. He said the defense's investigation "shows without question that Ethan Morse is innocent." Sheriff Tom Cavallero has stood by his detectives and noted the state attorney general's office also appears confident in the case. The California attorney general's office is prosecuting the case against all four defendants charged in the case. The Merced D.A. has a conflict due to the allegations against the district attorney's son. Tellez, Botello and Carballido are due back in court Aug. 22. Morse was ordered to appear in court again Sept. 11 for arguments on the demurrer. He remains in custody without bail at the Mariposa County jail. Morse was taken to this specific jail for his safety because of his father's position in Merced County law enforcement.

Posted: 07/29/2014 5:57 PM ~ Updated: 10:00 PM PST 11/05/2014



California -- Prosecutors believe the son of the Merced County district attorney was behind the wheel of a vehicle last year during a drive-by shooting that claimed a teenager's life, according to documents obtained Tuesday by media sources. The defense attorney representing Ethan B. Morse, son of Larry D. Morse II, said his client is innocent and that the Merced County Sheriff's Department has arrested the wrong person.

Morse, 18, appeared briefly Tuesday in Merced Superior Court. However, he did not enter a plea to charges of murder and permitting another person to shoot from his vehicle in connection with the death of Bernabed Hernandez-Canela, 18. Hernandez-Canela was shot and killed March 30, 2013, at a large house party in the 9200 block of Westside Boulevard near Atwater. Morse's co-defendant, Jacob Tellez, 18, of Merced, also known as Jacob Logan, has been charged as the shooter in Hernandez-Canela's death, according to court records.




Deputy Attorney General Barton Bowers, standing at left, and attorney Kirk McAllister, standing at right, speak with Judge Donald E. Shaver during Ethan Morse's arraignment hearing on Tuesday (7-29-14) in Merced.


Samantha Parreira, 16, and Mathew Fisher, 19, were also shot and killed during the same house party. Investigators believe the party started as an Easter celebration for high school students. The event drew more than 100 people, including members of rival street gangs. Detectives have declined to comment on any incidents at the party that may have sparked the violence. They also have not said whether any weapons have been recovered.

Jose L. Botello and Jose M. Carballido, both 19-year-old Atwater residents, have been charged as co-defendants in connection with the deaths of Parreira and Fisher. State attorneys are handling both cases in light of the alleged connection of the Merced district attorney's son. Tellez, Botello and Carballido are expected to appear again today in Merced Superior Court. They all have been accused of personally firing guns on the night of the triple homicide.

Morse is also accused of acting in association with a criminal street gang. He was 16 at the time of the homicides. Morse graduated from Golden Valley High School in June 2014. He was arrested Friday outside his Merced home. If convicted of all charges, Morse faces a potential life prison sentence, according to the documents filed Tuesday. Morse appeared in court Tuesday via video monitor, wearing a long-sleeved, lime green jail shirt. He made no statements, only answering a record-keeping question regarding his date of birth from visiting Judge Donald E. Shaver.

Barton Bowers, the deputy attorney general prosecuting the case, said he does not plan to seek the death penalty against Morse. The Merced County district attorney did not attend his son's arraignment Tuesday. However, his wife, Cindy, was present. The veteran Merced prosecutor has referred media questions about the case to his son's attorney.

The attorney asked the judge to postpone the arraignment to allow time for the defense to go through the evidence. Morse is due back in court Aug. 7. On Tuesday Morse's attorney continued to criticize the investigation conducted by the Sheriff's Department. He said Morse is innocent of any wrongdoing. He indicated Morse does not know who committed the crime. He said Morse came forward to tell investigators that he was with Tellez on the night in question and never saw him fire a weapon. "He went to say, 'No, you got the wrong guy,' and it turned out to be a more dangerous act of citizenship than he ever intended it to be," the attorney said outside the courthouse Tuesday. He also said it was never a matter of Morse withholding evidence but wanting to tell the Sheriff's Department that Tellez should not be considered a suspect in the case. Morse is charged with murder, though he is not accused of firing any weapons or killing anyone directly. Morse remains in custody in Mariposa County Jail without bail.

California is one of several states in which the person accused of being behind the wheel in an alleged drive-by shooting is as legally responsible for the incident as the alleged shooter, according to a professor of the political science department at California State University, Stanislaus. "In general, a person charged in that situation is basically an accomplice, someone who aided and abetted the crime," the professor explained. "Under California law, they're held as responsible for the crime as the actual shooter."

The attorney general's office declined to comment. Sheriff Tom Cavallero has said he has confidence in the work done by the Major Crimes Unit and noted that state prosecutors appear to have confidence in the case as well.

Hoods in the Court!
Posted: July 23, 2014 - 06:26 pm EDT | Updated: July 27, 2014 08:53:00 PM PDT

Washington, D.C. -- The District's former chief administrative law judge admitted to ethics violations Tuesday, agreeing to pay a $20,000 fine in a settlement that brings a week-long trial before the D.C. government's ethics board to an early end and closes out more than two years of investigations.

Mary Oates Walker (pictured above, center) who headed the D.C. Office of Administrative Hearings from 2010 until May, faced 17 counts of wrongdoing connected to alleged contract steering, conflicts of interest, retaliation against subordinates and lying to investigators.




Under the settlement signed Tuesday, Walker admitted to four violations of city laws and regulations prohibiting the appearance of conflicts of interest and "preferential treatment." The violations are rooted in episodes in which she hired a friend and business partner as her general counsel and later steered an agency contract to a firm owned by that friend's future husband.

The District's former chief administrative law judge admitted to ethics violations Tuesday, agreeing to pay a $20,000 fine in a settlement that brings a week-long trial before the D.C. government's ethics board to an early end and closes out more than two years of investigations.

Mary Oates Walker, who headed the D.C. Office of Administrative Hearings from 2010 until May, faced 17 counts of wrongdoing connected to alleged contract steering, conflicts of interest, retaliation against subordinates and lying to investigators.

Under the settlement signed Tuesday, Walker admitted to four violations of city laws and regulations prohibiting the appearance of conflicts of interest and "preferential treatment." The violations are rooted in episodes in which she hired a friend and business partner as her general counsel and later steered an agency contract to a firm owned by that friend's future husband.

Her attorney said Walker would seek to be reinstated as chief administrative law judge, saying the settlement undermined Mayor Vincent C. Gray's decision to fire her after the ethics charges were leveled in February. Walker fought the move in court, but Gray prevailed.

"We are pleased that our client has again been vindicated as part of this process," her attorney said in an e-mail. "Given that all of the serious charges relied upon by Mayor Gray to discharge Walker are being dismissed, . . . Walker intends to continue to pursue her appeal to overturn Mayor Gray's imprudent disciplinary decision."

The board dropped allegations that Walker lied to investigators as well as charges directly related to a long-running feud between Walker and her subordinate administrative law judges, who handle disputes over various governmental matters such as welfare eligibility and licensing applications.

The rift emerged in 2012, when 15 judges signed a letter accusing her of being "unprofessional, erratic, and at times demeaning."

Walker and her allies sought to portray her as the victim of disgruntled subordinates upset about reforms meant to improve standards and accountability among underperforming judges who had amassed a backlog of undecided cases.

Board investigators charged lawyer Kiyo Oden Tyson, the friend and business partner hired by Walker as general counsel, alongside Walker when they unveiled their allegations in February. Tyson, however, entered into a settlement with the board this month, agreeing to testify against Walker days before the trial was set to begin.

In testimony to the board July 14, Tyson described her ongoing personal and professional relationship with Walker, including workings of a real estate business the two shared as well as Walker's knowledge that Tyson's then-boyfriend owned the company selected to move the agency to new offices.

The three-member board heard testimony throughout last week from witnesses called by investigators; Walker was expected to call several of her own witnesses this week, including several administrative and Superior Court judges, but settlement negotiations resumed after testimony from only one witness.

Gray has named Wanda R. Tucker, one of the subordinate judges and a signer of the letter criticizing Walker, as acting chief administrative law judge. Her permanent appointment is under consideration by the D.C. Council.

Pedro Ribeiro, a spokesman for Gray, said the mayor has no intention of revisiting his decision to fire Walker. "Anyone who admits four ethics violations and pays a $20,000 fine, people can make up their own minds whether they're fit for that office," he said.

Posted: February 7, 2014 - 06:26 pm EDT | Updated: July 27, 2014 08:53:00 PM PDT



Washington, D.C. - The Ethics Board has charged Chief Judge Mary Oates Walker (pictured above, center-left) with hiring her outside business partner Kiyo Oden Tyson (pictured above, center-right) as her General Counsel. The judge is also charged with steering Tyson's husband (pictured below, center-left) towards a $43,000 contract to move the agency without a bid and lying about it to the board. On February 7, 2014, Walker was officially charged with 19 counts of wrongdoing -- but her attorney says the claims aren't true, blaming the situation on politics:

"At the end of the day when this all comes out, the real wrongdoers and those engaged in backroom politics are going to be exposed," says her defense attorney. "She did not lie, she did not obstruct any investigation, and she did not give preferential treatment to anyone."



This is the latest in a battle between the Chief Judge – appointed by former Mayor Adrian Fenty – and most of the 24 administrative law judges under her who see her as a tyrant and have signed petitions against her.

They are now trying to unionize in order to call for her complete termination. Termination procedures have since been brought up against Walker.

Administrative Hearings is the agency that decides disputes with the D.C. government, short of going to court. The D.C. Inspector looked into the allegations about the Chief Judge and dropped the matter, but the Ethics Board picked it back up and is now charging Walker and her counsel in depositions, in which they claim the judge "made material misrepresentations."

"This is an outrage that she would be in a Washington D.C. building until these charges have been answered," says Union member Paul Shearon. "I would like to commend the Mayor for taking this action...and taking it as rapidly as he has."

Election Tumors!
Posted: 06/11/2014 05:45 PM - Updated: 12:44 PM PDT June 12, 2014

Sacramento, CA -- If politics is about appearances, let's just say that the police mug shot of Mary Hayashi -- a convicted shoplifter and state Senate candidate -- is not a good look. Her hair is stringy. Her face is blotchy. Her jaw looks clenched.

It's perfect fodder, however, for her prime opponent and fellow Democrat, Assemblyman Bob Wieckowski, who has launched a ubiquitous "Mug Shot Mary" attack campaign featuring the unflattering image with online banner ads proclaiming "Mary Hayashi is a Criminal" and "Character Matters."

With this kind of skeleton in her closet (or to be precise, in a Neiman Marcus dressing room where she filled a shopping bag with clothing), why would the former assemblywoman hold herself up to relentless ridicule by running for office again?

Is she just the latest example of political hubris -- like sexting U.S. Rep. Anthony Weiner and crack-smoking Toronto Mayor Rob Ford -- where pride and arrogance distort reality and lead to political demise? Or is she like so many tainted politicians -- like Casanovas Gavin Newsom and Bill Clinton -- who rise again, with the appropriate contrition and faith in the American soft spot for second chances?

"There's no shortage of elected officials who've overcome embarrassing episodes," said Dan Newman, a prominent Democratic campaign strategist. "But it's not easy -- particularly now -- to argue that the Legislature needs another member with a criminal record."

In an interview this week, however, Hayashi said she should be judged by her nearly three decades of public service, not a "mistake that transpired over a few hours."

Hayashi has said she was distracted on her cellphone when she walked out of a San Francisco Neiman Marcus in 2011 with $2,450 worth of clothing and forgot they were in the shopping bag she brought with her. She pleaded no contest in 2012 and is still on probation.

Politicians who have done worse, especially men, tend to get a "free pass," said Hayashi's campaign strategist Josh Pulliam.

Pulliam pointed to Assemblyman Tim Donnelly, a Republican from San Bernardino County, who remains in office after he was caught in 2012 with a handgun going through airport security and pleaded guilty to carrying a loaded firearm without a permit. He's running for governor.

"There's a double standard for men and women," Pulliam said. "How can you not think that?"

When asked about Newsom, the former San Francisco mayor who had an affair with his campaign manager's wife in a moral -- though not a legal -- transgression, Pulliam called it "almost Shakespearean." Newsom still went on to be elected lieutenant governor. Still, it raises the question: Is Hayashi betting that voters in Senate District 10 -- from San Ramon and Hayward down to Fremont and San Jose -- are forgiving, forgetful or just plain ignorant?

Wieckowski said this week he is making it his business to ensure none of those applies. He won't rest until the entire district has heard about the shoplifting episode, especially in Milpitas and San Jose, where news of the scandal wasn't as prominent as in her East Bay Assembly district.

"If everyone knows this is the same Mary Hayashi and they don't want Bob Wieckowski, I will go on with my life," Wieckowski said. "The fear is that people don't make the connection."

A poll from Wieckowski's camp, conducted in late March and early April, shows that among the five contenders, he's leading with 26 percent support to Hayashi's 19 percent. Hayashi conducted her own poll early this month, which shows her ahead of Wieckowski 21 percent to 18 percent. The top two finishers in the June 3 primary face off again in November.

"I think it takes an extra dose of ego to imagine that people will give you that second shot, to expect it or to at least hope for it," said Larry Gerston, a San Jose State political science professor. "Most of the time, where there's criminal activity, people resign in disgrace, go quietly and disappear into the fog."

Not Hayashi. Just six months after her shoplifting conviction, she ran for the Alameda County supervisor's seat vacated by Nadia Lockyer, who resigned after a drug-fueled sex scandal. Hayashi didn't even come close, finishing third out of four.

Undaunted, she is now running for an even higher office: state Senate, a body that has seen three of its members arrested or convicted of a crime since January. That includes state Sen. Leland Yee, who was indicted in March on corruption and gun trafficking charges. (He also was arrested in 1992, while he was a San Francisco school board member, for shoplifting a bottle of suntan oil in Hawaii -- an episode he also called inadvertent.)

Disgraced, Yee gave up his run for secretary of state, and it's hard to imagine resurrecting his political career. Discredit doesn't stop plenty of others from trying.

In New York, Weiner, who resigned his congressional seat in 2011 after he was caught sending photos of his private parts to young women via Twitter, appeared to be in the midst of a stellar comeback when fresh sexting revelations torpedoed his run for New York mayor.

Speaking of guile, Ford, the disgraced Toronto mayor, registered to run for re-election after outrageous behavior during a substance abuse scandal. A trip to rehab that started last week has put his campaign on hold.

"I think it's a sad statement that we have all these white men in Congress and elected office who do terrible things that have an impact on other people," Pulliam said. "Mary didn't try to carry a loaded gun like Donnelly. She didn't drive a woman off a bridge like Ted Kennedy. Yet every single article includes this, and it's the focus of Bob's campaign. I think voters don't have that double standard."

Double standard or not, shamed politicians who survive tend to do the best job of apologizing, like Newsom's model for mea culpas: "I want to make it clear that everything you've heard and read is true," the then-mayor said, following his scandal, "and I am deeply sorry for that."

Hayashi said she is sorry, too. "I accept responsibility and make apologies and not excuses," she said. "We should all be held accountable for our mistakes, even if we didn't intend to do anything wrong."

Soon, voters will decide whether Hayashi's apologies are enough to send her back to the state Capitol. No matter what they do, there's one place she can't return: She is banned from the Union Square Neiman Marcus.

Yiddish Bribes!
Posted: 06/12/2014 05:45 PM EDT - Updated: 8:11 PM PDT June 12, 2014

WHITE PLAINS, NY — In an odd twist in a courtroom saga dense with allegations of political corruption, the fate of State Senator Malcolm A. Smith (pictured above, center) and two other defendants may be put on hold because, of all things, Yiddish.

The United States attorney's office failed until the trial was well underway to turn over to defense lawyers recordings of 9,000 conversations, almost 300 in Yiddish, in phone calls made or received by Moses Stern, a Rockland County developer who became a government informer to try to avoid a lengthy prison sentence. On Thursday morning, before the jury was called in, defense lawyers, including, Mr. Smith's lawyer, complained for an hour. (A Yiddish speaker might say they kvetched.)

Federal prosecutors argued that the conversations were irrelevant and "remote" from the crimes of bribery and wire fraud that the defendants are charged with. But the defense lawyers seemed to convince Judge Kenneth M. Karas of Federal District Court that the recordings might contain exculpatory chatter to bolster the defendants' claims that they were entrapped by Mr. Stern and an undercover agent with the Federal Bureau of Investigation.

Since it could take weeks to translate the material — none of the lawyers or defendants speak Yiddish much beyond such Americanisms as mensch and chutzpah, and there are few court-certified Yiddish translators — the judge said he might have to consider adjourning the case or declaring a mistrial and impaneling a new jury.

"The lawyers," he said, "are working around the clock as it is, and now you're adding a pretty substantial review of the recordings."

The judge postponed his decision until at least Friday to give prosecutors a chance to show him how the recordings might be expeditiously translated so the case could proceed with the same jury.

He then called the jurors into the courtroom. They viewed grainy videotapes of the F.B.I. agent, handing over an envelope filled with $25,000 in hundred-dollar bills to Vincent Tabone, then the vice chairman of the Queens County Republican Committee, and an envelope of $15,000 to Joseph J. Savino, the Bronx Republican chairman, in an Audi S.U.V. parked outside Sparks Steak House in Midtown Manhattan. The three had been schmoozing at the restaurant on Valentine's Day 2013, which had prompted one defense lawyer, Leo Ahern, to call the bribery event "the Valentine's Day Massacre."

Mr. Smith, a Democrat who was for a time the State Senate majority leader, is charged with being the linchpin in a conspiracy to bribe Mr. Tabone and Mr. Savino so he could get their authorization to run for mayor as a Republican in 2013. Mr. Savino has pleaded guilty to bribery. Mr. Tabone contends that the payment he received was a legal retainer and, moreover, that he was entrapped into taking it. The third defendant is Daniel J. Halloran III, who at the time was a city councilman from Queens, and who served as a go-between in discussions with the Republicans.
Continue reading the main story Continue reading the main story
Continue reading the main story

They also saw Mr. Smith listen as the F.B.I. agent, Anil Modi, described the payments he had made in exchange for the Republican authorizations.

"They got a 100,000 dollar reasons to come out and say, "Hey, here we go,'  " Mr. Modi told Mr. Smith in a meeting on March 21 in Mr. Smith's legislative office in Albany.

"Right, right," Mr. Smith replied. "You gave it to them already."

"I gave them like we discussed, half," Mr. Modi said.

"Oh I got you, I got you," Mr. Smith replied.

"They got to come through," Mr. Modi said.

"Right, right, right, right," Mr. Smith replied.

Mr. Modi became more specific, telling Mr. Smith that he had given the money in cash so one of the recipients could take a vacation, another pay his child's tuition at Stanford University and a third pay off a mortgage.

"And of course then they're all going to want positions with you and stuff," Mr. Modi said, alluding to earlier conversations in which the county leaders and Mr. Halloran were asking Mr. Smith for Republican appointments as judges and commissioners should Mr. Smith be elected mayor.

"Yeah, oh, sure, yeah," Mr. Smith replied.

Mr. Smith even assured Mr. Modi and Mr. Stern, who was also there, that it was unlikely the county leaders would renege on the deal.

"Then you're looking over your shoulder all the rest of your life," he said of the recipients of the payments.

What if the leaders tried to shake them down for more money, Mr. Modi asked.

"I'd say, 'absolutely not,'  " Mr. Smith replied. "I'd say, 'I'm not giving you a freaking dime.' I'd say, 'If I even give you a nickel more, you'd have to stand on the Empire State Building, and drop every person you endorsed, and hold Malcolm up and say he's the best thing since sliced bread. Matter of fact, he's better than sliced bread.'  "

The participants in the conversations had grown so comfortable with one another that Mr. Tabone was willing to joke at the dinner at Sparks that the difference between and an honest politician and a dishonest one was "the honest politician stays bought." A moment later, he made sure to tell Mr. Stern: "I always took tremendous offense at that particular anecdote."

Fema Bribes!
Posted: 06/11/2014 05:45 PM - Updated: 12:44 PM PDT June 12, 2014

Ouachita County, Arkansas -- Conner Eldridge, United States Attorney for the Western District of Arkansas announced today that James Michael Hesterly, age 50 (pictured above, center) of Camden, Arkansas, pleaded guilty to one count of Bribery Concerning a Program Receiving Federal Funds.

Hesterly and Harry Clemons Jr., age 39 of Bearden, Arkansas were indicted for a scheme to award a Federal Emergency Management Agency ("FEMA") disaster-relief contract to Clemons by rigging the bidding process in return for a contribution to Hesterly's 2010 reelection campaign for Ouachita County Judge. Hesterly had been the county judge of Ouachita County Arkansas for the past 10 years. Harry Clemons is the owner and operator of Clemons Construction. A federal grand jury handed down the indictments in Fort Smith on January 17, 2013. The Honorable Susan O. Hickey accepted the change of plea in The United States District Court in El Dorado.




U. S. Attorney Eldridge commented, "This type of conduct by a public official offends taxpayers and citizens as well as all of the other public officials who are truly dedicated to their service. To abuse your position of public trust to engage in illegal activities in order to enrich oneself is an affront to our justice system. We remain dedicated to holding those accountable who use similar positions to perpetrate crime."

"Public corruption undermines the trust necessary in our democracy. This case is evidence of the FBI's commitment to investigate public corruption at all levels," stated FBI Special Agent in Charge, David Resch.

According to documents filed in court, beginning in March 2010, Hesterly proposed awarding Clemons a FEMA funded contract clean up storm debris in Ouachita County without competitive bidding in exchange for a payment to Hesterly for his reelection campaign. The debris was the product of two tornados that struck the county in October of 2009. In furtherance of this conspiracy, Clemons arranged for two other bidders to submit intentionally inflated bids to Hesterly through fax. Clemons then met with Hesterly at his office and submitted a bid on behalf of himself and another company for the contract in the amount of $120,730, a total amount below the inflated bids. Hesterly accepted Clemons's bid, and, on April 8, 2010, applied for federal funds from FEMA to help Ouachita County pay for the contract. Hesterly represented to FEMA that Clemons was the lowest bidder among the three bids that he had received. After FEMA approved and obligated the request, Hesterly requested that the contract price be increased by $4,000 representing that the increase was necessary to cover increased costs to Clemons for disposing of the debri.

FEMA also approved that request, but the $4,000 was ultimately paid to Hesterly by Clemons as bribe money solicited by Hesterly for awarding the contract to Clemons.

In order to promote open competition, federal regulations require that the contract be awarded through a sealed bidding process and in compliance with all applicable state law. While state law requires the bid to be advertised for 10 days, the bid in this case was advertised for one day. No sealed bidding process took place. Instead false and fraudulent bids were submitted. In August 2010, Clemons submitted documentation to Hesterly stating that all work on the contract had been complete and requested a payment of $69,865 for Clemons Construction. That same month, Hesterly certified to the state of Arkansas and FEMA that the work set forth in the contract had been completed. On October 13, 2010, Hesterly signed an order allowing Clemons's claim for payment to go through. Later that month, Clemons received a check from Ouachita County for $69,865. Clemons then paid the $4,000 to Hesterly.

The defendant's sentence will be determined by the court after review of factors unique to this case, including the defendant's prior criminal record (if any), the defendant's role in the offense, and the characteristics of the violations. The sentence will not exceed the statutory maximum and in most cases will be less than the maximum. The maximum term of imprisonment for bribery is 10 years per count.

This case was investigated by the FBI. Assistant United States Attorney Kenny Elser represented the United States.

White Fudging!
Posted: 02/26/2013 8:24 pm | Updated: 08/25/2013 04:00:00 PM PDT

Washington, D.C. -- Supreme Court justices Justice Sonia Sotomayor and Stephen Breyer virtually seethed with rage in their roundhouse denunciation of the High Court's denial of review to Bongani Charles Calhoun. The issue again was racial bias in the prosecution of Calhoun on drug charges in Texas. The U.S. Attorney that prosecuted Calhoun quipped during the trial that when you put African Americans and Hispanics in the same room with a bag of money, what else could they be doing but a drug deal or presumably some other criminal act.

The federal prosecutor couldn't let it go at that. When mildly challenged on his blatant racial stereotyping and even more blatant prejudicing of the jury, he piled on with the even dumber quip: "What does your common sense tell you that these people are doing in a hotel room with a bag full of money, cash? None of these people are Bill Gates or computer [magnates]? None of them are real estate investors."

Breyer and Sotomayor correctly called it what it was -- outrageous prosecutorial racial bias. Their colleagues didn't agree, and Calhoun's conviction stood. But Sotomayor and Breyer's rage at the bias simply pointed up what's long been noted in far too many federal cases, and in the action and behavior of far too many federal prosecutors. That's that some will routinely and very calculatingly pander to the overt or latent racial bigotry of some judges and jurors to get a conviction. They fully know that making overt pejorative racial statements, judgments and opinions about a black or Hispanic defendant are flatly forbidden. And in theory, anyway, are the basis for an appeal, and the possibility of having a conviction overturned. But that threat hasn't deterred some prosecutors from playing the race card to get a conviction, as Breyer and Sotomayor angrily noted.

Three years before the two judges' dissent in the Calhoun case, a panel of former federal prosecutors were disturbed enough at the antics of some of their former U.S. Attorney colleagues that they mapped out in tandem with the Brennan Justice Center a series of pointed guidelines to wring out racial bias, overt or sneaky, from the line of attack of prosecutors. Their recommendations included rigorous training and education in what can and can't be said in trials, tougher management and accountability, and better relations with minority communities. The former prosecutors were emphatic that because federal prosecutors have enormous power over what cases are brought, and when they are brought, and how they are prosecuted, they have a special duty and responsibility to be fair and unbiased. The problem with that is that many aren't and this has had devastating consequences in the criminal justice system. The main one being to pump wider the gaping racial disparity in convictions and sentencing, and ultimately who packs America's prisons.

A March 2009 report, "Racial and Ethnic Disparities in the U.S. Criminal Justice System", by the National Council on Crime and Delinquency, found that minorities, with the overwhelming majority of them being African Americans, represented 13 percent of the general population. But they made up nearly 40 percent of those incarcerated in federal prisons. The report made it clear that racial bias, either overt or subtle, by some prosecutors was a big reason for a significant number of those tried and convicted winding up behind bars for long stretches.

The Calhoun case also pointed to another glaring flaw in many federal prosecutions and that's the still prevalent racial disparity in drug prosecutions that have accounted for the explosion in the number of minorities behind federal bars during the last decade. This occurred despite the push by President Obama to purge the racial sentencing disparity from the drug laws.

The standard reasons given for criminalizing practically an entire generation of young blacks is that they are poor, crime-prone, which is pretty much what the prosecutor in the Calhoun case flatly said. Reports and studies by the Justice Department, the U.S. Sentencing Commission, as well as universities and foundations confirm that far more whites use and deal drugs including crack cocaine than blacks. Only a small percent of those sentenced to jail terms are major dealers.

The scapegoating of blacks for America's crime and drug problem actually began in the 1980s when much of the media quickly turned the drug problem into a black problem and played it up big in news stories and features. Many Americans scared stiff of the drug crisis readily gave their blessing to drug sweeps, random vehicle checks, marginally legal searches and seizures, evictions from housing projects and apartments. When it came to law enforcement practices in the ghettos and barrios, the denial of civil liberties protections, due process and privacy made a mockery of the criminal justice system to many blacks and Latinos.

The federal prosecutors that pander to race to get convictions don't help matters and reaffirm suspicions that prosecutorial bias is still alive and well in far too many prosecutions. Sotomayor and Breyer made that point, and a handful of former prosecutors have warned against its corrosive effects. But as the Calhoun case showed fingering prosecutors for racial bias alone won't make it go away.

Chocolate Fudge!
Posted: 08/25/2013 12:00:00 AM PDT | Updated: 08/25/2013 04:00:00 PM PDT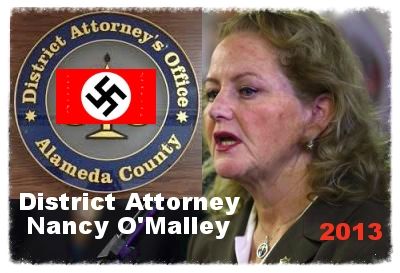 Alameda, CA -- When Alameda County District Attorney Nancy O'Malley (pictured above, center) warned that an In-N-Out Burger restaurant proposed for the city of Alameda would attract robbers from Oakland, her argument contained one major flaw. The county's top law enforcement official dramatically overstated the robbery crisis gripping Oakland.

Speaking last month as a city of Alameda resident who does "know something about public safety," O'Malley cautioned planning board members that Oakland's high crime rate impacts "the robberies in every city" that surrounds it.

"So far in the first five months of this year we've had almost 5,000 robberies in the city of Oakland," she told them. "That's a 67 percent increase from last year."

Oakland does have the nation's highest robbery rate, but the crime isn't nearly as frequent as O'Malley stated.

According to police figures, the city recorded 1,995 robberies through June 2 -- a 28 percent increase from 2012. Police also said the In-N-Out Burger in East Oakland hasn't been a crime problem.

O'Malley, through her spokeswoman Teresa Drenick, acknowledged having messed up the facts at the July 22 hearing.

Drenick said O'Malley intended to say Oakland was on track to record almost 5,000 robberies for all of 2013 if current trends continued. The city racked up 4,338 robberies last year -- the most since 1993.

As for the 67 percent increase, Drenick said O'Malley was comparing this year's figures to those from two years ago -- not last year's as O'Malley had told the planning board.

"The fundamental bottom line is she was urging the planning (board) to pay attention to potential crime issues," Drenick said.

The planning board, despite opposition from O'Malley and several other residents, approved drive-through windows and extended hours for the fast-food chain, which is helping anchor a 2.3-acre development just across a tunnel that connects Alameda to Oakland.

O'Malley is hardly the first public official to misstate the facts about Oakland's crime problem.

Last year, Mayor Jean Quan crafted a crime-fighting strategy based on the premise that 90 percent of shootings and homicides in the city were concentrated in just 100 square blocks. The "100-Block" plan got mothballed after a nonprofit showed that the city's 100 most dangerous blocks only accounted for 17 percent of shootings and homicides.

Earlier this year, former police Chief Howard Jordan incorrectly stated that just two street gangs were responsible for 90 percent of Oakland's shootings, robberies and homicides.

Frank Castro, who sits on Oakland's Community Policing Advisory Board and chairs a neighborhood crime prevention council, said he is frustrated by the errors and especially upset with O'Malley for misstating the facts in her fight against a retail project.

"I find it unconscionable that she was using the power of her office and her title to make the planning (board) believe something that wasn't true," he said.

Bob Stern, the former president for the Center for Governmental Studies, said O'Malley had every right to speak out against the project. "But as an elected law enforcement official," he said, "she has a larger responsibility than the average citizen to make sure that she is citing the correct facts."

Single & Homeless!
Posted: 01/11/2013 03:22:35 PM PST - Updated: 01/13/2013 02:39:35 PM PST

OAKLAND, CA -- The Alameda County District Attorney will deliver a $111,400 settlement to the California Department of Education stemming from a child care fraud case that went on for nearly a decade. The settlement represents the largest single child care fraud restitution order in Alameda County history, according to D.A. Nancy O'Malley. According to O'Malley's office, Khadijah Ali, a full-time employee of the San Francisco Unified School District took $185,302 from the state by posing for nine years as a single, homeless mother of three. The money came from 4Cs of Alameda County, a nonprofit funded by the California Department of Education. The woman was in fact living with her three children and husband, a full-time civilian employee of the Alameda County Sheriff's Department, in their Alameda home. The mother pleaded guilty to felony grand theft and received a five year probation sentence. Criminal charges against her husband were dismissed.

The Danford Rapes!
Posted: 11/12/2012 4:10 pm EST Updated: 11/12/2012 2:10 pm PST

Seattle, WA -- The prosecutor wife of a Seattle attorney recently charged as a serial rapist hid her husband's evidence-filled vehicle during an extended police investigation, court documents allege. Police arrested Danford Grant, 47, on Sept. 24 under suspicion that he raped and attempted to rape Chinese immigrants at massage parlors. Court documents released on Tuesday point to Grant's wife, Jennifer, claiming that she tampered with evidence in the case, media sources reports.


Jennifer Grant, a supervisor in the criminal division of the Seattle City Attorney's Office, allegedly moved her husband's car to a random location shortly after his arrest. Detectives searched for the vehicle, which they thought contained a folding knife, cell phones and other evidence. There are no charges against her, but an inside source claims that "there could be severe consequences."

Danford Grant is on house arrest after posting a $1 million bail. Police say the father of three was a regular at the Carnation Massage Clinic, where he would research his massage therapist victims before following them home and violently raping them. Grant would allegedly intimidate his victims, who were all Chinese immigrants, so they would not call police, media sources reports.

On Sept. 19, Grant reportedly paid for a massage, held one of the parlor's employees at knife point and then forcibly raped her in a private room. He allegedly returned on Sept. 24 and raped the same employee before other employees called police and tried to detain him themselves.

Corrupt Cronies!
Posted: June 25, 2012 - Updated: July 6, 2012 09:22 pm PDT
"I recommended Judge Nunley to the president for nomination to the District Court in Sacramento."



-- June 25, 2012 Statement by Senator Diane Feinstein (D-CA) on the nomination of Judge Troy Nunley by Barack Obama.
San Francisco CA -- Barack Obama nominated Superior Court Judge Troy L. Nunley ("Uncle Tom" pictured left) to serve on the U.S. District Court for the Eastern District of California. Judge Troy L. Nunley grew up in San Francisco's Hunter's Point housing projects (haven for N-word criminals). He graduated from St. Mary's College (haven for Catholic Sex Predators and their supporters) in Moraga, Calif., in 1986 and the University of California, Hastings College of the Law (haven for Jewish criminals and their children) in 1990.

Nunley served as a Deputy District Attorney in Alameda County from 1991 to 1994 and in Sacramento County from 1996 to 1999. He served as a Deputy Attorney General in the California Attorney General's office from 1999 to 2002. Since 2002, he has served as a judge on the Sacramento County Superior Court.

---
The Feinstein Family!
(24 June 2000) Gov. Gray Davis appointed Katherine Feinstein (Corrupt Jew, pictured left) a deputy city attorney and daughter of U.S. Sen. Dianne Feinstein to the San Francisco Superior Court. The appointment, which had been widely expected, fills one of five vacancies on the court, with Feinstein taking the opening left by Judge Lee Baxter, who retired. As a deputy city attorney for the past two years, she has overseen the prosecution of child abuse and neglect cases for the San Francisco Department of Human Services. Feinstein, 42, is the second San Francisco city attorney that Davis has tapped for a judgeship. In April, the governor named Patrick Mahoney, chief trial deputy in the office, to the bench.

(25 September 2008) San Francisco Superior Court Judge Katherine Feinstein was elected Tuesday to serve as the court's next assistant presiding judge, the court announced. Feinstein, the daughter of U.S. Sen. Dianne Feinstein, D-Calif., will join Judge James McBride, who will be the court's presiding judge, when their two-year terms begin Jan. 1.

Feinstein is a former prosecutor with the San Francisco District Attorney's office and since being appointed as a judge in 2000, has supervised the court's family law, child abuse, juvenile delinquency, domestic violence and child support divisions, according to the court. She is also a former San Francisco police commissioner and a graduate of Hastings College of the Law and the University of California, Berkeley, the court said.

---
Corrupt Justice™: Sacramento County and her Superior Court(s) are one of the top ten (10) racist counties and courts in the State of California. The entire county of Sacramento is politically arch-conservative and represents a virtual KKK stronghold. Sacramento, Contra Costa and Alameda County will only place "Blacks" in positions of authority, if they are willing to promote, or enforce racists policies against other Blacks and minorities.

Barack Obama, Martin Jenkins, Corrupt Judge ("Uncle Tom") and Troy L. Nunley epitomize a new form of "21st Century racism". The new form of racism in the United States dictates that a "Black man" is only acceptable to society if he meets the following criteria:

1) He is Homosexual (Jenkins, Nunley);
2) He is an "Uncle Tom" (Obama, Jenkins and Nunley);
3) He is an athlete/entertainer, or capable of generating revenue (Obama, Jenkins);
4) He is of bi-racial (Caucasian) heritage (Obama);
5) He must never (truly) aid or associate with members of the "Black" community; and
6) He must be Pro-Jewish/Anti-Arab.

Another What???
Posted: 03/01/2013 05:18:19 PM PST - Updated: 03/01/2013 06:19:19 PM PST
OAKLAND, CA -- An Alameda County Superior Court judge charged last year with a dozen felonies for stealing more than $1 million from his 97-year-old widowed neighbor had 20 new counts added to his criminal complaint Friday. All but two of those new criminal counts, however, are based on the same set of facts discovered last year when Judge Paul David Seeman was removed from his courtroom at the Wiley E. Manuel Courthouse, handcuffed and then arrested in his chambers.

Seeman is accused of stealing from his now-deceased Berkeley neighbor Anne Nutting by illegally gaining control of her finances and property after her husband died in 2009. While in control of her finances, Seeman is accused of slowly funneling her life savings and valuable possessions into his control.

The new charges filed against Seeman on Friday by the Alameda County District Attorney's Office are not based on new information but instead were filed in a more specific manner as they address various actions Seeman took over a roughly 13-year period during which he is accused of taking Nutting's money.

Only two of the 20 new charges are based on information gathered after Seeman was arrested last year. Those charges are based on financial disclosure reports Seeman filed in March and April 2012. Teresa Drenick, spokeswoman for the Alameda County District Attorney's Office, had no comment on the new charges.

Seeman, 58, who was appointed to the Alameda County bench in 2009 by former Gov. Arnold Schwarzenegger, has not been officially removed from his job and continues to collect a paycheck. Seeman, however, has not been presiding over cases since he was arrested and charged with a crime. Seeman is a constitutional officer, therefore he can only be removed from the bench through either a recall, impeachment or by the independent state Commission on Judicial Performance. The commission has yet to take action against Seeman and no citizen or elected official has asked for a recall or impeachment of the judge.

Seeman's attorney declined to comment. Seeman is expected to return to court next month for another hearing on his case.

Posted: 06/15/2012 9:51 am - Updated: 06/16/2012 02:07 am PDT

Oakland, CA -- Alameda County Superior Court Judge Paul Seeman (Jewish) arrested yesterday and charged with bilking an elderly neighbor out of more than $1.5 million, made his first court appearance at the Wiley W. Manuel Courthouse today as a defendant. Seeman, 57, engaged in a "pattern of related felony conduct" involving more than $200,000 beginning in 1999, and lied about it to authorities, according to a complaint filed today in Alameda County Superior Court.


Judge Eric Labowitz (Jewish) a visiting judge from Mendocino County, agreed to a continuance: Seeman's arraignment will take place on July 3. He faces 13 felony counts of theft, embezzlement and perjury involving former Santa Barbara Road neighbor Anne Nutting, who died in 2010 at 97. Labowitz denied a request by news media to bring cameras into the courtroom.

Wearing a charcoal brown suit, Seeman, 57, walked into court and sat quietly in the spectators' gallery just moments before Labowitz called his case, then walked out the door moments later with defense attorney Michael Markowitz (Jewish). Seeman was arraigned Friday on charges that he stole at least $1.6 million from his 97-year-old neighbor in the Berkeley hills over the course of more than a decade.

A spokeswoman for the Alameda County District Attorney's Office called the charges "disappointing and disturbing." Prosecutors say that after the death of Nutting's husband, Seeman took over power of attorney, selling two of the couple's Santa Cruz properties, an art collection, a Lionel train set and other valuables. They also say he borrowed $250,000 from her -- then failed to pay off the loan. Seeman also stands accused of failing to report income from the loan and real estate investments to the Fair Political Practices Commission, which judges are required by law to do.

Seeman initially befriended Nutting in December 1998 after her husband suffered a fall at the couple's home on Santa Barbara Road in Berkeley and police deemed the home to be uninhabitable due to hoarding, according to the declaration. The Nuttings then moved into the Radisson Hotel at the Berkeley Marina. Seeman offered to help the Nuttings because they were all alone and had no one to rely on because they had no family, no children and no friends, the statement said.

According to a probable cause declaration filed in court by Berkeley police officers, who investigated Seeman for more than two years, Seeman stole thousands of dollars from his neighbor, Anne Nutting, after her husband, Lee Nutting, died in 1999 at age 90. The declaration said Seeman sold off Anne Nutting's art collection and other possessions, tried to bar her from her own home and used her garage to store his 1958 Ford Thunderbird.

In January 1999, Seeman obtained a durable power of attorney for the Nuttings after finding $1 million worth of stock certificates and uncashed dividend checks in their house, according to the statement. Lee Nutting died on Dec. 29, 1999, and between April and June 2000, Seeman arranged the sale of two properties the Nuttings owned in Santa Cruz, according to Berkeley police. By August 2004, Seeman had taken over almost all of Anne Nutting's financial affairs, putting his name on her bank accounts as joint tenant and on her investment accounts as a transferee on death, the statement said. There was more than $2.2 million in the accounts at that time, according to the statement.

Nutting lived at the Radisson Hotel for nine years because Seeman did not want her to return to her home and tried to get her to move into senior housing, Berkeley police said. Nutting finally moved back to her home in 2007 and obtained the help of an attorney who revoked Seeman's durable power of attorney and asked that Seeman remove his name from all of her bank accounts and stop handling her financial affairs, according to the statement. However, Seeman didn't remove his name from any of Nutting's accounts and continued to maintain control over her taxes and safe deposit boxes, according to the declaration.

In March 2010, Nutting's attorney went to Berkeley police and reported that Nutting, who was 97 at the time, was a victim of financial elder abuse at the hands of Seeman, the statement said. Nutting died the following month on April 17, 2010. The statement says Seeman also failed to report investments totaling more than $1.4 million in 40 local properties between March 2003 and June 2009.

Seeman is still listed in the courthouse directory as the presiding judge in Department 107, but he is unlikely to hear a case again anytime soon. He was taken from the Alameda County district attorney's office on the second floor of the Wiley Courthouse around 3 p.m. Thursday by two women, at least one of whom wore a badge on her belt. Seeman was wearing a gray suit, and his hands were handcuffed behind his back. His suit jacket was draped over the cuffs. He was taken to the Glenn Dyer Jail, where his bail was set at $525,000. He was released Friday after he posted $525,000 bail. He is scheduled to return to court on July 3 to enter a plea.

Seeman was named to the bench by then-Gov. Arnold Schwarzenegger in 2009. Seeman served as a court commissioner for the Alameda County Superior Court since 2004. He had previously served as a referee pro tem for the county's Juvenile Court between 1991 and 2004. From 1990 to 1991, Seeman worked as a deputy county counsel for the Alameda County Counsel's Office and before that he was in private practice. A newspaper article from 2009 announcing Seeman's appointment to the superior court bench gave his residence as Berkeley. Before becoming a judge, he had an office on Kittredge Street in downtown Berkeley. He graduated from Boalt Hall School of Law and was admitted to the State Bar in 1980.

The more than 30 Occupy Oakland advocates, some of whom Seeman had ordered to stay away from Frank Ogawa Plaza or UC Berkeley, recognized the white-haired jurist immediately, and jeered loudly as he and Markowitz walked down Washington Street away from the courthouse. The judge drew criticism from Occupy Cal demonstrators when he issued stay-away orders during pre-arraignment hearings to 12 linked to Nov. 9 UC Berkeley campus protests. In March, he ordered four to stay away from UC Berkeley.

"He ordered me to stay away from (Frank Ogawa Plaza), and I wasn't anywhere near there, which violates my civil rights," said Christopher Moreland. "He set extraordinarily high bail for the Occupiers," said Boots Riley, a supporter whose father, Walter Riley, has represented a number of the defendants. ""He said the cases are going to be heard by a higher court anyway, so he'll just go with whatever the D.A. recommends."

Neither Seeman nor Markowitz would comment or answer questions.

The Fredriksson Family!
Posted: 05/25/2012 9:51 am - Updated: 06/21/2012 12:25 am PDT
Hayward, CA -- Jason Fredriksson (pictured below, left) the former San Leandro cop accused of giving a pound of pot to an informant to sell, who was also his lover, pleaded no contest to a misdemeanor charge that allows him to avoid jail. Last year, the ex-narcotics detective plead not guilty to a felony count of illegally transporting and furnishing marijuana for sale.


In early June, Superior Court Judge Roy Hashimoto (pictured below, left) approved a deal worked out by Assistant District Attorney Michael Roemer and his defense attorney. Under its terms, Fredriksson pleaded no contest to a misdemeanor charge of possession of more than an ounce of pot, said a spokeswoman for Alameda County District Attorney's office. Fredriksson was sentenced to 30 days of work for the Alameda County Sheriff's Department but will not spend nights in jail; he will serve 5 years probation during which time he can be easily searched; and he will have to pay a series of fines, including reimbursing the San Leandro Police Department for the cost of investigating him. He also agreed not to work as a law enforcement officer or possess firearms, the district attorney's office said.


The Fredriksson case became public about a year ago when the former San Leandro police officer, then on the narcotics squad, was accused of giving pot to his mistress, a San Leandro resident and police informant. Fredriksson, a Danville resident, was 38 at the time and married to an SLPD police dispatcher. Fredriksson's wife, Sheryll Confreros Fredriksson, was awarded Dispatcher of the Year in 2007, according to the department's website.


Jason Fredriksson has been on the San Leandro force for nine years, and most recently has been a detective in the vice/narcotics unit and a member of the 14-person SWAT team. He formerly worked as an Alameda County sheriff's deputy.

When the scandal first arose his defense attorney said other than the extramarital affair with the informant, authorities had no evidence of wrongdoing. His attorney blamed the case on "hypervigilance." The incident was a trial-by-fire for then newly-arrived San Leandro Police Chief Sandra Spagnoli, who quickly brought the District Attorney into the case when she got a call informing her of the allegations against Fredriksson. Spagnoli told media sources in an interview last November that she was sure Fredriksson had acted alone.

Prosecutors did not say where they believe Fredriksson got the marijuana. But San Leandro police emphasized that the case was not connected to a drug-theft prosecution in Contra Costa County involving a former state narcotics agent who headed a multi-agency law enforcement task force. As this case was being investigated, authorities in Contra Costa County were finalizing their look into two-decades-old allegations that John Richard Frederiksson (Jason's dad) had sexually abused a female relative.

---
San Leandro Police Department!
---
SAN LEANDRO | Nov. 30, 2011 | Change at the San Leandro Police Department comes at a torpid pace, it seems, especially when it comes to transforming the makeup of the police force to more closely match the faces of one of the most diverse cities in the country. Just how the police department and its chief, Sandra Spagnoli, would accomplish this became less clear Monday night.

Spagnoli told the council racial and gender considerations are not used in the promotion process. Of the department's 91 officers, only 7 are black and a mere 4 are women. In a response to a query from San Leandro Mayor Stephen Cassidy over efforts to encourage blacks and women to apply for positons on the force, Spagnoli said there were none and questioned the exact definition of what "diversity" actually means.

Cassidy claimed five of the last seven recent new hires were white males.

---
San Leandro Police Department
Chief Sandra Spagnoli !
---
San Leandro Police Chief Sandra Spagnoli answers questions at the Broadmoor Neighborhood Association (BNA) General Meeting on March 16, 2011. Questions include[d]:

1)
What percent of the crime rate is drug-related and what is being done to combat the sales of drugs in the community?
---
"That doesn't sound correct," said Spagnoli. "You have to remember diversity comes from a variety of different experiences that people bring to the table." She referenced a recent new hire who was born and raised in the city's Washington Manor neighborhood near the Highway 238 interchange. "He happens to be a white male with a four-year education and he has experience as a police officer. So when you talk about diversity whether it is ethnic diversity or gender diversity, it's really great when you think someone in this community wants to serve this community after growing up in this community."

Cassidy responded by saying, "We do have a desire to have a police force that is reflective in gender and race of our community and not be dramatically different." He suggested funneling a more diverse pool of possible candidates through the police academy, but she disagreed.

"I think you're making the assumption that your diversity pool is going to increase if you have a pool of people who don't have experience versus having experience," Spagnoli said. "We had a lot diversity in the applicant process, unfortunately, the most diverse candidates failed the background process and wouldn't be working here."

Changes to the way officers are chosen for promotion were also discussed during Monday's work session. Spagnoli said outside consultants would aid in choosing applicants along with a battery of other tests, including a written and oral exam. "The reason why you use a variety of different test method is so one person can't have a great test day."

The last comment runs close to matching statements made by numerous officers in recently disclosed confidential reports detailing the Dewayne Stancill scandal. Disgruntled officers claimed the previous promotion board unfairly favored some candidates, which led to low morale within its ranks. Others voiced a sense that Stancill who was called "stupid" by some in the department, somehow had a lucky day in testing so high on the controversial promotional test for sergeant in 2007.

CORRECTION & NOTE: A correction was made to a caption posted earlier this morning that read despite more than a quarter of the population in San Leandro is Asian, the group is unrepresented on the force. That is clearly an error. There are nine, according to a memo by city staff last August. This article is about comments made during last Monday's work session that featured most of the SLPD's top brass and should have referred to the lack of Asians among that group.

The fact remains the racial and gender makeup of the PD is severely out of whack. Here is the department's demographics in contrast to the latest 2010 Census:


Race..........#Ofcs...PCT..|..Census

Whites.........60...65.9%..|..37.6%
Asians..........9....9.9%..|..29.7%
Hispanic........7....7.7%..|..27.4%
Black...........4....4.4%..|..12.3%
Other..........11...12.0%..|..13.3%
Source: SLPD, U.S. Census
Corrupt Justice™:
We note that both John and Jason Fredriksson passed the police background process and were both working in law enforcement at the time of their respective arrests.
Daddy Fredriksson!
Walnut Creek, CA -- Seven days after his son's court appearance John Richard Fredriksson surrendered in a Walnut Creek courtroom to answer to charges that he molested a young girl between the late 1980s and early 1990s. Facing eight counts of lewd and lasivious conduct and oral copulation with a child under 14, he was taken into custody with bail set at $800,000.


Sometime over the past year, police received a report that a former San Francisco police officer and inspector for the Alameda County District Attorney's Office had allegedly molested a female relative when he and his family lived in Walnut Creek in the late 1980s and early 1990s. Back then, John Richard Frederiksson and his wife, from whom he is now divorced, were also raising Jason Frederiksson. The younger Frederiksson would graduate from Las Lomas High in 1991 and become a well-regarded San Leandro Police Department detective.

The Dunbar Family!
Posted: 06/09/2012 07:26:17 PM PDT - Updated: 06/16/2012 07:38:49 PM PDT
Pleasant Hill, CA -- Pleasant Hill police Chief Pete Dunbar is retiring at the end of September after 30 years in law enforcement. Dunbar joined the Pleasant Hill Police Department in February 2006. "Honestly, it becomes a financial decision," said Dunbar, 51. "Under the (state retirement) system, with 30 years of service, we max out; and with all the structural changes in Pleasant Hill, I'm losing money by working is what it boils down to. "I love my job, I love working with the people here, so it has nothing to do with that. But economically it doesn't make sense to keep working." According to the city, his 2010 base salary was $193,334 annually.


After graduating from the University of Santa Clara, Oakland native Dunbar (pictured right) joined his hometown police department as a patrol officer in 1982. He was promoted to sergeant five years later, and in 1991 he was the first supervisor to arrive at the scene of the Oakland hills fire that killed 25 people and destroyed 3,300 homes. Dunbar received a Medal of Merit for directing officers during the evacuation. He was promoted to lieutenant, then captain, and in 1999 was appointed deputy chief.

The Pleasant Hill Police Officers' Association has had a strained relationship with the council for the past year because of contentious contract negotiations, Dunbar has steered clear of the fray. Officer Todt Clark, union president, said Dunbar regularly met with rank-and-file officers to hear their ideas. "I'm sorry to see him go. I think he's made a lot of positive changes," Clark said. "I wish him nothing but the best."

Dunbar will continue teaching California Peace Officers Standards and Training management courses through the San Diego Regional Training Center and the California Police Chiefs Association, of which he is a vice president. He plans to spend most of his time in Evergreen, Colo., just outside Denver, where he and his wife have owned a house for three years.

"Working in Pleasant Hill has been a great way to finish my career," Dunbar said. "I can't think of any better way for it to end."

Daddy Dunbar!

William Leo Dunbar (May 24, 1925 - Jan. 18, 2010) Retired Alameda County Superior Court Judge and Captain USNR Judge Advocate Corps. Member of Rotary Club of Oakland. Preceded in death by wife, Joan, and sister, Jane Nelson. Survived by sons Peter, Michael and John and five grandchildren. Born May 24, 1925 in Chicago, Illinois. In February 1945 graduated from Northwestern University with a degree in Business Administration and commissioned as Navy Ensign. Served on an assault cargo ship in the Pacific during World War II. Awarded one battle star. After the war, Judge Dunbar graduated from Northwestern Law School with a Juris Doctor degree. In 1953, he moved to the San Francisco Bay Area and worked as a management analyst and business writer until 1963, when he began practicing law in Oakland, Calif., as a civil trial lawyer. In 1986, he was appointed to the Alameda County Superior Court. As a Naval reserve lawyer, he organized and chaired legal seminars for military lawyers of all services. He recruited and led volunteer Navy Reserve lawyers providing free legal services to military men and women and their dependents. He commanded several reserve legal units and served on the staffs of the 12th Naval District Readiness Commander and the Commander in Chief of the Pacific Fleet. He also served as Chairman of the Advisory Council of the Salvation Army Rehabilitation Center in Oakland, and on boards of the Alameda County Bar Association, Legal Aid Society and Alameda-Contra Costa County Trial Lawyers Association, and on the Oakland Catholic Diocese Interracial Council, Social Justice Commission and Catholic Youth Organization.

The Lockyer Family!
Posted: 12/13/2012 11:18:36 AM PST - Updated: 12/13/2012 04:38:34 PM PST
Oakland, CA -- Former Alameda County Supervisor Nadia Lockyer's temporary restraining order against her former extramarital lover expired Thursday. Her lawyer declined to seek an extension and says Lockyer (pictured left) will probably remain in residential drug treatment until early February. Lockyer went into National Therapeutic Services' residential drug-treatment program in Newport Beach on Aug. 31, after being arrested on drug charges. Her attorney claims he talked with program administrators this week, and they said they expect she'll stay for the usual 180 days, meaning she'll get out in early February.


A few weeks after she resigned her Alameda County Supervisor's seat, Lockyer, 41, the estranged wife of state Treasurer Bill Lockyer, sought a court issued restraining order to keep Stephen Chikhani, 36 (pictured left) away from her and her family in May. Lockyer had claimed Chikhani attacked her Feb. 3 in a Newark hotel room. The state Justice Department investigated and declined to charge Chikhani with any crime. Chikhani, of San Jose, has denied stalking, bothering or wanting anything more to do with Lockyer, though he has made inquiries about selling sex tapes he made with her.

The order was modified and reissued in August, a few weeks before she was arrested in Orange County on felony methamphetamine and misdemeanor child-abuse and endangerment charges. Police went to the home where Lockyer and her 9-year-old son, Diego, were staying on Aug. 28 after a caller tipped them that she might have drugs there, prosecutors said in September. Officers found a tube of aluminum foil with a burned end, and when they met Lockyer later that day she showed signs of being under the influence of drugs. She was arrested and charged with felony methamphetamine possession and three misdemeanors: being under the influence of a controlled substance, possession of drug paraphernalia, and child abuse and endangerment. A pretrial hearing is scheduled for March 5, 2013.

Lockyer's civil attorney, said an Alameda County Superior Court judge on Thursday decided there's no point in extending the temporary restraining order. The court's decision was based upon the fact Lockyer isn't in town and doesn't intend to seek further extensions when she returns. She could always file for a new order if necessary, he noted. "Hopefully she's moving on with her life and Steve is moving on with his and we can put this matter behind us," her attorney said. "Nadia will ultimately make that choice; we'll see what happens."

Bill Lockyer, 71, filed for divorce in July, citing "irreconcilable differences" and seeking joint physical and legal custody of their son. After Nadia Lockyer's arrest, a judge ruled she could see their son but only under her estranged husband's supervision. The boy is living with his father in Hayward while his mother undergoes treatment.

Posted: published May 21, 2010 - Updated: June 16, 2012 08:09:49 PM PDT


Belmont, CA -- Lisa Lockyer (pictured left) and Chris C. Kemp bought a three-bedroom, two-bath home at 619 Southview Court in Belmont, CA from Patricia W. Silva for $1.26 million on May 21, 2010. The 2,880-square-foot house was built in 1963 in Central. It is located in the Southview Terrace subdivision. Ms. Lockyer is deputy director of the New Ventures and Communications Directorate at NASA Ames Research Center (

a government tax-payer funded position

) in Silicon Valley, where she previously was chief of the Technology Partnerships Office.

Prior to joining NASA Ames in 1998, she was a deputy district attorney in Alameda County (

a government tax-payer funded position

), where she practiced criminal law. She received a B.A. from Harvard University, and her J.D. from Hastings College of the Law.

Mr. Kemp is chief technology officer for IT at NASA Ames Research Center (

a government tax-payer funded position

) where he has previously served as CIO and director of business development. Prior to joining NASA, he was CEO and president at Escapia Inc. and Netran Inc., chief architect of a website, and was systems engineer at Silicon Graphics Inc. He attended the University of Alabama in Huntsville.

---
The Superior Court
County of Alameda
State of California
---

The Alameda County DA's office is famous for nepotism. Here is an updated list of Some people related to VIPs hired or promoted by The Alameda County District Attorney:

1. Lisa Lockyer, daughter of Bill Lockyer (hired)
2. Nadia Lockyer, wife of Bill Lockyer (hired)

Alameda County Family Justice Center (2006-2010)


The Alameda County Family Justice Center, a public agency designed as a form of one-stop shopping for victims of domestic violence, has a new Executive Director ($90,000 per year job) Nadia Lockyer (pictured left). The brochure gives a two page account of her life and work experience, then ends with the statement she "is married and has a young son, Diego." There is No mention of WHO she is married to, after all, that's kind of sexist, isn't it? Her husband is Bill Lockyer, outgoing California Attorney General, (leaving the AG job, but not public office, he was elected State Treasurer in November, and a lot of people think he will run for Governor in 2008 if things look good).

The selection committee was dominated by staff of the Alameda County District Attorney's Office, particularly Nancy O' Malley, (though, like a good lawyer, she made sure her name is not on anything), so that, once again, DA Tom Orloff seems to have given a job to Bill Lockyer's kin, (note that Orloff gave Lisa Lockyer her first job out of law school, while Bill was the local Senator from Hayward). Nadia Lockyer does have some qualifications for her post, but with a field of 30 applicants, most likely she was not the best qualified by objective criteria.

Alameda County Board of Supervisors District 2 (2010-2012)

Alameda County Board of Supervisors District 2 candidate Nadia Lockyer announced she had the endorsement of Deborah Roderick Stark, whom she described as "a nationally recognized expert in child and family policy" and a First Five Alameda County Commission member. The news release delved deeper into both women's professional bona fides, but didn't mention that Lockyer, 38, is the wife of state Treasurer Bill Lockyer, 68, or that Stark, 43, is the wife of Rep. Pete Stark, 78.

Bill Lockyer, 70, has held several elected positions since 1972. He married his wife, Nadia, 40, in 2003. She was elected to the Alameda County Board of Supervisors in 2010 after Bill Lockyer transferred $1.5 million of his campaign funds for his wife's campaign. This is an enormous sum for a county office. With that war chest, Nadia Lockyer cruised to a 63% victory. A few weeks after her election, Nadia Lockyer entered rehab for an alcohol problem. Bill Lockyer said that her alcohol problem only became apparent after she was elected. That is questionable since alcohol and drug abuse are long-term problems and rarely things that arise overnight.

While in rehab, Nadia Lockyer met Stephen Chikhani, who was also in rehab for a drug problem. At some point, they began a relationship that continued until at least February 2012. A sex tape surfaced, although it was quickly pulled off YouTube. It involved Nadia Lockyer and Chikhani. Apparently, Chikhani made it in case the relationship was broken off (See Screen shot below:).




Bill Lockyer saw both the tape, a string of text messages between his wife and the man, and some X-rated photos on her computer. He told authorities that she was being stalked by an ex-boyfriend in an attempt to get the two apart, but it became clear to investigators that Nadia and the man were in a consensual relationship, according to reports. It is difficult to know if Bill Lockyer is deluding himself about what is going on or if he is simply trying to cover up a multi-layered scandal.

Chikhani Productions (2012)




May 11, 2012 | The year of sex, drugs and shoplifting in East Bay politics just got even more titillating Friday night after sex videos of former Alameda County supervisor Nadia Lockyer were posted online. Both short videos uploaded to YouTube are believed to have been posted by Lockyer's former boyfriend Steve Chikhani. He alluded to the videos in an article written in a local newspaper after Bill Lockyer sought a restraining order against him.




One video, sarcastically titled, "Nadia Lockyer trying to get my vote," shows the disgraced former county supervisors sashaying into the room in a black lingerie, garter and stockings. She then begins removing some clothing. The video is shot from the point of view of Chikhani, whose voice is heard on the video.




The second, far more explicit video, shows Lockyer masturbating on a bed in front of Chikhani, whose voice is heard, but face is not seen. Again, a humorous line is attached in the video's description saying, "Here's the former Alameda County Supervisor giving herself a little tax relief." It is not known when the video was produced or whether the video clips are the same offending clips reportedly sent earlier this year to State Treasurer Bill Lockyer, Nadia's husband.

NOTE: Both videos were taken down by YouTube within several days of their being posted.

3. Chistopher Bates, son of Tom Bates (hired)
4. Jeff Stark, son of Congressman Fortney "Pete" Stark (promoted)
5. Erin Kingsbury daughter of Judge Kenneth Kingsbury
6. Paul Hora son of Judge Peggy Fulton Hora;


Judge Peggy Fulton Hora (pictured left) retired from the California Superior Court after serving 21 years. She had a criminal assignment that included presiding over the Drug Treatment Court. She is a former dean of the B.E. Witkin Judicial College of California and has been on the faculty of the National Judicial College over 15 years. Judge Hora is a Senior Judicial Fellow for the National Drug Court Institute and a Judicial Outreach Liaison for the National Highway Traffic Safety Administration.

7. Paul Delucchi son of Judge Alfred Deluchhi - Judge Alfred Deluchhi, Retired is deceased; Paul Delucchi is now a Judge.

8. Maya Ynostroza, daughter of Alameda County Superior Court Judge Carlos Ynostroza.

Friday, October 1, 2010 - "Andrew Vance was sentenced to 25 years to life in prison for the June 2006 murder of Dipak Prasad, 24, whose body was found, with his hands tied behind his back, in Palomares Canyon east of Castro Valley. The First District Court of Appeal in San Francisco said the Alameda County jury that convicted Vance of first-degree murder may have been swayed by remarks from the prosecutor that crossed legal boundaries. During closing arguments in the 2008 trial, Deputy District Attorney Maya Ynostroza asked jurors to "walk in Dipak Prasad's shoes" and imagine the terror of being suffocated into unconsciousness. Vance's lawyer objected that the argument was improper and the judge agreed, but Ynostroza continued, urging the jury to relive the suffering of Prasad and his family. Despite upholding most of the objections from Vance's attorney, Superior Court Judge Roy Hashimoto rejected the lawyer's request to instruct jurors to base their verdict solely on the evidence rather than sympathy or passion. The appeals court said Hashimoto should have reined in the prosecutor's misconduct. Inviting jurors to put themselves in the victim's shoes is "a blatant appeal to the jury's natural sympathy for the victim," diverting jurors' attention from the evidence to the suffering of the victim and his family, Justice James Richman said in the 3-0 ruling."

9. Catherine Horner Dobal, son Judge Horner - (Catherine Horner graduated Harvard with Honors, anyone would have hired her, but her employment is a possible conflict of interest that Judge Horner should reveal to all defendants)
10. Jason Chin, son of California Supreme Court Justice Chin
11. Stuart Hing, son of ex-Alameda County Administrator Mel Hing - Stuart is now a Judge in Alameda County;
12. Mattew Golde, Appointed head of D.A. Juvenile Division in 2007, son of Judge Stanley Golde (Dec.);
13. Ivan Golde, son of Judge Stanley Golde (Dec.);
14. Amilcar Ford, grandson of Judge Judith Ford;
15. James Panetta -- son of former Congressman Leon Panetta;
16. Carrie Elizabeth Skolnick -- daughter of UC Professor Jerome Skolnick;

"I'm satisfied the jury was able to see the truth of what happened and render a just verdict."



-- July 5, 2012 Statement by Alameda County Deputy District Attorney Carrie Skolnick after a former private security guard was found guilty of attempted murder and second-degree robbery.
(Friday January 20, 2006) University of California law student Carrie Skolnick places a call to Sen. Dianne Feinstein's office Wednesday from the Boalt Law School lobby. Alliance for Justice partnered with Boalt Law Students Against Alito to encourage students and professors to call the offices of senators Feinstein and Boxer to urge them to vote against Judge Samuel Alito's nomination for the Supreme Court and to not rule out the possibility of a filibuster. Calling the event a "Reverse Bakesale," the group gave away milk and cookies to students in exchange for their support and participation.


Jerome Skolnick (pictured left, Carrie's dad) joined the Berkeley faculty in 1962 and became part of the Boalt faculty in 1977. From 1972 to 1984 he chaired the Center for the Study of Law and Society. He has also taught at UC San Diego, the University of Chicago and Yale University, and has been a visiting fellow at Oxford.

Carrie Skolnick's (Daddy's girl) academic background:

Undergraduate School: Univ of California, San Diego; La Jolla CA
Law School: Univ of California, Berkeley - Boalt Hall; Berkeley CA


(pictured right, Maura Sullivan attending a protest in September 2011 opposing affirmative action at the University of California, Berkeley. ) After California voters approved an Anti-Affirmative action law in 1997, black and Hispanic freshman enrollment at the University of California system dropped by about one-quarter in 1998, the first year the ban was in effect. At the system's most competitive campuses, in Berkeley and Los Angeles, enrollment for those groups fell by almost half. Black students accounted for just over 4 percent of University of California freshmen in the mid-1990s. That fell to 3 percent after the law took effect, and remained there for several years, before climbing close to 4 percent in recent years. Hispanic enrollment stood at 14 to 15 percent of the total before the ban, and fell to 12 percent in 1998, but quickly began to climb, driven by California's fast-rising Latino population. By 2010, that group accounted for more than 22 percent of the system's freshmen.

17. Judge Dennis Hayashi, wife of Assemblywoman Mary Hayashi, D-Hayward.


Alameda County, CA (Thursday, November 6, 2008) -- Civil rights lawyer Dennis Hayashi (pictured right) beat out prosecutor Phil Daly for an Alameda County judgeship, garnering 61 percent of the vote. Hayashi, a former AC Transit board member, served as director of the Office for Civil Rights in the U.S. Department of Health and Human Services under President Bill Clinton, and was also director of the state Department of Fair Employment and Housing. Hayashi, whose wife is Assemblywoman Mary Hayashi, D-Hayward, ran unsuccessfully for a judgeship in 2006, losing to Sandra Bean, a deputy county counsel.


San Francisco Supervisor Gerardo Sandoval unseated veteran Judge Thomas Mellon in a contested Superior Court race. Sandoval (pictured left, shaking hands with CA Gov. J. Brown (r)) took 55 percent of the vote to Mellon's 45 percent. Sandoval is a former public defender who has represented the city's Excelsior district and nearby neighborhoods on the San Francisco Board of Supervisors since 2001. He accused Mellon of lacking judicial temperament, noting that the city's public defenders removed him from all their cases during his brief stint on the criminal court in 2000. The Bar Association of San Francisco rated Sandoval unqualified for the bench and ranked Mellon as qualified.

San Francisco, CA (January 6, 2012) -- Gerardo Sandoval, a partisan Democrat politician elected to the until now nonpartisan San Francisco Superior Court, by campaigning as a partisan Democrat, reduced Democrat Assemblywoman Mary Hayashi's felony theft case to a misdemeanor in spite of the District Attorney's previous position that the theft of $2,400 in clothing by Hayashi from the Union Square Neiman-Marcus was serious and should be treated as a felony. Hayashi, who had previously been specifically excused from today's court proceeding and was not expected to attend the hearing today, made a stealth appearance and quickly plead "no contest," and was sentenced to three years probation and a small fine. She was also ordered to pay $180 in fines and fees, which she promptly did after leaving court.

Hayashi, who was wearing a pair of cheetah-print high heels, a green jacket and black slacks and had a black Chanel purse slung over her shoulder, declined to speak to reporters following the hearing. Hayashi's defense attorney said outside of court that the assemblywoman has a benign brain tumor that may have impacted her decision-making abilities. He said the tumor is curable and treatable and "is no longer affecting her concentration or her judgment." He said, "according to (medical) experts," the tumor has likely impacted her behavior. "In the spirit of compromise, now that Ms. Hayashi's medical conditions resulting in her arrest have been taken care of, she decided to resolve the case as well," he said.

Taking the plea means Hayashi can now serve out her full term in the Assembly, as a felony conviction, which would have surely happened otherwise, would have required her to resign from the Assembly.


Hayashi's and now Sandoval's actions are symptomatic of an arrogance among Democratic politicians in California that they are in charge and that they can get away with just about anything, justice be damned. Assemblywoman Hayashi's actions (and "no contest" conviction) in stealing clothing from a California retail business, and Judge Sandoval's actions in extending special favor to a fellow Democrat (whose husband is also an Alameda County Judge, just as Judge Sandoval's wife is a professional political fundraiser for Democrats) serves to further undermine the confidence of Californians in their governmental institutions, including the impartiality of the judiciary.

After an unrelated news conference Friday morning, before learning that the charge against Hayashi would be reduced to a misdemeanor, District Attorney George Gascon said he and his office would support such a change. "We're dealing with a first-time offender, and if the court decides to go in a different direction, we're going to support that," Gascon said.

With respect to Hayashi's attorney claim of a "benign brain tumor" causing her to shoplift: No actual evidence of a benign brain tumor, or its propensity to cause shoplifting, was ever entered into evidence in open court in the Hayashi case before her plea of "no contest" to the charges. If any such benign tumor could have caused the Assemblywoman to shoplift, that allegedly exculpatory fact would have properly been submitted as an issue for a jury to decide, and Hayashi could be found "not guilty" by reason of a "shoplifting causing" benign brain tumor if a jury was convinced by the scientific evidence presented. However, the "no contest" plea of Hayashi, coupled with the judge's reduction of charges, now allows Hayashi to continue to serve in the Assembly regardless of the crime and avoids an actual test of her attorney's unsupported excuse claim in court.

The "benign brain tumor" claim raises the question if Mary Hayashi has capacity to continue serving in the Assembly. If the "benign brain tumor" made her shoplift, how can she still make laws with a "benign brain tumor" that causes criminal conduct?

Ynostroza Legacy!
Posted: published May 21, 2010 - Updated: June 16, 2012 08:09:49 PM PDT
Oakland, California -- Marie Yvonne Gonzalez-Rogers (pictured right) was a member of the civil grand jury in Alameda County, California from 2005 until 2007, and served as foreperson from 2006 until 2007. Gonzalez Rogers served as a pro tem judge in Alameda County, California from 2007 until 2008. In 2008, Republican Governor Arnold Schwarzenegger appointed Gonzalez Rogers, a Democrat, to the Alameda County Superior Court. She replaced Judge Carlos G. Ynostroza on the bench. On May 4, 2011, President Obama nominated Gonzalez Rogers to a seat on the United States District Court for the Northern District of California that had been vacated by Judge Vaughn Walker, who had retired at the end of 2010. The Senate confirmed her in an 89–6 vote on November 15, 2011. Gonzalez Rogers' husband, Matthew C. Rogers, has served in various positions in the Obama administration. The couple live in Piedmont, California.

The Fried Family!
Posted: published May 21, 2010 - Updated: June 16, 2012 08:09:49 PM PDT
"Another Nigger fried. No big deal."

-- April 16, 2011, Statement by New York City Police Officer Michael Daragjati, boasting of his false arrest of another African-American male.

Texas (WCJB) -- It is an all-too-familiar story in this country: in Dallas, two men who spent more than a quarter of a century in prison for a rape they didn't commit were formally exonerated Monday after DNA testing implicated two other men. With James Curtis Williams and Raymond Jackson, Dallas County has now cleared 32 convicts in the past decade.

Media sources report this is such a common occurrence, the wrongly convicted in Texas have joined forces to help one another. At one parade in Lancaster, Texas, six convicted felons were hailed as heroes. All had spent years behind bars for crimes they did not commit. "We're just blessed to have this opportunity here riding around and enjoying our freedom again," said Christopher Scott.





Scott was arrested in 1997 for murdering a man in his neighborhood. A witness identified him as the gunman, but Scott insisted he was innocent. He said he knew he was in trouble "when they found me guilty." He was sentenced to 40 years in prison. "I thought everyone who went to prison was guilty, and when you see the tables turned on you and you be put in a position like that and you're in prison for something you didn't do, it changes your whole way of thinking," Scott said. Thirteen years passed before the real killer confessed. Scott was cleared and released in 2009.

Once out, he got help from other men wrongfully imprisoned in Dallas County. They call themselves the Texas Exoneree Project. "We have a lot of people say: 'Man we know how you feel.' Man, you don't know how I feel. The only person that know how I feel is the guy that has been in position like me. He know how that feel,'" Scott said. It's a growing fraternity. In the last ten years, more than 30 men in Dallas County have been freed or cleared of wrongful convictions for murder and rape - more than any other place in the country. The Exonerees help newly released men rebuild their lives by finding them a place to live or helping them get a drivers license.

They have also become a voice for other Texans they say are still wrongfully imprisoned. "You wish you can help get everybody get out of prison that don't supposed to be there, but you know you are not going to be able to do it," Scott said.

The Dallas District Attorney's office says it's reviewing 200 cases of inmates who could be innocent. "You obligated to try, to at least help somebody that's in your position, that they say they are crying out for help. Because many days I cried out for help and wasn't nobody out there for me," Scott said.

Texas paid Scott more than $1 million to compensate him for false imprisonment. He used some of that money to open a men's clothing store. "Sometime when I get up I still pinch myself to see if it's really true or not," Scott said. "No kidding." Scott once dreamed of freedom, but now he wants justice.

---
Reader Pageviews by Country
---
From: Jun 20, 2012 11:00 PM – Jun 27, 2012 10:00 PM
---
United States
•» 1,548
Russia
•» 35
Canada
•» 34
Germany
•» 34
United Kingdom
•» 33
France
•» 22
Australia
•» 20
Latvia
•» 12
Netherlands
•» 11
India
•» 10
---
«•
Thank you for visiting Corrupt Justice™. Enjoy our Free Movie Intermission! Don't forget to Bookmark Us & Tell A Friend! We're Global!
•»
---
Movie Intermission!
Virginia LaCrosse Player

George Huguely's

Police Interrogation (Full)!!
---




Description: Huguely killed Love in May 2010 after he broke into her off-campus apartment and repeatedly slammed her head into a wall. In the video, he admitted to knocking down her door in order to talk to her. He also said he grabbed her by the neck, but never strangled her. Huguely, 28, is serving a 23-year prison sentence. He is scheduled to be released from prison in 2029. Neither Huguely nor Love's family wished to comment on the interrogation video.

Previous Video: LAPD Officer Stephanie Lazarus Interrogated for Murder!

---
---