---
Click on Banner to Sell Your Home(s)!
Runtime:
02:50:18 (Two-One Minutes, Fifty seconds)
Video Site:
Harry Williby
---
---
"Another Nigger fried. No big deal."

-- April 16, 2011, Statement by New York City Police Officer Michael Daragjati, boasting of his false arrest of another African-American male.
A Decade of Deceit!
Posted: September 12, 2017 - 11:54 am PDT | Updated: September 14, 2017 - 02:54 pm PDT
Nevada (WCJB)
A disciplinary hearing was held in March (2017) against estate lawyer Robert Graham. Prosecutors alleged Graham's engaged in theft of client funds. Prosecutors said the thefts topped $17 million over the past decade. A prosecutor with the State Bar of Nevada recommended taking away Graham's license.
The Nevada Supreme Court disbarred the longtime Las Vegas estate lawyer. Graham admitted stealing $17 million dollars from his clients. A four-page order was filed Monday. The justices wrote: "Because the amount of misappropriated client funds is staggering and Graham exploited vulnerable people, disbarment is the only appropriate discipline." All seven Supreme Court justices said the disbarment was permanent. They ordered Graham to pay restitution and a $1 million fine. All of the money is to go to his former clients.
Graham is in custody at the Clark County Detention Center. He pleaded guilty Thursday in District Court to five felony counts. The counts included theft and exploitation of vulnerable people. Graham admitted he stole more than $16 million. He faces a prison term of 16 to 40 years. Graham will be sentenced Jan. 11, 2018.
A Marriage of Deceit!
Posted: 07/15/2013 11:08 am EDT | Updated: 07/21/2013 6:21 pm PDT
New York
-- John Azabache, a New York math teacher was arrested Friday afternoon on suspicion of raping a 16-year-old student. He was arrested on the same day he was supposed to marry another woman. Azabache is accused of having sexual relations with a student between some time in March and July 1 of this year, 2013, according to media sources in New York. The girl's family reportedly contacted authorities. Azabache, a 31-year-old teacher at Ossining High School in Westchester County, turned himself in to police and was arraigned on a charge of third-degree rape according to media reports. His defense lawyer said Azabache pleaded not guilty. The suspect was jailed on $50,000 bail, and ordered not to contact the student or his fiance and her family because they were "witnesses to events after the fact," a judge told the station.
Students at the school told reporters that Azabache was well-liked. His attorney added that he has a "stellar record as a school teacher." Azabache's wedding was cancelled prior to the arrest, but his attorney wouldn't say if the botched marriage was related to the charges, a media source reports. He was supposed to be married Friday to an unnamed White Plains woman.
"I just want to note that what he's being charged with does not involve any forcible compulsion," his attorney told media sources. "It involves an alleged incident with a minor, someone who is just under 17 years old." Azabache is due back in court on July 23.
In the Family!
Posted: February 18, 2014 7:13:07 AM PST - Updated: 11:53:01 PM PST
FRESNO, CA
-- Spencer Scarber is the son of former California Highway Patrol Assistant Chief, Kyle Scarber. He was sentenced on Tuesday to State Prison. Spencer Scarber was convicted of raping a neighbor's housekeeper. He fled to Mexico during the trial. was found in Acapulco two months later. Scarber's family arrived to court for his sentencing on Tuesday morning. The sentencing has been 14 months in the making. Spencer faced forward in the court. He rarely acknowledging his family. The only words from Spencer Scarber during the hearing were "Yes" and "No sir." He answered yes when asked if he understood his appellate rights; and no he doesn't have any questions.
Several letters were submitted on Scarber's behalf. The rape victim wrote a nine (9) page letter for the sentencing. She wrote that she never had closure. She wrote that she lived in fear while he was escaped to Mexico. She said that she is still in fear because his family knows where she lives. She also wrote that she felt helpless, angry, humiliated, and disgusted. She also wrote that [the rape] still haunts her to this day.
The rape occurred in July 2011. He disappeared to Mexico in December 2012. Spencer fled just before he was convicted. Scarber was found in Acapulco in February of 2013. Scarber was convicted on 4 counts. He was convicted of forcible rape, sexual penetration by force, first degree burglary, and first degree robbery. He was acquitted on one charge. A second rape case was dismissed after Tuesday's sentencing on the Squaw Valley rape.
At sentencing The Deputy Attorney General alleged stated that Scarber committed statutory rape while out of custody, on bail. The Deputy Attorney General pushed for a full 10-year enhancement because Scarber used a knife while raping the housekeeper.
a knife. She said the victim was having nightmares because of that weapon. She also pointed out that Scarber attempted to interfere with justice by fleeing during the trial.
Scarber's defense attorney challenged the sentencing on Tuesday. He said the Scarbers believed they didn't get
justice in the case. They claim District Attorney Beth Egan told Kyle Scarber that she would "take care of his son." The defense attorney said he did everything he could to show this was a miscarriage of justice. He argued that the judge had made up his mind to deny a motion for a new trial before he even spoke. The defense attorney made this argument even though the motion was filed on paper ahead of time. The defense went on to say that Scarber didn't flee out of fear of justice. The attorney argued he fled because he feared he would not get justice after a forced confession. The defense said it was not a violent rape and there was not significant planning. He also claimed the burglary enhancement on the rape charge should not apply since the victim did not live at the house where it happened. He also questioned the credibility of the victim. The Deputy Attorney General countered by saying the jury decided based on the facts of the case. She argued Scarber shows no remorse.
Judge Edward Sarkisian said he had already addressed some of the defense arguments in December when he denied the motion for a new trial. The judge said Scarber had intentionally misled those near and dear to him. He also said Spencer Scarber led them to much distress. He said Scarber's total lack of remorse; and flight in the midst of trial were factors giving him a longer term. Judge Sarkisian sentenced Spencer Scarber to 35 years to life.
However, Scarber's family says all he did is have consensual sex with the victim. They say the rest has been politics and conspiracy. More than a dozen sheriff's investigators left the courtroom behind Gail Scarber. She told media those investigators framed her son with help from the district attorney and judges. She also says the victim told a series of lies. Gail Scarber said: "She [the victim] also said that she's scared. She drives past our house weekly. She drives past our house so slow that I can see the color of her lipstick."
Mrs. Scarber also produced notes she says are from CHP Chief Jim Abrames. Abrames was Kyle Scarber's boss. She says the notes prove Sheriff Margaret Mims is lying when she says she never told Chief Abrames the victim wanted to drop charges. This is a claim the victim also denies.
Posted: 03/21/2013 10:40:04 AM PDT - Updated: 03/22/2013 11:53:01 PM PDT
FRESNO, CA
-- Spencer Scarber, 20 (
pictured above-right
) the son of Kyle Scarber (
pictured above-left
) California Highway Patrol assistant chief for the Fresno area, faces 70 years in prison after a jury convicted him in in December of rape-related counts and robbery. His conviction occurred after his escape to Mexico. As a Convicted rapist, Spencer Scarber was in Fresno County Superior Court on Thursday (February 21) in his first court hearing since extradition from Mexico over the weekend. He appeared in a yellow jumpsuit and was surrounded by five bailiffs. His family did not attend the hearing.
Judge Edward Sarkisian summarized the case against Scarber and kept a no-bail warrant in effect, which will keep Scarber in jail. After meeting with Scarber's lawyer and prosecutor Leanne LeMon, the judge set an April 12 sentencing date for Scarber for the July 2011 rape at a neighbor's home in Squaw Valley. At the April hearing, a second case -- alleged sexual intercourse with a minor in 2012 -- will be discussed. LeMon said her office will talk to the victim and make a decision to prosecute or dismiss it by the next hearing.
A probation report, which will offer the judge sentencing guidelines in the case, also will be prepared for the April hearing. Spencer's lawyer said he will file a motion for a new trial and LeMon will file opposition to Alvarez's motion by the end of March. Following Thursday's hearing, Spencer's admitted he has "an uphill battle" in getting a new trial for his client, especially after Scarber bolted out of the country. "My client has always maintained his innocence," he said.
Kyle Scarber, Spencer's father and the CHP assistant chief has been charged with felony accessory and conspiracy in connection with helping his son -- a convicted rapist -- flee the country to Mexico. Media sources reports that charges were filed Tuesday in Fresno County Superior Court against the parents and sister of 20-year-old Spencer Scarber, who faces a 70-year prison sentence for rape, robbery and burglary convictions. Charged Tuesday were Scarber's father 49-year-old Kyle Scarber; his 51-year-old mother Gail Scarber (
pictured above-center
) and 34-year-old sister Crystal Reynoso (
pictured above-center
). They were released on bond and did not attend Thursday's hearing.
Prosecutors say Kyle Scarber filed a false police report when he reported his son missing. A car registered to Scarber's parents entered Mexico in early December, and prosecutors say Scarber's mother and sister walked back to the U.S. from the same crossing about an hour later.
Complicit!
Posted: 03/22/2013 01:51:47 PM PDT - Updated: 03/23/2013 07:26:45 AM PDT
WALNUT CREEK, CA
-- Jason Pedroza, 27 (
pictured above-center
) a former employee at the Lesher Center, turned himself into police in February (2013) after Contra Costa prosecutors filed four felony and misdemeanor charges that he sexually assaulted two underage girls last fall, according to police and prosecutors. Pedroza was charged in February with two felonies -- using a minor for a sex act and contacting a minor for the purpose of engaging in lewd and lascivious behavior -- and misdemeanor sexual battery and child molestation. Danville police opened a separate investigation into Pedroza on Nov. 12. That case started as a suspicious circumstance and remains classified as that, said Chief Steve Simpkins, who would not comment further.
In November (2012) Lesher Center Manager Scott Denison fired Pedroza, a well-known actor and teacher in the area, Nordhoff said. Pedroza worked for the Lesher Center in downtown Walnut Creek and for Young REP, a summer theater workshop for children operated by the city-owned theater company Center REPertory. He was a part-time city employee making $3,600 last year. The reasons for Pedroza's firing have not been disclosed. Denison did not return a call for comment. Barry Gordon, director of arts, recreation and community services, would not comment.
Pleasant Hill police began investigating allegations against Pedroza last fall after a parent of a suspected victim contacted them, said Pleasant Hill police Sgt. Gary Brown. Pleasant Hill began working with Walnut Creek police after their investigation led them to the Lesher Center, where officers interviewed employees. Walnut Creek police began their own investigation of certain city employees to determine whether they knew of the abuse allegations before the Pleasant Hill department contacted them. "Walnut Creek was looking into who knew what when," Brown said.
On Thursday, Walnut Creek police sent criminal investigation reports to the Contra Costa District Attorney's Office. Those reports investigated a "handful" of employees and their possible failure to report the abuse allegations against Pedroza to police, said City Manager Ken Nordhoff. These "handful" of city employees could face criminal charges alleging they knew about suspected child sex abuse by Pedroza and failed to alert police. Neither city nor law enforcement officials would say why it is suspected that some city employees were aware of possible child abuse by Pedroza. Nordhoff declined to name the employees under investigation but said he is not one of them. A high-ranking city official, who wished to remain anonymous because they are not authorized to speak to the media on the matter, said police are "recommending" charges.
Walnut Creek police Chief Joel Bryden would not comment, citing the ongoing investigation, other than to say they are taking the matter seriously. "The District Attorney's Office is reviewing the Walnut Creek reports," said Nancy Georgiou, senior deputy district attorney and head of the sex crimes unit. She declined to comment further on report details. Aside from the criminal investigation, Walnut Creek this week hired outside counsel to conduct an internal investigation into what happened and to examine the city's procedures and policies concerning child abuse reporting, Nordhoff said. That investigator will have "carte blanche" to interview witnesses and examine documents, he said. In the meantime, Nordhoff said this is the city's biggest priority, and he has reached out to the county's Child Abuse Council for assistance.
State law lists 44 types of "mandated reporters," public and private employees who deal with children through their work and are required to report any suspicion of abuse or neglect. While some reporters, like teachers, are obvious, it is less clear which city employees qualify. The City Hall chief plans to propose a new policy that goes beyond state law. It would require all city employees to consider themselves a "mandated reporter," he said. The city will provide training, and has offered training in the past for those who work directly with children, Nordhoff said. "I believe all of us have a moral or ethical responsibility that goes beyond the law that if we sense something that is going on, especially with children, we have the duty to report it to the local authorities," he said. "That would be my course of action. I believe that individually as a human being."
This isn't the first time the Lesher Center has run into legal troubles.
In 2004, Denison pleaded no contest to a misdemeanor conflict-of-interest charge filed by the District Attorney's Office related to contracts he signed with family members for Lesher Center business. He was sentenced to three years' informal probation, 60 hours of community service and a $120 fine.
The city in 2005 paid a $1.1 million settlement to six former Lesher Center employees who alleged harassment and retaliation by Denison after they blew the whistle on his mismanagement at the center. At that time, an independent forensic accountant found indications of waste, abuse and fraud at the center, and the city reprimanded Denison with a four-week unpaid suspension. He served two weeks and was docked two weeks' vacation pay but was allowed to keep his job.
Class C felony!
Posted: Dec 21, 2013 at 4:56 AM
Arkansas
- Sgt. Glenda Morrison, 44, is an ex-sheriff deputy from Johnson County. She is also the wife of Sheriff Jimmy Dorney. An eight-woman, four-man jury convicted her of perjury for lying to Johnson County Circuit Court Judge William Pearson during an Oct. 15, 2012, hearing.Morrison was sentenced to one year of supervised probation and fined $5,000. Her career in law enforcement is over.
On Oct. 10, 2012, a Johnson County jury found 49-year-old Tommy Bowden guilty of first-degree murder. The following day, jurors recommended a life sentence. Judge Pearson imposed the recommended sentence.
2:41 pm - February 22, 2013 — Updated: 10:52 pm - February 22, 2013
Arkansas
- The wife of Johnson County Sheriff Jimmy Dorney confessed to perjury during an interview with an Arkansas State Police investigator, according to court documents.
Sgt. Glenda Morrison, 44, a deputy in the Johnson County sheriff's office, turned herself in Friday and made an initial appearance before District Court Judge Len Bradley, who released her on her own recognizance.
She is scheduled to be arraigned March 15 before Circuit Court Judge John Cole, who was assigned by the Arkansas Supreme Court to preside over the case.
Morrison was placed on administrative leave with pay pending the outcome of the perjury charge, according to a news release on the sheriff's office website from Chief Deputy Jerry Dorney.
Morrison is accused of lying under oath when Circuit Court Judge William Pearson questioned her Oct. 15 regarding statements she allegedly made to jurors during a murder trial, according to an arrest warrant affidavit.
On Oct. 10, a Johnson County jury found 49-year-old Tommy Bowden guilty of first-degree murder; the following day jurors recommended a life sentence, which Pearson imposed.
On Oct. 15, Prosecuting Attorney David Gibbons wrote a letter to Pearson and Bowden's court-appointed attorneys John Burnett and Michael Robbins, informing them he was provided information that Morrison, a bailiff, made inappropriate comments to jurors shortly before they considered Bowden's sentence, after they convicted him of murder.
In the letter, Gibbons said he learned that Morrison told jurors Bowden had "acted up that night at the jail and was scheduled to testify that day, but if he acted up" jurors shouldn't be concerned because he was wearing a "shock belt" that could be used to control him.
When Pearson questioned Morrison, she told him she wasn't even aware at that time of Bowden's behavior the night before in the jail, "because I had not seen anyone that had Mr. Bowden yet," according to the affidavit.
Morrison also told Pearson she didn't remember telling jurors they didn't need to be concerned because Bowden could be controlled with the shock belt he was wearing.
Morrison did tell Pearson she and another deputy were speaking outside the jury room, and it's possible jurors overheard them, but she still denied the specific statements attributed to her, according to the affidavit.
On Oct. 23, Pearson took testimony from Bowden trial jurors, and several contradicted Morrison's testimony.
Morrison informed some jurors that the belt was actually a device on Bowden's leg that could deliver an electric shock if needed, and assured them jurors would be kept safe, jurors Deborah Foreman and Constance Rutter told the court.
Another juror, not identified in the affidavit, told Pearson the "lady cop" was in the jury room when she told a juror that Bowden acted up the previous night in the jail and he would be controlled.
Pearson vacated Bowden's life sentence based on the jurors' testimony and ordered a new sentencing hearing, which was held Feb. 17-18. Bowden again was sentenced to life.
Although Morrison denied the statements attributed to her under questioning by Pearson, she admitted making the statements when ASP Investigator Rick Newton interviewed her Jan. 2, according to the affidavit.
During that interview, Morrison said she told a single juror Bowden was wearing a shock device, which other jurors overheard, and she informed "jurors" that Bowden acted up the night before in the jail and he might testify during the sentencing phase.
After Newton pointed out the discrepancies between Morrison's testimony under oath and her statement to him, he asked why she lied under oath.
"I didn't; well, I guess I did," Morrison replied, according to the affidavit.
Calls to the sheriff's office Friday in an attempt to reach the sheriff and/or Morrison were referred to the sheriff's website.
Perjury is a Class C felony punishable by three to 10 years in prison.
NYPD Theft Ring!
Posted: December 11, 2012 - Updated: December 11, 2012
NEW YORK
—- A New York City Police Department (NYPD) officer, Ali Oklu, pled guilty to participating in a scheme to illegally transport firearms and stolen goods across state lines. Oklu pled guilty in Manhattan federal court before U.S. Magistrate Judge Gabriel W. Gorenstein. The firearms and stolen good included M-16 rifles and handguns. Oklu, 36, of Sunnyside, pled guilty to one count of conspiracy to transport firearms interstate and one count of conspiracy to transport and receive stolen goods interstate. During his guilty plea, Oklu admitted that he had knowingly transported what he believed were stolen cigarettes; slot machines; counterfeit merchandise across state lines; and that he had wilfully transported firearms across state lines. In addition, Oklu agreed to a money judgment of $35,000 which represents the amount of the criminal proceeds he received and the eight firearms seized from him at the time of his arrest.
Oklu (
pictured left
) was originally charged in a four-count complaint along with 11 co-conspirators. Many of the co-conspirators were fellow NYPD officers, including fellow NYPD officer William Masso, the leader of the conspiracies. Oklu was recruited to join the conspiracy in early October 2010 by Masso, who was the leader and organizer and was an integral member of the team, prosecutors said. From September 2010 to October 2011, Oklu participated in the transportation of firearms, and what he believed were stolen goods across state lines. At the time he committed the offenses, Oklu was an active duty NYPD officer. The firearms Oklu helped transport included three M-16 rifles, one shotgun, and 16 handguns. The majority of the firearms had their serial numbers defaced, removed or altered. All the firearms had been rendered inoperable.
The goods he helped transport, and thought were stolen, included 12 slot machines and thousands of cartons of cigarettes. The goods also included various counterfeit merchandise. In total, the goods that Oklu and his co-conspirators illegally transported carried a street value of approximately $1 million. In total, Oklu was paid $35,000 for his role in the transport of the firearms and purportedly stolen goods.
Prosecutors alleged Oklu participated in interstate trips, which included two trips to transport "the stolen slot machines" from Atlantic City to New York. He also made multiple trips to transport hundreds of cases of "stolen cigarettes" from New Jersey to New York. In addition, prosecutors alleged a trip to Virginia to take part in the purported theft of hundreds of cases of cigarettes from trucks parked outside a warehouse. The final trip Oklu made was to transport the "stolen (20) firearms, which were defaced and (unknowingly rendered) inoperable, all which were transported interstate.
Oklu specifically discussed with his co-conspirators using their law enforcement credentials, as well as applying their law enforcement expertise in preparing for and carrying out these schemes. The group also discussed using their specialized knowledge as law enforcement officers in determining the ideal vehicles to rent to transport the goods. Prosecutors allege that in a meeting in March 2011, Masso explained that the men should carry their law enforcement badges during the operation. Masso instructed them that if stopped, they were to say they were police officers working off-duty to deliver items that had been purchased at an auction. Oklu specifically recommended that the group not travel together in the rental vehicles in order to avoid raising the suspicion of law enforcement. All the defendants have now pled guilty, and all but three of the defendants have been sentenced.
Oklu is scheduled to be sentenced by U.S. District Judge William H. Pauley, III on March 15, 2013. He faces a maximum penalty of 10 years in prison.
---
Oklu Co-Conspirators!
---
•» William Masso:
Pleaded guilty in February sentenced to 57 months in prison on July 20
•» Eddie Goris:
Pleaded guilty in March sentenced to 36 months in prison on Oct. 9,
•» Ali Oklu:
Pleaded guilty in December, sentencing scheduled for March 15
•» Gary Ortiz:
Pleaded guilty in February, sentenced to one year and one day in prison on Sept. 12
•» John Mahoney:
Pleaded guilty in February, sentenced to one year and one day in prison on Oct. 10
•» Joseph Trischitta:
Pleaded guilty in Februay, sentenced to 40 months in prison on Aug. 9
•» Marco Venezia:
Pleaded guilty in February, sentenced to 24 months in prison on July 26
•» Richard Melnik:
Pleaded guilty in February, sentenced to 21 months in prison on Oct. 9
•» Anthony Santiago:
Pleaded guilty in March, sentencing date pending
•» David Kanwisher:
Pleaded guilty in February, sentenced to 27 months in prison on June 21
•» Michael Gee:
Pleaded guilty in February sentencing scheduled for Feb. 13
•» Eric Gomer:
Pleaded guilty in February, sentenced to 15 months in prison on Aug. 2
---
Metro-Sexual Predator!
Posted: Jun 25, 2012 1:49 PM PDT - Updated: Jun 27, 2012 9:55 PM PDT
Las Vegas, NV
-- A Metro Police officer accused of groping two women while on duty last year has resigned from the force, a police spokesman said Wednesday. John Norman, 33, was arrested in February and charged with felony oppression under the color of law, gross misdemeanor oppression under the color of law, felony coercion and gross misdemeanor open and gross lewdness after two separate incidents in which he allegedly assaulted the women.
According to the criminal complaint, on June 23, 2011, Norman forced a woman to remain in a police car while he manipulated her bra and breasts. During the second incident, on Dec. 10, 2011, Norman allegedly detained another woman and forced her to "lift her shirt up over her bra," and touched her.
He was placed on unpaid leave after his arrest, and on Tuesday tendered his resignation to the department, Sgt. John Sheahan said.
Norman, who joined Metro in 2008, still is being investigated by the agency's internal affairs division, Sheahan said. "The ongoing internal investigation is in major case review. He will most likely be sustained for violations of policy which will become part of his personnel file," Sheahan said.
On June 25, 2012, Norman pleaded guilty for oppression under color of office (no force) and open and gross lewdness. His sentencing is scheduled for 9 a.m. on Oct. 30. He is facing probation or up to two years in jail. He will also be required to register as a sex offender.
Budding SS Agent!
Posted: 06/15/2012 11:58 am Updated: 06/15/2012 10:55 pm PDT
Florida
-- A second Broward Sheriff's deputy was suspended with pay in connection to a prostitution sting that was conducted by the agency. Broward Sheriff's deputy Christian Benenati, 40, was arrested after allegedly offering $20 to an undercover colleague for oral sex. Benenati was off duty when he approached the woman in Pompano Beach, according to the complaint affidavit. When instructed to drive to a nearby motel, he reportedly declined, saying he "does not do rooms" and told the woman to do it in the car instead.
According to police, the officer overseeing the prostitution sting saw the woman give a signal that the "deal" was completed, and Benenati
(pictured left)
was arrested. However, a handwritten addition to the affidavit records the "final location of arrest" as Bru's Room Sports Grill at the address of 1000 N. University Drive, in Coral Springs,
four hours later
.
BSO officials declined to comment on why Benenati wasn't arrested at the scene. The report that describes Benenati's arrest was signed by Sgt. George Anthony III. "Florida law prohibits us from commenting on open internal affairs investigations. The record will have to speak for itself," BSO spokeswoman Keyla Concepción told media sources.
Benenati, a 10-year BSO veteran, has been suspended with pay until Internal Affairs concludes its investigation into the matter, spokesman Jim Leljedal told media sources. Leljedal told the sources that while this is not the first time a deputy has popped for a sex crime, "it is exceedingly rare."
Broward Sheriff's deputies have gotten into a fair share of trouble recently.
•»
Deputy Brent Wooddell was arrested in June after removing his ankle bracelet to visit a strip club. He is currently under house arrest for allegedly stealing $1,340 during the bust of an oxycodone dealer -- who turned out to be an undercover Miami-Dade police officer.
•»
Det. Anthony Costanzo was arrested in May after he used his cell phone to tape a conversation with a witness in a case against two Fort Lauderdale police officers.
•»
Deputy Paul Pletcher was arrested in February after yelling racial slurs at a woman and stealing her phone after pulling her over while off-duty.
UPDATE:
Leljedal confirmed Friday that Anthony was also suspended, with pay. Leljedal said because of an on-going internal affairs investigation, he could not further discuss circumstances of the deputies' cases. Anthony, 38, who was not arrested, is a former Hialeah police officer and has worked for BSO since 2001, according to Florida Department of Law Enforcement records.
Insane Orban!
Posted: June 13, 2012, 7:00 p.m. PDT - Updated: Jun 15, 2012 2:51 AM PDT
RANCHO CUCAMONGA, Calif. (WCJB)
- A San Bernardino County jury Wednesday rejected a controversial "Zoloft" defense presented by a former Westminster police detective accused of kidnapping and raping a waitress in 2010, finding the defendant guilty of all eight charges. A jury of eight women and four men deliberated less than a day before dismissing that defense and finding Anthony Orban
(pictured right)
guilty of kidnapping, two counts of rape, two counts of forced oral copulation, two counts of sexual penetration with a foreign object and one count of making a criminal threat. Orban showed little emotion as the verdicts were read. His wife wept gently in the back of the courtroom.
Prosecutors say the off-duty officer used his service weapon to force the woman to drive to a self-storage lot, where he sexually assaulted her and shoved a gun in her mouth on April 3, 2010. The woman escaped when Orban was distracted by an incoming cellphone call, prosecutors said. The victim's unflinching, graphic account of the sexual assault was the most compelling testimony given during the month-long trial. The woman, who was 25 at the time of the attack, testified that Orban sexually assaulted her, punched her, choked her, stuck a gun in her mouth and took cellphone photos of her. She told jurors that the attacker did not appear disoriented or unconscious, the local media reported. But she also testified that at the end of the attack, he looked at her and asked: "Who are you? How did I get here? Whose car is this?"
Orban, a 32-year-old who served in the Marines in Iraq, had pleaded not guilty and not guilty by reason of insanity to eight counts, including kidnap and rape. His defense attorney said the crux of the case is not the elements of the crime but whether his client was aware of what he was doing. Orban's attorney argued during trial that his client suffered a psychotic break because he was taking Zoloft and was effectively unconscious when he kidnapped the woman in the Ontario Mills mall parking lot in San Bernardino County. He said his client had been taking Zoloft for six months, but had gone off the medication and recently restarted it. Orban does not recall the incident, he said. "This is something that appears to be totally out of character for him," the attorney said. If Orban is found to have been sane, he could face a life sentence, he said. If he is found to have been insane, he would be sent to a mental institution for treatment.
A friend of Orban's, Jeff Jelinek, testified against him. Prosecutors said the former prison guard and Orban had been drinking at the mall and Jelinek was standing next to Orban during the kidnapping and picked him up after the attack. In a plea deal with prosecutors, Jelinek pleaded no contest last year to being an accessory, false imprisonment and assault.
Deputy District Attorney Debbie Ploghaus declined to comment on the verdict, noting the sanity phase of the trial begins Tuesday. Orban will face a sanity hearing to determine whether he knew the difference between right and wrong at the time of the attack. The same jury will now have to determine whether Anthony Nicholas Orban was sane at the time of the attack. The hearing is scheduled to begin Tuesday and testimony is expected to last two days. The psychotropic effects of Zoloft again will be central to the sanity phase.
Jew Brotherhood
Posted: May 15, 2012 9:08am, EDT - updated on: June 15, 2012 6:40pm, PDT
"I and my coworkers could rewrite the book on whether our urban youths are victims of racist profiling or products of their failed, shitbag, ignorant, pathetic, welfare dependent excuses for parents, but like Mrs. Corey, we speak only the truth. They're just misunderstood little church going angels and the ghetto hoodie look doesn't have anything to do with why people wonder if they're about to get jacked by a thug."



-- April 11, 2012, Facebook post by Miami-Dade Fire Rescue captain Brian Beckmann in reference to the Trayvon Martin shooting by fellow Jew, George Zimmerman.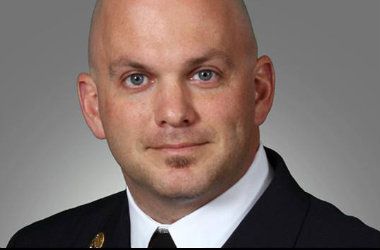 MIAMI, FLa.
-- A Miami-Dade Fire Rescue captain (
pictured above, center
) whose Facebook comment about the Trayvon Martin shooting spurred an investigation, was demoted two ranks to firefighter Monday in a letter from the fire chief.
Brian Beckmann (a Jew) who posted the comment on April 11, must also complete a Fit for Duty evaluation and diversity and/or sensitivity training, the letter from Fire Chief William Bryson said. Beckmann may appeal the decision within 14 days. The rant was reportedly published April 11, the same night special prosecutor Angela Corey announced second degree murder charges against George Zimmerman, the self-appointed neighborhood watch captain who shot Martin after he spotted the black 17-year-old walking through his father's gated community in Sanford, wearing a hoodie.
Beckmann Wrote:
Martin's mother, Sybrina Fulton, is a "well-respected" program coordinator at the Miami-Dade County Housing Authority, where she has worked for 23 years, according to the local media sources. His father Tracy Martin is a truck driver. Rowan Taylor, president of International Association of Firefighters Local 1403, wrote in an email statement that he disagrees with the demotion. "As union President, I believe this discipline is excessive. We will immediately file an appeal to an independent arbitrator," Taylor said.
A disciplinary report said that the comment altered the reputation of the Fire Rescue department. "The statement posted cast the subject in a negative light as well as brought ill repute to our entire organization as a result of the reference to 'my co-workers.'"
Beckmann, who said in an interview with the department that he was not the author of the post and rather copied it from what he thought was an editorial reply to a news article or blog. Beckmann, who has worked for the county since 1997, was promoted to lieutenant in 2002 and captain in 2006. He has previously been disciplined twice for reporting late to work and responding to an unauthorized email "sent to be humorous and not county business," according to his personnel record summary. Other officers involved in the case were asked to receive counseling for their "lack of official action," the attachment said.
Cradle-Grave Robbers!
Posted: Thurs. 4:30 p.m. CST, January 5, 2012 - Updated: Fri. January 6, 2012 - 9:12 AM PST
MILWAUKEE, WI (WCJB)
- Tim Russell, a former aide to Wisconsin's Republican Governor Scott Walker was charged with fraud on Thursday, accused of embezzling thousands of dollars from a fund for families of soldiers killed in Iraq and Afghanistan. Another man, Kevin Kavanaugh, also faces fraud and embezzlement charges linked to the case, while Russell's domestic partner, Brian Pierick, faces charges of child enticement that prosecutors said came to light in the investigation. Pierick, a staffer at the state Department of Public Instruction, was charged with child enticement and causing a child to expose his genitals. The Milwaukee County district attorney said the crimes were uncovered during the embezzlement investigation. Pierick works as an office operations assistant for education for homeless youth at DPI, according to the agency's website.
Russell (
pictured above, center
) who served as Walker's deputy chief of staff and then housing director of the Milwaukee County's Department of Health and Human Services, faces two felony counts and a misdemeanor count of embezzlement. Kavanaugh, who served on the Milwaukee County Veteran Service Commission, was charged with four counts of fraudulent writings and one count of embezzlement.
A criminal complaint alleges that Kavanaugh (
pictured left
) and Russell misappropriated funds from 2006 to 2009 from Operation Freedom, a military appreciation event held each year at the Milwaukee County Zoo. The complaint alleges Russell, who worked closely with Walker when he was Milwaukee County Executive, diverted more than $21,000 intended for Operation Freedom to his personal bank account and using some of the money to go on Hawaiian and Caribbean vacations. The criminal complaint also alleges other funds were used by Russell to attend a weekend political strategy session in December 2010 with Herman Cain and his chief of staff, Mark Block, to discuss Cain's now-defunct presidential campaign. Kavanaugh is alleged to have embezzled more than $42,000 from the Military Order of the Purple Heart, a charity involved in Operation Freedom. Milwaukee County District Attorney John Chisholm declined to comment on the charges or the ongoing probe, which began in 2010.
Clayton Diablo!
Posted: 7:25 p.m. PST - Friday, Dec. 9, 2011 - Updated: 3:25 p.m. PST - Saturday, Dec. 24, 2011
WALNUT CREEK, Calif.
— A Clayton middle school teacher was arrested Friday on suspicion of having sex with a former female student, a Walnut Creek Police Department sergeant said. At about noon, Walnut Creek detectives and Clayton police served a search warrant and an arrest warrant at Diablo View Middle School and arrested Andrew Bruce Cottrell (
pictured above, center
) who was a math and science teacher there. The 41-year-old Walnut Creek resident allegedly gave police a full confession. He was booked into Martinez Detention Facility on six counts of unlawful sexual intercourse with a minor, two counts of lewd acts with a victim who is 15-years or 14-years-old, and nine counts of oral copulation with a victim under 16-years-old. Walnut Creek police said Cottrell carried on a year-long sexual relationship with a former student, a girl between 14- and 15-years-old.
Earlier this week the girl's parents got suspicious. "The parents did discover some information that led them to believe there was a relationship between the two and at that time they contacted the police department," said Walnut Creek police detective Tom Cashion. Investigators said Cottrell and the underage girl had sex numerous times at his house in Walnut Creek,
and possibly even at the school
.
Steve Sherman has a daughter who goes to Diablo View Middle School, but she wasn't in Cottrell's class. "I'm thankful that my daughter didn't have him," he said Friday. "Just heard about it and it's awful." Cottrell's longtime neighbors were stunned to find out about the arrest. "He's a lovely guy," said Janet Abrams, a neighbor. "I've always thought he was a lovely guy and I'm shocked, absolutely shocked." Abrams said Cottrell is married and the couple has two little boys. "I'm mad at Bruce, but I'm sorry for Kelly and the boys," Abrams added.
After the arrest on campus, the school district sent out a phone message to parents explaining that children's safety is of paramount concern to the district. Police said they believe Cottrell only had a relationship with the one underage girl, but they would like parents to come forward if they think their child was victimized.
Cottrell was being held in jail on just under a million dollars bail. Media sources spoke with someone at Cottrell's home Friday night and she declined to give her name but said the situation was horrible.
Stereotypes!
Posted: November 23, 2011 Updated: November 29, 2011 | 12:38 PM PST
NEW YORK (WCJB)
- A Brooklyn teacher was arrested Tuesday night on charges she raped a sixth grader and gave him drugs and alcohol. According to the New York Daily News, Claudia Tillery, 42, was a humanities teacher at the middle school the boy attended. Police sources reportedly told the paper that Tillery and the boy, who is now 14, had been having a sexual relationship since 2009. The sources said the boy had recently ended the relationship and decided to come forward.
---
Reader Pageviews by Country
---
From: Jun 20, 2012 11:00 PM – Jun 27, 2012 10:00 PM
---
United States
•» 1,548
Russia
•» 35
Canada
•» 34
Germany
•» 34
United Kingdom
•» 33
France
•» 22
Australia
•» 20
Latvia
•» 12
Netherlands
•» 11
India
•» 10
---
«•
Thank you for visiting Corrupt Justice™. Enjoy our Free Movie Intermission! Don't forget to Bookmark Us & Tell A Friend! We're Global!
•»
---
Movie Intermission!
The Cold Case Murder!
Interrogation!
---
Description:
Los Angeles, CA – Lazarus was sentenced to 27 years to life in prison with the possibility of parole for killing her ex-boyfriend's wife nearly three decades ago in a fit of rage and jealousy. Prosecutors said in a "statement of views" filed in court that "Lazarus misused her police training in the most profound way imaginable by utilizing that training and experience to commit murder and to cover up her crime. Lazarus betrayed the trust placed in her by the Los Angeles Police Department and by people of Los Angeles in order to pursue her own murderous ends."
---
---