↓↓↓↓↓↓↓↓↓ Blog Post Starts Below ↓↓↓↓↓↓↓↓↓
---
Click on Banner to Sell Your Home(s)!
---
---
"Cops have already killed 550 people in 2015," prompting the response, "If they're black, it doesn't count."
-- December 2015 texts discovered on the phones of Santa Clara Sheriff Deputies.
Top News Story!
Internal Fecal Matter!
Posted: Nov. 6, 2016 | 01:03 pm PDT ~ Updated: Nov. 6, 2016 | 01:35 pm PDT
SAN ANTONIO, TX (WCJB)
-- Officer Matt Luckhurst was San Antonio police officer. Luckhurst was a five-year member of the San Antonio force and was assigned downtown bike duty. In May he reportedly made a "fecal sandwich" and placed it in a Styrofoam container. He left Styrofoam container next to a sleeping homeless man. He allegedly committed these acts while on bike patrol. The police tried to identify and locate the homeless man, to no avail. San Antonio Police Chief William McManus said Luckhurst bragged about it to his fellow officers. Luckhurst was turned in by his own colleagues.
The chief also said in the statement that Luckhurst has been fired. The chief also said: "This was a vile and disgusting act that violates our guiding principles of 'treating all with integrity, compassion, fairness and respect' The fact that his fellow officers were so disgusted with his actions that they reported him to internal affairs demonstrates that this type of behavior will never be tolerated. San Antonio Mayor Ivy Taylor said: "Firing this officer was the right thing to do. His actions were a betrayal of every value we have in our community and he is not representative of our great police force."
An investigation in to the incident started in May after Luckhurst allegedly bragged to a fellow officer about the sandwich. The officer told him to go back and remove it. However, another officer reported it to a supervisor. The department's internal affairs office was notified of the incident in July when the incident was reported to a supervisor. The investigation was taken to civilian and sworn review boards. The board recommended Luckhurst be suspended indefinitely.
Luckhurst's attorney said McManus has a history of suspending officers without having all the facts. The attorney also said: "There have been several arbitration [hearings] that I've had where what he alleges in the suspension turned out to be false. So let's not assume that what he says is true." Due to the fact there were no eye witnesses to the alleged event and no video tape, the attorney said he thinks Luckhurst will prevail in arbitration. "We're going to show this didn't happen the way the chief alleged."
"Another Nigger fried. No big deal."
-- April 16, 2011, Statement by
New York City Police Officer Michael Daragjati
, boasting of his false arrest of another African-American male.
Chief Thief!
Published: 07 Sept 2016 10:50 AM ~ Updated: 07 Sept 2016 07:03 PM PDT
DRISCOLL, CA
- Corrupt Justice™ has obtained exclusive video that sheds more light on a former police chief accused of stealing drugs from an evidence locker. Ex-Driscoll Police Chief Michael Cantu resigned over those allegations back in June. The security camera video footage from the police department does show him take items from a locker. From what we're told, it's a personal locker, not an evidence locker. However, the video also shows him mess around with a canister on a nearby desk. The cannister is allegedly filled with drugs used to train K-9's.
Cantu takes the canister away a few times. At one point he stuffs it under his shirt as he walks out of frame. He eventually returns the canister to the desk he got it from. As for the locker, he spends a lot of time there too. At one point, he takes a large plastic bag of items out of the room, though its contents are unclear. Eventually, he returns the bag to the locker. Again, we're told it's not an evidence locker.
It's also important to note that nowhere in the video do you physically see Cantu remove any drugs from either that bag or the canister. Cantu denies taking any drugs from the police department. However, he resigned over the allegations. He told the Driscoll City Council when he resigned: "All allegations against me are false and I disavow them totally, and I walk out with a clear conscience."
No charges have been filed against Cantu. We are told the Texas Rangers have concluded their investigation, and have turned the case over to the Nueces County District Attorney's Office for possible prosecution.
Dropped!
Published: 14 August 2016 10:50 AM ~ Updated: 16 August 2016 04:30 AM PDT
Ellis County, TX
-- A murder charge against an Irving man was dismissed last month after the suicide of one key investigator in his trial and the arrest of another. Inmer Obed Palma Garcia, an unauthorized immigrant from El Salvador, was charged in Ellis County on suspicion of his connection with a gang-related homicide in April 2013. Garcia was initially arrested on suspicion of his involvement in the April 6, 2013, killing of Henry Fabian Villatoro, 21, from Irving. Villatoro was found dead on the side of the road in the 600 block of Edmondson Road near Forreston in rural Ellis County. He was shot multiple times.
Police believe Villatoro's killing was gang-related. Five other suspects were also arrested. They are Abel Armando Martinez; Roberto Lopez-Martinez; Rafael Morales-Perez; Victoria Alejandra Velasquez Navarrete of Irving; and Fredy Abel Martinez-Rodriguez of Houston. All of the suspects were in the country illegally, according to a statement from the Ellis County sheriff's office. The suspects lured Villatoro into a car in Irving. They drove him to Ellis County and then shot him.
The charge against Palma Garcia was dropped July 14, 2016. He was subsequently taken into custody by immigration authorities to begin his deportation process. Garcia has another murder charge pending in El Salvador. The status of that case is unclear. Prosecutors say the charges against Garcia were dropped because two key investigators involved in the case are no longer available as witnesses. One of the investigators was Irving police Officer, Cesar Villanueva. Villanueva committed suicide in February in Plano, Texas. The other investigator is former Ellis County sheriff's Lt. Philip Slaughter, II. He was arrested in April of 2016. Slaughter, II is accused of stealing firearms from the department's evidence room and pawning them.
Ellis County District Attorney Patrick Wilson said: "Unfortunately, it is a perfect example of the old saying that delay benefits the defendants in the criminal justice system. That case has been pending for more than three years, and unfortunately in those three years a lot of difficulties arose with our case." Lindy Beaty is the chief felony prosecutor with the Ellis County district attorney's office. She said authorities aim to try the remaining five defendants on the same docket rather than individually.
"More Tears!"
Posted: May 29, 2015 at 5:12 a.m. | Updated: June 11, 2015 at 2:12 p.m. pdt
MINNEAPOLIS, MN
— Just before he was scheduled to get out of prison, a former Minneapolis police officer serving time for sexually assaulting adolescent girls he met online learned he'll be spending a few more years locked up.
Bradley Schnickel, 34, reportedly looked back at his wife with tears in his eyes after Anoka County District Judge James Cunningham resentenced him to 102 months in prison at a hearing Thursday, according to a spokesman with the Anoka County attorney's office.
He was originally sentenced last spring to 30 months plus credit for time already served, leaving him eligible for supervised release in June.
That release plan was dashed when the Minnesota Court of Appeals earlier this month ruled that the sentence—a significant downward departure from state sentencing guidelines—was not supported by the law.
The case was sent back to Cunningham on Thursday for resentencing.
Schnickel pleaded guilty in February 2014 to second-degree criminal sexual conduct, third-degree criminal sexual conduct, attempted third-degree criminal sexual conduct and two counts of electronic solicitation of a minor.
The father of two used an alias to troll social media sites for girls. After establishing contact, he began sexually charged conversations with the girls online, often sending them pictures of his genitalia. In two cases, he persuaded the teens to have sex with him.
He was employed as a police officer in Minneapolis at the time. The Minneapolis Police Department fired him shortly after his February 2013 arrest.
When sentencing him last spring, Cunningham said the remorse Schnickel displayed for his actions and his amenability to sex-offender treatment warranted the lower sentence, according to court documents.
The appellate court disagreed, finding, among other factors, that "offender-related factors" do not justify a lighter sentence.
Schnickel's defense attorney, Fred Bruno, could not be reached for comment Thursday.
"More SS Scams!"
Posted: 7:41 PM EST, Tue February 25, 2014 | Updated: 9:41 PM PST, Tue February 25, 2014
New York (WCJB)
-- New York prosecutors Tuesday announced the
indictments
of an additional 32 people in a multimillion-dollar Social Security fraud scheme that involved retired cops and firefighters who falsely claimed to have suffered from post-traumatic stress disorder after the 9/11 terrorist attacks.
"Dozens of additional defendants have been charged with fabricating psychiatric conditions in order to fraudulently obtain Social Security disability insurance, a critically important social safety net reserved for those truly in need," Manhattan District Attorney Cyrus Vance, Jr., said in a statement. "These defendants are accused of gaming the system by lying about their lifestyle, including their ability to work, drive, handle money, shop, and socialize, in order to obtain benefits to which they were not entitled."
The scandal first broke in January when the Manhattan prosecutors, the U.S. Department of Homeland Security Investigations and New York police announced the indictments of 106 people, including many retired police and firefighters, for allegedly scamming the Social Security system by collecting insurance payments when they weren't fully disabled.
Of the 32 newly
indicted defendants
, at least six had pleaded not guilty Tuesday afternoon while others were expected to appear in court later.
Sixteen of the new defendants were also collecting pension as retirees of the New York City Police Department, four from the New York City Fire Department, one from both the NYPD and FDNY, and one from the Department of Corrections, prosecutors said.
All the defendants previously arrested in the case have pleaded not guilty.
Prosecutors have said in their cases that more than half the defendants received funds for fraudulent claims of post-traumatic stress disorder in the wake of the September terror attacks on the World Trade Center.
The alleged scam spanned more than two decades, with law enforcement officers and firefighters coached on how to behave during doctor visits to qualify for full disability benefits, officials said.
The defendants received up to $50,000 a year because, they claimed, they were no longer able to work, officials said. Many of the claims allegedly involved work-related trauma caused by the 9/11 terror attacks. The 9/11-related claims alone totaled hundreds of thousands of dollars.
Prosecutors said four men at the center of the case directed and coached hundreds of Social Security Disability Insurance applicants, including many retirees of the New York police and fire departments, to lie about psychiatric conditions in order to obtain benefits.
Prosecutors said the defendants were meticulously instructed on how to fail memory tests with plausibility, how to dress and how to behave. Nearly every application included identical descriptions of daily living.
The leaders of the scheme allegedly collected one-time cash payments based on the monthly disability awards, ranging from approximately $20,000 to $50,000, prosecutors said.
Some of those charged had gone on to hold other jobs, even though the full disability they received involved a diagnosis that they were so traumatized they were incapable of performing any kind of work, officials added.
In some instances, prosecutors said, the total amount fraudulently obtained was nearly $500,000 per applicant. The average Social Security disability Insurance payment to date for the defendants, which included retroactive lump sum payments, was about $210,000.
"SS Scams!"
Posted: Friday, January 3, 2014, 2:30 AM EST | Updated: Saturday, January 3, 2014, 9:53 PM PST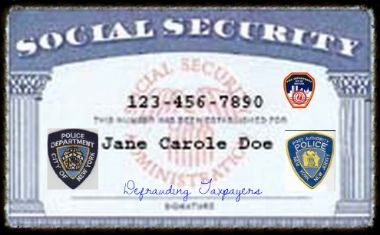 New York
-- More than 100 suspected scammers — most of them retired city cops and firefighters — could be arrested as soon as next week for making bogus claims of stress-related illnesses to bilk Social Security for big bucks, the Daily News has learned. They allegedly maintained that they were too wigged out to work when, in reality, they were mentally and emotionally fit, sources told The News. At least some of the former NYPD and FDNY members targeted in the probe benefit from 9/11 pensions, according to sources.
The Manhattan district attorney's office is expected to announce the arrests next week, the sources said. The alleged scammers include at least two doctors and a number of steerers who directed people seeking a disability diagnosis to the crooked medics, sources said. For each "patient," the doctors and steerers collected a kickback, sources said.
The probe began after Social Security officials grew suspicious about a spate of similar diagnoses and alerted the feds, who initially balked at launching a full-fledged investigation.
After the DA's office took on the case, an informant told their rackets bureau investigators that at least one of the alleged scammers was a retired cop who still had his gun permit. Retired officers cannot possess guns if they are under a doctor's care for a stress-related or mental-health issue. The NYPD's Internal Affairs Bureau then joined in the investigation and found other retired cops were involved in the scam, the sources said. Social Security disability benefits, under federal law, should only be approved for a person who cannot adjust to another type of job.
Posted: Tuesday, January 7, 2014, 2:30 AM EST | Updated: Monday, January 13, 2014, 12:00 AM PST
New York
-- The retired New York City police officers and firefighters showed up for their psychiatric exams disheveled and disoriented, most following a nearly identical script. They had been coached on how to fail memory tests, feign panic attacks and, if they had worked during the Sept. 11, 2001, terrorist attacks, to talk about their fear of airplanes and entering skyscrapers, prosecutors said. And they were told to make it clear they could not leave the house, much less find a job. But their
Facebook pages
told investigators a starkly different story, according to an indictment and other court papers. Former police officers who had told government doctors they were too mentally scarred to leave home had posted photographs of themselves fishing, riding motorcycles, driving water scooters, flying helicopters and playing basketball.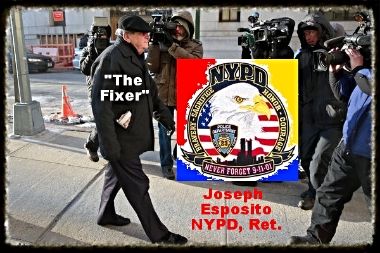 On January 7, 2014, Manhattan District Attorney Cyrus R. Vance, Jr., announced the indictment of 106 defendants for a massive fraud against the federal Social Security Disability Insurance Benefits ("SSDI") program that resulted in the loss of hundreds of millions of dollars from federal taxpayers. The four principal defendants, RAYMOND LAVALLEE, 83, THOMAS HALE, 89, JOSEPH ESPOSITO, 64
(pictured above, center)
and JOHN MINERVA, 61, are accused of directing hundreds of SSDI applicants, including many retirees of the NYPD and FDNY, to lie about their psychiatric conditions in order to obtain benefits to which they were not entitled. They are charged with Grand Larceny in the First and Second Degrees, and Attempted Grand Larceny in the Second Degree. The remaining 102 defendants, all SSDI recipients, are charged with Grand Larceny in the Second Degree and Attempted Grand Larceny in the Second Degree. The investigation is continuing.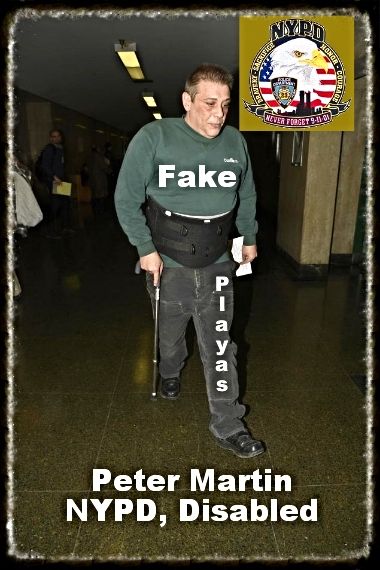 "The brazenness is shocking," Vance Jr., the Manhattan district attorney, said on Tuesday. "For years, federal taxpayers have unwittingly financed the lifestyles of the defendants charged today," said District Attorney Vance. "The Social Security Disability safety net exists to help those who are unable to help themselves. Many participants cynically manufactured claims of mental illness as a result of September 11th, dishonoring the first responders who did serve their City at the expense of their own health and safety. This alleged scam further depleted the already limited resources available for battling the real and complex conditions of PTSD and depression. I commend the excellent work of the federal agents from the Social Security Inspector General's office, who worked with Assistant District Attorneys and detective investigators in my office, as well as seasoned detectives from the NYPD's Internal Affairs Bureau, to crack this decades-long scam."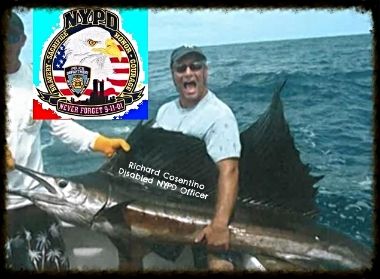 The online photos, along with intercepted phone calls and the testimony of undercover officers, were evidence of what officials said was the largest fraud ever perpetrated against the Social Security disability system, a scheme stretching back to 1988 in which as many as 1,000 people — many of them officers and firefighters already collecting pensions from the city — were suspected to have bilked the federal government out of an estimated $400 million. "It's a particularly cynical part of the charged scheme that approximately half the defendants falsely claimed that their psychiatric disabilities were caused by the 9/11 attacks," Mr. Vance said at a news conference.
Although many of the NYPD and FDNY applicants had limited physical disabilities that legitimately entitled them to state disability pensions, these physical conditions did not entitle them to SSDI, which requires a complete inability to work. For that reason, according to the charges, to overcome the SSDI threshold, the applicants, with the help and direction of ESPOSITO, HALE, MINERVA and LAVALLEE, created false psychiatric conditions, typically depression, anxiety, or post-traumatic stress disorder ("PTSD").
HALE and ESPOSITO are accused of coaching applicants to falsely describe symptoms of depression and anxiety to doctors they had recruited, in order to build a record of psychiatric treatment over the course of approximately one year. Esposito, who retired from the Police Department in 1990, coached the applicants to act symptomatic during exams conducted by psychiatrists for the Social Security Administration. Specifically, they instructed applicants on how to fail memory tests with plausibility, how to dress, and on their demeanor. Almost every application included identical descriptions of the applicants' activities of daily living, such as:
•» "I nap on and off during the day."
•» "I have the TV on to keep me company."
•» "I was a healthy, active, productive person."
•» "I'm up and down all night long."
•» "My [family member] is always after me about my grooming."
•» "I'm unable to perform any type of work activity in or out of the house."
In one secretly recorded telephone conversation, Mr. Esposito told an applicant to misspell words and miscalculate simple arithmetic, and to say that she kept the television on at home "just to hear a voice in the house," but to emphasize that she kept changing channels because she could not focus. "When you're talking to the guy, don't look directly at him," Mr. Esposito said, according to a transcript of the conversation in the bail letter. "You know, pause for a second. You're just trying to show that, you know, you're depressed. You, you can't, you, you don't have any desire for anything, and if you can, you pretend you have panic attacks." With Mr. Esposito's coaching, the applicants would go to the psychiatrists for a year to build a false record of mental instability before applying for benefits. Mr. Hale then filled out the applications in cookie-cutter fashion, using the same phrases, like, "I don't have interest in anything," and "I am up and down all night long."
Before filing their SSDI applications, according to the charges, none of the defendants had a history of a psychiatric condition that would qualify them for SSDI benefits. Many of the 72 city police officers and eight firefighters named in the 205-count indictment had blamed the Sept. 11 attacks for what they described as mental problems: post-traumatic stress disorder, anxiety and severe depression. Investigators said the accused were living full lives and in many cases were holding jobs in private security, construction and landscaping. While collecting their cash benefits, many of the applicants lived lifestyles that starkly contradicted the representations made on their applications. Several of the defendants documented their activities on
Facebook
.
---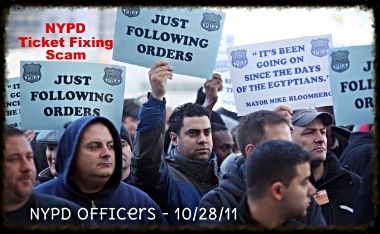 Hundreds of off-duty officers gathered on Friday (October 28, 2011) at the Bronx County Hall of Justice, backing 16 colleagues in a ticket-fixing case. A three-year investigation into the police's habit of fixing traffic and parking tickets in the Bronx ended in the unsealing of indictments on Friday and a stunning display of vitriol by hundreds of off-duty officers, who converged on the courthouse to applaud their accused colleagues and denounce their prosecution. As 16 police officers were arraigned at State Supreme Court in the Bronx, incensed colleagues organized by their union cursed and taunted prosecutors and investigators, chanting "Down with the D.A." and "Ray Kelly, hypocrite."
---
One defendant piloted a helicopter, one worked at a cannoli stand at the San Gennaro Festival in Manhattan, one rode a jet ski and one taught mixed martial arts. Most defendants claimed they could not use a computer, but many had
Facebook pages
,
Twitter
handles and
YouTube channels
.
Applicants were typically awarded SSDI benefits approximately between three and 12 months after submitting their applications. Initial award were paid to the applicants in the form of lump sum payments that included a retroactive award going back up to 12 months from the application filing date. The retroactive portions could be as high as $100,000. The recipients then continue to receive monthly payments.
According to the indictment, after the retroactive awards were deposited into the applicants' accounts, ESPOSITO and MINERVA instructed the applicants to withdraw cash from the bank in in increments under $10,000, so that the withdrawals would not raise suspicion or require the filing of currency reports with the federal government. Applicants then made cash payments to ESPOSITO or MINERVA, who in turn transferred the money to HALE and LAVALLEE. These one-time cash payments were based on the applicants' monthly awards, and ranged from approximately $20,000 to $50,000.
In addition to a portion of the secret kickbacks, LAVALLEE also received $6,000 directly from the government for attorney's fees for each applicant. Applicants then continue to collect their monthly fraudulent disability payments, which ranged from approximately $2,000 to $5,000 per month, depending on the number of dependents within the beneficiary's household.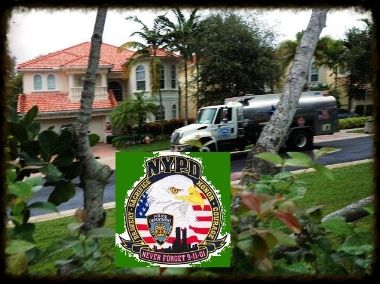 Glenn Lieberman, who prosecutors said illegally collected more than $175,000 in Social Security disability payments since 2009 by claiming he was too wigged out to work as a city cop, rents a $1.5 million waterfront mansion (
pictured above, center
) in an exclusive Florida gated community. Not only does Lieberman's crib have an in-ground pool in the backyard, it also has a dock where he moors one of his two Jet Skis, a neighbor said.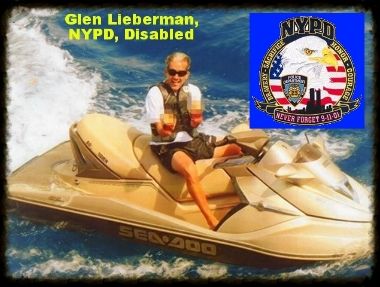 "The infamous Jet Ski and the double Italian digits was seven years ago in the Mediterranean, long before (Lieberman) ever applied for any disability," he said. Lieberman, 44, has become the talk of his highfalutin' 'hood in Palm Beach Gardens, where he lives with wife Mirla Sanchez and their two young kids. Lieberman and 81 other ex-cops, firefighters and corrections officers allegedly soaked taxpayers for $21.3 million by lying that they had stress-related injuries.
In Oakwood Beach, Staten Island, a neighbor of 43-year-old ex-cop Vincent Lamantia's was stunned after learning he was accused of illegally collecting more than $148,000 in disability. "He's a good neighbor, he's a good guy, he has four young boys," said 72-year-old Lorraine Kendell. The former cop who got the most money was identified in court papers as Francis Palmeri, 53, of Wantagh, L.I. From March 1997 through June 2013, he collected a whopping $451,684.70, the papers show.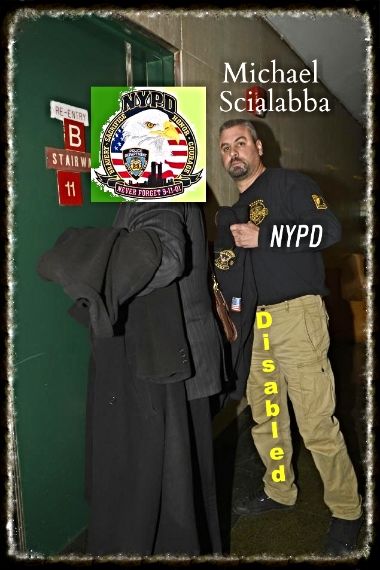 Scores of former police officers and firefighters were arrested on Tuesday and brought in handcuffs to State Supreme Court in Manhattan, where they were arraigned before Acting Justice Daniel Fitzgerald on charges of grand larceny. They are accused of collecting between $30,000 and $50,000 a year.
Defendant Information:
RAYMOND LAVALLEE, Massapequa, NY, D.O.B. 7/6/1930
Charges:
•» Grand Larceny in the First Degree, a class B felony, one count
•» Grand Larceny in the Second Degree, a class C felony, 101 counts
•» Attempted Grand Larceny in the Second Degree, a class D felony, one count
THOMAS HALE, Bellmore, NY, D.O.B. 4/14/1924
Charges:
•» Grand Larceny in the First Degree, a class B felony, one count
•» Grand Larceny in the Second Degree, a class C felony, 101 counts
•» Attempted Grand Larceny in the Second Degree, a class D felony, one count
JOSEPH ESPOSITO, Valley Stream, NY, D.O.B. 12/28/1949
Charges:
•» Grand Larceny in the First Degree, a class B felony, one count
•» Grand Larceny in the Second Degree, a class C felony, 101 counts
•» Attempted Grand Larceny in the Second Degree, a class D felony, one count
JOHN MINERVA, Malverne, NY, D.O.B. 7/21/1952
Charges:
•» Grand Larceny in the First Degree, a class B felony, one count
•» Grand Larceny in the Second Degree, a class C felony, 101 counts
•» Attempted Grand Larceny in the Second Degree, a class D felony, one count
Mr. Lavallee and Mr. Hale were each released on $1 million bail, while Mr. Esposito posted $500,000 and Mr. Minerva put up $250,000.
GEORGE BYRNES, Nassau, NY, D.O.B. 2/22/1955
Charges:
•» Attempted Grand Larceny in the Second Degree, a class D felony, one count
•» Criminal Facilitation in the Fourth Degree, a class A misdemeanor, one count
DEFENDANTS 6-106 (Listed below) Charges:
•» Grand Larceny in the Second Degree, a class C felony, one count each
•» Criminal Facilitation in the Fourth Degree, a class A misdemeanor, one count each
ANN MARIE AGLIALORO, D.O.B. 12/22/1958, Staten Island, NY
CHRISTOPHER AGOGLIA, D.O.B. 9/14/1962, Brooklyn, NY
JOHN AREZZO, D.O.B. 5/28/1946, Staten Island, NY
DONALD AVENOSO, D.O.B. 9/1/1956, Staten Island, NY
MICHAEL BARTON, D.O.B. 8/29/1958, Queens, NY
PHILLIP BLESSINGER, D.O.B. 8/2/1950, Martin, FL
SHELDON BRATTON, D.O.B. 8/26/1956, Brooklyn, NY
TYRONE BREEDEN, D.O.B. 10/4/1957, Queens, NY
DERMOT BRESLIN, D.O.B. 4/23/1954, Westchester, NY
NINFA BRUNETTO, D.O.B. 12/2/1965, Lackawanna, PA
JOHN BYRNE, D.O.B. 8/30/1966, Queens, NY
BRIAN CAREY, D.O.B. 9/27/1965, Orange, NY
ARTRAILYES CARTER, A/K/A DENISE CARTER, D.O.B. 10/26/1960, Queens, NY
JOHN CATUOSCO, D.O.B. 8/13/1969, Suffolk, NY
JOHN CLOSS, D.O.B. 2/9/1969, Monmouth, NJ
JOHN COLOMBI, D.O.B. 7/7/1967, Douglas, CO
EDWIN COLON, D.O.B. 7/26/1962, Orange, FL
DANIEL CONKLIN, D.O.B. 2/21/1967, Orange, NY
JACQUELINE CONNOLLY, D.O.B. 12/23/1956, Queens, NY
RONALD CONNOR, D.O.B. 4/17/1967, Palm Beach, FL
RICHARD COSENTINO, D.O.B. 2/25/1964, Rockingham, NH
EDWARD CURLEY, D.O.B. 1/23/1958, Suffolk, NY
DAVID CZARK, D.O.B. 3/22/1959, Horry, SC
THOMAS DAMON, D.O.B. 7/7/1966, Staten Island, NY
MICHAEL DEMARTINO, D.O.B. 12/7/1963, Brooklyn, NY
THOMAS DINKELACKER, D.O.B. 5/15/1959, Nassau, NY
ROBERT DONALDSON, D.O.B. 9/18/1961, Virginia Beach, VA
MUSTAFA DUFAN, D.O.B. 2/1/1963, Broward, FL
RALPH EHRESMAN, D.O.B. 12/31/1962, Fort Mill, SC
JOHN FAMULARO, D.O.B. 11/29/1955, Nassau, NY
GLENN GALANOS, D.O.B. 12/10/1968, Mecklenburg, NC
KAREN GALIMI, D.O.B. 12/24/1964, Queens, NY
KEVIN GALIMI, D.O.B. 4/14/1963, Queens, NY
THOMAS GALIMI, D.O.B. 5/22/1961, Orange, NY
VINCENT GERGENTI, D.O.B. 6/4/1955, Orange, NY
JACK GIANCASPRO, D.O.B. 1/1/1950, Bronx, NY
DANIEL GONZALEZ, D.O.B. 3/11/1981, Brooklyn, NY
SCOTT GRECO, D.O.B. 2/23/1964, Nassau, NY
WILLIAM GROSS, D.O.B. 10/10/1962, Orange, NY
PAUL HANSEN, D.O.B. 6/19/1978, Suffolk, NY
RAYMOND HERLIHY, D.O.B. 5/23/1948, Westchester, NY
KERAN HOWARD, D.O.B. 8/2/1965, Nassau, NY
DONALD HUNTER, D.O.B. 5/29/1951, Suffolk, NY
KEVIN HURLEY, D.O.B. 2/29/1960, Orange, NY
LOUIS HURTADO, D.O.B. 11/5/1953, Pasco, FL
DARLENE ILCHERT, D.O.B. 11/22/1964, Nassau, NY
PETER INZERILLA, D.O.B. 5/24/1973, Queens, NY
JODI ISOLANO, A/K/A JODI GIUDICE, D.O.B. 6/21/1978, Queens, NY
TRACY JACKSON, D.O.B. 6/9/1964, Union, NC
TERRANCE JOHNSON, D.O.B. 1/20/1962, Orange, NY
JOHN KELLETT, D.O.B. 12/9/1961, Nassau, NY
HELEN KRILL, D.O.B. 3/18/1955, Queens, NY
MICHAEL KULL, D.O.B. 8/5/1967, Orange, NY
DARRIN LAMANTIA, D.O.B. 6/22/1957, Queens, NY
VINCENT LAMANTIA, D.O.B. 10/8/1970, Staten Island, NY
THOMAS LAROSA, D.O.B. 5/26/1951, Brooklyn, NY
GLENN LIEBERMAN, D.O.B. 9/21/1965, Palm Beach, FL
CHRISTOPHER LISANTI, D.O.B. 12/1/1970, Suffolk, NY
DAVID LOPEZ, D.O.B. 1/18/1966, New York, NY
TERRANCE MAGANOS, D.O.B. 4/17/1963, Nassau, NY
ANTHONY MAHER, D.O.B. 5/19/1970, Pima, AZ
EDWARD MAHONEY, D.O.B. 11/9/1947, Nassau, NY
DANIEL MALLO, D.O.B. 7/26/1965, Fort Mill, SC
FRANCIS MARINO, D.O.B. 1/4/1971, Suffolk, NY
PETER MARTIN, D.O.B. 8/3/1964, Queens, NY
JOHN MASSONI, D.O.B. 10/13/1964, Staten Island, NY
JAMES MATAMOROS, D.O.B. 6/28/1958, Hillsborough, FL
LAUREN MAZZA, D.O.B. 8/20/1968, Staten Island, NY
GERARD MCCARTHY, D.O.B. 8/13/1966, Suffolk, NY
KEVIN MCCULLAGH, D.O.B. 11/24/1958, Queens, NY
JOHN MCGARRY, D.O.B. 7/2/1963, Queens, NY
ARLENE MELLETT, D.O.B. 2/18/1960, Nassau, NY
SALVATORE MORIELLO, D.O.B. 5/10/1962, Nassau, NY
ROBERT MORRISSEY, D.O.B. 7/25/1954, Suffolk, NY
JOSEPH MORRONE, D.O.B. 5/24/1953, New York, NY
ARNOLD MOSKOWITZ, D.O.B. 2/22/1947, Queens, NY
JERIMIAH MOYNIHAN, D.O.B. 12/3/1968, Suffolk, NY
LEONARD NARDUCCI, D.O.B. 5/14/1960, Ocean, NJ
MERGIN NESIMI, D.O.B. 12/30/1971, Brooklyn, NY
MICHAEL NUZZI, D.O.B. 11/26/1961, Nassau, NY
TERRANCE O'HARA, D.O.B. 8/1/1976, Suffolk, NY
JOHN OROSZ, D.O.B. 3/10/1971, Staten Island, NY
FRANK PALMERI, D.O.B. 9/1/1960, Nassau, NY
JAMES PATE, D.O.B. 10/1/1971, St. Johns, FL
JOSEPH POLITE, D.O.B. 5/29/1964, Suffolk, NY
DANIEL POLLICINO, D.O.B. 12/31/1965, Suffolk, NY
THOMAS PONZO, D.O.B. 6/5/1963, Nassau, NY
JOHN QUINN, D.O.B. 10/23/1963, Broward, FL
LIANA RIVERA, A/K/A LIANA BENITEZ-RIVERA, D.O.B. 2/15/1970, Martin, FL
MICHAEL ROCCO, D.O.B. 9/10/1959, Queens, NY
SAMUEL RUSHING, D.O.B. 6/23/1971, Queens, NY
MATTHEW SALMON, D.O.B. 9/16/1961, Suffolk, NY
JOHN SALVATO, D.O.B. 4/28/1962, Nassau, NY
MICHAEL SCIALABBA, D.O.B. 7/19/1970, Suffolk, NY
NICHOLAS SECCHI, D.O.B. 10/10/1963, Nassau, NY
JOHN SENESE, D.O.B. 2/28/1967, Georgetown, SC
JOHN STEFANOWSKI, D.O.B. 9/8/1963, Nassau, NY
ANDRE STENNETT, D.O.B. 4/30/1962, Lexington and Richland, SC
SHANNON TUMMINELLO, D.O.B. 10/20/1972, Lee, FL
LARRY WILTBANK, D.O.B. 5/28/1958, Ocean, NJ
SIDNEY YOUNG, D.O.B. 4/3/1959, Castle, DE
WWF Smackdown!
Posted: 10/30/2013 3:40 pm EDT | Updated: 11/6/2013 12:48 pm PST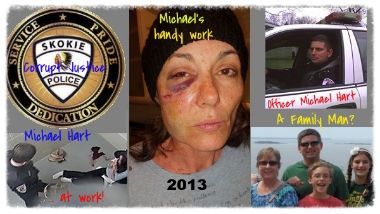 Skokie, Ill.
- Michael Hart, a Skokie, Ill. police officer, has been charged with felony aggravated battery and official misconduct. Hart was captured pushing a female arrestee into a jail cell, resulting in the woman sustaining multiple serious facial injuries. According to Cook County State's Attorney Anita Alvarez, officer Hart, 43, of Gurnee, Ill., "became irate" after helping with the fingerprinting and photographing of 47-year-old Cassandra Fuerstein. Fuerstein had been disregarding Hart's commands, prosecutors say. Hart then shoved the 110-pound Chicago woman into a concrete bench during her March 10 arrest on DUI charges. The attack shattered several bones in Fuerstein's face and the woman required reconstructive surgery including a titanium plate in her cheek, according to media sources. She also has had vision and dental problems since the shoving.
Video of the shoving was released earlier this month by Feuerstein's attorney after Feuerstein filed a federal civil rights lawsuit against the officer. The video prompted an outcry and over 1,000 people signed a petition calling for Hart's arrest. Hart was ordered held on $75,000 bond and faces up to five years in prison if convicted. Hart's attorney told media sources his client "cannot believe after 19 years of serving Skokie that his career has come to an arrest. … I don't think pushing her into a cell is a crime."
As a result of the charges, Skokie officials have put Hart on administrative leave while they complete an internal investigation that could lead to disciplinary action. Hart filed a complaint against Feuerstein after the incident for resisting a peace officer. Those charges were later dismissed after Cook County prosecutors reviewed the evidence. Feuerstein pleaded guilty to drunk driving.
$500 Ma'am, or ...!
Posted: Monday, October 7, 2013, 6:31 pm PDT - Updated: 10/31/2013 03:35:32 AM PDT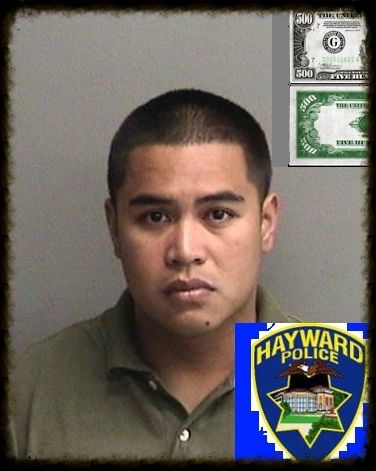 Hayward, CA
-- A Hayward police officer solicited a $500 bribe from a suspect in exchange for letting the woman slide in a prescription forgery case, authorities said.
Romeo Aberin, 30, was arrested Monday after Alameda County prosecutors charged him with extortion under color of authority and receiving a bribe by an executive officer, both felonies. Aberin, a patrol officer since joining the department in 2007, posted $50,000 bail and turned in a letter of resignation, officials said.
Michael Rains, Aberin's attorney, said his client is an Army veteran and married father of two who has served on the SWAT team and has "an outstanding reputation for being diligent and very ethical. The conduct charged is really antithetical to the sort of reputation he has enjoyed in the department."
Aberin chose to resign because it was the "more honorable thing to do," Rains said, adding he would not permit his client to be interviewed by internal affairs given the pending criminal case.
The case stems from an investigation last month in which Aberin interviewed Tammy Spencer, an employee of a clinic, and determined that she had stolen blank prescription pads and forged prescriptions for friends, police said.
Instead of arresting Spencer, Aberin tried to use her as a confidential informant, telling her that she had two weeks to come up with information relating to drug trafficking and money laundering, police officials said.
However, Aberin "never notified the department of his actions or intent" and failed to follow policies mandating how officers deal with informants, said Hayward police Sgt. Mark Ormsby.
Two weeks later, on Sept. 13, Aberin allegedly arranged to meet Spencer at her workplace. The two met while Aberin was off duty, and he reminded her of what he wanted from her, officials said.
"When the victim advised Aberin there was no useful information to give him, he proceeded to ask for cash in exchange to dismiss reporting any criminal activity against the victim," Ormsby said. "Out of fear and duress, the victim complied."
Authorities said Spencer gave Aberin $500 that she withdrew from an ATM, police said, while secretly recording the interaction on her cell phone.
The next day, she reported Aberin to the San Leandro Police Department. Aberin admitted to taking the $500 but "contended she provided the money willingly," investigators said in an affidavit. Spencer was not arrested.
Aberin's arrest comes nine days after Livermore police arrested another Hayward officer, Richard McLeod, 38, on charges that he abused numerous girls when he previously worked as a teacher at an after-school program in Livermore. McLeod is being held without bail.
Hayward Police Chief Diane Urban said Monday that the response to the bribery allegation "reflects our enduring commitment to ensure criminal behavior is not tolerated."
Fabrication Patrols
Posted: Oct 17, 2013 3:32 PM PDT - Updated: 4:16 PM PDT, Sat. October 19, 2013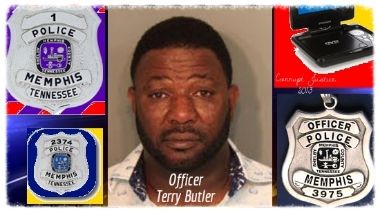 MEMPHIS, TN - (WCJB)
- Terry Butler, a Memphis police officer, is accused of wrongfully arresting two men after fabricating evidence against them. According to investigators, Officer Butler was off duty when he tried to frame two innocent men for a break-in that happened at his girlfriend's house. The woman's home was robbed several days before the arrests, but a DVD player the two men were "caught" with in their car that was not actually stolen from her home. The affidavit of complaint says that Butler called his girlfriend and gave her the serial number of the DVD player the two men had in their possession. He reportedly told her to claim it as property that was stolen during the break-in.
Officials confirmed that the woman told investigators she followed his directions because Butler had threatened her before. "Once we investigated, we found the facts that he coerced her," said Memphis Police Director Toney Armstrong. Armstrong added that MPD is better off since Butler's arrest because framing people is not an MPD practice. "I know when these things come up you might think I'm embarrassed but I'm not, it's been my contention since I've been here to weed out those that don't deserve to be here," said Armstrong.
The two men arrested in the burglary were released without being charged. Meanwhile, Butler was indicted for official misconduct, official oppression, and tampering with evidence.
Butler is on "non-enforcement status" after posting $10,000 bond. He has been employed with MPD for 13 years.
Chief Thief!
5:05 am - August 23, 2013 — Updated: 2:46 pm PDT - August 24, 2013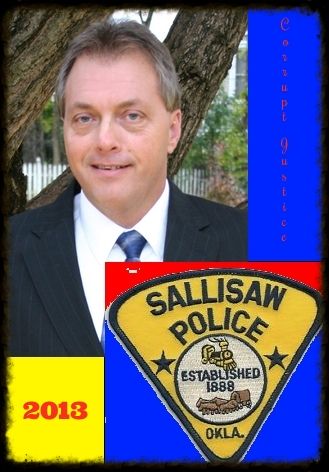 SALLISAW, Okla.
— Special District Judge Holli Wells filed an order and permanent injunction this week in Sequoyah County District Court, ordering Sallisaw city administrators not to interfere with the powers and duties of elected Police Chief Shaloa Edwards.
Wells previously directed city administrators in an Aug. 6 order to allow Edwards to resume his departmental supervisory duties. He returned to his duties on Aug. 7. That order stated that the city had violated Edwards' due process rights by not following provisions set out in state law and the Sallisaw city charter regarding removing elected officials from office.
Edwards was first elected to the office in 2005, and the position is up for re-election in February.
At the Aug. 13 Board of Commissioners meeting, following a 1½-hour executive session, the commissioners voted unanimously to appeal the court order to the Oklahoma Court of Civil Appeals.
The city received a copy of the final order, and city attorney John Robert Montgomery is working on the appeal and arguments supporting it, Mayor Shannon Vann said Thursday. Vann said he thinks the city has 30 days within which to file the appeal.
Vann has said the city administrators want the higher court to clarify how the city charter should be interpreted regarding who has control of city departments. He said the section of the charter stating that the city manager has control of all departments does not exclude the police department, and the supervisory issue predates Edwards' tenure in office.
The city commissioners originally suspended Edwards' departmental oversight authority for 90 days after amending a city ordinance on Feb. 11 to enable City Manager Bill Baker to assume supervision of the Sallisaw Police Department while an investigation continued into an allegation Edwards took $60 of public money for personal use. The commission subsequently extended the suspension in May and July.
Edwards faces a felony embezzlement of public money charge for allegedly taking the money from a departmental fund, then leaving an I.O.U. in its place. He later repaid the money, city officials said.
Edwards has said he didn't know borrowing from the fund was wrong. He said he thought it was a petty cash fund.
Wells set Edwards' preliminary hearing in the embezzlement case for 9 a.m. Sept. 24. Edwards pleaded not guilty at his April 24 arraignment.
Rank-n-File Thief!
5:05 am - August 23, 2013 — Updated: 2:47 pm PDT - August 24, 2013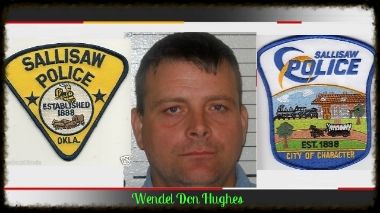 SALLISAW, Okla.
— The trial of a former Sallisaw police officer accused of 31 counts of stealing livestock will be held during Sequoyah County District Court's Sept. 9 trial docket.
"Wendel Hughes I'm setting for trial," District Judge Jeff Payton said Thursday.
Wendel Don Hughes, 38, of Sallisaw faces multiple charges of larceny of domestic animals — 178 head of cattle and a horse. His Defense attorney said he hasn't yet been told the specific day Hughes will be scheduled for trial during the two-week docket.
Hughes had served with the Sallisaw Police Department for eight years when the charges were filed on Jan. 5, 2011. Police Chief Shaloa Edwards initially suspended Hughes from duty, then fired him in February 2011 after Hughes accidentally shot himself and then blamed Mark Sweeney, the alleged victim of the cattle thefts.
An intimidation of a witness charge in the accidental shooting was later dismissed, and at his August 2012 arraignment, Hughes pleaded not guilty to the livestock thefts.
The District Attorney's Office alleges Hughes sold the cattle under his own name at area livestock sales barns, and alleges Hughes delivered the horse to a friend in Virginia.
At Hughes' April 2012 preliminary hearing, Sweeney testified that he gave one cow to Hughes, but never gave him permission to sell the Sweeney cattle under his own name.
Aggie-nizing!
Posted: 06/29/2012 - Updated: July 1, 2012 09:58 PM PDT
College Station, Texas
-- A former officer with the Texas A&M University Police has been charged with burglarizing campus buildings. 54-year-old John Calvin Phillips
(pictured below, left)
was caught on surveillance video making three separate trips into the Texas A&M English department on January 2011, through a locked door by using a key. Once inside, Phillips can be seen stealing two cameras, a projector, and three camcorders, according to a police report.
Police said another burglary occurred June 11 in the Liberal Arts Department at the Blocker Building where a digital camera, sewing machine, multi-meter and a theatrical prop gun pistol were stolen. Several of the stolen items were later found at EZ Pawn in Bryan and at the Cash American pawn shop in College Station, authorities said. Pawn shop records reveal that all items were pawned by Phillips. In total, Phillips pawned more than 40 items over the past year, authorities said. Authorities have charged Phillips with two counts of burglary of a building, each a state jail felony punishable by up to two years in prison and a $10,000 fine. Phillips remained in the Brazos County Jail on Friday in lieu of $10,000 bail. John Phillips worked for the University Police Department from January 1978 until February 2007. Police said that since Phillips was employed by the university for several years, he would have had opportunities to come across building keys that might have been unattended.
No Boundaries!
First Posted: Feb 14, 2012 - Updated: 2:02 PM, PST, Feb. 24, 2012
Orange, CA
-- Sheriff's Deputy Jennifer McClain, 29, a black woman, was arrested for having sex with Inmate. The inmate, Christopher R. Brown, 30 (
pictured below, center
) is a member of a white supremacist gang. McClain was assigned to work in the Men's Central Jail in Santa Ana. McClain, a five-year veteran deputy with the Orange County Sheriff's Department, is accused of having sex with the male inmate at the Men's Central Jail where she worked. She has not been explained how this unlikely partnership, was forged. McClain (
pictured right
) was booked in the Santa Ana city jail and released from custody on her own recognizance. No formal charges have been filed but prosecutors are "still investigating" the matter and will announce any filing decisions on a future date.
McClain was arrested Thursday night after the inmate told authorities he had consensual sex with the officer. Authorities said the alleged crime took place between November and December of last year in the intake release center while McClain, who is a single mother of a young child, was on duty. Investigators are alleging that McClain and inmate Brown had "sex more than once" during November and December.
McClain, who was arrested while on duty, was released from custody on her own recognizance. She is currently on paid leave from the department.
SRPD Thievery!
First Posted: Jan 26, 2012 - Updated: 3:24 PM, PST, Feb. 23, 2012
SAN RAMON, CA (WCJB)
– Former San Ramon Police Officer Louis Lombardi pleaded guilty Thursday to stealing drugs, money and property while serving search warrants and making arrests. It's all part of the scandal in Contra Costa County involving the former top narcotics cop and a private detective.
It took an hour for Lombardi, 39 (
pictured below, center
) to admit guilt to nearly one dozen federal charges that took place while he was a member of the Contra Costa Narcotics Enforcement Task Force, or CNET. He admitted to taking methamphetamines, marijuana, $43,000 in cash, jewelry, whiskey, and sunglasses.
During this time Lombardi worked under Norman Wielsch, who headed CNET. Wielsch and private eye Chris Butler are also accused of setting up men to be arrested for DUIs after their wives paid the two to catch them so that they could win child custody, or alimony cases. Lombardi, however, is not charged in the so-called "dirty DUI" case.
Lombardi's lawyer said that his client will cooperate with federal authorities, which includes testifying. "
To go into a prison that houses people that he spent over 20 years putting in those prisons is very difficult
," said his attorney. Lombardi, who faces more than 60 years in prison, was sent back into custody and is awaiting sentencing in mid-April.
Sgt. Pat Shearer!
Posted: February 1, 2012 | 3:14 PM - Updated: February 17, 2012 | 9:35 am PST
PEORIA, Ariz.
– A police sergeant under internal investigation for posting a controversial photo on
Facebook
has been taken off patrol duty pending a complete inquiry, Peoria Police Chief Roy Minter Jr. told media sources. The
Facebook
photo was posted Jan. 20, days before the president's visit to the area. The photo, that has since been removed, along with Sgt. Pat Shearer's (
pictured above, center
)
Facebook
profile, featured seven students from Centennial High in Peoria, with one holding up a T-shirt with an image of President Obama riddled with bullets (
pictured below, center
).
The police launched its investigation after the U.S. Secret Service began looking into the matter. A spokeswoman with the U.S. Department of Justice declined to comment on whether they would pursue the matter. The widely reported posting drew interest from across the country.
Shearer has since been assigned to administrative duties until the internal investigation is completed, Minter said. He declined to comment on if and how the sergeant's actions have impacted the department, citing the ongoing investigation. "Part of the conversation we have had with department members is the need to be aware of not just the social media policy but all department policies and procedures," Minter said. The police department's 1-year-old social media policy states that "employees shall not use the agency's name, logo, patch, badge, uniform, marked vehicles and other identifying symbols on any Internet site or any forum (public or private) unless expressly authorized to do so as part of their specific job duties." When the photo was posted,
Shearer's profile photo showed him in uniform. He also identified himself as working for the Peoria Police Department
.
Danielle Airey, spokeswoman for the Peoria school district, said she has met with the seven students in the photograph,
some of whom are on the school football team
. She said the teens met with the entire football team and school administrators to apologize. The school principal also sent an automated call to families of Centennial students. "Part of her message was this is an opportune time to remind all students and adults that it's important to be cognizant of your digital footprint," Airey said. Peoria spokesman Bo Larsen said some top city officials intend to use this case as a learning opportunity. "At the end of the day, employees represent the city so this is something we want to address for the future," Larsen said. "It's opened some eyes as to what we need to address going forward as well."
NYPD Thievery!
First Posted: Jan 31, 2012 - Updated: 2:54 PM, PST, Feb. 2, 2012
STATEN ISLAND, N.Y.
— A 39-year-old cop has been busted for stealing two iPads, sources said Tuesday. Anthony Rivera was arrested Monday for grand larceny, criminal possession of stolen property and official misconduct, police said. A source said Rivera stole two iPads from an impounded vehicle. The NYPD's internal affairs bureau led the investigation. The arrest comes as the NYPD and its commissioner, Ray Kelly, are embroiled in other controversies. Deputy Commissioner Paul Browne has been in the hot seat for providing inaccurate information about the screening of an anti-Muslim film to trainees, while Kelly's son, "Good Day New York" co-host Greg Kelly, is being investigated for rape allegations.
NYPD Beatdown!!
First Posted: Jan 31, 2012 - Updated: 1:54 PM, PST, Feb. 2, 2012
The NYPD is investigating several cops after a disturbing video emerged of them beating a drug suspect, police said. Cell phone camera footage captured cops pushing, kicking and striking Jateik Reed, 19, with a baton as he lay on a sidewalk in University Heights around 1:45 p.m. Thursday. One of the cops also appears to threaten the person taping the arrest with pepper spray. The cell-phone footage was posted on
YouTube
over the weekend, prompting prosecutors and NYPD internal affairs investigators to open a probe, sources said. Investigators will determine if the cops' actions violated department policy or broke the law, a law enforcement source said. "The incident in the video is under investigation by the Bronx District Attorney and the NYPD," said a spokesman for Bronx District Attorney Robert Johnson. An NYPD spokeswoman said that the officers had been placed on modified duty and that the incident is under investigation.
After his arrest, Reed was charged with assaulting a police officer, menacing, harassment and possession of cocaine and marijuana. He is being held at Rikers Island on $15,000 bail. Cops claim Reed resisted being handcuffed after they saw him trying to ditch the drugs, according to court records. One of the cops said Reed head-butted him in the cheek and punched him in the nose, causing injuries that required stitches at a local hospital, the records show. But a friend who witnessed Reed's arrest said he did nothing to warrant the beating- and will likely be permanently disfigured. "The police who did that were out of control," said the friend, who did not want to be named. "They just kept hitting him and hitting him for no reason. His entire face was black and blue and his eyes were sealed shut from being so swollen."
Reed's mother, teenage brother and a third relative were also arrested when they went to the 42nd Precinct station house to complain about the incident and allegedly scuffled with cops, records show. "I want answers!" Reed's mother, Schuan Reed, 40, said at the station house, records show. Her son, Jashawn Walker, 16, allegedly swung on cops trying to remove him from the station, leading to the arrests. Jateik Reed was also arrested Jan. 20 for stealing a cell phone from a woman on Webster Ave. in the Bronx, police said. He was charged with robbery, grand larceny, petit larceny and possession of stolen property in that case.
Gun Runner!
First Posted: 6:28 AM, EST, Jan 23, 2013 - Updated: 9:54 AM, PST, Jan 24, 2013
UPPER MARLBORO, Md. (WCJB)
A Prince George's County police officer accused of selling and giving away guns he had seized from criminals was found guilty Tuesday of theft and misconduct in office. Juan Carter, 38, was ordered directly to jail after a jury reached guilty verdicts on all counts against him in less than two hours of deliberation.
Juan Carter, already convicted of selling seized weapons on the street, has been found guilty of misconduct in office and theft, according to Prince George's County State's Attorney Angela Alsobrooks. Juan Carter was found guilty Tuesday of three counts of misconduct in office and four counts of theft over $500. Carter was a member of the firearms interdiction team and responsible for logging in all guns seized from people who were not authorized to have them. According to authorities, from August 5, 2008 through October 3, 2009, 29 seized guns were not logged into police property. Twelve of those guns were later recovered. Police are still searching for 17 more guns. Police say two of the guns were used in crimes: one gun was used during an attempted carjacking of an off-duty county police officer, who had his left middle finger shot off, while another gun was used during a domestic dispute in Baltimore. Carter faces at least 60 years for the theft charges. He will be sentenced on March 25, 2013.
First Posted: 6:28 AM, EST, Jan 23, 2012 - Updated: 9:54 AM, PST, Jan 24, 2012
UPPER MARLBORO, Md. (WCJB)
-- A Prince George's County police officer assigned to a state gun seizure task force stole weapons from an evidence locker and resold them on the street, prosecutors told jurors Monday at the start of the officer's trial.
Cpl. Juan D. Carter faces six counts of misconduct in office and seven theft charges related to 16 weapons that went missing while he served as a property officer for the Maryland State Police-led Gun Interdiction Task Force.
"He knew what he was supposed to do and yet the guns that he seized — machine guns, shotguns, and handguns — they wound up back in the community," Assistant State's Attorney Jonathon Church said during opening arguments in Mr. Carter's trial. "At some point those guns wound up being recovered on the streets and those guns were traced back to the defendant."
Mr. Carter's defense attorney questioned what benefit his client, a mid-career police officer with no debt to speak of, could have gained from putting his job on the line to sell stolen guns for minuscule amounts of money.
Rather, attorney Douglas Wood said, the task force on which Mr. Carter served was disorganized and prosecutors were out to make him the fall guy for the missing weapons.
"Juan Carter was very active in seizing the guns but not as good at the paperwork," Mr. Wood said. "At no point did Juan Carter take any guns from the task force and sell them on the street."
Prosecutors said that when Cpl. Carter, 37, learned that investigators were looking into his activities that he took measures to erase his paper trail and, as a result, had no record of making any gun seizures for approximately 19 months.
Cpl. Carter, of Bowie, was indicted on the charges in October 2010 after a nearly year-long investigation. The Prince George's County Police Department's internal affairs division was alerted to the suspected thefts in November 2009 and Cpl. Carter, a then-13-year veteran of the force, was immediately suspended from duty, police officials said.
He has been suspended without pay since October 2010, a police spokesman said.
According to trial testimony, the gun task force was composed of eight officers who came from the county police department and sheriff's agency as well as the Maryland State Police.
The group targeted individuals who were prevented from owning guns because of criminal histories but appeared to be still purchasing ammunition from local gun shops, testified Maryland State Police Capt. Donald Harrison. He initially supervised the task force after it was formed in 2007.
Guns seized by the task force were often stored in a padlocked locker in the office where the task force was based before the arms were forwarded to the police department's firearms examination unit, Capt. Harrison said.
An undetermined number of people, ranked as supervisors or senior corporals like Cpl. Carter, had access to the storage rooms at the police department's narcotics enforcement division where all guns seized by the police department were stored, testified Lt. Etienne Jones, a former county police internal affairs investigator.
"I can't tell you who had access to those rooms," Lt. Jones said when asked by Mr. Wood for a list of names of people who could go into the rooms where the guns were supposedly taken.
Cpl. Carter's trial is expected to last through Wednesday.
Family members who escorted him out of the courtroom declined to comment.
October 27, 2010
UPPER MARLBORO, Md. (WCJB)
- Prosecutors are describing a Prince George's County police detective accused of reselling guns seized from criminals as a "gun dealer on the street with a badge." The remarks were made Monday during opening statements in the trial of Juan Carter (
pictured above, center
) who was indicted in 2010 on 13 counts of theft and misconduct in office. The indictment stemmed from an internal investigation into the theft of several confiscated guns.
Carter was on a firearms task force run by the Maryland State Police
, and authorities have said that at one point more than 20 guns taken by the task force were missing. The indictment against 13-year veteran Juan Diego Carter links him to 11 alleged thefts.
One of the guns was later used to wound an off-duty fellow Prince George's County police officer in a September 2009 carjacking attempt
. Another gun turned up in a Baltimore domestic violence investigation. Prince George's County police Chief Roberto Hylton says investigators believe Carter was reselling guns he had seized from criminals and at least nine guns remain missing.
Carter's defense attorney said his client did not steal the weapons and added that Carter's paperwork, along with others on the task force, was sometimes sloppy. Carter, who was suspended last year, remains free after posting a $200,000 bond.
The New Sheriff In Town!
Posted: Friday, Jan 20, 2012 - 6:50 AM PST - Updated: Saturday, Jan 27, 2012 - 3:14 PM PST
San Francisco, CA
-- The wife of San Francisco Sheriff Ross Mirkarimi strongly defended her husband during his arraignment Thursday on three charges stemming from a domestic violence incident involving the couple on New Year's Eve. Mirkarimi, 50, appeared in court Thursday afternoon and pleaded not guilty to misdemeanor charges of domestic violence battery, child endangerment and dissuading a witness. He was ordered by San Francisco Superior Court Judge Susan Breall to stay away from his wife, Eliana Lopez and their 2-year-old son Theo throughout the court proceedings, despite an emotional statement by Lopez in support of her husband and against the order. She said Theo woke up at 5 a.m. Thursday to ask "Is daddy at home?" and said she promised that he would be home the next day. "The violence against me is I don't have my family together," Lopez said. "I'm not afraid of my husband at all." Mirkarimi removed his glasses to wipe away tears at times during Lopez's speech to the judge.
Assistant District Attorney Elizabeth Aguilar-Tarchi had sought the stay away order and laid out much of the evidence in the case against Mirkarimi in support of it. Aguilar-Tarchi cited a video that a neighbor took of Lopez, who went to the neighbor's home the day after the alleged incident. The neighbor, since identified as Ivory Madison, reported the incident to police on Jan. 4, according to an arrest warrant affidavit filed by police last Friday. Breall ultimately sided with prosecutors and issued the stay away order, saying although Lopez is "quite charming" and "says her husband is a good person," she said, "I have to go by this affidavit."
Before Breall issued her order,
Mirkarimi's attorney Bob Waggener acknowledged that Mirkarimi left the bruise on Lopez's arm during the argument
but said
"it's really on the lower tiers" of domestic violence
. Waggener said the couple has since reunited and should be allowed to work through their problems.
At the end of the hearing, Mirkarimi was ordered to return to court on Monday to set a date for trial. Because the case is a misdemeanor, the trial has to begin within 45 days. Mirkarimi did not speak during the hearing and declined to speak to reporters outside the courtroom after the hearing.
Tuesday, January 18, 2012
San Francisco, CA
-- San Francisco District Attorney George Gascón obtained an emergency protective order from a judge last week barring San Francisco Sheriff Ross Mirkarimi from having any contact with his wife or son. Mirkarimi, 50, is awaiting arraignment Thursday on misdemeanor charges of domestic violence battery, child endangerment and dissuading a witness, stemming from an incident that began after the couple left their Western Addition home for a New Year's Eve meal. Theo is the couple's 2-year-old son. Mirkarimi is accused of child endangerment because the boy was present when he allegedly bruised his wife.
Mirkarimi has denied the allegations
. Through his lawyer,
Sheriff Mirkarimi has also turned down several requests to talk to police
.
Mirkarimi's wife said in a videotaped account of his alleged New Year's Eve attack against her that he had manhandled her on an earlier occasion last year, and that the former city supervisor had warned her he could gain custody of their young son because he was "very powerful," court documents show. A key piece of evidence in the case is a Jan. 1 videotape taken of Mirkarimi's wife, Eliana Lopez, by a neighbor, Ivory Madison. On it, Lopez is crying and points to a bruise on her right bicep where she said Mirkarimi grabbed her during the confrontation the day before, according to an arrest warrant affidavit prepared by police Inspector Richard Daniele of the domestic violence unit. "This happened yesterday," Lopez says on the video, according to the affidavit. "Two times in 2011, and this is the second time this is happening."
San Francisco Sheriff Ross Mirkarimi with his wife Eliana Lopez by his side, speaks to the news media about the three misdemeanor charges against him, on Friday Jan. 13, 2012, in San Francisco, Ca.
In a Jan. 11 follow-up interview with district attorney's investigators, Madison said Lopez came to her home New Year's Day, burst into tears and gave a "free-flowing narrative" of the confrontation the previous day, Inspector Daniele wrote in the arrest warrant affidavit. Lopez told her that she, Mirkarimi and their son had been driving to lunch when she asked Mirkarimi if she could visit her family in Venezuela after his Jan. 8 inauguration as sheriff, Madison said. Lopez recounted how Mirkarimi began to "scream, 'F@%k you, f@%k you, you are trying to take Theo away from me!' " Madison said. Lopez said Mirkarimi had turned the car around and called off lunch, Madison said. Mirkarimi said "something to the effect that she didn't deserve to eat," Madison said.
Tuesday, January 17, 2012
San Francisco, CA
-- San Francisco's new sheriff was charged with beating his wife during an incident on New Year's Eve but
denied the claims and said he will fight to prove his innocence
. He could face up to a year in prison and up to three years of probation. Mirkarimi was booked at San Francisco County Jail and he was released on $35,000 bail. A police mugshot showed Mirkarimi with his eyes closed (
pictured left
). The sheriff was ordered to stay away from his home while police investigate other possible domestic violence incidents involving Mirkarimi and Ms Lopez. The sheriff, 50, vowed to remain in office while he fights the charges. He told reporters outside his office last Friday afternoon that he denies the allegations.
"'The charges are very unfounded. We will fight the charges. We are cooperating'."
Controversy swirled around the investigation from the start. Days after the alleged dispute, Mirkarimi was sworn in as San Francisco sheriff, but a judge had declined to perform the ceremony to avoid a potential conflict if Mirkarimi were charged. Mirkarimi appeared at the ceremony with his wife and son. Asked about the incident, he called it a 'private matter, a family matter.'
A neighbor reported that Mirkarimi grabbed and bruised his wife Eliana Lopez's arm during a heated argument at their home, according to a police affidavit. The injury was shown on a video recorded by the neighbor, and a text message conversation between Lopez and the neighbor included details of the incident, according to the affidavit requesting a search warrant to obtain the video camera and phone.
San Francisco District Attorney George Gascon said the basis for the child endangerment charge was that the couple's son saw the alleged incident occur. Mr. Gascon declined to explain the allegation that Mirkarimi influenced a witness. 'While I do not relish having to bring charges against a San Francisco elected official, I have taken an oath to uphold the laws of the state of California,' Gascon said. 'Whether this was the elected sheriff or any other San Francisco resident, this type of behavior is inexcusable, criminal and will be prosecuted.'
Friday, January 13, 2012
SAN FRANCISCO, CA
-- San Francisco Sheriff Ross Mirkarimi is expected to face three misdemeanor charges stemming from an investigation into accusations he physically abused his wife, Corrupt Justice™ has learned. The District Attorney's office plans to file charges of domestic violence battery, child endangerment and dissuading a witness, sources said. He could be arraigned as early as Tuesday. The charging decision by District Attorney George Gascón heightens the legal and political challenges faced by Mirkarimi, a major player in San Francisco's left-of-center circles. As sheriff, Mirkarimi (
pictured below, left
) oversees the city's jail system. The sheriff oversees a paramilitary organization of more than 800 sworn officers and a civilian staff of about 100. The department runs San Francisco's jails with an average daily inmate population of 2,200, provides City Hall and courtroom security, carries out court-ordered evictions and warrants, and aids San Francisco police in enforcement actions.
Police initiated an investigation after a neighbor of the couple contacted them on Jan. 4, 2012. The neighbor said Eliana Lopez contacted her on New Year's Day to report the alleged abuse: that Mirkarimi grabbed his wife's arm forcefully enough to cause bruising. The neighbor said she had a photo and video of the bruising and text messages from Lopez about the incident. Police, armed with a search warrant, seized the photo, video and texts as evidence. Mirkarimi, who served on the Board of Supervisors for seven years before becoming sheriff on Sunday, has denied wrongdoing; his attorney described the case as flimsy; and his wife, Eliana Lopez, has said it is not true that Mirkarimi bruised her during a fight on New Years Eve.
A spokesman for Mirkarimi, who was sworn into office less than a week ago, said the sheriff plans to fight the charges and will not resign. "He's going to fight it. He and Eliana just believe there has been no incident of domestic violence," said Jim Stearns, Mirkarimi's spokesman. If he fights the charges, he opens himself and his family to public scrutiny in an open courtroom. If he pleads no contest or guilty, the sheriff would be admitting his culpability as a wife abuser in a city that prides itself as being at the forefront of combating domestic violence. If found guilty, Mirkarimi, a sworn peace officer, would be prohibited from carrying a firearm. He also would be required to attend domestic violence classes, pay a $400 fine and could be put on probation for up to three years or sent to jail for up to a year. Under state law, he would only be automatically removed from office if convicted of a felony. High-profile victims' advocates who work in the field of domestic violence rallied in front of City Hall on Thursday demanding that Mirkarimi take a leave from office until the case is resolved and that he resign if he's charged and found guilty.
City law gives Mayor Ed Lee the authority to charge Mirkarimi with official misconduct and temporarily suspend him from office - a move that eventually could lead to Mirkarimi's permanent expulsion. During a temporary suspension, the sheriff's department would be run by a caretaker appointed by the mayor. The likely pick for the interim post would be Undersheriff Jan Dempsey, a veteran of the department. Should Lee suspend Mirkarimi from office, the mayor would be required to immediately notify the city Ethics Commission and the Board of Supervisors and quickly produce written charges. The Ethics Commission would hold a hearing at which Mirkarimi and his legal counsel could wage a defense. The commission then would make a recommendation to the Board of Supervisors on whether to sustain the charges, and the board would review the record of the hearing. It would take the support of at least nine of the 11 supervisors to take disciplinary action against Mirkarimi - up to and including stripping him from the office to which he was elected. The threshold for discipline would be "conduct that falls below the standard of decency, good faith and right action impliedly required of all public officers and including any violation of a specific conflict of interest of governmental ethics law."
Spring Chicken Flies!
PUBLISHED WED, JAN 11, 2012 05:38 PM - MODIFIED WED, JAN 14, 2012 02:03 PM PST
HOLLY SPRINGS, N.C.
— Long-time Holly Springs fire chief Cecil Parker has unexpectedly left his post here amid a state investigation into allegations of misconduct on his part. Parker, a 19-year Holly Springs employee, submitted his letter of resignation last Thursday, and his tenure ended Friday. Town Manager Carl Dean said Parker cited "personal reasons" for his departure. The chief resigned of his own volition, according to Dean. Town staff have refused to release Parker's letter of resignation, citing state personnel laws. Dean said yesterday he had heard no official word of the state's interest in Parker. "I know there are lots of rumors around," he said. "I've heard lots of different things, but I'm just dealing with the resignation and moving on."
A State Bureau of Investigation spokeswoman confirmed yesterday that the bureau began a probe of Parker's conduct in March 2010. Wake County District Attorney Colon Willoughby requested the investigation into "allegations of misconduct by Cecil Parker," Jennifer Canada said. Canada declined to describe the nature of the allegations against Parker or further details of the ongoing investigation, citing bureau protocol. "Generally, we're very limited in what we can say," she said. Willoughby's office did not respond before press time to a request for comment. Parker, 48, joined the town staff in 1992, when he left the Wake County Sheriff's Office to become Holly Springs' first police officer, according to former councilman Parrish Womble. The de-facto police chief became the "chief of public safety" in 1995, then the fire chief in 2006. Parker's final salary was $99,984; it was unclear whether he was qualified for a pension. He oversaw 36 employees in his role as fire chief.
Sucker Punched!
Posted: 1/11/12 02:12 PM ET - Updated: 1/11/12 04:50 PM PT
Bellflower, CA
-- A passenger on a bus recorded a Los Angeles cop punching a woman in the face who apparently hadn't been violent while the camera rolled. Jermaine Green, the man who taped the Monday night incident in Bellflower, told media sources that the Los Angeles County Sheriff's deputy who struck the woman threatened to arrest him if he didn't hand over his camera phone. The woman brought a stroller laden with pillows on to the bus and Green described her as having "special needs." Two deputies allegedly boarded the bus at the next stop and confronted the lady, who began cursing at them, according to Green's retelling. His video begins with the woman standing in the aisle and cursing repeatedly. One of the deputies, a woman, grabs her arm. The audio is unclear, but the woman appears to try to walk past the deputies. The male deputy, who had been holding her wrists, cocks his right arm and throws a right-handed punch that knocks the woman off balance.
The arguing continues as the woman is restrained on a seat. The tape cuts out after more deputies board the bus. A spokesman for the sheriff's office told LA Weekly that the police accosted the woman, because they'd received a report that said she "almost attacked an elderly man." The woman, whose name was not given, has previous arrests, including charges of assaulting a police officer, the spokesman said. He added she had acted aggressively towards the deputies. The spokesman's statement said the woman had "mental challenges." Officials from Internal Affairs and the Office of Independent Review will investigate.
DEA Dirty Laundry!
Posted: January 9, 2012 - Updated: Wed. 04:32 p.m. PST, January 11, 2012
MEXICO CITY
– Mexico's government allowed a group of undercover U.S. anti-drug agents and their Colombian informant to launder millions in cash for a powerful Mexican drug trafficker and his Colombian cocaine supplier, according to documents made public Monday. A Mexican magazine published portions of documents that describe how Drug Enforcement Administration agents, a Colombian trafficker-turned-informant and Mexican federal police officers in 2007 infiltrated the Beltran Leyva drug cartel and a cell of money launderers for Colombia's Valle del Norte cartel in Mexico. The group of officials conducted at least 15 wire transfers to banks in the United States, Canada and China and smuggled and laundered about $2.5 million in the United States. They lost track of much of that money. In his testimony, the DEA agent in charge of the operation says DEA agents posing as pilots flew at least one shipment of cocaine from Ecuador to Madrid through a Dallas airport.
The documents are part of an extradition order against Harold Mauricio Poveda-Ortega, a Colombian arrested in Mexico in 2010 on charges of supplying cocaine to Arturo Beltran Leyva. A year earlier, Beltran Leyva was killed in a shootout with Mexican marines in the city of Cuernavaca, south of Mexico City. Beltran Leyva was once a top lieutenant for the Sinaloa drug cartel, led by Joaquin "El Chapo" Guzman. But he split from the cartel shortly after his brother was arrested in 2008, setting off a bloody battle between the former allies. The documents show Mexico approved Poveda-Ortega's extradition to the United States in May, but neither Mexican nor U.S. authorities would confirm whether he has been extradited. U.S. and Mexican officials did not respond to requests for comment. The documents offer rare glimpses into the way U.S. anti-drug agents are operating in Mexico, an often sensitive subject in a country touchy about national sovereignty.
(
A haul of about $206 million is seen with confiscated weapons after the money was found stashed in closets, suitcases, and drawers in a house in an upscale neighborhood of Mexico City (March 15, 2007).
) On one occasion, the informant who began working for the DEA in 2003 after a drug arrest, met with the girlfriend of a Colombian drug trafficker in Dallas and offered to move cocaine for their group around the world for $1,000 per kilo. In a follow-up meeting, the informant introduced the woman to a DEA agent posing as a pilot. The woman is identified as the girlfriend of Horley Rengifo Pareja, who was detained in 2007 accused of laundering money and drug trafficking. Another scene described the informant negotiating a deal to move a cocaine shipment from Ecuador to Spain and minutes later being taken to a house where he met with Arturo Beltran Leyva.
Fractured cartels have led to an increase of drug violence in Mexico. According to several counts more than 45,000 people have been killed since late 2006, though the government stopped giving figures on drug war dead when the toll hit nearly 35,000 a year ago. On Monday, police in western Mexico found the bodies of 13 men at a gas station in the state of Michoacan. The bodies were dumped near a convenience store on the gas station lot in the town of Zitacuaro, said Michoacan state prosecutors spokesman Jonathan Arredondo. Arredondo said threatening messages were found with the bodies, but he wouldn't comment on their content or give any other details. The western state is home base to The Knights Templar cartel, which like its predecessor, La Familia, is a pseudo-religious gang specializing in methamphetamine production, drug smuggling, extortion and other crimes.
Dope on the Rhine!
Posted: Mon. 11:33 a.m. PST, January 9, 2012 - Updated:
RHINE, Ga.
-- A central Georgia police officer faces drug charges for allegedly dealing in prescription drugs. The Dodge County Sheriff's Office says Rhine Police Chief Kip Herman Cravey, 36 (
pictured above, center
) was arrested and booked in the county jail Thursday night. A news release says Cravey faces two charges of illegally distributing pills and trying to buy some. The release says Cravey furnished more than two dozen "Soma" pills to a person and tried to buy Roxicodone pills, also known as Oxycodone. The sheriff's office says Cravey may face additional charges. Cravey was booked into the county jail, but has been moved to another jail for safety reasons, the release says. No bond has been set. Rhine, population about 400, is located in Dodge County.
Shots Fired!
Updated: January 30, 2014 at 03:11 PM PST
Riverside County, CA
-- A former sheriff's deputy who killed a man in an off-duty shooting at a Murrieta bar was sentenced Thursday, Jan. 30, to 40 years to life in prison for murder.
Dayle William Long, 44, was a 10-year veteran of the Riverside County Sheriff's Department assigned to a courtroom at the time of the Dec. 21, 2011 shooting. Long had said he shot 36-year-old Samuel Vanettes in self-defense.
The courtroom at the Southwest Justice Center in French Valley was packed with friends and family of both Long and Vanettes, and several of them spoke.
Vanettes sister, April Reilly, wrote in a statement read in court that she will never get over the guilt she feels having run from the gunfire, leaving her brother to die alone on the barroom floor.
Long's actions, she wrote, "sentenced my entire family to a lifetime of grief."
Asked by Judge Angel Bermudez if he had any comment, Long declined to speak.
"On the advice of counsel, your honor, no," he said, sitting in the courtroom in red jail clothes and shackles.
Before the judge handed down the sentence, the defense made a last-ditch effort to convince the judge to overrule the jury's verdict in favor of manslaughter.
Defense attorney Jeff Zimel pointed out that Long was intoxicated at the time of the shooting and that he truly believed he was in danger. He added that Long had served the community honorably as a deputy.
"He's a man of good character and he is not like other murderers," Zimel said. "Mr. Long does not pose a grave threat to society."
Prosecutor Burke Strunsky said Long was a callous killer with no regard for the life he took. Far from showing remorse, Strunsky said, Long took the witness stand during the trial spinning a tale of a "homicidal conspiracy against him."
Prosecutors have said Long, angry and drunk, shot Vanettes without cause at Spelly's Pub and Grille. Vanettes had invited Long to join him and his friends. After hanging out for a while, Long began arguing and traded angry words with Vanettes' group.
On the witness stand, Long said Vanettes' friends threatened to take his gun and kill him.
Long pointed his gun at Vanettes, who was standing with his hands up in a "position of surrender," Strunsky said. Long fired six shots, four of which struck Vanettes.
Outside the courthouse, Strunsky said that when it comes to officers carrying guns while not working, this case should be viewed as the exception.
"It's a good thing that we have law enforcement officers that are able to carry guns off duty," Strunsky said. "Those are the people that you want to be armed when a crime goes down."
Updated: January 30, 2014 at 10:32 AM PST
Riverside County, CA
-- An off-duty Riverside County sheriff's deputy who gunned down an unarmed man during a dispute at a Murrieta bar is slated to be sentenced Thursday to 40 years to life in prison.
Dayle William Long, 44, was convicted Dec. 12 of second-degree murder along with a sentence-enhancing gun use allegation in the 2011 death of 36-year- old Samuel Vanettes of Winchester. A Murrieta jury spent roughly a day deliberating before returning with a verdict.
Riverside County Superior Court Judge Angel Bermudez is expected to impose the maximum sentence allowed under state law.
Updated: December 12, 2013 at 11:11 AM PST
Dayle William Long, a former Riverside County sheriff's deputy accused of gunning down a Murrieta bar patron while off duty, was found guilty today of second-degree murder.
The jury delivered its verdict 10 a.m. Thursday at Southwest Justice Center in French Valley before presiding Judge Angel Bermudez.
Long had been charged with one count of first-degree murder with an enhancement of discharging a firearm causing death.
Deputy Public Defender Jeff Zimel expressed disappointment with the verdict, saying he expected an acquittal.
"I think the jury … I think they got it wrong," he said.
According to Zimel, Long is now facing a prison sentence of 40 years to life.
Today's verdict stems from a Dec. 21, 2011 shooting at Spelly's Pub & Grille, located at 40675 Murrieta Hot Springs Road. Long -- who at the time was a 10-year-veteran of the Riverside County Sheriff's Department -- had been drinking at the establishment when he shot Samuel Vanettes, 36, of Winchester.
When Murrieta police officers arrived on scene around 8 p.m., Long was arrested on suspicion of shooting the unarmed victim several times and killing him.
Jurors began their deliberations in the case Tuesday.The trial began Nov. 12.
During the trial, Long maintained he used his weapon in self-defense. He had been facing 50 years to life in prison if convicted of the first-degree murder charge and the sentence-enhancing allegations.
According to the prosecution, at least 11 people witnessed the defendant shoot Vanettes at point-blank range inside Spelly's. The victim had gone there with his sister and several friends.
A trial brief prepared by the prosecution states that Long had joined a retired colleague for drinks at the pub several hours before the attack. During the evening, Vanettes invited the defendant to take part in a game of team darts. The off-duty lawman parted company with his friend and joined the group, continuing to drink beer and hard liquor, according to prosecutors.
Shortly before 8 p.m., Long and Vanettes became embroiled in a seemingly insignificant argument about whether a certain street was located in Orange County. Vanettes's friend, Danny Burnside, told investigators that the defendant became belligerent and challenged Vanettes to "go outside" and fight.
Long allegedly stood up, removed a compact .45-caliber handgun from his waistband and leveled it at Vanettes and his friends, then sat back down.
The defendant denied pulling his gun until the actual shooting.
Another of Vanettes's friends stepped in front of the defendant and shouted an expletive, posturing aggressively, a bar patron told detectives.
All witnesses acknowledged that Long began backing away from the table where Vanettes and the group were seated and that Vanettes approached Long in an attempt to defuse the situation.
The bartender told investigators there was some shoving, and while several witnesses described Long as appearing "upset," most witnesses said he was acting "calm" as he backed toward the bar exit, court papers state.
The prosecution alleges that Long pulled his .45 a second time, leveling it at Vanettes from at least five feet away and firing six times. Long testified that Vanettes attempted to take his pistol from him.
Vanettes was hit by four bullets -- in the chest, shoulder, abdomen and cheek. He died at the scene.
After initially refusing, Long submitted to a blood test four hours after the shooting and was right at .08 percent blood-alcohol content, prosecutors said.
Long last worked as a bailiff at one of the three downtown Riverside courthouses. The sheriff's department fired him in March 2012.
Updated: Sat December 31, 2011 3:08 PM PST
An off-duty Riverside County sheriff's deputy accused of shooting a man in a Murrieta bar, was arraigned Friday (12/23) at 1:30 pm. 42-year-old Dayle William Long (
pictured below, center
) a 10-year veteran with the Riverside Sheriff's Department, is facing one count of murder. He allegedly shot 36-year-old Samuel Vanettes of Winchester at Spelly's Pub and Grille at 40675 Murrieta Hot Springs Road around 8 p.m. Wednesday, according to Murrieta Police. Vanettes was shot several times and died at the scene. When police arrived, they say Long identified himself to the officers "as an off-duty Riverside sheriff's deputy.''
Long was booked at the Southwest Detention Center in Murrieta on suspicion of murder and is being held on $1 million bail. If convicted as now charged long could face a sentence of 50 years to life in state prison.
Thurs. December 22, 2011 2:30 PM PST
Murrieta, CA
-- An off-duty Riverside County sheriff's deputy who allegedly fatally shot a man in a Murrieta bar stopped after the shooting to reload and use his cellphone to report the incident, a family member of the dead man related Thursday. Dayle William Long, 42, then walked outside the bar Wednesday night and identified himself to arriving Murrieta police officers as a deputy, police said. He was questioned and booked on suspicion of murder early Thursday morning, according to a police report. Long has worked for the Riverside County Sheriff's Department for 10 years and serves on its court services division, said Sgt. Joe Borja, a spokesman for the department. A
Facebook account
bearing Long's name lists him as a member of the department's Underwater Search and Recovery Team.
Long had just met the man he allegedly shot and killed -- Samuel Vallentes, 36, of Winchester -- said a relative of the victim who asked not to be named because police asked the family not to speak publicly. Vallentes, a cashier at a gasoline station, arrived at the crowded Spelly's Pub and Grille on Murrieta Hot Springs Road for happy hour with his sister, her boyfriend and another friend, the family member said. Long had been sitting alone and drinking. Vallentes introduced himself and they began playing darts, said the relative, adding he received a first-hand account from the sister and boyfriend. "They were getting along good," said the family member. "When the cop started having more whiskey, he started getting belligerent. He was talking to somebody else. "He lifted his shirt up and showed his gun," the relative continued. "Sam was standing by the dart board. He said, 'You don't want to do this; you're a nice guy.' And he shot him. That's what I'm told." Then, as people were scrambling for cover, Long reloaded his gun and pulled out a cellphone, the family member said. "He was calling dispatch and telling them shots were fired, like he was a cop," the relative said. The shooting occurred less than an hour after the two men had met, the family member said. "He shot him three times. How could that happen?" the family member said. "How could a cop shoot [him]? I'm pro-cop; I just don't understand it."
Brutal Force: Seattle Police!
Posted: Fri Dec 16, 2011 11:40am PST - Updated:
SEATTLE, WA
— Seattle police have engaged in excessive force that violated federal law and the Constitution, the U.S. Justice Department said Friday. An investigation was launched last spring following the fatal shooting of a homeless, Native American woodcarver and other reported use of force used against minority suspects. The investigation was aimed at determining whether Seattle police have a "pattern or practice" of violating civil rights or discriminatory policing, and if so, what they should do to improve. "Our findings should serve as a foundation to reform the police department and to help restore the community's confidence in fair, just and effective law enforcement. The problems within SPD have been present for many years and will take time to fix," said Thomas E. Perez, assistant attorney general for the civil rights division. The American Civil Liberties Union of Washington and 34 other community groups called for the inquiry after a Seattle officer shot and killed the woodcarver, John T. Williams, in 2010 (See Video @ 01:24:23).
Ofcr. Ian Birks resigns! Seattle PD Settles for $1.5 Million (4-29-11)
Video from Officer Ian Birk's patrol car showed Williams crossing the street holding a piece of wood and a small knife, and Birk exiting the vehicle to pursue him. Off camera, Birk quickly shouted three times for Williams to drop the knife, then fired five shots.
The knife was found folded at the scene, but Birk later maintained Williams had threatened him
. Birk resigned from the force but was not charged. A review board found the shooting unjustified. Other incidents captured on surveillance or police-cruiser video include officers using an anti-Mexican epithet and stomping on a prone Latino man who was mistakenly thought to be a robbery suspect; an officer kicking a non-resisting black youth in a convenience store; and officers tackling and kicking a black man who showed up in a police evidence room to pick up belongings after he was mistakenly released from jail.
Attica: Beatdown!
Posted: 3:58 PM PST, Tue December 13, 2011 - Updated:
pictured above, center, Sean Warner
WARSAW, NY
- Four Attica guards attacked and seriously injured a jewelry thief serving a two-to-four year sentence at the maximum-security prison in western New York, prosecutors said Tuesday. Inmate George Williams, 29, who was convicted of larceny for stealing jewelry from two Manhattan stores in 2008 and 2009, suffered broken bones and fractures in the Aug. 9 attack, state police said. Williams was moved to another prison near Buffalo and is still recovering from his injuries, which are not considered life-threatening, state police said. The four men — Keith Swack, 37, Sean Warner, 37, Matthew Raddemacher, 29, and Erik Hibsch, 28 — were arrested Tuesday and indicted on felony charges of gang assault, conspiracy and tampering with physical evidence.
The
indictment
from a Wyoming County grand jury also charges Swack, of Corfu, Sgt. Warner, of Belfast, Raddemacher, of Wyoming, and Hibsch, of Gainesville with conspiracy, tampering with physical evidence, official misconduct and offering a false instrument for filing.
pictured above, center, Matthew Raddemacher
Authorities provided no further details on the circumstances of the attack. But Swack's attorney maintained the altercation occurred when the guards learned that Williams "may have had a blade and drugs in his cell." In the previous weeks, the attorney said, prison authorities had recovered "over 70 weapons — knives, shanks, razor blades — from inmates in searches of cells. And a lot of those weapons came from the same C Block where this inmate was." "When you go to work at a max like Attica, that's no day at the beach these days," he added. "When a jury hears the evidence, we are very confident it will do the right thing."
pictured above, center, Eric Hibsch
The guards appeared at an arraignment Tuesday along with their lawyers, and bail was set at $25,000 each. No pleas were entered. They were ordered back to court Feb. 7. The four also were charged with official misconduct, a misdemeanor. In addition, Warner was charged with a felony count of submitting false statements to the prison. Gang assault, the most serious charge, carries a sentence of five years to 25 years. The arrests came after a four-month investigation by the state Department of Corrections, the Bureau of Criminal Investigation and the Inspector General's Office. "What everyone needs to remember as this case goes forward is that this is an indictment of four individuals and not an indictment on the noble profession of corrections officer," Wyoming County District Attorney Donald O'Geen said. "No one is above the law."
pictured above, center, Keith Swack
In September 1971, police fired more than 2,000 rounds of ammunition in six minutes in quelling a four-day inmate uprising at Attica. In all, 11 corrections officers and 32 inmates died. All but four were shot to death when state troopers retook the prison.
Read the indictment against the officers here
.
---
Pageviews by Countries
Click on Banner to Sell Your Home(s)!
From: 2012 Jan 4 16:00 – 2012 Jan 11 15:00
---
United States
•» 2,762
United Kingdom
•» 99
Russia
•» 93
Germany
•» 80
Canada
•» 56
Australia
•» 43
Ukraine
•» 37
Malaysia
•» 15
Ireland
•» 14
Israel
•» 14
---
«•
Thank you for visiting Corrupt Justice™. Enjoy our Free Movie Intermission! Don't forget to Bookmark Us & Tell A Friend! We're Global!
•»
---
Movie Intermission!
Murder Trial of Michael Dunn
State's Case IX
---
Description:
Michael Dunn and Rhonda Rouer stopped at the Gate gas station to get a bottle of wine. ASA Erin Wolfson is having Rouer walk the jury through the photos of the Gate gas station. Rouer says she couldn't make out the lyrics to the song. Michael Dunn said "I hate that thug music" to which she replied, "I know." Rouer was at the register when Michael Dunn started firing into the red Durango. Rouer ended up leaving the items at the Gate gas station. Rouer exited the Gate and got in Dunn's car based on his directions. Michael Dunn was anxious, driving quickly back to the hotel. Rouer and Dunn, now in the hotel, ordered pizza and Rouer had a drink. Rouer was able to fall asleep but woke up at 7 am. At this time, Dunn was in the bathroom. She was watching the news when she learned of Jordan Davis' homicide and she was concerned about the dog, so she told Dunn she wanted to go home.
---
---