---
Click on Banner to Sell Your Home(s)!
Runtime:
00:01:31 (One Minute, Thirty-one seconds)
Video Site:
Harry Williby
---
"Another Nigger fried. No big deal."
-- April 16, 2011, Statement by
New York City Police Officer Michael Daragjati
, boasting of his false arrest of another African-American male.
Top News Story!
Crystal I.C.E.!
Posted: August 20, 2016 ~ Updated: August 21, 2016
Tuscaloosa, AL
-- Tuscaloosa defense attorney John Fisher Jr., 48 (
pictured above, center-left
) was arrested Friday and charged with trafficking in methamphetamine. Fisher and Christopher Shane Rushing, 42 (
pictured above, center-left-right
) of Northport, were found in possession of two active "one-pot" meth labs on Friday.
The investigation began when agents were informed that a suspect dropped off a backpack containing items believed to be components of a methamphetamine lab. Police have not released information regarding the location. Agents observed a second man arrive at the location and then exit carrying the backpack. The second man was followed by police to an office located in the 1600 block of Greensboro Avenue in Tuscaloosa. Fisher's law office is located at 1609 Greensboro Avenue. Officers continued to conduct surveillance at the law office. They saw the first suspect arrive at the office and later walk out carrying the same backpack.
Both suspects, Fisher and Rushing, were then taken into custody by officers. During a search of one of the suspect's vehicles, agents found an active "one-pot" meth lab. Tuscaloosa police say Agents with the West Alabama Narcotics Task Force
seized 369 grams of meth oil
during the investigation. Fisher was released from jail after posting $250,000 bond. Rushing remains in jail on $250,000 bond.
Dr. Dope!
Posted: Jul 28, 2017 at 09:53 PM ~ Updated: Jul 28, 2017 at 10:30 PM
Tuscaloosa, OK
-- The Tuscaloosa District Attorney's Office dismissed Opium trafficking charges against Dr. James Fullerton Hooper, 70, on Wednesday. The former Tuscaloosa physician arrested more than one year ago. He owned Dr. James Hooper's Clinic in the 1000 block of Mimosa Park Road in Tuscaloosa. He also was the former chief psychiatrist at Taylor Hardin. Hooper's attorney said the law is clear that a physician cannot be charged for writing prescriptions for his patients. The courts made that clear in a 1980's case. The issue was readdressed again in 2014. The attorney acknowledged that the charges against Hooper were brought under a different administration in the district attorney's office. However, he said he doesn't understand why they didn't know the law.
Posted: June 28, 2016 at 12:53 PM ~ Updated: June 28, 2016 at 4:30 PM
Tuscaloosa, OK
-- Dr. James Fullerton Hooper, 69, is a Tuscaloosa physician. The psychiatrist owns Dr. James Hooper's Clinic in the 1000 block of Mimosa Park Road in Tuscaloosa. Hooper is the former chief psychiatrist at Taylor Hardin. He has been indicted on drug charges. Hooper faces five counts of unlawful distribution of a controlled substance; and five counts of trafficking in controlled substance (opium). Hooper was arrested today at 9:30 a.m. on those indictments. He was booked into the Tuscaloosa County Jail. A Bail bond was set at $20,000.
The charges come after a two-year probe into alleged opium trafficking. The West Alabama Narcotics Task Force launched an investigation into Hooper two years ago. They received numerous complaints from citizens of Tuscaloosa County. The complaints concerned Dr. Hooper prescribing massive amounts of pain medication to patients without any medical verification. Police said the investigation is ongoing. They say "hundreds" of charges are pending against Hooper for unlawful distribution of a controlled substance; and trafficking in illegal drugs.
Pharmaceuticals are the cause of more drug-related deaths than cocaine, heroin, or any other illicit drug combined. These deaths are attributed to individuals consuming multiple prescription narcotics. They are also the result of combining prescription narcotics with other illicit drugs, alcohol, or both. Pharmaceuticals may be replacing marijuana as the first drug of choice among young adults. Prescription drug abuse is a very serious problem across the United States.
Method Man!
Published: November 05, 2016, 4:28 pm ~ Updated: November 13, 2016, 2:28 pm pdt
SACRAMENTO, CA
-- Isaac Knutila, 45, is a 16-year veteran with the Sacramento Police Department. The Sacramento Police Department has arrested him for various narcotic related charges, while possessing a firearm off duty. Sacramento Police Department received information from another department on October 13, 2016, regarding Knutila and prostitution-related activity within city limits. Knutila has been under surveillance since that time. Multiple outside agencies focused on undercover operations to investigate him.
On November 4, 2016, detectives served a search warrant for Knutila's person and property. Detectives found usable amounts of narcotics and his weapon. Knutila was ultimately booked into the Sacramento County Main Jail for: Possession of a controlled substance while armed; possession of amphetamines; possession of a controlled substance; and possession of over an ounce of marijuana.
Knutila's has been placed on administrative leave, pending termination of his employment.
Deferred!
Posted: Jul 22, 2015 ~ Updated:
Joseph R. Kumstar, 44, Edward Kabella, 46, Ronald D. Slusser, 51,
HAMMOND, IN
| Joseph R. Kumstar, 44, and Ronald D. Slusser, 51, are expected to testify against Pennsylvania-based gun dealer Vahan Kelerchian. Kelerchian has pleaded not guilty. A federal judge on Tuesday agreed to delay when two former Lake County sheriff's officers must report to prison for their role in an alleged gun-sales scheme. Court records show this is the eighth time the judge has granted a delay.
Senior Judge James Moody ordered Kumstar and Slusser to report to the Bureau of Prisons by 2 p.m. Oct. 30, 2015. They had been scheduled to report to prison July 31, 2015. Kumstar and Slusser each were sentenced in June 2013. Kumstar was a 17-year department veteran. He had served as deputy chief. He was ordered to serve four years and nine months in prison. Slusser was a 10-year veteran. He also admitted to a money laundering charge. He was sentenced to five years and 10 months is prison.
Kumstar, Slusser and former sheriff's Officer Edward Kabella, 46, were charged in a September 2011 indictment with conspiring between 2008 and 2010 to acquire about 71 machine guns and 74 laser sights. The three former officers each pleaded guilty in 2011 to falsely representing to the federal government that the equipment was being purchased by the Lake County Sheriff's Department. The guns, instead, were broken down and all of the equipment was sold as parts for personal gain. They resigned their positions with the Sheriff's Department after pleading guilty. Kabella was a sheriff's officer for six years. He was sentenced in January 2013 to two years in prison. He was released Dec. 12, 2015.
A May 2013 indictment alleges Kelerchian worked with Kumstar and Slusser as part of the alleged conspiracy. Kelerchian's attorneys recently sought a delay in his trial. The trial had been scheduled for July 7, 2015. U.S. District Magistrate Judge John Cherry granted Kelerchian's motion to continue trial on July 2nd due to the complexity of the case. Despite objections by the U.S. attorney's office, the trial is now scheduled to start Sept. 28, 2015. The trial could last two weeks.
Federal law restricts the purchase of fully automatic machine guns manufactured after 1986 and laser sights to military and law enforcement agencies. Four upper barrels from the machine guns purchased as part of the alleged scheme were recovered in May 2011 by Montreal, Canada, gun and gang law enforcement officials during the execution of an organized crime search warrant, court records state.
September 23, 2011 6:00 pm
HAMMOND,IN
| The three Lake County sheriff's officers who were indicted Thursday on federal corruption charges entered not guilty pleas Friday and walked out of the federal courthouse after signing a $20,000 appearance bond.
Dressed in suits and ties, Edward L. Kabella, 42, Joseph R. Kumstar, 40, and Ronald D. Slusser, 47, were processed and fingerprinted in the morning. The Crown Point men are accused of using federal firearms licenses and Lake County Sheriff's Department documents to buy guns and laser sights intended for law enforcement use only - and then selling them online for thousands of dollars. They also underestimated their incomes by about $390,000 combined on their tax returns.
The three pleaded not guilty to all six counts of the indictments as a formality. Earlier this week they entered into plea agreements with the government, and change of plea hearings are scheduled for 1 p.m. Tuesday for Slusser, 1:30 p.m. for Kumstar and 2 p.m. for Kabella in Senior Judge James Moody's courtroom.
At Friday's hearing, Assistant U.S. Attorney Philip Benson said the men face a maximum sentence of five years in prison and $250,000 in fines for conspiring to provide false information to federally licensed firearms dealers about the intended use of the more than 70 automatic machine guns they purchased in the scheme.
The veteran officers face the same maximum sentence for conspiring to defraud the U.S. Food and Drug Administration, which regulates lasers like the 94 gun sights the officers are accused of buying for resale. And for the charge of making false statement on their tax returns, they could face up to three years in prison and a $250,000 fine, Benson said.
Slusser also faces a charge of laundering/structuring of monetary instruments for allegedly depositing money orders at a variety of banks, so as not to trigger the $10,000-limit at which cash transactions must be reported to the government. He could receive a maximum sentence of 20 years in prison and $500,000 in fines.
Magistrate Judge Paul Cherry told the trio they would have to pay the $20,000 appearance bond should they not appear for their court dates. He ordered them to surrender their passports and not be in possession of any weapons. Normally, he said, defendants are put on some type of formal supervision, but that would not be a requirement in this case.
Following the 9:30 a.m. hearing, Kumstar's attorney, Matthew Fech, said, "We're just moving forward."
Paul Stracci, who is representing Kabella, said they had nothing to add to what was stated in the plea agreement.
Slusser's attorney, Visvaldis Kupsis, declined to comment Friday but said they would make a statement later.
According to court records, all three cooperated significantly prior to the indictment, which allowed for the simultaneous filings of the charges and plea agreements. As part of the deal, the officers committed to continuing their cooperation in the ongoing investigation, paying restitution to the IRS and forfeiting guns and other items related to the crimes.
In exchange, the government agreed to ask for reductions in their offense levels, which are used for calculating sentencing guideline ranges.
Smackdown!
Posted: Tuesday, Feb. 24, 2015 8:58 AM PST ~ Updated: Tuesday, Feb. 24, 2015 5:58 PM PST
Fort Lauderdale, Fla.
-- Officer Victor Ramirez, a Fort Lauderdale police officer, was "relieved of duty with pay" Monday afternoon after a video surfaced on YouTube showed the officer pushing and slapping Bruce Laclair, a homeless man at a Broward bus terminal. Fort Lauderdale police confirmed his suspension Monday night. The video shows the Officer Ramirez throwing Mr. Laclair to the ground. Officer Ramirez can be seen sporting bright blue gloves and holding Laclair's arm before throwing him to the ground.
Officer Ramirez can be heeard telling Laclair: "'Relax. I am telling you right now what's going to happen. I'm escorting you out right now. You are not going to go pee. You are not supposed to be here.'" The officer tells him to get up. At this point he can be seen slapping LaClair in the face. Laclair falls over. "I'm not fucking around with you. Don't fucking touch me," he said. "Put your hands behind your back."
The incident unfolded Monday at the Broward Central Bus Terminal off Broward Boulevard and Andrews Avenue Monday. Detective Tracy Figone wrote in an e-mail the department was "aware of this video." Figone said Laclair was arrested for trespassing. Records show he was out of jail by Monday night. "We became aware of it this afternoon," she said. "The chief has been notified as well as the Office of Internal Affairs." She said Fort Lauderdale Police Chief Franklin Adderley will address the incident Tuesday at 10 a.m.
Dope Unity!
Posted: Friday, Jun 6, 2014 8:58 AM PDT ~ Updated: 1:58 PM PDT, Wed. June 25, 2014
San Diego, CA
-- Husband and wife San Diego police officers have been arrested on multiple charges, including selling drugs, according to the San Diego County Sheriff's Department. On Thursday, deputies arrested Bryce Charpentier, 32, and Jennifer Charpentier, 41 (
pictured above, center
) in the East County and 4S Ranch as part of a narcotics investigation. Bryce was booked into Central Jail on charges of selling, possessing and transporting drugs, possessing a loaded firearm while under the influence and conspiracy. He was released on bond. His wife Jennifer was booked into Las Colinas on charges of selling, possessing and transporting drugs and conspiracy.
Jennifer, an 18-year veteran of the department, works for the Western Division. Bryce has been with the department for six years and works with the Mid-City Division, according to the statement.
In a statement, San Diego Police Chief Shelley Zimmerman said both officers have been placed on leave. She did not say whether the leave were paid or unpaid. Chief Zimmerman said SDPD is fully cooperating with the sheriff's investigation. Bryce is scheduled to appear in court June 9, and Jennifer is expected in court June 10.
The couple lives in 4S Ranch with their four children. Media sources tried to reach the family for comment but was unsuccessful.
Facilitators!
Posted: 6:33 p.m. Thursday, April 24, 2014
Atlanta, GA
-- Three of 10 metro Atlanta law enforcement officers accused of using their guns, badges and authority to facilitate drug deals have pleaded guilty in federal court. The three former officers were part of a group of cops arrested in February 2013 by an FBI SWAT team for allegedly taking payoffs — some as low as $700 — to protect what they thought were cocaine deals taking place in crowded shopping centers and school parking lots. Five alleged accomplices also were arrested. All three officers were fired after their arrests in February 2013. Former Stone Mountain Police Officer Denoris Carter, 43, of Lithonia, and former DeKalb County Police officers Dennis Duren, 33, of Atlanta, and Dorian Williams, 25, of Stone Mountain, each pleaded guilty this week to one count of attempted distribution of cocaine and one count of extortion by accepting a bribe to use his position as a police officer to facilitate a deal, according to a news release from the office of U.S. Attorney Sally Quillian Yates.
In 2012 and 2013, the FBI and the Bureau of Alcohol, Tobacco, Firearms and Explosives set up a series of stings and used an informant. The informant told gang members and their associates that he needed police protection for upcoming drug deals. Shannon Bass, 39, and Elizabeth Coss, 36, both of Atlanta, and Jerry B. Mannery, 39, of Tucker, provided the informant with names of police officers who would be willing to provide security for the illegal activity. All three entered guilty pleas this week, according to the news release. Bass, who was a contact for Duren, pleaded guilty to attempted distribution of cocaine. Mannery, who was a contact for Carter and Williams, pleaded guilty to conspiring with the police officers to distribute cocaine. Coss pleaded guilty to attempted distribution of cocaine for her role in working with former MARTA police officer Marquez Holmes, who also was arrested in the 2013 sting, to provide security for a drug deal in August 2012.
"The audacity of police officers protecting drug deals is shocking," Yates said. "For these police officers, protecting and serving our citizens was little more than a slogan, and their brazen actions are unacceptable. "
Crumbled!
Posted: 5:05 p.m. Thursday, April 24, 2014 | Updated: 4:42 p.m. Monday, April 28, 2014
DeKalb County, GA
-- Tarik J. Crumpton (
pictured above, center
) a former DeKalb County police officer, was indicted in connection with a 2010 arrest and statements he allegedly made regarding the incident. Crumpton, was charged in a 19-count indictment of perjury, making false statements and violation of oath by a public officer. According to the indictment, Crumpton slammed Peterson's body into a police vehicle hard enough to cause a dent in the car. The former officer also asked another person to say Peterson kicked the car and caused the dent, the document says. The indictment says Peterson's face was bruised and cut after Crumpton threw the man into a nearby SUV, the patrol car and to the ground.
"Mr. Peterson spent three days in jail for allegations levied against him by Crumpton," DeKalb District Attorney Robert James said in a news release. Prosecutors also allege Crumpton made false statements in Peterson's arrest warrant and during a grand jury hearing, saying the man resisted arrest and gave a false name. "Crumpton also provided false information to the court to obtain four different criminal arrest warrants and to further cover his behavior on the night of October 20, 2010."
An internal affairs investigation revealed that Crumpton wrongfully detained Brian Peterson, and caused him visible bodily harm, during an October 2010 incident. Crumpton, who resigned from the DeKalb police department May 30, turned himself into the DeKalb County jail and was granted a $35,000 bond.
Powdered Service!
Posted: February 18, 2013 at 12:06 AM - Updated: November 3, 2013 | 08:22 pm PDT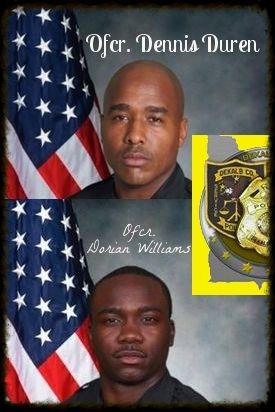 Georgia
-- Two DeKalb County Police Officers based at the Tucker Precinct are among 10 metro Atlanta law enforcement officers arrested by Federal Agents on Feb. 12 for protecting drug dealers during a drug trafficking sting, according to an official statement released Wednesday.
Officers Dennis Duren and Dorian Williams (
pictured above, center
) both assigned to the Uniform Division at the Tucker Precinct, have been placed on administrative leave with pay, pending investigation results.
Duren has been employed by the Department since Dec. 9, 2002 and Williams since Dec. 31, 2007.
"It is incomprehensible why these officers chose to aid and abet these criminals when they are sworn to protect our community from such offenders. These officers do not reflect the character of the hundreds of DeKalb County police officers that wear the badge. Their alleged actions only assist in eroding the public's trust in those that honorably serve and that is truly disheartening," said Interim Police Chief Lisa Gassner.
Original article:
A Tucker man has been charged in a corruption case involving law enforcement personnel from agencies throughout metro Atlanta, according to United States Attorney Sally Yates.
Jerry Mannery, 38, was arrested as part of a sting operation against officers who are alleged to have taken thousands of dollars in payouts. They have been charged with crimes including assisting with drug trafficking, receiving illegal payouts and using firearms during the commission of a crime.
The U.S. Attorney's office stated:
Between January and February 2013, DeKalb County Police Officer Dorian Williams, working together with Mannery (and Shannon Bass, 38, of Atlanta) provided protection for what he and Mannery believed were three separate transactions in the Atlanta area that involved multiple kilograms of cocaine.
Williams and Mannery accepted cash payments totaling $18,000 for these services. During the transactions, Williams was dressed in his DeKalb County Police uniform and carried a gun in a holster on his belt, and he patrolled the parking lots in which the undercover sales took place in his DeKalb Police vehicle.
During a meeting between the three transactions, Williams allegedly instructed Bass to remove any cocaine from the scene if Williams had to shoot someone during the upcoming sale. In another meeting, Williams suggested that future drug transactions should take place in the parking lot of a local high school during the afternoon, so that the exchange of backpacks containing drugs and money would not look suspicious.
Williams and Mannery are each charged with conspiring to commit extortion by accepting bribe payments and attempted possession with intent to distribute more than five kilograms of cocaine.
Meth Rage!
Posted: October 26, 2012 | 12:05 pm - Updated: October 27, 2012 | 12:22 am PDT
Riverside, CA
-- A California Highway Patrol officer was in stable condition Friday after being repeatedly stabbed in his back, arms, face and eye by a man he was trying to stop from climbing the fence of a freeway overpass in Riverside. The incident unfolded when the CHP responded to a 911 call Thursday at 9:51 p.m. that a man was climbing an overpass fence on La Sierra Avenue at Highway 91 in Riverside. The caller believed the man was going to jump onto the freeway, according to Riverside police Sgt. David Amador.
Amador said the CHP officer, whose identity was not released, grabbed Javier Hernandez Rios' legs. The suspect then allegedly produced a medium-sized pocket knife and began stabbing the officer. An off-duty Riverside police officer and an off-duty San Bernardino County sheriff's sergeant passing by in separate vehicles both stopped to assist, and the suspect allegedly attempted to stab them but missed, Amador said. The suspect stopped resisting and was handcuffed after a second CHP officer arrived and shot a rubber bullet at him, Amador said.
Amador said police investigators suspect
Rios was high on methamphetamines and possibly heroin, inducing paranoia
that drove him to climb the freeway overpass fence. "We initially thought he was trying to commit suicide but we no longer believe that," Amador said. "We don't believe he has any mental problems; we think he was under the influence of drugs." Amador said Rios appeared to be a habitual drug user who was unemployed and lived in a motel with his wife. He has a criminal history of domestic violence, Amador said.
The CHP officer sustained nine stab wounds and was scheduled to undergo surgery Friday on his eye, Amador said. Rios was treated for minor injuries sustained during the alleged altercation.
The suspect was lucid during the interview and told investigators he was trying to get away from what he thought were police following him all day, Amador said. Rios, 45, was booked into the Riverside County jail on suspicion of mayhem and attempted murder of a peace officer. He also was charged with assault with a deadly weapon on a peace officer for the attempted stabbing of two off-duty officers who intervened.
Op. Feds in OakTown!
Posted: 05/29/2012 12:31:41 PM PDT - Updated: 05/30/2012 12:24:20 AM PDT
Oakland, CA
-- Oakland police and federal agents announced the arrest of 60 "
worst of the worst
" violent criminals during a four-month undercover operation that included the seizure of 92 guns and several pounds of drugs. The operation included 44 undercover agents from the ATF, half of whom came from out of state, said Acting Special Agent Scot Thomasson.
In addition to the guns, agents seized 6 pounds of
methamphetamine
, 4 pounds of marijuana, 2 pounds of heroin and a pound of crack cocaine. Thomasson said his agents, acting on intelligence gathered from Oakland police, went after the most
active shooters
,
drug dealers
and
robbery crews
who were ripping off other criminals for drugs and guns at area "stash houses."
Honolulu Badboys!
Posted: Apr 10, 2012 6:26 PM PDT Updated: Apr 11, 2012 1:52 AM PDT
Screenshot (Video is below)
HONOLULU, Hawaii
- A Honolulu police officer is in federal custody on federal drug possession, distribution, and conspiracy charges. Officer Michael Chu, 41 (
pictured above, center & below left
) is accused of being involved in a marijuana growing operation. The 13-year HPD veteran patrols Wahiawa, Mililani and the North Shore. Now he has been placed on leave without pay. He is due in court on Wednesday for a detention hearing along with another defendant in the case.
Drug Enforcement Administration agents found roughly 10 to 20 marijuana plants growing in the master bedroom, according to a criminal complaint. They also recovered documents showing that Chu and Athena Lee lived there. Chu used the address when he registered for a medical marijuana card. According to the Autele's, the Mililani house is owned by another HPD officer. The suspects moved in just a few months ago, and the home has been rented to different tenants in the past.
Authorities moved in after a security manager at FedEx seized a suspicious package on Thursday that was flown to Honolulu from California. The parcel, containing eight young marijuana plants, was being sent to an apartment at the Moana Pacific on Kapiolani Boulevard. A day later, DEA agents executed a federal search warrant of the apartment. A manager told agents that a woman by the name of Athena Lee lived in the unit and may be living with Chu. While searching the apartment, DEA agents said they recovered more than 20 marijuana plants and large amounts of US currency. Lee showed up with Chu during the raid. She was carrying $12,000 and he was holding a bag with material used to grow plants indoors, according to court documents.
Chu's subsidized police vehicle in the parking garage contained a pound of marijuana and several money orders, authorities said
.
According to the criminal complaint, Chu waived his constitutional rights and answered questions from authorities by stating that he just works for Lee and helps her carry things for the grow operation. Chu also told authorities that he lives in an apartment in a building on Young Street. Last July, DEA agents intercepted a package containing 14 pounds of marijuana addressed to the same unit.
Wayne and Ellen Autele have lived on Puneki Street in Mililani for 18 years. News of their neighbors being arrested came as quite a shock, especially since Wayne is a retired Honolulu police officer. "Everything was closed. You couldn't tell if anyone was home, really. Once in awhile when I get up at two in the morning you could see a light on. That was it. No noise, nothing, and no smell," said Wayne Autele. "Totally surprised. In fact, I'm embarrassed as a policeman for 32 years and I cannot even pick up a criminal right next door to me," said Wayne Autele. "I just couldn't like even imagine it. I was thinking, wow, right next door!" said Ellen Autele.
"It's scary. I didn't event think or imagine about that. Surprised," said Moana Pacific resident Keiko Ishino.
Honolulu Police Chief Louis Kealoha released the following statement:
"This is a very serious allegation, and we are cooperating with the DEA in its investigation. The HPD has also initiated its own internal administrative investigation into the alleged activity. In the meantime, the officer's police powers have been removed, and he will be placed on leave without pay. Any officer or civilian employee who violates the public trust by engaging in this type of activity should not be a part of the Honolulu Police Department."
"I'm sad it had to be a policeman, but it's one of those things. But I'm glad anytime you have criminals caught," said Wayne Autele.
As for Chu having a medical marijuana card, HPD said a permit does not exempt an employee from drug testing, and that using marijuana is a violation of policy.
Infamous Dealings!
Posted: Wed DEC 21, 2011 AT 4:13PM EST - Updated: Sat. Dec 24, 2011 2:19pm PST
"I feel so strongly, for the first time in my life, that I am truly ripe for positive reform and real achievement."
-- Cameron Douglas in a written letter to the judge asking for some compassion and looking for a break (reduction in original prison sentence). Cameron Douglas, who was already serving five years
for drug dealing
, has been slapped with additional time for drug possession while behind bars.
New York
-- The 33-year-old son (
pictured above, center-left
) of Michael Douglas was sentenced to five years in prison last April on drug-dealing charges, after
he was caught with half a pound of crystal meth
. On Wednesday,
Cameron was sentenced to an additional four-and-a-half years in prison and a $4,000 fine for drug possession while behind bars
. The sentence was more than twice what prosecutors had asked for under sentencing guidelines, according to The New York Post. The judge, obviously annoyed at the situation, told Cameron that he had "blown the biggest opportunity of his life."
Apparently Cameron had been looking for a break and had written a letter to the judge asking for some compassion. In the letter, which was made public earlier this week, Cameron wrote that he was "saturated in my own shame and penitence" and begged for "the opportunity to build myself and gain the tools I need to shape my future."
"I feel so strongly, for the first time in my life, that I am truly ripe for positive reform and real achievement," Cameron said in the Manhattan federal court filing.
Cameron was previously arrested in 1999 and 2007 for drug possession
. At the time of his 2009 arrest, his father Michael wrote a letter pleading his son's case to the judge. "I love my son, but I'm not blind to his actions," Douglas said in the letter. "I don't want to see him break."
In addition to the jail time, Cameron also received a two-year ban on family visits and will need to undergo treatment for drug addiction while in prison.
Method to:
Missouri Madness!
Posted: Wed Dec 21, 2011 - Updated: Fri. Dec 23, 2011 1:33pm PST
pictured above, center, Methamphetamine arrest
HILLSBORO, Mo.
– For more than a dozen years, the wooded hills and valleys of Jefferson County have hidden a dark side of life here: a drug problem so pervasive that some people call this rural area "Metherson County." Methamphetamine has a tight grip on this county south of St. Louis, says Cpl. Timothy Whitney of the Jefferson County Sheriff's Department, who manages a county drug task force. Jefferson County leads the state in meth lab seizures — a sign, he says, of aggressive enforcement as well as the scope of its problem. Through Nov. 28, there were 6,915 seizures of meth labs, equipment and dump sites nationwide: Missouri led all states with 1,744. So far this year, there have been 234 seizures in Jefferson County.
---
Top states for seizures of methamphetamine labs¸ equipment and dumpsites, Jan. 1-Nov. 28:
1. Missouri 1,744
2. Kentucky 770
3. Indiana 661
4. Oklahoma 659
5. Illinois 481`
6. Michigan 293
7. North Carolina 277
8. Iowa 260
9. Mississippi 259
10. Arkansas 232
Source:
El Paso Intelligence Center, led by the Drug Enforcement Administration and staffed by 15 federal agencies to track transnational crime
---
Through the end of November, there were 75 drug-related misdemeanor and 340 felony arrests, many prompted by anonymous tips. "We have no bigger problem than most of the counties in Missouri," Whitney says, but its team approach leads to more busts. Meth arrived in Jefferson County around 1998, Whitney says. Once people got hooked, they started making, or cooking, it. It's harder to find meth labs here because there are no big-scale manufacturers, just hundreds of individual "mom and pop" cooks, he says. There is, however, a broad network of people who buy medications containing pseudo-ephedrine and sell it to the cooks, a practice called smurfing, Whitney says. In the past three years or so, young heroin users have begun smurfing to make money so they can buy heroin. A box of Sudafed that costs $8 or $9, he says, can be sold to meth cooks for $100, which is enough for 10 small heroin doses. Whitney expects almost 30 heroin overdose deaths this year in this county of 219,000.
pictured above, center, Methamphetamine and test kit
Meth continues to plague communities across the nation despite getting scant attention, says one University professor. "You'd think there's no meth problem, he says, but in many economically depressed rural areas it's still used "to cope with … difficulty and poverty." A family medicine professor says the nation "is not yet past the chapter on methamphetamine." As the problem persists, he says, budget woes are shrinking resources to address the problem. "There's just an air of desperation that's out there," he says.
Whitney's task force has nine investigators, down from 12 in 2005, and it will lose two more Jan. 1 when a federal grant that subsidizes task force salaries expires. "The problem is going up, but the manpower is going down," Whitney says. Jefferson County was the first in Missouri to end over-the-counter sales of cold and allergy remedies containing pseudo-ephedrine, a key meth ingredient, but neighboring St. Louis County has no restrictions. Under state law, people can buy up to 9 grams of pseudo-ephedrine every 30 days. Until there's a statewide requirement that those medicines can be sold only with a prescription, Whitney says, the battle against meth labs won't be won. Law enforcement officials began tracking another trend in 2007 that made busting meth cooks even more difficult: a "one pot" method. The drug is mixed in a 2-liter soda bottle, often in moving cars. When the process is complete, the leftover toxic materials are tossed out the car window.
Oregon and Mississippi have reported dramatic decreases in meth lab seizures since laws requiring prescriptions for all pseudo-ephedrine sales were enacted. The Missouri House passed a similar bill this year; it died in the state Senate.
Meth use is down nationwide, according to the National Survey on Drug Use and Health, released in September by the federal Substance Abuse and Mental Health Services Administration. The number of people who said they had used meth in the past month fell from 731,000 in 2006 to 353,000 in 2010.
The social consequences of Jefferson County's meth problem are dire, says Circuit Court Judge Darrell Missey, who presides over family court. "I look at my job like I'm in the emergency room," he says. At a time of shrinking public resources, Missey wishes there were money for an in-patient treatment center for girls to match the existing one for boys and a "recovery school" to transition students coming out of treatment. The community is committed, he says, but "the question is always about the money." Missey says the community won't stop fighting drugs, with or without government funds. "We're just going to have to be creative," he says.
American Air 'Lines'!
Posted: Thurs. December 8, 2011 - Updated: Fri Dec 23, 2011 02:14pm PST
When federal investigators announced they had broken up a cocaine-trafficking ring, the crime boss was not a member of a Mexican cartel or the Mafia. The ringleader was Victor Bourne (
pictured left
) a low-wage baggage handler for American Airlines at Kennedy International Airport. And his associates in the enterprise were other airline employees: baggage handlers and crew chiefs who delivered contraband while they delivered luggage to the baggage-claim area. Their cunning provided luxury watches, cars, tuition for their children and expensive vacations. Now they face prison.
For passengers, dealing with luggage issues has long been an annoyance of air travel. Bags can get lost or damaged, heightened security has made carry-ons less convenient and most airlines now charge travelers to check luggage. But all of that may pale to what happens outside the view of the flying public.
Testimony at Mr. Bourne's trial in Federal District Court in Brooklyn during September and October revealed a culture of corruption among some baggage handlers at Kennedy. They stowed drugs in secret panels inside planes; stole laptops, lobsters and fine clothing flown as freight; and rifled through passengers' belongings for perfume, liquor and electronics. "'Everybody did it.' That's a line that a lot of the witnesses said," recalled Rebecca Grefski, a juror at Mr. Bourne's trial, part of a case in which 12 American Airlines employees either pleaded guilty or were convicted. "Everybody was doing it."
In September, five former Delta Air Lines employees were indicted in Michigan for smuggling marijuana from Jamaica to Detroit Metropolitan Airport. In a related case, five other Delta workers were indicted in Michigan in June.
In November 2010, four part-time baggage handlers for American Airlines were arrested on charges of stealing valuables from luggage at Philadelphia International Airport. Detectives working with airline security officials set up surveillance cameras and said they caught the workers taking electronics, cameras and jewelry from passengers' bags. Three of them pleaded guilty, and the fourth is awaiting trial. In 2009, the last year for which there is complete data, the Transportation Security Administration received about 6,750 reports of property missing from checked baggage. Passengers reported the total value of their losses as nearly $5.3 million. Clothing was reported most often as missing. Digital cameras also disappeared with some frequency. From 2002 to 2010, American Airlines generated more such reports than any other airline.
In a statement, American noted its cooperation with Immigration and Customs Enforcement to help in prosecuting the case at Kennedy. "The overwhelming majority of American Airlines employees at our J.F.K. terminal and throughout our system are honest, law-abiding individuals who work hard every day to take care of our customers," the airline said. Yet the testimony in Mr. Bourne's trial suggested that a serious problem seemed to exist at American Airlines. "What percent of American Airlines employees would you say engaged in this conduct?" a federal prosecutor, Patricia E. Notopoulos, asked Matthew James, a defendant in the case who pleaded guilty and testified for the prosecution. "About 80 percent," Mr. James answered. American Airlines, in its statement, said that "any claim of 80 percent employee involvement in such illegal activities is absurd." Much of the action at Kennedy was centered on American Airlines flights from some warm-weather location, and the primary drug-ferrying route was Flight 1384, a daily flight from Barbados, which for much of the year arrives after dark.
Mr. Bourne, a native of Barbados who prosecutors say had criminal connections there, bought cocaine in bulk and arranged for baggage handlers in Barbados to hide it on planes bound for New York, several American Airlines employees testified. Mr. Bourne, who is in custody, was found guilty of importing and distributing narcotics, as well as of conspiring to do so. He was also convicted of offenses involving financial transactions. He faces a maximum sentence of life in prison. His lawyer recently filed a motion to dismiss the counts on which Mr. Bourne was convicted and requested a new trial. "The witnesses on whose testimony the counts were founded could not be trusted," his attorney said.
On Boeing 757s, the Barbadian handlers hid the bricks of cocaine among loose bags and freight. On larger 767s, they stowed the drugs in giant containers that were filled with luggage at the terminal and then loaded onto the planes. On Airbus A300s, they found hidden spaces behind the wall and ceiling panels in the cargo hold. Only the airline workers at Kennedy who were a part of the scheme knew where to look. "I would take the drugs out of the ceiling, put it in the bag, mix it up with other bags coming down the plane and send it down the belt," said Edwin Asencio, a former baggage handler for American Airlines. If the hiding spots were secret, the practice was not. "I was bragging around the job that I was doing it, and I was trying to get my other friends involved so they could make extra money," Mr. Asencio said.
pictured above, center, Seven kilograms of cocaine found on an American Airlines jet.
Trafficking was heaviest during the winter months, when customs agents assigned to the tarmac were less likely to leave their cars, and when baggage workers could hide some of the bricks of cocaine inside their coats. When the customs agents were looming, the baggage handlers sometimes left the cocaine on the plane and tracked it as it hopped around the country. When it returned to Kennedy from a domestic trip, the workers — taking care that customs agents were nowhere in sight — removed the drugs.
Mr. Bourne sold the cocaine he smuggled for about $18,000 a kilogram and took home the biggest share of the profits, prosecutors said. They calculated that he made several million dollars, which was passed through businesses he ran in Brooklyn and in Barbados. Handlers like Mr. Asencio worked in crews of three or four, and Mr. Bourne paid each of them from $3,000 to $5,000 each time they smuggled, they said. Mr. Bourne also paid crew chiefs, the employees who assigned the flights, about $500 each time they assigned his crews to Flight 1384. Steven Zografos, a crew chief who pleaded guilty to conspiracy to import cocaine, described the first time he was approached by a baggage handler. "He tell me his aunt was coming off the flight," Mr. Zografos said in court, stumbling over his English. "I looked in the schedule, and I took away the flight they were supposed to have, him and his crew, and I assigned him the flight that he wanted to work."
"At first, I thought it was a pretty expensive aunt," he added, "but then I said, 'Obviously something else is going on here.' " Before long, he kept a bottle of correction fluid next to his crew schedule. Whenever someone from Mr. Bourne's crew approached him, he would just Wite-Out the flight that he was supposed to have, and take Flight 1384 from a crew that had it, and make the switch. Seven American Airlines employees testified against Mr. Bourne, all but one of them defendants who pleaded guilty and testified for the government. Ms. Notopoulos, who prosecuted the case with Toni M. Mele, Soumya Dayananda, Alexander A. Solomon and Tanya Y. Hill, summed up their testimony and the government's case by calling American Airlines Terminal 8 "a cesspool of corruption."
Even the defense lawyer for Bourne said that he believed part of the witnesses' testimony. "It became very obvious that everyone in American Airlines' baggage services is dirty," the attorney said. "If they don't steal commercial cargo on a regular basis, they are going to rifle suitcases. It is astounding the kind of valuable items they were able to steal." The cooperating witnesses face minimum sentences of 10 years in prison, unless the prosecution recommends leniency.
"I think everyone sitting in the courtroom and sitting in the jury box was surprised about how long it went on and that it was known to everybody," Ms. Grefski, the juror, said of the criminal activity. "You always hear about people having things stolen on airlines," she added. "It was a little startling that they talked about stealing so naturally."
Officials with federal Immigration and Customs Enforcement, the agency that led the investigation, said the inquiry into corruption among airline employees was continuing.
High Perceptions!
Posted: November 8, 2011 - Updated: Fri Dec 23, 2011 2:53pm
United States
-- Recent high profile narcotics busts at the universities of Georgetown, Columbia, and Cornell, demonstrate that students at elite private schools aren't just smoking a little pot. They're using (and dealing) hard drugs like heroin—and they're getting arrested for it. Tom Workman, the fellow for the Education Department's Higher Education Center for Alcohol Drug and Prevention Program told reports that elite private schools are
"more likely to enroll students whose race [is white] and [whose] favorable socioeconomic status make them more likely to engage in risky behavior such as alcohol and drug abuse; the competitive nature of such institutions also creates a high-pressure environment in which students are more prone to substance abuse."
Workman notes that because pop culture promotes the stereotype that hard drugs are used by either rock stars or
low income people of color
, the narcotics problems at elite schools could be more pervasive than anybody realizes.
A study published November 8, 2011 in the Archives of General Psychiatry says that black and Asian teens are less likely to use drugs and alcohol than white people their age. In a survey of more than 72,000 young people conducted by Dan Blazer, a psychiatry professor at Duke Medical Center, 39 percent of white teens and 37 percent of Latinos reported having abused substances in the past year, compared to 32 percent of blacks and 24 percent of Asians. When it came to drugs alone, 20 percent of whites, 19 percent of blacks, and 12 percent of Asians reported using.
Blazer called the relatively low rate of substance abuse among black juveniles "surprising": "The public perception is that that's not the case," he said. Also surprised should be
American police, who continue to arrest black kids for drug use at far greater rates than whites
. Consider this chart from the federal Office of Juvenile Justice:
In the 1990s, the juvenile black drug arrest rate was nearly three times that of whites, and in 2008 it remained almost double. The fact is that cops bust blacks kids markedly more for a crime they commit slightly less often.
This is especially unfair because petty drug offenses are how thousands of black kids per year end up in the U.S. justice system.
Their criminal records then haunt many of them for the rest of their lives, ruining their employment and educational opportunities and all but forcing them to turn to more crime to stay afloat.
It also doesn't help that officials at these elite (White) schools don't exactly want the word to get out that there are major drug problems on campus. After all, reputation is everything.
NFL:
National Felons League!
Posted: Fri Dec 16, 2011 12:00pm PST - Updated: Fri Dec 23, 2011 3:38pm PST
CHICAGO, IL
(WCJB) — People who knew him here have become uncomfortably familiar with the details in the criminal complaint: $88,000 and marijuana found inside a car; the plan to buy up to $700,000 worth of drugs each week; Sam Hurd, the Chicago Bears receiver, their hero, accused of aspiring to become not just a drug dealer, but a kingpin, Tony Montana of "Scarface" and football's Joe Montana all at once.
"People are dismayed," said Al Porter, a retired teacher for whom Hurd (
pictured left
) was a student assistant, a man who later helped Hurd run his summer football camps here. "We don't want to believe it. There's got to be something we haven't heard yet." Porter sighed as he sipped sweet tea at a coffee shop. "Look, people can live a double life," he continued. "Behind closed doors, you never know. It's just. ..." His voice trailed off, into a whisper. "What they're accusing him of, it's not small time. It's a drug ring."
The Hurd family was not immune to the dangers that surrounded them. One of Hurd's uncles, Jimmy Corbin, was arrested several times, including on felony charges for robbery and cocaine possession, according to public records. On Dec. 27, 2004, Jimmy Corbin was found dead on his front porch "with a gunshot wound to the top of his head," according to the police report. The media quoted Hurd the next day, saying, "The street got the best of him." Corbin was 48. His murder, laid out on a one-page incident report, remains unsolved.
In 2008, Hurd also told media sources that he owned several guns, including an M-16 assault rifle. That, too, gave locals pause. The Hurd they thought they knew told them he gave his life to Christ a few years ago. When he returned home, he carried a Bible, sang gospel, attended church on Sundays and decorated his sculptured arms with verses. When Daniel Thatcher asked how he was doing, Hurd always said, "I'm blessed."
After he signed with the Cowboys, Hurd married his college sweetheart, Stacee Green. Jake Thatcher described the wedding — at a country club, opulent flower arrangements on the tables — as the nicest he ever attended. The couple performed a choreographed dance. Later, when Thatcher visited Hurd in Dallas, they walked around a Walmart. "You play for the Dallas Cowboys, and nobody knows who you are," Thatcher said he told his friend. To which he said Hurd responded, "Not yet."
He became widely known this month, but not in the way anyone expected. In the criminal complaint, which quotes an undercover agent and a confidential informant, Hurd is described as an aspiring drug lord who moved four kilograms of cocaine a week in the Chicago area but wanted more. Hurd faces up to 40 years in prison and a $2 million fine. The United States attorney's office in Dallas has 30 days to present its case to a grand jury for indictment.
Mon. Dec 19, 2011 2:29pm
CHICAGO, IL
(WCJB) — Chicago Bears receiver Sam Hurd was in federal custody on Thursday, charged with trying to set up a drug-dealing network. He was arrested with a kilogram of cocaine in a sting, the authorities said. Hurd was arrested Wednesday night after meeting with an undercover agent at a Chicago restaurant, according to a criminal complaint that says he was first identified as a potential drug dealer over the summer as the N.F.L. lockout neared an end. Hurd told the agent that he was interested in buying 5 to 10 kilograms of cocaine and 1,000 pounds of marijuana each week to distribute in the Chicago area, the complaint said. He said that he and a co-conspirator distributed about four kilos of cocaine every week, but that their supplier could not keep up with his demands, the complaint alleges.
video
Judge Young Kim said Hurd (
pictured left
) would need to return to Texas to face the charges. During a hearing Thursday in Chicago federal court, Kim ordered Hurd held pending bond. The hearing will be continued Friday after prosecutors and defense lawyers discuss possible bond. Hurd was handcuffed as marshals led him to the hearing. A defense lawyer, said Thursday that he spoke with prosecutors and expected Hurd to be released Friday. The attorney said Hurd was ready to "fight the case." According to the complaint, Hurd agreed to pay $25,000 for each kilogram of cocaine and $450 a pound for the marijuana. The United States attorney in Texas said Hurd faced up to 40 years in prison and a $2 million fine if convicted of conspiracy to possess with the intent to distribute more than 500 grams, or half a kilogram, of cocaine. Hurd's agent did not return messages. Coach Lovie Smith said the arrest was a disappointment and a "total surprise," adding that Hurd was still a member of the Bears for now. Smith said there was no reason to believe Hurd had problems when the Bears signed him before the season. Hurd, 26, played for five seasons with the Dallas Cowboys and is in his first season with the Bears. He has played in 77 games over all, starting six and scoring two touchdowns, while contributing mostly on special teams. He has played in 12 games this year, with eight catches for 109 yards. Teammates said Thursday that they were stunned. "It's a situation that you don't, I don't, want anybody to be in, especially a close friend," said fellow receiver Roy Williams, who also played with Hurd in Dallas. The Bears agreed to a three-year deal with Hurd reportedly worth up to $5.15 million, including a $1.35 million signing bonus and base pay this season of $685,000.
Intoxicated Indictments!
Posted: Tues. December 20, 2011 9:05 PM PST - Updated: Wed Dec 21, 2011 04:00pm PST
OAKLAND, CA (WCJB)
— A former Contra Costa County sheriff's deputy is due to appear before a federal judge in Oakland Feb. 7 for the setting of the next dates in his prosecution on charges of so-called "dirty DUI" arrests. Stephen Tanabe (
pictured above, center
) 48, of Alamo, was indicted by a federal grand jury last week on four charges accusing him of aiding former private investigator Christopher Butler in arranging the drunken driving arrests of three husbands in divorce cases. He pleaded not guilty to the charges before U.S. Magistrate Laurel Beeler on Monday. Beeler granted him bail of $400,000 and ordered him to return to the court of U.S. District Judge Saundra Armstrong Feb. 7 for the setting of future dates, including a possible trial date.
The four charges in the Dec. 15 indictment are one count of conspiring to extort under color of official right, or under his position as an officer, and three counts of extortion under color of official right. The indictment alleges that Butler gave Tanabe cocaine and a firearm in exchange for his help in making the arrests of three husbands or ex-husbands of women who were clients of Butler and were in the midst of divorce or child custody disputes. Butler allegedly arranged for an undercover employee to make plans to meet each victim at a bar. Butler would then "direct the employee to entice the target to drink alcohol until he was intoxicated, and have a police officer waiting outside the bar to stop and arrest the target for drinking under the influence," the indictment alleges. Tanabe allegedly personally made two of the arrests on Jan. 9 and 14 of this year.
In a third case in Nov. 2, 2010, he allegedly arranged for another deputy sheriff to wait outside the bar and make the arrest while Tanabe remained inside the bar "monitoring the alcohol intake of the target," according to the indictment. Tanabe's defense attorney was not available for comment Tuesday. The prosecution grew out of a Contra Costa County law enforcement scandal that began with an investigation of stolen drug evidence and expanded to a probe of alleged drug sales, theft, bribery, possession of illegal weapons and prostitution.
Butler, former Central Contra Costa County Narcotics Enforcement Team (CNET) commander Norman Wielsch and former San Ramon police officer Louis Lombardi have previously been charged in federal court. They and Tanabe also face state court charges filed by the Contra Costa County District Attorney's Office and are scheduled to have a preliminary hearing in that case on March 5. Butler and Wielsch were federally indicted in August on charges of selling methamphetamine and marijuana, stealing from a federally funded program and extorting payments from employees running an illegal massage parlor that Butler and Wielsch allegedly established. They are due to appear before Armstrong in Oakland on Jan. 24.
Lombardi, who was assigned to work with CNET between 2005 and 2009, was charged in a criminal complaint filed in May and revised in October with possessing a stolen gun, selling marijuana and methamphetamine and depriving unnamed victims of their civil rights. He previously pleaded not guilty but is scheduled to enter a change of plea before Armstrong on Jan. 26. Butler is identified only by his initials in Tanabe's indictment, but was identified by name in an affidavit filed in the state court case by Contra Costa County Sheriff's Detective Sgt. Jason Vorhauer in March. That affidavit alleged that two deputies told investigators they aided Butler and Tanabe in the Jan. 14 and November 2010 "dirty DUI" arrests.
The alleged victim in the Jan. 14 arrest was identified as Mitchell Katz, owner of the Mitchell Katz Winery in Pleasanton, when Katz filed a federal civil rights lawsuit on Dec. 1 against Contra Costa County; his estranged wife, Alicia Spenger; Tanabe; Butler and others. Katz, a Livermore resident, contends in the lawsuit that he was lured to a Danville bar on Jan. 14 by Carl Marino, a Butler employee who was posing as the producer of a television reality show. The lawsuit alleges that Katz was surrounded at the bar by four other women who claimed they were familiar with his winery but were also allegedly employed by Butler. Katz was pulled over and arrested by Tanabe when he left the bar. Katz says in the lawsuit that he was later told by Marino in an e-mail in March that the operation was a "set up" and that Marino had told the U.S. Department of Justice about the alleged scheme. Also in March, county prosecutors declined to file any DUI charges against Katz, telling Katz's defense lawyer in a letter that the arrest was illegal because Katz ""appeared to be the victim of an intentional conspiracy to entrap targeted victims of Tanabe's accomplice, Christopher Butler." The lawsuit is pending in federal court in Oakland.
The 'Norm'!
Posted: Thurs. December 15, 2011 12:14 PM PST - Updated: Wed Dec 21, 2011 04:37pm PST
WALNUT CREEK, CA (WCJB)
– A disgraced former police commander was back in state court Thursday morning, along with several other co-defendants, facing state charges from the Contra Costa District Attorney's office, despite federal officials taking over the case six months ago. Norman Wielsch (
pictured below, left
) of the now-defunct Contra Costa County Narcotics Task Force, appeared before Judge William M. Kolin in a Walnut Creek courtroom at 8:30 Thursday morning. Christopher Butler, a private investigator, also appeared before the judge along with former Danville cop Steven Tanabe and former San Ramon officer Louis Lombardi. After a brief hearing, the judge ordered the men to return to a Martinez courtroom on February 8, 2012 for a readiness conference. The judge said a preliminary hearing will likely take place in the first week of March.
Prosecutor Jun Fernandez told media sources that the case was proceeding in state court, in part, because it hasn't been resolved in federal court and that the feds, as a matter of policy, are not sharing the proceedings of their case with the county. "We have our own independent case that needs to go forward," Fernandez said. Wielsch's attorney questioned the move. "Usually the state dismisses the charges because it costs a lot of money to handle a case that's already being prosecuted at the federal level," said the attorney. "That's not being done here for whatever reasons. Those reasons are only known to the District Attorney of Contra Costa County." "I've been told that (the Contra Costa County DA's office) may want us to plead in the state court so they get their pound of flesh," continued the attorney. "But whatever time my client gets in federal court will be more than sufficient to assuage any concern the state prosecutor may have. So why would they need us to plead to something? If push comes to shove, we may tell them to take us to trial."
Tanabe was charged in state court for drug and bribery crimes, but was the only one of the four who has not been charged in federal court. While Wielsch and Butler were initially brought up on 38 state charges – from reselling confiscated drugs to bribery – Contra Costa County District Attorney Mark Petersen later announced on June 3rd he was handing their cases and those of the two other cops over to the feds, citing budget constraints and conflict of interest concerns. On August 15th, a federal grand jury indicted Wielsch and Butler on narcotics charges, civil rights violations, extortion and added allegations that the two ran a brothel in Pleasant Hill. Lombardi was arraigned in federal court on October 25th for charges regarding stolen cash, jewelry and drugs.
Back in June, Petersen announced, "It is my belief that the people of this county are best served if we enlist the United States Attorney's Office and federal Bureau of Investigations" as he handed the case over to the feds. At the time, the district attorney made it clear he was not dropping any charges – leaving open the possibility of continuing a parallel prosecution in state court. All of the defendants remain free on bail.
Honolulu Police Sex, Drugs & Patrol!
POSTED: 8:35 pm HST November 16, 2011 UPDATED: 04:32 pm PST November 27, 2011
Monday night, the FBI arrested
Honolulu Police Department
Major Carlton Nishimura (
pictured left
) after a federal raid found the drug crystal methamphetamine at his home on the Waianae Coast. "I am very concerned about the seriousness of this recent allegation," said Police Chief Louis Kealoha in remarks to reporters Wednesday.
The FBI says it found about 231.5 grams, or more than a half pound, of the drug (Meth)
in Nishimura's Waianae home Monday night. The Federal agents returned to Nishimura's home Tuesday night with metal detectors as well as a dog and appeared to search his garage and elsewhere in his house.
Honolulu City Councilwoman Tulsi Gabbard, who chairs the council's safety committee, said, "It is unfortunate that the actions of these very few cast a shadow over the really great work being done by officers at HPD every day." "No one is above the law and people need to be accountable for their actions," Gabbard said. HPD put Nishimura on unpaid leave Tuesday, after the FBI arrested him for intent to distribute crystal meth.
In February, a federal grand jury indicted Nishimura for extortion in another case, with prosecutors claiming he conspired to accept bribes from illegal gambling operations in exchange for steering police away from raiding them. When Nishimura, a 30-year HPD veteran, was indicted earlier this year, he had been assigned to the legislative liaison office of the police department, which lobbies state lawmakers and members of the city council on HPD's behalf. Sources said until Tuesday, he had been working in the Community Affairs division, on leave with pay.
Winn Sheriff!
August 5, 2011
In a photo take in 2008, Winn Parish Sheriff A.D. "Bodie" Little stands in front of the prison roster at the prison in Winnfield, La. Little and four other people on were arrested Tuesday, Aug. 2, 2011, on federal charges tied to the distribution of methamphetamine in northwestern Louisiana.
SHREVEPORT, La.
(WCJB) — A federal magistrate has approved house arrest for Winn Parish Sheriff A.D. "Bodie" Little, who is accused of helping his girlfriend cover up her alleged methamphetamine deals. Magistrate Mark Hornsby set Little's bond at $100,000 and said he must wear an ankle monitoring bracelet, submit to alcohol and drug testing, take a leave of absence from the sheriff's office and stay out of its administration. "You are out of the business of being sheriff, effective immediately," he told Little after hearing more than 90 minutes of testimony by a state trooper who investigated the sheriff. Little was among 11 people indicted Tuesday on charges of dealing methamphetamine in the Winn Parish and Shreveport areas. He has pleaded not guilty. His attorney says the arrest is political. Hornsby says Little's home must be thoroughly searched and monitoring equipment installed before Little can leave the Caddo Parish jail. That probably will be sometime next week, he said.
Master Trooper O.H. "Hank" Haynes IV testified that a state-federal task force began investigating Little after he asked Caddo Sheriff Steve Prator last year to get a drug task force to investigate dealers in Winn Parish. "I think it's clear he wanted everyone arrested except his girlfriend," Haynes testified.
Federal Wiretaps!
Posted: January 2, 2013 | 11:38 am
Los Angeles County, CA
-- Bernice Abram and Daniel Cruz, two embattled Los Angeles County sheriff's captains, have retired. Abram was caught funneling secret information to an alleged Original Front Hood Crip/drug trafficker, Dion Grim. Abram met the gang member after she began dating his father. Cruz was accused of protecting brutal and dishonest jailers. Sheriff's spokesman Steve Whitmore confirmed the retirements. Neither Cruz nor Abram have been charged or convicted of a crime. As such, both retirees are expected to receive their taxpayer-funded pensions. Whitmore declined to comment on whether the captains retired because of the allegations against them. "Both performed admirably," he said, "when you look at the entire career."
Abram ran the sheriff's Carson station. She had more than 150 deputies under her command. Abram was discovered on a federal wiretap talking to an alleged Compton drug trafficker. She was overheard alerting Grim to planned sheriff's operations in his area. Grim was since arrested by federal authorities. The Feds have charged him and members of his alleged ring. They are accused of moving drugs cross country. Grim has pleaded not guilty.
The district attorney's office chose not to file charges against her. They said they couldn't prove she knew the man was involved in illegal activities. However, a prosecutor's memo showed Abram using her post to help the man avoid law enforcement scrutiny. In one call, after the gang member was arrested by a sheriff's deputy, Abram was overheard ensuring him the case wouldn't be filed. "I told someone he'd better take care of it," Abram told him. Abram has repeatedly declined to comment to media sources. In one instance in which she did speak to media sources, she claimed she'd never heard of Grim before hanging up. Even though local prosecutors declined to file charges against her, an FBI spokeswoman told sources last year that a federal probe is ongoing.
Cruz is the former captain at Men's Central Jail. During Cruz's tenure, sheriff's brass expressed concern in internal audits about inexperienced jailers and excessive force against inmates at the downtown Los Angeles lockup. Most notably, officials said an aggressive gang-like clique of deputies existed on the jail's third floor. In testimony before a county commission examining jail abuse, Cruz was accused of protecting abusive jailers.
One of his former lieutenants testified that Cruz resisted rooting out jailer misconduct and allowed force investigations to languish. Cruz's lieutenant alleged the captain even joked about hitting inmates during a toast at a department party. In another instance, the lieutenant described a roomful of supervisors watching footage of deputies beating an inmate. The video showed one jailer casually leaning against a door frame, occasionally landing knee drops into the prisoner's torso. Despite excessive force by the deputies, the lieutenant said Cruz turned to the other jail supervisors and said: "I see nothing wrong with that use of force." The lieutenant also testified that after jailers got into an off-duty brawl with patrons at BJ's Restaurant and Brewhouse in West Covina, Cruz told him "Don't look too hard" into what had happened.
Internal memos found that Cruz's jailers crafted narratives "dramatized to justify" force. Authorities concluded some confrontations with inmates were triggered by deputies who thought inmates had acted disrespectfully to them -- showing "contempt of cop." Other documents showed the department had some of its least experienced deputies guarding its most dangerous inmates on the third floor of the Men's Central Jail. The memo linked this practice to more frequent clashes on the floor than in any other part of the jail.
In an interview with media sources last year, Cruz said the allegations were untrue. However, he declined to go into specifics. He accused his critics of wanting "to be in the limelight." He also said he looked forward to returning to work. Cruz remained on leave during the internal investigation.
However, when reached last month, he said he could not "confirm or deny" that he was retiring. He told a reporter "it's none of your business ... it's not anyone's business." Cruz's retirement marks the third top sheriff official who has resigned, or retired. The other official was implicated in the jail abuse scandal that broke out in 2011 and has since left the department. An FBI investigation into deputy misconduct in the jails is ongoing.
Posted: November 26th, 2012
Carson, California
-- Another chapter surfaced in one of the many perplexing sagas that continue to unspool at the Los Angeles Sheriff's Department.
The latest installment pertains to Captain Bernice Abram. Abram, the head of the department's Carson station, has been on administrative leave since mid-April 2011. She was reportedly caught on tape warning Dion Grim, the alleged head of a drug-trafficking ring, of some impending police surveillance. The "surveillance" was in fact part of a sting operation—-which had been specifically designed to catch Abram in the act of passing police info to the 36-year-old Grim.
Abram also reportedly used her position to get Grim and his sister out of various low-rent legal scrapes, tickets and more, by leaning on various subordinates—in one case reportedly to the point of attempting to discredit a department deputy who was investigating Grim and his friends.
Now, 19 months later, according to a report in the LA Times, the Los Angeles District Attorney's office has declined to charge Abram with anything. In the case of the ticket fixing, et al, the statute of limitations on the various incidents had simply run out.
As for the more serious potential crimes of warning an alleged drug dealer of law enforcement activity that might adversely affect him, the DA's office said they couldn't prove that Abrams knew that Grim was engaged in illegal activities. Nevermind that in August 2011, four months after Abram was relieved of duty, Grim and fourteen of his alleged associates were arrested after a 2-year-long multi-agency investigation into two inter-state drug trafficking rings, one allegedly headed by Dion.
Here are the basics of this maddening tale as outlined in an excellent story by the LA Times' Robert Faturechi.
The trap was set. All that was left for Los Angeles County sheriff's investigators to do was wait and see if the unthinkable was true.
Suspicions had grown that one of their colleagues — a respected captain with more than 150 deputies under her command — was funneling secret information to an alleged Compton drug trafficker. So investigators sent out a phony plan as bait, according to records and interviews, detailing their intention to do surveillance on a house near the suspected trafficker's home.
A few minutes after receiving the fake plans, Capt. Bernice Abram was heard on a phone tap placing a call to Dion Grim, the suspected drug dealer.
Authorities listened in as she tipped him off about the location of the planned surveillance. Stay away, she warned.
That day, in April 2011, sheriff's officials placed Abram on leave, and for more than a year afterward her ties to Grim were investigated. Prosecutors recently declined to file charges against Abram, saying they couldn't prove the captain knew that Grim, a documented gang member, was involved in illegal activities.
But a district attorney's memo explaining that decision provides the most detailed description yet of how the Sheriff's Department came to believe one of its up-and-coming leaders was betraying the agency and shows the efforts officials pursued to prove it. The memo also documents several occasions when Abram appeared to use her authority to help Grim avoid law enforcement scrutiny.
An FBI investigation into Abram is ongoing, a spokeswoman said.
The Sheriff's Department placed Abram on leave along with her niece, a custody assistant who prosecutors said improperly accessed a law enforcement database for Grim. They remain on leave and together have collected more than an estimated $300,000 in salary as the sheriff's internal probe continues, based on posted county salaries….
A department source tells us that, now that the DA's office has declined to prosecute, the LASD's Internal Affairs investigation will likely begin—although the FBI's continuing probe could further delay an IA investigation.
He also said that Abram's actions as reported by the Times contained multiple firing offenses.
Another source familiar with the workings of the Carson station that Abram oversaw, and with the reputation of Grim and his friends, said that the notion that Abram was unaware of Grim's extralegal activities was simply not credible.
Several LASD sources expressed concern that, even if Abram's actions are found to be cause for her termination, she could be allowed to retire ahead of any findings, thereby retaining all pension and benefits that she has accrued at that point.
Back in April of 2011, Sheriff Baca told KABC's John North that he expected the investigation into Abram's possible wrong-doings to be wrapped up in approximately 30 days.
Sources noted that Bernice Abram and Undersheriff Paul Tanaka have been friends since junior high school but said that the undersheriff assured press that there was no conflict of interest.
POSTED: April 5, 2011 - UPDATED: August 28, 2011 - REVISED: December 28, 2011 - 10:25 AM PST
When federal agents eavesdropped on the telephone conversations of several drug trafficking suspects, they heard talk of marijuana sales, money transfers and cross-country drug shipments. In August, investigators from the FBI and other federal agencies arrested people accused of being members of the alleged Compton-based drug ring that was the focus of the wiretapping. Authorities say Dion Grim, the man accused of being the group's leader, is a Front Hood Crips associate who operated a walk-up drug house in Compton and illegally shipped Xanax and other prescription medications from Los Angeles to Louisiana.
Grim, in his mid-30s, is accused of controlling sales, mostly of marijuana, at a notorious walk-up drug house at 927 W. Stockwell St. in Compton.
Grim is also an employee at a trash collection and recycling company
. His organization also allegedly had operatives in Louisiana who sold prescription pills there and funneled funds back to Grim. During one raid of the drug house, owned by Grim, so much marijuana was flushed that almost 150 grams of pot stayed clogged in the toilet bowl, according to law enforcement records. In one incident, an associate of Grim's was pulled over on the 10 Freeway with a duffel bag from Waste Management, the sanitation company where Grim works. Law enforcement records say the black bag contained 4,200 Xanax pills and 13 single-pint bottles of codeine with promethazine, also known as "sizzurp" or "purple drank."
While eavesdropping on the wiretaps, the Feds also detected something far more surprising: the voice of a Los Angeles County sheriff's captain. In April, 2011,
Captain Bernice Abram
, who was, at the time, the commanding officer in charge of the department's Carson station, was put on leave after federal authorities notified LASD higher ups, that Abrams voice may have been heard on an FBI narcotics wiretap.
Los Angeles Law enforcement sources have confirmed that Bernice Abram (
pictured left
) who is in charge of the sheriff's Carson station, was put on leave after federal authorities notified sheriff's officials that their captain may have been heard on the narcotics wiretap. In an interview with media sources, Sheriff Lee Baca would say only that the decision to place Abram on leave was spurred by "concerns presented from outside the department … and inside." "I know it's sensitive enough for her not to be working while we look into it," the sheriff said.
Abram has been on leave since April, along with her niece, a sheriff's custody assistant named Chantell White. Abram said in a brief interview that she didn't know why she was on leave.
She also said she'd never heard of Grim
. Her niece referred all questions to Sheriff's Department headquarters.
Investigators from both the FBI and the Sheriff's Department spent several hours inside Abram's Carson station Aug. 9. An FBI spokeswoman declined to say whether the agency is investigating Abram or to provide additional details. The captain is on leave with pay pending the outcome of the internal probe. Since 2009, Abram has been
in charge of policing the city
of Carson and the unincorporated areas of Torrance and East Rancho Dominguez. She started at the Sheriff's Department in 1987 and has held various posts there, including with the Special Victims Bureau and at the Compton and Century stations.
According to a department release, she was named woman of the year by the Anti-Defamation League for "combating hate." She lists
a local rabbi
as her spiritual advisor, according to the bio.
Connections!
POSTED: April 5, 2011 - UPDATED: December 28, 2011 - 10:25 AM PST
Published Thursday, Feb. 3, 2011 | 2:57 a.m. ~ Updated Thursday, Feb. 3, 2011 | 7:46 p.m.
Las Vegas, NV
-- Anthony Carleo is the 29-year-old son of Las Vegas Municipal Court Judge George Assad. He's suspected of stealing $1.5 million worth of chips from the Bellagio during a brazen armed robbery. Carleo allegedly expressed his desire to "come up with some very big money" at the very casino he allegedly robbed days later. Metro Police said Carleo proceeded to rob the casino Dec. 14, 2010. The robbery set in motion seven weeks of gambling, peddling chips and extended stays at the Bellagio until his arrest Wednesday night on the casino floor. The arrest followed an extensive investigation into the headline-grabbing robbery at one of the Strip's most recognizable casinos.
Metro Lt. Ray Steiber said during a news conference that Carleo was arrested while staying at the Bellagio after an undercover police investigation. According to an arrest report released Thursday, Carleo, was arrested and booked on seven counts of robbery with the use of a deadly weapon and burglary with use of a deadly weapon. He was being held without bail at the Clark County Detention Center.
He said police recovered $900,000 worth of chips and have accounted for another $300,000 in chips.
The
arrest report
details an extensive investigation crossing state lines as several people came forward with tips implicating Carleo in the robbery. Police allege Carleo admitted to his involvement after being taken into custody.
The first of the missing high-value chips surfaced when a Salvation Army bell-ringer tried to cash in a $25,000 chip at the Bellagio on Dec. 23. After raising suspicion, the bell-ringer told security a stranger had given him the chip while he was tending a donation kettle between the MGM Grand and New York-New York. Police questioned and released him following an interview.
The day before, a poker dealer at the Bellagio had contacted police and said he thought Carleo might be responsible, based on conversations prior to and after the robbery, authorities said. On Dec. 11, Carleo allegedly told the dealer he needed quick money and said, "Man, how easy would it be to rob a casino?" The dealer told police Carleo dismissed the notion that it would be difficult, allegedly saying, "All you need is a black mask and a motorcycle, and I have a motorcycle." The dealer told police he feared for his life after he confronted Carleo about the Bellagio robbery. At this point Carleo denied any involvement in the robbery, but was gambling days after admittedly being broke.
Police noted in the arrest report that they learned the following information upon beginning to investigate Carleo:
•
He owned a 2007 Suzuki GSX-R motorcycle, which matched the make and model of the one used in the robbery.
•
He didn't own any weapons, but firearms consistent with the one used in the robbery were found during a firearms check where he had been residing, 1825 Corta Bella Drive, a gated community in Las Vegas. Clark County Assessor records show the home is owned by his father.
•
Carleo had previously lived in Pueblo, Colo., where he had a real estate broker associate's license that expired Aug. 1, 2010. In September 2009, Carleo had filed for bankruptcy.
•
U.S. Treasury Records indicate he had nine cash transactions in excess of $10,000 from the day of the Bellagio robbery through Dec. 23, police said.
•
From the time of the robbery through Jan. 22, Carleo had lost more than $107,000 gambling at the Bellagio, despite telling police during a field interview Jan. 3 that he was a college student with no reportable income.
On his
Facebook page
, Carleo described himself as a biology/pre-med student at UNLV and listed the quote, "Money isn't everything but it's right up there next to oxygen."
Meanwhile, according to the arrest report, police received more tips allegedly linking Carleo to the robbery, including one from a friend of his who contacted authorities after fearing Carleo might strike another casino. The friend, who had played poker with Carleo, told police
Carleo allegedly owed more than $250,000 to the mob
. The friend said Carleo confessed to him about robbing the Bellagio and on Jan. 21 said he might need to do "something drastic in the next several days" — prompting the friend to contact authorities, according to the arrest report.
Carleo had been staying at the Bellagio from at least Jan. 19 to Jan. 26. He reportedly received complimentary rooms, meals and beverages based on his level of gambling, police noted in the report. Bellagio's security team had put Carleo under surveillance beginning Jan. 19 because his gambling winnings and losses seemed suspicious, according to the arrest report. Bellagio staff suspected he was cashing chips that weren't part of his winnings.
On Jan. 28, police received another tip. A man named Matthew Brooks from Vienna, Va., had contacted Bellagio investigators because he believed he had spoken to the Bellagio robber on the Internet, the arrest report alleges. The two struck up a conversation on the poker website on Jan. 16. According to the arrest report, Brooks began exchanging e-mails with "Oceanspray25," who tried to sell him some of the stolen $25,000 chips. During subsequent talks on the phone and more e-mails — from cranberrykid25@yahoo.com, a reference to the color of the $25,000 chips, and signed "Biker Bandit" — Brooks told Bellagio investigators the subject allegedly confessed to the Bellagio robbery.
A police check on the origin of the e-mails indicated they came from the address on Corta Bella Drive in Las Vegas, which matched Carleo's Nevada driver's license, according to the police report.
As investigators narrowed their sights on Carleo, undercover officers began meeting with him at the Bellagio on Jan. 28 to buy the $25,000 chips. Carleo allegedly sold the undercover officer several $25,000 chips, which he said were from the Bellagio heist, and police took him into custody. When questioned by investigators during an interview at police headquarters following the arrest, Carleo confessed to his involvement in the robbery, police said. The night Carleo was arrested, police also made contact with his girlfriend at the Bellagio. She consented to a search of her apartment.
Inside, police recovered sixteen $25,000 chips and $5,000 worth of cash, according to the arrest report. They found seven more $25,000 chips at another residence in Las Vegas after executing a search warrant.
Thursday afternoon, Carleo's father, George Assad, said in a statement that his family is "devastated and heartbroken" about the arrest, but he cannot ethically discuss the pending legal matter. "I can say that as a prosecutor and a judge, I have always felt people who break the law need to be held accountable," Assad wrote.
Carleo is scheduled to make his first court appearance Friday morning, according to jail records.
At the time of the Bellagio robbery, investigators said they suspected the Bellagio bandit was the same man who robbed the Suncoast, 9090 Alta Drive, on Dec. 9. In that holdup, the man robbed a cashier's cage near where a poker tournament was going on and got away with just less than $20,000, police said.
---
Reader Pageviews by Country
---
Click on Banner to Sell Your Home(s)!
From: 2011 Dec 16 14:00 – 2011 Dec 23 13:00
---
United States
•» 2,516
Russia
•» 103
Germany
•» 80
United Kingdom
•» 73
Canada
•» 41
France
•» 36
Slovenia
•» 23
Japan
•» 22
New Zealand
•» 20
Estonia
•» 15
---
Movie Intermission!
Officer Daniel Holtzclaw's Rape Interrogation (Full Video)!
---
Description: Oklahoma City, OK --
The above interrogation was conducted by Oklahoma City Police Sex Crimes Detectives Kim Davis and Rocky Gregory. The interrogation took place at the Oklahoma City Police headquarters during the late afternoon hours of June 18, 2014 - approx. 13-hours after accuser Jannie Ligons claims she was pulled over and sexually assaulted. These are the only comments Daniel Holtzclaw has ever made regarding the rape allegations against him.
---
---