↓↓↓↓↓↓↓↓↓ Blog Post Starts Below ↓↓↓↓↓↓↓↓↓
---
Click on Banner to Sell Your Home(s)!
---
Top News Story!
Brown-Hole!
Posted: 9:49AM PDT, October 21st, 2016 | Updated: 5:16AM PDT, October 23, 2016

Milwaukee, WI -- Dominique Heaggan-Brown, 24, is a police officer for the Milwaukee Police Department. He was put on administrative duty after the controversial shooting death of Sylville Smith on August 13, 2016. Officer Heaggan-Brown has now been charged with sexually assaulting a man only two days after the shooting. He faces two felony counts of second-degree sexual assault of an intoxicated victim: one felony count of capturing an image of nudity; and two misdemeanor counts of prostitution.




Police say that on August 15, 2016, Heaggan-Brown was drinking with the man at a bar. They were reportedly watching protests of the Smith shooting. The man went to Heaggan-Brown's home with him. Police say once there, the sexual assault occurred. Police say Heaggan-Brown took the man to hospital. He told hospital staff that the man was acting "weird and unresponsive" at a bar and "completely out, zonked out" from drinking. However, the man told hospital staff: "the officer raped me."

The complaint states the next morning, Heaggan-Brown allegedly texted a sergeant from the force for advice. He wrote: "Need your help big time,""Fucked up big time … But need to handle this the most secret and right way possible." The sergeant met with him, and Heaggan-Brown defended the incident as consensual sex, adding that the man "was drunk and had 'medical issues.'" Authorities say they don't believe that story.

The criminal complaint was filed Wednesday. A preliminary hearing is scheduled for next Thursday, October 27. Milwaukee County jail records indicate Heaggan-Brown remains locked up in lieu of $100,000 of bail. Attempts to reach Heaggan-Brown have been unsuccessful at this time.

Cut Throat!
Posted: 7:49AM PDT, October 20, 2016 | Updated: 5:16AM PDT, October 23, 2016

Orange County, CA -- The scene at a Orange County Superior Court on Wednesday took an unexpected dramatic turn. A jury announced a guilty verdict for Jeffrey Scott Jones. Jones was found guilty of two felony counts of aggravated sexual assault of a child; and one felony count of continuous sexual abuse. A criminal conviction for charges as serious as sex crimes is generally an emotionally charged moment for both sides. However, after the verdict was announced, Jones pulled out a razor blade and slit his own throat in the middle of the courtroom.

The jury was immediately taken out of the room. A deputy restrained Jones. He was bleeding from the neck and screaming. Deputy District Attorney Heather Brown said Jones reportedly hit his head on a table as well. He was hospitalized. Orange County Sheriff's Lt. Mark Stichter told media sources that Jones' injuries weren't life-threatening. Jones ended up surviving

The conviction was the result of raping a teenage girl. Jones' repeated sexual abuse of the girl started when she was 13 years old and in eighth grade. She is now 17. The sexual abuse first began in 2012 and continued into 2013. Jones was a high school teacher for 27 years. He never had her as a student. Jones faces up to 68 years in prison. He is scheduled for sentencing on November 4, 2016.

Balta Moe'!
Posted: 3:08 p.m. Tuesday, June 16, 2015 ~ Updated: 4:08 p.m. Tuesday, June 16, 2015
Baltimore, Md. ~ USA (T.A.D.)

-- Baltimore Police: At least 7 officers injured in clashes -- 1 is "unresponsive," some have broken bones; mob has surrounded and destroyed a police cruiser.
DPD Beatdown!
Posted: Monday, Aug 5, 2013 10:44 PM CDT - Updated: Monday, Aug 29, 2013 04:20 AM PDT

Davenport, Iowa -- An Iowa woman is consulting with a law firm as she contemplates a lawsuit against a Davenport police officer who has faced disciplinary action for the beating he gave her while she was questioned on suspicion of shoplifting. Surveillance video of the February 18, 2013 incident at the Von Maur Department Store was given to a non-profit organization.




"I was crying and begging him to get off me," Brandie Redell, the woman who was beaten, said in a recent interview with the non-profit. Her right eye was injured in the incident, and she says her vision is still impaired. Prior to being hit about the face and head, Redell was being questioned by police after store employees reported she attempted to steal $388 worth of women's clothing. The officer, Scott Crow, said in his report he hit Redell because she bit his finger and wouldn't let go.

•» Davenport Police Case Report

The video, however, shows Crow striking Redell with both fists.

Though Crow was not criminally charged -- a prosecutor cited a lack of evidence -- he did face disciplinary action from the Davenport Police Department.

•» Redell's Complaint Against Officer "Sustained"

He remains on the force and could not be reached for comment. Redell pleaded guilty to a misdemeanor charge of shoplifting shoplifting and is scheduled to be sentenced Aug. 23 in Scott County (Iowa) Court. Her criminal record includes two previous shoplifting convictions, records show. A second misdemeanor charge, assault causing injury to a peace officer, was dropped.

Redell contacted the Chicago-area-based nonprofit Living and Driving While Black Foundation, which referred her case to the law firm. The organization's president, David Lowery, is a former resident of Davenport. "Our position is no matter what Ms. Redell's criminal record states, no human being should be assaulted by Davenport Police, who are to serve and protect," Lowery said.

---
Cops That
Sexually Offend!
2010 - XXIV!
---
The III (3rd)!
Posted: 08/29/2013 05:09:13 PM PDT | Updated: 08/29/2013 05:09:13 PM PDT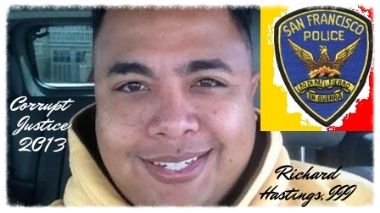 CONCORD, CA -- Police confirmed Thursday that a San Francisco police officer was arrested last week on suspicion of sexually molesting a 15-year-old Concord boy.

Richard H. Hastings III was arrested near his Concord home on Aug. 21, booked and released after he posted bond. On Thursday, police said they had presented their investigation to prosecutors and asked them to charge Hastings with lewd and lascivious acts with a child 14 or 15 years old; sodomy with a child under age 16; and contributing to the delinquency of a minor.

Hastings could not be reached for comment Thursday. A spokesman for the San Francisco Police Department did not immediately return calls for comment, though Concord investigators said the department is aware of the arrest.

The Contra Costa County District Attorney's Office said that it reviewed the case against Hastings and sent it back to Concord police for further investigation on Thursday.

Police launched the investigation into the relationship between the juvenile boy and the 37-year-old Hastings on Aug. 8 but have not said what led them to begin looking into the relationship between the two.

During the investigation, detectives established probable cause to arrest Hastings for committing several sex offenses in Concord against the juvenile, police said. Police obtained an arrest warrant, and Hastings was arrested without incident at 8:15 a.m. Aug. 21 on Monument Boulevard near Ramona Lane.

Police searched his home but did not disclose what was found.

"Puyallup: That's Lewd!"
Posted on August 22, 2013 at 10:01 AM - Updated: Wednesday, Aug 28 at 12:07 AM PDT

Puyallup, WA -- The Puyallup Police Department is facing accusations A Seattle attorney and co-counsel filed suit Thursday, August 22, against the Puyallup Police Department on behalf of a dozen DUI suspects, eleven women and one man, claiming that their privacy rights were violated. The suit alleges that Puyallup Police Department jailers forced primarily female DUI suspects to needlessly undress and recorded the nudity on the jail's in-house surveillance system. "It appeared from my limited review that it was happening to women -- attractive women, in particular," the attorney said. Jail surveillance video, obtained by the plaintiff's law firm, shows the woman changing into a standard-issue jail uniform. But then a jailer comes back to the cell and she's told to undress again. The women are alleging the recordings amount to not just illegal strip searching but criminal voyeurism that should be prosecuted.



"If this were any other person and had occurred outside the yjail, we would call these people peeping Toms," said co-counsel for the plaintiffs. "It's not right," said one of the alleged victims who did not want to be identified. She said jailers told her to take her clothes off in what she thought was a private cell. "He (said) 'You have to take everything off – off. Underwear too,'" said the married mother of two. "I said, 'It's just underwear. What can I do in my underwear, you know?' He said 'You just have to take everything off.'"

The Seattle attorney said more than two years ago he noticed while reviewing evidence that two of his female DUI clients were forced to disrobe at the Puyallup jail, even though they weren't being booked and they were about to be released. He made public record requests for more jailhouse videos. "I wondered if there was a pattern," he said. He also said he found that women were being ordered to use the bathroom and change in cells equipped with video cameras. He found that males were more likely to use a curtained area in the jail's common area that he said is not monitored by cameras. "The irony is, these women are being suspected of misdemeanors and taken to a facility where officers are committing felonies, the attorney said."

The city of Puyallup says video surveillance is a standard tool in holding cells everywhere, and that completely stripping and changing into jail clothes is standard procedure that keeps prisoners from possessing contraband. The city says there is no evidence of exploitation on the part of police. In fact, they claim that's something the women's attorney should answer. Puyallup City Attorney Kevin Yamamoto says the suit is baseless. "The jail videos we've watched so far don't show any inappropriate activity. In fact, the corrections officers are acting very professionally," Yamamoto said.

Yamamoto said the Seattle attorney's claims are "not true at all." He said plaintiff's counsel has "selectively chosen videos" and "cherrypicked" the ones he believes prove his case. Yamamoto said cameras in common areas and cells are a common fixture in jails. In contrast to the Seattle attorney's statements, Yamamoto said the suspects were administratively booked and were required to change into jail uniforms to follow what is a common practice in the booking procedure. As for why those videos haven't been deleted, Yamamoto says they are required to keep them for several years because of state records retention laws.

The Seattle attorney said most of the victims did not learn they were videotaped until he contacted them and showed them the videos. "It's so sick," said female client about seeing the tape for the first time. "Oh my God, I (didn't) believe my own eye. It's me. I felt sick to my stomach."

"We see no wrongdoing on the part of anyone at the jail," said Capt. Scott Engle of the Puyallup Police Department.

Pierce County Prosecutor Mark Lindquist was out of the office today and unable to respond to whether he'll look into possible charges against the officers.

Anthony Orban
Jeff Thomas Jelinek
March 7, 2011
A former Westminster detective and his ex-prison-guard friend are set to go to trial April 15, 2011, on charges that they kidnapped and raped a young mother after she left her waitressing job at the Ontario Mills mall last spring.

Anthony Nicholas Orban, a former Marine who no longer works for the Westminster Police Department, and Jeff Thomas Jelinek, a former correctional officer at the Chino Institute for Men, both face life in prison if convicted of the brazen daylight attack that happened after the two spent the day drinking heavily and looking for women, according to prosecutors.

The jury trial, at San Bernardino County Superior Court in Rancho Cucamonga, is expected to last a month, said Deputy District Attorney Deborah Ploghaus.

October 15, 2010


"Dude, what are you doing?"
(Ontario Police booking photos of Anthony Orban (left) and Jeff Jelinek.) RANCHO CUCAMONGA, CA – Those words, allegedly uttered by a California prison guard as he saw his police-detective friend point his service weapon at a woman getting into her car in a mall parking lot in Ontario, prove that the guard was clueless about a brutal sexual attack that was about to occur after the friend and the woman drove away, a defense attorney argued in court Friday. But a judge ruled there was a "wealth of circumstantial evidence" to hold the prison guard over for trial for allegedly aiding and abetting his friend, an off-duty Westminster police detective charged with beating and raping the woman in her car for two hours at a secluded spot in Fontana.

At a hearing Friday at San Bernardino County Superior Court in Rancho Cucamonga, Jeff Thomas Jelinek, 30, a correctional officer at the Chino Institute for Men, lost a legal challenge put forward by his attorney, who argued that not enough evidence was presented at a preliminary hearing to keep Jelinek in custody.

Jelinek and his longtime friend, Westminster Police detective Anthony Nicholas Orban, 30, face life in prison if convicted on charges that they kidnapped and raped a 25-year-old waitress and single mother on April 3, 2010 after a day of drinking and cruising for women. Both men are being held on $2 million bail. They have pleaded not guilty. In a courtroom filled with several of their relatives and supporters, Jelinek and Orban appeared thinner than they did at the last appearance, at a preliminary hearing in June 2010.

As he waited for the hearing to begin, Jelinek was animated as he spoke with lawyer and co-defense counsel in a corner of the jury box, his hands and legs shackled. He smiled frequently and appeared to glance at his supporters in the gallery. Orban looked somber during the afternoon proceedings before Judge Stephen G. Saleson. Also shackled and, like Jelinek, wearing a dark-green jumpsuit indicating protective custody status, Orban kept his gaze lowered and his lips pursed, avoiding all eye contact.

In ruling that a jury should decide whether Jelinek aided and abetted the alleged crime, Saleson pointed out that both men were together when they saw the woman leave her waitressing job, and both followed her to her car. During the two-hour attack, Jelinek called Orban 20 times from his cell phone and texted Orban seven times, and picked him up after the woman escaped, according to court documents.

Police also retrieved three photos off Jelinek's cell phone that Orban allegedly sent him of the sexual attack. Also, keys to the woman's car were found in Jelinek's pocket after their arrest, according to court documents. Jelinek also tried to cover for Orban by lying to police about what he knew of the events that transpired from about 5:15 to 7:15 p.m., according to court documents. Also Friday, prosecutors were granted access to law enforcement personnel records pertaining to training Orban received at the police academy and during his five years at the Westminster Police Department, as well as training records when he worked one week with the Riverside County Sheriff's Department in 2008. Prosecutors also were allowed to review any records pertaining to Orban's experience in interviewing and interrogation.

Prosecutors were allowed to review Jelinek's personnel records during his four years of employment at the Chino prison, but found nothing in the reports that will be relevant to the case, San Bernardino County Deputy District Attorney Deborah A. Ploghaus said after the hearing. Jelinek's attorneys filed a motion to suppress statements he made to Ontario Police detectives, but that matter will be heard at a pretrial hearing. Another hearing to precede that one was set for Nov. 19, 2010.

Police Report: Rape!

The details of the rape are contained in a police report obtained by a reporter with a Southern California news outlet.

Orban allegedly gagged a 25-year-old waitress he did not know with his fingers, choked her, repeatedly slapped and punched her, rubbed the woman's face with his pistol, put the barrel of the gun in her mouth, twice threatened to kill her, ordered her at gunpoint to give him oral sex and snapped several photos of her with his cell phone as he raped her. Spotting a baby car seat in the back of the woman's car, Orban is also accused of asking about the victim's child and, after receiving a phone call in the middle of the hour-long attack, acting scared, telling the woman to get dressed and apologizing.

According to the account, which is based on interviews with the victim, the suspects and police investigation:

•» Orban came to the Ontario apartment of Jeff Thomas Jelinek, his friend since high school, between 10 and 10:30 a.m. Saturday, April 3.

•» Jelinek, who is a Chino Men's Institution prison guard, ate lunch together at Chili's restaurant in Rancho Cucamonga, where they drank margaritas. Both had their service weapons with them.

•» Next, they went to Boston's restaurant on Fourth Street, where they shared a pitcher of beer before heading to GameWorks at the nearby Ontario Mills shopping mall, where they downed another pitcher.

•» They were standing in the parking lot outside Dave & Buster's, which is also in the mall and where the 25-year-old woman was finishing her four-hour waitressing shift around 5:15 p.m.

•» Orban decided they should "go meet this chick." But, after catching a glimpse of the pair out of the corner of her eye, she paid little attention to them and texted as she walked to her car.

•» After she unlocked her SUV with a keyless remote and started to enter the driver's side front door, she heard the passenger side door open.

•» She looked up to see Orban point a silver handgun at her and order her into the car.

•» Jelinek asked his friend what he was doing, and Orban replied not to worry about it.

•» The woman told Orban he could have anything he wanted if he would let her go, but he replied, "Just drive."

•» He told her to drive toward her home, which she informed was in the High Desert.

•» Driving north on the 15 Freeway, Orban told the woman he was going to let her go, getting her to exit the freeway at Base Line Road.

•» Driving east on Base Line into Fontana, they parked in front of a self-storage facility.

•» With his handgun in his lap, he asked the woman about her child, having noticed a child's car seat in the back seat, and other personal details. He smiled while she answered and asked if she was scared. He also said he had one thing to do before she could go.

April 13, 2010


RANCHO CUCAMONGA

– A combination of alcohol and a psychotropic drug, such as an antidepressant, may turn up in blood samples taken from a Westminster police officer accused in the kidnapping and brutal rape of a waitress in Fontana, his attorney said in an interview Tuesday. The attorney said he is waiting for results of toxicological tests on his client, Anthony Nicholas Orban, 30, who along with Jeff Thomas Jelinek, 30, a correctional officer, faces life in prison if convicted of the April 3, 2010 attack that began outside Ontario Mills Mall. Orban and Jelinek appeared at a brief court hearing Tuesday in Rancho Cucamonga.

"It caught us all by surprise," said Westminster Police Chief Mitch Waller. "The morale right now is low." Waller, who became police chief in January and has been with the department for 26 years, said he has never had to deal with an issue of this magnitude. "At this point they are allegations, but from what I know, the evidence against our officer is mounting," Waller said. The woman was ordered to drive to a nearby industrial park with Orban, who then savagely rapes and beats her at gunpoint, threatening to kill her if she doesn't comply, according to police and prosecutors.


(pictured left, Anthony Orban consults with his defense attorney during a bail hearing at the Rancho Cucamonga Courthouse on Tuesday. Orban, 30, a Westminster Police detective, is accused of raping a 25-year old woman in Ontario earlier this month.) Orban and Jelinek are charged with raping the 25-year-old mother after she left work around 5 p.m. on April 3, 2010. Police say Jelinek stood nearby and watched as Orban forced himself into the woman's car and ordered her at gunpoint to drive him to an industrial park in Fontana, where police say he raped her for an hour in daylight. During the attack,

he shoved the barrel of the gun in her mouth and threatened to kill her, and used his cell phone to take photos of the rape

, according to a police report. The two close friends, who have known each other since high school, pleaded not guilty to an 11-count felony complaint. They were arrested shortly after the attack when Orban's service revolver was found in the woman's car.


With some of their relatives watching, Orban and Jelinek (pictured left) appeared in court in Rancho Cucamonga for a bail hearing Tuesday. The hearing, however, was put off until April 28, 2010 and both men remain in custody on $2 million bail each. Wearing green jail jumpsuits and shackled in chains around their waists and ankles, Orban and Jelinek were brought out separately into the courtroom of Judge Michael Libutti. Jelinek, of Ontario, said, "Yes, sir," when Libutti asked him if he understood that the hearing was being postponed, and Orban said. "Yes, your honor." Both defendants, who are being held in protective custody, did not appear to make any eye contact with their family members and friends in the courtroom gallery. Orban's wife, of Irvine, his sister and his parents were in the courtroom, according to Blatt. All of them had no comment on the charges against Orban, a five-year veteran of the Westminster Police Department and former infantryman.

In addition to rape and kidnapping under the legal theory of aiding and abetting the initial part of the crime, Jelinek is charged with being an accessory after the fact. After the hearing, more than a half-dozen people who said they were in court on Jelinek's behalf declined to comment.

As part of an internal investigation, Waller said the department is also looking into allegations that Orban had an extramarital affair with a department dispatcher. Waller said the department learned about the possible affair from Ontario police. Waller said that the department hired a consulting firm to conduct intensive training on policing ethics after a Westminster sergeant was terminated in September 2009 for using a state database to look up names and license plates for his personal use. Last month, the former sergeant, William Arganda, pleaded guilty to misdemeanor unlawful disclosure of DMV records and domestic violence.

"The crime is a random act of violence that could have happened to anyone, which is scary enough, but the fact it was committed by an off-duty officer, whose job it is to protect the public from crimes, makes this case especially horrific," said San Bernardino County Deputy District Attorney Deborah Ploghaus, who is prosecuting the case.

Three other recent cases with Orange County connections involve law enforcement officers charged with violent crimes.


Huntington Beach police officer James Roberts III, 33, is charged with 20 counts of sexually and physically assaulting his former wife and a former girlfriend

. He was initially charged in September 2009 and is awaiting trial.

In December 2008,

Long Beach police officer Orlando Mendez

, 26, of Anaheim was charged with

assaulting his ex-girlfriend and two of her friends after chasing them in his car and firing shots into the air while off-duty

. He pleaded guilty in 2009 and was sentenced to six months in jail.

In October 2008,

Los Angeles Sheriff's deputy Robert Avery McClain

, 34, was accused of

sexually assaulting his wife and savagely torturing another man

at the man's Irvine apartment after his wife announced she was leaving him. He is still awaiting trial.

Ontario detectives are concerned that there may be other victims. They are asking that anyone who has information to contact the Ontario Police Department at 909-395-2908.



See:



• Two NYPD Officers indicted for rape, April 28, 2009!
• A former Murray police detective was sentenced to two years in jail Monday for sexually abusing a teenage girl during a five-year period.



April 7, 2010







RANCHO CUCAMONGA

- A

police officer

and

state corrections officer

could face life in prison if convicted of criminal charges filed by prosecutors Tuesday in a woman's alleged kidnapping and rape. Anthony Nicholas Orban and Jeff Thomas Jelinek, both 30, are expected to be arraigned this morning in West Valley Superior Court on an 11-count criminal complaint. Orban,

a Westminster police officer

, is accused of kidnapping a 25-year-old woman Saturday at Ontario Mills, then raping her at gunpoint in the parking lot of a commercial complex in Fontana.

Ontario police say Jelinek,

a corrections officer assigned to California Institution for Men in Chino

, acted as a lookout then picked Orban up after the rape. Both were off-duty at the time and have been placed on paid leave. They remained jailed Tuesday in lieu of $1 million bail at West Valley Detention Center in Rancho Cucamonga. Orban was charged Tuesday with kidnapping, rape, oral copulation, sodomy, sexual penetration with a foreign object, and making criminal threats. Jelinek was charged with kidnapping, rape and acting as an accessory to a crime. Deputy District Attorney Debbie Ploghaus said she filed a motion asking a judge to increase the men's bail to $2 million.



The alleged victim told police Orban confronted her in the mall parking lot as she left her job Saturday afternoon. When the woman got in her car, she said Orban entered on the passenger-sidea nd that Jelinek stood nearby. The woman said Orban pointed a handgun at her and ordered her to drive north on the 15 Freeway. He told her to exit at Baseline Road and park in a commercial center on the east side of the freeway, according to an Ontario police news release. She said he then ordered her to take off her clothes and that he sexually assaulted her at gunpoint. Orban fled, police said, but officers found his service weapon in the woman's car. The woman ran to a nearby business and reported the assault to police.

Orban called Jelinek from his cell phone and asked him to pick him up at the commercial center, police said. After the men returned to the mall, Orban called his wife and told her he had lost his weapon, police said. Orban's wife called Ontario police, and officers interviewed Orban and Jelinek at Ontario Mills. The men's statements to police "were inconsistent and somewhat suspicious," according to the news release. Officers also saw that the men's appearances matched the woman's description of her attacker and his accomplice.

Ontario police fear Orban and Jelinek may have victimized other women, and have asked potential victims to contact the department at 909-395-2908.

---
James Roberts III
Published: March 5, 2013 Updated: Sept. 12, 2013 6:17 p.m. PDT

SANTA ANA, CA – The trial of James Roberts, 36, a former Huntington Beach police officer accused of sexually and physically abusing his ex-wife and former girlfriend ended abruptly Tuesday with most of the charges dismissed.

Roberts was charged with 20 felony counts, including rape, sodomy by force, criminal threats, false imprisonment and aggravated assault. If convicted, he faced life in prison with the possibility of parole.

Instead, he pleaded guilty before Orange County Superior Court Judge Patrick Donahue to felony vandalism and one count of misdemeanor domestic battery with corporal injury, which together carry a maximum term of four years in prison. Donahue, who had let the jury go home early Tuesday afternoon so the lawyers could work out an agreement, suspended the prison term, ordering Roberts to serve five years of probation and meet conditions that include completion of a 52-week batterers-treatment program.

The plea agreement between the prosecutor and the defense came after several days of testimony, including that of Roberts' former wife, who had been on the stand about a day and a half.

County Deputy District Attorney John Christl told Donahue that he could not prove the remaining counts beyond a reasonable doubt.

"(After a) review of the evidence and the testimony elicited in the course of the trial, the prosecution feels we have proof problems, and we are unable to proceed," Christl said afterward.

As he left the courthouse with Roberts, defense attorney John Barnett said the resolution reached was fair "after all the evidence was laid out."

Roberts "is relieved to put the prosecution and the potential exposure behind him," Barnett said.

Roberts' former wife made a tearful plea to Donahue before the sentencing, saying that she "strongly disagreed" with the plea and that the two domestic-violence counts should have remained felonies. Another domestic-battery charge was among those dismissed.

"What James has done to our son has been extremely damaging," she said, urging Roberts get counseling and apologize to her, their son and her family.

Donahue will dismiss the jury Wednesday.

Published: Feb. 4, 2011 - Updated: March 12, 2011 - 1:31 p.m.


The former Huntington Beach police officer (pictured left) charged with raping and sodomizing his ex-wife and ex-girlfriend will head to a jury trial in April, according to court records. James Roberts III will see another pretrial hearing Feb. 25, 2011 and is expected to go to a jury trial April 11, 2011. He pleaded not guilty Nov. 30 to 20 felony counts, including rape, criminal threats, sodomy by means of force, false imprisonment and assault with a deadly weapon, among others. Roberts was arrested Sept. 2, 2009, and was fired from the Police Department on April 15, 2010 after an internal investigation.

Roberts' attorney previously told the Register that Roberts denies the allegations and that there is evidence the accusations were motivated by money and spite.

Both Roberts' ex-wife and ex-girlfriend filed civil lawsuits against the city and the Police Department, alleging officials covered up the abuse. Officials said his ex-girfriend has since dropped her lawsuit against the city but his ex-wife's is still active.

His ex-girlfriend had cited various incidents in which she said Roberts abused her, including sodomizing her in his apartment, grabbing her and trying to kiss her in an alley and pushing her up against a glass wall at a mall in Newport Beach, the lawsuit says.

Both the women's names are being withheld because they are possibly victims of sexual abuse.



September 1, 2010




A former Huntington Beach police officer will face trial on charges including rape and sodomy, an Orange County judge decided at a preliminary hearing. The judge upheld 19 of the 20 felony charges filed by prosecutors. Superior Court Judge Richard J. Beacom agreed to move forward with the charges against James Roberts III, 34, after hearing testimony from Roberts' ex-wife and investigators from the Orange County Sheriff's Department and Orange County district attorney's office during the three-day preliminary hearing at the Central Justice Center in Santa Ana. A preliminary hearing is where prosecutors present evidence to a judge, who rules if the case is strong enough to go to trial. Roberts is charged with alleged acts against his wife, an alleged mistress and another man while serving as an officer with the police department. He pleaded not guilty Feb. 26, 2010 to rape, forcible sodomy, false imprisonment by violence or deceit, criminal threats, domestic battery, aggravated assault, dissuading a witness and vandalism. Roberts faces a maximum sentence of about 23 years in prison if convicted on all charges.



August 13, 2010



"He told me he was going to get me pregnant[.] That we were going to be a family again."



-- Rape victim testimony against Officer James Roberts III.

James Roberts III, 34, is charged with alleged acts against his wife, an alleged mistress and another man while serving as an officer with the Police Department. He pleaded not guilty Feb. 26, 2010 to rape, forcible sodomy, false imprisonment by violence or deceit, criminal threats, domestic battery, aggravated assault, dissuading a witness and vandalism. Prosecutors began presenting evidence shortly after 2 p.m. to Superior Court Judge Richard J. Beacom at Central Justice Center in Santa Ana for the case against James Roberts III.


The ex-wife of the former Huntington Beach police officer (pictured left) accused of 20 felony counts including rape, sodomy and spousal rape took the stand Thursday afternoon as his preliminary hearing began, presenting emotional testimony. The ex-wife choked back tears as she recalled an alleged incident on Halloween 2007. The two had separated in 2006 and she had filed for divorce earlier in the month, but Roberts came to the Huntington Beach house the two used to live in together, she said. After a confrontation over her text messaging other people, she tried to escape him by locking herself in the guest room, holding the door handle and using her body to brace the door, she testified. Roberts allegedly broke open the door, which hit his then-wife in the side of the face, knocking her down, she said. She fled to their son's room, but couldn't get the door closed fast enough, she said. The son wasn't home at the time.

He allegedly grabbed her by her hair, holding her with her back against the wall, she said. He ripped her clothes off her body before allegedly raping her on the floor of their son's room, she said. "He told me he was going to get me pregnant," she said. "That we were going to be a family again." Deputy Dist. Atty. Cyril Yu questioned her about a handful of incidents where Roberts was allegedly violent with her, several while their son was present during the nearly two hours of testimony.

The preliminary hearing is expected to continue Friday and into next week, prosecutors said. A preliminary hearing is where prosecutors present evidence to a judge who rules if the case is strong enough to go to trial. Roberts, with his father and sister in the audience, sat at the defendant's table in a gun-metal gray suit and closely cropped hair watching and taking notes as his ex-wife detailed his alleged pattern of violence and repentance for his actions from June 2007 to March 2008. Roberts faces a maximum sentence of 23 years and four months in prison if convicted on all charges.

March 16, 2010



HUNTINGTON BEACH

– Prosecutors have filed new charges of rape and forcible sodomy against a Huntington Beach police officer who was already facing 17 charges of physically abusing his former wife and girlfriend. James Roberts III pleaded not guilty to all 20 counts against him, including three new ones that were added after he was initially charged in September 2010. A preliminary hearing in the case is scheduled for April 28, 2010. The initial 17 charges against Roberts included false imprisonment, threats, domestic battery, aggravated assault, dissuading a witness by force or threat and vandalism. The three new accusations – spousal rape by force, sodomy by force, and forcible rape – involve the same two victims as the earlier charges, said Farrah Emami, a spokeswoman for the Orange County District Attorney's Office. "In the course of investigating case we learned that there was additional conduct, and that was charged," Emami said.


On March 10, 2010 a woman claiming to be Roberts' (pictured left) ex-girlfriend filed a claim against the city of Huntington Beach alleging that the city, the police chief, and several officers conspired to cover up the alleged abuse. It's the second such claim filed against the city based on Roberts' alleged conduct. Roberts' former wife filed a claim Sept. 24, 2009 and a lawsuit against the city on Nov. 24, 2009 with similar allegations. The claim by the ex-girlfriend alleges that Roberts sexually, physically, and verbally abused her. She claims he caused her emotional distress and physical injury. The lawsuit by Robert's former wife details abuse including rape, destruction of furniture and a family picture, and assault in front of the couple's son. A law firm is representing both women in their civil cases.

The ex-girlfriend's claim said calls to 911 and reports to the Huntington Beach Police Department were "ignored," the city failed to discipline Roberts and conspired to cover up the abuse. Police Chief Ken Small declined to comment on the new claim. Small said the department has finished its internal investigation and is in the process of making a final decision on Roberts' status with the department. Roberts is on paid administrative leave and receives a monthly salary of about $7,300. Roberts' attorney didn't return a phone call seeking comment.

September 7, 2009

An officer with the Huntington Beach Police Department was arrested on September 3, 2009 and charged with physically abusing both his wife and a girlfriend, prosecutors said. James Roberts III, 33, is also accused of dissuading his wife from reporting the assaults in order to keep his job, the Orange County District Attorney's Office said in a news release. Roberts is charged with 17 felony counts of false imprisonment, threats, domestic battery, aggravated assault, dissuading a witness by force or threat and vandalism. He is being held in lieu of $250,000 bail and is expected to be arraigned Friday in Orange County Superior Court in Santa Ana, prosecutors said.

Roberts (pictured above, left) is accused of physically and verbally abusing his wife between June 2007 and May 2008. In July 2007, he trashed her home and physically restrained his wife to hold her against her will. On one occasion while she was with their young son he assaulted his wife by pushing her to the ground in a bathroom, causing her to hit the bathtub and toilet. Another time, the complaint alleges, he pushed a door into his wife. Roberts repeatedly told his wife that he would lose his job as a police officer if she reported the assault to the police, and threatened to kill her at least once. Between March and July 2007, Roberts is accused of physically restraining his girlfriend to hold her against her will. He physically restrained her to prevent her from leaving, and assaulted her by grabbing her and pulling her to the ground.

---
Archives!
January 12, 1996
RIVERSIDE, CA — A decorated California Highway Patrol officer has apparently committed suicide, a month after his arrest in the alleged rape of a woman while on his graveyard shift, authorities announced Thursday. The officer, James W. Pitsor, was found dead late Wednesday afternoon of a single shot from a rifle, said Sgt. Tom Neely of the San Bernardino County Sheriff's Department. Pitsor's body was discovered by joggers a few feet from where he had parked his car along a rural road east of Barstow, Neely said. The exact cause of death and verification that Pitsor killed himself are pending an autopsy, a sheriff's spokeswoman said, but there were no signs of foul play at the scene.

Pitsor, a 27-year veteran of the CHP, was arrested by sheriff's detectives last month after a woman said he had offered her a ride after she left a Barstow bar at closing time, only to drive her 20 miles west of town and rape her. The woman reported her allegation to the Sheriff's Department the next day and was able to identify Pitsor because he was in uniform--including wearing his name tag--when he allegedly picked her up, authorities said. Investigators arrested Pitsor after a search of his home and patrol car turned up unspecified evidence.

Pitsor, a sergeant and the 1995 officer of the year in the Barstow station--where he had worked for about 17 years--was fired by the CHP in the wake of the charges, and was to be arraigned next week. He was free on $25,000 bail. His firing took effect Monday, a day after his 50th birthday. CHP Capt. J.M. Fogerty, commander of the Barstow station, said Pitsor's arrest and subsequent death have taken a toll on fellow officers.

"The reality of what has happened, culminating in [Wednesday's] events, is sobering," he said. "Every employee is deeply affected. The arrest and charges against a co-worker were shocking. [The] sad conclusion is disheartening to all of us who knew Sgt. Pitsor. Our hearts go out to his family." Pitsor was married and had two children. The charges against him were the latest to blemish the Barstow station.

Officer George M. Gwaltney is serving a 90-year federal prison term for the 1982 kidnapping, rape and murder of a 23-year-old Van Nuys woman who was traveling home along Interstate 15 from Las Vegas. He stopped her for speeding, handcuffed her, raped her and then shot her to death. Last week, Jim Carl Burchett, who had retired in 1983 as the Barstow captain, pleaded guilty in U.S. District Court in Los Angeles to one count of conspiracy to distribute and receive pornography and seven counts of receipt of child pornography. He will be sentenced April 1, 1996 the U.S. attorney's office said. Burchett served a state prison term after a 1993 state conviction for attempted lewd conduct with a child.

---
Reader Pageviews by Country
---
From: Aug 14, 2013 5:00 AM – Aug 21, 2013 4:00 AM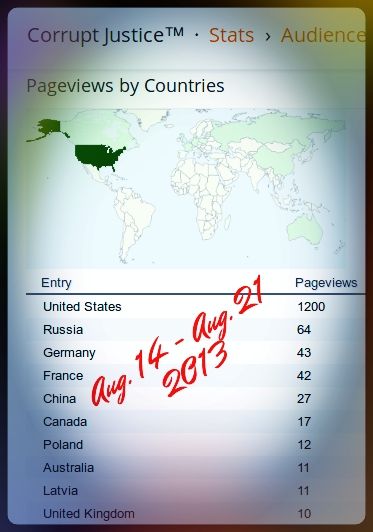 ---
«•
Thank you for visiting Corrupt Justice™. Enjoy our Free Movie Intermission! Don't forget to Bookmark Us & Tell A Friend! We're Global!
•»
---
Movie Intermission!
Confession of a Serial
Rapist & Killer (Documentary 2010)!
---

Description: This video (and all parts therein) may not be reproduced, downloaded, stored in an external database, or re-uploaded to YouTube.

---
---