↓↓↓↓↓↓↓↓↓ Blog Post Starts Below ↓↓↓↓↓↓↓↓↓
---
Click on Banner to Sell Your Home(s)!
---
---
"The only good nigger is a dead nigger and they should hang you in the town square to prevent any other nigger from coming in the area."


-- July 2011 Statement by Oakland Public Schools Police Chief Pete Sarna, referring to an African-American police officer.

---
Top News Story!
Trash off the ...!
Posted: November 25, 2016 ~ Updated: November 27, 2016 at 03:17 PM PDT

Charleston, West Virginia -- William Pulliam is a 62-year-old white man. Pulliam fatally shot a black teen following a verbal confrontation at a grocery store Monday night. The shooting occurred just a few blocks from the state capitol. A criminal complaint was filed by Charleston Detective C.C. Lioi. Pulliam was arraigned on a first-degree murder charge and jailed Tuesday. Pulliam confessed to the murder of James Means, 15. In a jailhouse interview Pulliam said: "The way I look at it, that's another piece of trash off the street. I'm sorry, but I'm 62 years old. I'm not going to take a bunch of punks beating me up. I just shot him. I felt my life was in danger." The incident is now being investigated as a hate crime.

However, there's mounting evidence to the contrary. Pulliam is been barred from legal gun ownership due to a prior domestic violence conviction. According to police Means was unarmed. This conflicts with Pulliam's confession. In the confession he insisted the teen drew a gun. However, Police said: "The victim wasn't armed. There was no physical altercation, there was an argument. Words were exchanged. Mr. Pulliam drew a .380 revolver and shot the victim twice and killed him. In this case we're confident a murder charge is appropriate."

According to Means' friend, Teonno White, 14, Pulliam had a reputation with kids in the neighborhood. "One time I went over there to talk to him about it, I said, You've got to quit picking on my little brother, that doesn't look right," White said. "[Pulliam] said, 'Get the fuck off my property,'" White recalled. "He said I need to go on with my nappy Latino self. He's just a real bad guy."

It's Bad!
Posted: July 29, 2015 at 12:57 PM ~ Updated: July 30, 2015 at 05:57 AM PDT

Officer Ray Tensing in the process of killing unarmed motorist Sam Dubose on July 19, 2015 in Cincinnati, Ohio.



Posted: July 28, 2015 at 2:57 PM ~ Updated: July 29, 2015 at 03:57 AM PDT


"It's not a good situation, I think that's clear, and it will become evident once that video is shown. We're just trying to do our best to be prepared for whatever might come out of it."


-- July 28, 2015, Cincinnati police chief Jeffrey Blackwell, expressing his concern about the potential for riots, after viewing body cam footage of Officer Ray Tensing shooting and killing Sam Dubose on July 19, 2015, in Cincinnati, Ohio.
"They are representative of the sacrifices and that quiet courage that exists among law enforcement officers all across the country and their families."


-- May 12, 2012, Statement by Barack Obama in a White House Rose Garden ceremony to honor the National Association of Police Organizations (NAPO).

Cincinnati, OH -- Officer Ray Tensing killed Sam Dubose (pictured above, center) on July 19, 2015, in Cincinnati, Ohio. Tensing claimed that he killed 43-year-old Sam Dubose in self defense. Dubose was pulled over for the alleged violation of Ohio law of not having a license plate on the front of his car. Tensing claims that Dubose refused to produce his driver's license. He claimed that instead giving the officer his license he gave the officer a bottle of alcohol. He then refused to exit his vehicle. Tensing then claimed that Dubose nearly ran him over and that he was "dragged" by Dubose's vehicle when he tried to drive off.






Top city officials have admitted that the officer's body cam footage directly disputes Tensing's claim that he killed 43-year-old Sam Dubose in self defense. In fact, official say the footage from Officer Ray Tensing's body camera of him shooting an unarmed Dubose in the head during the traffic stop is so bad that Homeland Security and federal marshals are being deployed to Cincinnati in preparation for possible riots. Cincinnati police chief Jeffrey Blackwell has seen the footage, and he is concerned about the potential for riots, stating, "It's not a good situation, I think that's clear, and it will become evident once that video is shown. We're just trying to do our best to be prepared for whatever might come out of it. City Manager Harry Black took his description of the footage a step further, stating, "Someone has died that didn't necessarily have to die, and I will leave it at that."



Hamilton County, Ohio Prosecutor Joe Deters has said that he will not release the video without a court order. He elaborated that the censoring of the footage is appropriate until the video has been presented as part the case that is expected to be presented to a grand jury some time this week. However, multiple news agencies are suing for its release and demonstrators are demanding its release as well.

In the wake of Dubose's death, the University of Cincinnati has suspended off-campus police stops and is having an independent external reviewer examine the policies, procedures and practices of the campus police department.

Dubose's family has hired attorney Mark O'Mara who says that the family wants two things: "First, they want dignity for themselves and for Sam and his death, and they want transparency. They want to know what happened to what happened to him – first the 'what' and then the 'why.'"

[Un]authorized Force!
Posted: July 01, 2015 at 2:57 PM ~ Updated: July 04, 2015 at 12:25 AM PDT




New Orleans, LA -- Newly released video from inside the city's Juvenile Intake Division shows a veteran New Orleans police officer using what authorities have called "unauthorized force" on a 16-year-old girl.

Officer Terrance Saulny was fired from the department last month following a Public Integrity Bureau investigation that concluded he used "unauthorized force" against the girl as she stood in a holding cell last September. The department's investigation also determined Saulny was dishonest with investigators when he denied making vulgar comments toward the girl.

Saulny's attorney, Ted Alpaugh, said his client plans to appeal the department's decision.

The video, released by the Independent Police Monitor's Office after a public records request from media sources, shows Saulny entering the girl's holding cell after she is seen kicking the cell door repeatedly.

While the video does not include audio, it appears to show Saulny giving the girl directives before he shoves her against the wall. He then appears to strike her multiple times with a pair of four-point restraints while taking her to the ground. Another officer then enters the cell and assists with placing handcuffs on the girl, who is face down on the cell floor.

The girl's injuries were minor, investigation records show. But Michael Hall, an attorney for her family, said she needed one eye surgery because of Saulny's actions. Hall said another eye surgery could be required for the girl, who is currently in a juvenile detention center in Shreveport.

NOPD spokesman Tyler Gamble said the FBI reviewed evidence along with the police department's PIB unit, and did not find enough probable cause to send the case to the Orleans Parish District Attorney's Office for possible criminal charges.

"I would hope the District Attorney's office would take a long hard look at it," Hall said of the video footage. "If they haven't been notified, I would hope at this point they would be."

Pages of interview notes obtained through a public records request reveal, at times, conflicting accounts of how officers handled the combative girl – who her mother said suffers from mental illness and was not taking her medications.

From her arrest early that day in connection with a French Quarter purse snatching, the girl repeatedly cursed at officers during questioning, tried to kick out the windows of the arresting officer's police car, and refused to comply with police directives, according to the records.

The officers' memories were hazy when asked by investigators whether they directed any profanity – or made any threats – toward the girl, records show.

But a review of body camera footage from the arresting officer told a different story, according to investigation records. NOPD denied a public records request for that footage, citing exceptions in the law that the department said shield records disclosing safety procedures.

The footage from the body-worn camera, however, is summarized in investigation records. After the girl refuses to answer Saulny's questions inside the juvenile lock-up, he is heard on video saying "she was going to get her mind right in the mother f----r," records show.

Later, as the girl is hurling a vulgarity while being booked, "a male's voice was heard mentioning pimp slapping (the girl) while (Saulny) told him to come on and do it," the record states.

Saulny told investigators that he entered the girl's cell, with shackles in hand, to stop her from kicking the door and to prevent her from hurting herself or kicking open the cell door. He said she refused to comply with his directives, and that he pushed her out of fear for his safety.

"He stated he felt threatened, so he just pushed her to the left," the record shows. "He attempted to grab her arm and tried to put shackles on her and when she resisted by pulling away he tried grabbing her again and her arms went up and the shackles accidentally hit one of her arms."

Police called EMS and the girl's mother following the incident. The girl's mother told investigators she originally believed her daughter fell, and that she would have told them to transport her daughter to the hospital had she known the full sequence of events.

Saulny notified his supervisor immediately following the incident. The supervisor reviewed video footage, the record shows, and concluded that Saulny "may have exhibited a level of force that could be constituted as exceeding the necessary tactics taught by the New Orleans Police Academy instructors to contain (the girl) during her episode of non-compliance."

Saulny's supervisor, Sgt. Hudson Cutno, continued to state that department policy directs officers to use reasonable judgment when facing a potential use-of-force situation.

"Any evaluation of reasonableness must allow for the fact that officers are often forced to make split-second decisions about the amount of force that is necessary in a particular situation," Cutno wrote, "with limited information and in circumstances that are tense, uncertain and rapidly evolving."

Police Monitor Susan Hutson's office said it spent more than 60 hours reviewing video footage and monitoring the investigation.

"It is integral to the OIPM that we provide a level of transparency to the city of New Orleans so that people will know what is happening in their police department," said Deputy Monitor Susan Levine. "In this NOPD investigation of Officer Saulny, the OIPM worked with the department to ensure that the investigation and disciplinary process was fair, timely and accurate."

Following its review, Hutson's office called for NOPD to equip all officers in the Youth Study Center with active body-worn cameras, and to offer training in "verbal de-escalation" and treatment toward juveniles for all officers assigned to the juvenile unit.

Gamble, the NOPD's spokesman, said the department continues to evaluate whether additional training should be provided. On body cameras, Gamble said the department has not ruled out the police monitor's recommendation. But, he said, the immediate priority is to equip new recruits slated for field duty with cameras.

"Another Nigger fried. No big deal."


-- April 16, 2011, Statement by New York City Police Officer Michael Daragjati, boasting of his false arrest of another African-American male.
???????-able
Published: Thursday, March 1, 2012 - Updated: Friday, March 2, 2012, 09:19 AM PST
NEW ORLEANS, La.

— A New Orleans man opened fire on officers during a traffic stop Thursday, wounding two policemen, authorities said. The officers returned fire, killing a man and injuring his brother. The shootout happened at about 5:30 a.m. after officer Jason Giroir stopped a car with the brothers inside.

Police superintendent Ronal Serpas refused to say what the violation was

. Giroir, working overtime for the Mid-City Security District, became suspicious during the stop and called for backup, Serpas said. When officers Anthony Mayfield Jr. and Michael Asevedo arrived, one of the brothers, Justin Sipp, 20 (pictured left) got out of the car and started shooting a handgun, Serpas said. The officers were hit but fired back. Justin Sipp died at the scene of the shooting. Earl Sipp, 23, who was driving, was shot in the leg.

Serpas said the officers needed surgery and remain hospitalized. Both had multiple wounds. "They are in stable condition," Serpas said. "But they will have a long road to recovery." Although it is department policy for officers to wear protective vests while on duty, and they are issued to all officers, the wounded men were not wearing them, Serpas said. "They chose not to wear them that day," the chief said.

Earl Sipp was treated and released from a hospital. He was later issued a citation for driving on an expired license, Serpas said. He was not charged in the shooting. He arrived at his grandmother's home early Thursday afternoon. Family members say Earl's release raises even more questions. Champ said, "So if he was a suspect in some sort of crime, after he's injured, why would he go home and not to jail?" Both Sipps had arrest records, police said, although in at least one case the charges were dropped before it went to trial.

Terry Smith, a manager of a fast food restaurant near the shooting, said Justin Sipp was an employee there who was being driven to work by his older brother. As the restaurant's employees sobbed nearby — not far from where the body lay as police investigated — Smith described Justin Sipp as a reliable employee and "a good guy." She was skeptical that he was involved in wrongdoing. "It's the wrong man," she said.

The family of Justin and Earl Sipp are demanding answers from the New Orleans Police Department. Larry Champ, an older brother of the Sipps, had a message for Mayor Mitch Landrieu. "Mayor Mitch Landrieu, if you can hear me call me 337-532-XXXX. Talk to me man. Your police force has to be corrected."



Corrupt Justice™:

We note that N.O.P.D. officers have a long and recent history of racism, lying, stealing, raping and murdering innocent civilians. The lack of AUDIO/VISUAL (sound recorded video) evidence in this case, indicates an inability to ascertain whether or not NOPD is being honest in the instant case. Based thereupon NOPD's brutal, criminal and deceitful history, NOPD LACKS CREDIBILITY!

Harry J. Williby,
Editor-in-Chief,
Corrupt Justice™

See:

•» A Southern Legacy in the 21st Century!

"Guilty!"
Published: Friday, December 09, 2011, 10:00 PM - Updated: Thursday, January 12, 2012, 1:03 PM PST
"The only good nigger is a dead nigger and they should hang you in the town square to prevent any other nigger from coming in the area."


-- July 2011 Statement by Oakland, Calif. Public Schools Police Chief Pete Sarna, referring to an African-American police officer.
LA -- A New Orleans police officer was convicted by a federal jury of lying about the circumstances of a shooting he committed shortly after Hurricane Katrina, while his partner was acquitted of similar charges. Jurors, who struggled to reach a unanimous verdict on all counts after a three-day trial, split in their consideration of four obstruction of justice and perjury charges against officer Ronald Mitchell (pictured right). They acquitted Mitchell of lying about the circumstances that led him to shoot 45-year-old Danny Brumfield in front of the Ernest N. Morial Convention Center in the dark of night from the passenger seat of a marked police unit. But they convicted the officer of lying in a civil deposition when he said he got out of the cruiser and checked Brumfield's pulse after the man collapsed on the ground. Mitchell was also convicted on a related charge of obstruction of justice. Mitchell's partner, Ray Jones (pictured left) was acquitted on related charges that he, too, lied about the immediate aftermath of the shooting. Mitchell will be sentenced March 7, 2012, by U.S. District Judge Sarah Vance. He faces a maximum of 5 years in prison on the perjury charge and 20 years on the obstruction charge, though sentencing guidelines will likely call for far less prison time than the statutory maximum.

Five Years! Federal!
Published: Thursday, December 01, 2011, 2:35 PM - Updated: Thursday, January 12, 2012, 1:08 PM PST
LA - A federal judge sentenced former New Orleans police officer Robert Barrios (pictured left) to five years in prison Thursday afternoon for his role in the cover-up of the Danziger Bridge shootings after Hurricane Katrina. Barrios was the last of the five ex-cops who cooperated with federal prosecutors to be sentenced. U.S. District Judge Eldon Fallon followed in the footsteps of his colleagues on the federal bench in New Orleans, imposing the stiffest sentence allowed by law on the former officer. Barrios was charged with conspiracy to obstruct justice. As part of his guilty plea, he acknowledged lying about the shootings on Sept. 4, 2005.

A federal jury in August convicted four police officers of unlawfully shooting civilians on the bridge. Two men died in the gunfire, while four other people were injured. All four officers, along with a fifth defendant, were also convicted of participating in a wide-ranging cover-up of what happened.

Barrios' sentencing hearing differed a bit from those of the other four officers who pleaded guilty. In each of those cases, lead federal prosecutor Barbara "Bobbi" Bernstein asked the judge for leniency, citing the assistance each officer provided as the feds developed their case. Instead, in Barrios' case, Bernstein told Fallon she agreed with the presentence report, in which federal probation officers recommended that he receive the maximum sentence for the conspiracy charge. "So, the bottom line is, he has been very cooperative with us," Bernstein said. "That said ... the assistance didn't amount to substantial assistance for the government."

Lohman Time!
Published: Wednesday, November 02, 2011, 8:40 PM - Updated: Sunday, January 15, 2012, 2:58 PM PST
"I didn't know how to get out of it."


-- Former New Orleans police Lt. Michael Lohman responding to U.S. District Judge Ivan Lemelle's question as to why he waited four years to come forward with the truth regarding the Danzinger Bridge Shootings.


(Photo: NOPD Homicide logo/Defunct New Orleans VooDoo mascot)

New Orleans, LA

-- Former New Orleans police Lt. Michael Lohman will spend four years in prison for his role in overseeing a massive cover-up to hide the truth about a police shooting on the Danziger Bridge after Hurricane Katrina that left two men dead, a federal judge ruled Wednesday. The sentence imposed by U.S. District Judge Ivan Lemelle was a break for Lohman, the highest-ranking officer implicated in the Danziger Bridge case. By law, the maximum sentence he faced was five years. Federal sentencing guidelines called for Lohman to serve that amount of prison time. Lohman is the only police officer who pleaded guilty in the case to be rewarded with reduced prison time. Federal prosecutors had asked Lemelle, an appointee of President Clinton, to cut Lohman's sentence to two years in light of his help in convicting five other police officers who went to trial. The other three police officers who pleaded guilty and have been sentenced all received the maximum allowable sentences.


Along with four other officers who pleaded guilty, Lohman (pictured left) admitted helping to orchestrate a cover-up beginning just moments after the shooting stopped on Sept. 4, 2005. Lohman arrived at the Danziger Bridge shortly after officers stopped firing at a group of civilians they encountered walking from eastern New Orleans to Gentilly. The officers, who were responding to a report about armed men shooting at police on the nearby Interstate 10 high-rise, had killed two men and wounded four other people. In testimony, Lohman said he surmised that the shooting was unjustified shortly after talking to other officers at the scene, in part because there were no weapons near the civilians. Lohman described helping officers concoct false stories to make the shootings appear justified.

Asked by Lemelle why he waited four years to tell the truth, Lohman struggled to answer. "This is not what I was about," Lohman told the judge. "For the life of me, I don't know how I wound up here." When he arrived on the bridge, Lohman said he saw officers whom he considered "close, personal friends" and found himself "not wanting them to get in trouble." Lohman said he did not "look at the other side of the coin" and consider the harm that had been done to the victims. "I didn't know how to get out of it," he said. Lohman remained calm throughout the proceeding, and kissed members of his family after Lemelle imposed the sentence.

Ignatius, Ignatius, ... Ignatius!
Published: Wednesday, November 02, 2011, 8:40 PM - Updated: Sunday, January 15, 2012, 3:36 PM PST
"[T]he only good n[igger] is a dead n[igger] and they should hang you in the town square to prevent any other n[igger] from coming in the area."


-- July 2011 Statement by Oakland (California) Public Schools Police Chief Pete Sarna, referring to an African-American police officer.


New Orleans, LA

-- U.S. District Judge Martin Feldman this afternoon sentenced former New Orleans police officer and Danziger Bridge shooter Ignatius Hills -- who admitted guilt and testified for the government against five other officers at trial this summer -- to six years and six months in prison. That was the maximum sentence recommended by the federal guidelines for the crimes to which he pleaded: misprision of a felony and conspiracy to obstruct justice. Federal probation officers had recommended a sentence of six years. But prosecutors on Tuesday asked Feldman for sentence Hills (pictured left) to four years instead, saying that his cooperation was valuable to the government.

Police shot six people on the bridge a week after Hurricane Katrina, killing two of them. Those killed were James Brissette, 17, and Ronald Madison, 40. Hills fired his weapon at a fleeing teenager, but missed. He also admitted participating in a years-long cover-up of the shootings that finally unraveled in late 2009.

"My actions
were justified!"
July 29, 2011
A federal jury in August convicted four officers of civil rights violations and gun charges. All four officers, plus a fifth defendant, were also convicted of participating in a cover-up.



From left: Robert Barrios, Robert Faulcon Jr., Ignatius Hills, Robert Gisevius Jr., Kenneth Bowen, Anthony Villavaso II, and Michael Hunter Jr. (AP Photo).





On the witness stand, nearly six years after the incident, NOPD Officer Robert Faulcon expressed regret for what happened that day but offered no apologies. Faulcon has sat silent and expressionless at the defense table as prosecutors and former police officers have testified to his supposed misdeeds. On Wednesday, he tried to offer jurors a glimpse into his mindset on the morning of Sept. 4, 2005. Faulcon testified that within a span of four seconds, he arrived at the Danziger Bridge, assessed the scene, saw two male civilians with handguns and began firing his weapon. Faulcon is the first of the five officers on trial to testify in his own defense. "I feel horrible because of the fact, you know, in that split second when I saw guns, I might have been right or I might have been wrong," he said. "My heart goes out to the people that were hurt. At that time, when I saw guns, I felt my actions were justified based on what I saw in that split second." But under cross-examination by prosecutors, Faulcon admitted to firing a shotgun towards civilians that may have been unarmed and to fatally shooting an unarmed man in the back. He also said other officers continued to shoot despite the lack of threat, and acknowledged a cover-up. He acknowledged that all of the police reports on the incident contain lies, going so far as to agree with a federal prosecutor that there was a coverup. He confessed, however, that he never saw anyone fire at police or point their weapons towards officers. Prosecutors, as well as former conspirators who have pleaded guilty, have said there were no guns in the hands of civilians. Police never recovered any weapons. Faulcon testified that he never saw the Madison brothers with a gun, nor did he see them throw anything off the bridge. Police radio reports at the time implored the officers to follow the Madisons, who were alleged to have been shooters. Though Faulcon saw no need initially to fire on the Madisons, the video appears to show Gisevius firing his gun.
Retired with Benefits!
July 29, 2011
Marlon Defillo (

NOPD Superintendent Warren Riley, center, is accompanied by Deputy Chief Bruce Adams, left, and Assistant Superintendent Marlon Defillo as he holds a press conference to announce the firings of two police officers (not related to case herein).

) the New Orleans Police Department's second-highest-ranking officer, retired from the force Thursday amid scrutiny of his failure to investigate allegations that police killed a man and burned the body shortly after Hurricane Katrina, his attorney said. Defillo, the longtime public face of the city's police force, was scheduled to attend a disciplinary hearing this morning at which Superintendent Ronal Serpas was to mete out his punishment for neglect of duty, a violation that could result in termination or heavy sanctions. Instead, the 32-year police veteran decided to retire. His attorney said the retirement was effective immediately. The NOPD released statements confirming the retirement. "Marlon Defillo served this department and the people of this city with loyalty and dedication for more than 32 years," Serpas said. "However, after reviewing the facts, the sustained charge of neglect of duty concerned me greatly, and it was clear that errors in judgment were made." Defillo, who most recently was deputy superintendent for the Operations Division, has long been one of the city's best-known and most visible police officers. He rose through the ranks and went on to command the public information office, the internal affairs unit and, later, the investigative division. During the week between former Superintendent Warren Riley's retirement last year and the swearing-in of Serpas, Defillo served as acting police chief. Nonetheless, revelations of his inaction in one of the most shocking, high-profile civil rights cases in city history led to his downfall. Documents obtained by media sources revealed that Defillo was made aware in June 2008 of a possible NOPD role in the killing of 31-year-old Henry Glover in Algiers on Sept. 2, 2005, and a subsequent cover-up. Six months later, another magazine printed an article questioning the circumstances of Glover's death. The NOPD responded with a news release saying the agency had no evidence that substantiated the allegations and asking that anyone with information call Defillo. Eventually, the U.S. Department of Justice opened an investigation into Glover's death, leading to the June 2010 indictment of five officers on numerous civil rights charges. Two of them were convicted in December. As part of the federal probe, Defillo testified under oath before a federal grand jury and revealed a timeline of events that cast a pall of suspicion over his actions, according to the testimony, which was obtained by the newspaper. Defillo acknowledged that as a deputy chief, he received a call in June 2008 alerting him that a journalist was working on a story about Glover that linked officers to his death. Defillo testified that he called the coroner's office and was told that Glover's body had been found burned in a vehicle on the levee. The matter was considered an "unclassified death," and Defillo said he left it at that, never pressing further. In February 2009, an Algiers man, who had tried to assist Glover after he was wounded by police gunfire, went to the NOPD and filed a complaint. William Tanner asked Defillo to get the NOPD to pay for his vehicle, which he believed had been incinerated by police with Glover's body inside. A short time later, Defillo called several mid- and high-level officers who he believed might have known more about the Glover incident than they had revealed. Defillo asked several broad questions and didn't press the matter. He took no notes and never wrote a report. He assigned the case to veteran NOPD Sgt. Gerard Dugue, who at the time was himself under investigation for his role in an alleged cover-up of the Danziger Bridge police shootings around the same time as Glover's death. Dugue was later indicted and is slated to go to trial in federal court in September. Defillo ordered Dugue to "answer to me directly," he testified, yet he never pressed Dugue or inquired about the status of the sputtering investigation. In August 2009, FBI agents raided the NOPD's Homicide Division offices and collected Dugue's computer as part of their probe of the Danziger shootings. That ended the NOPD's investigation into the Glover case, according to Defillo, and from that point on, no one looked into the matter. Defillo testified in the federal trial of the officers charged in the Glover case in late 2010, but he did not come under NOPD scrutiny until earlier this year, when an attorney for another officer under investigation, Capt. Jeff Winn, filed an internal complaint with the NOPD. The Attorney alleged Defillo was also culpable in the case. Because of Defillo's high position, the investigation was handled by Louisiana State Police, which found he had neglected his duty. Policing was a lucrative profession for Defillo. In 2002, he created an informal policy that all off-duty paid details for movie and film productions had to be coordinated through him. He earned more than $107,000 in one year for coordinating the largely unregulated details, and he raked in hefty sums in other years until Serpas last year banned his top deputies from working details.
Angola Bound!
Posted: March 31, 2011 Updated:April 3, 2011
Two New Orleans police officers convicted last year in the killing of a man during the chaos following Hurricane Katrina were sentenced Thursday in federal court. Former Officer David Warren got more than 25 years in prison, and current Officer Greg McRae was sentenced to more than 17 years, the Justice Department said. A jury in December found Warren guilty of manslaughter for killing Henry Glover, 31, on September 2, 2005. He was also found guilty of deprivation of rights under color of law -- a charge that relates to abusing one's status as a police officer while breaking the law. Prosecutors contended that Warren fired at Glover from the police station's balcony after he allegedly saw Glover heading toward the station with something in his hand.
(Click on Photo to enlarge(+)) After Glover was shot, bystanders drove him to a nearby school looking for help. Instead, the men were allegedly beaten by police officers at the school, who then left the school with a car that had Glover's body in it. McRae had been found guilty of using a fire to commit a felony -- specifically, burning the Chevrolet Malibu with Glover's body inside. McRae burned the car near the police station where Glover was shot, prosecutors said. The jury also convicted him on three counts of deprivation of rights under the color of the law and found him not guilty on one such count. Earlier this month, a federal investigation found that the New Orleans Police Department has engaged in patterns of misconduct in violation of the Constitution and federal law, the Justice Department announced. Among the findings are that the police department has used excessive force, made unconstitutional stops and searches, and illegally profiled people based on race, ethnicity and sexual orientation. The investigation also found a number of practices that contributed to the illegal conduct, including failed systems for recruiting and promoting officers, poor training and lack of supervision, among others.
Eight Years!
December 7, 2010
Corrupt Justice™:
On October 05, 2011, U.S. District Judge Sarah Vance refused a request from federal prosecutors to reduce the sentence of former officer Michael Hunter from eight years to five years.
Michael Hunter Jr., above, center, is greeted by a fellow officer as he and six other New Orleans police officers turn themselves in at the city jail in New Orleans, on Jan. 2, 2007. On December 1, 2010, a former New Orleans police officer was sentenced to 8 years in prison Wednesday in connection with a police-involved shooting on the Danziger Bridge that left two civilians dead and four wounded shortly after Hurricane Katrina. Michael Hunter pleaded guilty in April in federal court to charges of conspiracy to obstruct justice and concealing a known crime. He was sentenced Wednesday to eight years in prison and three years of supervised release. Hunter and other officers drove to the Danziger Bridge on Sept. 4, 2005, in response to a radio call that said officers on the nearby I-10 bridge had come under fire, the Department of Justice said in a press release. Hunter admitted that officers on the east side of the Danziger Bridge fired at people even though they did not appear to have any weapons, according to the DOJ. Hunter also admitted to firing repeatedly at people who were running away over the bridge even though they did not appear to have weapons or pose a threat to officers as they ran up the bridge.
Indicted! Murder!
Three officers plead not guilty!
July 27, 2010
From left: Robert Barrios, Robert Faulcon Jr., Ignatius Hills, Robert Gisevius Jr., Kenneth Bowen, Anthony Villavaso II, and Michael Hunter Jr. (AP Photo).
Note: In the above photograph(s) the officers are being cheered on and congratulated by fellow officers from multiple departments, en route to their first appearance during State court proceedings. State charges were later dropped due to prosecutorial misconduct.
NOPD Sgt. Robert Gisevius makes his way to Central Lockup with supportive fellow officers lining South White Street. Seven New Orleans police officers indicted Thursday, December 28, 2006, surrendered to the Orleans Parish Criminal Sheriff's office Tuesday, January 6, 2007, walking to central lockup past hundreds of supporting officers (Notice how the White Officers shake Sgt. Gisevius' hand and pat him on the back for killing African-Americans?)

NEW ORLEANS

– Three officers pleaded not guilty Wednesday in the shooting deaths of two unarmed residents on a New Orleans bridge in the chaos that followed Hurricane Katrina. Sgts. Robert Gisevius and Kenneth Bowen and Officer Anthony Villavaso stood before a federal magistrate in green prison garb, shackled at the waist and ankles. They will remain jailed at least until a hearing Friday. U.S. Attorney Jim Letten's office said the Justice Department hasn't decided whether to seek the death penalty against them and former officer Robert Faulcon, who was arrested in Texas on Tuesday and has not entered a plea. The case is one of several probes of alleged misconduct by New Orleans police officers that the Justice Department opened after the August 2005 storm.
Five former officers already have pleaded guilty to helping cover up the shootings, which happened in the midst of another of the scorching days after Katrina. Bodies floated in filthy flood waters. Shots could be heard throughout the city, and many believed they were aimed at the endless stream of helicopters, the police, the rescue crews. Police were desperate to regain control amid the looting, the death and the people needing rescue. So when gunfire was heard at the Danziger Bridge, some of the responding officers fired back at the first people they saw. The call came in that police were taking fire at the bridge, and seven heavily armed New Orleans police officers — many with weapons not issued by the police department — stormed the bridge. Two civilians died on the Danziger Bridge that day, four others lay on the hot cement bleeding, and one man was handcuffed and forced to kneel as his brother died.

The Charges:

Sgt. Kenneth Bowen

was charged with one count of first-degree murder of James Brissette. Bowen also was charged with six counts of attempted first-degree murder of Leonard Bartholomew III, Susan Bartholomew, Lesha Bartholomew, Jose Holmes Jr., Lance Madison and Ronald Madison, who allegedly was fatally shot by another officer. Lance Madison was shot at by police, but not injured, according to his attorney. The three Bartholomews and Holmes were treated for gunshot wounds at West Jefferson Hospital, according to all accounts.

Sergeant Robert Gisevius

was charged with one count of first-degree murder of James Brissette and two counts of attempted first-degree murder of Lance Madison and Ronald Madison.

Officer Anthony Villavaso

was charged with one count of first-degree murder of James Brissette and four counts of attempted first-degree murder of Leonard Bartholomew III, Susan Bartholomew, Lesha Bartholomew and Jose Holmes Jr. Note: Villavaso implicated in another homicide (see video below).

Officer Robert Faulcon

was charged with two counts of first-degree murder of James Brissette and Ronald Madison. He also was charged with attempted first-degree murder of Leonard Bartholomew III, Susan Bartholomew, Lesha Bartholomew and Jose Holmes Jr.

Officer Robert Barrios

was charged with four counts of attempted first-degree murder of Leonard Bartholomew III, Susan Bartholomew, Lesha Bartholomew and Jose Holmes Jr.

Officer Michael Hunter

was charged with two counts of attempted first-degree murder of Lance Madison and Ronald Madison.

Officer Ignatius Hills

was charged with one count of attempted second-degree murder of Leonard Bartholomew IV.
Katrina Indictments!
July 14, 2010
Three men will be arraigned today for the killing of two unarmed civilians on a New Orleans bridge and the alleged cover-up that followed. According to federal officials, the shootings occurred on Sept. 4, 2005, just six days after Hurricane Katrina destroyed levees and left the city in chaos. Upon receiving reports of gunfire on the Danziger Bridge, several heavily armed New Orleans police officers went to the scene. Prosecutors say the officers shot at the first people they saw -- who turned out to be unarmed civilians looking for food and supplies. When the assault ended, two people were dead and four others were injured. The government's indictment accuses former police officer Robert Faulcon of shooting Ronald Madison, a 40-year-old mentally disabled man, in the back when he tried to run away, The New York Times reported. Sgt. Kenneth Bowen is charged with kicking and stomping on Madison after he was lying injured on the ground. Madison's brother Lance was arrested for trying to kill the police officers, but he was later released without indictment. Sgt. Robert Gisevius, Officer Anthony Villavaso, Faulcon and Bowen are also accused of shooting at an unarmed family on the bridge, killing James Brissette, 17, and wounding four others. If found guilty, they could face the death penalty. Sgt. Arthur Kaufman and retired Sgt. Gerard Dugue, who investigated the incident, are accused of participating in an alleged cover-up and are charged with obstruction of justice. Prosecutors say they fabricated witnesses, falsified reports and plotted to plant a gun to make it appear that the shootings were justified. Kaufman, Dugue and Faulcon will have their initial court appearances today. The charges, which were unveiled earlier this month, were the culmination of a two-year investigation by the federal government. An internal police probe found no wrongdoing by the officers, and defense attorneys say they're confident their clients will be exonerated.

June 11, 2010
NEW ORLEANS — A federal grand jury charged five police officers Friday in connection with the shooting death of a civilian in the days after Hurricane Katrina. An 11-count indictment against the officers revealed a sequence of events that led to the body of Henry Glover, 31, (an African-American) being found burned in an abandoned car. The killing occurred Sept. 2, 2005, four days into the flooding of the city, in the Algiers neighborhood on the west bank of the Mississippi River, according to the indictment. David Warren, a police officer at the time, was charged with shooting Mr. Glover with an assault rifle. Mr. Warren was arrested by federal agents on Friday after the indictment was returned. Mr. Glover, who was bleeding to death, was picked up by William Tanner (another African-American), a stranger, who said he drove him to an elementary school that was being used as temporary headquarters for a police special-operations unit, one that was later hailed as heroic for its hurricane rescue efforts. There, Mr. Tanner has said, he was beaten by police officers and his car was seized, with Mr. Glover inside. Mr. Tanner left the city but returned weeks later, he said, and found his car, with the remains of Mr. Glover inside, burned and parked on a levee behind a police station. Two other police officers, Lt. Dwayne Scheuermann and Officer Gregory McRae, were charged with hitting and kicking Mr. Tanner and another man who was with him at the elementary school. They were also charged with taking Mr. Tanner's car and burning it, along with Mr. Glover's body. They each could be facing 60 years imprisonment. After the killing, the indictment said, a false police report was drawn up by Lt. Robert Italiano, who later left the force, and Lt. Travis McCabe. Both were charged with obstruction of justice and making false statements to the F.B.I. The circumstances surrounding Mr. Glover's death were first reported in late 2008 in an article that was a collaboration by the Investigative Fund at the Nation Institute and the nonprofit investigative news service Pro Publica. It became the most gruesome of several deaths that are believed to have occurred at the hands of the New Orleans police, a force that has been troubled for decades. "Behavior such as described in the indictment has no place in a free society, let alone law enforcement," Dave Welker, the F.B.I. special agent in charge for Louisiana's Eastern District, said in a statement on Friday. The case is one of at least eight investigations into actions of the New Orleans Police Department being conducted by the federal government. Most of the investigations concern events in the chaotic days after the storm. The best known, concerning the shootings of civilians on the Danziger Bridge that left two dead and four wounded, resulted in five guilty pleas from current or former police officers. Most of the pleas were to conspiracy charges related to an alleged cover-up of the shootings. But the accounts in the pleas described police officers shooting a mentally disabled man in the back and then beating him, and also strafing unarmed civilians. That investigation was continuing and more charges were expected. Last month, the Department of Justice announced that it would conduct a full-scale investigation into the patterns and practices of the police force, a step that usually results in a legally binding blueprint for wholesale reform. In a sign of just how grim the view of the police force is in New Orleans, the mayor himself formally solicited such a review, citing a need for "systemic and transformational change."

April 8, 2010

"I don't think you can listen to this account without being sickened by the raw brutality of the shootings and the craven lawlessness of the cover-up."
-- U.S. District Judge Sarah Vance on New Orleans Police Officer Michael Hunter's participat[ion] in a "blatant and systematic perversion of justice[.]"
NEW ORLEANS

— A former New Orleans police officer told federal authorities he saw a fellow officer shoot and kick unarmed, wounded civilians in a deadly incident on a bridge in Hurricane Katrina's aftermath, marking the first time an officer has provided federal authorities with an eyewitness account of the events. The former officer, Michael Hunter, pleaded guilty Wednesday to helping cover up the shootings on the Danziger Bridge less than a week after the August 2005 storm. A court filing Wednesday that describes Hunter's account of the shootings

contradicts a police report that said civilians shot at officers before the police opened fire

, killing two people and wounding four others. Seeing no danger to officers, Hunter says he shouted "Cease fire!" after an unidentified sergeant with an assault rifle and other officers opened fire on a group of unarmed civilians who took cover behind a concrete barrier on the bridge. After they stopped firing, Hunter says he saw several civilians who appeared to be unarmed, injured and subdued.
(

(AP - File) In the above Jan. 2, 2007, photo, Michael Hunter, center, shakes hands with a fellow police officer as he and six other New Orleans police officers turn themselves in at the City Jail in New Orleans.

) "(The sergeant) suddenly leaned over the concrete barrier, held out his assault rifle, and, in a sweeping motion, fired repeatedly at the civilians lying wounded on the ground," the filing says. "The civilians were not trying to escape and were not doing anything that could be perceived as a threat." Moments later, Hunter saw two men later identified as Lance Madison and his 40-year-old mentally disabled brother, Ronald, running away near the bottom of the bridge.

Hunter's statement said an unidentified officer shot Ronald Madison in the back with a shotgun

. "As Ronald Madison lay dying on the pavement, (the sergeant) ran down the bridge toward Ronald and asked an officer if Ronald was 'one of them.' When the officer replied in the affirmative, (the sergeant) began kicking or stomping Ronald Madison repeatedly with his foot," the filing states. Madison and James Brissette, 19, were killed by police. U.S. District Judge Sarah Vance said Hunter participated in a "blatant and systematic perversion of justice" and shouldn't be seen as a "hero" for taking responsibility. "I don't think you can listen to this account without being sickened by the raw brutality of the shootings and the craven lawlessness of the cover-up," she said. Dr. Romell Madison, one of Ronald's brothers, said he didn't know that police kicked his dying brother until he heard a prosecutor read the filing aloud in court. "The cruelty that my brothers had to endure and the other victims had to endure was heartbreaking," he said. Hunter, 33, of Slidell, faces a maximum sentence of eight years in prison following his guilty plea to one count of conspiring to obstruct justice and one count of misprision of a felony. His sentencing is scheduled for June 30, 2010. Hunter's attorney said in an emailed statement that his client made "a series of very bad decisions related to what happened on the Danziger Bridge, and what he did in the aftermath of those events. He accepts full responsibility for his bad decisions, and for their consequences." Less than a week after the Aug. 29, 2005 hurricane, Hunter drove several officers in a rental truck to the Danziger Bridge, where police shot and killed two people and wounded four others.

Hunter allegedly provided a false account of the shootings when he testified before a state grand jury in 2006

. Two other former officers have pleaded guilty to helping cover up the fact that police shot unarmed people. Former Lt. Michael Lohmann and Jeffrey Lehrmann, a former detective, have pleaded guilty to participating in the cover-up, which included a planted gun, phony witnesses and falsified reports.
---
Antoinette Frank
August 2, 2009
---
C.J. Introduction:
Google has informed C.J. that a number of our visitors have been "googling," or requesting these stories. We therefore dug into our archives to re-publish these stories. We are proudly bound by our readers interests.
---
"It is the position of the government that each of these so-called cops is a disgrace and a menace."
"By 1994 corruption in the New Orleans Police Department was so bad that I was almost embarrassed, after 25 years on the job, to put on the uniform," says Capt. Michael Ellington, now commander of the 6th district. One of Mayor Morial's first moves was to bring in an outsider to shake up the police department. Richard Pennington had been assistant police superintendent in Washington, D.C., where he had won high marks for instituting community policing in high-crime neighborhoods. As an outsider, "I didn't know anyone, and I didn't owe anyone," says Superintendent Pennington today. Even with a mandate to clean up "inside crime" before attacking "outside crime," Pennington's job got harder right from the beginning. Within hours of the new superintendent's swearing in, a police officer who heard that a complaint had been filed against him had the complainant -- a woman -- executed in cold blood. A few months later, another police officer -- a woman -- participated in the robbery of a restaurant and killed three people by shooting them in the head, including her sometime police partner who was working that night as security in the restaurant.
(Antoinette Frank now 37, is escorted out of the Kim Anh restaurant after the jury was given a tour of the murder scene Sept. 9, 1995.) On Saturday, March 4, 1995, accompanied by a younger male accomplice (her nephew ) Patrolman Antoinette Frank, 23, with only two years on the force, held up a Vietnamese restaurant in eastern New Orleans. When 25 year old Patrolman Ronald Williams II, working an off-duty detail at the restaurant, responded to the crisis, Frank shot him to death. Then she shot two of the Vietnamese owner's family members as they knelt in prayer pleading for mercy. All of the victims worked at the family-owned Vietnamese Kim Anh restaurant.
Frank left the scene, and then returned in a patrol car as if in response to the call but she was fingered by a witness who had survived by hiding out in the restaurant's meat locker. Frank and her accomplice were arrested and, once again, the city went into shock at yet another revelation of a murdering cop. What made it even more shocking was that Williams (pictured above left) and Frank had once been partners. They had reportedly done details at the same restaurant. Officer Williams had served with the New Orleans Police Department for four years, and is survived by his wife and two young children. It was the first time a New Orleans police officer murdered another officer since 1917 when Police Chief James Reynolds was assassinated by a suspended patrolman. The Louisiana Supreme Court has canceled the Dec. 8, 2008 execution date for convicted killer Antoinette Frank, who remains on death row for the 1995 triple murder at the Kim Anh restaurant in eastern New Orleans. Orleans Parish Criminal District Court Judge Frank Marullo has twice this year issued a death warrant for Frank - the third time he has done so since her conviction - only to have the state supreme court overturn his execution order. Marullo has repeatedly ruled that Frank has had an exhaustive appeal, while her defense attorneys said this year that Frank has yet to have a full-blown appeal of the jury verdict condemning her to die by lethal injection.
---
Len Davis
"Our worst nightmare has been realized. Cops and drug-dealers allegedly working together to kill law-abiding citizens who dare to report police atrocities to supervisors at the New Orleans Police Department."
-U.S. District Magistrate Lance Africk - December 14, 1994
Once Len Davis (pictured left) became a certified police officer, Davis' offenses began piling up in earnest. During his seven-year career at NOPD, most of which was in the city's Fifth Police District, Davis was suspended four times and officially reprimanded twice. One of his suspensions lasted 51 days after he was accused of beating a woman in the head with his flashlight in 1992. Numerous complaints were filed against him with Internal Affairs and the OMI. More than 20 of these complaints were never acted upon by either agency. The accusations against Davis included brutality, physical intimidation, discourtesy and theft. Len Davis may just be the most dangerous criminal ever to have worn the uniform of a New Orleans police officer." Yet, despite the numerous complaints and departmental charges against him, Davis had received two medals from NOPD during his tenure. One of these was the department's second-highest honor, the Medal of Merit. In 1993, Davis and Williams were honored for chasing down and arresting two teenagers who had robbed a supermarket. On October 11, 1994, Kim Marie Groves was doing her duty as a good citizen in reporting an instance of police brutality that she witnessed. She filed a report with Internal Affairs in which she claimed to have seen Officer Sammie Williams chasing a teenager named Nathan Norwood and hitting him in the head with the butt of his pistol. Williams and Officer Len Davis were reportedly trying to track down a suspect in the shooting of police officer Michael Mims but, when they approached Norwood, he ran and they gave chase.
Less than eight hours after Pennington's swearing in, Groves became the first murder victim on his watch. She was just another tragic, faceless, "garden variety" statistic until early December 1994 when it was revealed that NOPD Patrolman Len Davis had ordered the "hit" on her (from his patrol car). His cellphone conversations, describing her location and what she was wearing to the hitman, were captured on tape by the FBI, who were unable to discern at the time that a murder-for-hire was in progress. On April 24, 1996, the jury announced its guilty verdict against Davis. On Friday, April 26, 1996 the jury sentenced Davis to death. It became the first death sentence in American history handed down under a modified federal code permitting the death penalty in civil rights cases. In August 1999, following a long series of appeals, Davis's sentence was commuted from death to life imprisonment. In 2004, the U.S. 5th Circuit Court of Appeals vacated the lower court order and restored the death sentence. Davis remains in federal prison in Terre Haute and more appeals are expected.
---
N.O.P.D.
August 2, 2009
The state audit found "major deficiencies" within the NOPD, including an inadequate system for tracking money that was considered evidence or property. Police officials did not know how much money was being stored, and should have been depositing these funds into a secure bank account, the report states. The audit notes that handling of evidence suffered from inadequate security and staffing, sloppy organization and a lack of written policies."By not safeguarding these assets, adverse effects on criminal court proceedings may be experienced," the report says.
New Orleans Police Department officials ran a haphazard property and evidence room from which more than $200,000 went missing, and later failed to notify the proper authorities in writing of the missing money, according to a newly released state audit report. The highly critical report from state Legislative Auditor Steve Theriot states that NOPD officials may have violated state law in failing to notify the auditor and the Orleans Parish district attorney in writing of any misappropriation of public funds. Police Superintendent Warren Riley (pictured above left) wrote in response to the audit that he didn't know state law required such written notification. Riley also disputed whether the missing evidence monies could be considered public funds. He claims that Theriot's office is misinterpreting the state law regarding notification of missing public funds. Riley argued that the missing money was "simply evidence," and not money that had been forfeited to the police following the closure of a case. Because of this, the unaccounted for money should not be considered public funds, Riley said. Theriot's office had never been notified before the audit that more than $200,000 was missing. District Attorney Leon Cannizzaro said that the NOPD had not notified his office of missing funds. "We are concerned about the evidence . . . but I can't say any prosecutions have been initiated because of this," he said. Riley acknowledged that the property division was in disarray. Riley said, "We have a dysfunctional, not well-managed, property room." However, Riley criticized the auditor's handling and release of the report. He alleged that contents of the draft report were leaked weeks ago to the media. Riley's comment about a confidentiality breach confounded the auditor's office, which weeks ago sat down separately with Riley and City Council members to brief them on findings. "This is a public report," said Dan Daigle, director of compliance audits for Theriot's office. "We really are confused about that statement." Riley was the keynote speaker at The Australian Police and Emergency Services Leadership Summit, held during the week of July 13, 2009 at the University of Melbourne. Riley discussed "his aggressive pursuit of re-vitalizing a police force amidst catastrophic circumstances, and how he is restoring law and order and public confidence in law enforcement." The state audit is the second recent assessment of the NOPD's Evidence and Property Division. The first review, conducted early last year by the California-based Evidence Control Systems Inc., found numerous policy, procedural and operational weaknesses within the NOPD division and made recommendations on each issue. These findings are similar to those of the state auditor in the second review. Evidence Control Systems also noted that in many instances, the NOPD did not follow best practice standards set by the International Association for Property and Evidence. The state audit noted that NOPD has not taken action on the deficiencies, continuing to "leave property and evidence held by the NOPD susceptible to loss and/or theft."
The Usual Suspects
On July 13, 2009 Riley said, "the criminal investigation is ongoing." Problems with the evidence room were made public last November when Riley acknowledged that about $19,000 in cash owed to a former defendant was missing from the room. Riley promised a thorough investigation. Four suspects have been identified, though he declined to elaborate. The state audit shows that Riley and other NOPD leaders had long been aware that tens of thousands of dollars were unaccounted for. The report outlines five incidents in which NOPD officials were alerted to missing money. • In December 2007, NOPD managers were notified that $10,700 was missing from the evidence room, according to the audit. • They were notified again in February 2008, two months later, that nearly $11,000 more was missing. • Following an inventory in March 2008, NOPD leaders learned that about $117,000 was missing, though nearly 10 percent of that money, or $12,000, was later recovered after it was found to be wrongly filed. • In October 2008, a local attorney went public with claims that his client's $19,050 was missing from the evidence room. • In November 2008, a month later, NOPD management learned that evidence bags had been tampered with and that another $85,000 was missing. Since the first reports about cash missing from the evidence room surfaced last fall, the NOPD has declined to provide documents requested by Corrupt Justice, citing an ongoing internal investigation. The documents NOPD have refused to provide include weekly staff reports that C.J. believes should be provided in accordance with Louisiana's public records law. Riley had criticized a former high-ranking officer last fall for lax security in securing evidence, saying too many people had keys to the room under Capt. Danny Lawless' watch. Lawless countered by showing off a collection of memos and paperwork in which he had warned supervisors of the temporary facility's security shortcomings and manpower shortages, calling them a "recipe for disaster." Riley continued to lay blame on the previous commander, saying not one item has come up missing since he was replaced. Riley, however, declined to call Lawless a suspect in the case.
---
FBI Investigates N.O.P.D.
June 2, 2009 The FBI is looking into at least three cases involving New Orleans police officers. A Fraternal Order of Police e-mail circulated in June (2009) reminding NOPD officers of their right to consult attorneys before they are interviewed by FBI agents. The extent of the FBI's investigation of these cases remains unclear. In late May 2009, members of the Fraternal Order of Police, the largest police organization in New Orleans, were put on notice of the probes. NOPD officers were encouraged to invoke their right to be questioned with an attorney present if FBI agents contact them. This suggestion was given to New Orleans Police Department officers regardless of whether they are being questioned as a target or witness. The President of the Metropolitan Crime Commission, Rafael Goyeneche questioned the suggestion that NOPD officers contacted as witnesses by the FBI should consult with an attorney. Goyeneche noted that police officers wouldn't want every potential witness they encounter to talk only with an attorney present. "If you believe you are the subject or target of an investigation, absolutely," Goyeneche said. But an officer who knows he is a witness should be willing to "cooperate with a sister agency," he said. Jim Gallagher, a retired officer and FOP leader, said he doesn't believe any officer should talk to the FBI without an attorney, noting it is a federal crime to lie to an agent. "If the perception is you aren't truthful, you are subject to criminal prosecution." The FBI confirmed that agents are investigating the January 1, 2009 police shooting of 22-year-old Adolph Grimes Jr. in front of his grandmother's house in the 6th Ward. Two of the cases stem from the days following Hurricane Katrina. The FBI recently begun a probe into possible police involvement in the homicide case of a charred body found inside a burned car on an Algiers levee. The FBI is looking into whether police committed a civil rights violation against the 31-year-old man whose remains were pulled out of the car in the weeks after the storm. The U.S. Department of Justice's civil rights division last year also picked up the investigation of an incident on the Danziger bridge after Katrina. A Criminal District Court judge tossed state charges against seven indicted police officers accused of participating in a shooting on the bridge that left two men dead. The Orleans Parish district attorney's office asked the federal government to take over that case, noting that problems with prosecutors' handling of the case were responsible for the case being thrown out. See: Hurricane "New Orleans Police Department!"
---
Reader Pageviews by Country
---
From: Jun 6, 2015 6:00 PM – Jun 13, 2015 5:00 PM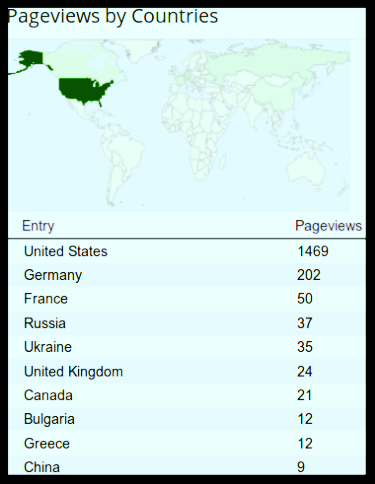 ---
«•
Thank you for visiting Corrupt Justice™. Enjoy our Free Movie Intermission! Don't forget to Bookmark Us & Tell A Friend! We're Global!
•»
---
Movie Intermission!
Ohio v. Michael Brelo ~ 2015 (Brelo Take 5th & Prosecutor Closing)!
---
Description: Cleveland, Ohio – Officer Michael Brelo was charged with two counts of voluntary manslaughter in the shooting deaths of Malissa Williams and Timothy Russell. The original incident occurred on November 29, 2012 which resulted in officers firing 137 bullets at the two who were unarmed. Officers claimed that a gun was seen, but no weapon was recovered.
---
---