↓↓↓↓↓↓↓↓↓ Blog Post Starts Below ↓↓↓↓↓↓↓↓↓
---
Click on Banner to Sell Your Home(s)!
---
Top News Story!
'[D]isrespect'!
Posted: NOVEMBER 23, 2016 — 1:07 AM EST ~ Updated: Saturday, November 26, 2016 (PST)

Philadelphia, PA -- Officer Dorion Young, 46, is Philadelphia police officer. Young is a 25-year veteran of the Police Department. Young has been charged with attempted murder. He is accused of shooting his 19-year-old son on September 5, 2016 (Labor Day). District Attorney Seth Williams said Young shot his son because he thought the teen had disrespected him. Williams said Young allegedly started an argument with his oldest son, Devine, over "perceived disrespect he felt about the use of the family car."

Young was off duty at his home on the 2700 block of Taunton Street in Northeast Philadelphia. His two sons and his oldest son's girlfriend were also at the home. According to the District Attorney's Office the argument escalated. Young then waved his personal .40-caliber pistol and shouted: "You my son, and you aren't going to keep disrespecting me!" Williams said Young walked away from his son and called 911.

He then went back and broke down his son's bedroom door. Young began fighting with his son. The fight moved from the bedroom into the hallway, where Young ended up on his back. Tariq El-Shabazz, deputy of the district attorney's investigations division, said: "Young's son stepped over him and tried to get away by walking down the stairs. As the teenager walked down the stairs, his father sat up and, with his legs extended in front of him, fired two shots." According to El-Shabazz: "One bullet went through Dorion Young's own shoe. The bullet narrowly missed his foot. The other bullet struck his son in the back."

The teen was taken to Aria Health-Torresdale Campus. He was initially was listed in critical condition. Prosecutors said Devine Young lost his spleen and a part of his colon in the shooting. El-Shabazz said: "He also is "dealing with the psychological injury" of being shot by his own father." El-Shabazz said the evidence showed that an earlier suggestion that the gun had gone off during a tussle over the weapon was impossible. El-Shabazz also said: "It's difficult raising a son, I would say that, but it's also better to teach a teachable moment, ... And one of the teachable moments is to walk away, calm down, take a deep breath, and then go back and address those matters." Williams said: "While this is a terrible tragedy, there is no excuse for what happened that day, and Dorion Young will be held responsible for having shot his son."

Dorion Young turned himself in to the Police Department's Internal Affairs Unit on Tuesday morning. He is charged with attempted murder. He also faces charges of aggravated assault: simple assault; possessing instruments of a crime; and related offenses. He has been suspended from the Police Department for 30 days with the intent to dismiss. It is the first time in at least three years that a Philadelphia police officer has been charged in a shooting. According to the Police Department's website, of the 116 officer-involved shootings since 2013, the District Attorney's Office has declined to prosecute 91 of the cases. The decision is pending in 24.

Probation!
Posted: NOVEMBER 23, 2016 — 1:07 AM EST ~ Updated: Saturday, November 26, 2016 (PST)

FERNDALE, MI -- Jason White is a former Ferndale police officer. He has been sentenced for beating a suspect earlier this year.

In April, White and a fellow officer arrested a 17-year-old on suspicion of theft. After his arrest, the teen said White had been abusive and used excessive force. Ferndale Police later found dashcam footage supporting the teen's claim. White was charged with assault and battery. He was sentenced to six months probation and has to pay $865 in fines.

Judicial Cross!
POSTED: Mon, Oct 19, 2016 at 1:11 PM ~ UPDATED: 04:33 am, October 23, 2016 PDT

LITTLE ROCK, Ark. - A judge ordered that Former Judge Joseph Boeckmann be detained, denying him bond. The judge did give a possibility of future bond if Boeckmann's defense attorney can find somewhere else for Boeckmann to live other than Wynne (given the judge's approval). Boeckmann served as a district judge for the First Judicial District of Arkansas from 2010 to 2015. In his capacity as a district judge, Boeckmann dismissed traffic citations and misdemeanor criminal charges for young men in exchange for acts that he claimed were "community service," but which actually benefited Boeckmann himself.

POSTED: Mon, Oct 17, 2016 at 1:11 PM ~ UPDATED: 11:50 pm, October 22, 2016 PDT

Wynne, Arkansas -- Former District Judge Joseph Boeckmann, 70, stepped down from the bench in May (2016) amid a judicial conduct investigation. Boeckmann presided over misdemeanor and traffic cases. The investigation centered around allegations he traded light sentences in return for sexual favors from male defendants. Boeckmann quit the bench and agreed never to seek office again. Boeckmann's resignation came as the Judicial Discipline and Disability Commission was investigating the allegations. Boeckmann's name surfaced in a recent violent death in Wynne, Arkansas. However, authorities have not as yet made a direct connection in the cases. Boeckmann is in custody at the Pulaski County Jail pending a bond hearing at 2 p.m. Wednesday.

The investigation alleged he gave favorable treatment to young men defendants in court in return for sexual improprieties. The men were used particularly for posing for suggestive photographs. The photographs were sometimes nude; and were taken after paddling. Boeckmann wrote checks to lawyers for the young men. He had thousands of nude male images on his computer. He was accused of a variety of other misdealing in using his court for illicit purposes.

Information developed in the investigation was shared with federal authorities. Federal authorities continued to investigate. Judge Boeckmann has been indicted on federal charges. The indictment is based on Grand Jury testimony from nine unnamed people who had appeared in Boeckmann's Cross County court on minor charges. The 21-count indictment was filed on October 5, 2016. The indictment was unsealed on October 17, 2016. The indictment accuses Boeckmann of wire fraud: bribery; violation of the federal travel act; and witness tampering.

Read the indictment here:



United States v. O. Joseph Boeckmann ~ (Indictment-2016) by Leegal Counsel on Scribd


The eight wire fraud counts allege taxpayers were deprived of fines and fees that otherwise might have been assessed in Boeckmann's court. The indictment alleges that on on account of Boeckmann's scheme to use his position to obtain "personal services: sexual contact; the opportunity to view and to photograph [defendants] in [nude] compromising positions; and/or persons who appeared before him [in] traffic [cases]; and misdemeanor criminal cases, [taxpayers were deprived of fines and fees] in exchange for [Boeckmann] dismissing the cases."

The indictment said Boeckmann would typically wait until his court concluded. He would then ask to meet with defendants alone. Boeckmann would then provide his personal telephone number to work out terms of "community service." He'd have them pick up litter and photograph them bending over to pick up cans. He also variously offered consideration to people for being photographed naked: masturbating; or after he finished paddling them. The judge altered dockets to show erroneously that sentences were discharged for community service.

Boeckmann used the telephone or text messages to carry out the scheme. He faces ten charges of "violation of the federal travel act." The charges pertains to telephone calls made by Boeckmann in furtherance of the scheme. The charges also stem from two cases in which he took actions to entice someone to travel from Tennessee to Arkansas. Federal program bribery was charged because the state of Arkansas receives federal assistance for the operation of the justice system. The two witness tampering charges alleges that, between October and November of last year, Boeckmann attempted or used another person to attempt to intimidate, threaten or otherwise corruptly persuade a witness not to testify before the Grand Jury.

The FBI investigated the case with assistance of the State Police and the Arkansas Judicial Discipline and Disability Commission. Trial Attorneys Jonathan Kravis and Peter Halpern of the Criminal Division's Public Integrity Section and Special Prosecutor Jack McQuary of the Arkansas Prosecuting Attorney's Association are prosecuting the case.

Important!
Posted: Tuesday, August 16th 2016, 8:23 am PDT ~ Updated: Thurs., August 18th 2016, 11:43 pm PDT

DESTREHAN, LA (WCJB) - St. Charles Parish has a population of roughly 50,000. It is located about 20 miles west of New Orleans. When a powerful parish prosecutor arrived at the apartment of a woman facing a drunken driving charge, FBI agents were watching and recording. The man served as St. Charles Parish's elected district attorney for more than three decades. Prosecutor Harry Morel (pictured above, center) brought two bottles of wine with him. He sat the woman on the couch. He began discussing her case. Morel then began to grope her. Authorities said the video of that July 2012 encounter with Danelle Keim would finally help the FBI build a case against Morel. According to a transcript filed in court:

(Morel asks as Keim tried to resist his sexual advances:) "So, I'm an important guy?"

(She says:) "Important? Um, yeah, ..."

(Morel says:) "Well," then I need to order you to kiss me."

Important was an understatement for Morel. He had been re-elected five times. However, Morel faced sentencing on Wednesday. Morel was given the maximum three years in prison. U.S. District Judge Kurt Engelhardt before he issued the sentence. Even so, the evidence also suggests how difficult it can be to balance the scales of justice. Morel is the patriarch of one of a handful of families with deep connections in politics and law enforcement. He was long considered untouchable in the swampy Louisiana parish. Morel's luck began to change when Keim dialed 911 and her plea for help reached the FBI.

Shortly after her drunken driving arrest, Kiem reported to 911 that Morel had sexually assaulted her at her home in April 2010. She told a dispatcher, her voice trembling: "He grabbed me, he kissed me and he touched me in my private areas. He wanted me to take off my clothes. He wanted me to take my pants off so he can please me." Keim said Morel left after she pulled away from his kiss. She said that she worried it would be "my word against his." The sheriff's office summoned the FBI.

Keim had begun wearing a wire for the FBI after making the desperate 911 call. It wasn't the first such allegation about Morel to reach the agency. St. Charles Parish Sheriff Greg Champagne said he alerted the FBI after he was contacted by a woman in 2009. The woman's claimed that Morel told her that her husband's drunken driving charge could be "taken care of." She would have to meet him at his camp in Mississippi to "play" while her husband was in jail.

Federal and state authorities said Morel solicited sex from at least 20 women in exchange for favorable treatment. According to prosecutors, the FBI and the local sheriff, the 73-year-old prosecutor repeatedly used his power to prey on vulnerable women. They even called him a sexual predator. However, he wasn't charged with any sex crimes. Morel pled guilty to a narrowly tailored charge of "obstructing a federal investigation." Morel served as district attorney from 1979 to 2012. He retired after learning of the FBI and sheriff's investigations. He claimed he was stepping aside so that his daughter could run for judge free of conflicts of interest.

At an April news conference announcing his guilty plea, U.S. Attorney Kenneth Polite said: "Justice finally came calling for former St. Charles Parish District Attorney Harry Morel." Polite said investigators suspect Morel preyed on women for decades. He conceded that the full extent of his conduct may never be known. Polite summed up by saying: "By title, he was the embodiment of justice. However, in the darkness of his heart, he was something else entirely - a man who perverted his position of power to take sexual advantage of desperate women who needed help. And he did this over and over and over again." Authorities say the plea deal effectively closed both the federal and state investigations.

Keim's mother, Tammy Glover, says Morel should have been charged and convicted of more serious offenses. In an interview at her home, she told media sources: "I'm not a physical person at all, but I just want him to hurt." Glover said her disappointment doesn't overshadow her pride in her daughter's courage. Glover said: "She's our hero. She's the hero of St. Charles Parish. She went after the most powerful man in St. Charles Parish, and she got his ass. That was my justice."

Keim's undercover work would have made her a key government witness. Glover recalls how proud her daughter was in 2013 when she showed her a report in the newspaper. The report revealed that the FBI was investigating whether Morel had been trading leniency for sex with defendants or their relatives. The 27-year-old mother of a young son suffered from drug addiction. Less than 24 hours later, she was dead. Her overdose was yet another blow to a case that was challenging from the start. Most of the women Morel was accused of preying upon had drug addictions.

Keim's family said she was a good mother to her son, now 10. She battled through addiction to graduate from drug court and earn her GED. However, her sister, Tessie Keim, 27, said: "'[t]he pressure of gathering evidence against Morel made her "spiral mentally." He made her feel like dirt. He targeted these women specifically for who and what they were and where they were in their life.'" Keim's mother and sister said they have heard from other victims. Despite Morel's guilty plea, they remain afraid to tell their stories. Glover said: "If he would have gotten what he deserved, maybe they would have come forward."

Polite said investigators tried to reach all of the women involved. They ultimately determined that the evidence was problematic. Many of the cases happened too long ago to be prosecuted under state law. "We had questions about whether the quid pro quo was explicit enough. And many of the witnesses, he suggested, might not be seen as reliable by a jury, given their personal histories."

Morel's attorney has accused law enforcement officials of engaging in "character assassination." Hew also accused police of a "smear campaign" for releasing the 911 call and accusing Morel of conduct for which he hasn't been charged. Polite's predecessor had balked at prosecuting Morel. Polite's predecessor ultimately admitted to instructing Keim to destroy photographic evidence of their meetings.

Be Da' Baby Daddy!
Posted: September 15, 2014 - 1:43 pm ~ Updated: September 15, 2014 - 1:37 pm pdt

LITTLE ROCK, ARK. — Gov. Mike Beebe on Monday appointed a replacement for a Faulkner County circuit judge who was removed by the state Supreme Court for misconduct.

Beebe appointed Conway attorney Michael Murphy (pictured above, center) as circuit judge in the 2nd Division of the 20th Judicial District. Murphy will serve out the unexpired term of Mike Maggio, whom the Supreme Court removed permanently on Thursday, barring him from ever holding judicial office in Arkansas again.



Maggio had admitted making comments on an Internet forum that violated rules of judicial conduct, including comments that disclosed confidential information about the adoption proceedings of actress Charlize Theron (pictured above, center).

Murphy's appointment expires Dec. 31. In January he will take office as 5th Division circuit judge, an office to which he was elected in May.

Posted: 1:43 AM EDT, Sat September 13, 2014 ~ Updated: 2:10 AM PDT, Sat September 13, 2014

Faulkner County, Arkansas (WCJB) -- The top court in Arkansas has ordered the immediate dismissal of a judge who leaked confidential details about an adoption involving Oscar-winning actress Charlize Theron (pictured above, center) according to court documents.

Faulkner County Circuit Judge Michael Maggio (pictured above, center) admitted posting details from Theron's closed-record adoption of a child in 2012 on "tigerdroppings.com," a Louisiana State University fan site, using the online name "geauxjudge," according to documents that a judicial commission submitted to the state Supreme Court.

Maggio commented in January 2012 that a friend of his handled a single-parent adoption case involving Theron, and that she came to court wearing a "long brown wig, oversized clothes, trying to camoflauge her appearance," the commission's report says. He wrote online that he "offered to be the baby daddy," documents said.

Theron is one of Hollywood's top actors with roles in movies ranging from "Monster" and "Mighty Joe Young" to "North Country" and "Snow White and the Huntsman." Efforts to reach Theron's representatives were not successful Friday night

Maggio's published comments on the adoption case involving Theron are part of a report by the Arkansas Judicial Discipline and Disability Commission, which investigated claims against the circuit judge. Maggio has been on the bench in Arkansas since 2001.

The commission's report includes five pages of comments Maggio made in the social media forum on other cases under the username "geauxjudge," including statements on various aspects of gender, race and sexuality issues. The report concluded that he had violated at least 23 judicial codes.

In March, after the identity of "geauxjudge" was confirmed to be Maggio, he said in a statement: "I take full responsibility for the comments that have been attributed to me. I apologize deeply for my lapse in personal judgment and for that, I have no excuse.

"The comments posted were not acceptable. These comments are not a reflection of who I am," the judge's statement said, according to CNN affiliate KATV.

The Arkansas Supreme Court order prohibits Maggio from holding any judicial office in that state and orders him to be removed from office without pay.

Dr. Lawyer/Guilty!
Published: 11/9/2013, 11:12 PST
Gypsy Willis, pictured right, the girlfriend of Martin MacNeill (pictured left) agreed to plead guilty to all charges and to testify honestly in case.


Provo, Utah -- A Utah jury has found Dr. Martin MacNeill Trial guilty of drugging and drowning his wife -- all so he could allegedly pursue an affair with a woman he met online.

MacNeill, 57, has been found guilty of first degree murder and obstruction of justice for the April 11, 2007, death of his wife, Michele MacNeill, 50. The former beauty queen's cause of death has been the main source of contention between the prosecution and defense.

MacNeill will be sentenced Jan. 7 at 1 p.m. His bail will remain at $1 million dollars until sentencing.

Prosecutors said MacNeill persuaded his wife to have plastic surgery so he could dope her up during her recovery and then drown her, clearing the way for his purported mistress, Gypsy Willis, to move in to the family's home.

MacNeill's defense lawyers said heart problems were a contributing factor in the mother of eight's death and that the Utah doctor was not guilty.




His defense attorney acknowledged at the start of the trial that MacNeill "has made poor choices in his life. We've heard he had affairs during his marriage," she said.

"We may think he is a total jerk, that is absolutely disgusting and that's natural. But it's very critical that during this trial you set aside your emotion," his attorney admonished the jury when the trial began a month ago.

During the three week trial, family fireworks flew as four of MacNeill's daughters testified. One of his oldest daughters, Alexis Somers, told the jury that she believes her father was guilty.

"Ever since the day my mom died, I was concerned that my father killed her," Somers said. "I've been fighting to get justice for this case ever since then."

Published 4/29/2011, 02:12 PDT




Pleasant Grove, Utah (WCJB) -- New information has led authorities to reopen an investigation into the death of a Utah woman and a search warrant shows authorities suspect her husband, a once-prominent doctor and lawyer, gave her a lethal combination of drugs days after she underwent surgery. The search warrant filed in 4th District Court earlier this month indicates authorities believe Martin MacNeill had the motive and opportunity to kill his wife, Michele, in 2007, media sources reported on its website Thursday evening. An investigation is ongoing and MacNeill has not been charged in his wife's death. If no additional charges are filed, he is scheduled to be released from federal prison in Texas, where he is serving time for identity fraud, the newspaper reported.

An initial autopsy attributed Michele MacNeill's death to natural causes after she was found dead four years ago in a bathtub in her Pleasant Grove home. But a review of the autopsy requested by the Utah County Attorney's office later found that the drugs in her system would have caused her to become unresponsive and "could have stopped her heart because of the additive effect of each of these drugs taken together."

Michele MacNeill underwent plastic surgery on April 3, 2007 — just eight days before her death. She had told her husband she wanted to wait to have the surgery, but her husband told her "that would not be possible," the affidavit states. MacNeill also told the doctor what medications to prescribe for her. The day after her surgery, Martin MacNeill exchanged 24 texts with Gypsy Willis, a woman he had been dating without his wife's knowledge for three years, the affidavit states.

A couple of years prior to Michele MacNeill's surgery, investigators say Willis had talked to her roommates about cutting the brake lines of Michele MacNeill's car or giving her medication "that would kill her without being detected."

The investigation was reopened after the MacNeill's children and other relatives went to authorities with suspicions about the husband, the media reported. According to the warrant, Michele MacNeill told her daughter that the night she came home from surgery her husband "had her take medications throughout the night even though she began throwing up."

Utah State Medical Examiner Todd Grey wrote an addendum to her autopsy saying new information "raises suspicion that the decedent did not die solely as a result of the abnormalities of her heart identified at the autopsy," the search warrant affidavit states. Grey said a combination of medicines found in her body could have been lethal. Grey also said he questions whether the medications were forced upon her.

The new warrant also states recent information led a medical examiner to question whether Michele MacNeill had willingly taken medications found in her system. For several years before his wife died, Martin MacNeill had been seeing another woman, with whom he exchanged dozens of text messages in the days after his wife's surgery, the warrant said. "Martin had motive to kill his wife as he was attempting to hide his affair with Gypsy Willis and his continued contact with her. Ultimately, Martin intentionally overdosed Michele with the medications that Dr. Grey determined played a vital role in causing her death," investigators wrote.

Michele MacNeill had suspicions that her husband was having an affair and began confronting him more and more, asking him why he had changed his online account password to his phone records and telling him to "be honest with her." From April 6-10 while Michele MacNeill was recuperating, Willis and MacNeill exchanged 60 text messages, investigators reported. On the day she died, Michele MacNeill had made plans to pick up her youngest daughter, Ada, from school and go to McDonalds with her. Instead, her father picked her up from school and drove straight home. Ada found her mother unresponsive and sitting up in the bathtub. She ran to get her dad and "reported that Martin was very slow to go with her to the bathroom," according to the affidavit.

$500 Ma'am, or ...!
Posted: Monday, October 7, 2013, 6:31 pm PDT - Updated: 10/31/2013 03:35:32 AM PDT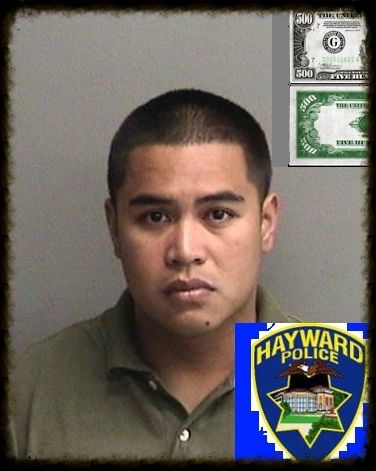 Hayward, CA -- A Hayward police officer solicited a $500 bribe from a suspect in exchange for letting the woman slide in a prescription forgery case, authorities said.

Romeo Aberin, 30, was arrested Monday after Alameda County prosecutors charged him with extortion under color of authority and receiving a bribe by an executive officer, both felonies. Aberin, a patrol officer since joining the department in 2007, posted $50,000 bail and turned in a letter of resignation, officials said.

Michael Rains, Aberin's attorney, said his client is an Army veteran and married father of two who has served on the SWAT team and has "an outstanding reputation for being diligent and very ethical. The conduct charged is really antithetical to the sort of reputation he has enjoyed in the department."

Aberin chose to resign because it was the "more honorable thing to do," Rains said, adding he would not permit his client to be interviewed by internal affairs given the pending criminal case.

The case stems from an investigation last month in which Aberin interviewed Tammy Spencer, an employee of a clinic, and determined that she had stolen blank prescription pads and forged prescriptions for friends, police said.

Instead of arresting Spencer, Aberin tried to use her as a confidential informant, telling her that she had two weeks to come up with information relating to drug trafficking and money laundering, police officials said.

However, Aberin "never notified the department of his actions or intent" and failed to follow policies mandating how officers deal with informants, said Hayward police Sgt. Mark Ormsby.

Two weeks later, on Sept. 13, Aberin allegedly arranged to meet Spencer at her workplace. The two met while Aberin was off duty, and he reminded her of what he wanted from her, officials said.

"When the victim advised Aberin there was no useful information to give him, he proceeded to ask for cash in exchange to dismiss reporting any criminal activity against the victim," Ormsby said. "Out of fear and duress, the victim complied."

Authorities said Spencer gave Aberin $500 that she withdrew from an ATM, police said, while secretly recording the interaction on her cell phone.

The next day, she reported Aberin to the San Leandro Police Department. Aberin admitted to taking the $500 but "contended she provided the money willingly," investigators said in an affidavit. Spencer was not arrested.

Aberin's arrest comes nine days after Livermore police arrested another Hayward officer, Richard McLeod, 38, on charges that he abused numerous girls when he previously worked as a teacher at an after-school program in Livermore. McLeod is being held without bail.

Hayward Police Chief Diane Urban said Monday that the response to the bribery allegation "reflects our enduring commitment to ensure criminal behavior is not tolerated."

Fabrication Patrols
Posted: Oct 17, 2013 3:32 PM PDT - Updated: 4:16 PM PDT, Sat. October 19, 2013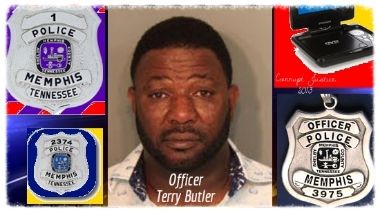 MEMPHIS, TN - (WCJB) - Terry Butler, a Memphis police officer, is accused of wrongfully arresting two men after fabricating evidence against them. According to investigators, Officer Butler was off duty when he tried to frame two innocent men for a break-in that happened at his girlfriend's house. The woman's home was robbed several days before the arrests, but a DVD player the two men were "caught" with in their car that was not actually stolen from her home. The affidavit of complaint says that Butler called his girlfriend and gave her the serial number of the DVD player the two men had in their possession. He reportedly told her to claim it as property that was stolen during the break-in.




Officials confirmed that the woman told investigators she followed his directions because Butler had threatened her before. "Once we investigated, we found the facts that he coerced her," said Memphis Police Director Toney Armstrong. Armstrong added that MPD is better off since Butler's arrest because framing people is not an MPD practice. "I know when these things come up you might think I'm embarrassed but I'm not, it's been my contention since I've been here to weed out those that don't deserve to be here," said Armstrong.

The two men arrested in the burglary were released without being charged. Meanwhile, Butler was indicted for official misconduct, official oppression, and tampering with evidence.

Butler is on "non-enforcement status" after posting $10,000 bond. He has been employed with MPD for 13 years.

Judge Thief!
Posted: 10/22/2013 06:12:45 AM PDT - Updated: 10/23/2013 01:30:32 AM PDT
OAKLAND, CA -- Paul David Seeman, 58, a former Alameda County Superior Court judge, was sentenced to five years probation Monday for stealing money from an elderly widowed neighbor who trusted him with her life savings. Seeman was accused of stealing from his now-deceased widowed neighbor, Anne Nutting, who was 97 when she noticed irregularities in her finances. Investigators originally believed Seeman stole more than $1 million from Nutting, a figure that also included the estimated value of possessions Seeman sold on behalf of Nutting when he controlled her estate. As a result, he was charged with 32 felonies, including financial elder abuse for stealing from Nutting and numerous counts of perjury for lying on state financial disclosure forms that all judges are required to complete.

A $250,000 "loan" Seeman claimed he took from Nutting was paid back just after police called Seeman asking questions about Nutting's finances. Investigators could not prove that Seeman took the money earned from the sale of Nutting's valuable possessions, court documents show. Court documents also revealed in the end that investigators could only prove that Seeman stole more than $5,000 from his neighbor. "Given the entirety of the case, this was the appropriate resolution," said deputy district attorney Jason Sjoberg. "He did commit a criminal act, and he has been held accountable for it."

Seeman, of Berkeley, was sentenced as part of a plea deal in which he was found guilty of one count of financial elder abuse and one count of perjury. Seeman also was forced to pay Nutting's estate the $5,600 that he stole.

While Seeman avoids jail time under the deal, his career in law, at least in California, is over. As part of the plea deal, Seeman loses his bar license and his right to practice law in the state. Earlier this year, Seeman agreed never to be a judge again. The former judge also cannot live with, care for, or act as a financial aide to any elderly person who is not a direct relative. In addition, he is not allowed to possess any "financial instrument" in any person's name but his own.

Seeman's criminal defense attorney, said in a prepared statement that her client has paid the price and agreed to a deal to end the case. "He appreciates that the sentence took into account the many good works he has accomplished in his life," the attorney said. Seeman, who appeared in court, turned down a request to make a comment.

Posted: 06/28/2012 03:22:54 PM PDT - Updated: 06/28/2012 04:11:14 PM PDT

It reads like an outline for a B-grade detective novel: A reclusive elderly couple with no close relatives lives in a house crammed with jewelry, stamp collections, stock certificates and dozens of pieces of art worth, conservatively, $3 million. Throw in a huge model train collection, too. And rats. Don't forget the rats.

Because it's the discovery of the rats by city health inspectors that eventually forces the couple to go live in a hotel, leaving their fortunes behind in their Berkeley home, intermingled with mounds of trash. But they assume they are taken care of -- their neighbor is a lawyer, soon to become an Alameda County Superior Court judge. The couple places him in charge of their belongings and money, trusting him to manage their estate while they are away.

It is not, however, a novel. According to new details revealed this week in an 71-page affidavit written by a veteran District Attorney inspector, it is how Superior Court Judge Paul Seeman, 57, came to be arrested June 14 and charged with elder theft and perjury. He is free on $525,000 bail after pleading not guilty. The case is scheduled for a court hearing next month; Seeman won a motion at his arraignment to not attend minor legal proceedings.

He "does not intend to return to the bench until this matter is resolved," his lawyer, Laurel Headley, said in a prepared statement issued Thursday. Headley declined to take questions, but the statement said the judge is looking forward to "all the facts in this case coming to light in a fair and complete" trial.

Seeman could also be impeached by the state Assembly, and the State Commission on Judicial Power is mulling suspending him as the criminal charges unfold. If convicted, Seeman, who then-Gov. Arnold Schwarzenegger appointed to the bench in 2009, would immediately be forced from office.

Seeman told police that he was just trying to help the couple, Lee and Anne Nutting. Lee Nutting, a chemist who worked for Hills Brother's Coffee, died in 1999. Anne Nutting, who headed the Berkeley Public Library's Art and Music Department, was still struggling with Seeman to regain control of her assets when she died in 2010 at 97, the affidavit states.

The case dates back to 1999, when police were called to the Nutting's home on Santa Barbara Road in Berkeley, where Lee Nutting had fallen and needed help. Rats were everywhere in the trash-strewn house, which was declared unfit for habitation. The Nuttings went to live at a hotel in the Berkeley Marina, according to the affidavit written by Inspector Kathleen Boyovitch, and gave Seeman, then a private lawyer who lived next door, control of their finances.

Lee Nutting died a few months later at the age of 90. But Anne Nutting stayed at the hotel for more than five years, the affidavit said, forming a close relationship with a waiter there, Ali Mehrizi, who years later would become her second husband.

In 2005 or 2006, Anne Nutting asked Mehrizi to help her move back to the home, which he found was still a ramshackle mess. Eventually, thanks to Mehrizi cleaning and repairing the house, Anne Nutting was able to return home in 2007. Upon returning, she found a lot of things missing.

While Anne Nutting was living in the hotel, Seeman did more than oversee her belongings, according to court records. He kept her from returning home for years by refusing to allocate money for repairs, the affidavit said, while pocketing the cash from selling off her belongings: The art. The jewelry. The coins. The trains. Seeman had taken $250,000 from the sale of art work, claiming it was a loan -- on which he stopped making payments, court documents said.

The last years of Anne Nutting's life seem defined by two things -- her marriage to Mehrizi on her 97th birthday and what the affidavit said was a long struggle with Seeman to gain control of her assets, which included checking accounts, rental properties in Santa Cruz and her own home.

Nutting no longer had "control" or "free will" over her finances and belongings, the affidavit said.

When police raided Seeman's home and court chambers earlier this month, they found Lionel collectible trains, coins, Asian art work and myriad financial and tax records believed to belong to the Nuttings, according to court records. The search warrant sought dozens of pieces of jewelry, stamp and coin collections and dozens of missing art prints among other items.

But Anne Nutting did not die without leaving police clues about what had allegedly happened. Prosecutors recovered phone messages she had left Mehrizi that pointed toward Seeman, the affidavit said. Those messages are now central to the case, which is being prosecuted with cooperation from the 53-year-old Mehrizi. Berkeley Police Chief Michael Meehan, whose department assisted in the investigation, said Mehrizi is not a suspect in the case.

"This is Anne," one message said. "I just wanted to tell you that, aah, Paul (Seeman) was down to bring me some mail and for a little visit, and I think we are going to have problems because, aah, I couldn't stave him off from going through the house when he wants. ... I don't know how to discourage him any more than I tried."

Lewd Constituency!
Posted: 2:01 AM EDT, October 15, 2013 - Updated: 1:16 AM PDT, Tues. October 15, 2013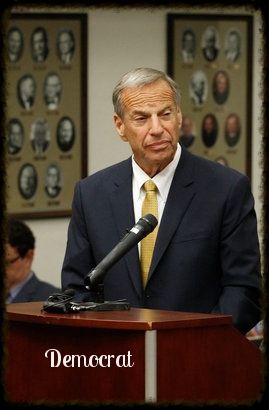 San Diego, CA -- Former San Diego mayor Bob Filner (Dem. (pictured above, center)) pleaded guilty Tuesday to false imprisonment and battery charges involving three women, according to an official with the San Diego Superior Court.

Court spokeswoman Karen Dalton said that Filner will be sentenced Dec. 9. She said the state attorney general's office had charged Filner "with one felony count for false imprisonment by violence, fraud, menace and deceit ... and two misdemeanor counts of battery." The victims are three unnamed women.

Filner resigned from office in August as part of a settlement of a lawsuit alleging sexual harassment. At least 18 women have accused Filner of sexual harassing them.

Under his plea agreement, Filner will avoid jail time. But he will have to serve three months of home confinement and three years of probation, give up part of his mayoral pension, and agree not to run for office again, the attorney general's office said.

"This conduct was not only criminal, it was also an extreme abuse of power," said California Attorney General Kamala Harris. "This prosecution is about consequence and accountability. No one is above the law."

The embattled ex-mayor, 71, served in the U.S. House for nearly 20 years before opting to run for San Diego's top job in 2012. He won a competitive contest, defeating Republican Carl DeMaio on the second ballot en route to becoming San Diego's first elected Democratic mayor in more than two decades.

This summer, he faced a flurry of accusations that he sexually harassed numerous women. For weeks, Filner refused to leave office even as members of his own party called on him to step aside. In late-July, he announced plans to enter a "behavior counseling clinic" for two weeks of therapy, and said he was committed to returning to office.

But the pressure for him to leave didn't subside, and weeks later, Filner announced that he would vacate the mayor's office, apologizing to "all the women I offended."

A special election for mayor will be held Nov. 19.

Patton Village!
Posted: February 25, 2012 - Updated: February 27, 2012 02:32:37 PM PST





PATTON VILLAGE, TX (WCJB)

-- Several Patton Village officials -- including the mayor -- are facing charges for the alleged misuse of funds, and the city council called a special meeting Saturday night to address issues surrounding the scandal. The criminal investigation involved several agencies, including the Montgomery County District Attorney's Office, the FBI, and the Texas Rangers. It ended in the arrest of police officers, the court clerk and Mayor Pamela Munoz. Resident David Gips was at Saturday night's meeting. He said he is glad the arrests were made. "I just think it's a real shame, you know? Everybody pays their taxes, you know? You think that your elected officials will do right with your money and all this comes out," he said. "I'm just glad someone put some light on it and made some arrests."


A grand jury just indicted the group, which includes Munoz, City Secretary Georgia Simons, Court Clerk Paricia Edmonson and four current and former police officers. All are accused of using their public positions for personal gain. The mayor alone is charged with nine felonies and a misdemeanor on allegations she misused tens of thousands of dollars worth of public funds and property. Investigators tell us the accused officers misused public databases for personal purposes. Media sources spoke with Munoz by phone Saturday. When asked about her arrest and the charges against her, Munoz said, "No comment. I've bonded out, and it's back to work as usual until my court date." City officials said the mayor is expected to be back on the job Monday.

Immigration Bribes!
March 21, 2011




LOS ANGELES, CA (WCJB) -- There was a sentencing Monday, for a once-prominent attorney for Immigration and Customs Enforcement. He was convicted of taking hundreds of thousands of dollars in bribes from the very people he was supposed to be prosecuting. Constantine Kallas was a federal immigration attorney, a prosecutor. Casino surveillance video showed him about to get a $20,000 bribe to get a green card for an illegal immigrant. Kallas was convicted for this bribe and 35 other federal crimes. Prosecutors believe Kallas received $950,000 in cash bribes over five years.

In federal court Monday he was sentenced to more than 17 years in prison. "He essentially engaged in a conspiracy as a prosecutor to engage in criminal acts with the people he was charged to prosecute," said Assistant U.S. Attorney Raymond Aghaian.

Kallas' attorney said the sentence was too stiff; he argued for seven years. Prosecutors wanted 30 years. "It's exceptionally stiff," his attorney said. Seventeen years is one of the heaviest sentences ever for a federal bribery conviction. Kallas' attorney said there will be an appeal. "In fact I'm aware of some murder cases in the federal system that did not receive sentences like that. I attribute it to the U.S. Attorney's Office grossly unfair attitude towards the case from day one."

Prosecutors said the sentence was justified. "He appeared in front of the federal judge and asked the case to be dismissed, which happened to be his housekeeper's daughter," said Aghaian. "He dismissed the case on a misrepresentation made to the judge as a lawyer, as a prosecutor." Video showed Kallas taking money from the immigrant and putting it in his pocket, one of the last bribes he received. In addition to nearly $1 million in bank accounts, investigators found more than $177,000 cash hidden in a floor safe. His wife, Maria Kallas is accused of helping her husband. She pleaded guilty to conspiracy and bribery. Her sentence is now scheduled for May.

Wild, Wild West!
January 13, 2011 5:53 AM
Former Los Angeles deputy city attorney Angela West went on a violent rampage at San Francisco International Airport. She found herself thrown into a psyche ward after going on a destructive rampage that included the use of a dust pan and a 3-foot-long metal pole. The Harvard Law School graduate allegedly used the metal pole to smash merchandise, milk and containers and other items, at a Peet's Coffee, said San Mateo County District Attorney Steve Wagstaffe.

Angela West was admitted to the California State Bar in 1989, though she has been inactive since 1997. Judge Barbara Mallach is allowing West to represent herself in the case. West pleaded not guilty with a jury trial set for Jan. 25, 2011. Judge Mallach also agreed with West's motion to lower her bail from $25,000 to $10,000. She is being charged with assault with a deadly weapon and battery on a police officer, four misdemeanor counts, Chief Deputy District Attorney Steve Wagstaffe said.

"When officers were able to get the woman under control, she shouted out that she was a lesbian and the officers should stop trying to have sex with her," Wagstaffe said. Her erratic behavior landed her a week in the Mills Peninsula Hospital's psychiatric ward. Despite her violent, destructive outburst, the Harvard Law grad is apparently still knowledgeable about the law. In court, she demanded a copy of the police report, and made objections when the prosecution requested time to prepare the report.

---
Paul Bergrin
---
"Besides the evidence I uncovered on Operation Iron Triangle, Objective Murray and the Rules of Engagement, to kill every military aged male upon contact, I was about to change the course of history (in a press conference) that I had affirmative proof that President Bush, VP Cheney, Defense Secretary Rumsfeld, Assist. Secy. of (Defense) Wolfowitz, Carbone and White House Counsel, (Alberto) Gonzales (later US Attorney General) had lied, deliberately and intentionally when they denied knowledge of the torture techniques at Abu Ghraib."

-- Paul Bergrin

Brooklyn, New York -- Paul Bergrin (

pictured above, center

) is a lawyer who practiced in Newark, New Jersey. His license to practice law was suspended by the New Jersey Supreme Court on June 16, 2009. Bergrin is currently fighting a multitude of federal criminal charges. On June 6, 2011, a federal grand jury returned a 138-page, second superseding indictment against Bergrin, previously accused of heading a crime syndicate involved in bribery, mortgage fraud and murder of a witness, now adding racketeering charges. Nearly two months earlier, the Third Circuit Court of Appeals reinstated racketeering charges against the Newark lawyer. He had previously pleaded guilty to running a prostitution ring in N.Y. called N.Y. Confidential. He was sentenced to time served (amounting to several hours awaiting processing), 3 years Probation and forfeiture of $50,000. From the time of his arrest in May 2009 until November 2009 Bergrin was held in solitary confinement by the U.S. Bureau of Prisons. He was ordered released into the general population by a federal judge. After being both a State and Federal prosecutor, Bergrin became a defense lawyer. Bergrin's former clients included gang leaders, drug dealers and celebrities, including Angelo "The Horn" Prisco, Queen Latifah, Naughty by Nature and Lil' Kim. He also represented Heather "Hedy" DiCarlo - the former Mrs. New Jersey accused of bouncing more than $70,000 in checks. He also defended Javal Davis (who was charged along with Lynndie England) an Army reservist from Roselle, NJ who in 2005 admitted abusing detainees at the Abu Ghraib prison in Iraq, as well as PFC Corey R. Clagett who was convicted in the Iron Triangle Murders. New York Magazine called Bergrin "The Baddest Lawyer in the History of Jersey - And that's saying something". Bergrin was scheduled to go on trial October 11, 2011. The trial judge is William J. Martini, U.S.D.J. Robert A. Mintz, Esq. of the Newark firm McCarter and English, has been appointed Receiver for Bergrin's law practice. Bergrin is represented by Larry Lustberg, Esq. of Gibbons P.C.. Today Paul Bergrin is sitting in a prison in Brooklyn, New York, facing attempted murder, conspiracy to commit murder and many other charges. (Most of the US Prosecutor's case against Paul is based on statements by confidential informants). Could his relentless pursuit of justice for the cases that he defended involving Iraq have anything to do with the charges he is currently facing? November 3, 2011 The federal judge presiding over the murder conspiracy trial of criminal defense lawyer Paul W. Bergrin in Newark voiced his displeasure Thursday with the government's star witness and the reactions of prosecutors when he overrules their objections. Barely an hour into Bergrin's third day of cross-examining Anthony Young, the confessed killer of an FBI informant, U.S. District Judge William J. Martini called a recess in the trial and excused the jury. Then he lit into Assistant U.S. Attorneys Joseph Minish and John Gay, saying he was "not happy" with their "facial expressions," and had already privately warned them about it. "When I rule against you, don't shake your head," Martini boomed. "You don't like my rulings, sit down and keep a straight face." Minish said he had objected to yet another off-handed comment from Bergrin about the witnesses' credibility. Martini then zeroed in on the government's star witness and its overall case against Bergrin, 55, of Nutley. "This man has admitted to lying back and forth all over the place," the judge said. "Every time he spoke to the FBI, he admitted to lying ... now he's telling the truth." Bergrin has been meticulously punching holes in Young's account of how he executed the informant after Bergrin allegedly advised members of a heroin and cocaine ring to get rid of Kemo Deshawn McCray, a federal witness against one of Bergrin's clients. While Young claims the only lie he told the FBI was in initially switching his role as triggerman with that of a lookout, the judge agreed with Bergrin that Young has repeatedly changed the details surrounding the crime. "You brought this indictment against this man, and he's entitled to a fair trial," Martini said to prosecutors, referring to Bergrin. Most of the time, Martini noted, "the government has overwhelming evidence and tapes" to bolster its case. In this trial, however, the government is relying heavily on the words of convicted drug dealers and the confessed shooter, who have admitted testifying in the hope of getting their long prison sentences reduced. This was not the first time Martini has criticized the government or its evidence. Last week, he briefly halted the trial and outside the presence of the jury told prosecutors he was "deeply troubled" about the veracity of another witness, who had claimed Bergrin offered him $10,000 to kill the informant. December 17, 2009
NEWARK, N.J. — A former federal prosecutor and prominent New Jersey defense attorney whose past clients have included Queen Latifah and Lil' Kim has pleaded not guilty to bribery, drug and prostitution charges. Paul Bergrin of Morganville appeared Monday in U.S. District Court in Newark. He's been held since his arrest in May for allegedly arranging the murder of one witness and trying to set up the murder of another. The government could pursue the death penalty against Bergrin for the murder counts. Federal prosecutors say Bergrin used threats, bribes and even murder to discourage witnesses from testifying. They allege that Bergrin passed the name of an informant to associates of a client in a drug case. The informant was shot to death in Newark in 2004. May 20, 2009
A former federal prosecutor was arrested Wednesday on charges related to the murder of a witness in a drug case, among many other counts, the U.S. Attorney's Office in Newark, New Jersey, said. Paul Bergrin (pictured left) and three others were taken into custody after a federal grand jury in New Jersey indicted them on 14 counts, including murder, racketeering, wire fraud and money laundering charges, a statement from Acting U.S. Attorney Ralph J. Marra Jr. said. The indictment charges Bergrin with leading a racketeering conspiracy that included the murder of a witness in a drug case and an attempt to hire a hit man in another drug case, the statement said. Bergrin also is charged with wire fraud and money laundering, Marra said. Gerald Shargel, Bergrin's attorney, said his client would plead not guilty to all charges. "This is largely dredging up old issues, and we intend to vigorously fight the charges," Shargel said. The U.S. Attorney's Office statement said Bergrin was involved in the murder of a confidential witness in one federal drug case and tried to hire a Chicago, Illinois, hit man to kill a witness in another drug case. The second killing never occurred, the statement said, because the proposed hit man was a cooperating witness in the case. Marra called Bergrin's alleged conduct "simply shocking." "A licensed lawyer, a former prosecutor essentially became one of the criminals he represents, supporting, encouraging, indeed directing, a criminal enterprise that engaged in murder and murder conspiracies, drug trafficking and financial fraud," Marra said in the statement. "Bergrin can now expect to feel the full weight of the very legal system he turned on its head with his conduct." Bergrin was an assistant U.S. attorney in New Jersey before going into private practice. According to the New York Law Journal, Bergrin, 53, pleaded guilty this month to two misdemeanor counts for his involvement with a prostitution ring. He later represented U.S. Army Sgt. Javal Davis, one of seven people charged in the Abu Ghraib prison abuse scandal in Iraq. In that case, Davis entered a plea agreement on reduced charges before his court martial began. A recorded message at Bergrin's Newark, New Jersey, office said it was closed today, and messages left with Bergrin's cell phone and the cell phones of two associates went unanswered.
---
Mary Waterstone
Karen Plants
Robert McArthur
Scott Rechtzigel
March 24, 2009
DETROIT — Michigan's attorney general filed charges Tuesday against a judge and a prosecutor he said worked together to allow two police officers to lie on the witness stand in a drug trial, allegations that he said "undermine the credibility of our justice system." The police officers were charged along with retired Wayne County judge Mary Waterstone (pictured right) and assistant prosecutor Karen Plants (pictured left), who last year left her job as an handling drug cases in Wayne County. At the 2005 drug trial of Alexander Aceval, Plants is accused of allowing the officers, from the Detroit suburb of Inkster, to lie about their relationship with a paid informant and the informant's role in the seizure of 47 kilograms of cocaine. Transcripts of the private talks between the judge and prosecutor helped Attorney General Mike Cox bring charges. Plants told Waterstone that lies were necessary to protect the identity of the informant, who was a trial witness, according to a report by state investigator Michael Ondejko. Waterstone also signed an order forbidding companies from releasing the informant's cell-phone records to defense lawyers, further concealing his relationship with police, Ondejko wrote.
Aceval's trial ended in a mistrial. He later pleaded guilty to possessing 1,000 grams or more of cocaine and won't be eligible for release from prison until 2015. Waterstone, 69, of Detroit, is charged with four felonies, including improper communications with Plants and concealing perjured testimony. Plants, 46, of Ferndale, is charged with six crimes, including conspiracy. The police officers, Robert McArthur and Scott Rechtzigel, are charged with conspiracy and perjury.
The four defendants were released on $25,000 bond each after not guilty pleas were entered on their behalf in 36th District Court. (From left, Inkster Police officer Robert McArthur, Sgt. Scott Rechtzigel, former assistant Wayne County Prosecutor Karen Plants, and former Circuit Court Judge Mary Waterstone hear the charges against them in court.) "These charges are obscene," Plants' attorney, Ben Gonek, said outside court. "... The defendant in the criminal case was a piece of garbage who was dealing poison in our community." Waterstone and her three lawyers and the officers' lawyers had no comment after the arraignment. Plants' former boss, Wayne County Prosecutor Kym Worthy, declined interview requests and issued a brief statement: "Our system of justice is based upon the presumption of innocence and the right to a fair trial. I sincerely hope that these defendants will be afforded the same rights as others." C.J. Note: Prosecutor Worthy is joking! Aceval's lawyer, David Moffitt, has tried to get his client's 2006 guilty plea thrown out, arguing that perjury at the 2005 trial should have erased the case forever. On Feb. 5, 2009 the Michigan Court of Appeals said the conduct of Waterstone and Plants was "disgraceful," but it ruled against Aceval, noting that his trial had ended in a mistrial. Aceval is appealing to the state Supreme Court.
---
Herman Thomas
Update
---
October 30, 2009
Herman Thomas, 48, (pictured left) was acquitted this week on 21 charges including sex abuse, sodomy, attempted sodomy and assault after the jury returned a partial verdict.
The former Mobile County circuit judge was accused of spanking for his sexual gratification 11 young men facing jail time. Semen from two of the men was found inside a small courthouse office, according to testimony. Thomas was found not guilty on seven charges. Jurors were deadlocked on another 14 charges., and Special Judge Claud Neilson later declared Thomas not guilty on the remaining charges, citing a lack of evidence, after the jurors were dismissed. Three jurors later came forward to the prosecutor's office with concerns about the verdicts, prosecutors said. The prosecutor then suggested he was going to file a motion asking for the case to be revisited, but never did. One juror told the media earlier this week that the panel came to a unanimous decision on only two of the charges, not seven. March 28, 2009
A special Mobile County grand jury today returned indictments on 57 felony counts against ex-circuit court judge Herman Thomas (pictured left), including ethics violations, first-degree kidnapping, first-degree sex abuse, first-and-second-degree extortion and first-degree sodomy. (See: • Perverted Judges - Part 1 ) The indictments involve eight alleged victims Thomas supposedly extorted for sexual favors during his time as a judge. Thomas resigned from the circuit court just over two years ago amid an Alabama Judicial Inquiries Commission investigation into allegations he spanked inmates in a secret room in the courthouse and also surreptitiously removed cases from other judges' dockets and had them placed on his own. Mobile County District Attorney John Tyson, Jr. delivered the indictments during a 2:30 press conference at the Mobile County Courthouse. Named as victims in the indictments were Jhordis Woods, Necester Warmack, Douglas Hill, Akil Figures, Mitee Meardry, Thaddeus Hale, Deangelo Daughtry, Marcus Vaughn and Darrius Lane. Figures is the son of State Sen. Vivian Davis Figures. All men are either currently housed in the Mobile Metro Jail, or have spent time there. Normally Lagniappe would not name victims of alleged sexual abuse, but given the highly charged political nature of this case we believe it is unrealistic to expect they will stay secret and even unfair to Thomas. The grand jury charged Thomas with sexually violating all of the men and with using his position to solicit sexual favors from them. In the case of some alleged victims like Woods, the grand jury also found that Thomas used Woods' labor for his private benefit to materially affect his financial interest. Tyson would not elaborate on the specifics of what the charges meant, saying he was going to be extremely careful with information surrounding the case, and that he was unhappy with what he considered to be the dissemination of sensitive information. "I'm really disturbed about some of the leaks that I have been reading about in that regard. We're going to find out as best we can from where all that came," Tyson said. Thomas was arrested outside of Mobile County Metro Jail just minutes before Tyson's press conference. His attorney "Cowboy" Bob Clark was holding his own press conference when D.A.'s investigators walked up and arrested Thomas and took him into the jail to be booked. Prior to the arrest, Clark categorized the indictments as a, "high-tech lynching. It's racism at its finest by the white folks at the courthouse." Tyson dismissed the charges of racism out of hand. All of Thomas' alleged victims are black. Thomas faced a bond of $287,500. He was bonded out of jail. If convicted, the former judge could face an extremely long stretch in jail, as the charges against him carry some pretty severe penalties. "The grand jury leveled what I consider to be very serious charges. The most serious is a Class A felony. There are a number of Class Bs here and Class C felonies. The Class A is punishable by a range of 10 to 99 Bs 2 to 20, Cs 1 to 10. I would say anytime you return a felony indictment in the judicial profession you have a very serious set of circumstances," Tyson said. Tyson also said he does not think Thomas poses a flight risk, but his office did set three conditions upon his release. He is to have no contact with any males under the age of 21, he is to have no contact with any of the complaining victims or family members of the complaining witness and he must surrender his passport. When asked whether Thomas' work with the Mobile County School System, specifically the Phoenix Program which deals with at-risk youth, is something that concerns his office as the investigation moves forward, Tyson pointed out the stipulation that Thomas not have contact with young men under 21. Most of his alleged victims were young inmates in their late teens or early 20s at the time they claim Thomas abused them. Tyson said his office has been in contact with the Alabama State Bar and gave them a copy of the indictments. The bar has been in contact with Thomas in the past month. Thomas is still practicing as an attorney with the Brandyburg firm. If Thomas is eventually convicted, Tyson said it will create a situation in which the cases he presided over will have to be examined to determine what, if any, problems there may have been related to his behavior. "We're going to have to take that on a case-by-case basis. I suspect we'll get what we have been getting in that regard. I think there have been a number of inquiries, but we'll have to do it on a case-by-case basis," Tyson said. Tyson also said he has been in touch with the state Supreme Court in order to begin the process of getting a judge to hear Thomas' trial, as he expects all of the Mobile County Circuit Court judges to recuse themselves from the case. "I don't know if that has formally happened, but I expect it to," he said. He said he asked Chief Justice Sue Bell Cobb to appoint a judge for the case. "Once we've done that I suspect we'll have an arraignment and set a calendar," Tyson said. He does expect the trial to take place in Mobile County. Tyson has faced some criticism in recent months for the length of time Thomas has gone without being indicted. The first allegations of his paddling of prisoners and changing of court dockets started coming to light almost three years ago and he resigned from the bench just over two years ago. A series of articles in this publication brought to light complaints that Tyson's office had stopped investigating Thomas, and also highlighted the efforts of attorney Joe Kulakowski who has independently investigated Thomas over the past two years. Tyson said this investigation has been going on for a long time, but did say the special grand jury was empanelled just a few weeks ago during the trial of Lam Luong, the man who was recently convicted of throwing his four children off the Dauphin Island Bridge. "We used the cover of the Lam Luong trial to ask for the jurors for this special grand jury," Tyson said. He added that they have not released the grand jury and that it will continue to investigate the case. Clark summarized the entire list of indictments with one word – "bullshit." "This ain't even close enough for government work. It ain't close enough for hand grenades," he said. He went on to say the indictments came strictly from racism from other judges and members of the local legal community. He specifically named Circuit Judge Rusty Johnston and Kulakowski . "I would start with the sixth floor then wander up to the seventh floor in this building, that's where it's coming from," Clark said from the atrium of Government Plaza after Tyson's press conference. "You don't read the newspaper? They talked about Herman being suspended from Judge Johnston's courtroom, Joe Koolaid hanging out in Judge Johnston's courtroom all the time. That's where it's coming from, people who've got 20 and 30 years for Herman. If you went over to that jail and said say something bad about that judge that sentenced you we'll let you go, they'd talk." Clark also disparaged the fact that the alleged victims are all people who have criminal histories. "What's unusual is to take the word of convicted felons and mash it into a 58-count (the grand jury handed out a 57- count indictment) indictment," Clark said. Asked why Thomas resigned his position on the bench if all the charges against him were false, Clark said he would have had different advice for the ex-judge. "I didn't represent the judge. It's all made up. I didn't represent the judge back then. I would not have handled it the way it was handled," Clark said.

---
Archived Collaborator!
Published: Tuesday, November 24, 2009, 12:20 PM EST - Updated: Tuesday, November 24, 2009, 3:18 PM EST

HAMBURG, N.Y. (WCJB) - She was the Town of Hamburg's first female detective, with a total of 21 years as a police officer, including two years with Buffalo. But now, 44-year-old Laurie Staley-Stone, a former Hamburg police officer, will serve four months in a federal prison for passing information to a biker gang, the Chosen Few. Staley-Stone had pleaded guilty to a misdemeanor, accessing a police database and providing the Chosen Few biker gang with a mugshot of a member of the rival gang the Kingsmen. Appearing before the Judge, Staley-Stone said she was truly sorry, that she had made "a terrible judgment call," and that she"brought shame to the badge, former co-workers, her community and family."

Her attorney had asked U.S. Magistrate Jeremiah McCarthy to spare Staley-Stone time behind bars. "No acts of violence occurred at all as a result of Det. Staley-Stone's conduct. As a matter of fact her job was to prevent violence among these motorcycle clubs," said the attorney. Judge McCarthy said the information she gave out could have had violent consequences and that "a term of incarceration was necessary to promote respect for the law." The former police detective had 58 letters of support, but the judge told her "As a police officer you betrayed a trust and put others potentially in harms way."

Staley-Stone will still receive her state pension. Her attorney said the federal prison in Danbury,Connecticut provides for women inmates, and may be the one closest to Buffalo.


---
Reader Pageviews by Country
---
From: Oct 1, 2013 7:00 PM – Oct 8, 2013 6:00 PM
---
«•
Thank you for visiting Corrupt Justice™. Enjoy our Free Movie Intermission! Don't forget to Bookmark Us & Tell A Friend! We're Global!
•»
---
Movie Intermission!
Elizabeth Smart Kidnap Suspect Interrogated - 03/12/03 !
---
Description: Utah -- Police and the FBI interrogate Brian David Mitchell in the kidnapping of Elizabeth Smart. The Utah resident was taken from her bed in her affluent Salt Lake City home in June 2002 while her terrified nine-year-old sister pretended to sleep in a bed nearby.
---
---