↓↓↓↓↓↓↓↓↓ Blog Post Starts Below ↓↓↓↓↓↓↓↓↓
---
Click on Banner to Sell Your Home(s)!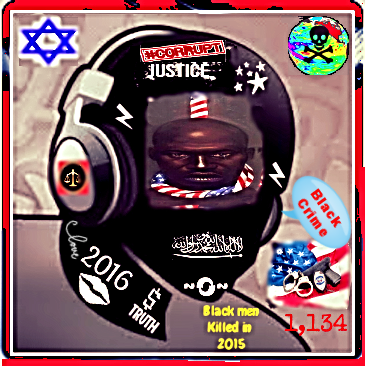 ---
"Another Nigger fried. No big deal."
-- April 16, 2011
, Statement by
New York City Police Officer Michael Daragjati
, boasting of his false arrest of another African-American male.
Top News Story!
'Mocking Muslims'!
Posted: April 25, 2016 08:01 PM PDT ~ Updated: May 1, 2016 10:02 AM PDT
Los Angeles, CA
-- The Sheriff's Department announced Sunday that top Los Angeles County Sheriff's Department official Tom Angel
(pictured above, center-left)
has resigned. Angel submitted his resignation amid mounting criticism over emails he sent mocking Muslims, blacks, Latinos, women and others from his work account. The e-mails were sent during his previous job with the Burbank Police Department. Four of the emails contained strings of jokes that Angel received and then forwarded to others. A city spokesman said the other senders and recipients were redacted because they did not work for the city. He said releasing their identities would be an invasion of privacy. Media sources obtained the e-mails from the City of Burbank under the state's public records law.
One of the emails said: "I took my Biology exam last Friday. I was asked to name two things commonly found in cells. Apparently 'Blacks' and 'Mexicans' were NOT the correct answers." A second email ridiculed concerns about the racial profiling of Muslims as terrorism suspects. A third e-mail included the subject line: "How dumb is dumb?" The e-mail then listed 20 reasons "Muslim Terrorists are so quick to commit suicide." The reasons included: "Towels for hats;" "Constant wailing from some idiot in a tower;" and "You can't wash off the smell of donkey."
A Fourth email was a short dialogue between Angel and another Burbank police official. In the e-mail Angel asked what he called a trivia question. The question went as follows: "How many virgins do Muslims get in heaven?"
Couched!
Posted: April 13, 2016 at 12:55 AM EST ~ Updated: April 13, 2016 at 09:05 PM PST
Burleson, Texas
-- Ethan Anthony Couch is the infamous "affluenza" teen. He is an American who killed four people while drinking and driving on June 15, 2013, in Burleson, Texas. The then 16-year-old's blood-alcohol level was three times the legal limit for an adult. Toxicology reports revealed traces of Valium in his system. Couch pleaded guilty to four counts of intoxication manslaughter; and two counts of intoxication assault causing serious bodily injury.
Couch's attorneys relied on a defense expert during the sentencing phase of his trial. The defense expert argued that Couch's wealthy parents coddled him into a sense of irresponsibility. The expert termed the condition "Affluenza." Couch was given 10 years probation in juvenile court. The condition is not recognized as a medical diagnosis by the American Psychiatric Association. The invocation of the condition drew widespread ridicule.
A video surfaced online last December (2015) that showed him at a party where alcohol was served. Attending a party where alcohol was present meant he violated his probation. Couch and his mother fled to Mexico. They evaded authorities for several weeks. Ethan Couch was extradited back to the U.S. on Jan. 28, 2016. Couch turned 19 years old on Monday, April 11, 2016. His case was formally transferred from juvenile court to the adult legal system on April 11th.
On Wednesday a judge imposed four consecutive 180-day jail terms on Couch (for a total of 720 days). He was accused of violating the terms of his juvenile probation. The sentence represented one 180-day sentence for each of the four victims he killed in a June 2013 drunk-driving accident. Wednesday's hearing was his first appearance in adult court. Couch showed up with long hair and a beard, wearing a red jumpsuit. State District Judge Wayne Salvant told the Texas teen, "You're not getting out of jail today." Couch's defense argued in court that the terms of Couch's original juvenile court conviction meant he should have expected between 120 and 180 days in jail.
Judge Salvant gave Couch's attorneys two weeks to prepare arguments related to the sentences. Salvant said that he might reconsider the order. He said, "Nothing I do is set in stone." (He can order Couch to serve between 120 and 180 days in jail.) The judge also set several new conditions for Couch's probation. When he is released from jail he will not be allowed to drink, use drugs or drive. He will be required to meet regularly with a community supervision officer. Salvant could make prison a condition of any future probation violation. In such a case, Couch could face up to 40 years behind bars -- 10 years for each person who died in the 2013 wreck. Salvant also ordered that Couch's juvenile court records be sealed.
His mother Tonya was not in court. Tonya Couch is on house arrest at her other son's home. She was charged with helping Ethan Couch flee. The 48-year-old faces between two and 10 years in prison if convicted of hindering the apprehension of a felon.
---
Dead Ringer!
Posted: April 11, 2016 at 12:55 AM EST ~ Updated: April 12, 2016 at 02:05 PM PST
---
Stunned!
Posted: April 4, 2016 at 12:19pm PST ~ Updated: April 5, 2016 07:25 PM PST
La Plata, MD
- Former Charles County Circuit Court Judge Robert C. Nalley is facing prison and federal criminal charges for the July 23, 2014 tasing of a defendant in his La Plata courtroom. Delvon L. King, 25, of Waldorf, was representing himself and was ordered shocked by Nalley when he refused to stop speaking after the judge asked him several times to stop talking. The incident occurred during jury selection for King's jury trial on three weapons charges. Witnesses report that the judge ordered the court officer to electronically shock the defendant more than once before the officer complied. King was later sentenced to 10 years in prison by Charles County Circuit Court Judge Amy J. Bragunier.
Judicially Ratified DWI's!
Published Sat, May 19, 2012 12:00 AM - Modified Sun, May 20, 2012 04:23 PM PDT
RALEIGH, NC
-- Kristin Ruth, a Wake County District Court judge for 13 years, stepped down from the bench Friday amid an SBI investigation into her handling of DWI cases. Ruth submitted a two-sentence notice to Gov. Bev Perdue, delivered by hand Friday, that stated: "I hereby resign my office as District Court Judge of Wake County. It has been an honor to serve the citizens of Wake County." In a statement issued by her attorney, Ruth elaborated on why she chose to step aside nearly three months after the State Bureau of Investigation began a probe of how she dealt with at least a dozen DWI cases. Ruth said she had trusted Raleigh lawyer James Crouch, who she now thinks was untruthful with her. "I trusted the wrong person," she said.
Ruth has a reputation among Raleigh lawyers and friends as a kind, community-spirited judge with a willingness to accommodate defendants in the hubbub of a busy courthouse. That obliging attitude, her friends and colleagues have said, likely put her at the center of the SBI investigation. Crouch has declined to comment on the specifics of the allegations. The Raleigh attorney representing him, said Friday that Ruth's resignation and statement are "sad on many levels." But because an investigation is in process, it would be inappropriate for him or Crouch to comment at this point, he said.
The SBI inquiry began in February after prosecutors alerted Wake County District Attorney Colon Willoughby to problems with a DWI case handled by Crouch, who deals with a high volume of traffic cases. Willoughby looked into the matter himself and flagged a dozen questionable DWI cases in which Ruth's signature was on orders changing conviction dates. Crouch was the attorney on each case. Willoughby alerted Donald Stephens, Wake's chief resident Superior Court judge, who then contacted the SBI, which is continuing its probe. On Friday, Willoughby declined to comment on Ruth's resignation, saying it would be improper while the investigation is ongoing.
In an interview earlier this year, Laith Qomaq said he called Crouch after being charged with a DWI in March 2010 because many of his friends bragged that Crouch had gotten them out of drunk driving charges. "He told me he was a hotshot and that cops were scared of him," Qomaq said.
Ruth, though, had few kind words for Crouch in the statement issued by her attorney. "As a result of the investigation, it has come to my attention that I signed numerous orders for Mr. Crouch that I should not have signed," Ruth stated. "I must admit that, because I trusted Mr. Crouch, I did not read the orders that were presented to me. Had I read the orders, I would not have signed them. Mr. Crouch, as an officer of the court, should not have presented inappropriate orders to me for signature." Her statement further contends that Crouch told her shortly after she learned about some of the facts related to the orders that he had violated her trust and that he would clear her name with the district attorney. "To date, he has taken no such action," Ruth said. "As a result of my inattention in failing to read the orders before I signed them, I believe my resignation is necessary to maintain the integrity of the judicial system. I trusted the wrong person, but that does not excuse not reading the orders before I signed them."
"Although my misguided trust of Mr. Crouch has resulted in my resignation, it should not reflect on the integrity of the judicial system of Wake County or the State of North Carolina," Ruth said in her statement. "I accept my responsibility in contributing to this problem, and feel it necessary, although with great regret, to resign."
DWI convictions carry heavy penalties. Those convicted lose their licenses for a year. But if a defendant appeals his DWI conviction to Superior Court, that license suspension doesn't kick in until the case is formally resolved. Often, as in the case with the 12 cases being investigated, defendants eventually give up their appeal in Superior Court and head back to District Court for sentencing. The year of suspension is supposed to kick in when the defendant returns to District Court for sentencing. But in the cases being investigated, the documents showed that Ruth overruled another judge's conviction date. The new date is many months, sometimes a year, prior. The effect of those decisions could have meant a sparing of a license suspension or a limited time without a license.
The Division of Motor Vehicles, which is alerted to convictions that result in license suspensions, noticed an irregularity in some cases and notified Willoughby. Willoughby already was looking into the handling of one of Crouch's case after his assistant district attorneys complained. As the district attorney investigated the ones flagged by DMV, Ruth's signature was on many of them.
The standard process for replacing District Court judges who step down mid-term is that the local bar elects three nominees and the governor selects a new judge from those candidates.
Judging DUI's!
PUBLISHED MON, FEB 27, 2012 05:18 PM - MODIFIED TUES, FEB 28, 2012 02:39 PM PST
RALEIGH, NC
-- The State Bureau of Investigation has been asked by Wake County's chief resident superior court judge to look into the handling of 12 DWI cases by District Court Judge Kristin Ruth (
pictured left
). The inquiry comes after Wake County District Attorney Colon Willoughby sent Judge Donald Stephens a letter noting what he described as unusual judgments in at least a dozen cases.
The pattern described by Willoughby was this:
A DWI case came to district court and there was a conviction that was then appealed to Superior Court. After a period of time, which varied from two and a half to 14 months while the case was pending in Superior Court, the appeal was withdrawn and the case then sent back to district court. The re-sentencing, because of the scheduling in district court, often was done by a different judge from the one who handled the initial sentencing. In each of the 12 cases in question, Willloughby wrote in his letter to the judge, Ruth, who was not involved in the original sentencing or re-sentencing has entered orders changing the effective date of the judgment entered at re-sentencing.
Willoughby stated that he did not know the full extent of the motives or implications in changing the effective date of the convictions, but it could backdate the convictions, shorten or eliminate mandatory suspensions of defendants' drivers licenses. In at least three cases, Willloughby said, Ruth issued limited driving privileges for defendants without legal authority to do so.
"The activity which you have described in your letter appears to have no basis in law for a judge to engage in or be a part of," Judge Stephens said in his Feb. 20 letter. "There may be a totally innocent explanation for this conduct: however, from the face of the court files as documented; I can think of none. If these orders were knowingly entered, they could constitute evidence of misconduct, including an attempt to obstruct criminal justice."
Willoughby said he only did a limited investigation, himself, after questions about the handling of a recent DWI case. The state Division of Motor Vehicles also alerted Willoughby's office to some unusual judgments.
Ruth, contacted this afternoon, said she was cooperating fully with the investigation and would not comment any further to prevent from jeopardizing it.
Judge Rapist!
Updated: Friday, 12 Aug 2011, 8:51 AM MDT - Published : Friday, 12 Aug 2011, 8:51 AM MDT
ALBUQUERQUE, NM (WCJB)
- The case against former district judge Pat Murdoch (
pictured above, center
) has taken a new turn because police have uncovered new evidence of possible crimes by Murdoch. Murdoch retired after his arrest last month for allegedly raping a prostitute. Albuquerque investigators were reportedly tipped by confidential informants and found new information while going through Murdoch's phone which they seized after his arrest. APD will not say if the possible new crimes have anything to do with prostitutes.
video removed
Meanwhile Santa Fe district attorney Angela Spence Pacheco, who is prosecuting the case, says the original charges against Murdoch will be dropped Friday. "We want the police to continue with their investigation and based on their investigation we will make a decision as to what charges will go forward, there could be more charges, there could be less charges," Pacheco said. Murdoch insists he is not guilty and
remains free without bond
.
July 21, 2011
Corrupt Justice™:
Albuquerque [NM] cop, David Maes pled guilty to rape and false imprisonment charges, following an October 4, 2007 incident which he raped a woman whom he was supposed to be guarding at a hospital. "Judge" Murdoch sentenced the rapist cop to 5 years probation. "Judge" Murdoch reasoned that Ms. Cordova was "a prostitute" anyway and basically asserted that the victim "WANTED" it. [
See:
inTOXICated Justice! - 2010
]
New Mexico
-- District Court Judge Pat Murdoch will make his first felony court appearance on Thursday. He's accused of raping a prostitute at his Albuquerque home. According to a criminal complaint the prostitute recorded the incident on video. In the complaint the woman told authorities she exchanged money for sexual acts with Judge Murdoch approximately eight times. The complaint also stated that the woman posted an ad an adult website. She said the judge called her and they ended up at his house where he paid her $200.00 in exchange for sexual favors. The woman told authorities the first time she was with the judge he wanted to perform oral sex on her, but she refused. The complaint stated that "...he forced himself on her to perform the oral sex." The complaint also said the prostitute later secretly recorded another encounter on video where the judge again wanted to perform oral sex on her. When she refused the complaint stated "...he forced her legs open and performed oral sex without her consent." The document went on to say that after the woman video taped the encounter, she began to worry about her safety and posed hypothetical situations to the judge regarding a woman making allegations against him. The document indicates Judge Murdoch replied that "...he would use the police and his connections to take care of the situation." The escort also said she saw child pornography on the judge's home computer.
video removed
According to police, Judge Murdoch is facing charges of criminal sexual penetration and intimidation of a witness. He was released on a $50,000 bond early Wednesday morning. Judge Murdoch is taking a voluntary leave of absence, according to the Albuquerque law office representing him. The Judicial Standards Committee is meeting to try and keep the district judge off the bench until the case is resolved. Murdoch could theoretically hear cases until a suspension order is given. He was not in court on Wednesday. District court officials said his cases will be spread out among other judges.
Murdoch Background!
Updated: Thursday, 21 Jul 2011, 11:24 AM MDT - Published : Tuesday, 19 Jul 2011, 10:24 PM MDT
video removed
•»
Murdoch is well known for throwing out key police evidence in the Ronald Santiago murder trial. Santiago is accused of killing John and Bernadette Ohlemacher in 2005.
•»
Murdoch scolded the State Attorney General's office just three weeks prior to his arrest, for failing to appoint a special prosecutor in the Rebecca Vigil Giron corruption case. She's accused of misusing grant money while she was secretary of state.
•»
Murdoch was slammed in 2008 after he sentenced former marine Elton John Richard to two years in jail for chasing down and killing a man who broke into his SUV.
•»
Judge Murdoch made another controversial decision earlier this year when
he gave ex-Officer David Maes probation, after he was convicted of raping a suspect while he was an on-duty Albuquerque cop
. Murdoch could have put Maes in jail for 4 years, but said prison would be worse for the former cop than it would be for other rapists. Murdoch is just the latest Albuquerque judge to find himself in trouble with the law.
•»
In the past seven years, we've seen Murdoch's boss, chief district court Judge John Brennan quit the bench after he was arrested for driving drunk while doing cocaine.
•»
Metro court Judge Theresa Gomez retired after she got nailed for living rent free in low-income government housing while making a hundred grand a year. She then admitted she had a gambling problem.
•»
Metro court Judge Wayne Griego was booted from the bench after he was caught fixing parking tickets for friends and family.
July 20, 2011
Albuquerque's chief criminal judge was arrested on charges he raped a prostitute, and an undercover officer bought a video recording of the alleged attack, according to a criminal complaint. State District Judge Pat Murdoch (
pictured above, center
) was arrested Tuesday for criminal sexual penetration and intimidation of a witness. He posted bond Tuesday night and was scheduled for a first court appearance on Thursday. The complaint against him says a detective first heard about the reported attack and the recording from an informant, who helped the investigator buy the video on DVD for $400. Police then questioned the woman, who said Murdoch solicited her on a prostitution website. The woman told police she met with the judge about eight times and he paid her about $200 each time. She said he forced himself on her during one visit, and she returned and secretly recorded a second forced encounter. She said that after making the recording, she began to worry about her safety because when she posed hypothetical situations to the judge about a woman making allegations against him, he replied he would use police and his connections to take care of the situation. Murdoch could not immediately be reached for comment. He does not have a listed home phone number and his office did not know who will represent him.
Described as a well-respected member of the judicial community
, Murdoch has presided over numerous high-profile cases, including fraud allegations involving former Secretary of State Rebecca Vigil-Giron and three other defendants. He also issued rulings in the case of John Hyde, an Albuquerque man accused of killing two police officers and three others during a single day in 2005, and
he sentenced an Albuquerque man to 20 years in prison earlier this year for promoting prostitution, extortion and racketeering
. Police said Murdoch was cooperating with investigators. He was questioned after his arrest, and Deputy Police Chief Paul Feist said the investigators described him as polite and respectful. Murdoch's arrest comes just days after
Gov. Susana Martinez called on the state's judges and lawyers to take steps to help bolster confidence in the legal system
. She cited a case of alleged judicial bribery in Las Cruces in which state District Judge Michael Murphy is accused of telling a potential judicial candidate that she needed to make payments to a Democratic activist if she wanted to be considered for a seat on the bench under then-Gov. Bill Richardson. The arrest also comes just weeks after former University of New Mexico President Chris Garcia, a respected political science professor, was accused of helping lead a sophisticated online prostitution ring. Police said there was no connection between the Garcia case and Murdoch.
Guilty!
June 9, 2011
Oakland, CA (WCJB)
After more than two weeks of deliberations, an Oakland, California, jury has found Yusuf Bey IV guilty of the 2007 murder of prominent African-American journalist Chauncey Bailey. Bey, the owner of Your Black Muslim Bakery, was convicted on three counts of first-degree murder, covering the deaths of Bailey and two other people killed in the weeks before Bailey's death.
The prosecution's key witness was a 23-year-old former bakery handyman, Devaughndre Broussard. He testified that Bey ordered him and Antoine Mackey to kill Bailey. Mackey was also on trial with Bey. He was convicted in the killing of Bailey as well. A mistrial was declared after jurors deadlocked on his charge related to another killing, which involved Odell Roberson.
Spartanburg County magistrate!
February 11, 2011
COLUMBIA, SC
— United States Attorney Bill Nettles stated today that John Truman Poole, Jr., of Spartanburg, South Carolina, entered a guilty plea yesterday in federal court in Greenville, South Carolina, on the charge of conspiracy to possess with intent to distribute a quantity of a substance containing a detectable amount of methamphetamine and cocaine, a violation of Title 21, United States Code, Section 846. Senior United States District Judge Henry M. Herlong, Jr. accepted the plea. Evidence presented at the change of plea hearing established that in mid-2009, an individual was arrested by the Drug Enforcement Agency (DEA) in Orlando, Florida and agreed to become a confidential source and cooperate with DEA investigators regarding an upstate South Carolina narcotics broker with a suspected law enforcement source of supply. After a debriefing of the confidential source by law enforcement, the confidential source told agents that in April of 2009, he purchased a quantity of what he believed to be cocaine (lab tests later revealed it was quantities of both cocaine and methamphetamine) from a person in South Carolina. The confidential source further advised investigators that this person told him that the drugs were taken directly from an unidentified law enforcement agency's evidence locker and that the narcotics were still packaged in what appeared to be an unidentified law enforcement agency's evidence bag. As a result of this information, the investigation led to the arrest and indictment of former Spartanburg Clerk of Court Marcus Woodrow Kitchens,
who had removed the drugs from the evidence room of the Clerk's Office
. Kitchens has pled guilty to the charges and has been sentenced to 70 months' imprisonment. The inquiry into Kitchens' involvement led to an investigation of Poole, a former part-time Spartanburg County magistrate and private banker at the time. This probe further revealed that Poole, Kitchens, and a third party met on at least two occasions to discuss the plan to transport the drugs from the evidence room in the Spartanburg County Courthouse to Florida for sale there. In early April of 2009, the third party drove the drugs to Orlando, negotiated a sale price of $8000, and received a partial payment of $3000 from the confidential source, which was divided among the three. According to Poole, he received $715 from the transaction. With allegations of drugs being removed from the evidence room, local DEA and FBI agents, along with the FBI Evidence Response Team, worked tirelessly with members of the Spartanburg County Clerk's Office, Solicitor Trey Gowdy and his staff, and SLED to immediately secure and inventory the evidence room in the Spartanburg County courthouse. The case was investigated by the Drug Enforcement Administration (DEA), the Federal Bureau of Investigation (FBI), and the South Carolina Law Enforcement Division (SLED). Assistant United States Attorneys Lance Crick and Andy Moorman of the Greenville Office handled the case.
---
Judge G. Thomas Porteous Impeached!
December 8, 2010
The Senate on Wednesday convicted U.S. District Judge G. Thomas Porteous (
pictured left
) of Louisiana on four articles of impeachment, making him just the eighth federal judge in history to be removed by Congress. Porteous, who sat before senators in the well of the chamber as they voted separately on each count, declined to comment as he left the chamber. Attorney Daniel Schwartz said, "We're obviously disappointed with the result." House prosecutors laid out a damaging case against Porteous, 63, a New Orleans native who was a state judge before winning appointment to the federal bench by President Bill Clinton in 1994. The prosecutors said gambling and drinking problems led him to begin accepting cash and other favors from attorneys and bail bondsmen with business before his court. He also was accused of lying to Congress during his judicial confirmation and filing for bankruptcy under a false name. The Senate voted unanimously to convict on the first article involving cash from attorneys, and with strong majorities on the other three. They also approved a motion barring him from holding future federal office. Sen. Claire McCaskill, a Missouri Democrat who managed the case, said the bipartisan process worked as intended and "should be reassuring to every American." "There are times this place is pretty dysfunctional," she said, "but ... I think the responsibility was handled just as the founders would have wanted us to handle it." Many of the facts in the case weren't disputed. Porteous' lead attorney, Jonathan Turley, acknowledged that the judge made mistakes but argued that they were mostly personal failings that didn't meet the "high crimes and misdemeanor" standard for impeachment. Turley also argued that many of the practices _ such as accepting favors and expensive meals _ were common in the Louisiana legal community. But House prosecutors said the evidence showed a decades-long pattern of corruption. They told senators that allowing Porteous to remain on the bench would erode public confidence in the courts and make a mockery of the federal judiciary. After months of hearings, the Senate closed the chamber for more than two hours Tuesday night to deliberate on his fate. The Senate made its decision Wednesday in a solemn ceremonial vote in which senators sat at their desks and rose when called, saying "guilty" or "not guilty." Porteous offered little reaction as the decision became clear, mostly looking down at papers before him where an attorney kept a tally of the votes. In earlier hearings, two attorneys who once worked with Porteous had testified that they gave him thousands of dollars in cash, including about $2,000 stuffed in an envelope in 1999, just before Porteous decided a major civil case in their client's favor. They also said they paid for meals, trips and part of a bachelor party for one of Porteous' sons in Las Vegas, including a lap dance at a strip club. Another witness, New Orleans bail bondsman Louis Marcotte, described a long-standing relationship in which Marcotte and his employees routinely took Porteous to lavish meals at French Quarter restaurants, repaired his automobiles, washed and filled his cars with gas, and took him on trips. In return, Porteous manipulated bond amounts for defendants to give Marcotte the highest fees possible, said Marcotte, who served 18 months in prison on related corruption charges. The impeachment article involving the bondsman narrowly won the two-thirds majority required for conviction, with twenty-seven senators voting "not guilty." Porteous' attorneys argued during trial that the alleged misdeeds occurred when he was a state judge and that Congress would be setting a dangerous precedent by convicting him on "pre-federal" conduct. The final two articles _ alleging that Porteous filed a fraudulent bankruptcy and lied to Congress during his judicial confirmation _ drew just eight and six "not guilty" votes, respectively. Porteous' behavior was uncovered in a 1999 FBI investigation that found widespread corruption in Louisiana's Jefferson Parish. The sting netted more than a dozen convictions, but Porteous was never charged with a crime, in part, authorities said, because statutes of limitations had expired. The Justice Department referred a misconduct complaint to the courts. Porteous was suspended from the bench, and the Judicial Conference of the United States recommended that Congress consider impeachment. Rafael Goyeneche, executive director of the New Orleans-based Metropolitan Crime Commission, which raised the first public questions about the relationship between Porteous and bail bondsman Louis Marcotte in 1995, said the "impeachment closes the books on perhaps the darkest and most embarrassing chapter of judicial corruption on the federal bench in decades." "His impeachment sends a clear message that misconduct will not be tolerated on the federal bench," Goyeneche said. Porteous is the first judge to be impeached and convicted since 1989, when two judges _ Walter Nixon of Mississippi and Alcee L. Hastings of Florida _ were removed from office. Hastings went on to win a seat in Congress, where he still serves. The case was the first impeachment trial since the 1999 proceedings against President Clinton, who was acquitted.
---
James J. Marchiano!
California Court of Appeals
---
James J. Marchiano,
Corrupt
Presiding Justice,
California Court of Appeal
, First Appellate District, Division One (1)
Education:
A.B. Philosophy, St. Patrick's College, 1965; J.D.,
University of California
, Boalt Hall, 1969.
Teaching Experience:
Former Adjunct Professor of Law at
UC Hastings College of the Law
.
Note:
The
University of California
, School of law, Boalt Hall and Hastings College of Law are owned and operated by the
Regents of the University of California
.
Corrupt Acts:
1.
The
Regents of the University of California
consistently prevail in any litigation brought before the
Superior Courts of California
and the
California Appeals Courts
, particularly where
Corrupt Justice
James Marchiano presides.
2.
Judge Marchiano is a racist judge, who hails from the conservative, White racist enclave of Contra Costa County (California).
3.
Judge Marchiano is full-fledged member of the "good ole' boys club."
3.Author:
Law review article on concurrent causation in insurance law; chapters on trial conduct and jury management; journal article on alternative dispute resolution; consultant on civil procedure and evidence books and Jury Management Handbook; Co-author of
CEB Deposition Practice Handbook
(The Regents of the University of California are the publishers of the CEB series).
---
Sexually Offensive Judges
•
Judge Jack Gifford, Retired, Solicitation
•
Judge Ronald C. Kline, Child Pornography
•
Chief U.S. District Judge Edward Nottingham, Solicitation
---
Judges of Interest
•
James J. Marchiano, Corrupt Judge
•
Stuart Hing, Corrupt Judge (Recent Appointment)
•
Douglas E. Swager, Corrupt Judge
•
Martin Jenkins, Corrupt Judge ("Uncle Tom")
•
David Bernard Flinn, Corrupt Judge
•
John T. Noonan, Corrupt Judge of the 9th Circuit
•
Former Judge Ralph B. Robertson, Racist
•
Judge Kenneth R. Kingsbury, Ret., Racist, Corrupt
•
Corrupt Judges, Frame-ups & Graft
•
Judges of the Regents of the University of California
---
Cops that Sexually Offend
•
Cops that Sexually Offend! (Part I)
•
Cops that Sexually Offend! (Part II)
•
Sexually Offensive Cops! (Part III)
•
Cops that Sexually Offend! (Part IV)
•
Cops that Sexually Offend! (Part V)
•
Cops that Sexually Offend! (Part VI)
•
Cops that Sexually Offend! (Part VII)
•
Cops that Sexually Offend! (Part VIII)
•
Cops that Sexually Offend! (Part IX)
•
Cops that Sexually Offend! (Part X)
•
Cops that Sexually Offend! (Part XI)
---
Cops & Domestic Violence
•
Wife Killing Cops! - Part I
•
Wife Killing Cops! - Part II
•
Deputy Paul R. Kovacich, Wife Killer
---
Murderous Police Officers
•
PA State Trooper Kevin Foley, Murderous
(Convicted March 18, 2009 of First-Degree Murder. Killed girlfriend's ex-hubby (Dentist)!!)
•
PA State Trooper Samuel J. Hassan, Murderous
(March 15, 2009 Murder of Unarmed motorist. Previously shot and killed 12 year old African-American boy!!)
•
Homer Police Department
(February 20, 2009 Murder of Unarmed Black Man, 73 year old black man by two white police officers in Homer, Louisiana!!)
•
Taser Deaths by the Police!
•
New Orleans Police Department
(January 1, 2009 Murder of Unarmed Black Man, shot nine (9) times in the back!!)
---
Oakland, California Police Department
•
Officer Pat Gonzales: Racist, Murderous Oakland Police Officer - 3 Killings
•
Officer Hector Jimenez: Racist, Murderous Oakland Police Officer - 2 Killings
•
Captain Edward Poulson, OPD
(Beating Death of Suspect (2000) Promoted in 2008)
•
Investigator interfered in police probes of former bakery CEO
•
Oakland Police Department, Corrupt, I
•
Oakland, California Police Department, Corruption, II
•
Oakland Police Department, III
•
Oakland Police Department, IV
•
Oakland Police Department, V - Major Corruption
•
Jeff Loman, Deputy Chief, OPD
(Placed on Leave Feb. 4, 2009)
•
Deborah Edgerly, Corrupt former Oakland City Administrator
---
Oakland, CA Transit Cop Shooting
•
Mehserle Makes Bail!!!
(Updated May 18, 2009) January 1, 2009 Murder of Unarmed Black Man, shot once (1) in the back!!)
•
Tony Pirone, B.P.D.
(Mehserle Accomplice - Jan. 1, 2009 Homicide)
•
Johannes Mehserle, Killer Cop
(Oakland's New Year's (2009) Transit Killer Cop)
•
The B.A.R.T. Shooting Investigation
(The Investigation of Oakland's New Year's (2009) Transit Killer Cop)
•
The B.A.R.T. Aftermath
(The Oakland Riots New (2009))
•
B.A.R.T. Police, Racism, Homicide
(Video of The Oakland New Year's Day (2009) Transit Shooting )
---
---
Reader Pageviews by Country
---
From: Mar 17, 2016 2:00 AM – Mar 24, 2016 1:00 AM
---
«•
Thank you for visiting Corrupt Justice™. Enjoy our Free Movie Intermission! Don't forget to Bookmark Us & Tell A Friend! We're Global!
•»
---
Movie Intermission!
Hulk Hogan v. Gawker
---
Description: Florida –
Hulk Hogan (born Terry Bollea), a professional wrestler known back in the day as "a real American hero," is pursuing a substantial amount of damages for Gawker's decision in Oct. 2012 to post a short excerpt of a 30-minute sex tape alongside an essay by A.J. Daulerio that muses about how "we love to watch famous people have sex."
---
---